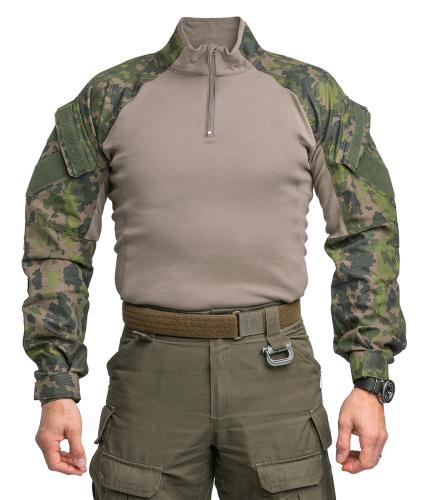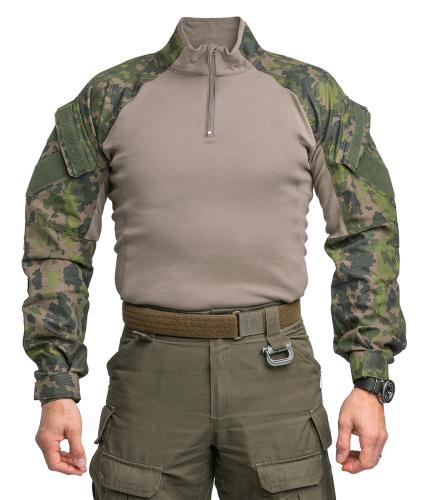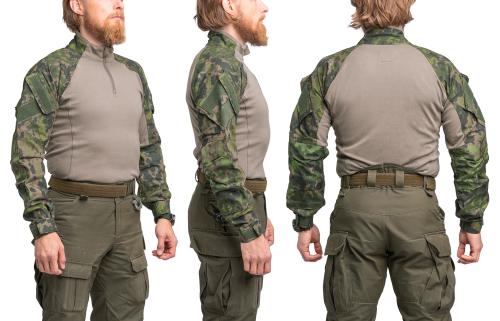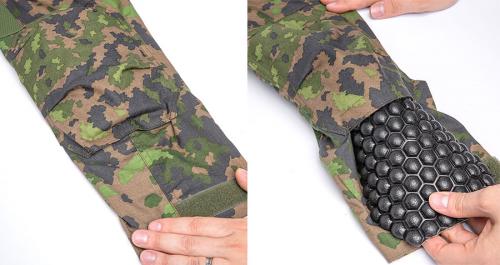 The elbow pockets take in protective inserts (not included).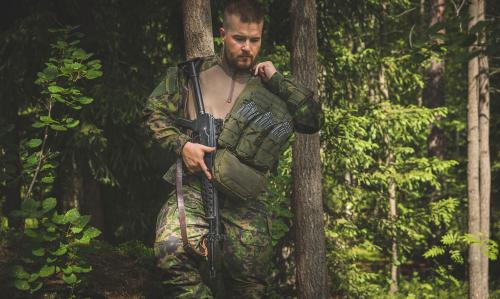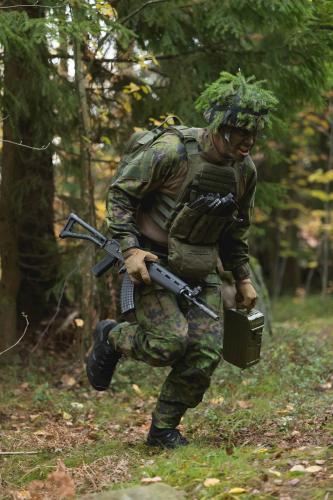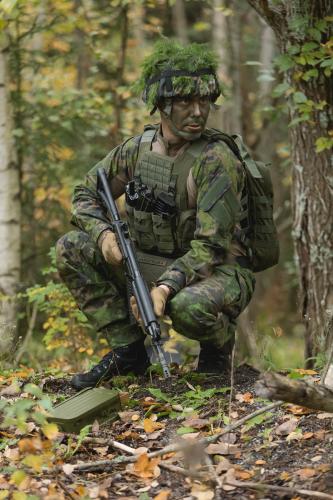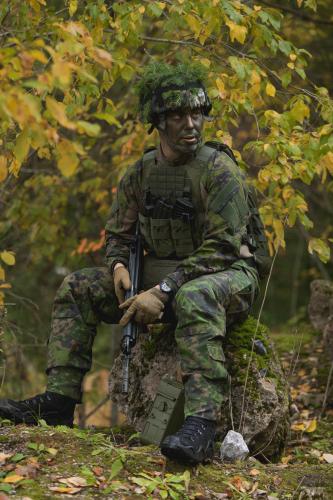 Särmä TST
Särmä TST L4 FR Combat shirt
Price 209.99 USD
excluding sales tax
The FR (Fire Retardant) version of the L4 Combat shirt. Made from the exact same materials used in the Finnish Defense Forces issue M11 combat shirt - most notably Tencate Defender-M!
Loading products...
Trouble with the metric system? Try our converter: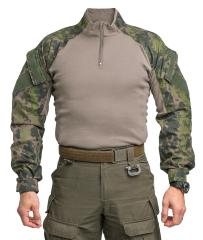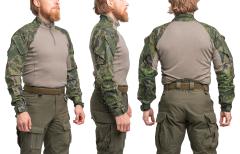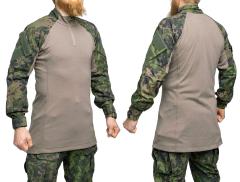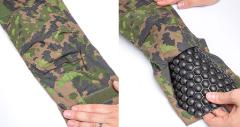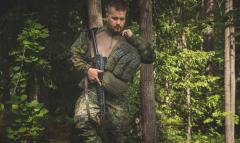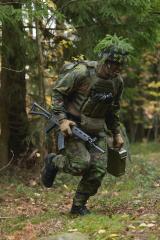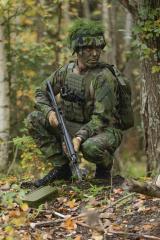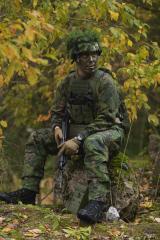 The FR (Fire Retardant) version of the L4 Combat shirt. Made from the exact same materials used in the Finnish Defense Forces issue M11 combat shirt - most notably Tencate Defender-M!
Lightweight and breathable knit torso
Zippered turtleneck collar
Raglan sleeves
Long hem
Articulated elbow reinforcements w/ pad pockets
Hook-and-loop adjustable cuffs
Two hook-and-loop flap bicep pockets
Loop for name tags and other patches on bicep pockets
Materials:

Tencate Defender-M fire retardant fabric, 190 g/m2 / 5.6 oz/yd2
Thermo-regulating 60/40 MAC/CV fire retardant knit, 290 g/m2 / 8.5 oz/yd2
500D Cordura
All materials are NIR compliant
L4 - Field Wear
The fourth layer of our clothing system could be regarded as "standard camouflage dress". L4 clothing offers protection against the outside world through camouflage and abrasion resistance. These garments are designed for minimal thermal load for effective layering. Camouflage prints and visible accessories are 100% NIR-compliant.
Take a look at our Särmä TST Clothing System!
Sizing
The measurements in brackets are the recommended user height and chest circumference. The fit is pretty normal, there is enough room and stretch to wear a T-shirt or mid-weight long-sleeve shirt underneath for added warmth in cold weather.
Materials
The materials are what makes any FR garment what it is. These combat shirts are made from the same materials used in the Finnish Defense Forces M11 combat shirt. The availability of these very much "special" materials is dependent on the acquisitions of the Finnish Defense Forces - when they order their M11 combat shirts then these materials are available, when they don't order anything then they aren't. This means that we can absolutely not guarantee that these shirts will be regularly restocked, if you need one get it now!
Tencate Defender M
Tencate Defender M (the "next generation" version - DM9190, stronger and better than the older versions) is one of the best FR camouflage fabrics available on the worldwide market today. Made from Lenzing FR viscose, para-aramid, polyamide and finished off with anti-static fibers. See the Defender M data sheet for more info and certificates.
Note! Defender M has been treated with a biocide that contains permethrin, which is used as an insecticide. The treatment has been done in accordance with the EU regulations. However, permethrin can irritate the skin of some people.
The shirt will not leak so much permethrin that our legislation even required us to mention any possible environmental effects. However, we still recommend avoiding soaking the shirt in natural bodies of water for extended periods of time. Permethrin is toxic to aquatic organisms in large quantities so we don't need to put it there in small quantities either. Neither should you use the shirt as a blanket or a chew toy for your pets, because permethrin isn't good for them either.
The torso knit
The torso piece is made from a blend of modacrylic and viscose, finished off with Outlast temperature regulating "Thermocules" for added comfort. This is a very comfortable, stretchy material that won't feel just as hot as you'd expect, thanks to its hi-tec thermoregulating capabilities.
Cordura reinforcements
The elbows are reinforced with 500D Cordura for added protection. Although this stuff is not fire retardant like the other fabrics there naturally is a complete sleeve of Defender M underneath, so this won't kill you. Besides, these reinforcements will keep that Defender M fabric intact underneath, even through extremely hard use.
Sewn in Estonia
These are sewn in Estonia, by an experienced factory that has a long history of producing clothing for military, law enforcement, and emergency services.
Kierto Circular Economy
Return this product used but clean and unbroken, and you'll receive half of the product's original price as Varusteleka credits. Service is available only in Finland. Only Registered users can make Kierto returns. See more information about Kierto.
Varusteleka Särmä TST
Särmä TST is Varusteleka's in-house brand of clothing and gear designed for military and law enforcement end-users. Our clothing and equipment are made in co-operation with a number of experienced manufacturers with a strong background in producing clothing and gear for military and law enforcement officials, most notably for the Finnish Defence Forces. For further reading check out the Varusteleka's Särmä TST page and Särmä TST Clothing System article.
Särmä TST products are covered by a 12-month warranty against defects in materials and workmanship. For further information please read our detailed warranty guide.
All products: Särmä TST
Recommendations
Loading products...
Reviews
You have already submitted a review. You can edit your text by clicking on it. You can filter the reviews by clicking on the elements of the summary.
Log in and write a review. You can filter the reviews by clicking on the elements of the summary.
Remove filter
Suomi
(3)
English
(2)
I would recommend for a friend
Jack T.

23.03.2020

Verified purchase
⚠ The product has received a new and improved batch after this review. This review might contain obsolete information.
Paidan leikkaus on mielestäni erinomainen ja M05 kangas tuntuu toimivan kuten pitääkin. Valitettavasti itse neuleesta en voi sanoa samaa, kun se ei kestänyt kevyttä kiristyssiteen laittoa. Ehkä one-off materiaalivirhe, ehkä ei.

Kaikesta huolimatta, suosittelen kyllä tuotetta, jos hakusessa Euroopassa ommeltu M05 FR tappelupaita.
1
0
I would recommend for a friend
Josephine G.

14.01.2021

Verified purchase
This is a before first real use review: Just bought the small, short version. The combat shirt looks great. The sleeves' M05 material feels really thin, but hopefully nice and strong. The torso material is soft and feels great. The shirt's torso length is surprisingly long for the short version. Being just 160 tall and quite skinny myself, the fit is very loose. I would definitely like to own another more on the 76-84 side than 80-90, but for colder weather this current combat shirt is so loose I can fit a sweater or multiple thinner layers of clothing underneath. I bought the combat shirt, because my field jacket with pockets did not work comfortably with the combat vest without opening chest zippers. This shirt solves that problem. Overall, I like it more than I thought I would and if you are a little bigger than me, you will probably love the fit.
2
0
I would recommend for a friend
Jari K.

02.05.2022

Verified purchase
Tämä on ollut ehkä paras ostokseni mitä on tullut tehtyä vaatteiden osalta merinovillaisten paitojen lisäksi. Tappelupaidan helma on piiiiiitkä, joten se myös pysyy ihan kaikki kuperkeikatkin tehdessä siellä housujen sisällä. Torso-osa on siitä hämmentävää materiaalia ettei paita päällä tule kylmä eikä kuuma vaikka olisi välillä hellettä tai kevään viileitä päiviä. Eron kyllä huomaa siihen normaaliin vihreään malliin, sillä kuumana kesäpäivänä kaikilla muilla on vetoketjut paidoista auki paitsi niillä, keillä oli tämä vaaleampi palosuojattu versio. Vastaavasti keväthangilla liivien kanssa on riittänyt, että alla on lämpökerraston pitkähihainen paita ilman pelkoa siitä, että tulisi kylmä torson kohdalta. Hihat ovat sen sijaan erittäinkin hengittävää kangasta. Uutena materiaali hihoissa tuntuu jäykältä, mutta muutaman kymmenen käyttökerran jälkeen nekin jo vähän alkavat paremmin istua päälle. Paitaa voi käyttää ihan hyvin myös PV:n m/05 takin alla eli se ei mitenkään hihojen taskujen osalta pullistele.
1
0
I would recommend for a friend
Victor H.

02.12.2022

Verified purchase
I bought this because the normal L4 shirt wasn't in stock at the time, and quite honestly I'm kinda grateful I got this.

I don't own the normal version of this combat shirt, so I can't make any comparisons to that but I can give my own opinions about this one.

As of current, I live in British Columbia, the M05 pattern is part of the reason I got this shirt over something like a Crye G3 or a helikon tex, if you live somewhere other than the Pacific Northwest I guess this pattern wouldn't be for you.

As for the shirt itself, it fits on me quite nicely. Personally I am a pretty lanky person and the sleeves were a bit larger than I liked, but that didn't get in the way of me doing anything with this shirt on, whether it be work outdoors or LARPing it functions quite nicely.

Rolling around in a BC forest for a weekend didn't ruin this shirt at all, sure it got dirty, but it looked just fine right after a wash.

My dumbass also decided to hold a lighter to it to see how fire retardant it really was. It wasn't anything comprehensive, all I did was just put the shirt on the flame for about 2 seconds, regardless it held up well, and it stills functions perfectly fine.

Although it did pass my flame "test", I don't think the non-M05 parts of this shirts are fire retardant, though I haven't tested it just yet I just don't want to risk a perfectly good shirt.

Though I can't really compare it to its competitors, it functions quite well for me and it managed to hold up to whatever I did to it ;)
0
0
I would recommend for a friend
Jonatan P.

04.01.2023

Verified purchase
Loistava tappelupaita vaikka onkin kalliimmasta päästä. Itellä näitä taistelupaitoja on tullut kokeiltua erilaisina ja kaikenhintaisina airsoftissa, reservihommissa ja muuten vaan eräsekoiluissa. Tää paita istuu helkkarin hyvin ja ei ole koskaan liian kuuma kesällä taikka liian kylmä viileämmissä syys/kevät päivinä. (Itse selvisin jopa talvella alla olevan merinokerraston kanssa). Paidan keskiosa on tätä ihmemateriaalia mikä märkänäkin tuntuu lämpimältä ja se onkin tämän paidan parhaimpia ominaisuuksia. Paita muistuttaa hyvinkin paljon armeijan versiota paidasta. Suurimpana poikkeuksena armeijan versioon on puuttuvat vetoketjulliset hihataskut. Itse hommasin paidan pääosin reserviseikkailuja varten ja sammuttaakseni tuon kirotun intistä lähteneen taistelupaitafetissin.

Suosittelen paitaa jos haluat hyvin tehdyn ja kestävän tappelupaidan reservihommiin tai muuten vaan jätkien kanssa saunailtaan keskustelunaihetta.
Harmi vaan, että tää on poistuva tuote, joten napatkaa ihmeessä jos kokoa löytyy! (Ite käytän normaalisti medium regularia, mutta small regular istuu erittäin hyvin eikä hihat jää lyhyeksi, kun niin itsellä tuppaa aina käymään pienemmissä paidoissa.)
0
0