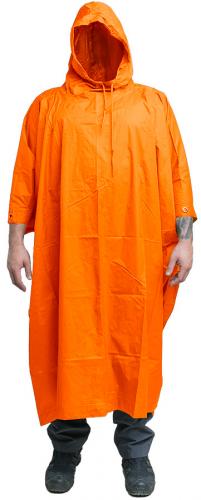 Särmä Rain Poncho
Price 18.99 USD excluding VAT
Flat Rate Shipping to USA $9.99
88 % recommends
Sold 67 pcs in the last two weeks
Loading products...
Trouble with the metric system? Try our converter: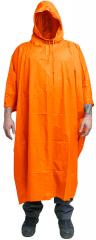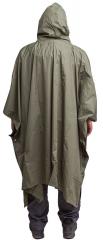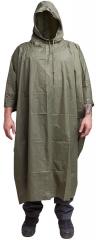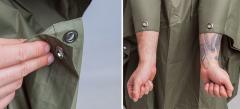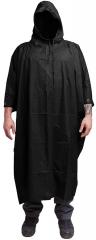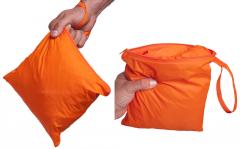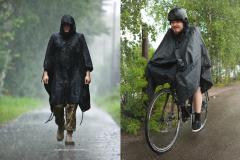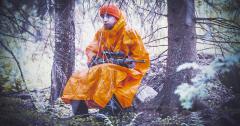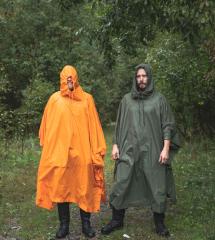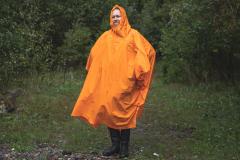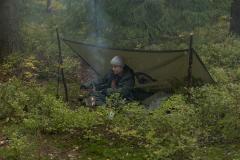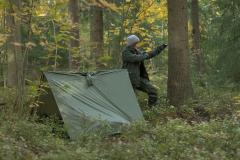 A standard waterproof poncho is probably one of the most versatile things you can own. This lightweight model is easy to carry with you anywhere and offers easy protection from wind and rain. A good range of colours serve a multitude of users, depending if you want to be seen or not draw too much attention.
A rain poncho is an essential piece of any "what if"-package. It's not a bad idea at all to keep one in your car or boat at all times. Naturally the most common use is worn over your other clothing as a waterproof shell, but these can also be used to pitch small shelters using the six grommets found around the edges. These are also large enough to fit medium sized backpacks underneath, so you don't necessarily need a separate rain cover for your backpack.
info
Length approx. 235 cm or 220 cm (depending on batch)
Length approx. 140 cm
Weight approx. 400 g (incl. pouch)
Pack size approx. 20 x 10 cm
Comes with a zippered carry pouch
Press studs to close the sides
Grommets in the corners and on the long sides
Waterproof taped seams
100% polyamide with PU coating, waterproof up to 5000 mm
The bright dayglow orange variant is a sort of specialty, because usually this type of poncho's are only made in black, green and so on. This was initially designed for hunters but it works equally well for anyone who needs to be seen: we've found it quite handy when cycling in crappy weather, changing wheels on the side of the road in the night etc.
Fits perfectly inside a Medium size Mil-Tec modular system pouch. The stuff bag would then be free for other small stuff - it's fabric is also waterproof, but not the zipper. However this shouldn't be a problem if kept inside a rucksack.
Varusteleka Särmä
Särmä is our own brand of clothing and equipment. When you buy Särmä you get purpose-built stuff at a decent price, something that will fill its intended role well and not cost you an arm and a leg!
Särmä products are covered by a 12-month warranty against defects in materials and workmanship. For further information please read our detailed warranty guide.
Manufactured in China.
Reviews
You have already submitted a review. You can edit your text by clicking on it.
Log in and write a review.
Remove filter
Suomi
(11)
English
(6)
I would recommend for a friend
Perttu T.

11.04.2017
Huomattavan kevyt verrattuna omistamaani M91-kuviolliseen armeijan taikaviittaan, tämä ei ehkä suojaa yhtä tehokkaasti ydinlaskeumalta mutta ajaa asiansa hyvän pakkautuvuutensa ansiosta (pakkautuu rullattuna noin 0,5l limupullon kokoiseksi).
6
0
I would recommend for a friend
banaani o.

12.04.2017 (Edited 12.04.2017)
Olen käyttänyt tätä kerran ihan vaan sadeviittana sateessa istuskeluun. Todellisen tulikasteensa viitta sai kun pistin sen yöksi riippumaton päälle. Viitta piti täydellisesti vettä mutta ainut asia joka vähän harmitti oli se kun viitan reunoihin tiivistyi vettä joka yön pikkupakkasessa jäätyi. Ja aamulla kun vein viitan aurinkoon kuivumaan se pääsi vähän kastumaan. Vettä se kuitenkin piti täydellisesti ja koko riitti riippumaton päällä.
11
2
I would recommend for a friend
Sami K.

21.04.2017
Plussat:
- kevyt ja pakkautuu hyvin
- oranssi huomioväri

Miinukset:
- nepparit eivät kestä kiinni vaan aukeilevat helposti
- huppu ei mahdu pyöräilykypärän kanssa päähän
6
4
I would recommend for a friend
Pasi R.

27.08.2017
Miinuksena liian helposti aukeavat nepparit. Ei ole kauhean fantsua alkaa säätämään neppareiden kanssa kaatosateessa koiran tempoillessa yhtä aikaa eri suuntiin.

Kehitysehdotuksena näitä voisi tehdä kahta kokoa. Vaimoehdokkaalla viitta ylettää mainiosti nilkkoihin asti, mutta itse 180cm lyhyenä kaipaisin viittaan vähän pituutta ja leveyttä lisää, sillä nyt kastuu sääret puolesta välistä alaspäin ja kädet käsivarsien puolesta välistä.

Mutta ajaa siltikin asiansa täydellisesti ja onkin tällä hetkellä aina mukana koiralenkeillä ja ylipäätään ulkoillessa.
7
0
I would recommend for a friend
Bryan M.

28.08.2017
Excellent quality for the price with tons of versatility. Snaps and grommets are well placed and it's generously sized for a decent sized pack to fit underneath if need be.

The Chinese manufacturing is of good quality, but I'd pay an extra $20-30 for the European worker. -0.5

Overall an excellent product. The zippered pouch is handy as well.
24
3
I would not recommend to a friend
Santtu P.

17.09.2017
Viikon vaellusreissun jälkeen en kehumaan tässä herkeä.
Ensinnäkin saisi olla isompi niin mahtuisi aikuisten rinkkakin alle. Neppareillahan voi ylimääräisen säätää pois. Noh, toi kokohan oli kyllä esittelytekstissä esille tuotu.
Nepparit on kyllä lähinnä mallia vitsi, vähintään seuraavaan kokoluokkaa pitäisi olla jotta eivät napsuisi auki jokaisessa käänteessä.
Kankaan sisäpinta on huonosti kuivuvaa sorttia. Rinkkareissulla sateessa ulkopinnasta vesi poistuu kiitettävästi, mutta sisäpintaan tiivistyvä hikoilu ei sitten oikein millään. Pitäis varmaan käyttää väärinpäin.
Huppuhan tässä on yhtä vitsi kuin muissakin näissä vastaavissa. Pitäisi olla se militarikypärä päässä kait. Ilman lippistä turha kuvitella näkevänsä mitään (kokeilkaapa vertailuksi joskus vaikka sts vastaavan huppua)
Bonuksena, yön kun oli tarppina, alasaumaan kertyi vettä. Alle puoli desiä varmaankin, mutta outo toi oli kun ei sitten poistunut puristamalla vaan vasta ajan kanssa.
Eli aktiivikäyttöön ei voi suositella. Kevyt ja pieneen tilaan menevä, niin kaipa tota jonkin sortin hätävarana autossa voisi pitää.
27
7
I would recommend for a friend
Jan H.

20.09.2017 (Edited 20.09.2017)
Very handy for quick and light-weight rain protection. Wear a strap or belt to keep from flapping about. Only downside are the press-studs wich come loose to easy when getting your hands in and out. The ones on the M05 TST are much much tougher but obviously for a different price and field of use.
Also these are quite long.At 194 cm hight these come way down over my knees to the shins. Again wearing a belt is recommended. Remember: duct taping 3 large Xs on the orange variant makes for a great emergency signal
4
0
I would recommend for a friend
Matti P.

12.10.2017
Melkein koko Nummirock 2017 meni tämä päällä, ja säilyin kuivana. Nepparit löysät, mutta viitta tekee sen mitä pitääkin.
4
0
I would recommend for a friend
Kalle H.

12.10.2017
I would recommend for a friend
Justin L.

20.04.2018 (Edited 03.05.2018)
The first one I ordered a couple of months ago had an overwhelming chemical odor when I first opened it up; hung it up a few days to make it tolerable. Otherwise, good quality craftsmanship and pretty good value for the price. Extremely versatile, it has held up to the light use I've thrown at it and I'd recommend this version, with grommets, as a great piece of kit for anyone.



[EDIT] I ordered a second one and what I received was an earlier version of poncho that lacked grommets and made of a slightly different material. Varusteleka reached out to me and sent a replacement current model being advertised here. FANTASTIC! Top notch customer service, as always, to these awesome folks!

I've purchased the bright orange to be used as emergency cover or ground sheet to be left in the vehicles; every vehicle should have one, honestly. Pretty handy for day hikes or any other quick excursions, too.
8
0
I would recommend for a friend
Henri N.

11.07.2018
Käytän pääasiassa pyöräillessä töihin ja takaisin, huppua en ole kokeillutkaan laittaa kypärän kanssa päähän, joku tuolla mainitsi ettei se mahtuisikaan.

+ Viitan alle mahtuu keskikokoinen reppu tai laukku kuljettajan lisäksi
+ Taittuu melko modulaarisesti tuoteselosteessa mainittuun taskuun ja siihen jää vielä väliä jonkin verran
+ Perushyvä sadeviitta

- Nepparit on tosiaan melko helposti aukeavat
- "Hiha"osuudet viitasta jäävät sopivasti lyhyeksi kun ajaa pyörällä joka aiheuttaa sitten käsivarsien kastumisen

Olen tätä käyttänyt myös metsässä missä se onkin sitten aivan kelpo viitta. En ole koittanut sen suuremmin siitä viritellä mitään sadesuojia muuhun kun rinkan päälle, jotta en osaa sanoa miten kestäisi pingottelua tms.
1
0
I would recommend for a friend
Clement C.

16.08.2018
Pros:
- Rather light and compact, easy to put in your everyday bag
- Does its job at keeping you dry even under heavy rain
- Easy to dry and to pack in its bag

Cons:
- When wearing it while walking water tends to drip down to your ankles
- A bit expensive for what it is in my opinion (even-thought the build quality is good).

BONUS TIP: When contained in it's bag, roll into a sweater/jacket and turn it into an improvised pillow!
1
0
I would recommend for a friend
Tom K.

06.06.2019 (Edited 06.06.2019)
+ Long poncho for leg protection and also more covered backpack surface.

+ Lightweight and takes a very small amount of storage space.

+ The pouch has enough space to store further equipment like a light waterproof trouser.

+ The loops allow the poncho to be used as a small tarp.

+ Good overall quality of the material and the seams.



- The buttons snap open too easily.

- Hoodie is too big and not adjustable. Needs to be used with a cap/hat to prevent the hoodie from sliding over the eyes.
2
0
I would recommend for a friend
Mikko V.

25.06.2019
Viitta mahtuu napakasti Savotan Yleistasku Mini pussiin, https://www.varusteleka.fi/fi/product/sa-m05-yleistasku-mini/13638. Tekstissä mainostettu Mil-Tec keskikokoinen yleistasku on liian suuri jos haluaa että pussit täytetään periaatteella yksi asia per tasku.
1
0
I would recommend for a friend
Björn A.

13.08.2019
It survives the forest, it is long, it has pushbuttons, a separate pouch, drawstring in the hood..
What not to like?
0
0
I would not recommend to a friend
Moilanen T.

01.10.2019
+kevyt ja helppo pakata mukaan. Miinukset, nepparit aukeilee helposti ja osa repeili irti jo eka käyttökerralla , suojaa hennolta tihkusateelta, mutta kovemmalta sateella kastuu läpi. Oli pettymys ostos.
1
0
I would recommend for a friend
juha s.

24.02.2017
Kun sienimetsällä sade yllättää, tää päällä pääsee kuivana autolle saaliin kanssa, vailla pelkoa hirvenä ammutuksi tulemisesta. Ja mahtuu ihan oikeasti tohon pussiinsa vielä kuivattelun jälkeenkin.
9
3