The Weeks of Boots - Alpina, OCT 25–31, 2021
Alpina is a Slovenian brand with a wide range of footwear including categories important to us: hunting, tactical, and hiking. They operate manufacturing facilities in Europe and provide high-quality materials and workmanship at a rather competitive price. We have collaborated with them to create boots sold as "Särmä TST Alpina" - available only at Varusteleka.
During Varusteleka's third Week of Boots, Alpina Tundra hiking boots have a discounted price (roughly 10% off) and the buyer of any pair of Alpina or Särmä TST Alpina footwear (Tundra, Trapper 4-Tac) gets an Alpina neck tube free of charge. The offer is valid until OCT 31st, the neck tubes are limited to 300 pcs.
On this week's Friday (OCT 29th) from 12:00 to 20:00, you'll find an Alpina product representative in our shop and if you like Finnish "pullakahvit", it's on the house in Sotima.
Weeks of Boots, what?
Don't worry, it's just us being shamelessly commercial. We have planned campaigns until November 14th and each week has its own special offers. Didn't take the bait this week? Check out the following weeks below!
The Care for Your Shoes and Boots Explained
Proper shoe care is vitally necessary to prolong the service life of your boots or shoes. This article covers how to take care of footwear sold by us, and generally army and outdoor boots. Fancy dancing shoes and fashion items are not included, to keep it as simple and short as possible.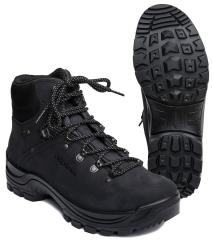 Alpina Tundra
129.99 USD
If you want a pair of good hiking boots, these are the way to go. High-quality materials and workmanship make these punch way above their price point. Suitable for all seasons. As a valid selling point, these are made either in Bosnia or Slovenia, not in some far East sweatshop.