Lowa & Särmä TST boots demo 18.-19.10.2019
Witness the newcomer to the field of modern combat footwear: Based on the acclaimed Z-8N (pronounced "Zatan", probably) with modifications requested by us to make it the Lowa Z-8N GTX Särmä TST M19 Combat Boot.
To blast appropriate fanfares quickly after launching the boots, we have invited the manufacturer to visit us and offer our customers information about Lowa products, shoe care, shoe fitting and generally all that jazz around your feet. Don't miss this chance to meet a true footwear professional!
And that's not all: the first 200 to come to this event and walk away with these new boots will get a complimentary tube of Lowa Active Creme, because what good are instructions without the means.
The Lowa rep is at the Varusteleka shop as follows:
Friday OCT 18th; 15-19
Saturday OCT 19th; 12-16
Location: Hankasuontie 11A
Welcome!
P.S. There will be 200 tubes of shoe care to be handed out with the Lowa Z-8N GTX - Särmä TST M19, the approximate value is 6 euros. These come along with the Lowa representative, which means they are available beginning from the 18th of October at 15:00 hours and only from the shop. The offer is valid until these run out. One tube per customer.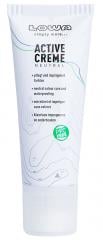 Lowa Active Creme, 75 ml
9.99 USD
Lowa Active Creme is the ideal colorless intensive wax care for boots and shoes. It keeps the leather supple over the long term and prevents drying out and brittleness when used regularly. In combination with Lowa Water Stop Pro, this is the perfect protection for your Lowa shoes.
Lowa Water Stop Pro, 300 ml
11.99 USD
Spray-on treatment for your GTX footwear. Creates water, dirt, and oil-repellent layer while allowing the leather to breathe. Also works with fabrics.