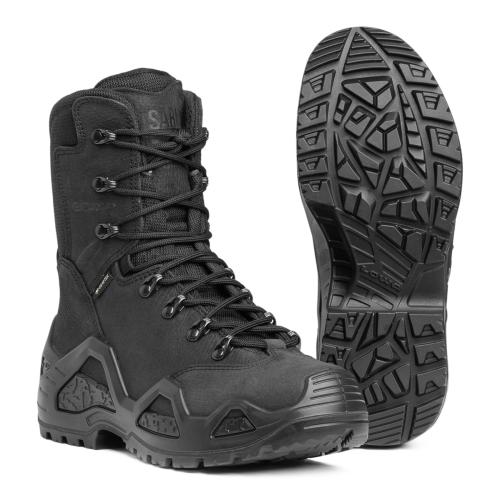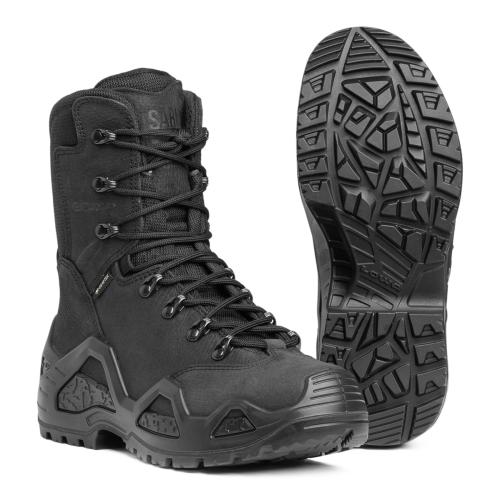 Early tread pattern pictured. The current models have the same tread as any other Z-8N made by Lowa.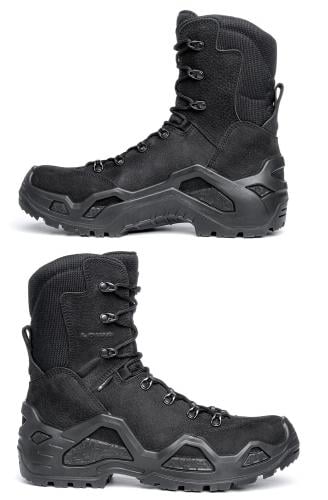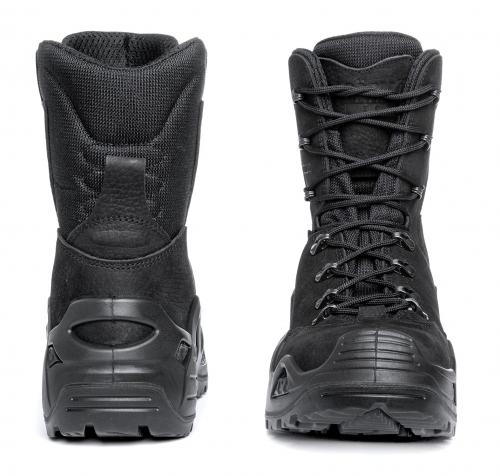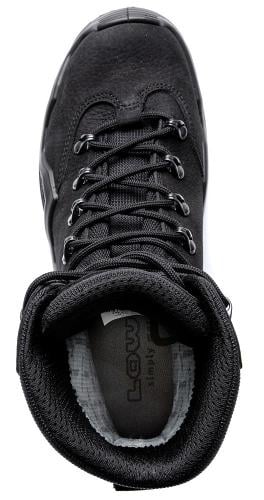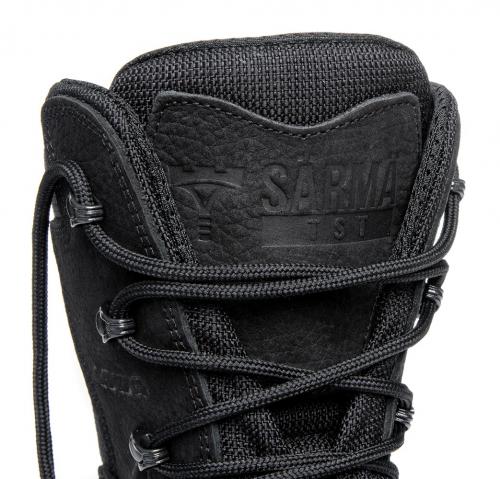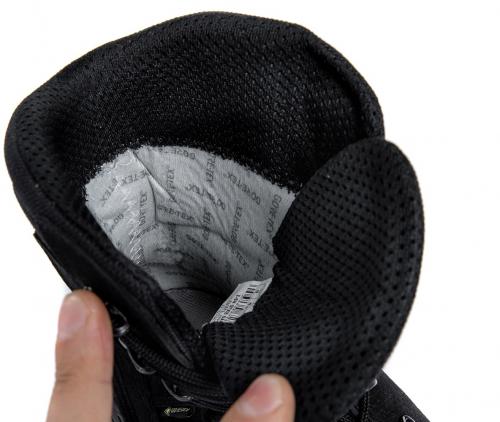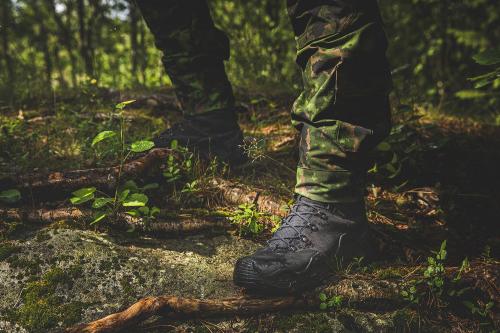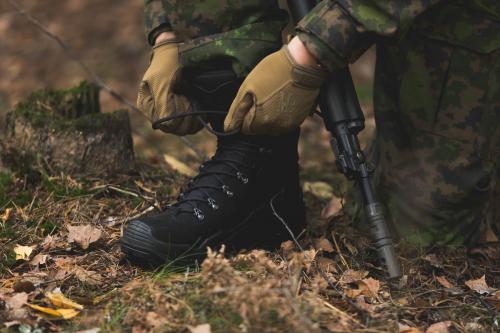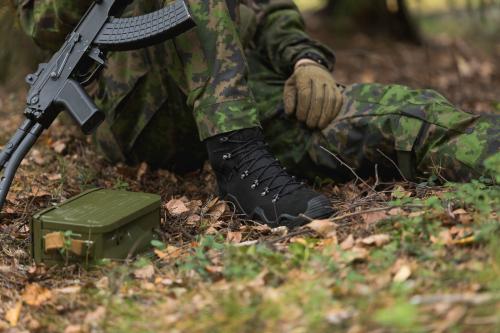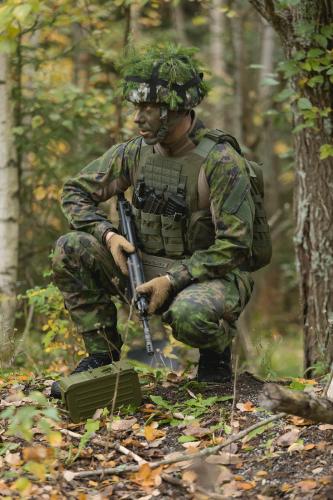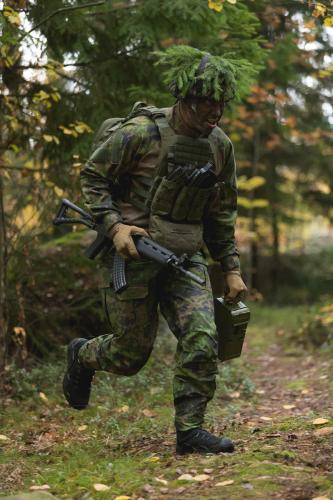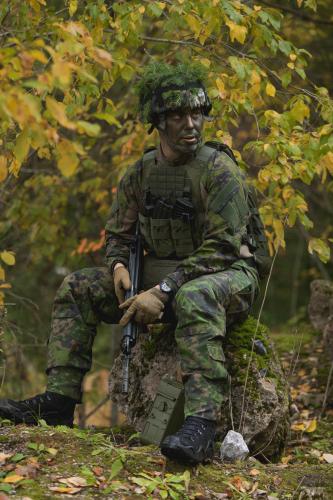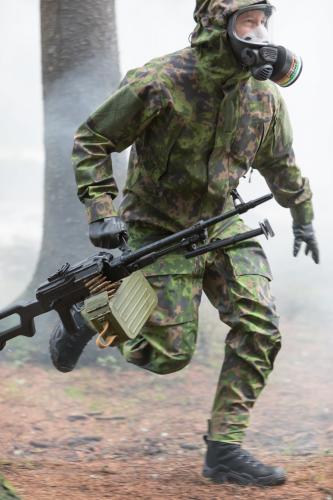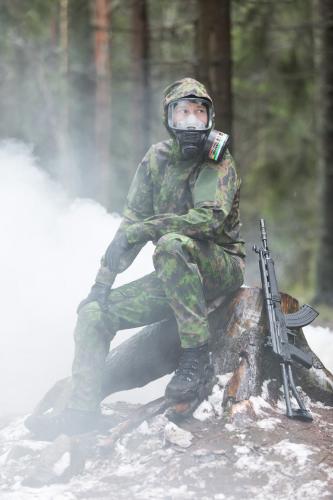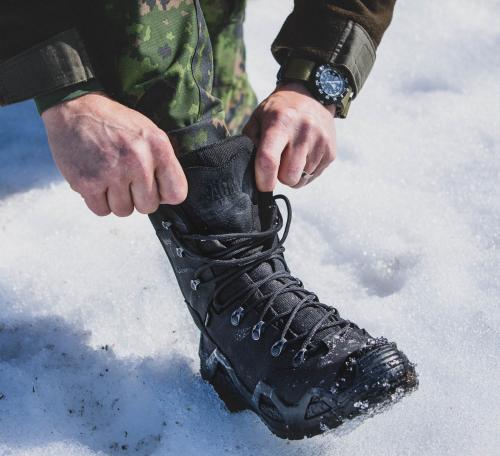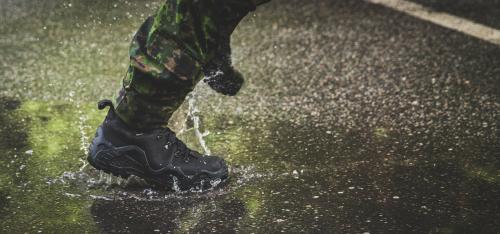 Särmä TST
Lowa Z-8N GTX - Särmä TST M19 Combat Boots
Price 175.99 USD 209.99 USD
excluding sales tax
As a joint effort of Lowa and Varusteleka, we're proud to present the Z-8N / M19 Combat Boots! We took the stock model of the Lowa boot and not only ordered a LOT of them but had some tiny alterations made, thus is born the "M19 Combat Boot". This model is available only from Varusteleka!
Loading products...
Trouble with the metric system? Try our converter: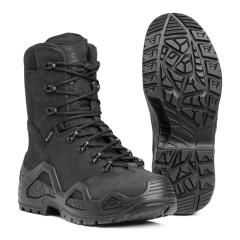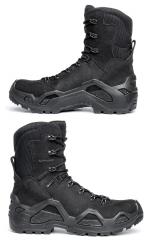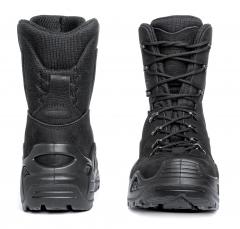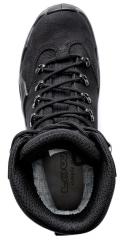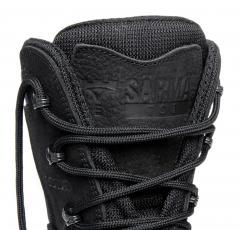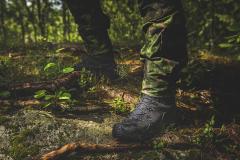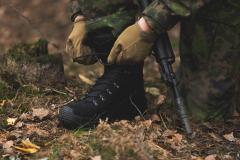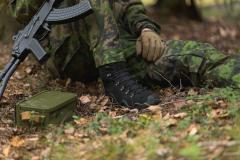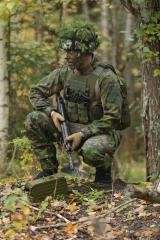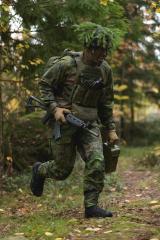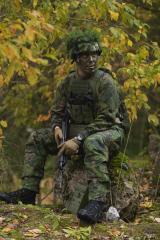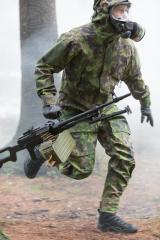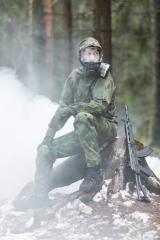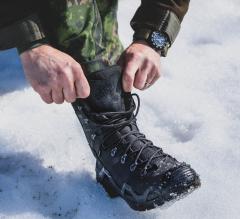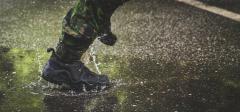 As a joint effort of Lowa and Varusteleka, we're proud to present the Z-8N / M19 Combat Boots! We took the stock model of the Lowa boot and not only ordered a LOT of them but had some tiny alterations made, thus is born the "M19 Combat Boot". This model is available only from Varusteleka!
Hiking boots with Gore-Tex membrane
Thick nubuck leather and cordura
Injection molded PU multicomponent sole
Speed lacing
Weight about 1430 grams (3.15 lbs) per pair
Materials and work from the EU
Size info
Made to UK sizes. Lowa boots are true-fitting and the width of this model is between Regular and Wide.
The EU/French size is converted to larger numbers than usual. If you buy shoes based on sizes like 42, 45, or such, pick at least half a size larger than you normally would.
UK sizes convert easily to US sizes, just add 1 to each size. UK 8 = US 9, for example. These numbers are accurate.
Sizes UK 4 - 7 (with Ws-suffix) are sized according to the same UK standard as others but have four structural differences: Softer edging at the calf, padded tongue to prevent shifting, modified instep and ball area for a closer fit, and a more flexible midsole. These features are commonly good for feminine feet, but the boots can be worn by anyone: fitting of boots and shoes is always an individual thing.
The tables below show the recommended foot length and for the smaller sizes also a conversion to US Women's sizes.
Again: trust the UK/US sizes and millimeters. If you use EU sizes, choose slightly larger boots.
Conversion tables
Sizes UK 4 - 7
| UK-size | Length of foot | EU / French size | US size (men) | US Women (injected sole) |
| --- | --- | --- | --- | --- |
| UK 4.0 Ws | 230 mm | 37.0 | US 5.0 | US 6.0 |
| UK 4.5 Ws | 235 mm | 37.5 | US 5.5 | US 6.5 |
| UK 5.0 Ws | 239 mm | 38.0 | US 6.0 | US 7.0 |
| UK 5.5 Ws | 243 mm | 39.0 | US 6.5 | US 7.5 |
| UK 6.0 Ws | 247 mm | 39.5 | US 7.0 | US 8.0 |
| UK 6.5 Ws | 252 mm | 40.0 | US 7.5 | US 8.5 |
| UK 7.0 Ws | 256 mm | 41.0 | US 8.0 | US 9.0 |
Sizes UK 7.5 - 13.5
| UK-size | Length of foot | EU / French size | US-size |
| --- | --- | --- | --- |
| UK 7.5 | 260 mm | 41.5 | US 8.5 |
| UK 8.0 | 265 mm | 42.0 | US 9.0 |
| UK 8.5 | 269 mm | 42.5 | US 9.5 |
| UK 9.0 | 273 mm | 43.5 | US 10.0 |
| UK 9.5 | 277 mm | 44.0 | US 10.5 |
| UK 10.0 | 281 mm | 44.5 | US 11.0 |
| UK 10.5 | 285 mm | 45.0 | US 11.5 |
| UK 11.0 | 290 mm | 46.0 | US 12.0 |
| UK 11.5 | 294 mm | 46.5 | US 12.5 |
| UK 12.0 | 298 mm | 47.0 | US 13.0 |
| UK 12.5 | 302 mm | 48.0 | US 13.5 |
| UK 13.0 | 307 mm | 48.5 | US 14.0 |
| UK 13.5 | 311 mm | 49.0 | US 14.5 |
Lowa recommends measuring your foot for the best results. If your foot is 265 mm long, for example, choose size UK 8.0 for a precise fit. This leaves a suitable toe extra in the boot. In these cases, your own experience is valuable: if your foot is very wide or you want a lot of sock clearance for winter use, consider a larger size. A half-size in the UK/US system makes only a 4.2 mm (1/6th of an inch) difference.
From the boonies to the asphalt
The Z-8N is light and maneuverable but a suitably stiff military boot. It's fit for use with the heaviest of loads, and in its element in the proper military and outdoor use. However, it's a great choice for everyday boots too, at least during the cold and wet season.
The boot is lightweight and the sole system brings just the right amount of torsion resistance for all-terrain use. With a height of 20 cm, most of the fauna will stay out of your boot.
What's it about
Upper made of leather and cordura. The leather mostly resides in the lower region where most of the wear happens. Leather thickness is 2,0-2,2 mm.
Waterproof membrane will keep your feet dry while letting sweat vapours through. The membrane is naturally real-deal Gore-Tex.
Lowa's own Monowrap sole. Comprises three parts: a rubber outsole, a plastic stiffener, and a PU frame. The heel has a separate stabilization piece. For additional wear protection, the outsole rises up in the nose. The sole is injection-molded, so it is not replaceable but has a service life of 7 to 10 years. This construction type also makes the sole very light.
Speed lacing with tunnel loops. Compared to hook lacing the tunnel loops are more straightforward and won't get tangled up, thus preventing tripping on them.
The fit and last are made Just Right. This means you can wear as many socks as you want and adjust the fit to your liking. Not the case with the standard Finnish army footwear.
So what makes these Särmä TST?
We figured the Z-8N model was just about perfect as is, we just had a few modifications done:
The sole is a bit less stiff than the standard model, so these are more suited for general use. To achieve this the stiffener inside the sole was simply changed to a more flexible one.
The sole frame is solid black instead of grey and our Särmä TST logo was added to the tongue. This model is only available from us!
Model update 2022: The first batches had a coarse tread pattern but the current model has the same pattern as all the other Z-8Ns Lowa makes.
Care info
These are GTX boots, so use only membrane-compatible shoe care products or you'll risk blocking the membrane! In short, clean the boots with a moist rag and brush, then treat the leather with a suitable spray-on waterproofer, and then apply grease lightly. Apply grease only when necessary - if the boot is in heavy use, do this more often. If the wear is just occasional, be gentle with the grease.
Remember to keep the inside of the boot free from debris to keep the membrane intact.
Maintenance guarantees long service life
When properly cared for, the service life of the boot is seven to ten years - Lowa believes in its products so much they actually give these figures, knowing that it's rather difficult to determine a service life for boots.
The boots have a 2-year warranty against material and workmanship defects. If there's anything at fault, you'll notice it for sure in a couple of years.
Varusteleka Särmä TST
Särmä TST is Varusteleka's in-house brand of clothing and gear designed for military and law enforcement end-users. Our clothing and equipment are made in co-operation with a number of experienced manufacturers with a strong background in producing clothing and gear for military and law enforcement officials, most notably for the Finnish Defence Forces. For further reading check out the Varusteleka's Särmä TST page and Särmä TST Clothing System article.
Särmä TST products are covered by a 12-month warranty against defects in materials and workmanship. For further information please read our detailed warranty guide.
All products: Särmä TST
Recommendations
Loading products...
Reviews
You have already submitted a review. You can edit your text by clicking on it. You can filter the reviews by clicking on the elements of the summary.
Log in and write a review. You can filter the reviews by clicking on the elements of the summary.
Remove filter
Suomi
(14)
English
(7)
I would recommend for a friend
Owen C.

19.10.2019

Verified purchase
High quality, comfortable boots. Purchased in my normal shoe size and fit well even with two pairs of socks. A pleasure to walk in. Perhaps consider a half size up if you are worried but any more than that is unnecessary, good fit.
3
0
I would recommend for a friend
Eduard J.

28.10.2019

Verified purchase
I've heard about Lowa's reputation just until this pair of boots were in the website a few months back. Having to try it on and went for a stroll, these were one of the most comfortable boots I've worn since my last pair of full leather boots way back college at 2014.

According to the instructions from the Lowa website, there's no need for you to actually break-in the boots as they're made to be that way in order to provide you maximum comfort and convenience, but they do optionally allow you for at least a whole week at least if you may want to do so.

Now going back to the boots, I made my way a couple of blocks around the city just walking a long route to test out the features:

Comfortability is nice and I love how it wraps around my feet and ankles perfectly as if it was specially made for me, despite I have been in the city for 3 hours walking constantly, I am feeling the stress around my feet but it doesn't make me feel like I need to stop since it didn't bugged me until I needed to take a breather. The molded soles work nicely and they are seemingly well made for a lifetime.

The Gore-Text lining did its job around by making my feet breathe well while being waterproof and the nubuck leather is quite nice as it makes the boots real sturdy. I forgot to mention I wore their Sarma Hiking Socks with the boots and they work really great together on the journey. Luckily that it rained while I was on my way home in order to test it further and they indeed repelled out the water and the interiors were still dry ever since I started donning them, so much for my clothes were wet of course hahaha.

However, I made observations on each boot and it seems like it was a bit damp on the interior lining below the toe cap so I took off my socks afterwards, I checked if water did made it through even in the toe area but it feels like it's all dry. I understand that there are some who doubt GTX boots for not being entirely waterproof along with other issues, but I'll have to find out if that was actually just sweat or is it really water that did made it through in the boots? I also sprayed them with waterproofer made for membrane shoes for 2 coats beforehand so I'm not so sure how that happened anyway.

In conclusion, I'm going to give it 4 stars because of it and I'll still do some further testing when I get to wear it again. Otherwise, these are really impressive boots to own whether you're into hiking, airsoft or you just want to own a pair of awesome footwear to go with on your everyday trails!
6
0
I would recommend for a friend
Mikko K.

15.11.2019

Verified purchase
Muokkaus 2022:
Jo toiset Lowat hajosivat vuoden käytön jälkeen kantapään saumasta. Tekstistä poiketen kengissä on vain vuoden takuu. Hyvät kengät, haluaisin tykätä, mutta omaan käyttöön liian heikko.

Alkuperäinen:
Perushyvät, mukavat maiharit. Sisään mahtuu leveämpikin jalka ja tukevuutta on sopivasti kunhan malttaa kiristää nauhat kunnolla. Aluksi tuntuivat liukkaalta sileällä, märällä kivellä ja vastaavilla pinnoilla, mutta eivät enää. Olisiko pohjasta kulunut joku suojakerros.

Talven näillä kuljettua palaan asiaan: aikaisempiin Jalaksiin verrattuna parempi, pohja ei kulu sileäksi yhdessä talvessa, Salomoneihin verrattuna tukevampi jalassa (korkeampi varsi) ja paremmat nauhat, saa mukavan kireäksi ja nopeammin jalkaan ja jalasta. Edelleen ovat Jalaksia liukkaamat alla on sielää jäätä mutta pienikin epätasaisuus riittää että pysyy pystyssä.
0
0
I would recommend for a friend
Petri H.

09.12.2019

Verified purchase
I would recommend for a friend
Mikael M.

10.12.2019

Verified purchase
Sain käskyn lähteä viikoksi kertaamaan syysloskassa, ja kolmekymppistä vähän ahdisti ajatus lainamaihareissa rymyämisestä. Nuorena poikana oli aikanaan jalat jatkuvasti kipeänä firman kengistä. Niin ostin sitten tälläiset!

Kävelyä, juoksua tai tetsailua on kuluneen vuosikymmenen aikana harrastettu vain hyvin satunnaisesti, ja näidenkin sisäänajo tapahtui kävellessä bussipysäkiltä kasarmille. Tästä huolimatta jalkani eivät olleet moksiskaan, vaikka yhtäkkiä rymyttiinkin päivätolkulla sotavarusteet niskassa. Ei tullut kavioilleni yhtään märkä, kylmä, tai kipeä.

Onko tämä Särmä TST M19-varsikenkien ansiota? Äidin ja isän erinomaisten geenien vaikutusta? Sotapedagogiikan riemuvoitto?

En tiedä, mutta näissä on kiva kävellä ja näyttävät päheiltä. Kun kertauksissa veti nämä jalkaan, omat suojalasit päähän ja juomarepun niskaan, niin reserviläisveljet katsoi, että meillähän on perkule joku ammattisotilas täällä mukana! Se oli tietenkin lähellä totuutta, olenhan mm. pelannut Arma 3:n yksinpelin läpi ja voittanut PUBGissa kanaa. Soolona!

Sittemmin olen kävellyt näillä myös toimistolle onnistuneesti, vaikka oli vähän liukasta.
80
1
I would not recommend to a friend
Anonymous customer

16.12.2019

Verified purchase
Käveltyäni paskaksi kolmannet Jalaksen Fantomit viimeisen 6 vuoden aikana, päätin antaa Lowille mahdollisuuden kun niitä kehuttiin kovasti kestäviksi.
Tukeva kenkä joka häviää kuitenkin Jalaksille hengittävyydessä ja ennen kaikkea pidossa. Kenkä on mielestäni kuuma ja hengittää yhden kokeilun perusteella paljon Mustanaamioita huonommin.
Eli viileällä sukka kastuu ja sitten iskeekin vilu. Myös nauhoituksen kanssa saa temppuilla Jalaksia enemmän.
Pohjan pito on lähes yhtä surkea kuin Vibrameissa, eli etenemiseen märällä tai lumisella pinnalla saa pistää puolet enemmän paukkuja kuin Jalaksilla. Myös märkä juurakko muuttuu jänskäksi näiden kanssa, enkä halua kulkea koko ajan jalansijoja hakien.
Esim. meinasin luisua noin 10-20 astetta kallellaan olevilta märiltä pitkospuilta lampeen, kun kengistä loppui pito. Käden ulottuvilla oleva näre kuitenkin pelasti ja kontaten eteenpäin...
Jalasten kanssa sama paikka on ohitettu toistasataa kertaa, ilman että siihen on kiinnitetty edes huomiota.
Palautin Lowat ja otin Jalakset tilalle. (Tässä kohtaa täytyy antaa viisi tähteä Varustelekalle asiakaspalvelusta.)
Nyt pitää vain hyväksyä että huollettujenkin Jalasten käyttöikä metsässä on 2 vuotta ja/tai 1500 km ja sitten hajoaa nahka.
Kuljen kuitenkin mielummin pitävillä kengillä, kun esitän Bambia jäällä heti kun alusta kastuu tai jäätyy.
41
5
I would recommend for a friend
Mika P.

11.01.2020

Verified purchase
Istuvat hyvin jalkaan. Kannattaa ottaa tarpeeksi iso koko, jos haluaa laittaa jalkaan esim. villasukat tavallisten sukkien päälle. Hylkivät hyvin vettä.

Pito onkin sitten negatiivisin asia näissä. Jos on vähänkään jäätä tai kovaa lunta, pitävyys on todella heikko. Lisänasta joutuu laittamaan. Lumella näillä pystyy kävelemään ihan ok. Metsässä näitä ei ole vielä ehtinyt kokeilla.
3
1
I would recommend for a friend
Jesse L.

12.01.2020

Verified purchase
Oletko etsinyt metsässä rymyämiseen kenkiä... hyvä, etsintä on päättynyt.
Omaan jalkaan nämä tuntuvat erittäin hyvältä.

Aluksi kenkä oli todella kankea ja meinasin lähteä palauttamaan niitä, mutta kulje ainakin se 50 km nämä jalassa ja arvioi sitten uudestaan.
Myös pohja tuntuu käytössä pehmenevän hieman joka sitten lisää sen pitoa liukkalla. Yksi tähti kuitenkin pois pidosta kalliolla / jäällä.
Kenkä ei ole erikoisen hengittävä joka saattaa pidemmällä reissulla muodostua haitaksi.
Pitää erittäin hyvin kosteuden loitolla... voi surutta astua lätäkköön ja olla huoleti, että sukka kastuisi.
Myös korkea varsi ei päästä vettä nauhojen välistä kengän sisään... tai sitten saa kyllä upottaa koko kengän puroon.
Yleisesti kenkä vaikuttaa erittäin kestävästi valmistetulta ja materiaali hyvältä. Aika näyttää, kuinka kauvan tämä tulee kestämään metsässä rymyämistä!

Suosittelen tätä kyllä kaikille... ja älkää heittäkö menemään alku kankeuden jälkeen vaan käyttäkää hetki.

Huom! Itsellä 43-44 jalka ja otin 43½ koon. Tämä on siinä ja siinä meneekö sinne paksumpi sukka (esim villasukka).
4
2
I would recommend for a friend
Henri J.

30.03.2020

Verified purchase