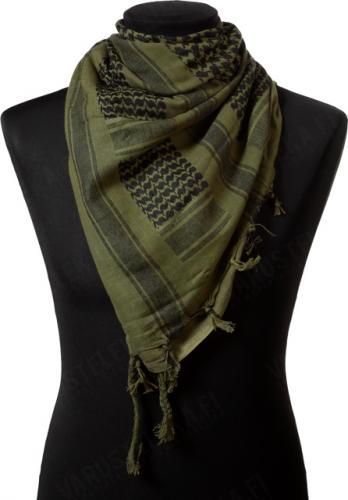 Shemagh scarf
Price 9.99 USD excluding VAT
Flat Rate Shipping to USA $9.99
83 % recommends
Sold 162 pcs in the last two weeks
Loading products...
Trouble with the metric system? Try our converter: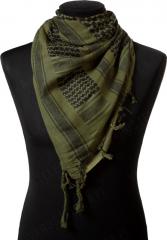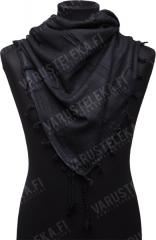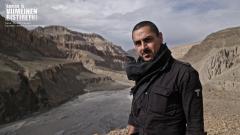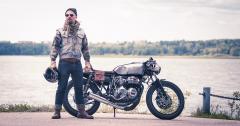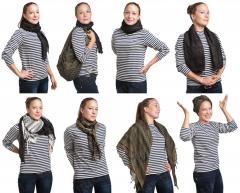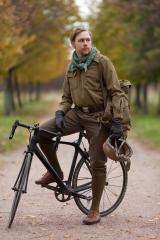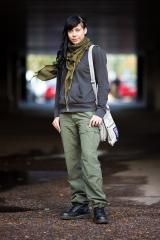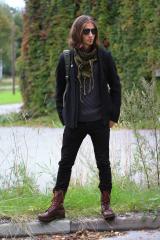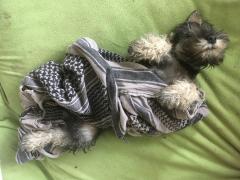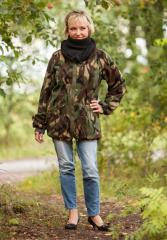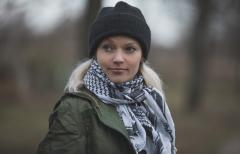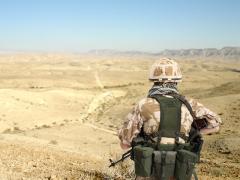 The traditional Shemagh scarf, which has, surprisingly enough, found its way to western military use. Many colours available.
The shemagh scarf, also known as keffiyeh, ghutra and hatta, is traditional arabic headwear. For quite some time these "palestinian scarves" have been popular even among common folks and not just activists of some sort.
As so often with fashion, armed forces have been the forerunners who realized the practical and fashionable value of this item. The British men at arms have been using these for over 70 years and in the Gulf War was introduced to American forces as well.
A shemagh is a warm and comfy scarf when worn around the neck, but can be tied to cover the entire head leaving just a slit for the eyes to protect the wearer from elements.
Size: 110 x 110 cm. The shemagh is usually utilized folded as a triangle (ie. in half). Then it can be wrapped around the head leaving parts exposed if needed. Here is an illustrated guide on how to wrap the shemagh the "proper" way. Bandanas and capes aside, this can be used as a makeshift bag or a bandage - just use your imagination.
Factory new, 100% cotton. Made in India.
Recommendations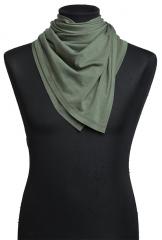 Särmä Square Scarf, Merino Wool
32.99 USD
Similar product.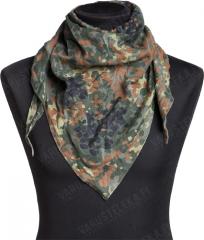 BW triangular scarf, Flecktarn, surplus
5.99 USD
Similar product.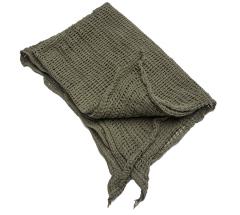 Belgian scrim scarf, olive drab, surplus
6.99 USD
Similar product.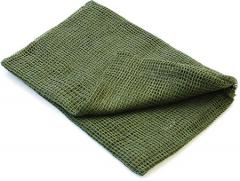 Mil-Tec scrim scarf
12.99 USD
Similar product.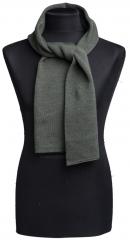 Särmä Merino Scarf
27.99 USD
Similar product.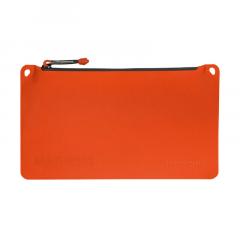 Magpul DAKA Pouch
27.99 - 39.99 USD
Viewed together.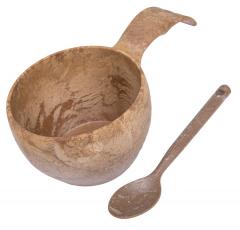 Kupilka 21, Original
13.99 USD
Viewed together.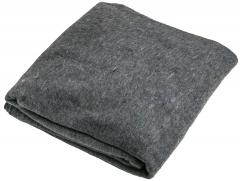 Disaster control blanket, surplus
27.99 USD
Viewed together.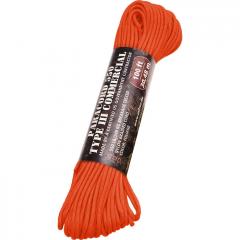 Paracord, 15 m
9.99 USD
Viewed together.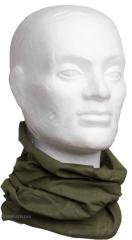 Multi Function Head Wrap - neck tube
5.99 USD
Sometimes purchased with.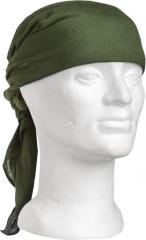 Swedish square scarf, 85 x 85 cm, olive drab, surplus
1.99 USD
Similar product. Temporarily out of stock.
Reviews
You have already submitted a review. You can edit your text by clicking on it.
Log in and write a review.
Remove filter
Suomi
(18)
English
(11)
I would recommend for a friend
Nicholas D.

16.12.2016 (Edited 22.12.2016)
I purchased one of these as an after thought while going to process my order. For 10 US dollars, there's not much to complain about. It's large enough to make a hobo stick bag and when folded, it works well as a 'tactical' scarf. It's a neat little novelty item with real world applications. There was some fraying but other than that, I don't see why I wouldn't pick up a few of the other colors as well.
8
0
I would recommend for a friend
Jason S.

25.12.2016 (Edited 27.12.2016)
The shemaghs I received had the Sarma tag / made in India and the quality is far greater than shemaghs I have purchased elsewhere.
13
1
I would recommend for a friend
Mikko T.

28.12.2016 (Edited 20.06.2017)
On todella hyvä huivi itse käytän maakuntajoukkojen harjoituksissa vihreää huivi mallia piiloutuu yllättävän hyvin M05 kanssa. Naisetkin tykkää yllättävän paljon tästä huivi mallista nimittäin kaupungilla näkee yllättävän paljon tätä huvi mallia liikkeellä. Naiset tuntuisi tykkäävän tuosta Khaki värisestä jostain syystä.
Eräs Japanilainen vieras halusi huivini ennen kotimatkaa joten annoin sen hänelle
8
1
I would recommend for a friend
Tommi M.

28.02.2017 (Edited 22.06.2017)
Sopivan kokoinen rätti, jonka saa kiedottua pään/kaulan ympärille lukemattomilla eri tavoilla. Kangas sopii paksuutensa puolesta leudoimmilla kuin kylmemmilläkin keleillä. Ottakaa pesuohjeet tosissaan. Heitin omani koneeseen sen kummemmin ajattelematta ja vihreä/musta huivini värit haalistuivat hieman.
4
0
I would recommend for a friend
Christopher K.

29.03.2017 (Edited 20.11.2018)
These are worn and go by several names in arabic, farsi and even hebrew. It can become a sauna in Death Valley but a valuable
multi use item for virtually no wieght. There is only ONE remaining Palestinian loomworks making these in the occupied territories. He sells on EBAY. If you like these buy one from him out of respect.
24
36
I would recommend for a friend
Kari K.

21.08.2017 (Edited 25.03.2019)
Onpa tullut kanniskeltua (ja yks hukattua, yhyy). Paljon on kertynyt kokemuksia normikietomisen ja riiiputtelun lisäksi - mm: yhen kaupan muovikassi repes kyljestään ni huivi auki ja krääsä maitopurkkeineen ja perunapusseineen ym.ym. keskelle, kulmista nippuun ja kummasti ohut puuvillakangas kesti kämpille kuskaamisen, toisella kertaa oli kaveri lähettänyt pari läppäriä korjattavaksi saatananmoisessa laatikossa.

Tulivat tietty matkahuoltoon vaikka olikin merkitty lähellä paketiksi! No sieltä kanniskelin sylissä hetken, mutta kun matka ei sujunut kuin Stromsössä, huivista narunkorvike alakulmia vähän auki ja paketti roikotettavaksi, ni ei tarvinnu taksia soittaa...
edit: kolmas menossa yks hävis, toinen toimii edelleen vararättinä, vaikka kunto alkaakin olla kauhtunu. Nyt hankin valko-sinisen, siit näkee helpommin pesutarpeen ja vaalee väri auttaa kesällä viilenpänänä. Kiitos toimimivasta huivinretaleelta...
0
0
I would not recommend to a friend
Petteri M.

24.10.2017
Kangas on liian ohutta ja nähtävästi teko heikkolaatuista. Oma shemagh-huivi on revennyt pelkässä kaulahuivikäytössä jo kahdesta kohtaa. Ei, en ole riuhtonut ja repinyt huivia, sillä en ole yrittänyt itseni kuristamista sitä kaulaan sitoessani. Huivin herkät kohdat ovat näissä rastapampulapäissä, joista huivi on kuin valmiiksi revittyä.

Harmi kun hukkasin aidon käsintehdyn palestiinalaishuivin. Se nimittäin kesti kymmenisen vuotta ilman yhtään repeämistä, sillä kangas oli laadukkaampaa sekä paksumpaa ja pampulapäiden vieressä kangas oli nätisti yhtenäistä. Nyt mennään kuitenkin näillä halvoilla rihkamakopioilla.
8
19
I would recommend for a friend
Max D.

18.11.2017
Erittäin hyvä ja laadukas tuote ja erittäin mukavan tuntunen
4
1
I would recommend for a friend
Antti H.

15.12.2017
Erittäin hyvä kaikkeen käyttöön kesällä ja talvella. Kannattaa varsinki inttiin hommata tämmönen. Lämmittää mukavasti kylmällä ja toimii hyvänä varjona helteellä.
2
0
I would recommend for a friend
David F.

23.01.2018 (Edited 28.01.2018)
Accurately described and as pictured. It will make a fine scarf, water filter, or any other reason you might need a piece of cloth bigger than a handkerchief. I was not happy with the loose ends, until I was told that is the way they are made and it survived a trip through the wash "bachelor style" (No regard for anything, stuff it in the washer) . It has grown on me and found a place in my pack.
4
1
I would recommend for a friend
Lassi V.

26.01.2018 (Edited 20.09.2019)
Vuoden verran ollut käytössä musta/valkea, lähes päivittäin, poislukien kesäaika. Toki käytön jälkeä on jo hitusen, muttei erikoisempia repeämiä tai muutakaan. Aavistuksen voi olla arka konepesulle, mutta muutaman kerran muun pyykin seassa pestynä ei ole siis ainakaan minulla osumaa saanut.

Todettu myös toimivaksi päähineeksi tai retkityynyliinan täytteeksi riippumattokäytössä.

EDIT: Nyt, kolme vuotta myöhemmin uuden hankinta, ja yllätys oli että tämä olikin MilTec, eikä Varustelekan omalla lapulla, kuten viimeksi. Lisäksi materiaali ei tunnu yhtä suloisen lämpimältä, ja kuviointikin on jotenkin krouvimman oloinen kuin edellisessä. Saa nähdä..
1
0
I would recommend for a friend
Maija M.

11.02.2018
Iso ja hyvän oloinen huivi, varmasti hintansa väärti. Pitää ostaa toistakin väriä!
3
1
I would recommend for a friend
Juha P.

16.02.2018
Jes, hyvä kapistus josta saa jos jonkinmoista huivia taiteiltua. Todella iso
2
0
I would recommend for a friend
Esa P.

19.02.2018
Ihan hyvä huivi, menee kaulahuivina siinä missä villainenkin. Ilkeät ihmiset tosin kutsuvat shemaghia terroristihuiviksi.
3
0
I would recommend for a friend
Pinaplz

12.03.2018
As I was finishing up my first order from Varusteleka a while back I passed by these and decided I might see what the fuss was about. Its one of those items that is apparently good enough for a lot of armies in the world, so it should be good enough for me. Added one to the cart, and added two more in cause they might be useful in my hunting pack and bug-out bag. Very very very happy I picked up extras of this. Large enough for an arm sling for any sized person, large enough to tie up in a hobo-sack and use for carrying, easy to wear and stays in place on your head. Overall just a solid $10 head-cover with some medical applications.
1
0
I would recommend for a friend
Antti J.

12.03.2018
Hyvä ostos. Olen hukannut musta-vihreän ja ostin nyt mustan sen tilalle. Shemagh on hyvännäköinen ja toimii hyvin vähänkin varustelekamaisen vaatetuksen kanssa.. talvellakin toimii helvetin hyvänä kaulahuivina joka ei kutia niinkuin villaiset mutta on silti lämmin. Helppo nostaa lämpimämmällä ilmalla naaman eteen suojaamaan lentävältä hiekalta jne.
3
1
I would recommend for a friend
Sami K.

18.03.2018 (Edited 18.03.2018)
Onkohan materiaali oikeasti 100% puuvillaa? Ostin vaimolle valkomustan värjätäksemme sen syvän punaiseksi Dylonin värillä, mutta huivista tuli lähinnä vaaleanpunainen ja kudoksessa näkyi vaaleiksi jääneitä säikeitä, eli ei ottanut väriä niin hyvin kuin olisi voinut kuvitella näinkin ohuen puuvillan ottavan. Joko näissä on joku tehdaskäsittely joka esti väriä tarttumasta täysin, tai sitten materiaali voi olla sekoitetta. Muuten hyvä huivi, jolla on kokoa aivan riittävästi eikä huivi ole liian paksu lämpimilläkänä keleilä käytettäväksi.
2
0
I would recommend for a friend
Patrik K.

16.04.2018
I would not recommend to a friend
ex-asiakas

09.10.2018
Huivi itsessään on hyvin lämmin ja käytännöllinen mutta perkele pitääkö sitä silti rikkinäisiä huiveja sieltä lähettää mielestäni en tilannut valmiiksi kulmasta saksilla auki revittyä huivia jossa on noin 15cm pituinen repeytymä niin että huivi lähinnä kolmion mallinen neliön sijaan
0
6
I would recommend for a friend
Jarmo H.

21.10.2018
I would recommend for a friend
Peter F.

20.12.2018
Picked up a few on a whim while ordering. It's quickly become part of my everyday gear. Quality is good, fabric is comfortable, and it's big enough to be used in a variety of ways.
1
0
I would recommend for a friend
Jarkko A.

21.04.2019
I would not recommend to a friend
Chris K.

10.05.2019 (Edited 08.12.2019)
There is 1 (ONE) remaining Palestinian company making these since the good communist Chinese flooded the market and the IDF evicted the other loom shops. Now anti Islamic evangelical survivalists can be PC waiting for Israel to start Armageddon ( ancient battle of Megiddo) and bring back Republican Jesus to rapture 144,000 of them and rupture the rest of us. I received the Indian product as a gift. It's not bad, but being Pc is not the same as being just. Anyone notice the finnish puukos coming in from Pakistan lately?
5
10
I would recommend for a friend
mobi

18.06.2019
Näitä Gambinan tahrimia kuvatuksia olen omistanut jo useamman kappaleen ja omistan vieläkin. Nämä kestävät, nämä eivät haise, menevät kesän pakkasista talven helteisiin ja lisäksi ovat perkeleen tyyylikkäitä ja monikäyttöisiä.

Pisteet sille kaverille, joka pakkasi aikoinaan mulle mustan tälläisen. Sain nimittäin 2 kaupanpäälle. Jaoin nämä kavereilleni, joista tuli Gambinan ystäviä ja lekalooksin asiakkaita.
0
0
I would recommend for a friend
yitz B.

18.06.2019
fantastic!
i love the feel, look, and size most of all which makes this a really versatile product
0
0
I would not recommend to a friend
Farasha E.

24.08.2019
You are better off getting the Sarma merino square scarf, which is more expensive, but vastly better quality, and made in the EU.
0
0
I would recommend for a friend
Brian M.

05.10.2019
Had two. Surviving one has held up well over three years. Excellent sweatrag, sunshade, etc. Loads of uses for it, fully recommend.

The other one got made into a tourniquet and was used to save a guys' life.

Sparing the gory details, he'd been using an angle grinder and opened up his wrist. Shemagh + a piece of scrap metal rod slowed the bleeding till an ambulance got there ten minutes later. They slapped a second tourney on because he was still leaking, got him to the ER, and got him stitched up.

So 10/10, used it to save a dude, and I added an actual tourniquet to my car kit.
2
0
I would not recommend to a friend
Isaac K.

03.11.2019
I would recommend for a friend
Ville M.

29.11.2019