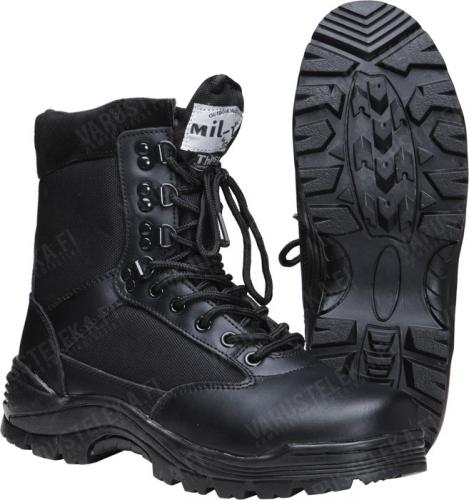 Mil-Tec Tactical Boots with zipper
Price 60.99 USD excluding VAT
Flat Rate Shipping to USA $9.99
Sold 28 pairs in the last two weeks
Loading products...
Trouble with the metric system? Try our converter: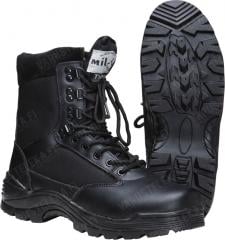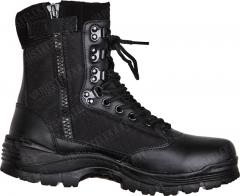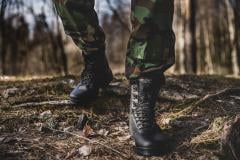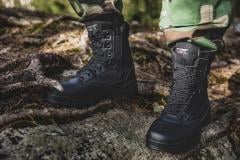 Medium high boot with side zippers. Made from leather and Cordura with a Thinsulate lining.
Note about the zippers: when you don the boot, open the zipper all the way before sticking your foot in. Failing to do so will cause enormous strain on the zipper.
Material leather and 1200 Denier nylon, the tongue is padded
The black version is made from "regular" leather, the tan version from suede
Thinsulate lining for a bit of warmth and a lot of comfort
Speedlace system on the shaft, the lower eyelets are the normal type
YKK-zipper on the side, secured with a velcro tab
Rubber sole, reinforced in the nose and heel with stitching
These are not exactly waterproof, but breathe quite well. Waterproofing can be done by spraying the boots with a suitable agent, but the zipper will leak if submerged.
Sizing

The manufacturer's suggested sizing is not that accurate, so we measured the insoles to be sure. For the best fit you can take the insole from a shoe you already own and measure the length. You'll be looking for the maximum length (most likely a bit diagonal) and if there's a heel cup, leave it as is.
The shoe itself may have a different French size compared to the one on our site. The size chart on the box is also not to be trusted.
Factory new, made by Mil-Tec.
Recommendations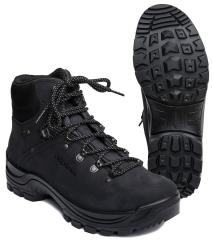 Alpina Tundra
101.99 USD
Viewed together.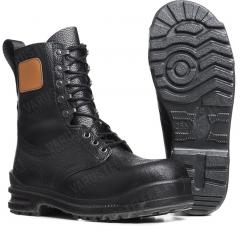 Swedish M90 winter combat boots, with safety toe
73.99 USD
Similar product.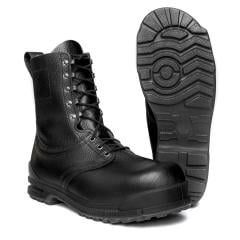 Swedish M90 winter combat boots
73.99 USD
Similar product.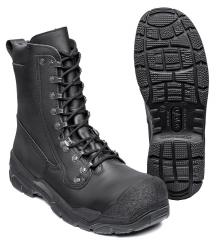 Jalas FDF M05 Combat Boots
147.99 USD
Similar product.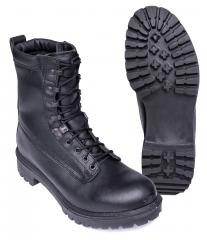 British Cold Weather Combat Boots, Gore-Tex, surplus
73.99 USD
Viewed together.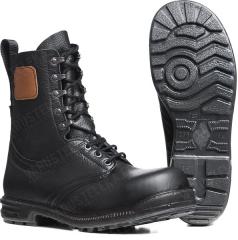 Swedish M90 combat boots, with safety toe
73.99 USD
Similar product.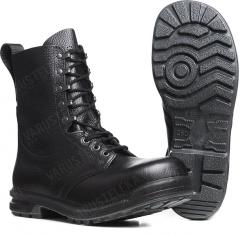 Swedish M90 combat boots
73.99 USD
Similar product.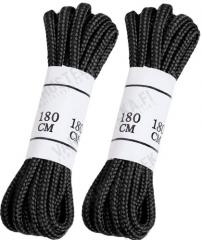 Mil-Tec shoe laces, polyester, two pairs
1.99 - 2.99 USD
Might be of interest.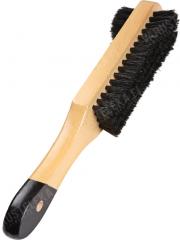 Shoe brush, dual action
5.99 USD
Buy also.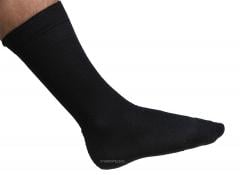 Särmä Merino Socks
9.99 USD
Might be of interest.
Reviews
You have already submitted a review. You can edit your text by clicking on it.
Log in and write a review.
Remove filter
I would recommend for a friend
Ville A.

03.10.2017 (Edited 23.05.2019)
Kengät on minulla ollut nyt puolitoista vuotta ja aika hyvin on käyttöä kestänyt. Mukavat kengät on minun mielestä ja laatu kohdillaan tähän hintaluokkaan. Vetoketku on kestänyt ainakin minulla. Talvellakin tarkenee villasukat jalassa.
Pikku miinus vain sitä että kengän sisältä pohjan pinta kulumassa mutta pohjan voi aina uusia.
17
5
I would recommend for a friend
Sami N.

16.02.2018
Kohta 4 vuotta ollut lähes päivittäisessä käytössä nämä hiekanvärisinä. Vähän on alkanut parit saumat pettämään, mutta muuten hintaansa nähden ällistyttävän hyvin kestäneet. Vetoketjujakin on tullut revittyä kohtalaisesti ja eivät osoita mitään merkkejä antautumisesta. Nyt alkaa pohja olemaan mallia sliksi, joten joutuu varmaan uuden parin hankkimaan. Vaikea uskoa että tuplaten kalliimmalla "merkkikenkäparilla" saisi paremmin rahalleen vastinetta. Yksi tähti miinusta pohjallisesta, joka häviää kyllä ihan silmissä jo alkuvaiheessa.
7
0
I would recommend for a friend
Toni S.

09.03.2018 (Edited 09.03.2018)
Hintaansa asialliset pelit. Työnlaatu ja materiaalit hyvää tasoa ja ihan jees kävellä, eivät hankaa mistään. Olleet pari talvea kaupungissa kevyessä syys/talvikäytössä, edelleen hyvässä kuosissa. Thinsulate-vuori on ohut (paksuudeltaan noin ohut fleece) mutta tekee tossun hieman lämpimämmäksi kylmällä, ja samalla hiostavammaksi kesä/sisäolosuhteissa. Lämpötilasuositus +10/-10, pohjan liukkaus talvella keskitasoa eli hivenen lipsuu välillä liukkaissa kohdissa. Pohjalliset vakiona erittäin ohkaiset lärpäkkeet.
9
0
I would recommend for a friend
Mikko M.

12.11.2018
Ostin tällaiset jo ajat sitten (koko ongelma...) ja nyt vasta alkaa tuon vasemman ulkosyrjä antamaan periksi, mutta siis hyvin on polkenut säällä kuin säällä, ja koirankusetusmatkoillahan ei näitä edes täydy sulkea vetoketjulla. Aionkin ostaa heti uudet kun tulee näitä kokoja myyntiin. Kiitos poijjaat ja tytöt! Kiitos!
1
0
I would recommend for a friend
tapio r.

17.11.2018
Töppönen on ihan kelpo hinta&laatusuhteen omaava tuote. Kyllä sen kävelemällä rikki saa, mutta hitaammin kun monet muut. Vetoketju on ollut ilahduttavan vankkaa tekoa tässä hinnaluokassa. Nyt pitäisi ostaa toinen pari mutta ollut jo pari viikkoa "saapuu ensi viikolla" -moodissa. Kantsiskohan vaihtaa eksaktimpi tieto kuvaamaan saapumisviikkoa?
2
0
I would recommend for a friend
Jesse H.

19.01.2019
Ei voi muuta kuin suositella ja hattua nostaa! Kengät ostettu muistkaakseni 2014-15. Toimi pari vuotta työpaikalla turvakenkinä, kunnes joku huomasi että näistä puuttuu varvassuoja.. Noh kengät siirtyivät kotipuoleen ja niitä on ulkoilutettu tähän päivään asti (1/2019) . Kangas on sisäpuolelta hieman repeillyt, mutta muuten kengät ovat pysyneet erittäin ryhdikkäänä JA VETOKETJUKIN TOIMII EDELLEEN.
3
0
I would not recommend to a friend
Jukka S.

21.05.2019
Erinomaiset kengät muuten, mutta omissani oli yksi perustavaa laatua oleva vika, joka teki kengistä käyttökelvottomat märällä kelillä. Kumipohjasta tuli vesi sisään molemmista kengistä päkiän kohdalta vähänkään märemmällä kelillä ja aika lailla 1 kk käytön jälkeen. Tämä on suuri ongelma monessa muussakin modernissa virsussa, kun lähdetään piirtämään kaikenlaista tyylikuviota pohjiin, jotka sitten murtuvat saumoista helposti ja päästävät veden sisään.

Harmi, että muuten hyvä ja istuva kenkä petti näin pahasti.
3
0
I would recommend for a friend
Riku I.

07.10.2019 (Edited 03.12.2019)
Vaikkakin vasta n viikon olleet käytössä, mutta erinomaisen tuntuiset monot. Todella kevyet ja mukavat kävellä. Ei hierrä eikä hankaa mistään.
0
0
I would recommend for a friend
Santeri M.

06.01.2020
Ihan hyvät kenggät mökillä hyvä käyttää ainakin kun laittaa vähän sitä veden kestävää protector 3x3 nii ihan hyvä että kestää ainakin vettä.
0
0
I would recommend for a friend
Jarno K.

08.01.2020
Pari vuotta ollut vaaleat(hiekan väriset), toimii ok arjessa ja ulkoilussa(luontopolut ja pururadat). Talvellakin ollut yhdellä sukalla riittävän lämpimät, jos näitä eteläsuomen kelejä nyt talveksi jos kehtaa kutsua. pohja (ja sen kuviointi) ainoa miinus. Tuoreella lumella menee ok, mutta tamppautuneella lumella pito on huono (ja jäällä varmaan surkea) kun kuviointi on jo hieman pyöristynyt. Vaaleissa tuo "nahka" osuus(kärki, varren reunus...) on nuppunahka tyylinen joka ei enää ole kovinkaan hiekanvärinen(ei haittaa käyttöä), mutta kangas osuus on pitänyt värin ok ja lika ei ole tarttunut. kuten muutkin kommentoijat mainitsi, vetokeju pelaa edelleen, sisäpuolelta kantapään tuki( muovinen) on päässyt kankaan läpi ja hieman tiellä jalkaan laitettaessa, mutta ei haittaa kävellessä. ovat olleet hintansa arvoiset.
0
0
I would not recommend to a friend
petteri s.

06.12.2016 (Edited 22.12.2016)
ÄLÄ osta,paskat kengät,kesässä käveli pohjat pois,runko antoi kantapään ympäriltä nopeasti periksi.
samalla rahalla saat paljon paremmat käytetyt maiharit.
vetoketju kyllä kesti.
31
30
I would not recommend to a friend
Luukas L.

04.01.2017 (Edited 04.01.2017)
Ei.
30
37