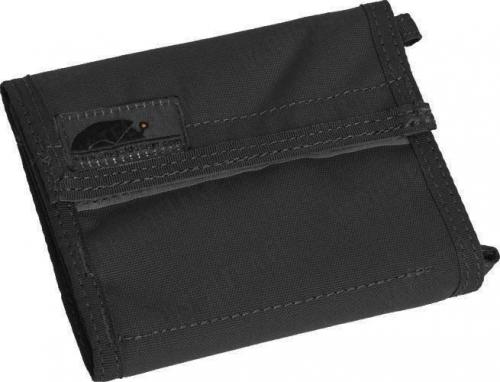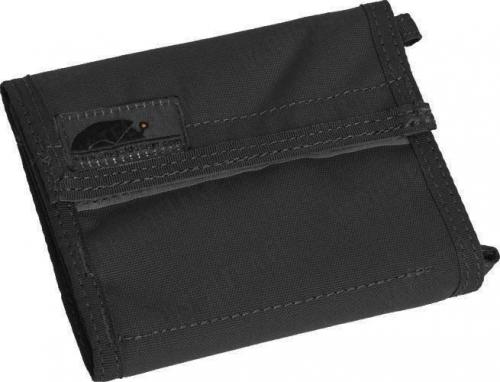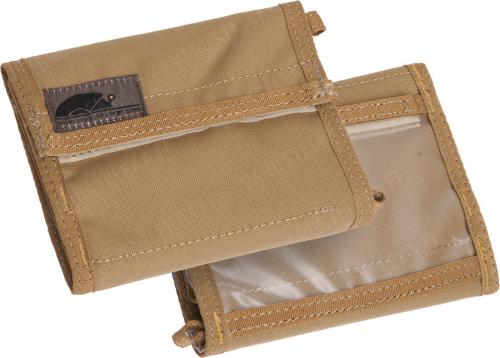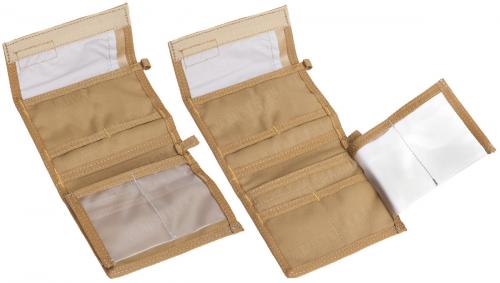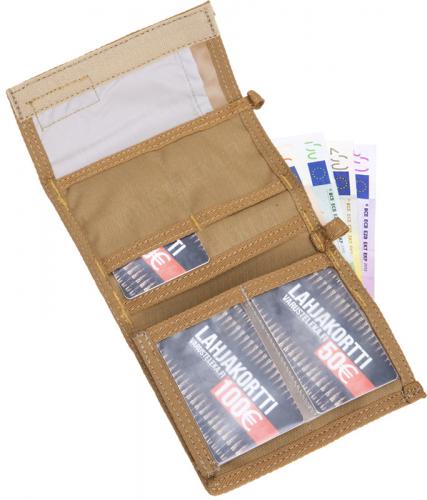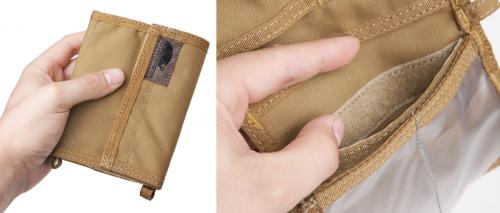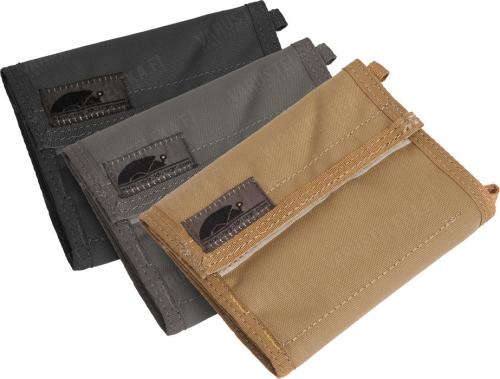 Snigel
Snigel Wallet
Price 29.99 USD
excluding sales tax
An extremely well-made nylon wallet. We've been looking for a decent wallet to sell, and Snigel Design's go at this seems to fill our criteria.
Loading products...
Trouble with the metric system? Try our converter: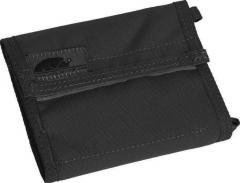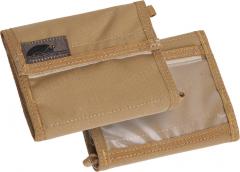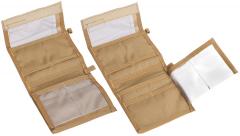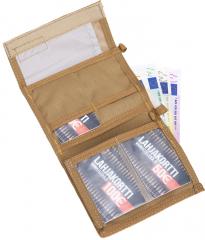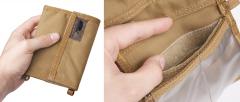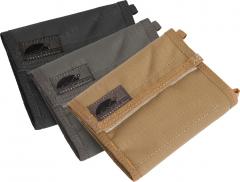 An extremely well-made nylon wallet. We've been looking for a decent wallet to sell, and Snigel Design's go at this seems to fill our criteria.
The pictures really tell everything, but here goes:
Velcro closure.
A sleeve for notes, proper size. Also has a divider and a few smaller pockets.
A pocket for coins with velcro closure.
As many card holders as one would ever need.
Transparent pockets for ID and other stuff that needs to be flashed from time to time - one of those on the outside face.
Loops for a lanyard - good when traveling in dubious countries, or when on a drunken night downtown.
Measurements 14 x 11,5 cm / 5.5" x 4.5".
Factory new.
All products: Snigel
Recommendations
Loading products...
Reviews
You have already submitted a review. You can edit your text by clicking on it. You can filter the reviews by clicking on the elements of the summary.
Log in and write a review. You can filter the reviews by clicking on the elements of the summary.
Remove filter
Suomi
(5)
English
(3)
I would recommend for a friend
Niko S.

24.07.2016

⚠ Unverified purchase
Aivan loistavaa tavaraa. Jos en paljo valehtele, niin 4 tai 5 vuotta ollut käytössä ja ainut mistä sen huomaa on että väriä tarttunut muista kankaista. Lompakko ite ei ole kulunut tai väri edes haalistunut. Jopa kolikkotaskun velcro on pysynyt aivan priimana. Täydellinen lompsa ammattiautoilijalle, kun kortteja on se sata oltava mukana.
9
3
I would recommend for a friend
Ignacio N.

10.08.2017

Verified purchase
It´s quite big. More than it might seem in the pictures. So if you go for fancy look "it has to fit perfect in the back pocket" this is not for you. Now, the wallet it´s great. I choose this one because of the window in the back side which allows me to show my name quickly (it´s not easy for the finns) in shops, cityhall, doctor, police, my parents in law, random people anywhere...etc. The interior is very well designed, clean and effective. I didn´t want to wait 2 years to write review so I just hope it is as sturdy as it looks. I bought also the key chain because I tend to loose and forget it everywhere. I give it a 4 because of the velcro closure, not my favourite, noisy and let´s see about duration. Update: august 2018 still my favourite and only and like new after continued use. The plastic on the back has a small hole but is not getting biger since the plastic is quite elastic. Very good.
4
0
I would recommend for a friend
Timo N.

24.12.2017

⚠ Unverified purchase
Erittäin hyvä lomapakko erityisesti tuo läpinäkyvän henkilökortti taskun ansiosta. Et tarvitse erillisiä henkilökorttiriiputtimia, vaan ripustat vain lomapakon kaulaan :) Olen käyttänyt lompakkoa noin 10 vuotta ja vasta nyt alkaa olemaan uuden hankinnan paikka ja ostan tietysti samanlaisen. Mitään muuta vikaa ei ole, mutta tuo henkilökorttitaskun muovikalvo on tummentunut niin pahasti, että siitä ei kunnolla näe läpi. Todella laadukas tuote.
1
0
I would recommend for a friend
Miika K.

14.06.2018

Verified purchase
Kunnonhyvä ja kestävä!
1
0
I would not recommend to a friend
Sergiu B.

28.04.2020

Verified purchase
I updater my review based on the use of the wallet(actually the use was relatively short but I kept asking around for a way to fix it this is why I only update now). I also let the original review below as it has many true points.
Well the update:
The Velcro that closes the coin pocket is very strong. So strong in fact that, as stated before it is nearly impossible to open.
Because of this the thread it is sewn with to the wallet's main fabric is ripping with a few weeks of use thus leaving the pocket partially open and more difficult to open completely(as the Velcro becomes unsewn in the middle).
The additional issue is that, due to the place it is sewn it can only be sewn back manually and in a very difficult manner. So, in my opinion, this is a clear case of strong materials that are a bit to strong for the design. I would suggest a shorter strip of Velcro on the coin pocket or even weaker Velcro (as that pocket is not udner a lot of stress) and definitely some sort of pull tab so you can open it when you need the coins.
So, because of this I substract 2 stars from my original 4.5 stars and I would definitely NOT recommend it to friends until this issue is fixed.

My original review:
Ignacio pretty much covered it.
Good material, perfect design(it keeps you from easily giving coins), good sewing lots of pockets.
What I would ad is that the Velcro used to close the coin pocket is like a vault-very hard to open(combined with the fact that you have nothing to pull from-I since corrected this by placing a small piece of fabric in one of the corners, between the Velcro, so that I can stick my finger inside and open the Velcro). This can help you save some money as people usually do not have time to wait for you to force the Velcro open so they give you the merchandise without you giving them the coins for exact cost(paper money you still have to give them, but still).
Recommend(*see above as I changed my mind on recommendation).
1
0
I would recommend for a friend
Anon

27.05.2020

Verified purchase
Laadukkaalle vaikuttaa. Kolikkotaskun saa kätevästi auki nopeasti kun hyödyntää siinä olevia korttitaskuja. Sormet korttitaskuihin ja nykäisy ja* hops* velcro aukeaa. Kätevää jos on vaikka hanskat kädessä. Valitsin väriksi Dirt Grayn ja se vaikuttaa omaan värisilmääni miellyttävältä. Tänään saapui joten enempiä käyttökokemuksia ei vielä ole.
0
1
I would recommend for a friend
Janne K.

08.06.2020

Verified purchase
Aivan OK tuote, jos etsii käyttötavaraa. Käytin omaani rankasti vajaat 4 vuotta. Tässä ajassa lomakon hyvät puolet (sikana kamaa, siis tähän saa puoli elämää mukaan) tulivat esiin, mutta huonona puolena se runttaatui sellaisessa käytössä aika kohon näköiseksi, mikä nyt ei oo 30 euron nailonlompakolta erityisen yllättävää. Muoviset korttitaskut hapertuivat ja rikkoontuivat tuossa ajassa ruman näköisiksi ja lopulta hajosivat palasiksi. Oon aatellut uuden hankkimista, mutta nykyään pärjää jo pienillä ja kätevämmillä kortilompuukeilla aivan hyvin. Sanotaan nyt vaikka et suosittelen, vaikka oikeasti tälle ei kumpaakaan suositusta suuntaan tai toiseen pitäisi antaa - tää on rujo käyttöesine jonka ikä raskaassa käytössä jää vuosiin, ei vuosikymmeniin.
0
0
I would recommend for a friend
Ziyu W.

18.08.2022

Verified purchase