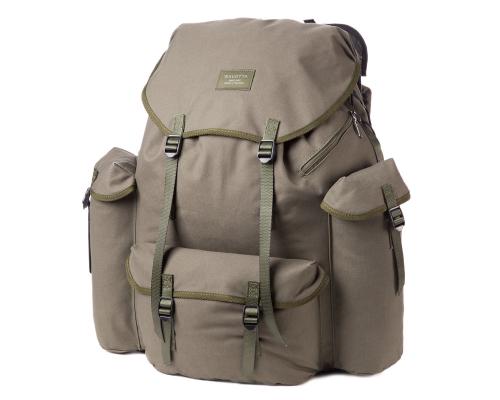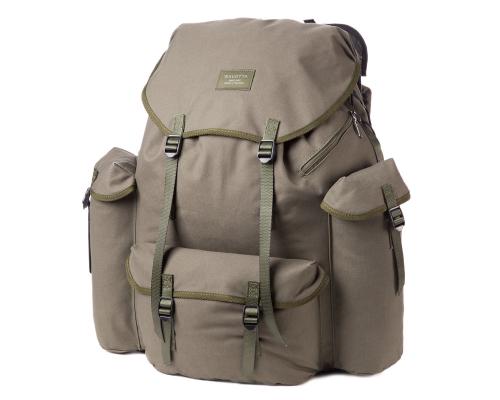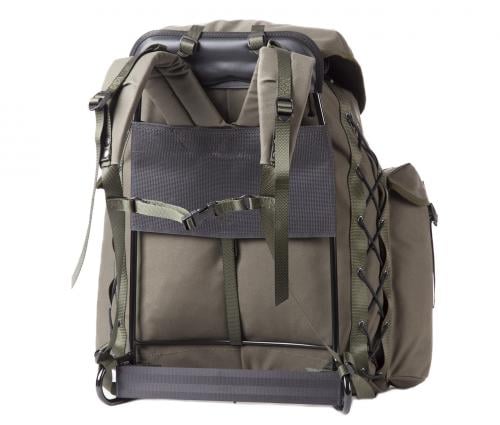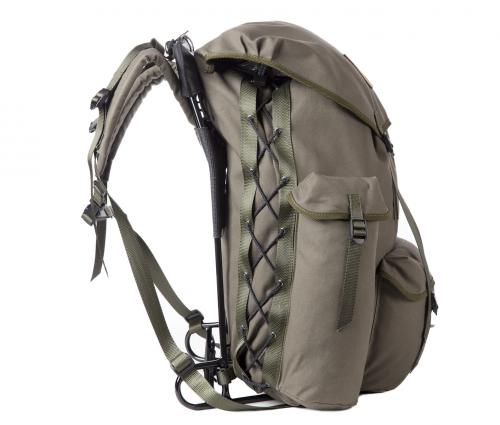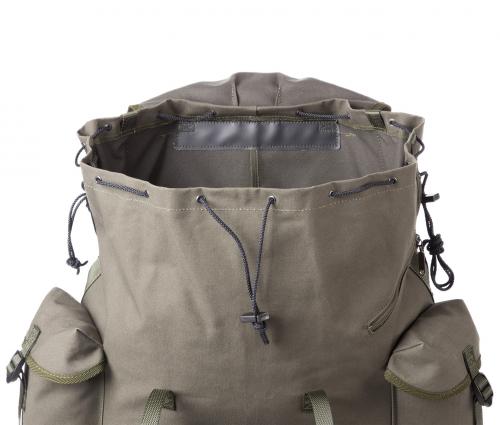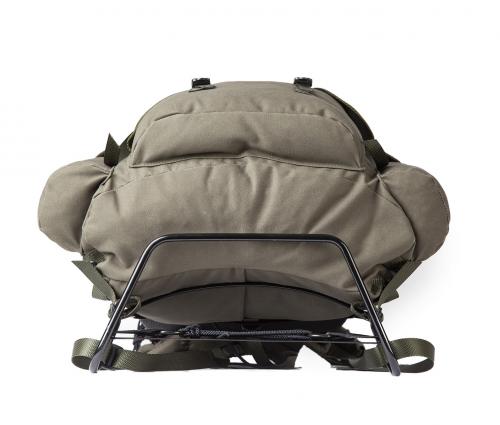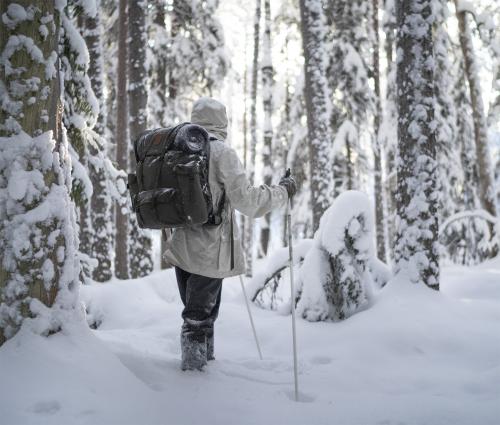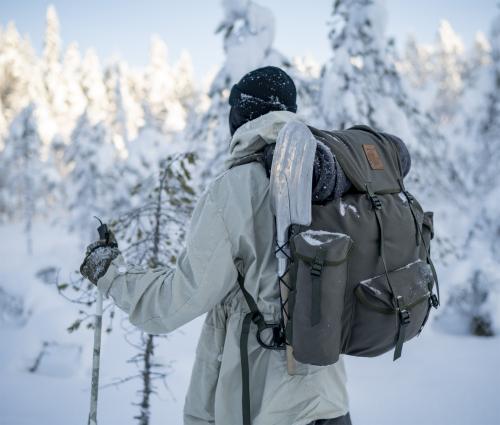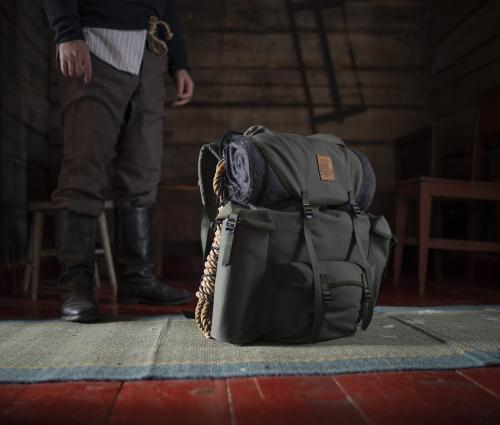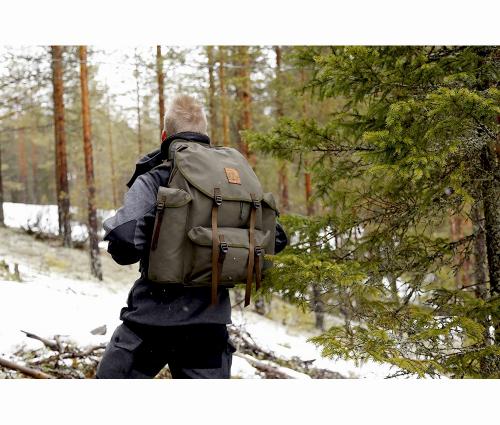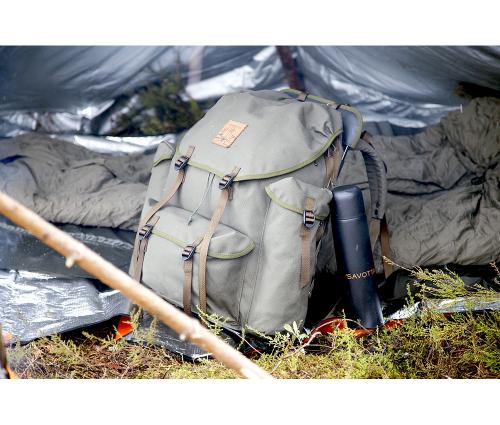 Show all: Savotta
Savotta Rucksack 339
Price 178.99 USD 199.99 USD
excluding sales tax
The 339 is actually far more than just a rucksack, this is more like a mix between a regular backpack and a large external frame Bergen. Classic design with an extremely clever carrying system, an excellent choice for carrying a few days worth of gear.
Sold 10 pcs in the last two weeks.
Restocks 2 weeks from now. Request restock notification and we will email you as soon as this product is available.
Trouble with the metric system? Try our converter: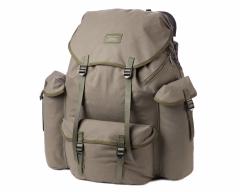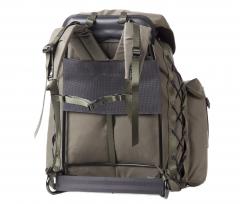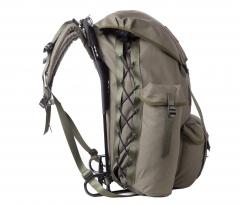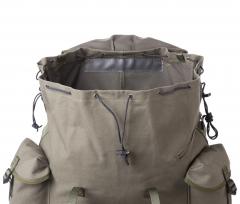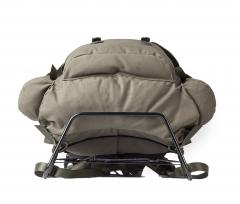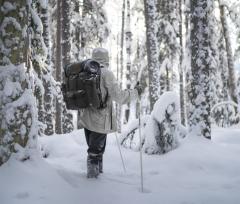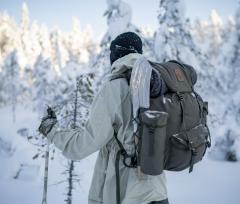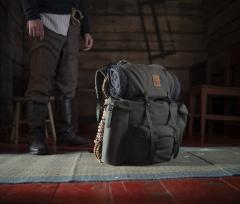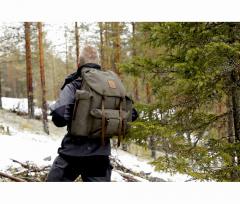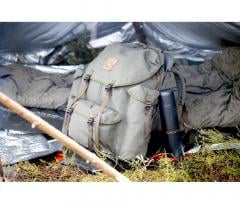 The 339 is actually far more than just a rucksack, this is more like a mix between a regular backpack and a large external frame Bergen. Classic design with an extremely clever carrying system, an excellent choice for carrying a few days worth of gear.
You might not believe it but the 339 was actually designed back in the 1950s, although some materials and details have changed over time the model is still pretty much the same. In the before times people didn't need a zillion little pockets and compartments for every little trinket imaginable, thus the 339 also has no such nonsense. Let's go through the pack.
Features
Measurements: 50 x 45 x 35 cm (20" x 18" x 14")
Max. volume: 65 liters (3960 cu in)
Weight 1.9 kg (4.19 lbs)
The pack
Volume variable 55-65 liters. The size is adjustable by the drawcord compression system!
One large main compartment, tightened up by the mouth with a simple cord.
Access zipper for rummaging through the pack without opening the whole lid. Also great for long objects.
Two long side pouches, 33 x 10 x 6 cm (13" x 4" x 2.5")
One wide pouch on the lower back, 20 x 30 x 6 cm (8" x 12" x 2.5")
Carrying
The carrying system is quite something: the padded shoulder harness is made like that of the legendary LJK rucksack, the shoulder straps are attached to the frame and a crosspiece on which your backrests. This makes the 339 extremely comfortable to carry! The shoulder straps make it possible to adjust the balance point on-the-go, which is pretty damn nice.
The strap length per se is not adjustable on the go; you should adjust them beforehand in a way that the crosspiece on the backrests against your lower back when the pack is carried.
Materials
The materials are strong cotton with paraffin treatment, polyamide straps, military-grade plastic buckles, and a proper welded steel frame!
The backpack has a 5-year guarantee against material and workmanship defects.
Backpack videos
Savotta makes these short movies, which are delightful to watch and might send you off on an imaginary trip to the woods.
Melancholy
Made by Finn-Savotta Oy
Founded in 1955, Savotta is known for its simplistic and extremely rugged, Nordic designs. For decades, Savotta has been the go-to supplier of outdoor gear and equipment for individual outdoor people as well as various aid groups and defence forces, most notably of course the FDF.
ISO 9001:2015, AQAP 2110 Ed D, Facility Security Clearance
ISO 14001: 2015 Environmental certificate
NATO CAGE: A444G
Savotta makes a large share of their products, all of their tents, ruck frames, and all non-sewing work in Karstula, Finland, which is also where all of the design and development takes place. Large production runs are distributed to Savotta's second factory in Estonia, which is tooled for sewing only.
Recommendations
Loading products...
Reviews
You have already submitted a review. You can edit your text by clicking on it.
Log in and write a review.
Remove filter
Suomi
(6)
English
(9)
I would recommend for a friend
Jaakko M.

27.07.2016 (Edited 27.07.2016)
Jummijammi tää on hyvä. Reppu ollut nyt käytössä 1,5 vuotta, eikä kulumisesta näy merkkejä.

Ensialkuun arvelutti lantiovyön puute, mutta itseasiassa satula tukeutuu alaselkään sen verran hyvin, että paino jakautuu yllättävän tasaisesti. Selkävaivaisena tulee kuitenkin tuohon kiinnitetyksi melko paljon huomiota, etenkin päivämatkojen venyessä.

Tilava, vetää sisäänsä lähes mitä tahansa. Sivun nyöritys toimii myös näppäränä paikkana jemmata kirves. Sivutaskuihin menee iso vesipullo ja iso termari, poikkitaskuun pakki + kuksa + natusteltavaa. Näin ei tarvitse koko reppua aukoa taukoa varten.

Iso, hyvin peittävä läppä ja pitkät remmit mahdollistaa paitsi ylipakkaamisen, myös jenkkien MSS-makuupussin täyden setin kuljettamisen repun päällä. Ei ole ihan pieni temppu se.

Reppu myös pysyy satulan vuoksi pystyssä maahan laskettuna. Tämä on yllättävän miellyttävä ominaisuus, kun pysähtyy ja repun sisältöä pitää kaivella. Yritäppä kaivella jotakin täydestä BW:n jääkäririnkasta sateessa. Ei onnistui, ei.

Repun kangas on näppärää paitsi kulutuskestävyytensä vuoksi, mutta myös siksi että sen vedenpitävyyttä on helppo lisätä. Parafiinivahalla (ns. greenland wax) olen käsitellyt repun läpän ja pohjan pitämään kovemmankin ripsaisun ulkopuolella.

Jos nyt jotakin muuttaisin, niin viilekkeiden kiristys on "nurinpäin", joten liikkeessä säätäminen ei oikein onnistu. Lisäksi lumilukko olisi sivutaskuissa hyvä lisä, päätaskuun sellaisen lisääminen ei ehkä ole niin triviaalia. Lisäksi kaikki sulkuremmit ovat vanhaa pujotettavaa mallia. Itseäni tämä ei haittaa, mutta hätäisempiä voi häiritä. Toisaalta rakenne on sen verran yksinkertainen ja tuhoutumaton, että osaava suutari kyllä tekee mainitut muutokset.

Työn ja materiaalien laatu vakuuttaa. Tässä on oikeasti reppu loppuiäksi. Tätä on vaikea alleviivata riittävästi: reppu on sellainen, jota vielä esitellään 50 käyttövuoden jälkeen jossakin korvessa.

Parhaimmillaan pienimmäksi kiristettynä ja pakkaaminen mietittynä: tulee selässä kuin unelma ja on varaa kasvattaa tilaa ylimääräisen, matkalla kertyvän tavaran kuljettamiseksi. Mahdollistaa myös "reppu auki, hylly tyhjäksi, liikkeelle" metodin pakkaamisessa, kiitos ison suuaukon.

Mihin käyttöön? Päiväretkille vähän iso, mutta kaikki 2-5 päivää pitkät reissut. Pidemmille tai erityisen painavia varusteita vaativille reissuille (mukaanlukien talvivaellukset) voi lantiövyön puuttuminen kostautua. Lisäksi täyteen pakattuna helposti takapainoinen, joten hiihtäessä voi olla ongelmia, ellei tuota ota huomioon pakatessa.
13
0
I would recommend for a friend
William M.

30.10.2016 (Edited 29.11.2016)
The old timers had no access to the engineered backpacking gear thats available today. They repurposed items from their kitchens and bedrooms, grabbed some canned goods, and dumped it all in a ruck similar to this and went about their business. If you enjoy the old school approach to bush bumming, you will enjoy this ruck. Very accommodating and very durable....like the old timers.
28
0
I would recommend for a friend
TUTKU D.

18.04.2018 (Edited 01.06.2021)
Extremely durable, large, and easy to carry on hiking adventures. Love the escape hole for my axe, so i dont have to open the flap. I like it and use several times in every weather conditions; No problem.
4
0
I would recommend for a friend
Henri L.

Varusteleka employee

01.08.2018 (Edited 01.06.2021)
Savotan 339 on paitsi ihan tosi kestävä, myös sopivasti perinteisen näköinen. Iso juttu mulle on repun valtavaksi avautuva suuaukko, joka siis mahdollistaa isojen, tyhmän muotoisten juttujen sisälle sullomisen (kuljetan tämän sisällä joskus harmonikkaa). Kun nyörit kiristää, tulee repusta kompakti, lähes päiväreppukokoa, tosin ulkoinen ranka pitää repun vähän isomman tuntuisena. Tämä on silti kiva boonus.

Kanto-ominaisuudet ovat sinänsä tosi hyvät, reppu on oikein säädettynä mukava selässä, mutta hieman ihmetyttää miksi tähän on tehty niin kömpelöt säädöt - viilekkeiden kiristys voisi olla samalla rahalla paljon nopeampi. Pienellä virittelyllä reppuun saa kuitenkin helposti askarreltua moiset itse. Lantiovyöksi voi pujottaa vapaavalintaisen vyön rangan takaa. Jäin myös kaipaamaan hieman pitempiä läpän sulkuremmejä ja jotain kiinnityspaikkoja läpän päälle.

Kyllä mä tätä tulen aika paljon roudaamaan, tosi hyvä go-to reppu kun tarvitsee vähänkään enemmän tilaa.
6
0
I would recommend for a friend
Chris K.

03.10.2019 (Edited 05.06.2021)
I am updating review after extended field use. I had to figure out the strap adjustment and it is now a joy to use and has rested at a oasis in 29 Palms, blundered onto a pot farm in Los Padres and the Channel Islands of California. Load capacity? a Polish Palatka shelter (both) Wiggys sleeping bag, stove kit nested in Mors pot. Two 30 oz water bottles. food and misc
and an axe. It's classic looks and tank tough construction had several longing looks by hikers in more day glo colors than a gay pride parade in West Hollywood.
20
1
I would recommend for a friend
Chris K.

13.02.2020 (Edited 06.06.2021)
First of all, this is a great rucksack. High quality materials and craftsmanship to a reasonable price. This pack is bomb-proof and will last a long time. The old-school style makes this just so much better. The carrying-system is comfortable and sturdy and very comfortable even on long trips. The missing hip-belt is actually not as bad as it seems at first. The frame and shoulder straps, combined with the sternum strap, do a great job. A little annoying is, that you only have very limited adjustment-options for the shoulder straps once the rucksack is on your back. The "extension"-option with the side-strings is great and works surprisingly well. The flap and long straps allow over packing. The reason for the half star less is, that the closing straps are nylon and sewed to the fabric instead of leather and riveted like at the 323. Absolutely recommended to everyone who loves the retro-style.
2
0
I would recommend for a friend
Petar B.

17.04.2020 (Edited 06.06.2021)
Awesome bag, I do a bit or trailing and tracking. It has PERFECT capacity for making it a 1-7 day bag, remember bring what you need not what you want. I mean this bag is enormous. And I was able to pack goods for my hiking for 5 days with no problem, I had a shovel, tenet, water, food, clothing, and other gear and still had room for more - without having to use the expanding feature. It is SUPER comfortable once set properly, and it is very rugged - that I can attest to. However, the only issue I had is the straps, they are very flimsy, and it is just s simple strap, it makes it so difficult to open the top of the bag without undoing the whole thing, and it is just time consuming - it is possible to extend it all the way out, but I like to see what I got on top so I had to undo it all the way and then restrap it. On the other hand there is a side zipper, that is SUPER useful, to reach and grab items quickly out of your bag - I use one side of the bag to store snacks as mentioned above undoing it is just silly, and other to have water - balances nicely. Now since this bag is wide, and by wide I mean REALLY wide, it makes it very easy to balance -pack your gear properly and you have tons of space and a very comfortable hike ahead!

I love Savotta' gear and I own a bit of it, always on the prowl for more!

Cheers

CANADA!
3
0
I would recommend for a friend
Kurt M.

28.04.2020 (Edited 06.06.2021)
Got this today. No pocket for a smartphone. My Corgi fits in the main compartment. Can take him along for Vespa rides in the 2nd growth forests here.
Has a steel frame analagous to my ALICE pack . Can use 550 paracord to strap added gear. The plastic fasteners are like the ones on my Nam era pack. The rajapartio has steel straps. Loxe the mid century dude on the leather patch in back.
Varustaleka shipped this pack in four days from Helsinki Fi to Wright City Mo USA.
Peace
Dirty Kurt
5
0
I would recommend for a friend
Antti K.

31.01.2021 (Edited 15.06.2021)
Tästä on tullut minun lempireppuni, ja se on käytössä lähes päivittäin liikkuessani joukkoliikenteellä ja pyörällä Helsingissä.

Plussat:
+ Erittäin mukava kantaa selässä. Sen melkein unohtaa, ellei ole erittäin raskasta lastia.
+ Satularakenne aiheuttaa sen, että reppua voi pitää pitkäänkin selässä ilman, että se alkaa hautoa selkää hikeen. Tämä on hyödyllistä etenkin liikkuessa jalan tai pyörällä (tai vaikka hiihtäen)
+ Kaikki on todella jykevää tekoa
+ Suuaukko on iso, ja reppuun voi sulloa tavaraa säkkityyliin
+ Sivussa olevan nyörityksen avulla reppua voi pitää normaalisti kompaktina, mutta tarvittaessa sen voi avata yllättävän suureksi.
+ Lumiläpän hihnat ovat niin pitkät, että läpän alle saa kiinnitettyä esimerkiksi valtavan talvitakin. Tämä on kätevää esimerkiksi kaupassa käydessä, kun takkia ei voi pitää päällä, eikä sitä tarvitse kantaa käsissä.

Miinukset
- Läppien sulkeminen hihnoja pujottelemalla voi alkaa pitkästyttää
- Olisin toivonut repun sisälle erillisen pikkutaskun
- Repun selkäpuolella oleva "korsetin" varmistushihna on liian lyhyt, ja se vetää sitä vinoon kun korsetti on aseteltu minun selälleni sopivaksi. Ylipäätään tuntuu, että reppua ei ole varsinaisesti suunniteltu minun pituiselleni ihmiselle, sillä olen asentanut korsetin korkeammalle kuin se on tarkoitettu.

Muut:
½ Olkahihnojen säätö on hankalaa, kuten muutkin ovat huomioineet. Se ei kuitenkaan itseäni ole haitannut, sillä kun ne on kerran säädetty sopiviksi, niin niihin ei ole tarve kajota.
½ Tukiranka jatkuu "ulospäin" repun alapuolella, joten siihen voinee saada esim. makuualustan kiinnitettyä kätevästi. En ole kokeillut tätä vielä, joten en osaa sanoa asiasta.

Suosittelen ostamaan nimenomaan tämän satularepun 323:n sijaan.
0
0
Kierto Circular Economy
Return this product used but clean and unbroken, and you'll receive half of the product's original price as Varusteleka credits. Service is available only in Finland. Only Registered users can make Kierto returns. See more information about Kierto.