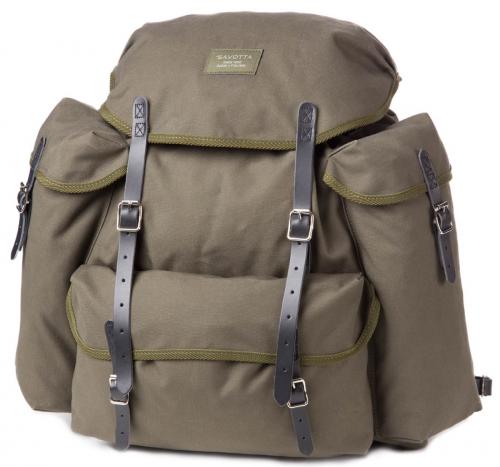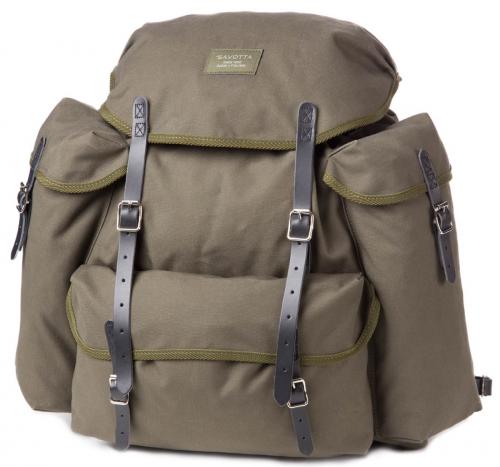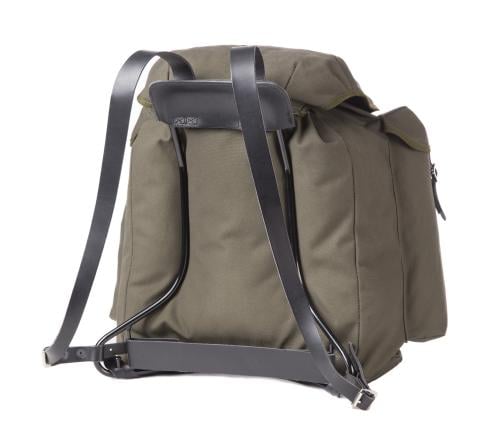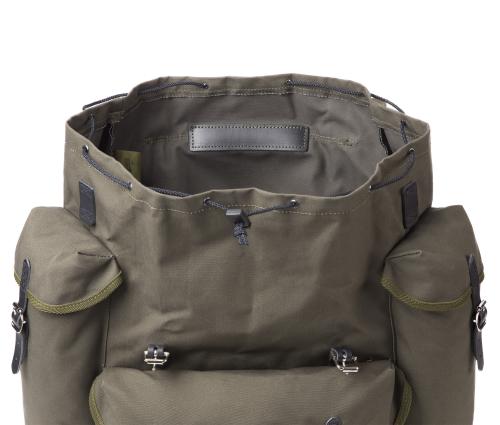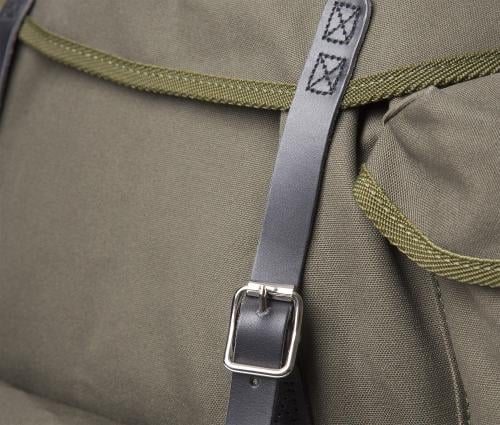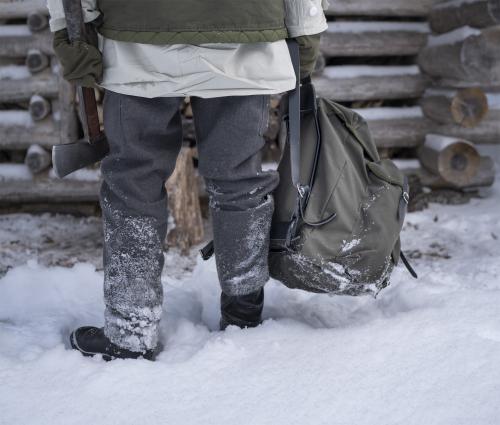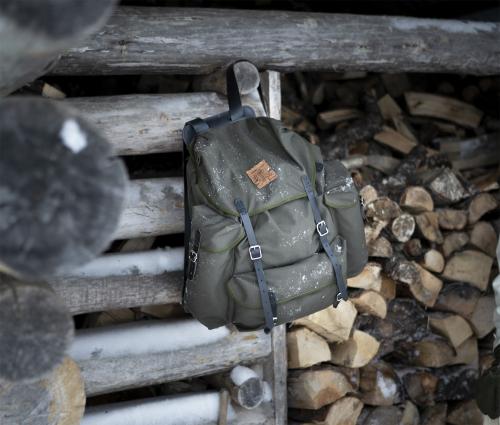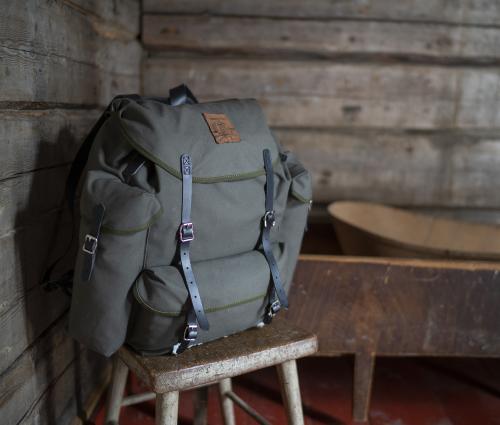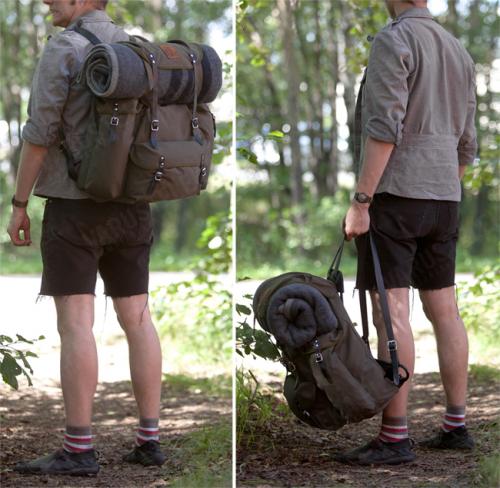 Savotta
Savotta Rucksack 323
Price 154.99 USD
excluding sales tax
The last of the Mohicans, or at least the last of proper old-school framed canvas backpacks! Just like it was over 50 years ago the 323 from Savotta is still going strong, with a classic design and outstanding quality.
This product is unlikely to be restocked and will be hidden from our website once it's out of stock.
Discontinued product.
This product has used and returned variations. Used are washed and unbroken. Heavily used are also washed but might be missing buttons, have tears, main zipper can be broken etc. Read more about Kierto.
Trouble with the metric system? Try our converter: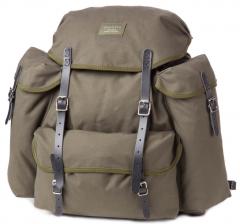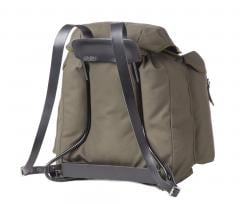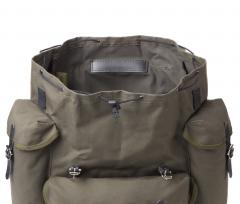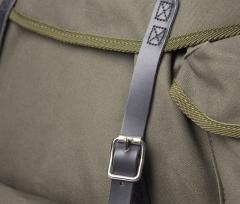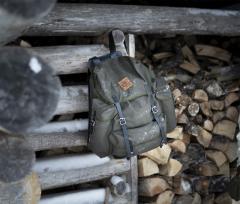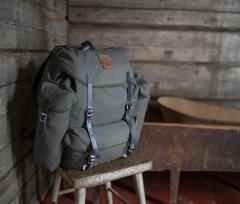 The last of the Mohicans, or at least the last of proper old-school framed canvas backpacks! Just like it was over 50 years ago the 323 from Savotta is still going strong, with a classic design and outstanding quality.
Discontinued item. Once the last ones are gone, they are gone.
Naturally, this is much more than just a showpiece of quality and workmanship, the 323 is just as great today as it was back in the 1950s. In the before times people didn't need a zillion little pockets and compartments for every little trinket imaginable, thus the 323 also has no such nonsense, it's simple: one large main compartment, two long side pouches, and one wide pouch on the lower back. On the upper sides are attachment points for straps, used to attach a blanket or other heavy stuff.
The carrying system is just as old-timey as the pack itself - simple adjustable leather shoulder straps and a horizontal strap that sits comfortably outstretched against your lower back.
The materials are classics: tough cotton canvas, super thick leather, and steel!
The backpack has a 5-year guarantee against material and workmanship defects.
Measurements
Dimensions: 45 x 45 x 25 cm (18" x 18" x 10")
Max. volume: 50 liters (3051 cu in)
Weight: 1.4 kg (3.08 lbs)
Backpack videos
Savotta makes these short movies, which are delightful to watch and might send you off on an imaginary trip to the woods. This one is a bit melancholic, but luckily also very short!
Kierto Circular Economy
Return this product used but clean and unbroken, and you'll receive half of the product's original price as Varusteleka credits. Service is available only in Finland. Only Registered users can make Kierto returns. See more information about Kierto.
Made by Finn-Savotta Oy
Founded in 1955, Savotta is known for its simplistic and extremely rugged, Nordic designs. For decades, Savotta has been the go-to supplier of outdoor gear and equipment for individual outdoor people as well as various aid groups and defence forces, most notably of course the FDF.
ISO 9001:2015, AQAP 2110 Ed D, Facility Security Clearance
ISO 14001: 2015 Environmental certificate
NATO CAGE: A444G
Savotta makes a large share of their products, all of their tents, ruck frames, and all non-sewing work in Karstula, Finland, where all of the design and development takes place. Large production runs are distributed to Savotta's second factory in Estonia, which is tooled for sewing only, and Poland. The product label has the exact country of manufacture and the quality is always guaranteed.
All products: Savotta
Recommendations
Loading products...
Reviews
You have already submitted a review. You can edit your text by clicking on it. You can filter the reviews by clicking on the elements of the summary.
Log in and write a review. You can filter the reviews by clicking on the elements of the summary.
Remove filter
Suomi
(2)
English
(4)
I would recommend for a friend
Miguel d.

25.01.2018

Verified purchase
So far, absolutely no complaints. Very sturdy, waterproof, and surprisingly comfortable once I got used to the straps. Mind you, I took a light load (sleeping bag, 2 changes of clothing, sandals, towels, basic hygienics, med pack, tarp that sort of thing) nor I did walk very far (7 km most).
7
1
I would recommend for a friend
Kari H.

17.04.2018

Verified purchase
Reppu meikäläisen mieleen. Olin todella yllättynyt positiivisesti miten 'satula' jakaa kuormaa lantiolle. Ostin vielä olkaviilekkeisiin erilliset levikkeet, jotka auttaa kuorman jakamisessa olkapäille. Sopii hyvin viikonloppuretkille tilavuuden puolesta. Päälokeroon mahtuu hyvin hammock+tarppi+underblanket sekä kompressiopakattu makuupussi ja päälle vielä keitinvehkeet. Alalokeroon saan ahdettua viikonlopun sapuskat ja sivutaskuihin työkalut ja syttyvehkeet. Päälokeron läpän alle saa tarvittaessa vielä pakaasia, jos on tarvetta, kiitos vanhanliiton kunnon nahkaremmien, jotka ovat tarpeeksi pitkät ja varustettu teräksisillä pistosoljilla. Hakkaa meinaan mennen tullen kaiken maailman nailonviilekkeet joita pujottelet talvella kohmeisin sormin liian tiukkoihin metallikiristimiin. Testasin vielä erillisellä rintaremmillä painon jakautumista ylävartalolle, mutta totesin itselleni sopivan paremmin ilman ko. remmiä. Hyvä ominaisuus on, että reppu pysyy pystyssä, kun lasket sen suht tasaiselle alustalle ja on näinollen helppo käydä käsiksi sisältöön. Kantolaite pitää reppuosan sopivasti irti selästä, joten se pääsee hyvin tuulettumaan. Ehkä kantoviilekkeiden lisäreijitys ja hihnojen kiristys auttaa painon jakautumaa paremmin hartioilla...täytyy kokeilla.
7
0
I would recommend for a friend
Luis M.

27.08.2018

Verified purchase
The Savotta 323 is exactly as advertised. A light, sturdy, old school, traditional rucksack. It's perfect for those who are looking for such a pack. It's a great example of what can be accomplished with the materials and techniques available 70 years ago. Leather straps, metal buckles, waxed cotton, steel, and No Zippers! (The lack of zippers is why I chose the 323 over the 339.)



The side pockets perfectly fit a Nalgene-sized bottle or other container. It is a snug fit though, and while my 40 oz Kleen Kanteen fits well, I could not fit any of its nesting cups.



This is an old-school pack. As excellent as it is, it lacks many of the comforts and conveniences of modern packs. If you want added shoulder padding, get the TST sling pads. They fit perfectly over the pack's leather straps. https://www.varusteleka.com/en/product/sarma-tst-sling-pad/57746 It's also pretty easy to hack a waist belt onto the pack using various other components available here on Varusteleka.



I would have given it five stars, but the middle pocket tends to gap open a bit when the straps are secured. This could put small items at risk of falling out if you're not careful.
5
0
I would recommend for a friend
Farasha E.

22.08.2019

Verified purchase
Overall, an excellent bag for day hikes or 2-3 night journeys. Even without the addition of sling pads on the shoulder straps, I find I can carry more than this bag can reasonably fit over the course of a day, since the frame does an efficient job of transferring the weight onto the hips. It is an excellent bag for the warmer months, since there is a large amount of ventilation space between the back and the pack.

Now, the bad thing is quality control, and that is why I had to deduct 1.5 stars. My bag arrived with a defect, namely one of the turn buckles sewn on upside down. It didn't warrant a return, since I am capable enough of doing the repair, but it did necessitate cutting the strap, fixing the buckle orientation, then time spent stitching everything back up.
4
0
I would not recommend to a friend
Juha T.

28.01.2021

Verified purchase
Viilekkeistä lähtee väriä, samoin repusta. Tästä tulee varoitus repun mukana.
Vesisadetta ei pidä mutta takin värjää, lumilukkoa ei ole kuten ei säilytystaskua arvotavaroillekaan.
Nahkremmit ja soljet on hankalia käyttää ainakin uutena ihan sisätiloissakin paljain käsin ja hyvässä valossa.
Nahkainen satula on kiinnitetty ja kiristetty narulla! ja koko homma on solmun varassa. Kiristys on jäänyt puolitiehen ja satula on valmiiksi löysällä.
Repun pussi ottaa selkään kiinni ja vievät mainostetun hengittävyyden. Kovat tavarat repussa painavat selkää.
Kävellessä reppu pomppii ja nitisee.
Toiseksihuonoin kokeilemani reppu, Savotta 339 oli huonompi. On oikeasti todella epämukava kantaa.
1
9
I would recommend for a friend
Cedric P.

11.03.2021

Verified purchase
Very light pack. Aesthetically pleasing to the eye. Judging from the material, they are built to last. Easy to shoulder a rifle with these nice, thin straps.

Negative review in Finnish is a whiny baby that didn't read the description of the pack and should invest their money in some nylon and plastic.
2
0