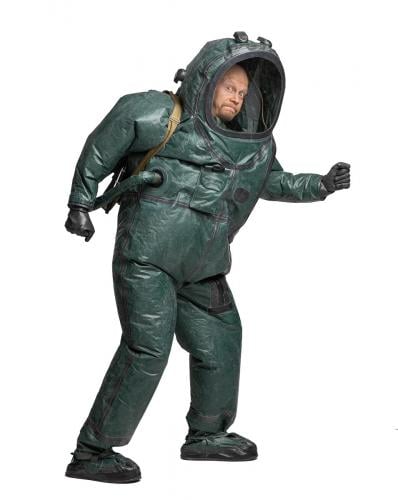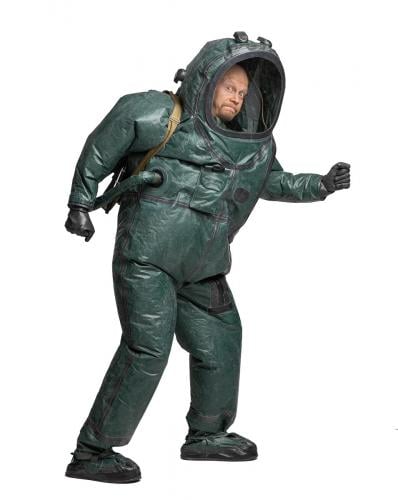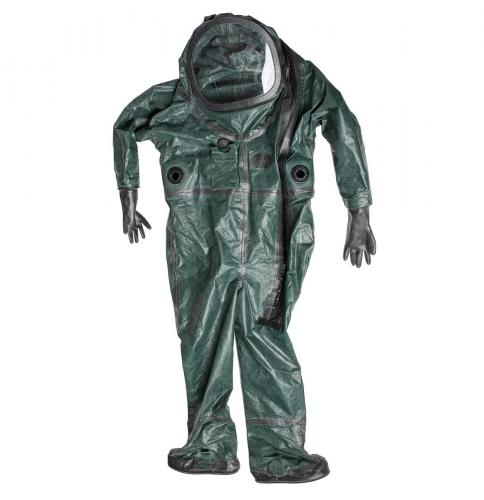 The suit itself is already monstrous.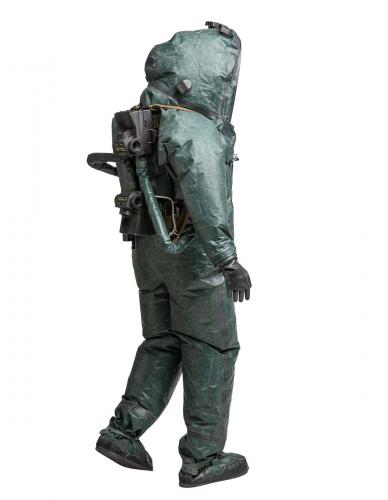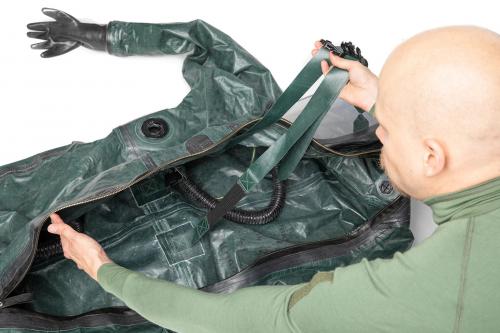 Suspenders inside, adjust these for comfort.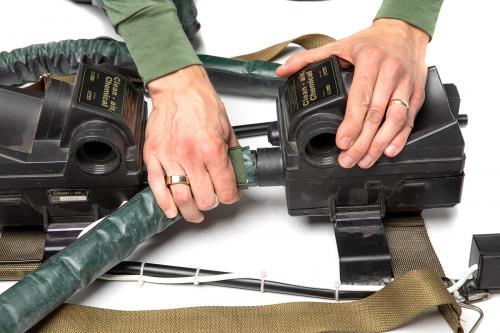 The hoses are easier to connect before donning the suit.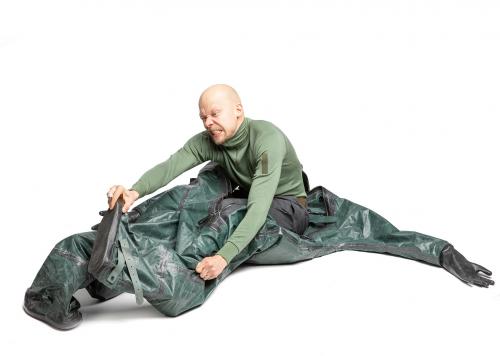 As easy as putting clothes on a five-year-old who doesn't wanna.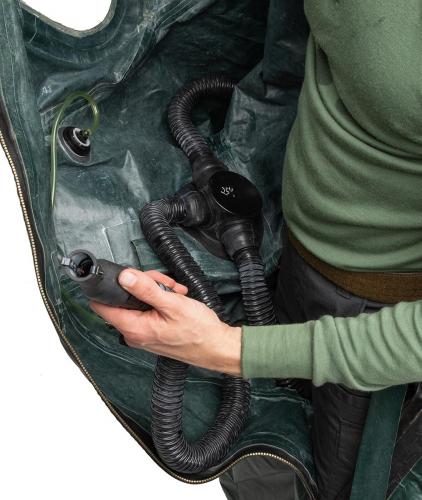 The fifth hose inside can be connected to a mask but there's plenty of air inside even without a mask.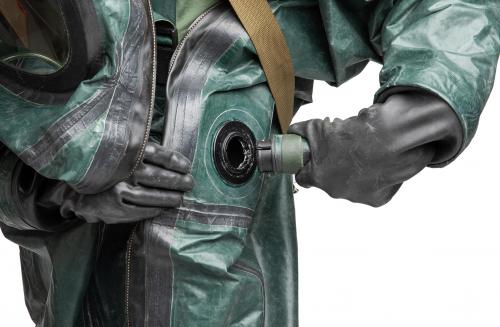 The hoses from the backpack unit connect to holes in the sides of the suit. The locking tabs are often bent or snapped off.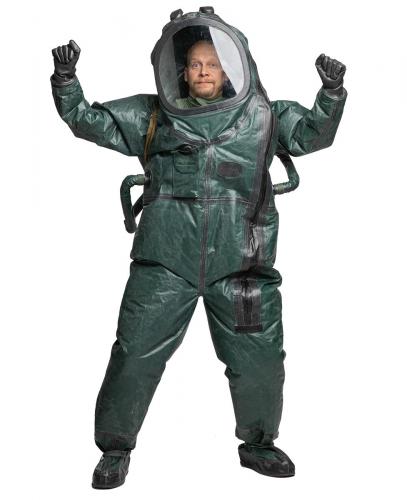 Great success! The suit holds air and there's plenty to breathe!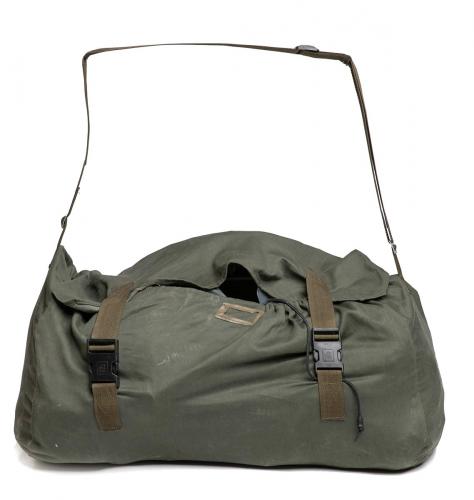 The suit and accessories fit into a carrying bag. The backpack unit with blowers doesn't fit inside.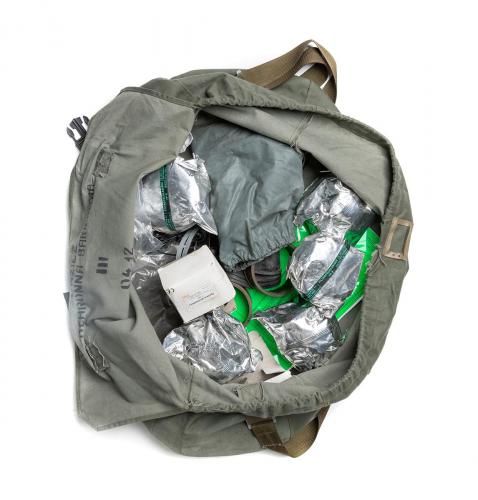 Comes with plenty of accessories and spare parts.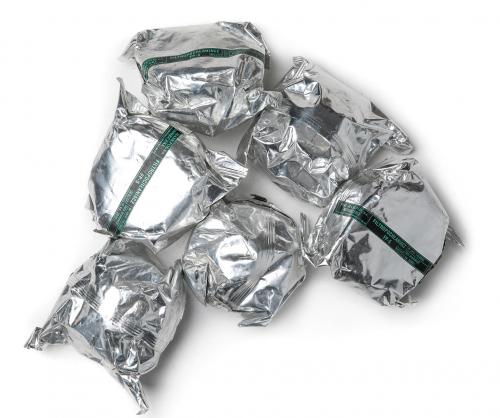 The filters are in their original unopened bags but the dates are gone - this is not a PPE, just a collectible item!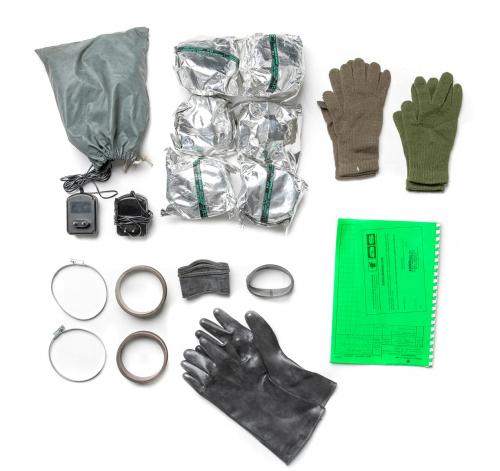 The rubber gloves, rings and clamps are spare parts. You also get liner gloves, two chargers, and a manual - in Polish.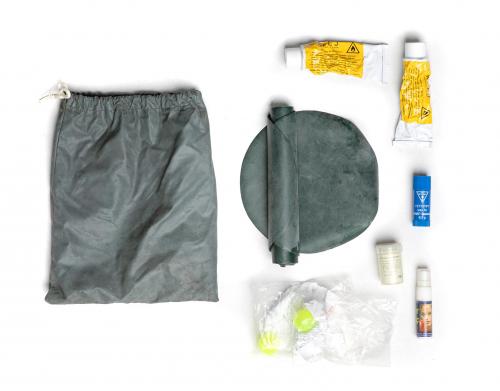 The small bag contains patch material, glue, zipper lubricant, and anti-fog spray. At least the lubricant still works, as we found out.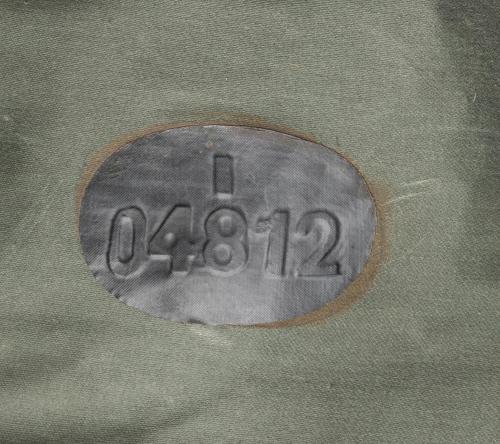 Markings like these don't easily fade.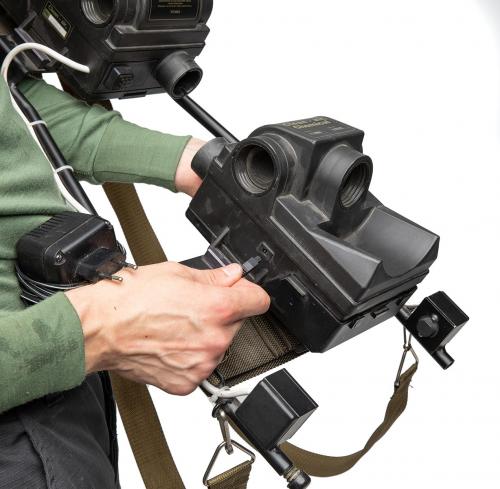 Charging cable port on the blower unit. The units are charged separately.
Poland
Polish OOB-1 HAZMAT Suit, Surplus
Price 796.99 USD
excluding sales tax
What do you get when you combine a body bag, an electric pump for SUP boards, and vacuum cleaner hoses? Trust Poland to let you know, this thing could be from your nightmares if your subconscious could come up with this kind of weirdness.
Loading products...
Trouble with the metric system? Try our converter: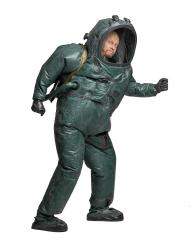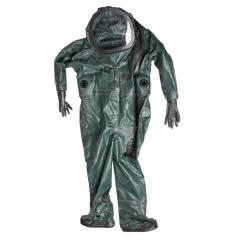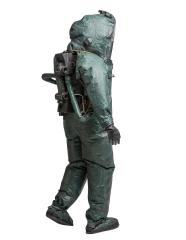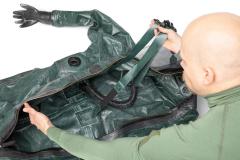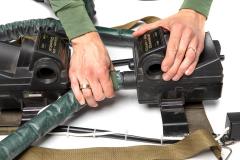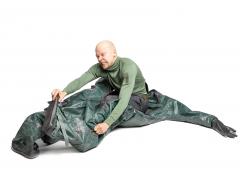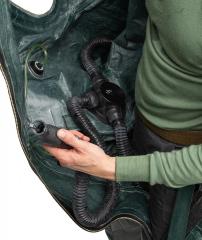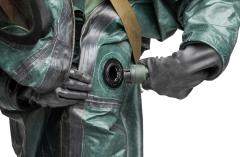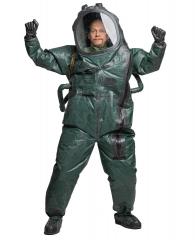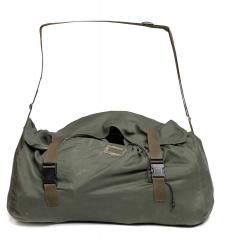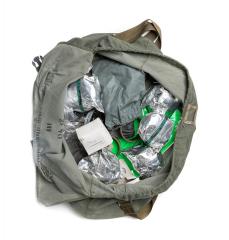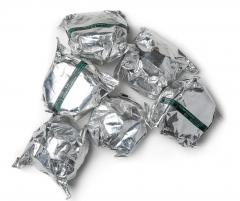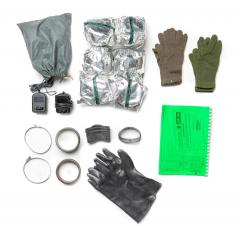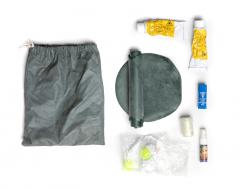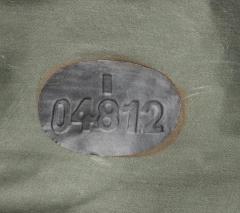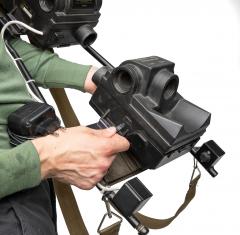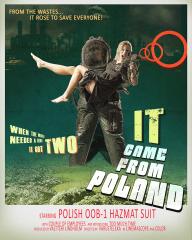 What do you get when you combine a body bag, an electric pump for SUP boards, and vacuum cleaner hoses? Trust Poland to let you know, this thing could be from your nightmares if your subconscious could come up with this kind of weirdness.
OK, so this thing does have an actual purpose: it's a suit for handling hazardous materials and generally working in environments where pathogens, viruses, and harmful particles must stay off your skin and away from your lungs. Even a full-face protective mask leaves the neck exposed so this suit is a step (or two) up the protection lever ladder.
There's also a socially protective attribute involved: due to the whirring and hissing, you can't really hear what others say but they do understand you. The perfect excuse for situations where you couldn't be arsed to listen anyway!
Please note that the filters have expired dates and the suit is sold for collector's purposes only.
Fresh air ventilation system
The trouble with such enclosed suits is normally the difficulty to breathe and the heat and sweat inside the suit. While it's nice to enjoy a Sauna, it becomes a safety hazard when you have to do it for extended periods while concentrating on work - it's not like these are worn to hang out in hazardous environments just for fun: you still have a job to do.
To mitigate serious discomfort and help the user focus on the task at hand, the suit features a twin blower system that sucks air in through six (6!) standard filters with a 40 mm thread. The fresh and filtered air enters the suit through holes in the sides, where it's further distributed by five hoses: one for each limb and one for a face mask.
The hoses reach the ankles and wrists to provide effective ventilation for the whole body and judging by the look on the face of our brave volunteer, wearing the suit doesn't feel half bad! The air exits through one-way vents on the hood and helps keep the visor from fogging.
Using a face mask when wearing the suit is not mandatory: the whole suit is ventilated so you can breathe inside quite normally, except for panting because of the sheer excitement.
Because the suit is pressurized, you could have a puncture and still remain protected because the air would escape through it, blowing anything out of its way.
Other features
The chest has a drinking tube connection that's compatible with the Polish gas mask system if you're lucky enough to have one. In front of the tube, there's a pocket for a water canteen to keep you hydrated.
At the ankles, the suit is tightened around your shoes to facilitate walking as normally as possible. The wrists have large cuff inserts that make it quite easy to put the hands into the gloves.
The zipper is sealed and requires quite a bit of deliberation to work. It helps if you grab the part already closed and pull it in the opposite direction to help the pulley travel straight. The included lubricant makes this a lot easier and will prolong service life - such zippers and lubricants are commonly seen in waterproof packs by Ortlieb, for example.
The suit comes with two chargers for the battery-operated blower units. We can't guarantee functionality in the wall sockets on foreign planets. These are compatible with the European 230V standard but you can use any other NiCd battery charged with an output of 9.6V and 600mA, just get the polarity right to avoid starting a fire.
Potentially dangerous feature
Important note! Once the zipper is closed, the suit is airtight. Without the blower unit connected and turned on, there's a very real risk of losing consciousness first and then your life. Make sure everything is connected and running; closing the zipper should be the last part of donning the suit - or it could become the last thing you do.
Size info
These come in three sizes. The largest one is suitable for fairly tall persons (the bloke in the pictures is 188 cm / 6' 2") and there's plenty of room for meat around the bones. The extra room around a slender user is not really a problem because the boots and gloves have a close fit and everything else is inflated like a balloon.
The MFG suggested user heights are as follows:
Size I: 150-170 cm
Size II: 171-180 cm
Size III: 181-200 cm
Smaller sizes may be available soon.
The whole package and blower system together weigh 14-15 kg (31-33 lbs) but a big chunk of this comes from the accessories. The suit is surprisingly not-cumbersome once you get used to it.
Polish Surplus
Unlike cheap items sold en masse, we've gone through all of these and confirmed them to be serviceable: the blowers work, nothing is broken beyond repair. However, the tube junctions have little locating tabs that are most often broken off. This didn't cause much trouble for us, but you might want to secure the hose connections through some DIY ingenillous MacGyver contraption if you plan to spend more time having fun while wearing this... thing.
Naturally, these should be considered a collector's item, not actual protective equipment.
All products: Poland
Recommendations
Loading products...
Reviews
You have already submitted a review. You can edit your text by clicking on it. You can filter the reviews by clicking on the elements of the summary.
Log in and write a review. You can filter the reviews by clicking on the elements of the summary.
Remove filter
I would recommend for a friend
Kimmo L.

20.09.2021

Verified purchase
Ootte maksaneet noista 30 per puku? Leka aina vitsinä myy just näin. Myydään tavaraa 3000% katteella ja hauskat myyntiargumentit kuittaa asian. Vitsi alkaa käydä vanhaksi.
67
94
Varusteleka 01.12.2021
Moikka Kimmo, Kyllä niistä on rahaa maksettu ja eikös kaupankäynti ole aina sellaista että kauppias ostaa tukkurilta hintaan X€, lisää siihen oman katteensa Y€ ja myy asiakkaalle hintaan Z€?
I would recommend for a friend
Jarmo A.

23.09.2022

⚠ Unverified purchase
Nuohan ovat koronavalmiita joten luulisi niiden olevan kovassa huudossa. Niin no tietenkin paperimaskit ovat yhtä hyviä.
3
0