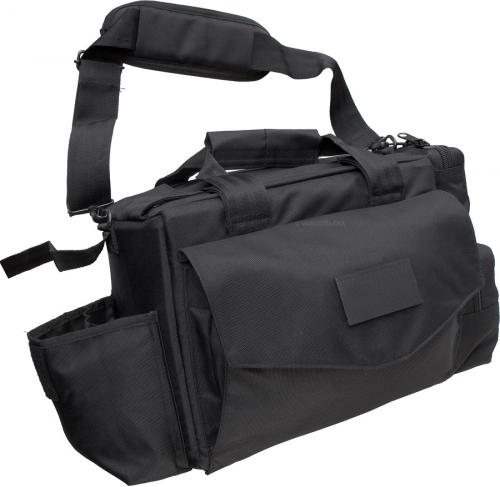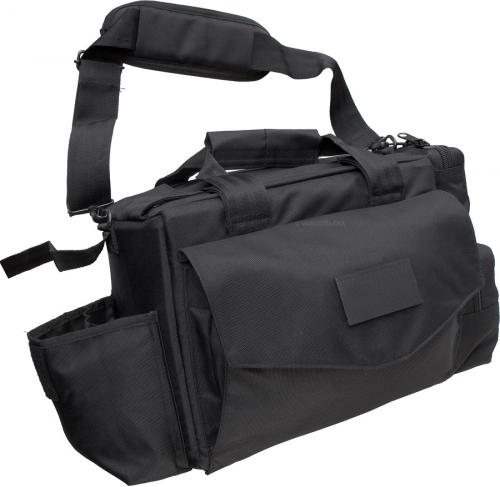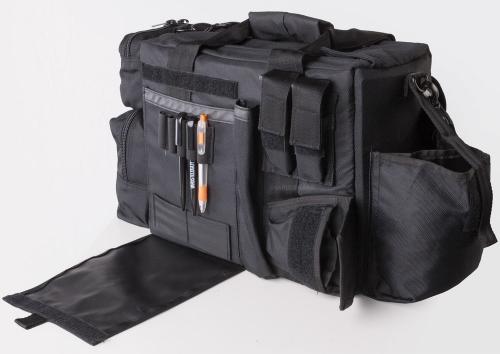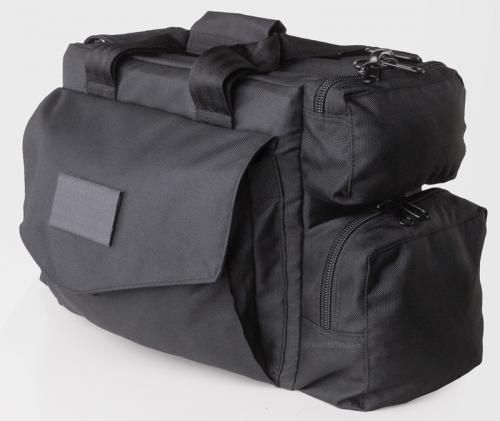 Here's the large side pocket and the zippered end compartments.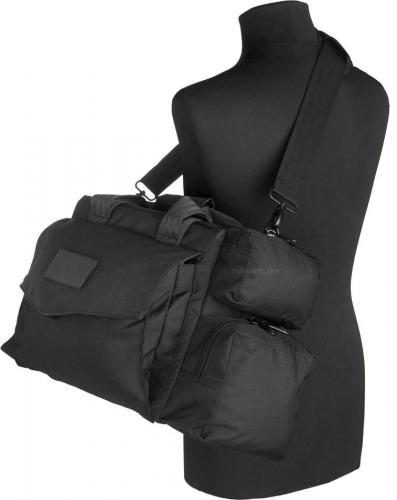 The strap is adjustable and removable.
Mil-Tec
Mil-Tec equipment bag, black
Price 59.99 USD
excluding sales tax
A bag meant for use by security personnel. However, will work just as well in normal use. Empiric tests have concluded that it is ideally suited to carrying an epic amount of candy, among other things.
This product is unlikely to be restocked and will be hidden from our website once it's out of stock.
Trouble with the metric system? Try our converter: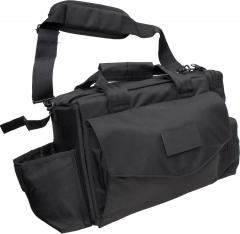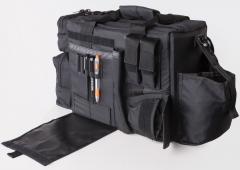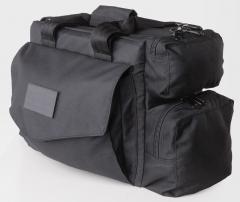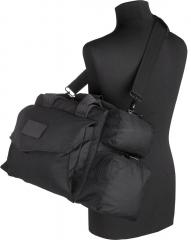 A bag meant for use by security personnel. However, will work just as well in normal use. Empiric tests have concluded that it is ideally suited to carrying an epic amount of candy, among other things.
Volume about 40 litres / 2450 in3 total
Many pockets and holders
Material 900 Denier polyester
When packed compactly goes as hand luggage when flying
A versatile carrying bag
A large-ish, black and well-stiffened case carried by the handle on the top or by the provided adjustable and removable strap. The bag consists of a divided main compartment 38 x 28 x 13 cm / (15" x 11" x 5") and a load of outside pockets. The bag opens up with two zippers. All in all the bag is designed with security personnel in mind, so there are all kinds of holders for batons, cuffs, and torches.
On one face there's a 5 cm deep pocket covering the entire face. Loop base on the front for insignia.
On the other side you can find holders for flashlights, handcuffs, and two pistol magazines or similar sized thingies. Next to these a flat pocket 22 x 19 cm / 8.5" x 7.5" with elastic tunnel loops for pens and such.
The other ends have two zippered pockets while the other end boasts one divided open pocket.
Material
The material is 900 Denier polyester. This is a bit heavier-than-usual equipment fabric.
Made by Mil-Tec
Factory new, made by the German Mil-Tec. Manufactured in China.
All products: Mil-Tec
Recommendations
Loading products...
Reviews
You have already submitted a review. You can edit your text by clicking on it.
Log in and write a review.
Remove filter
I would recommend for a friend
tapani c.

20.09.2016 (Edited 23.05.2019)
Erittäin hyvä laukku vartijan töihin. Eväät ja varavaatteet mahtuu kivuttomasti mukaan. Ainoa miinus on kantohihnan kiinnitys laukun runkoon joka repesi melkein heti irti saumasta. Hihna saisi olla myös aavistuksen pitempi.
5
1
I would recommend for a friend
Aku B.

17.08.2017 (Edited 31.05.2021)
Kyseinen laukku ollut käytössä töissä sekä vapaa-ajalla n.4 vuotta ja olen itse ollut todella tyytyväinen. Laukun reunat ovat jämäkät ja laukku pitää muotonsa hyvin ( melkein voi päällä istua). Kangas ja sen saumat sekä vetoketjut ovat laadukkaat ja taskut ovat tehty ja suunniteltu hyvin. Vaikkakin käsirauta- ja kaksi muuta pikkutaskua ovat jääneet vähälle käytölle. Ainoana miinuksena kantohihnan kumpikin haka mennyt rikki ajanmyötä mutta nekin saa korjattua helposti uudella jousi- tai karbiinihakalla.
Voin suositella laukkua vaikkei sitä vartija-hommiin erityisesti tarvisikaan
3
0
I would recommend for a friend
Atro P.

24.07.2018 (Edited 01.06.2021)
Ostin ko. laukun puhtaasti ampumaratalaukuksi, missä se onkin palvellut hyvästi pari kuukautta. Kaikki rompe kulkee yhessä paketissa, joten radalle lähtökin on asteen verran houkuttelevampaa.Tussit ja aseiden puhdistuspuikot kulkee näppärästi kumilenkeissä ja "lipastaskuissa", öljyset rätit saa pois tieltä avonaisiin päätytaskuihin ja toiseen päätyyn lamput, lasit ja muut pikkuvermeet. Sisus vetääkin sitten loput tarpeet nitojista paikkarulliin, ja jää vielä jakajan avulla toinen puolikas pistoolille laukkuineen. 5 tähteä uskallan laittaa vasta kun näkee kunnolla että miten kestää elämää radalla.
2
0
I would recommend for a friend
Anonymous customer

19.08.2021
Ihan ok hintaisekseen. Hankin laukun kamera-assistentin hommiin, eli laukku täynnä kaikenlaista työkalua ja sitä tulee joskus heiteltyä vähän miten sattuu, mutta ihan kunnossa pysynyt siitä huolimatta. Myös kurjia kelejä on kestänyt, mutta ei kyllä 100% sateenkestävä ole. Eli kun on kallista teknologiaa ollut sisällä niin sateella pitänyt suojata tuo.

Ainoa asia mikä on mennyt rikki, oli toinen olkahihnan kiinnityksen ompeleet laukkuun, se mikä on sivutaskun välissä. Lähti justiinsa vuoden jälkeen, niin ei mennyt takuuseen. Kävin suutarilla korjauttamassa, jonka jälkeen pysynyt kiinni 8kk, mutta taas menossa rikki kun tullut enemmän käytettyä tota. Kyllä sais olla vähän laajemmalta alueelta ommeltu laukkuun, eikä tommonen 2cm x 2cm alue, niin ehkä kestäisikin.

Toinen ongelma, on että laukun sisus on myös musta. Ulkopuolelta oikein kiva, mutta sisäpuolella se tarkoittaa, että vähänkään hämärässä, on hyvin vaikea löytää tavaraa laukusta. Ja omissa hommissa se tavara vielä tuppaa usein olemaan mustaa myös :D Olkahihna tuli tossa kesällä myös vaihdettua mukavampaan kun alkuperäinen menee rullalle.

Ihan ookoosti palveli ekat pari vuotta töissä, mutta nyt alkaa olla aika hankkia uus ihan ammattikassi.

Hoi Varustelekan tyypit! Taidatte itse näitä Mil-Tec tuotteita jotenkin suunnitella/tilata tms? Niin tuotekehittelymielessä kannattaa tsekkailla vaikka "Arri Unit Bag" ja "Cinebags" mallistoa. Ne on toki tehty eri asiaan, elokuva-TV kuvauksiin, mutta voi toki olla jotain hyödyllistä ideaa teidänkin tuotteisiin.
1
0