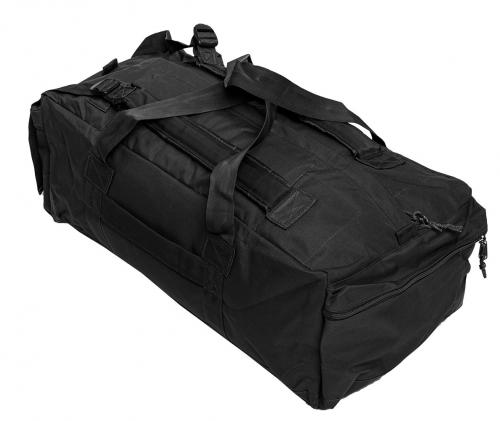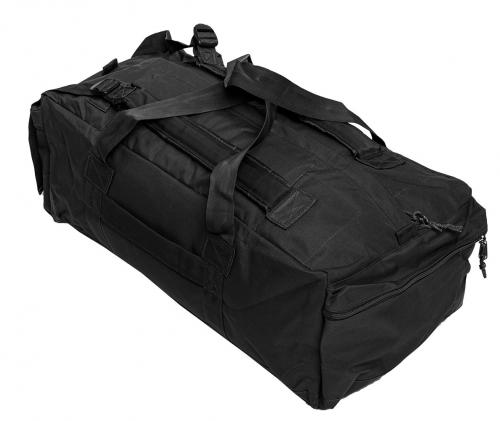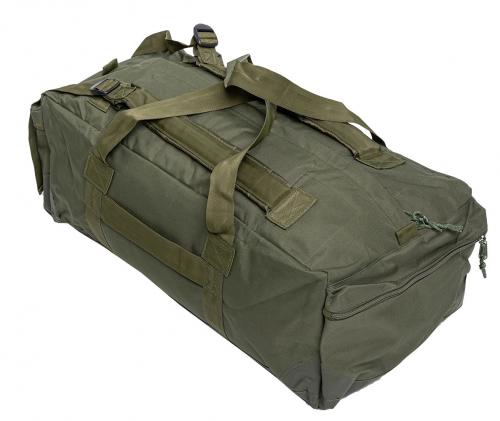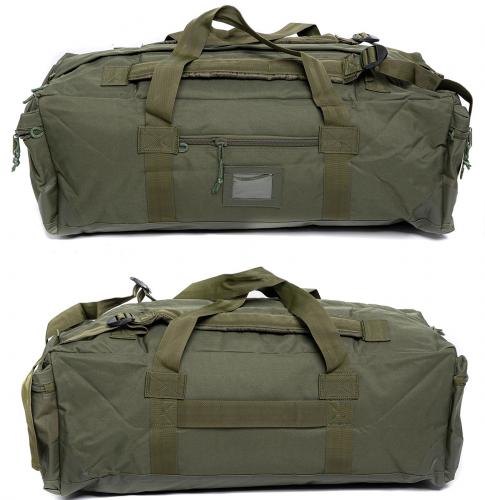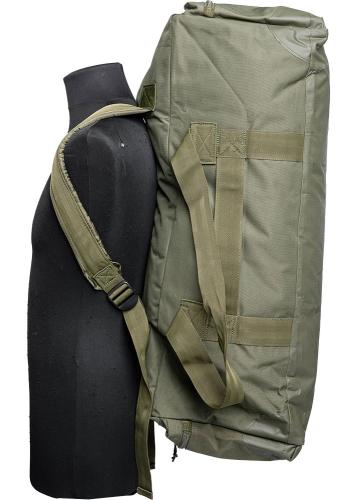 Mil-Tec
Mil-Tec duffel bag 60 l
Price 52.99 USD
excluding sales tax
A medium-sized duffel bag from Mil-Tec. Now available in both black and green!
Loading products...
Trouble with the metric system? Try our converter: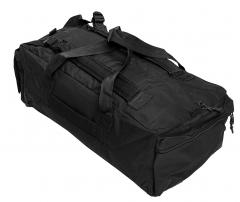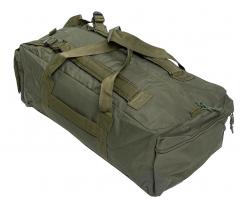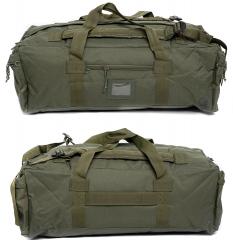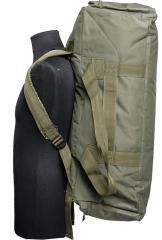 A medium-sized duffel bag from Mil-Tec. Now available in both black and green!
Mil-Tec produces two different duffel bags, 60 / 3670 in3 and 98 litres / 6000 in3. This is the smaller one.
This bag has one large compartment and two big outer pockets at the ends. All compartments and pockets are closed with zippers. The material used is 600D polyester.
Dimensions: 27 x 77 x 37 cm / (10.5" x 30.5" x 14.5"). These measurements do not take the side pouches into account, only the large main compartment! Weight: 1.8 kg / 4 lbs
These can be carried either as a common shoulder bag, or as a large rucksack, thanks to the padded shoulder straps!
Made by Mil-Tec.
User's comments
I bought this bag in 2005 if memory serves correctly and have been using it every other weekend on average. It has held together all these years and still shows no signs of breakage. Only the rubberization inside the bottom is slowly starting to crack a bit.
I have in fact even been forced to wash my bag a few times using vinegar as a rinse. This is because one of my cats sometimes tends to take a piss-of-protest inside it. Good thing is that the bottom is waterproof so the piss can't escape to more important surfaces (i.e. floor).
To put it briefly you are looking at an affordable, durable and spacious bag that is even comfortable to carry around.
UPDATE 2013: That darn cat took a protest piss on the bag again! This time on the fillings so the bag was rendered useless. The rubberizing on the bottom was a bit worn out anyway. But I did stick to this bag as I bought a new one!
UPDATE 2014: The bag is so damn great that some asshole stole it even though it was full of my smelly MMA-gear. There's a perv sniffing my cup somewhere as we speak.

Turo
All products: Mil-Tec
Recommendations
Loading products...
Reviews
You have already submitted a review. You can edit your text by clicking on it. You can filter the reviews by clicking on the elements of the summary.
Log in and write a review. You can filter the reviews by clicking on the elements of the summary.
Remove filter
Suomi
(4)
English
(1)
I would recommend for a friend
Lassi V.

26.05.2017

Verified purchase
Tyytyväinen käyttäjä vuodesta 2005, tartti oikein kattoa vieläkö tätä saa! Älyttömän hyvä yleislaukku urbaanireissaamiseen: mahtuu poikamiehen viikon "worst case scenario"-varustus heittämällä (eli tarpeeksi vaihtovaatekertoja ja varajalkineet, esimerkiksi). Päätytaskuihinn useimmin tarvittavat helposti saataville, kuten bokserit ja sukat, sekä laturit. Ja lisäksi hiukan pakkaamista suunnitellen mahtuu myös liikuntavarusteet lisäksi. Lisäksi ainakin omassa vm.2005 kassissani on sisäpuolella päädyissä tarralla suljettavat taskut, jonne saa vaikka vyöt ja muut irtotilpehöörit järjestykseen.

AIvan älyttömän hyvä vaikka päivän laskettelureissuun "tukikassiksi": kypärä, pari vaihtoehtoista väliasukertaa, juomareppu, topat ja vähän vaihtovaatetta mahtuu heittämällä.

Mukavimmilaan selässä kannettava, kun ei ole aivan piukkaan pakattu, muttei tätä nyt toki pitkiin siirtymiin olekaan kaiketi suunniteltu. Eli vaikka raiteilta kumipyöräjulkiseen siirtymät on vielä OK. Lisäksi sivussa oleva kahva on hyvä esim. junan tavarahyllyltä kassia nykiessä.
4
1
I would recommend for a friend
Kristian R.

02.12.2017

Verified purchase
Ihan ok keikka laukku. Tomii töissä semmoisena "ei haitaa vaikka jotain kävisi laukulle" tyylisenä ratkaisuna.
Oikeasti hyvää: vettä pitävä kumipinnoite pohjassa.
Huonoa: selkä viilekkeet. Jos kannat rinkan tavoin viilekkeiden alakiinnitys painaa selkää. (ne pitäisivät olla paljon alempana kiinni ->katso brittiläinen keikkalaukku)
Varauksella suosittelen koska brittiläinen laukku on halvempi ja parempi(paitsi että kumi pohja puuttuu siitä).
0
3
I would not recommend to a friend
Fredrik A.

25.04.2019

Verified purchase
Looks and feels like it could survive everything. Thick fabric. However one of the zippers broke into five pieces when it snagged on something. I also seem to always put my arm through the carrying strap when I put it on my back.
2
0
I would recommend for a friend
Niko R.

08.07.2022

Verified purchase
Näitä on meillä perheessä monta, olisko viitisen kappaletta. Värikoodattuna mustia ja vihreitä eri tarkoituksiin. Simppeli, sopivan kokoinen ja kestävä kevyeen käyttöön oleva keikkalaukku jonne voi tumppaa tavarat kuten vaatteet/retkeilykamat/gearit jne. paikasta toiseen siirtämistä varten. Menee hyvin päällekkäin auton perään ja on jotenkin tyydyttävää kun on yhteneväiset kuljetusvermeet kaikille rojuille. Taskuthan tässä on aika huonot, tai niitä on kaksi ja jotenkin ne on epämiellyttävät käyttää, älkää kysykö miksi, olisko materiaali tms. Olkaimet toimii kantamiseen, mutta millekkään vaellukselle en lähtis. Lentomatkustukseen ihan jees, kunhan vaan sitoo olkaimet ja kantokahvat hyvin nippuun.
Halpa ja ihan jeppis kantamiseen sopiva yleislaukku, parilla satkulla saa isomman määrän roinaa tai koko perheen kantokapasiteetin yhdenmukaistettua, aika hyvä. Kovaan toimintaan taikka ammattikäyttöön sitten tietty jotain muuta.
0
0
I would recommend for a friend
Kimmo K.

10.02.2023

Verified purchase
Hinta-laatusuhteelle viisi tähteä tai oikeastaan ihan muutenkin. Ostin tämän lahjaksi yhdelle ja toisessa liikkeessä myytävän Hagor Chimidanin 60 litran keikkalaukun toiselle ihmiselle. Laukkujen isoin näkyvä ero on hinnassa, Chimidanin maksoi 80€ enemmän. Mutta se ratsastaakin "Israelin armeijan hyväksymä ja käyttämä" -lorella. Ainakaan vetoketjuissa en huomaa mitään eroa laukkujen välillä, mutta Chimidanin olkaviilekkeet ovat kyllä paksummat ja leveämmät. Tämä ei kyllä mielestäni välttämättä tarkoita, että ne ovat kestävämmät. Miltecin laukun päälokero samoin kuin päätytaskut ovat minun silmääni selkeästi isommat kuin Chimidanissa, vaikka litrakoko on sama. Toisaalta tämä saattaa johtua siitäkin, että Miltecin materiaali on löysempää siinä missä Chimidan pitää ryhtinsä paremmin. Täyteen pakattuna ne saattavat näin ollen tuntua erilaisilta selässä, mutta eipä kumpaakaan ole tarkoitettu pitkiin patikkareissuihin. Molempien laukkujen pitäisi nähdä käyttöä eri käyttäjillään, katsotaan kumpi hajoaa ensin. Käynnissä on siis tieteellinen koe!
0
0