Hesco Zombie Invitational 3G Match 2019
Share on Facebook
It is interesting how random encounters lead to awesome outcomes. A few years back in Shot Show we met the crew from Hesco Armor and got to know each other. Last year, they invited us to participate in their Hesco Zombie Invitational 3-gun match. So we made a trade, that they send one warrior to take part in Finnish Brutality and we send our champion to their match. The challenge was accepted and Hesco participated in Finnish Brutality 2019, now was our turn to return the favor.
Zombie Invitational 3-gun match
The Zombie Invitational match is a semi-open 3-gun match with a twist: The back story draws influences from popular culture with a secret government project going haywire and zombie outbreak spreading in exponential speed. This is translated into 3-gun set up in a challenging and funny way.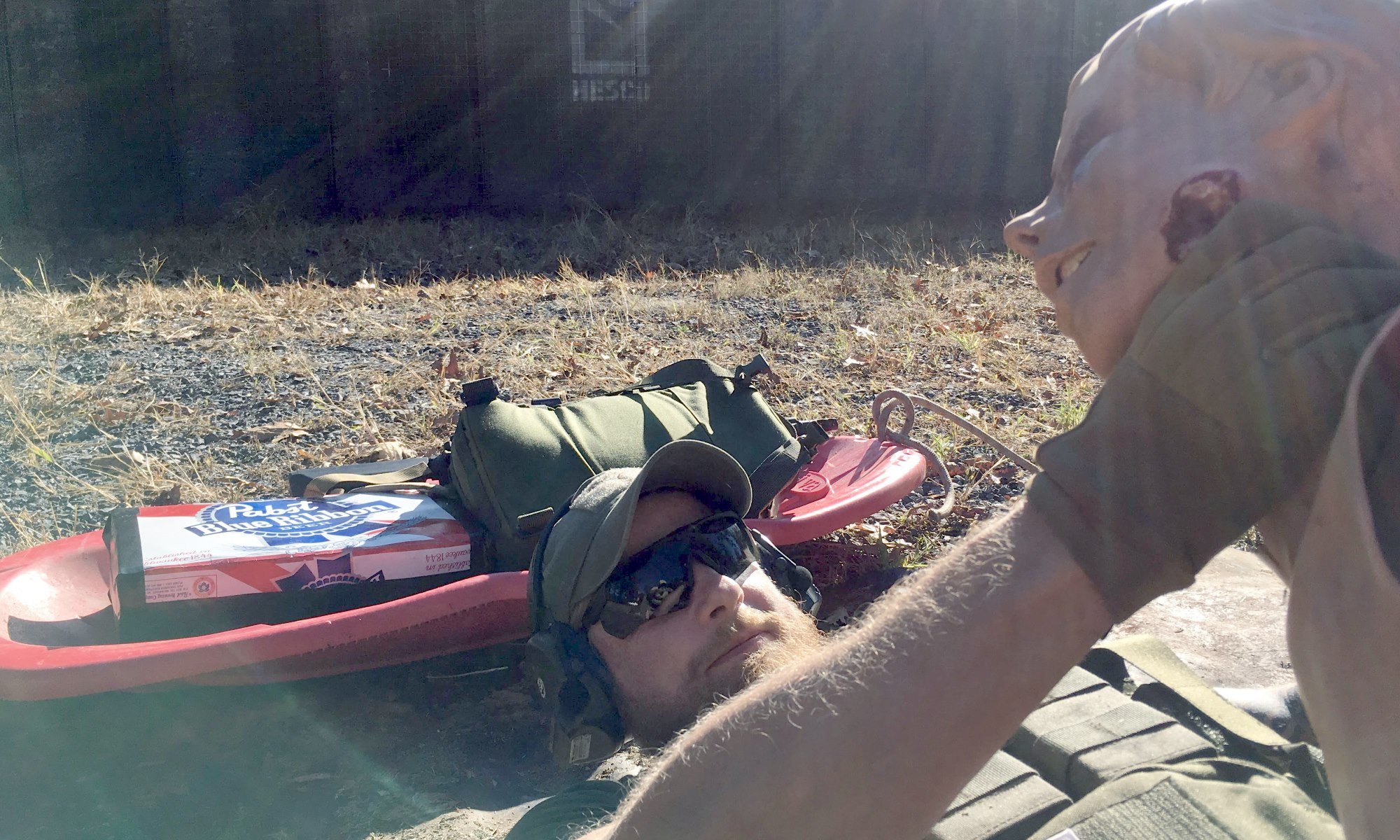 "On some stages, you needed to get up, close and personal with the zombies."
The match was held at an "undisclosed location" somewhere in the West-Virginia hills. The location was spot-on with the theme and ranges varied from a normal flat range to shooting in actual forest and clearing a shoothouse of zombies. Distances to engage targets varied from a few meters all the way to 500 meters, which turned out to be fairly challenging, especially when zombies are best eliminated with a shot to the infected brain: an approximately four-inch (10 cm) circle.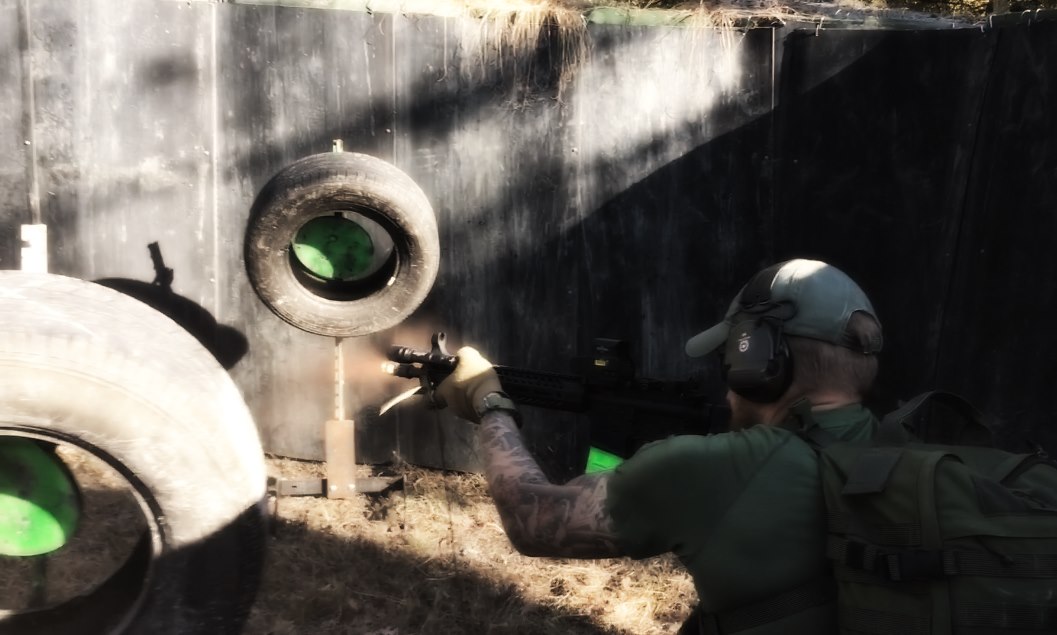 "Clearing the shoothouse was pure fun."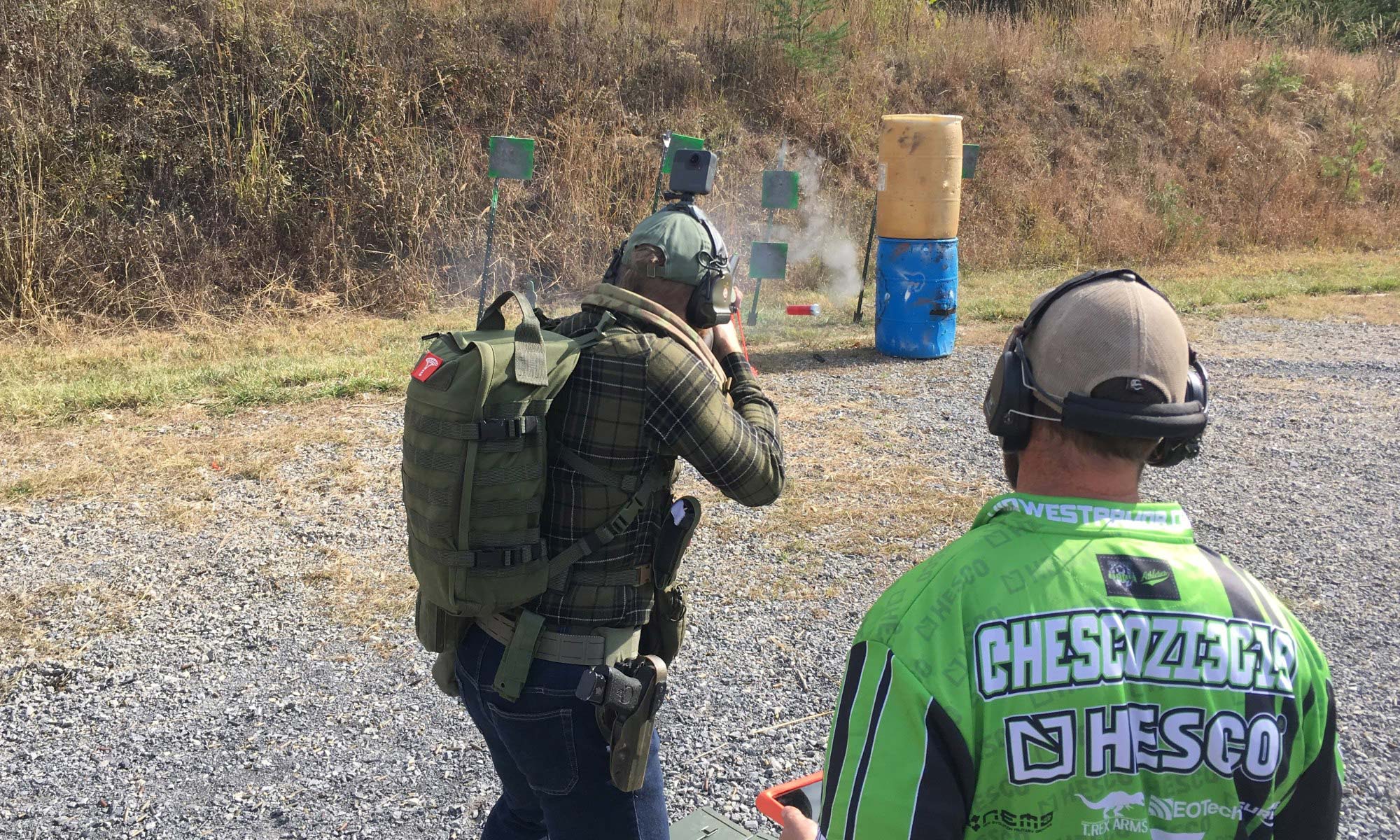 "Green steel ringing."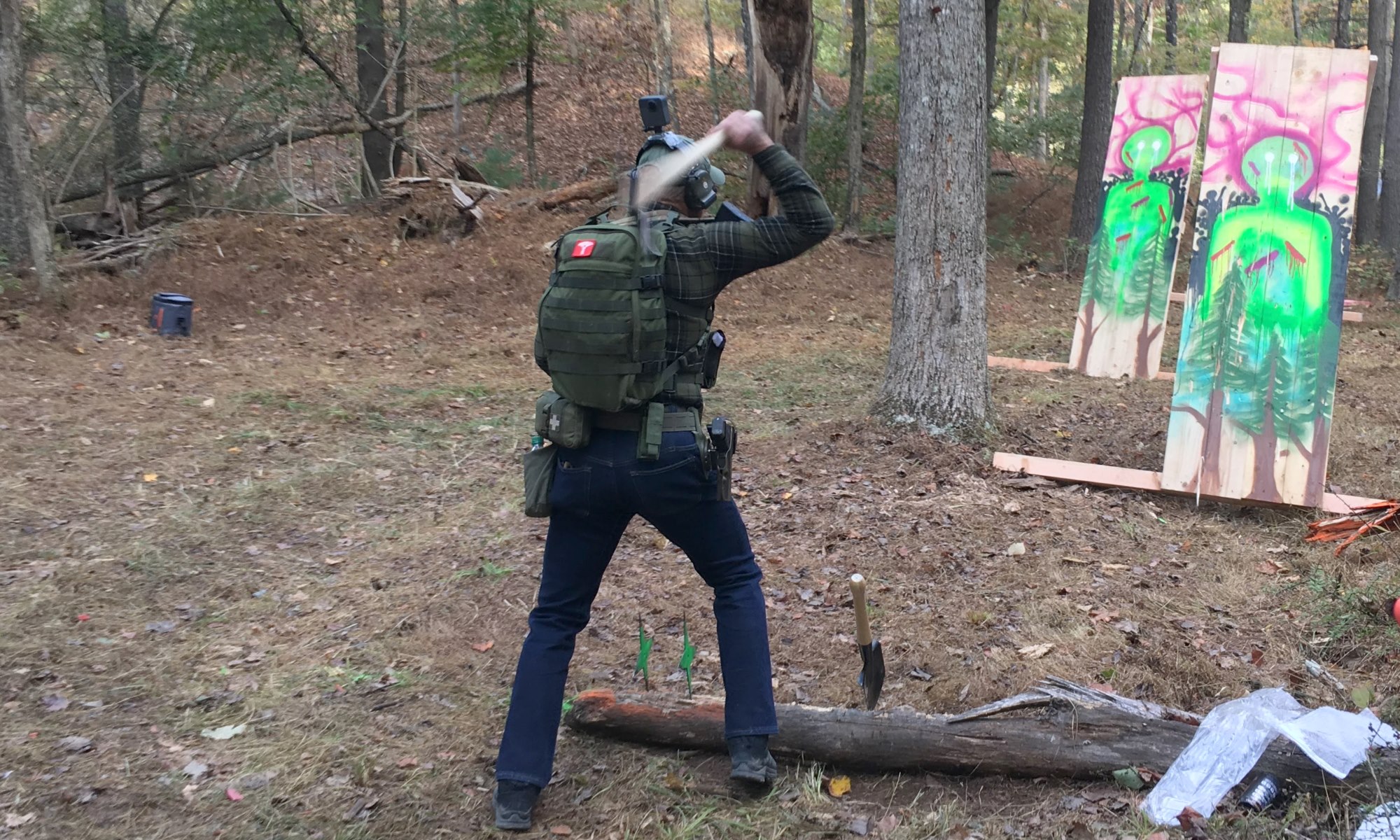 "Throwing a tomahawk in order to save ammo."
"Elevated positions and unknown distances caused some challenges to get hits."
The match was a pretty interesting combination of shooting challenges, some physical hurdles, and mind-games in a 3-gun context. Eliminating the "zombies" either required hit to the 4" steel or two to the body and one to the headbox with paper targets. The Hesco crew had really put some effort to the targets and there were quite many interesting setups, from falling zombies all the way to attacking targets. This really spiced up the experience. Compared to Finnish Brutality or Desert Brutality, the match was not that physical, but the shooting challenges were hard and par times were rather brutal. For example, making shots to unknown distances from 200-500 m with an Eotech without a spotter was challenging, at least for me.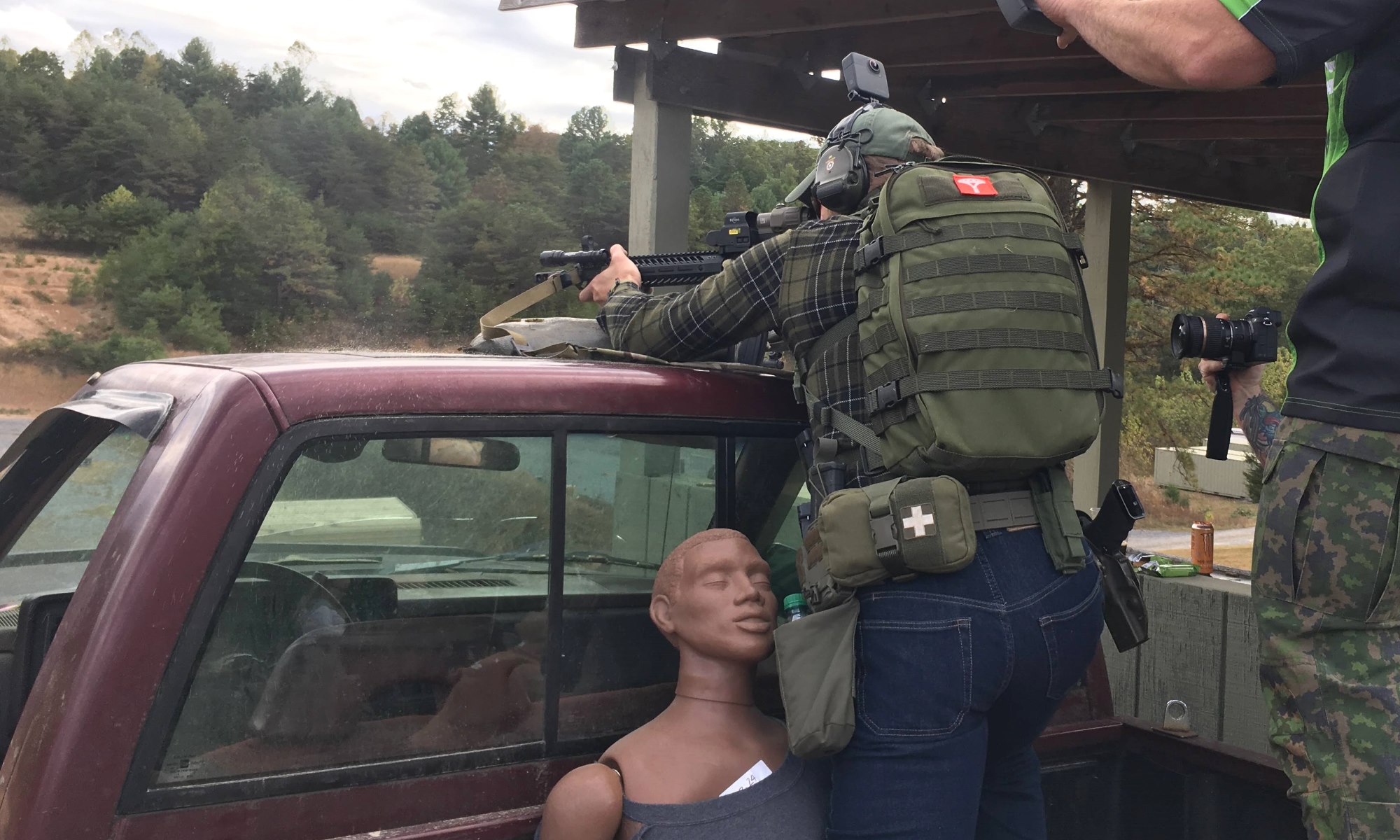 "A shitty technical in use. The truckbed full of casualties made it hard to get a stable shooting position."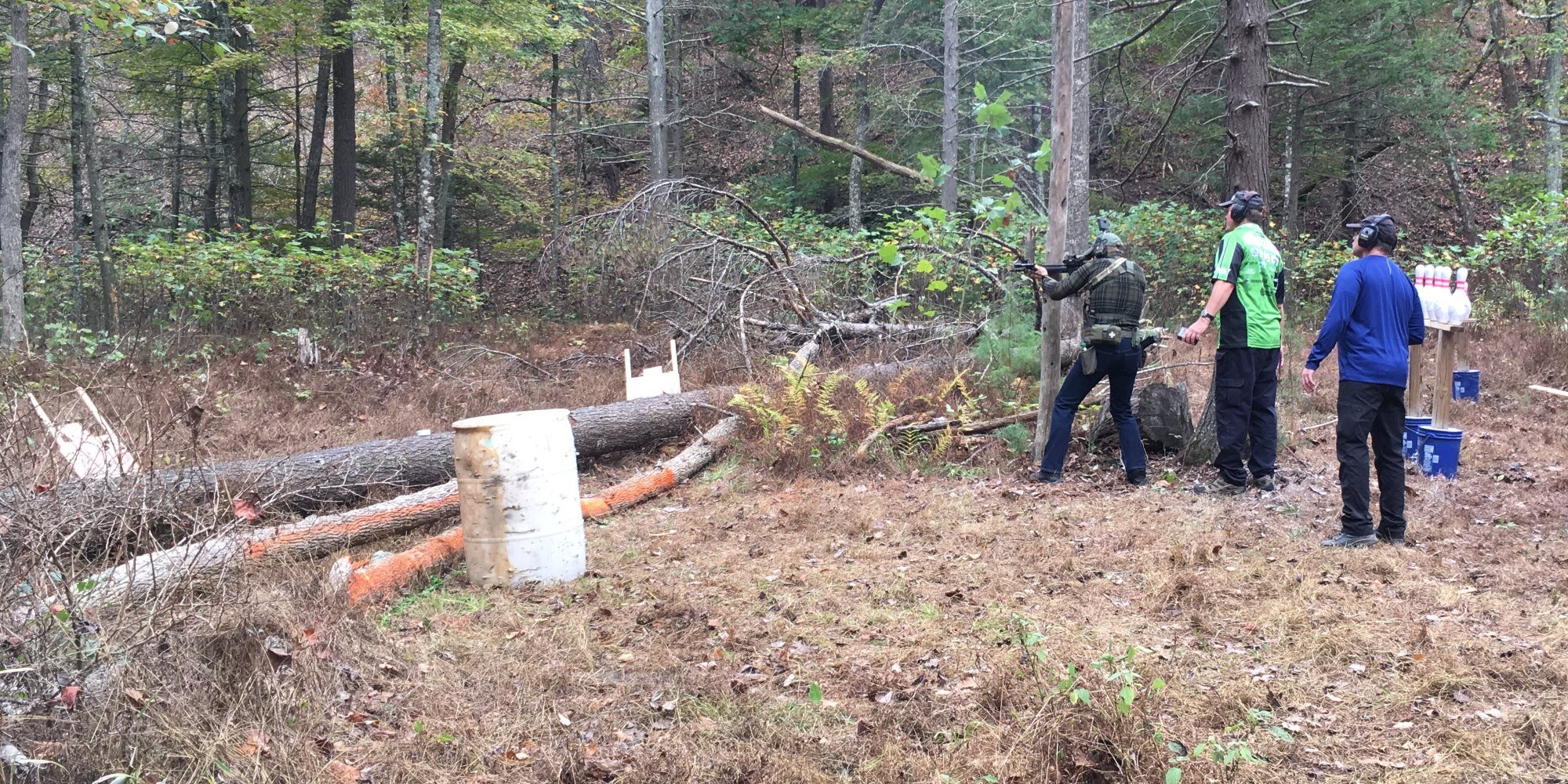 "Getting a clear line of sight was tricky in the woods."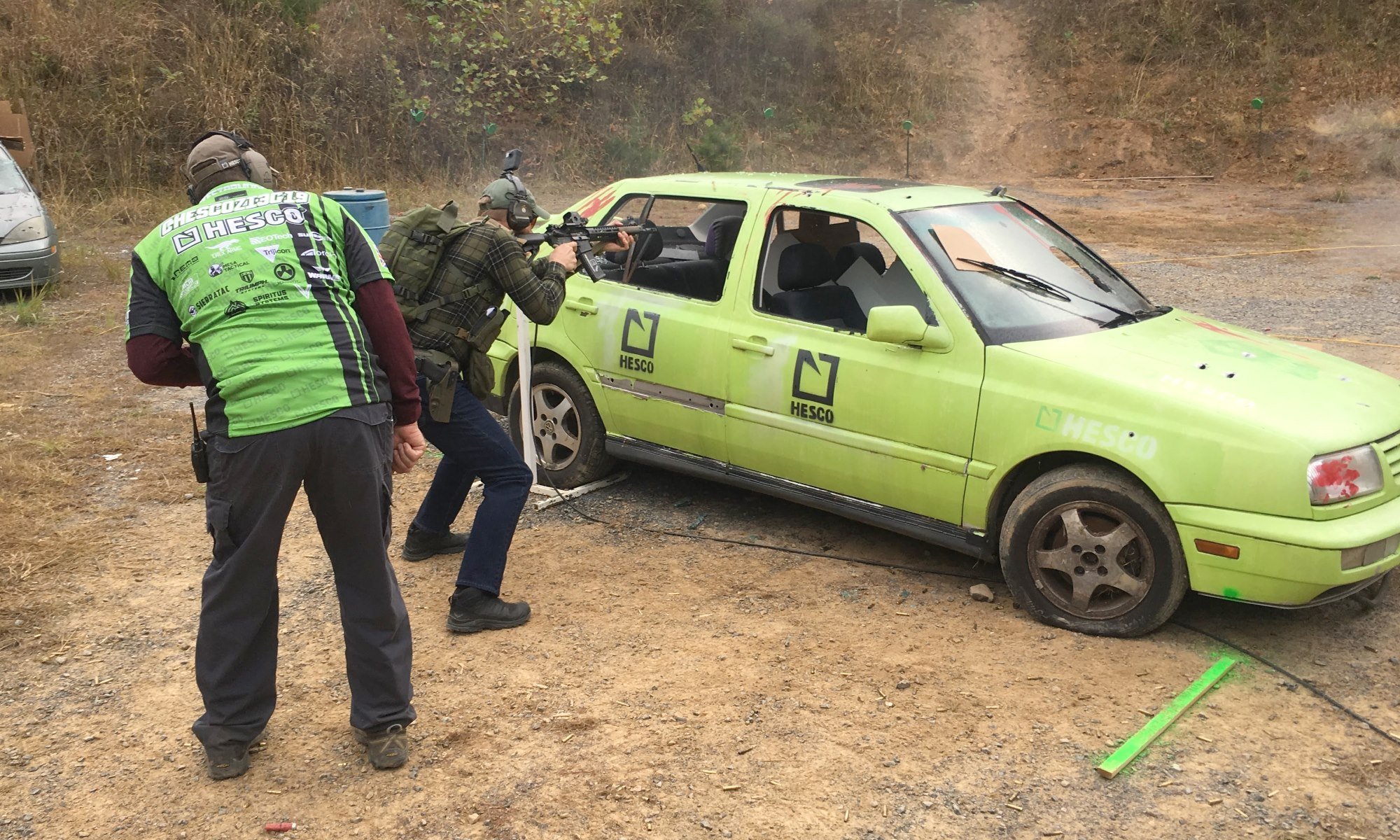 "Had to save the passengers from attacking zombies. Better not hit your fellow survivors!"
Quite many of the participants were either active or retired military and law enforcement personnel but there was a fair share of recreational shooters as well. The level of competitors was really good and shooters on top of the ranking did a phenomenal job. To express our gratitude to be able to participate, we crafted limited edition Terävä Skramas for the event with Zombie Invitational engraving. The lucky winners getting the blades were pretty happy with their extra capability to defeat zombie threats.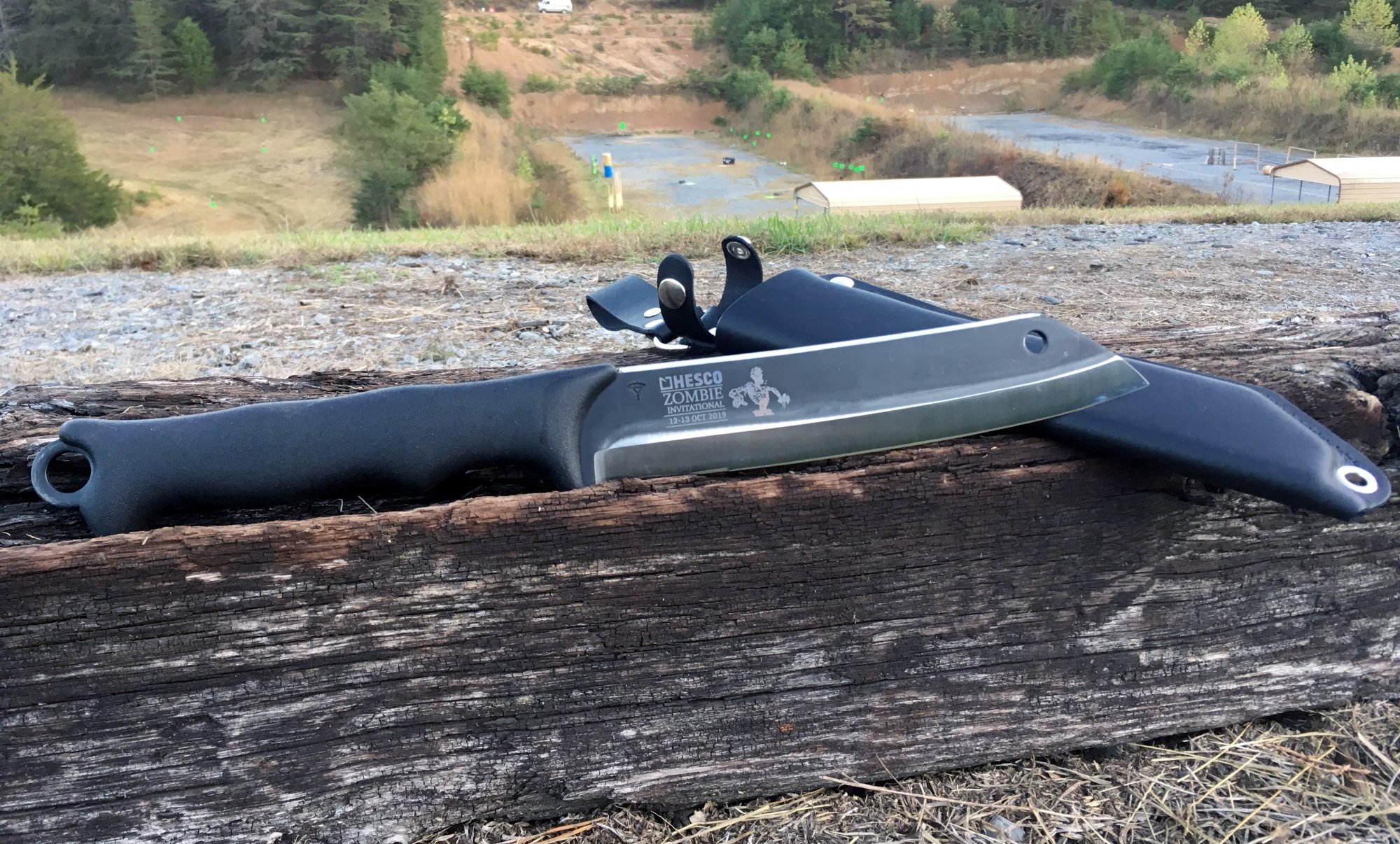 This match was one of the coolest I have ever shot. The stages were challenging, yet fun to shoot. The camaraderie and general feeling in the event were super positive and we had a good time while camping at the location. I certainly can draw some similarities between Finnish and Desert Brutality in this sense. All in all, a great event and hopefully we can be part of the Zombie Invitational 2020 as well.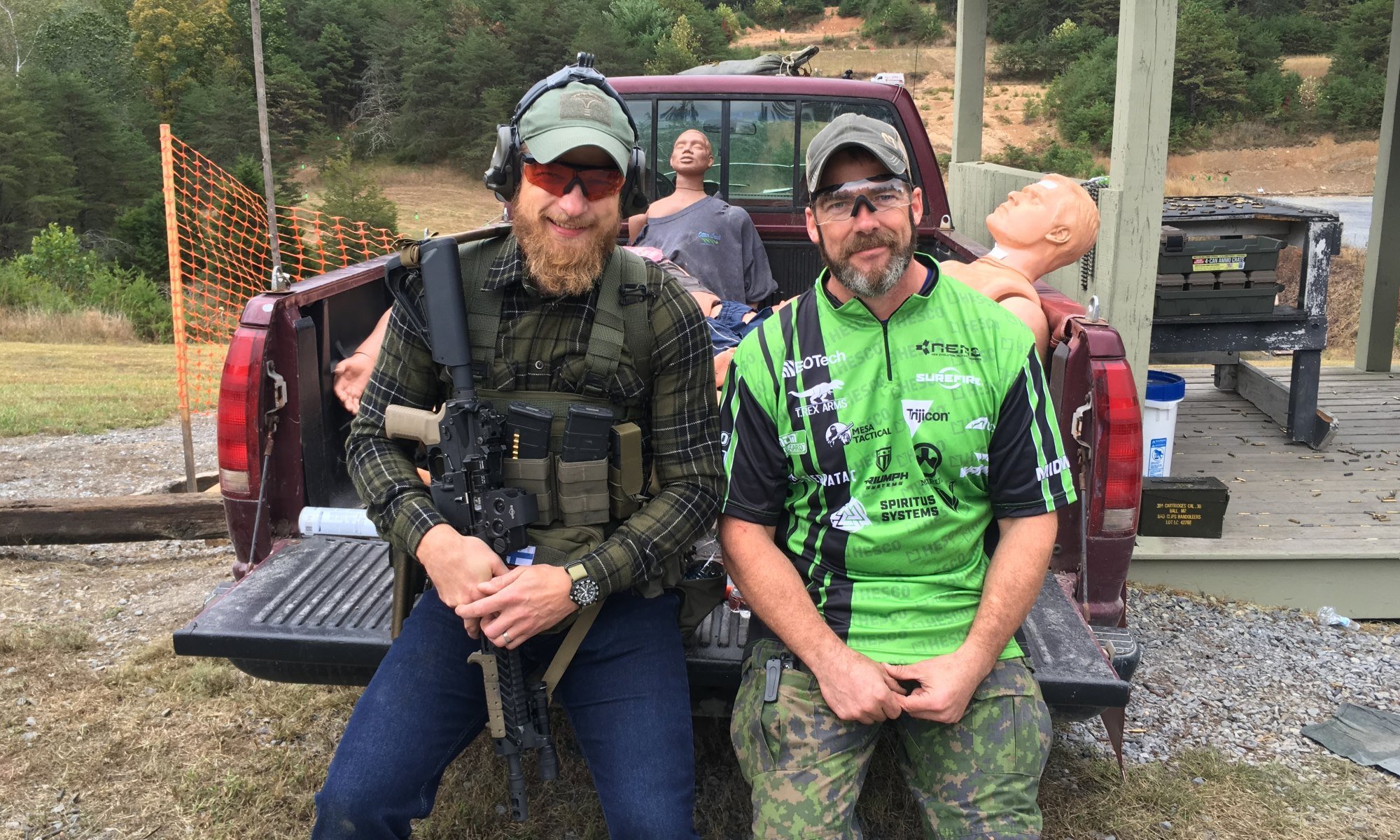 "Jeremy, the Boss Man of Hesco Armor and at least half of the brains behind this awesome event. Check out the pants he's wearing!"
Gear proving ground
Matches are always a good opportunity to test gear and clothing. Due to the nature of the event and back story, I decided to work through the match with civilian clothing. The Särmä TST Tactical Jeans in blue and Särmä Wool Flannel Shirt were spot-on selections for the weather condition and theme. The temperature was fluctuating from "chilling" all the way to "damn it is hot" but the Särmä Wool Flannel Shirt provided a good way to adjust heat load by rolling the sleeves and buttoning the collar. Another great piece of garment was the Särmä TST L3 Wind Anorak. During the morning when it was a bit colder, this small wonder provided extra warmth by blocking the wind, it weighs nothing and packs in a small pouch. The awesome thing is that you can pull it over your whole kit.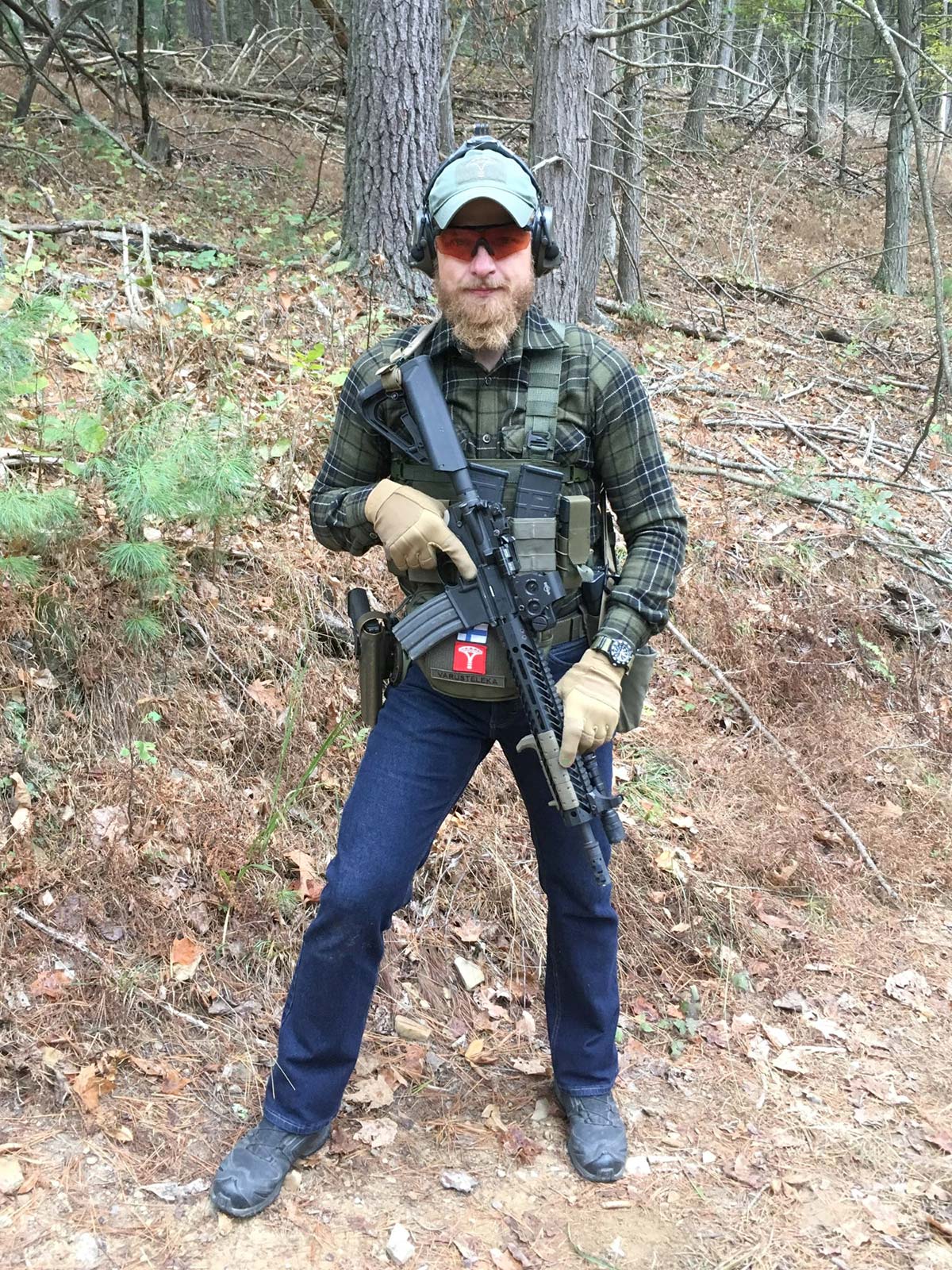 "Dress like the locals is always a good advice."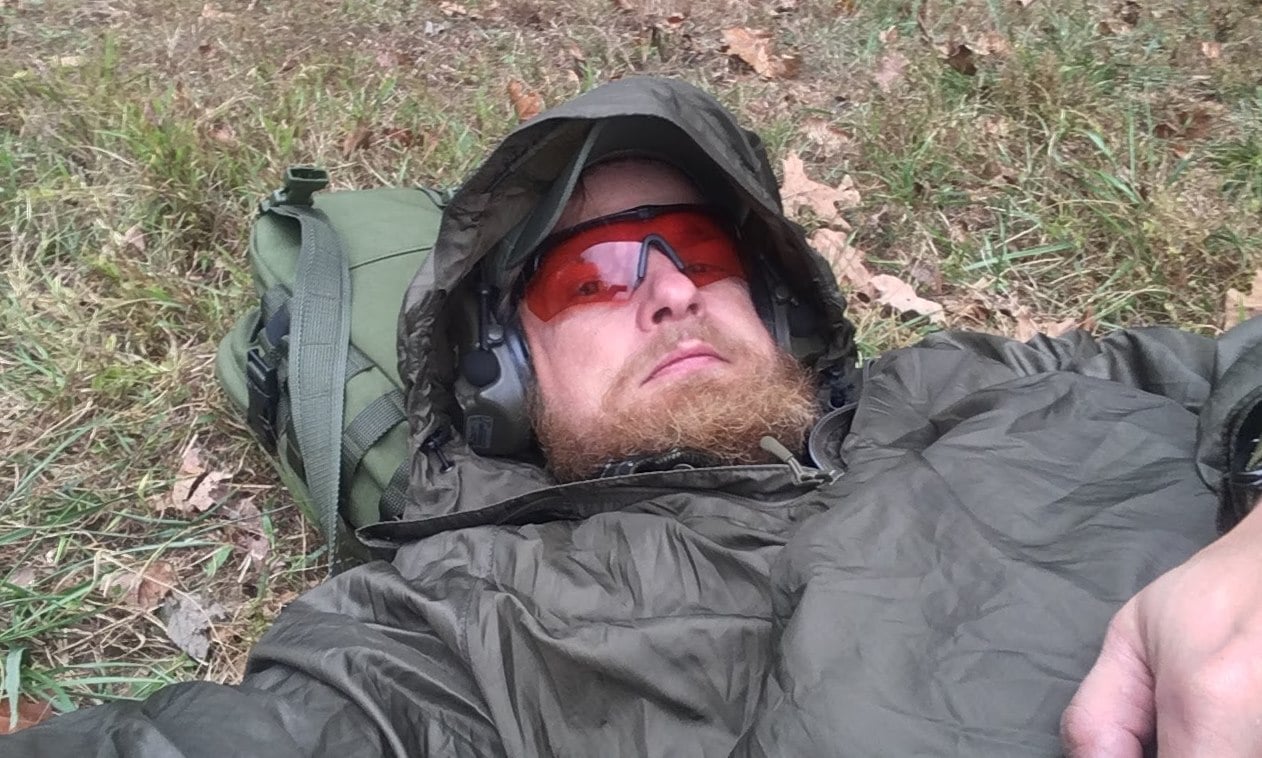 "Chilling out and waiting for my turn at a stage. The Särmä TST Wind Anorak provided some extra warmth."
For load-bearing equipment, I was using our upcoming Särmä TST Belt System with rifle and pistol pouches, Särmä TST PC18 4x6 PALS panel as a chest rig and Esstac KYWI mids. For additional carry capacity, I attached the Särmä TST Hanger pouch to the chest rig. The backpack was Särmä TST CP15 which allowed me to carry all ammo and stuff needed for sustainment during the match. CP15 also doubled as my carry-on luggage while traveling.
The belt and chest rig are pretty experimental at this stage but worked as planned. So we are on a good route to make commercial products out of these concepts. The only issue I had was with the shotgun; I did not have a proper pouch for shotgun ammo, but using the Särmä TST General Purpose Pouch Zip M worked fine, at least with my "speed reload" skills.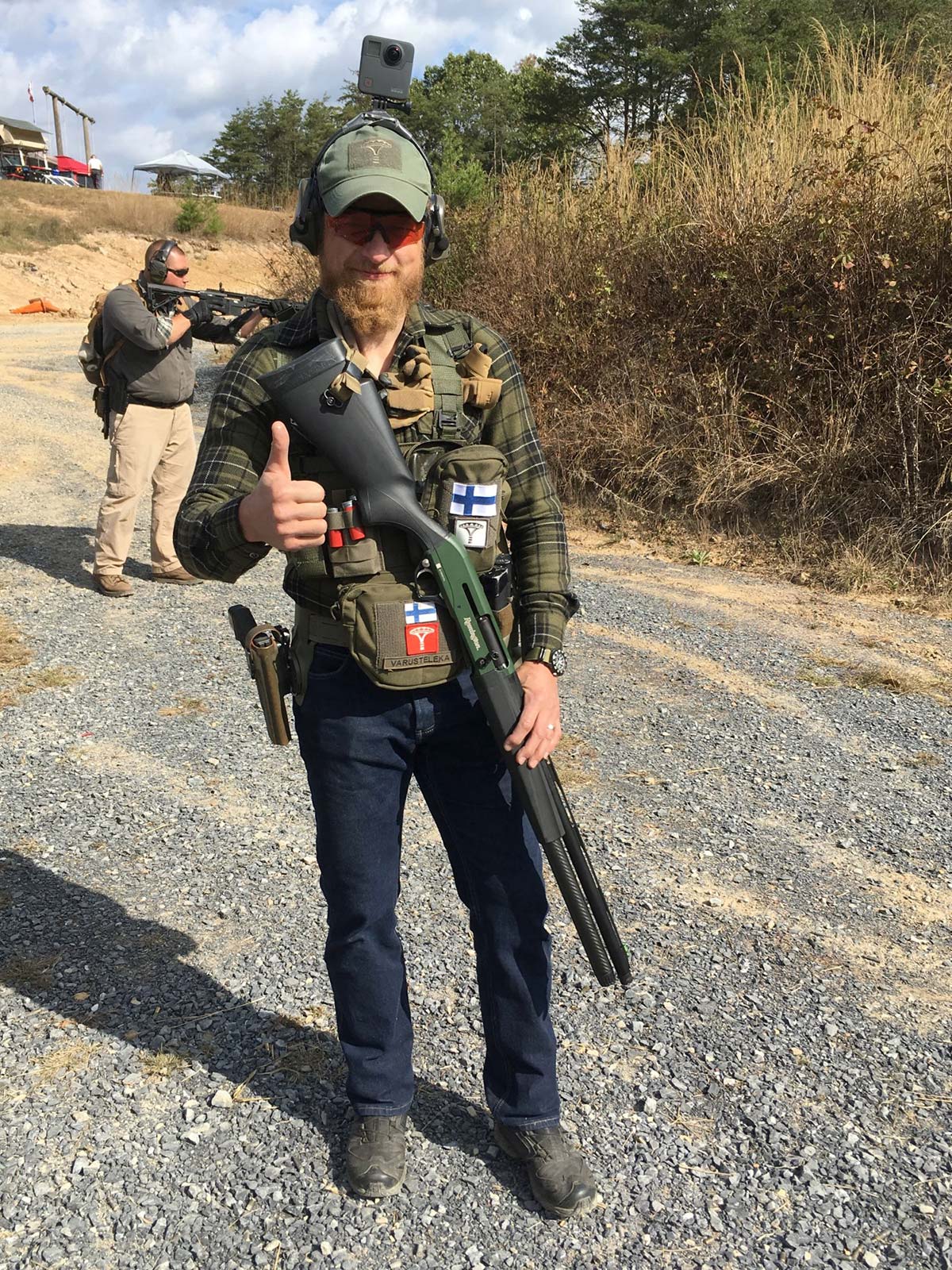 "I hate shotguns but I did my best…
Fruitful ground for Business
While we were having good times in a match, there was also an opportunity to do some business. Hesco Armor makes some really good armor plates and we managed to massage the details in place to get their plates in our assortment… So stay tuned for these goodies.
More or less complete gear list for match and travel
Salomon XA Forces MID GTX
Esstac KYWI pouch, Single Midlength 556
Encore
For more information about the match, do check out the official Zombie Invitational Match site.