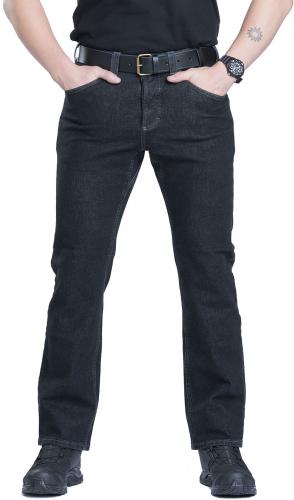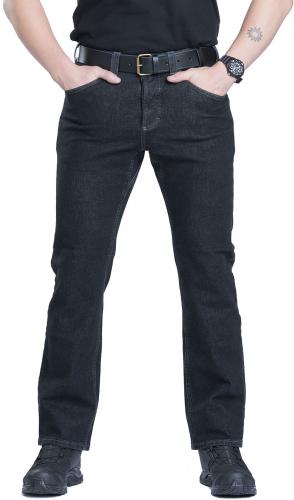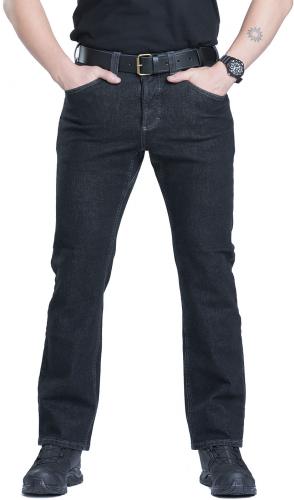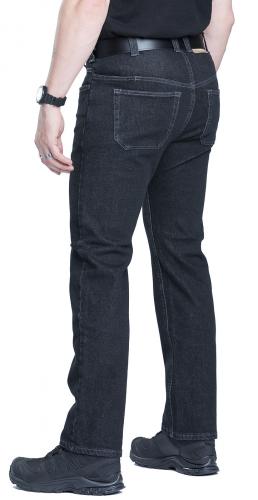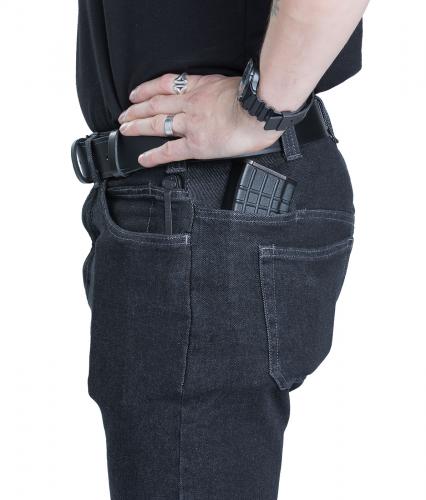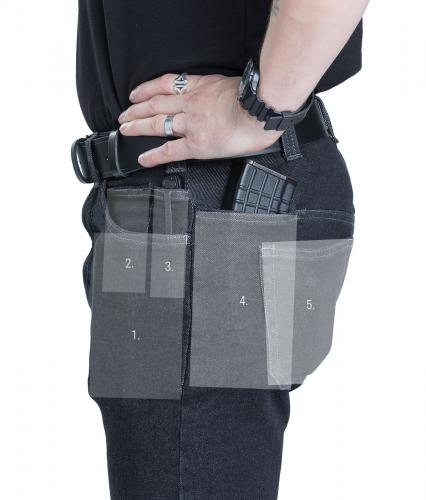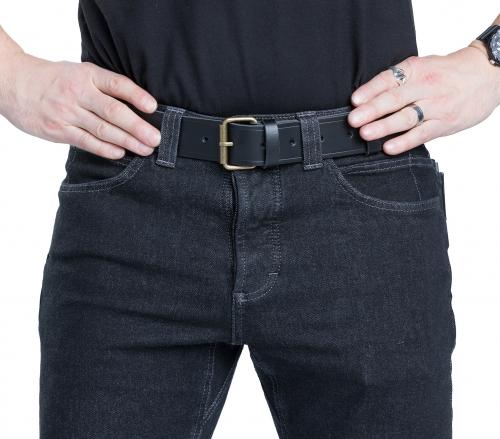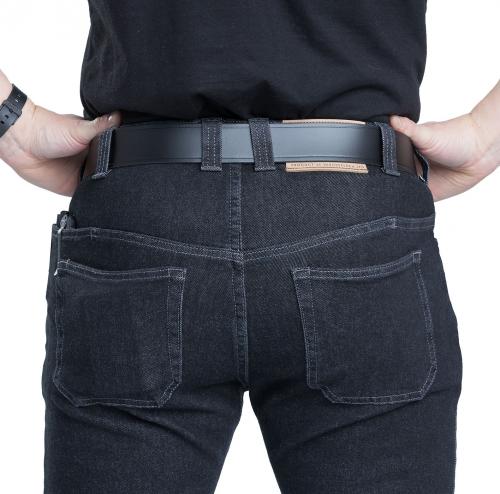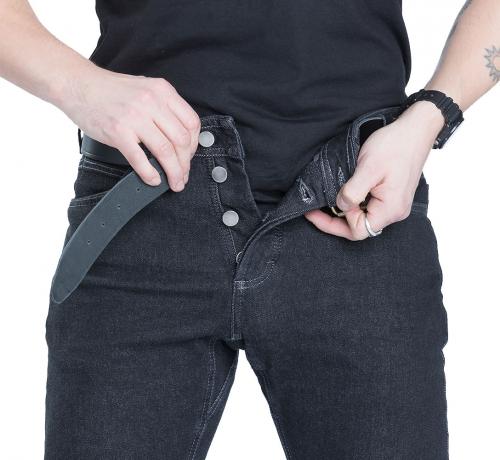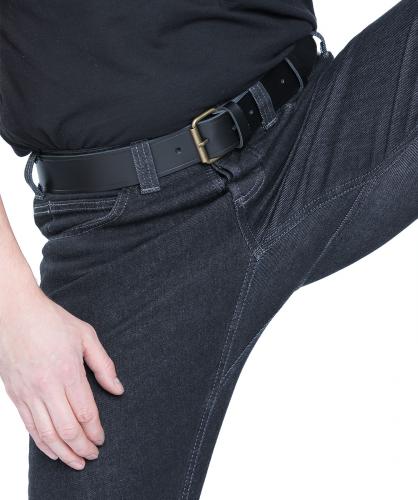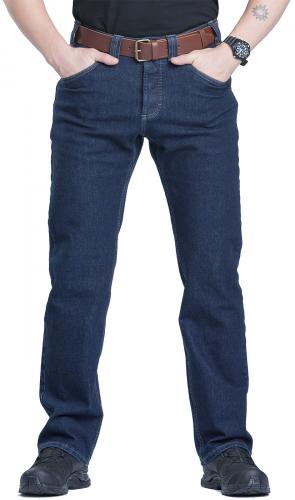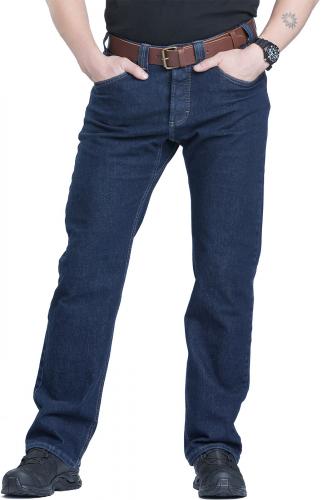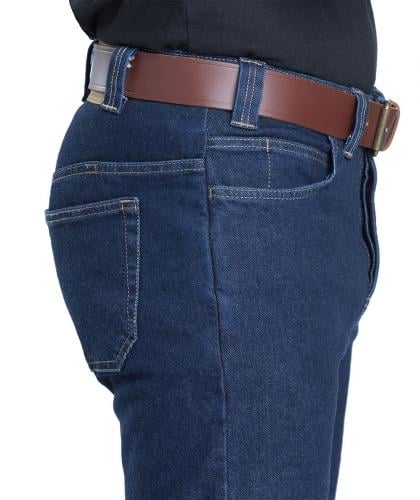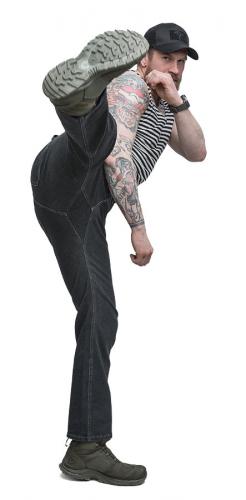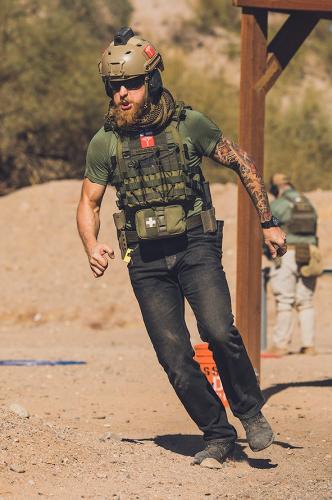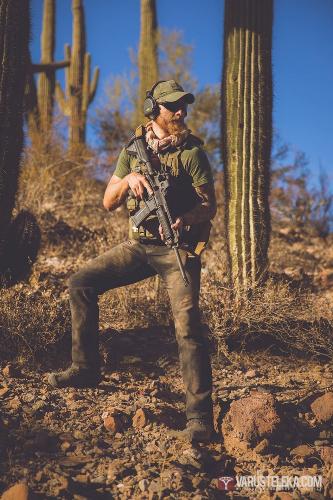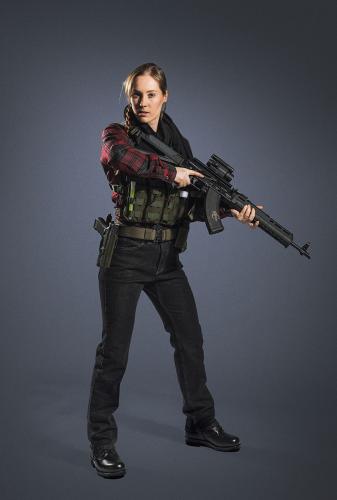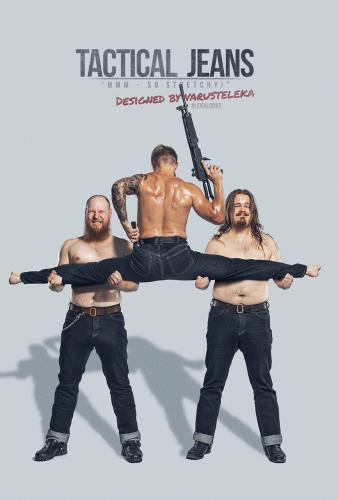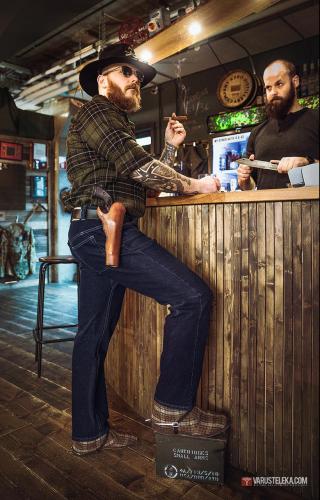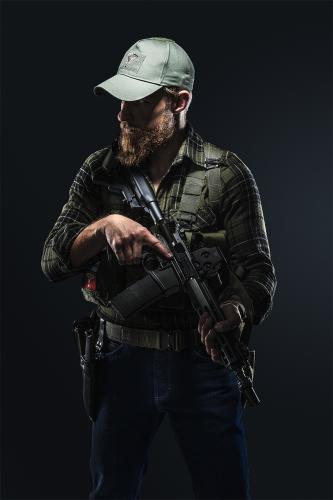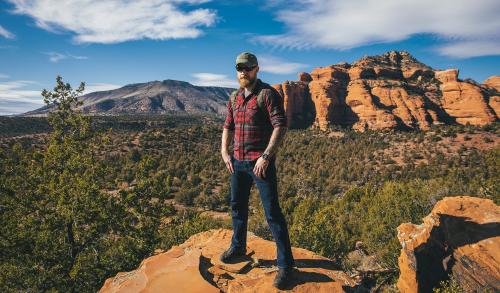 Särmä TST Tactical Jeans
Price 94.99 USD
excluding VAT
Tactical Jeans - when you don't want to use cargo pants or camo stuff for covert work, but find ordinary jeans cumbersome and lacking in features. Mobile and stretchy, these would probably be good enough for Chuck Norris (if he didn't already have his own karate jeans).
Loading products...
Trouble with the metric system? Try our converter: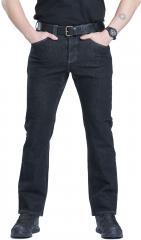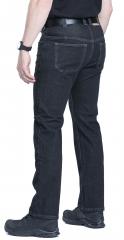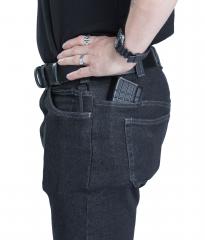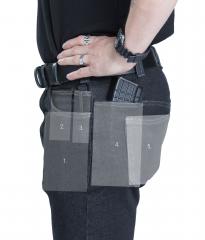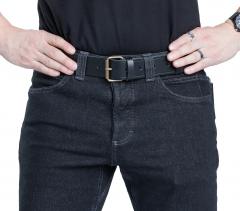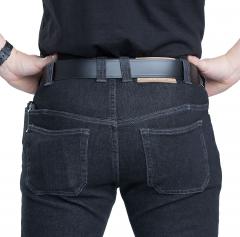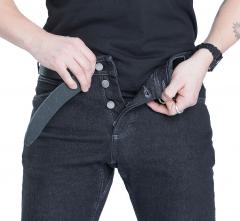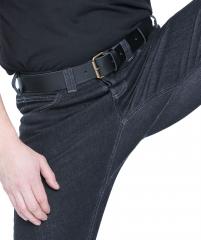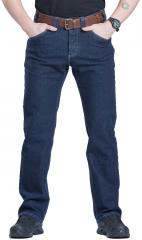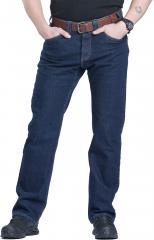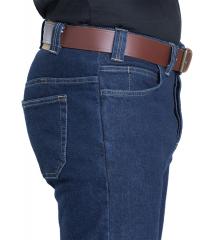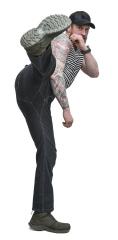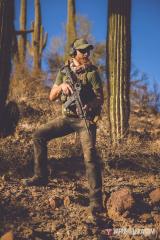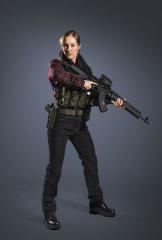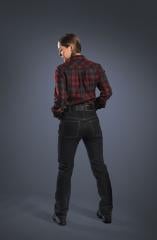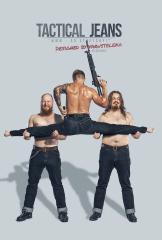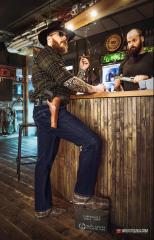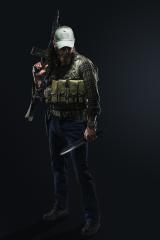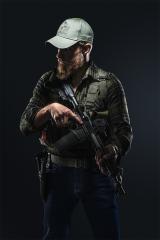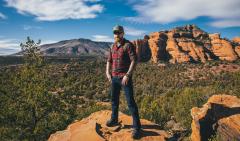 Tactical Jeans - when you don't want to use cargo pants or camo stuff for covert work, but find ordinary jeans cumbersome and lacking in features. Mobile and stretchy, these would probably be good enough for Chuck Norris (if he didn't already have his own karate jeans).
Elastic material and crotch gusset
Hidden pockets with easy access for smartphones etc.
High durability
94/4/2 % cotton/polyester/elastane, 403 g/m2 or 12 oz/yd2.
What's unique about these is the fact that they look unassuming, but there's more than meets the eye. The cut and material offer mobility unmatched by any casual pants, and extra pockets are hidden in plain sight to keep things available for grabs. The special features are so sleek that if you don't use them, you won't notice them either.
Made in EU (Estonia) by Masi company.
Size info
Many people prefer Tactical Jeans with a smaller waist size compared to ordinary pants. Part of this is because of the stretchy material but also because of the roomy cut: as with Särmä Common Jeans, the waistbands of these jeans are two inches larger than the nominal waist size to let it ride lower than the navel.
Tactical Jeans of a smaller-than-usual size will not be glam rock tight so if you want a closer fit, give the sizing a moment of thought.
Below is a table of garment measurements:
Nominal Size
Waistband
Thigh
Metric
Imperial
Metric
Imperial
W28"
77 cm
30.3"
60.5 cm
23.8"
W30"
82 cm
32.3"
63.5 cm
25.0"
W32"
87 cm
34.3"
66.5 cm
26.2"
W34"
92 cm
36.2"
69.5 cm
27.4"
W36"
97 cm
38.2"
72.5 cm
28.5"
W38"
102 cm
40.2"
75.5 cm
29.7"
W40"
107 cm
42.1"
78.5 cm
30.9"
W42"
112 cm
44.1"
81.5 cm
32.1"
W44"
117 cm
46.1"
84.5 cm
33.3"
W46"
122 cm
48.0"
87.5 cm
34.5"
W48"
127 cm
50.0"
90.5 cm
35.6"
The lengths are true to size within manufacturing tolerances.
| Length (in) | Inseam (cm) |
| --- | --- |
| L30" | 76.5 cm |
| L32" | 81.5 cm |
| L34" | 86.5 cm |
| L36" | 91.5 cm |
Cut and features
The starting point was jeans as regular as possible, namely the Särmä Common Jeans. We added a crotch gusset to allow ninja moves, which are also easier thanks to a 2-Way Stretch material and elastane mixed into the fabric.
The fit is best described as "plain" or "regular", although it differs slightly from Common Jeans. We didn't incorporate any bagginess for pocket space, because the material stretch handles it. The belt loops are big enough for a 50 mm / 2" belt but work fine with regular 40 mm / 1.6" belts as well. Button fly.
Mid rise waist
Stretchy, non-restricting material
50 mm / 2" belt loops
Button fly
Crotch gusset
Ten useful pockets:

Two ordinary side pockets
Two (pistol mag size) smaller pockets inside each side pocket
Two ordinary back pockets
Two (assault rifle mag size) hidden back pockets
Ten pockets
In addition to the usual front and rear pockets, the front pockets have two flat "coin pockets" per side. Even the smaller ones are big enough for a pistol magazine, folding knife or multi-tool.
In the rear, you'll find two slash pockets behind the side seams. A yoke conceals the mouth, so it's "not there". The pockets are large enough for a smartphone or tourniquet, but by coincidence also fit something you can use to feed an Evil Black Gun.
Material and care
In our trials, we have used the Tactical Jeans for all kinds of rough business, and even after wearing and washing they retain a good look. Natural fibers don't melt or light up that easily, so the primary material is 94% cotton. A 4% polyester content improves durability and 2% of elastane.
Fabric weight: 403 g/m2 or 12 oz/yd2.
Machine wash at 40° Celsius / 104° F. The color bleeds so handle the whites and coloreds separately. May crock before the first wash, so don't sit on your grandma's white leather couch before that.
On colors
The colors are black and blue. When stretched, the fabric reveals light-grey fibers within the fabric, giving a lighter appearance. Especially the black ones may appear dark grey from a distance.
Särmä TST
Särmä TST is Varusteleka's in-house brand of clothing and gear designed for military and law enforcement end-users. Our clothing and equipment are made in co-operation with a number of experienced manufacturers with a strong background in producing clothing and gear for military and law enforcement officials, most notably for the Finnish Defence Forces. For further reading check out the Särmä TST corner of our website.
Särmä TST products are covered by a 12-month warranty against defects in materials and workmanship. For further information please read our detailed warranty guide.
Recommendations
Loading products...
Reviews
You have already submitted a review. You can edit your text by clicking on it.
Log in and write a review.
Remove filter
Suomi
(85)
English
(56)
I would recommend for a friend
Jari L.

Varusteleka employee

25.10.2018
I would recommend for a friend
Perttu T.

25.10.2018
Nyt pari päivää käytössä ja olen rakastunut. Eniten pidän taskujen määrästä. Tällä hetkellä joutuu kuskaamaan kolmea puhelinta (oma, työ ja päivystys) jotka aiheuttaisivat ongelman, jos kyseessä normifarkut. Nyt voin jemmata päivystys- ja työpuhelimet eri puolille salataskuun enkä edes huomaa että ovat siellä. Housut antavat uskomattoman liikkumisvapauden kaksisuuntaisen venyvyyden ansiosta kaltaiseni ict-taistelija voi kontata pöytien alla helposti.
49
2
I would recommend for a friend
Lasse S.

30.10.2018
Mulla ei ole ikinä ollut näin hyviä farkkuja
22
5
I would recommend for a friend
Juho R.

31.10.2018 (Edited 05.05.2020)
Nyt taisi leka osua kultasuoneen!
Kangas vaikuttaa paksummalta ja kestävämmältä kuin kansan farkussa, taskut ovat funktionaaliset (Piilosivutaskut ovat suorastaan maagiset nykypäivän ohuelle älyluurille) muttei näköä häiritsevät ja istuvuus / mukavuus on mainio (kansan farkkuun nähden hieman slimmimpi lahkeista). Väri on myös kaikkeen sopiva. Aij että!
Jos ja kun ompeleiden kestävyys todetaan hyväksi, ei muita housuja sitten tarvitsekkaan.

Muokattu: Noin puolitoista vuotta käytössä ja ompeleet ovat kestäneet. Ei moitittavaa, ajan saatossa lähtee toiset tilaukseet kunhan muut farkut kuluvat loppuun.
0
0
I would recommend for a friend
Antti S.

01.11.2018
Muuten ihan jees pöksyt, mutta ainakaan mulle saapuneet eivät ole tummanharmaat niinkuin kuvauksessa mainitaan väriksi, vaan mustat.. Ihan siinä pahvilapussakin farkkujen takana luki black. Onko näitä siis useamman värisenä? Musta ei nyt välttämättä olisi oma valinta väriksi, mutta käyttöön nuo nyt kuitenkin otin, kun kerran tovi näitä jo oli odotettu.
10
3
I would recommend for a friend
Markus T.

02.11.2018
Best jeans I ever bought. Convenient pockets. Karate kicks. Squats. Running. You can do it all in these and not feel uncomfortable. Size 36/34 fits me perfectly and I weigh around 100kg and is 183 cm in height.
3
0
I would recommend for a friend
Pompo S.

06.11.2018 (Edited 24.10.2019)
Annoin viisi tähteä heti ostettuani.

Housut ovat nyt olleet vuoden säälimättömässä perheenisän päivittäisessä käytössä. Korkeaa polviasentoa on siis toistettu satoja tai tuhansia kertoja. Polvi kului kudelangoille hiukan alle vuodessa, mutta tällä käytöllä en osaa sitä pitää erityisen pahana asiana, vaan lähinnä hintana siitä, että aika ohut elastaanipitoinen kangas on mukavaa päällä.

Tilasin uudet ja palautan vanhat. Toivottavasti päätyvät kategoriaan rankasti käytetty. Edelleen viis kautta viis.
7
0
I would recommend for a friend
Timo V.

03.12.2018 (Edited 03.12.2018)
Täydellinen tuote. Nyt lähti kaikki muut farkut kiertoon. Myös kaksi paria Kansan Farkkuja. Tahtoo lisää! Toimittakaa heti! Välittömästi!

Lipastaskuun mahtuu iFööni XS Max ilman ongelmia.
7
0
I would recommend for a friend
Adam W.

05.12.2018
Excellent jeans. Very comfortable and with Über convenient "pocketry". They stretch a whole lot more than I can. More colours please.
9
1
Kierto Circular Economy
Return this product used but clean and unbroken, and you'll receive half of the product's original price as Varusteleka credits. Service is available only in Finland. Only Registered users can make Kierto returns. See more information about Kierto.