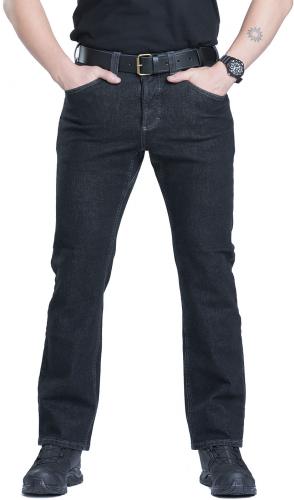 Särmä TST Tactical Jeans
Price 82.99 USD excluding VAT
Flat Rate Shipping to USA $9.99
98 % recommends
Sold 536 pcs in the last two weeks
Loading products...
Trouble with the metric system? Try our converter: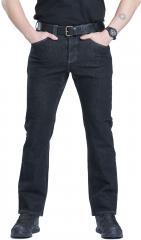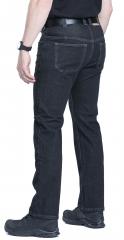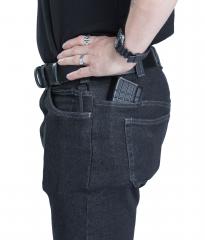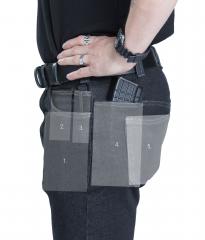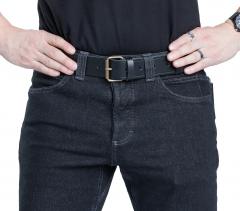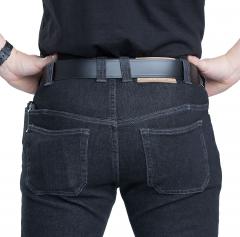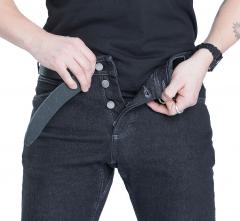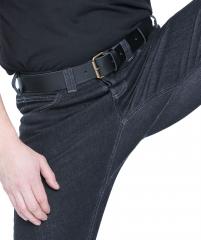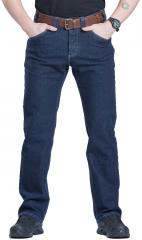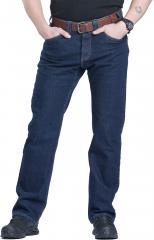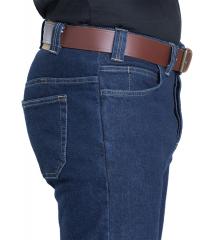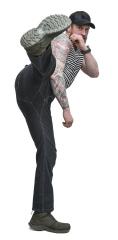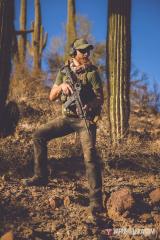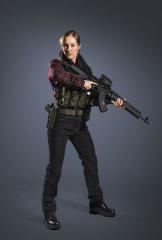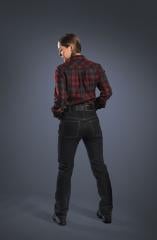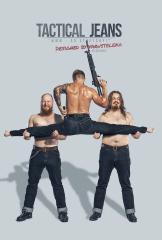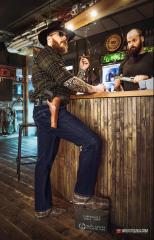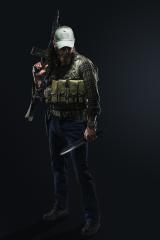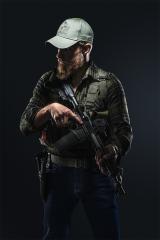 Tactical Jeans - when you don't want to use cargo trousers or camo stuff for covert work, but find ordinary jeans cumbersome and lacking in features. Mobile and stretchy, these would probably be good enough for Chuck Norris (if he didn't already have his own karate jeans).
NEW! Blue colour option!
Elastic material and crotch gusset
Hidden pockets with easy access for smartphones etc.
High durability
94/4/2 % cotton/polyester/elastane, 403 g/m2 or 12 oz.
What's unique about these is the fact that they look unassuming, but there's more than meets the eye. The cut and material offer mobility unmatched by any casual trousers, and extra pockets are hidden in plain sight to keep things available for grabs. The special features are so sleek that if you don't use them, you won't notice them either.
Cut and features
The starting point was jeans as regular as possible, namely the Särmä Common Jeans. We added a crotch gusset to allow ninja moves, which are also easier thanks to a 2-Way Stretch material and elastane mixed into the fabric.
The fit is best described as "plain" or "regular", although it differs slightly from Common Jeans. We didn't incorporate any bagginess for pocket space, because the material stretch handles it. The belt loops are big enough for a 2" belt but work fine with regular 40 mm belts as well. Button fly.
Mid rise waist
Stretchy, non-restricting material
50 mm (2") belt loops
Button fly
Crotch gusset
Ten useful pockets:

Two ordinary side pockets
Two (pistol mag size) smaller pockets inside each side pocket
KaTwo ordinary back pockets
Two (assault rifle mag size) hidden back pockets
Ten pockets
In addition to the usual front and rear pockets, the front pockets have two flat "coin pockets" per side. Even the smaller ones are big enough for a pistol magazine, folding knife or multi-tool.
In the rear, you'll find two slash pockets behind the side seams. A yoke conceals the mouth, so it's "not there". The pockets are large enough for a smartphone or tourniquet, but by coincidence also fit something you can use to feed an Evil Black Gun.
Material and care
In our trials, we have used the Tactical Jeans for all kinds of rough business, and even after wearing and washing they retain a good look. Natural fibres don't melt or light up that easily, so the primary material is 94 % cotton. A 4 % polyester content improves durability and 2 % of elastane.
Fabric weight: 12 oz.
Machine wash at 40 Celsius. The colour bleeds so handle the whites and coloureds separately. May crock before the first wash, so don't sit on your grandma's white leather couch before that.
On colours
The colours are black and blue. When stretched, the fabric reveals light-grey fibres within the fabric, giving a lighter appearance. Especially the black ones may appear dark grey from a distance.
Size info
Pick your usual jeans size, and you'll be fine with IWB stuff. For a closer fit, you may choose a smaller waist. Below is a table of garment measurements:
| Size | Actual waist | Thigh |
| --- | --- | --- |
| W28" | 77 cm | 60,5 cm |
| W30" | 82 cm | 63,5 cm |
| W32" | 87 cm | 66,5 cm |
| W34" | 92 cm | 69,5 cm |
| W36" | 97 cm | 72,5 cm |
| W38" | 102 cm | 75,5 cm |
| W40" | 107 cm | 78,5 cm |
| W42" | 112 cm | 81,5 cm |
| W44" | 117 cm | 84,5 cm |
| W46" | 122 cm | 87,5 cm |
| W48" | 127 cm | 90,5 cm |
| Length (in) | Inseam (cm) |
| --- | --- |
| L30" | 76,5 cm |
| L32" | 81,5 cm |
| L34" | 86,5 cm |
| L36" | 91,5 cm |
Särmä TST
Särmä TST is Varusteleka's own in-house brand of clothing and gear designed for military and law enforcement end users. Our clothing and equipment are made in co-operation with a number of experienced manufacturers with a strong background in producing clothing and gear for military and law enforcement officials, most notably for the Finnish Defence Forces. For further reading check out the Särmä TST corner of our website.
Särmä TST products are covered by a 12-month warranty against defects in materials and workmanship. For further information please read our detailed warranty guide.
Made in EU (Estonia) by Masi company.
Recommendations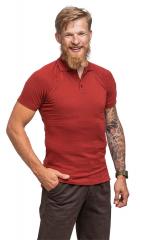 Särmä Polo Shirt, Merino Wool
36.99 USD 45.99 USD
Sometimes purchased with.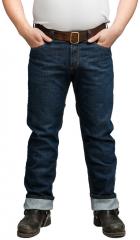 Särmä Common Jeans, blue
55.99 USD
Sometimes purchased with.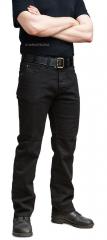 Särmä Common Jeans, black
55.99 USD
Sometimes purchased with.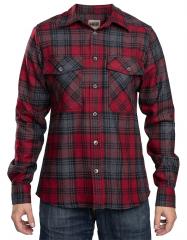 Särmä Wool Flannel Shirt
91.99 USD
Sometimes purchased with.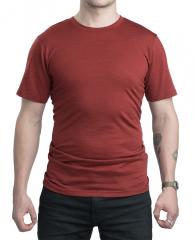 Särmä Merino Wool T-shirt
30.99 USD
Sometimes purchased with.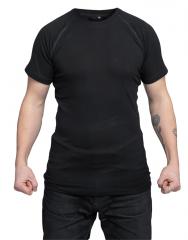 Särmä T-shirt, black
22.99 USD
Sometimes purchased with.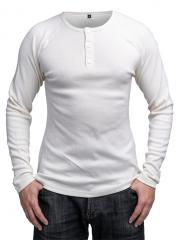 Särmä Henley Shirt, Merino Wool
64.99 USD
Sometimes purchased with.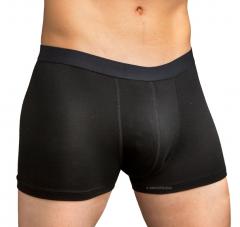 Särmä viscose boxers, black
9.99 USD
Sometimes purchased with.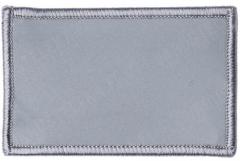 Särmä reflective patch, 80 x 50 mm
4.99 USD
Sometimes purchased with.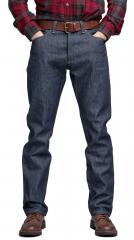 Särmä Raw Denim jeans, dark blue
91.99 USD
Sometimes purchased with.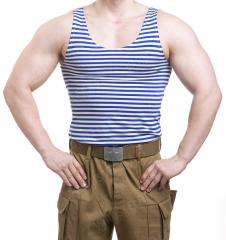 Russian Telnyashka, sleeveless
11.99 USD
Might be of interest.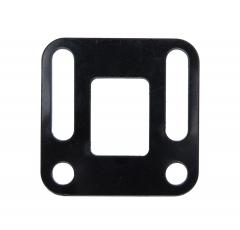 Särmä VFS MOLLE/PALS belt adapter
2.99 - 3.99 USD
Might be of interest.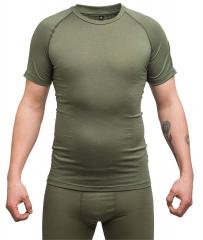 Särmä TST L1 T-shirt, Merino Wool
22.99 - 30.99 USD 30.99 USD
Might be of interest.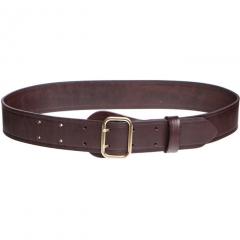 Finnish Service Belt
27.99 USD
Might be of interest.
Reviews
You have already submitted a review. You can edit your text by clicking on it.
Log in and write a review.
Remove filter
Suomi
(57)
English
(33)
I would recommend for a friend
Jari L.

Varusteleka employee

25.10.2018
I would recommend for a friend
Perttu T.

25.10.2018
Nyt pari päivää käytössä ja olen rakastunut. Eniten pidän taskujen määrästä. Tällä hetkellä joutuu kuskaamaan kolmea puhelinta (oma, työ ja päivystys) jotka aiheuttaisivat ongelman, jos kyseessä normifarkut. Nyt voin jemmata päivystys- ja työpuhelimet eri puolille salataskuun enkä edes huomaa että ovat siellä. Housut antavat uskomattoman liikkumisvapauden kaksisuuntaisen venyvyyden ansiosta kaltaiseni ict-taistelija voi kontata pöytien alla helposti.
32
2
I would recommend for a friend
Lasse S.

30.10.2018
Mulla ei ole ikinä ollut näin hyviä farkkuja
17
3
I would recommend for a friend
Juho R.

31.10.2018 (Edited 31.10.2018)
Nyt taisi leka osua kultasuoneen!

Kangas vaikuttaa paksummalta ja kestävämmältä kuin kansan farkussa, taskut ovat funktionaaliset (Piilosivutaskut ovat suorastaan maagiset nykypäivän ohuelle älyluurille) muttei näköä häiritsevät ja istuvuus / mukavuus on mainio (kansan farkkuun nähden hieman slimmimpi lahkeista). Väri on myös kaikkeen sopiva. Aij että!

Jos ja kun ompeleiden kestävyys todetaan hyväksi, ei muita housuja sitten tarvitsekkaan.
18
1
I would recommend for a friend
Antti S.

01.11.2018
Muuten ihan jees pöksyt, mutta ainakaan mulle saapuneet eivät ole tummanharmaat niinkuin kuvauksessa mainitaan väriksi, vaan mustat.. Ihan siinä pahvilapussakin farkkujen takana luki black. Onko näitä siis useamman värisenä? Musta ei nyt välttämättä olisi oma valinta väriksi, mutta käyttöön nuo nyt kuitenkin otin, kun kerran tovi näitä jo oli odotettu.
9
3
I would recommend for a friend
Markus T.

02.11.2018
Best jeans I ever bought. Convenient pockets. Karate kicks. Squats. Running. You can do it all in these and not feel uncomfortable. Size 36/34 fits me perfectly and I weigh around 100kg and is 183 cm in height.
2
0
I would recommend for a friend
Pompo S.

06.11.2018 (Edited 24.10.2019)
Annoin viisi tähteä heti ostettuani.

Housut ovat nyt olleet vuoden säälimättömässä perheenisän päivittäisessä käytössä. Korkeaa polviasentoa on siis toistettu satoja tai tuhansia kertoja. Polvi kului kudelangoille hiukan alle vuodessa, mutta tällä käytöllä en osaa sitä pitää erityisen pahana asiana, vaan lähinnä hintana siitä, että aika ohut elastaanipitoinen kangas on mukavaa päällä.

Tilasin uudet ja palautan vanhat. Toivottavasti päätyvät kategoriaan rankasti käytetty. Edelleen viis kautta viis.
2
0
I would recommend for a friend
Timo V.

03.12.2018 (Edited 03.12.2018)
Täydellinen tuote. Nyt lähti kaikki muut farkut kiertoon. Myös kaksi paria Kansan Farkkuja. Tahtoo lisää! Toimittakaa heti! Välittömästi!

Lipastaskuun mahtuu iFööni XS Max ilman ongelmia.
4
0
I would recommend for a friend
Adam W.

05.12.2018
Excellent jeans. Very comfortable and with Über convenient "pocketry". They stretch a whole lot more than I can. More colours please.
8
1
I would recommend for a friend
SOTIRIS T.

07.12.2018
Excellent jeans! Very happy with the pair I got. I'm not more than 173cm tall, around 80kg and the 32/32 size couldn't fit better. More comfortable and stretchy than anticipated. Additional colors would be very welcome.
8
0
I would recommend for a friend
Mikko W.

13.12.2018
Parin viikon päivittäisen käytön jälkeen voi sanoa, että nyt on hyvät farkut! Istuvuus on loistava, kangas paksua, mutta joustavaa, eli näiden kanssa voi tehdä kuperkeikkatemppuja ja muuta akrobatiaa.

Taskuja on kerrankin riittävästi ja erityisesti piilotakataskut ovat todella käytännölliset.

Värihän näissä on lähempänä mustaa kuin tummanharmaata, joten se kannattaa ottaa huomioon. Vielä kun näitä saisi sinisenä, niin olisi 6/5 tuote.
11
0
I would recommend for a friend
Jeremias Y.

14.12.2018 (Edited 20.09.2019)
Überhyvät farkut, nää jalassa ei pakota tai kinnaa mistään paikasta ja jalka nousee kevyesti vaikka natsin pään korkeudelle.
21
23
I would recommend for a friend
Jesse K.

28.12.2018
Alkuun oli hieman epämukavaa, koska oli liian mukavaa housut jalassa. Pääsin siitä kuitenkin yli.
Myös lipastaskut tuli testattua, toimivat niin lippaille kuin älylaitteille.
5
0
I would recommend for a friend
Rafal S.

29.12.2018
This is the most comfortable pair of jeans I've ever wrapped my ass in! You guys have to release this in denim blue.
39
0
I would recommend for a friend
Ville M.

03.01.2019 (Edited 03.01.2019)
Parhaat farkut mitä on ikinä ollut jalassa..

Aamuisin pakko tarkistaa että on varmasti laittanut housut jalkaan, kun ovat niin huomaamattomat päällä!!
Toivottavasti ovat kestävää tekoa, se selviää käytössä.
6
0
I would recommend for a friend
Samu S.

Varusteleka employee

04.01.2019 (Edited 10.10.2019)
Kunnon hyvät. Oon käynyt läpi Varustelekan farkuista Kansan farkut, Raw denimit ja nämä. Taktiset farkut toimii mulle parhaiten - nämä sallii tosi hyvin liikkumisen, taskut on erinomaiset ja muutenkin farkut istuu paremmin. Nexus 6P kulkee ilman ongelmia etutaskussa. Noin 2,5 kk yhtäjaksoisen käytön jälkeen ei valittamista. Omistan koon 32/30 ja olen 181 cm pitkät, painoa noin 80 kg, vyötärönympärys siltä kohtaa missä farkun vyö kulkee noin 87 cm ja sisälahje noin 80cm.
0
0
I would recommend for a friend
Samu W.

07.01.2019
Todella hyvä istuvuus kinnaamatta mihinkään, näyttää myös vaimon mielestä hyvältä. Taskuissa riittää IDPA-treeneissä ei tarvtse kikkailla lippaita vyötaskuihin.

Jos jotain kehitys/muutosehdotusta laittaisi, niin vyölenkkien sijoittelu: Nyt pistoolikotelo (IMI paddleholster kotelo CT75 shadowille) istuu tosi nätisti vyölenkkien välissä (vyönsoljestä oikealle laskien lenkkien 2 ja 3 välissä). Kotelo jää vaan turhan taakse, pari senttiä eteenpäin auttaisi huimasti.
3
0
I would recommend for a friend
Ville P.

14.01.2019
Hyvät farkut, sillai tymästi tein että vedin saumurilla lahkeet kapeemmaks ja nyt on vielä paremmat.
1
0
I would recommend for a friend
Richard N.

07.02.2019
Best jeans ever. The hip pockets are perfect to keep a phone out of the way. Please, please, please sell these in blue; I'd wear nothing but these for more than half the year.
22
0
I would recommend for a friend
Henrik H.

09.03.2019
Niin siistin näköiset farkut, että kehtaa vaikka juhliin mennä. Päälle istuu niin hyvin, että tuskin huomaa housuja edes jalassa ja niin joustavat, että menee vaikka venyttelyhousuista.
1
0
I would recommend for a friend
Mikko H.

11.03.2019 (Edited 11.03.2019)
Otin housut paketista ulos ja katsoin että tulipa ostettua tiukan näköset housut, just sitä pelättyä omaa kokoa joka yleensä kiristää kun pikkasen slaavikyykkyä vetää. Vedin housut kuitenkin jalkaan ja mitä he##! ? Niinku oisi verkkarit jalassa noin liikkumisvapauden suhteen. Tosi mukavat.
1
0
I would recommend for a friend
Tommi R.

11.03.2019
Sanalla sanoen LOISTAVAT farskut. Istuvuus hyvä, näyttävät hyvältä, taskut toimivat erinomaisesti ja ennenkaikkea tuntuvat kuin päällä olisi jotkin kollege housut.
Jos pakko on jotain negatiivista keksiä, takataskut saisivat olla muutaman sentin ylempänä, lompakko lepää melko alhaalla ja saattaa olla kovalla alustalla istuessa epämiellyttävä.
Housut toki saapuivat vasta tänään eli pitkää kokemusta ei vielä löydy.
0
0
I would recommend for a friend
Antti S.

11.03.2019
Mitoitus saisi olla hieman leveämpi reisien kohdalta, mutta onneksi materiaali joustaa.
1
0
I would recommend for a friend
Sami P.

12.03.2019
Laadukkaat ja todella hyvän tuntuiset käyttää. Isokin älyluuri menee sivutaskuun suojakuoren kanssa kivuttomasti. Voi myös mennä kyykkyyn ilman että puhelin vääntyy taskussa... Aion tilata toisetkin
1
0
I would recommend for a friend
Atte R.

17.03.2019 (Edited 17.03.2019)
Mukavimmat housut joita olen päälläni ikinä pitänyt. Eivät kahise tai hiosta niin kuin jotkut nolot verkkarit, eikä saumat kiristele sieltä sun täältä niin kuin useimmissa reisitaskuhousuissa. Tuntuvat lämpimiltä ja tukevilta, mutta joustavat joka suuntaan. Ei niin mitään valittamisen aihetta.
1
0
I would recommend for a friend
Floris V.

21.03.2019
Product is fine, regrettably not a very modern cut, "old man jeans" look, hipstercurious people like myself need skinnier cut!
2
17
I would recommend for a friend
Ville S.

21.03.2019
Par viikkoa käyttöä takana ja kyllä tykkään. Helpottaa myös elämää kesällä kun housun taskuihin mahtuu jotain. Puhelin-taskut vetävät myös kaksi kiekkoa nuuskaa kumpikin; että enää ei tarvi niitäkään tunkea sukkiin kun lähtee kylille.
0
0
I would recommend for a friend
Phil D.

22.03.2019
Believe the hype. The crotch space, freedom of movement, and light elasticity make it feel like you're wearing a pair of pajamas. A thick, stylish pair of pajamas, that has a ton of nice little pockets for concealed carry (and other little conveniences). The best part is how inconspicuous they look, you'd have to really be looking for the extra pockets to notice that these are not a typical pair of jeans. I recommend these a million times over, grab em.
3
0
I would recommend for a friend
Janne K.

04.04.2019
En olisi ikinä uskonut että farkut voi olla näin mukavat jalassa. Nyt uskon.
3
0
I would recommend for a friend
Jakob S.

15.04.2019
Stretchy, durable & loads of pockets. The only complaint I have is that there is always some crusty white stuff on the inside of the fly. I seems to be reappearing after washing too, weird really…

On a more serious note: great pants, especially if you do powerlifting & have real problems moving your legs in more stiff fabrics. The only thing I would wish for is a more tapered leg. Due to the lifting (and the resulting glutes) I had to order a W34, which makes the pants look like bell bottoms around my ankles. They even fit over my thickly insulated winter rubber boots.
6
0
I would recommend for a friend
Michael N.

16.04.2019 (Edited 16.04.2019)
Ordered true to size (30/30) and found they were a little bit big in the waist and long. Was about to take them to the tailor but, fortunately, washed them first. These will shrink a bit. After one was they fit perfectly.



Best pair of jeans I have ever owned. Worth every penny. So far after several washings, no color fading. Flexible, comfortable, and fashionable. Please for the love of all that is holy, make these in denim dark blue as well. If these came in blue I'd never buy jeans anywhere else again. Seriously awesome product.
7
0
I would recommend for a friend
Thomas B.

19.04.2019
Outstanding jeans, very comfortable and discreet. If these were in more conventional blue I don't think I'd buy any other jean.
10
0
I would recommend for a friend
Ari H.

30.04.2019
I would recommend for a friend
Jaakko K.

02.05.2019 (Edited 10.11.2019)
Ollut päivittäisessä käytössä farkkujen alkuperäisestä julkaisusta asti ja on enemmänkin kuin hintansa väärti. On tullut käytettyä näitä myös armottomasti airsoft kentällä, metsässä, urheillessa, varasto- ja mekaniikka töissä ja silti toimii täydellisesti ehjänä. Ainut mikä on vähän kulunut ovat melkolailla itsestäänselvyytenä polvet.

Sivuilla olevat lipastaskut on paras juttu ikinä. Tulee aina kaivattua niitä kansan-farkkujen kanssa, itse kun olen taka-tasku vihaaja. Ovat täydellisesti sivulla pois tieltä istuttaessa.

Jos koskaan tulee sinisenä- tai täys-mustana näitä, niin heti kyllä ostan kolmannetkin.
1
0
I would recommend for a friend
Jukka L.

03.05.2019
Luulin ettei farkut parane kansanfarkuista. Olin todella väärässä.
1
0
I would recommend for a friend
Patrik M.

03.05.2019
These are 100% the best jeans I have ever owned in my life. If they make them in blue I'll buy 10 pairs and probably not need new jeans for another 5 years.
9
0
I would recommend for a friend
Kimmo K.

06.05.2019
Ostin. Koitin. Voitin.

Mielestäni kaiken "hypetyksen" arvoiset farkut: mukavat jalassa, taskuja vähintäänkin riittävästi, siistin näköiset. Pitänee joskus hankkia toiset samanmoiset harrastehommiinkin - näillä pystyy stagella "rymyämäänkin" tyylikkäästi.

Jo parin päivän käyttökokemuksella 5/5
1
0
I would recommend for a friend
Jonne K.

08.05.2019
Erinomaiset farkut: taskuja on kerrankin riittävästi, haarakiila antaa jalan nousta vapaasti ja kaiken lisäksi nämä ovat todella mukavat jalassa. 5/5 ja vahva suositus.
1
0
I would recommend for a friend
Ville N.

08.05.2019
Parhaat farkut ja ylipäänsä housut jotka olen omistanut. Ostan kyllä vielä toisetkin :)
1
0
I would recommend for a friend
Michael F.

17.05.2019
Very sturdy jeans with plenty of pockets. I was a bit nervous that maybe the gusset would be made quite thin. Nope even the gusset is pretty thick.
2
0
I would recommend for a friend
Ville K.

24.05.2019
Ehdottomasti parhaat omistamani farkut. Liikkuvuus, mukavuus, tyyli ja käytännöllisyys ovat huipussaan. Sopivat aikalailla joka tilanteeseen, jos vaan vielä saisi muissa väreissä.
4
0
I would recommend for a friend
Louis C.

26.05.2019
Imagine combining the comfort and warmth of jogging pants, with the toughness and practicality of field trousers, and you get these jeans.
These are black. For some reason I thought from the pics they were going to be blueish grey. Not an issue but might be worth mentionning.
I picked a 32/32 for my 1m72 and 68kg : the fit is wonderful. They will shrink a little after the first wash.
The assortiment of pockets is so useful every day and the cut is dreamlike.
Every praise is deserved and the price tag is justified.
4
0
I would recommend for a friend
Joni T.

13.06.2019
käsittämättömän mukavat farkut jalassa, olen ollut vannoutunut reisitaskumies jo varmaan 20 vuotta mutta nämä farkut on mukavammat jalassa kuin yhdetkään reisitaskut tähän mennessä.
1
0
I would recommend for a friend
yitz B.

18.06.2019 (Edited 18.06.2019)
Easily the most comfortable pair of jeans i have ever bought

Durable yet breathable and stretchy

They have become my everyday pants and i wish they came in another color
2
0
I would recommend for a friend
Erkki R.

05.07.2019
Ihan hyvän tuntuiset housut, mutta päädyin palauttamaan kun lahkeet olivat monta senttiä lyhyemmät kuin samalla nimellispituudella olevat Kansan farkut. Olisivat kutistuneet lisää pesussa. En tilannut seuraavaa kokoa kun olisi ollut ainakin periaatteessa ihan liian pitkät. Ylipäänsä nämä Lekan koot heittelevät aika paljon, kun olen ostanut neljät saman kokoiset Kansan farkut ja niissäkin on vaihtelua leveydessä ja ainakin 2-3 cm pituudessa.
0
0
I would recommend for a friend
Martin M.

29.07.2019
I would recommend for a friend
Kieran P.

30.07.2019
Very comfortable, definitely my favorite pair of jeans for at the range or wearing out and about.
If they bring out a blue jean version i would buy a pair without hesitation.
1
0
I would recommend for a friend
Erno K.

09.08.2019
Erinomaiset farkut joissa tuo luvattu toiminnallisuus todella toimii. Istuvat päälle nimensä mukaisesti särmästi: perseelle ja reisille ei ole tehty turhaa ylimääräistä tilaa ja kangas joustaa vaikka kyykkyhyppyihin (testattu). Taskut toimivat todella hyvin. Etutaskut ovat riittävän syvät ja etenkin tuo kortsutasku-parin isompi puolikas on osoittautunut käytännölliseksi normaalia suuremman kokonsa puolesta (kolikkotaskuina erinomaisen kätevät, oikealla eurot, vasemmalla sentit, periaatteessa pikkujuttu, mutta uskomattoman paljon tämä helpottaa arkielämää). Sivujen lipastaskuja tullut vähemmän käytettyä, mutta ulkomailla näitä on tullut käytettyä erillisenä piilotettuna luottokorttitaskuna, jolloin mahdollinen lompakon sosialisointi aiheuttaa vähemmän vahinkoa.
1
0
I would recommend for a friend
Riku J.

13.08.2019 (Edited 13.08.2019)
Pohjoisesta lähdettiin paikan päälle, jotta näitä pääsisi koittamaan. Ei ollut turha reissu: housut jopa ylittivät odotukset! Odotin että olisivat laihalle pula-ajan Tarzanille, kuin lökä-pökät, mutta ei. Valitsin istuvammalla vyötärömitalla eikä siitäkään huolimatta kiristä ja istuvat just eikä melkein. Nyt voi puristaa perseellä jopa epänormaalisti, koska farkkujen luontoon ei kuulu joustaa. Tai näin ajattelin ennen. Taskujakin riittää; Leathermann ja puhelimet pysyvät ruodussa vyötärön tienoolla. Mukavimmat farkut koskaan. 5/7.
1
0
I would recommend for a friend
Kai N.

15.08.2019
Istuu hyvin, mitoitus kerralla oikein, otin tuumat vanhoista farkuistani. Nappien kanssa joutuu pitkästä aikaa pelaamaan, mutta kun ylänapin saa auki, kankaan jousto hoitaa loput jos tulee äkkiä tarve.
Iso älypuhelin mahtuu yhteen noista taskuista, mutta autossa istuminen ei oikein onnistu. Ehkä reisitasku vaikka oikealle puolelle olisi ollut vielä plussaa.
Näillä mennään, mukavat yllä ja joustavat.
1
0
I would recommend for a friend
Richard M.

17.08.2019
Wow,
Super fast processing and delivery internationally. Had a blast to open it and find it just the type of jeans I had been looking for. Elastic, just right fit, the type of dark blue I was looking for. Multiple pockets, right length as I am on the tall side. Great job! Makes me want to get another.
1
0
I would recommend for a friend
Antti V.

20.08.2019
Niin lähellä, mutta niin kaukana. Olen metsästänyt täydellisiä farkkuja jo monta vuotta, mitkä kestäisi työssäni vaadittavan kyykkimisen ja rämpimisen ties minkälaisissa paikoissa ja näyttäisi samalla hyviltä päällä. Nämä farkut istuvat just eikä melkein ja liikkumavaraa on niin kuin on luvattu.

Mutta. Näissä on yksi miinus minulle. Ulkonäkö. Tai oikeastaan ongelmana on lahkeet, jotka ovat suorat. Viime vuodet kapenevia lahkeita käyttäneelle suorat lahkeet ovat suorastaan kammottavat.

Housut saa kuitenki minults täydet viisi tähteä ja voin suositella näitä kaikille, joita "leveä" lahje ei haittaa.
1
0
I would recommend for a friend
Alex F.

22.08.2019
I've been wearing these at work and I absolutely love them. They are my new favorite jeans. The reason for 4.5 stars is that they only come in black. Black is ok but I much prefer blue jeans. If these are released in medium to dark blue I will be buying several more pairs. The price seemed high but after wearing them I'd gladly pay it again for a few more pairs.
0
0
I would recommend for a friend
Iiro V.

22.08.2019 (Edited 16.09.2019)
Viitisen kuukautta olleet jokapäiväisessä käytössä, ja ei mitään pahaa sanottavaa ole löytynyt. Ehdottomasti 6/5 housut.
1
0
I would recommend for a friend
Jason D.

22.08.2019
Fit is very good, as described, very comfortable to wear.
0
0
I would recommend for a friend
Farasha E.

24.08.2019
The perfect jeans. The only issue is that unlike wool, these need to be washed occasionaly, and during that time other pants have to be worn. These do seem to get a smell faster than the common jeans, probably because of the higher synthetic content, but that is a minor issue, and it could even be viewed as a positive if, like me, you prefer an empty seat next to you on the bus :-).
1
0
I would recommend for a friend
Chris K.

26.08.2019
Just ordered a second pair of these. They are great and one of the best jeans I've ever had. Beats every "brand"-jeans by far in comfort, durability and functionality. Yes, it would be nice to have a few more colors, but I don't mind the dark grey at all. The sizing is perfect and due to the stretchy material, these will even work with some insulating layers underneath. Definitely highly recommended and worth every cent.
0
0
I would recommend for a friend
Ashish P.

29.08.2019
Durable and stretchable I love it
0
0
I would recommend for a friend
Eero L.

02.09.2019
Näistä tuli välittömästi toimistotyöläisen first choice arkihousut. Käyttömukavuus vs mitkä tahansa farkut, chinot tms. menee näiden eduksi 10-0. Ihan sama myöskin onko kaverina bändi-, pikee- vai kauluspaita höystettynä sitten hupparilla, nahkaliivillä tai pikkutakilla, aina toimii. Työmatkapyöräilijä lisää vielä yhden käytännöllisyysplussan lisää. Lipastasku toimii kännylle juuri niin hyvin kuin on hehkutettu: vihdoin housut ja housuntasku jonne puhelimen voi laittaa niin ettei sitä tarvitse muistaa ottaa pois aina kun istuu.
1
0
I would recommend for a friend
Jarmo E.

04.09.2019
Farkut on ollu käytössä nyt vasta about viikon, joten täytyy palata aiheeseen mahdollisesti vielä tulevaisuudessa, mutta sanotaan nyt muutama sananen. Ensivaikutelma oli jo lupaava, mutta kun farkut puki päälle niin tämä oli niitä harvoja kertoja kun ei edes tarvinnut pääkopassa esittää itselle sitä kysymystä, että "voiko näiden kanssa eläää". Kangas on pehmeä ja venyvää, joten nämä tuntuu tavallisiin farkkuihin verrattuna niin mukavilta päällä, että fillarin selkään hypätessä aamusta piti oikein vilkasta, että on aamulla muistanu laittaa housut jalkaan... sen verran kevyt ja helppo olo. Isot taskut myös valtava plussa ja harvinaisen outo tunne kun voi älupuhelin ja lomapakko taskuissa kumartua sitomaan kengännauhat ilman, että kiristää ja sattuu. Hintakaan ei ole kova kun sen rinnastaa moniin markkinoilla oleviin merkkifarkkuihin. Kestävyys laitetaan varmasti testiin, koska nämä jalassa ei tunnu edes tarpeelliselta vetää lenkkeilyvaatteita päälle jos pienelle kävelylenkille tahtoo lähteä (sietää varmasti juoksemistakin yhtä hyvin). Aika siis näyttää kuinka hyvistä farkuista on oikeasti kyse, mutta kyllä tässä viikon kokemuksen perusteella ollaan melkoisen timantin äärellä.
1
0
I would recommend for a friend
Niko K.

13.09.2019
Uskomattoman hyvät farkut. Laitoin päälle, käppäilin tunnustellen ja istahdin kyykkyyn. Totesin leveä hymy huulilla mitä onko mulla farkut jalassa, kun tuntui että jotkun verkkarit olisi ollu. hehehe. Siistit ja tukevat kuin varkut mut verkkarien ominaisuudet. Tekee mieli lähteä ninjailemaan näissä housissa. Olen 188cm pitkä ja 97kg vyötärö noin 105cm ostin 36/36 ja täydelliset päällä. Jos näitä et hommaa niin missaat parhaat.
1
0
I would recommend for a friend
Guy H.

18.09.2019
They're comfortable, the stretch is extremely handy for manual labour (a lot of squatting in my job!), they're fashionable, and I haven't even been able to take advantage of all the pockets, no matter how hard I try. Goes great with the Sarma belt.

Only complaint is that there isn't a matching jacket for me to rock along with it, but if one ever comes up I guarantee I'll buy one immediately!
0
0
I would recommend for a friend
Harri P.

19.09.2019
Ei tarvi elämään enää muita housuja.

Ite olisin toivonut vähän leveempiä lahkeita mutta nää toimii oikeen hyvin.
0
0
I would recommend for a friend
Anonymous customer

21.09.2019
Nämä ostettuani en ole juurikaan muita farkkuja käyttänyt. Lisäpisteitä kokovalikoimasta. Oma 32/36 puuttuu tosi monista mallistoista. Sitten, kun näitä saisi vielä sinisinä niin viimeinenkin syy käyttää muita farkkuja poistuisi.
0
0
I would recommend for a friend
Kenny A.

22.09.2019
These are great. Probably won't be buying any other jeans. Quality cloth and construction. Really comfortable and loads of carrying possibilities with the various pockets. Worn constantly since I got them - will shrink very slightly when washed and then stretch to shape. Only regret is in not buying more pairs.
1
0
I would recommend for a friend
TMä

03.10.2019
Täytyy kehua, että yhdet parhaista farkuista jotka olen pukenut ylleni. Materiaali hienoisesti joustavaa, taskut loistavan hyviä, leikkaus mahtava.
Tilasin riskillä hivenen löysän koon (W34/L32) ja koko todellakin oli löysähkö. Pesin farkut ensitöikseni vastoin kaikkia ohjeita 60° pesussa ja kuivasin kuivausrummussa "kaappikuivaksi". Farkut kutistui W32/L30 kokoon, vetäisin ne ylleni ja päivän patsastelun jälkeen koko on nyt asettunut (joustavan materiaalin ansiosta) erittäin miellyttäväksi W33/L31 kokoluokkaan. Erittäin miellyttävät farkut.
Toiveissa olisi, että Varusteleka puuhaisi myös tummansinisen värin mustan rinnalle.
1
0
I would recommend for a friend
Tobias K.

04.10.2019 (Edited 05.10.2019)
Superbequeme und vom Stoff angenehm zu tragende Hose! Man muss bei all den Taschen nur den Überblick behalten...Sie ist dunkelgrau-schwarz.
Ich habe bei 1,82 und 85 kg eine Särma Jeans in 34er Weite und 36er Länge gekauft (34 hätte locker gereicht) . Man kann sie umgekrempelt oder normal tragen, fällt immer gut auf den Schuh oder Stiefel.
Der hohe Bund ist im Herbst/Winter ebenfalls angenehm. Ein bißchen raschelt die Hose beim Gehen, aber das stört wohl nur Jäger und andere Schleicher.
Geile Hose, kann ich nur empfehlen, wird nicht die letzte sein! Vor allem, wenn es noch andere Farben geben sollte
1
0
I would recommend for a friend
ANTTI R.

05.10.2019
Parhaat työhousut mitä oon pannut jalkaan. Oon nuhjunnut asiakkaan kanssa lattialla, piilottanut voimankäyttövälineitä huomaamattomaksi taskuihin, ja näyttänyt hyvältä. Kerrankin. Kova. Hyvä. Ei moitteen sanaa, koska housut jalassa sä pystyt tekemään kaikkea. Mä tykätä tästä.
1
0
I would not recommend to a friend
Pekka J.

08.10.2019
Housut ovat yllä loistavat ja tuntuu kuin ei olisi housuja yllä ollenkaan. Taskuja on hyvä määrä. Isona miinuksena kankaan laatu, vaikka mukavat ovatkin, ensimmäisen viikon jälkeen reikiä siellä täällä ja teen kuitenkin toimistotyötä, eli ei liiemmin ole tetsattu..
0
0
I would recommend for a friend
Pyry P.

14.10.2019 (Edited 14.10.2019)
Oon aina vihannut housujen joukosta juuri farkkuja paristakin syystä. Taskut ovat onnettoman pienet, niitä on liian vähän eikä niitä voi käyttää. Toisena on se, että on joutunut tekemään kompromissin hyvän liikkumiskyvyn ja ulkonäön välillä napakasti istuvien farkkujen ollessa kuin peltiä ja löysien mutta liikkumisen mahdollistavien ollessa helvetin rumat. Näissä farkuissa molemmat ongelmat on ratkaistu. Taskuja voi oikeasti käyttää, myös etutaskuja jonne kädet saa hyvin uppoon kokonaan, isot salalipastaskut piilottaa älypuhelimen hyvin (myös ekat farkut joilla voi myös istua puhelin taskussa), ja napakasta ulkomuodosta olematta voi tehdä kaikkea ninjailua mihin omat kyvyt riittävät. Eikä munistakaan purista. Ekat farkut joita oikeasti käyttää mielellään. Uskomatonta.
1
0
I would recommend for a friend
teemu a.

29.10.2019
Sain housut 29.10 ja heti kun laitoin jalkaa en halua ottaa niitä pois, ikinä omistanu näin hyviä housuja 5/5
1
0
I would recommend for a friend
Karl P.

31.10.2019 (Edited 31.10.2019)
Loistava ostos. Liikkuvuus hyvä ja taskut sopivan kokoiset. Salataskut loistavat mahtuu isompikin luuri mukaan.
0
0
I would recommend for a friend
Djordjije M.

12.11.2019
Ok after almost month of wearing this jeans I have to say these are fucking perfect, and easily best jeans I ever had and for sure I will order more. It is very hard to find something that I would like to improve on design... Still one thing, when I put 2" belt than loops get streachy so maybe loops need to be longer. English is not my first language so practicaly it means on this loops you can put only 2" belts that are one layer, folded or 2 layers 2" belts can not be used like my russian sso 2" belt for ex. You can see that easily on the photos that only leather 2" belts are used so maybe this needs to be improved and if not still this jeans are worth every cent in my opinion. Highly recomend!
1
0
I would recommend for a friend
Joerg U.

17.11.2019
I would recommend for a friend
Anonymous customer

20.11.2019
Täydelliset farkut, mukavat jalassa ja paljon hyödyllisiä taskuja. Joustaa niin, että ennemmin oma notkeus tulee vastaan. Toimii siisäkiipeillessäkin jos vain on tarpeeksi viileää.
0
0
I would recommend for a friend
Ville M.

29.11.2019
I would recommend for a friend
rj m.

29.11.2019
Just read the reviews and, whilst most of my observations have been adequately covered by the others, I will add that the stated advice to "[p]ick your usual jeans size, and you'll be fine with IWB stuff" does seem to be correct, at least judging by my experience carrying a CAT TQ, OLAES 4" pressure bandage, Z-fold gauze and some other med. kit (unfortunately we are not legally permitted to adequately defend ourselves here [I'll let you guess where "here" is]). The jeans fit well even without a belt, yet are equally comfortable when worn with the IWB pouches at the 4- & 6-to-9-o'clock positions.
1
0
I would recommend for a friend
Carl N.

01.12.2019
By far and away the most comfortable jeans I've ever worn, plus not only do they have shedloads of pockets, but thanks to the stretchy fabric, they're all completely useable too! I meant to keep these for my busiest days for getting things done, but have actually ended up wearing them most of the time.
0
0
I would recommend for a friend
Serguei N.

04.12.2019
Freaking awesome jeans! I'm 173cm tall, 83kg, I have quite big legs and glutes due to my combined love of squatting and cake. I ordered a 34/32 size. The first time I tried it, they were a little big on me, nothing a belt and a couple rolls at the bottom couldn't solve. After the first wash in cold water, they shrunk a bit, now they are a perfect fit at the waist (although I still need a belt if I want them to sit high in the waist, just below my belly button) and I can wear them withouth rolling with sneakers (they are still a little long, but nothing ridiculous).

My weird body aside, these are super comfortable, like a pair of sweatpants. I can fit my personal and work phone in a single pocket! And best of all, they look like regular, fashionable jeans, so you can be comfortable at field, dining or at work. Can't wait to get the blue pair and throw all my other jeans in a fire.
1
0
I would recommend for a friend
Andrew T.

19.12.2019
Awesome pair of jeans. Have not stopped wearing them. Have binned all my other jeans. Enough said.
1
0
I would recommend for a friend
Miikka S.

21.12.2019
Jos teet vammaistyötä, nämä ovat jopa pääsyvaatimus.
0
0
I would not recommend to a friend
Jari N.

22.12.2019
Materiaali on todella miellyttävää ja taskut ovat todella hyvät ja monipuoliset. Harmillisesti kankaan laatu ei vakuuta. Kummia kulumisia tullut paikkoihin mihin ei pitäisi, esim taakse pohkeeseen tai sepaluksen viereen (en todellakaan hankaa sitä aluetta mihinkään housut jalassa) sekä takataskuihin.

Housut olleet käytössä alle 6kk satunnaisella käytöllä.
1
0
I would recommend for a friend
Leon H.

24.12.2019
Alright, I've had these for a while and they are due for a review. Great pants. Durable and a decent amount of stretch, very comfortable. The pockets are useful for all kinds of things, very intuitively located, and I use almost every one of them. I find myself wearing them for days at a time, because they're utilitarian as hell and look good. Best pair of jeans I have ever invested in. Color is great.
Some critiques I would make purely by personal bias: reinforce the stitching across the back, because my threaded barrel G19 is ripping the stitching open around the 4-5 o'clock position, and maybe offer a pair with a bit more flare at the bottom. I have exclusively worn bootcuts for the entirety of my teen and adult years, and these are a bit of a deviation, but far too useful for that to really be a gripe.
0
0
I would recommend for a friend
Niko H.

27.12.2019
Kaikenlaisten halppis-farkkujen ja muiden kutaleiden jälkeen, voin todeta että kyseiset Särmä TST-taktiset farkut ovat yksiä parhaimpia mitä voi jalkaansa kansa vetää!
Muutaman kuukauden käytön jälkeen voi jo kertoa, että istuvuus on juuri passeli, ei liian tiukka että ahdistaisi, mutta ei myöskään liian löysä että, housut olisivat "kaikkialla".
Materiaali itsessään joustaa joka suuntaa todella hyvin, liikkeiden rajoitteet eivät ole olleet farkuissa, vaan lähinnä omassa fysiikassa :`D
Erittäin iso yllätys ollut joustava haara-kiila, ei uskoisi kuinka yleensä näin olematon asia, saa liikkeiseen ihan uusia ulottuvuuksia. Ei tarvitse varoa, jos jostain kumman syystä tarvitsee jalkoja levitellä, että sieltä mitään repiää!
Ja sitten ne taskut, voi veljekset! Aiemmissa kutaleissa olleisiin taskuihin, joihin hät-hätää sai puhelimen ja lompakon mahtumaan, kun taas Särmän taskuista puolet on tyhjillään.
Materiaalin jousto pitää huolen, että avaimet ei uppoa reiteen, välillä mukana tulevat työkalutkin kulkee huomaamatta mukana ja mikä mukavampaa, etu-taskujen koon ansiosta, niihin mahtuu 5" puhelin ja lompakko yhtä aikaa!
Laadultaan todella hyvät housut, eivät repeile ja hajoile joka ikisestä pikku kosketuksesta, jota sattuu saamaan kun touhuaa päivät tallilla tai jopa töissä. Ja näyttävät vielä senkin rymyämisen jälkeenkin vielä hyviltä! Voin suositella kaikille ja jos arpoo et ostaisko, nii kyllä kannattaa!
0
0
I would recommend for a friend
Mika H.

01.01.2020
yhdet parhaista farkuista mitä olen omistanut!
0
0
I would recommend for a friend
Sami H.

03.01.2020
Kohta vuoden, lähes päivittäisessä käytössä olleet housut on edelleen siistimmät kuin uudet muotifarkut. Sivutaskut uskomattoman kätevät ja työpäivän aikana ei enää harmita yhtään kantaa kahta puhelinta matkassa. Itse asiassa olo on kuin ei puhelimia olisikaan, tämä kaikki uskomattomien sivutaskujen ansiota.

Käyttömukavuus on ihan omaa luokkaansa, ensimmäisen käyttökerran jälkeen ei ole enää ollut mitään mielenkiintoa perinteisiä farkuja kohtaan.

Varoitus: nämä siis koukuttaa pahemmin kuin heroiini.
0
0
I would recommend for a friend
Anonymous customer

11.01.2020 (Edited 11.01.2020)
Näitä ei ole ylistetty turhaan. Nyt useampi kuukausi aktiivisessa käytössä ja nämä ehkä mukavimmat housut, jotka omistan. Suht siistit, joten sopii pikkutakinkin kanssa toimistohommissa. Ehkä seuraavat ottaisin yhtä kokoa pienempänä. Ei juurikaan kutistunut ensimmäisessä pesussa ja pidän napakoista housuista. Väri pysyi hyvin, kun laittaa pesuaineen sekaan viinietikkaa. Sehän on vanha kikka huolehtia siitä, että farkkujen väri pysyy (googlaamalla lisätietoja). Ostan todennäköisesti näitä vielä toisetkin.
1
0
I would recommend for a friend
Jarmo M.

14.01.2020
Aivan parhaat jalassa, jopa älypuhelin taskussa voi tehdä normaaleita juttuja liikerataa yhtään estämättä ja painamatta ikävästi.
0
0
I would recommend for a friend
Jarno H.

15.01.2020 (Edited 15.01.2020)
Todella mukavat jalassa miellyttävän tuntuisen kankaan ja jouston ansiosta. Kookkaita taskuja on paljon, mikä on hyvä asia.
Ostin samaa kokoa kuin muutkin farkkuni mutta lahkeiden pituus on huomattavasti pidempi kuin mielestäni pitäisi olla ja lyhyempää ei näytä olevan saatavilla. Uutena ja heti pesun jälkeen farkut tuntuvat sopivalta mutta tunnin käytön jälkeen eivät meinaa pysyä jalassa, eli venyvät käytössä. Pitää ehkä joskus tilata siniset kokoa pienempänä. Suosittelen joka tapauksessa. Hyvät farkut kunhan oikea koko löytyy.
1
0
I would recommend for a friend
Jeroen V.

22.01.2020
Seriously, these are some amazing trousers. A lot of space, great mobility, roomy cut and very durable. Quite thick material so maybe not the best in hot summers but great for colder weather. I wear them with the särmä long johns underneath, haven't been cold even once this winter.
Awesome pockets that actually fit stuff (both front and back), best jeans I ever got. No point in buying 120€ Lee or Levi's that break after 6 months when you can get these.
Will put in an order for the blue ones soon and so should you reading this.
0
0