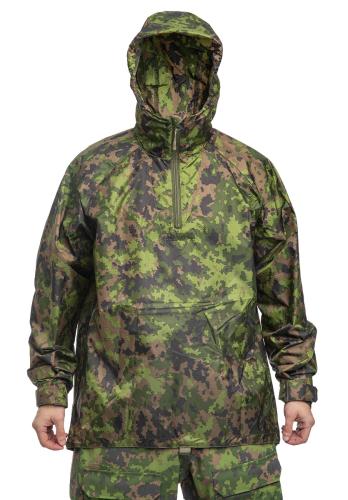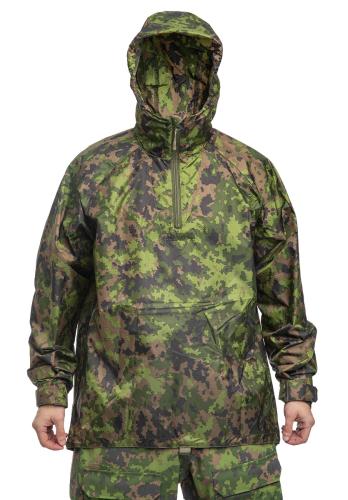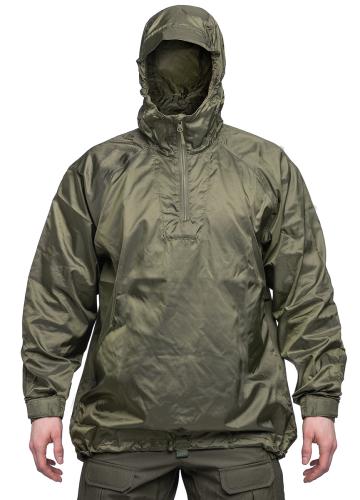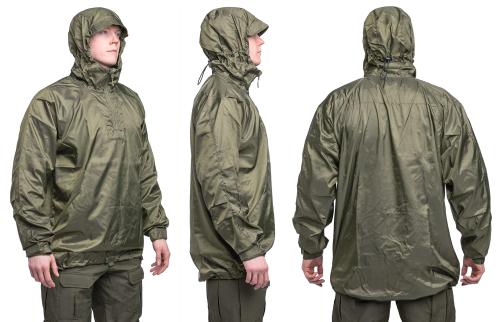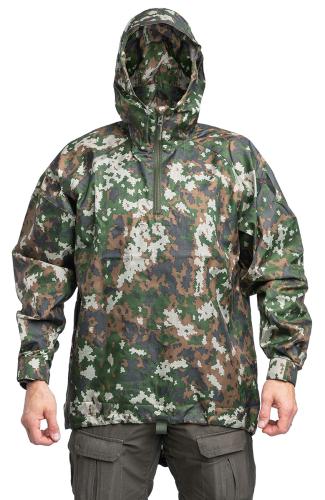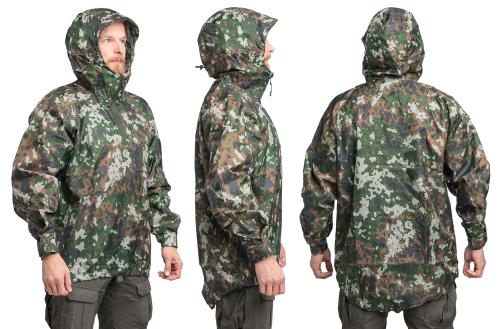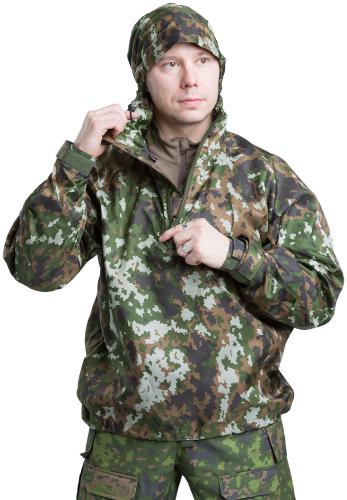 A zippered collar for easy donning and ventilation.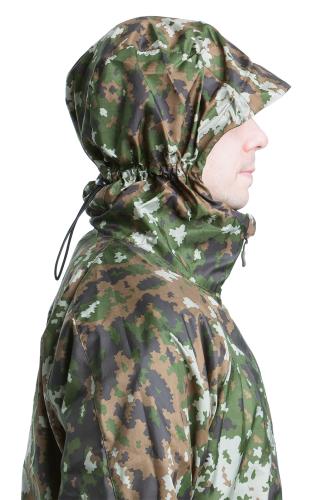 Two-way adjustable hood with a lid.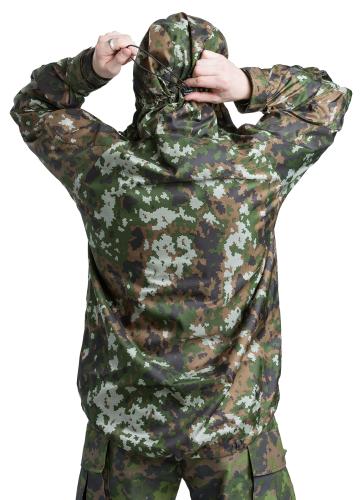 Two-way adjustable hood with a lid.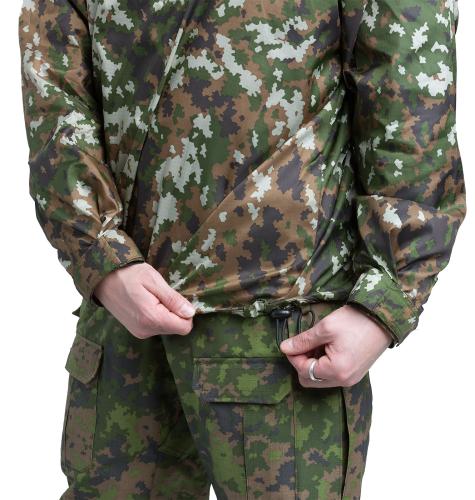 Adjustment cord locks on the sides.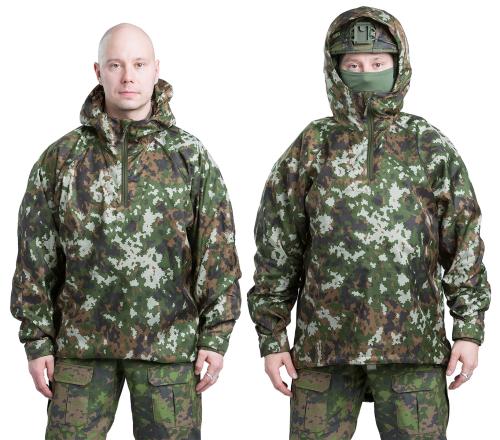 Model's height 175 cm, chest circumference 98 cm. Model is wearing the recommended size Medium Regular. On the right model is also wearing a plate carrier and a high cut helmet underneath the anorak.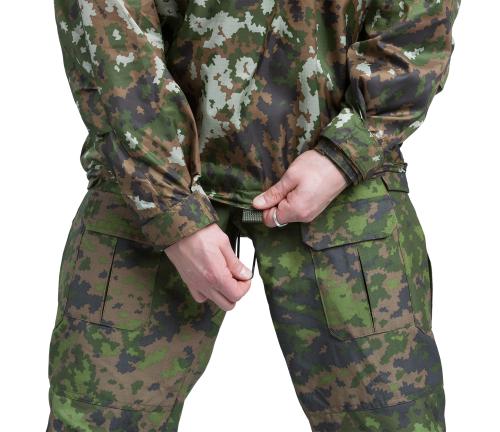 You can pack the anorak into very small size.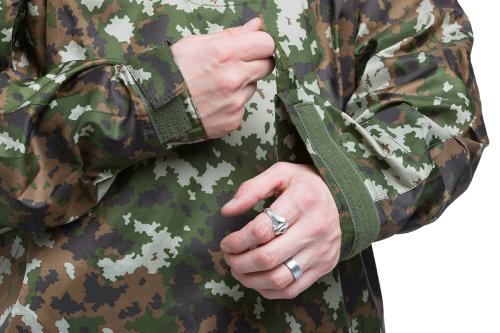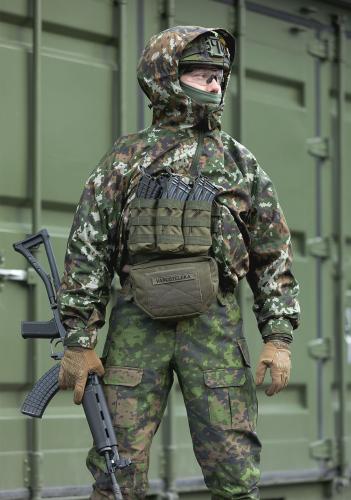 You can pull the hem over your carrier for easy access.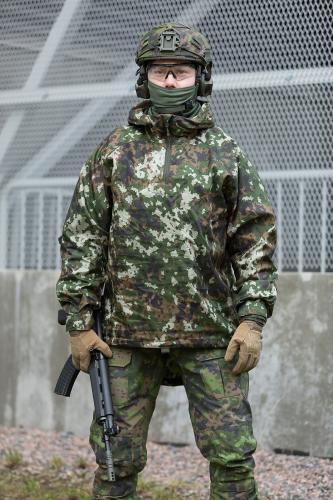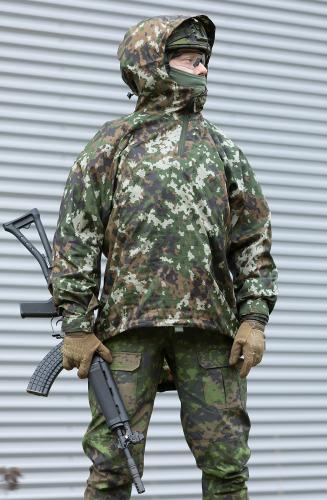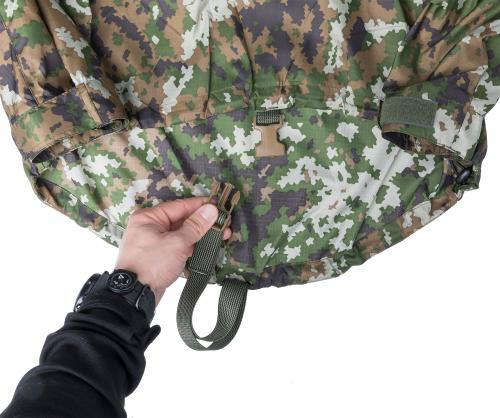 You can DIY a crotch strap from a Split-Bar buckle and some 25 mm webbing. These are sold separately.
Särmä TST
Särmä TST L3 Wind Anorak
Price 84.99 - 109.99 USD 109.99 USD
excluding sales tax
The expression "worth its weight in gold" comes to mind when you need the Wind Anorak and have it with you, but it's inaccurate because the jacket weighs so little. At any rate, simply pull the anorak out of a small pouch and you'll quickly raise a shield against the misty autumn wind, without forgetting concealment.
Loading products...
Trouble with the metric system? Try our converter: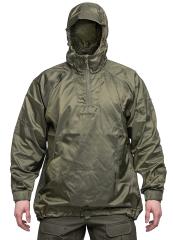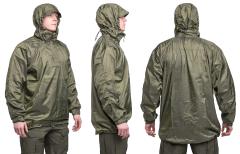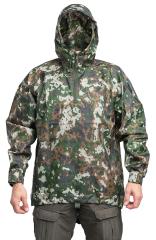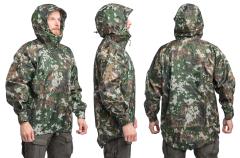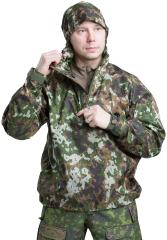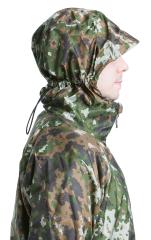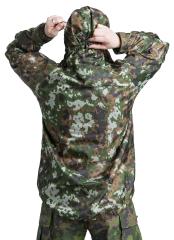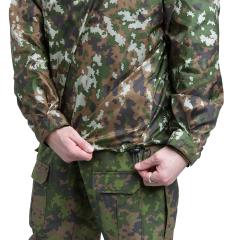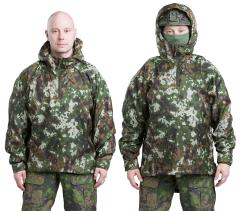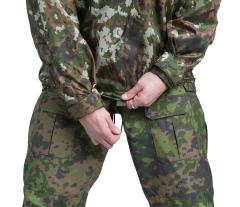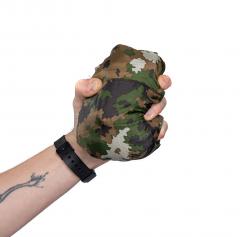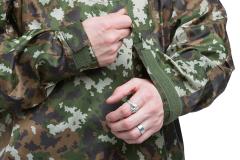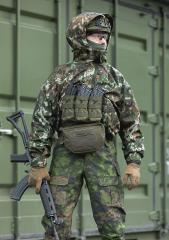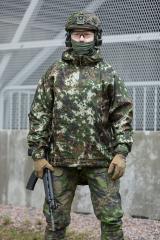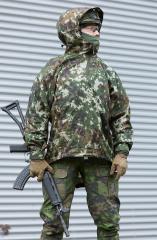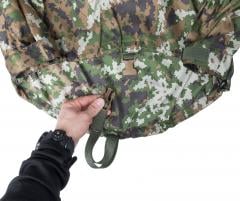 The expression "worth its weight in gold" comes to mind when you need the Wind Anorak and have it with you, but it's inaccurate because the jacket weighs so little. At any rate, simply pull the anorak out of a small pouch and you'll quickly raise a shield against the misty autumn wind, without forgetting concealment.
A protective windproof and water-resistant shell
Quick to don over everything else
Remarkably light and packable
Minimalistic and functional
The details of the Särmä TST Wind Anorak are only there where your body parts poke out: a two-way adjustable hood with a lid, hook-and-loop tabs on the cuffs and an adjustable elastic hem with mounting points for a crotch strap (optional, DIY). The hood is large enough to fit over a helmet and thanks to the zippered collar, you don't need to doff your helmet to put the Wind Anorak on.
Size info
This garment is very loose to fit easily over everything else; not just the clothes but your plate carrier, pouches and all that jazz.
Sizes Small to Large pack neatly into the General Purpose Pouch Zip S and sizes X-Large to 3X-Large fit better into the General Purpose Pouch Zip M. These are reasonable suggestions: sure, an X-Large Wind Anorak could be folded and tucked into an S-size pouch if you're careful, but would you want to count on it in the field? Similarly, you can opt for the M-size pouch even if you have a Large jacket.
For a "normal jacket" fit, choose at least 1-2 sizes smaller than you normally would. One notch shorter is a good idea, too. Someone who normally wears X-Large Long can use this jacket in size Small Regular over a hoodie with ease!
Garment measurements
Metric
Size
Chest
Centre back length
Small Short
130 cm
83 cm
Medium Short
140 cm
85 cm
Large Short
150 cm
87 cm
Small Regular
130 cm
86 cm
Medium Regular
140 cm
88 cm
Large Regular
150 cm
90 cm
X-Large Regular
160 cm
92 cm
2X-Large Regular
170 cm
94 cm
3X-Large Regular
180 cm
95 cm
Medium Long
140 cm
93 cm
Large Long
150 cm
95 cm
X-Large Long
160 cm
97 cm
Imperial
Size
Chest
Centre back length
Small Short
51"
32.7"
Medium Short
55"
33.5"
Large Short
59"
34.3"
Small Regular
51"
33.9"
Medium Regular
55"
34.6"
Large Regular
59"
35.4"
X-Large Regular
63"
36.2"
2X-Large Regular
67"
37"
3X-Large Regular
71"
37.4"
Medium Long
55"
36.6"
Large Long
59"
37.4"
X-Large Long
63"
38.2"
Short and Long sizes were available only in the original version. The new ones are all Regular and fit everyone.
Material and care
Original fabric: Highly developed carbon-fiber-reinforced ripstop-polyamide, which provides excellent wear resistance and a degree of water-resistance. All visible fabrics of the M05 Camo versions are NIR-compliant. The Ranger Green is unofficially NIR-compliant according to our tests. Machine wash at 60° C / 140° F.
98% polyamide
2% carbon fiber
Weight: 75 g/m2 (2.2 oz)
The current Typhoon fabric has a PU coating and UNIDYNE XF Series non-fluorinated water repellent finish; it's a waterproof fabric but this is not 100% a rain jacket. Better for the original purpose, however, and packs almost as small.
Manufactured in Estonia
These are sewn in Estonia by an experienced factory with a long history of producing clothing for military, law enforcement, and emergency services.
Kierto Circular Economy
Return this product used but clean and unbroken, and you'll receive half of the product's original price as Varusteleka credits. Service is available only in Finland. Only Registered users can make Kierto returns. See more information about Kierto.
Varusteleka Särmä TST
Särmä TST is Varusteleka's in-house brand of clothing and gear designed for military and law enforcement end-users. Our clothing and equipment are made in co-operation with a number of experienced manufacturers with a strong background in producing clothing and gear for military and law enforcement officials, most notably for the Finnish Defence Forces. For further reading check out the Varusteleka's Särmä TST page.
Särmä TST products are covered by a 12-month warranty against defects in materials and workmanship. For further information please read our detailed warranty guide.
All products: Särmä TST
Recommendations
Loading products...
Reviews
You have already submitted a review. You can edit your text by clicking on it.
Log in and write a review.
Remove filter
Suomi
(4)
English
(3)
I would recommend for a friend
Jarno S.

20.11.2019 (Edited 05.06.2021)
Tuli ostettua ja testattua sotareenissä, jossa keli oli tuulinen ja sateinen (kustjägarväder). Rotsi pitää luvatusti tuulen ulkona ja kuivuu nopsaan. Sadetakkihan tämä ei ole, mutta inhaa suhmuratihkua vastaan ihan kelvollinen. Oma ruho on kokoluokkaa 48 / 175 cm ja 96 cm, valittu takkikoko Medium Regular vaikutti passelilta - mahtuu vetämään muun vaatetuksen ja sirpan päälle, ei kuitenkaan enää taskuähkyisen Savotta-liivin ylle. Toimi kuten tuotekuvauksessa väitetty, pakkaskuvio todella nätti, hinta hieman yliampuva. Hyvä ostos.
4
2
I would recommend for a friend
Joel L.

19.02.2020 (Edited 06.06.2021)
Takana metsäreissuja ja pari kertausharjoitusta, niin kehtaa arvostelun kirjoittaa. Tärkeimpänä mainittakoon, että tässä on tuote joka ehdottomasti kannattaa käydä myymälässä sovittamassa ennen ostoa KÄYTTÖTARKOITUS MIELESSÄPITÄEN. Pituutta kun on 192cm niin kokeilin ekana Medium Longia, joka menikin päälle mukavasti. Sitten kun löin chest rigin alle, niin alkoikin olemaan hiukan liian nafti. Vastaavasti Large Long taas oli chest riginkin kanssa karmea teltta. Päädyin Large Regular kokoon, joka "normaalista pituudesta" huolimatta toimi todella hyvin, rigin kanssa ja ilman. Plussat ja miinukset:
+ jumalainen pakkasmaastokuvio, jota saisi olla useammassakin tuotteessa
+ leikkaus ja ylimääräisten kilkkeiden vähyys
+ pakkautuu Särmä TST RK lipastaskuun!
+ todellakin pitää tuulta, mutta ei tunnu hiostavalta
- hinta ehkä aika roima näin simppelistä tuotteesta
- lankoja repsotti sisäsaumoissa
- ei minkään sortin vedenhylkivyyttä (en mitään sadetakkia tästä haluisikaan, mutta ois jees jos pikkutihku ja pienestä kuusikosta irtoava märkyys ei menisi heti läpi)
7
0
I would recommend for a friend
Raila R.

08.11.2020 (Edited 06.06.2021)
It does exactly what it's supposed to do.
5
0
I would recommend for a friend
Lauri K.

23.03.2021 (Edited 24.06.2021)
Haukkuu hintansa takaisin pilkkivaatteena haalarin päällä. Voin kuvitella kuinka hyvä tämä on takki + housut -kombon kanssa samassa käytössä.
1
0
I would recommend for a friend
Michael M.

30.10.2021 (Edited 29.01.2022)
Got one in Ranger Green (closer to brown/olive than a true green). Extra-large is really large. Okay for layering, but should probably size down if you want less of a tent-like fit. This jacket is really, really light. If it was any lighter, it would be tranparent. No pockets -- could use a kangaroo pouch, hence the 4-star rating. Compacts down to a fairly small zipper pouch I had extra. Light weight may sacrifice durability, we'll see. As usual replaced the hood string and the zipper pull with brown/green camo 550 cord (as is my habit). Added a TAC toggle pull to the zipper pull. Not a rain jacket. Looks to not be very water resistent, but will function best as a windbreaker when worn with a heavy hoody or the Swiss zip-up sweater. Mine will function as an emergency jacket in my hiking ruck. Nice job, my favorite Finns. Very Very well made. Excellent quality. Best I've seen.

(15Dec21) Treated this with an aerosol water repellent such as used on camping/hiking tents to enhance water resistance.
1
0
I would not recommend to a friend
Miko K.

19.12.2021
Näppärä ja kevyt. Suojaa tuulelta ja vähän vedeltä. Voisiko tästä millään saada vähän kestävämpää softshell versiota? Rispaantuu nääs ikävästi käytössä liian herkästi..
0
0
I would recommend for a friend
Paul E.

03.02.2022
Picked up the Medium Short with the intent to throw over either a single layer or double layer (like the Windproof Smock or Sarma RES, with a fleece).

It's almost perfect. Worn over the single layer, or by itself, it fits fine and doesn't look too baggy. Worn with longer jackets, like the Sarma RES, it leaves a few cm exposed at the front, but the back is still fully covered. (I'm tempted to grab a Medium Long for those situations.)

I'm about 171cm, 103cm chest, and comfortably wear UK 170/104, or Sarma RES in Large Regular (both easily fitting a midlayer underneath).
1
0