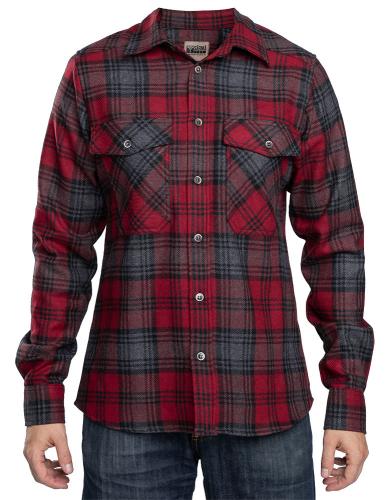 Särmä Wool Flannel Shirt
Price 91.99 USD excluding VAT
Flat Rate Shipping to USA $9.99
97 % recommends
Sold 52 pcs in the last two weeks
Loading products...
Trouble with the metric system? Try our converter: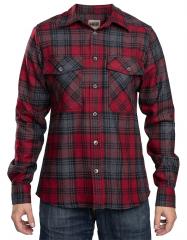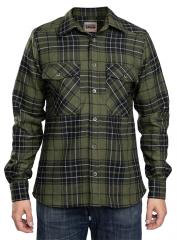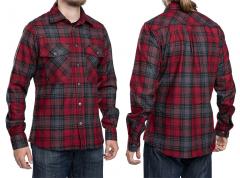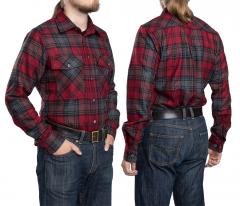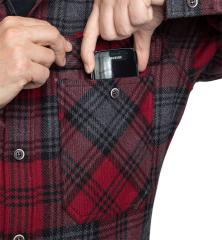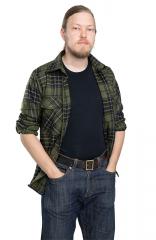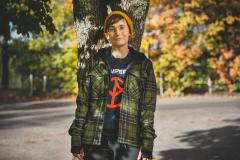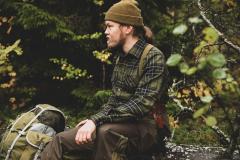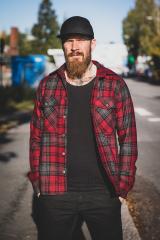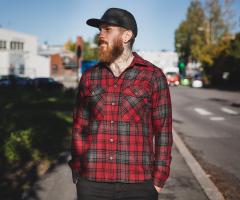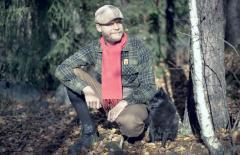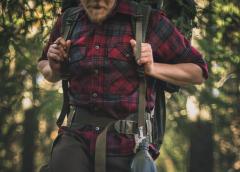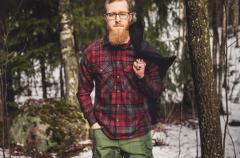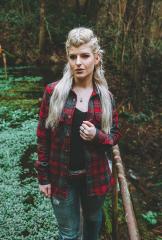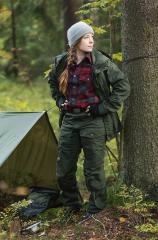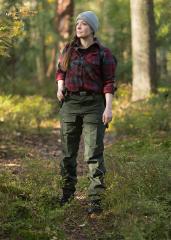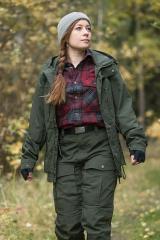 In the rugged old days, thick wool flannel collared shirts were a pretty basic thing, because everything was made of wool anyway - what luxury! Now in the plastic future these are rather hard to come by. We did our part and patched up some of this gaping hole with the Särmä wool flannel shirt.
A clean, thick flannel shirt
Fabric 65 % recycled wool, 30 % polyester and 5 % other fibres
Fabric made in Italy, shirt made in Estonia
There are a lot of spiffy cheap rags of shirts, which "will do", until you try on something real and proper good. The danger after this is that you might raise your standards. This collared shirt is one of those more premium style articles of clothing, so try on at your own risk. All in all, this shirt is nothing short of a miracle: made of Italian wool fabric, sewn in Estonia (it's just South of Finland) and the whole package for this price.
The cut is classic: simple covered breast pockets, stand-up collar, adjustable sleeve cuffs etc., in essence a timeless design fit for work, outdoors and pleasure, and if you get wet in the rain, this will still keep you warmer than a cotton shirt. The shirt comes with one spare button. By the way, the buttons are pretty well sewn on.
Check pattern colours are red-black-gray and green-white-black.
Material and care
The fabric is made of 65 % recycled wool, 30 % polyester and 5 % other fibres (estimate of the unknown fibres among the recycled materials). Brushed recycled wool: inside is fluffier while the outside is smoother - very comfortable. The polyester is there just for strength. The content is small enough not to interfere with the wool's properties. Wash in 30 degrees Celsius with wool cycle, hang dry. Usually just airing the shirt out is enough. Use of wool care products recommended but not mandatory.
Sizing
We have listed first the easy size, then user's recommended measurements: user height / chest circumference. These are fitted a tad slimmer on the waist - this merely means they're not as baggy as many others.
In the chart below you can see the actual measurements taken directly from the shirt itself: back length from base of the collar to the hem and sleeve length from shoulder seam to cuff. Chest circumference is not visible on purpose: due to the bellowed back it's difficult to communicate without inciting the customer to lean towards a wrong size. We strongly suggest looking at the drop down menu's recommended measurements, this way you will get the right size. The measurements below are NOT the recommended user's measurements.
| Size | Sleeve | Centre back length |
| --- | --- | --- |
| X-Small Regular | 67 cm | 72 cm |
| Small Regular | 68 cm | 73 cm |
| Medium Regular | 69 cm | 74 cm |
| Large Regular | 69 cm | 75 cm |
| X-Large Regular | 70 cm | 76 cm |
| 2X-Large Regular | 70 cm | 77 cm |
| Medium Long | 73 cm | 78 cm |
| Large Long | 73 cm | 79 cm |
| X-Large Long | 74 cm | 80 cm |
| Size | Sleeve | Centre back length |
| --- | --- | --- |
| X-Small Regular | 26.5" | 28" |
| Small Regular | 27" | 28.5" |
| Medium Regular | 27" | 29" |
| Large Regular | 27.5" | 29.5" |
| X-Large Regular | 27.5" | 30" |
| 2X-Large Regular | 27.5" | 30.5" |
| Medium Long | 28" | 31" |
| Large Long | 28" | 31" |
| X-Large Long | 28" | 31.5" |
Varusteleka Särmä
Särmä is our own brand of clothing and equipment. When you buy Särmä you get purpose-built stuff at a decent price, something that will fill it's intended role well and not cost you an arm and a leg!
Särmä products are covered by a 12-month warranty against defects in materials and workmanship. For further information please read our detailed warranty guide.
Made in Estonia
These are made in Estonia, the country just south of Finland. It's in the European Union. Finland is too.
A word from the development team
We've been wrestling with this shirt for quite a while but now it's becoming a reality. You could think it's pretty easy to find any fabric in the market but NO, especially when "made in China" wasn't an option; we had to have it made in Europe. We searched far and wide for proper wool flannel with no results, but the answer was closer than we would have ever thought: the same company that makes many of our Särmä TST stuff was able to provide something that filled our fantasies: great material, our own check style, reasonable minimun ordering amounts. All the trouble was worth it, and now we hope to make something else from this fabric in the future too.
Reviews
You have already submitted a review. You can edit your text by clicking on it.
Log in and write a review.
Remove filter
Suomi
(17)
English
(14)
I would recommend for a friend
Jari L.

Varusteleka employee

04.10.2018
I would recommend for a friend
Jere N.

12.10.2018
I would recommend for a friend
Ignacio N.

14.10.2018 (Edited 14.02.2019)
Super warm. Much more than other flannel shirts I had. I thought a lot about it since I already had and they are cheap in Spain so I can buy there when I visit home. but i checked a bit more about what flannel means and there are many kinds, mixtures of materials and qualities so I gave this one a try. This one is defenitely top notch. super warm and the fit is superb!! Update: Love it, if you can afford it, go for this one. You will notice the quality in warmth and in the lack of smell and feeling of softness and cleaness.
2
0
I would recommend for a friend
Matti P.

22.10.2018
Helkkarin mukava ja komea paita, yllättävän lämmin myös. Eiköhän tällä mennä sekä pubiin että mökille. Helma ehkä mielestäni vähän lyhyt, mutta ei haittaa mua.
3
2
I would recommend for a friend
Kari R.

29.10.2018 (Edited 29.10.2018)
Love it
2
0
I would recommend for a friend
Adam G.

10.11.2018
Nice and thick. Straight out of the packaging it'll be much itchier than what we really expect of modern wool products. An initial wash with some lanolin concentrate detergent fixed the bulk of that issue, however. Still somewhat prickly in the sleeves. A baselayer shirt underneath wouldn't be a bad idea.
5
3
I would recommend for a friend
Markus T.

19.11.2018
I would recommend for a friend
Jussi K.

01.12.2018
Lämmin ja laadukas paita, joka on omiaan syksyisille keleille. Toivelistalle lisää värivaihtoehtoja.
5
1
I would not recommend to a friend
Oldrich K.

04.12.2018
The shirt is just awesome, excellent craftmanship and perfect fit. But itchy as hell, I cannot wear it without screaming of torment. I will consider either return, trying to wash in woolen detergent or just giving to someone else as gift (although they may hate me afterwards). Seriously doubt I will ever endure the collar and sleeves on bare neck and wrists. Or shall I wear neoprene underwear?
4
29
I would recommend for a friend
Juhani S.

07.12.2018
Todella mukava paita ja hyvä päällä. Suosittelen.
Viellä kun saisi vaikka viellä tummansinisenä kuten branditin paitaa niin olis jees mutta siihen asti vihreällä mennään aiheutamassa pahennusta telakalla.
5
0
I would recommend for a friend
Tommy S.

08.12.2018
Nice cut, warm and "premium quality feel".
A tad itchy as some noted, but man up and it goes away after 5 minutes of wearing the shirt.
7
2
I would recommend for a friend
Juha M.

25.12.2018 (Edited 25.12.2018)
Todella lämmin ja istuu hyvin eikä kinnaa vastaan, menee melkein takkina nollakeleillä. Hieman kutittava kangas alkuun mutta se korjaantui kun pesasi villapesuaineella kertaalleen. Napit tuntuu olevan jämäkästi kiinni ja muutkin ompeleet vaikuttaa hyvältä. Jos tämän ostat niin valmistaudu vastailemaan kysymyksiin "onko toi villaa? Mistä noita saa?".
1
0
I would recommend for a friend
Samu W.

07.01.2019
Täydellinen! Kangas on lämmintä ja leikkaus sopivan väljä.

Pienenä kehityskohteena:
Hihan suuaukon mitoitus on aika tiukka, jos on pitkähihainen aluspaita alkaa olla jo ahdistavaa, myös ulkoilu-ellon kanssa on hiukan vaikeaa (Suunto Spartan).
Tämän tyylisessä paidassa, joka puetaan yleensä ei-alimmaiseksi kerrokseksi ja useimmtien ulkoilukäyttöön, voisi hihansuun mitoitaa reilummaksi, koska käyttäjä pystyy kyllä hakemaan tiukkuutta nappeja siirtämällä. Nyt tuo uloin nappi on jo niin reunassa, ettei sitä oikein ole varaa siirtää ulommaksi.
21
1
I would recommend for a friend
Henry H.

21.01.2019
I bought the medium long and it is an outstanding fit - at 6'3" tall and 180 lbs I often struggle to find shirts that are long enough and not too wide but this shirt has achieved both demands. The material is very warm, fitting, and not too prickly and can be quite comfortably worn in cold and warm temperatures. My only concern is the width of the cuffs which are quite tight but hopefully these will stretch out in time.
16
0
I would recommend for a friend
Mitchell T.

26.02.2019
Love flannels, this is amazing. I wear upper end of small and its a perfect fit for me, a little tight but better than hanging if I opted for medium. Warm and looks incredible.

I just switched from all poly gear to merino wool after years. I've been wearing these products everyday for a month now and am very impressed. There is slight pilling but to be expected, but the description is right these products do not take in smells very easily, just take care of your stuff. Varusteleka is PURE GOLD!
4
0
I would recommend for a friend
sampo r.

27.02.2019
Paksuuteensa nähden erittäin lämmin paita, joka ei kuitenkaan tunnu liian kuumalta. Mitoitus on melko tiukka, mutta leikkaus on hyvä, joten kapeakin paita mahdollistaa hyvän liikkuvuuden. Ollut lähes päivittäisessä aktiivisessa ulkoilukäytössä jääkiipeilystä, hiihtoon, pyöräilyyn ja fine dining -hetkiin. Kalvosimet ovat tosiaan suht kapeat. Kellon ja paksun aluspaidan kanssa on vähän nihkeää.
Kokonaisuutena erinomainen tuote varsinkin ihmiselle, jonka pitää näyttää hyvältä muuttuvissa olosuhteissa ulkoillessa ja hikoillessa.
1
1
I would recommend for a friend
Tapio R.

05.03.2019
I would recommend for a friend
Farasha E.

11.03.2019
Fits great, super warm, very comfy, and can be worn even on warmer days due to the magic of wool. I don't find it scratchy at all.
3
0
I would recommend for a friend
Jakob S.

15.04.2019 (Edited 15.04.2019)
Unpacked it, put it on, came a little, wore it ever since.

No seriously. I wore this shirt almost all winter as a mid-layer. It's comfy as hell (as long as you don't wear it directly on your skin), breathable & actually never started to smell even after a month of constant wear. The only downside that I found, was that I constantly had to get it back from my girlfriend.

I would very much appreciate it if you could make a classic red/black one. I'mm not a huge fan of the grey tones on the red one, but I'd definitively love to get another one of those shirts.
7
0
I would recommend for a friend
Fabien T.

25.04.2019 (Edited 25.04.2019)
Parfait!

I wore this shirt almost everyday since i bought it 7 months ago and its still going strong!

PROS

-Never had to wash it once
-I reckon i still have another 2 years of life at the rate im going
-this shirt + a wind breaker kept me warm at -10c
-Both color choice are sick af

CONS

-Boxy cut doesn't agree with wide shoulders and small waist



6ft 190lb got a M Regular
1
0
I would recommend for a friend
Jarno S.

10.07.2019
Tilasin vihreällä kuosilla ja ihastuin. Hyvin tyylikäs, istuvuus ja muotoilu erinomaiset, pienenpieni kutina käytännössä huomaamaton. Loistava paita edustukseen ja arkihengailuun, suosittelen.
0
0
I would recommend for a friend
Teemu H.

19.07.2019 (Edited 19.07.2019)
Törkeän hyvä ja lämmin paita. Materiaali ei kutita eikä oikein rypistykään, vaikka olisi rinkassa taiteltuna. Muutama piste lähtee liian ahtaista hihansuista, varsinkin kellon kanssa on tosi ahdasta ja kello pitää jättää joko hihansuun sisään tai vastaavasti ulkopuolelle. Nappia ei kestä siirtää, koska on sen verran reunalla jo. Leikkaus muuten täydellinen tällaiselle normaalivartaloiselle.
0
0
I would recommend for a friend
Atte R.

24.07.2019
Halusin kylmää heinäkuuta varten jotain paidan ja takin välimaastosta, joten päädyin tähän. Kalsean kesäkelin päällivaatteena lunastaa kaikki lupaukset täydellisesti ja näyttää napit aukikin just tarpeeksi urbaanilta erottuakseen noloista metsäkamppeista ja toisaalta just tarpeeksi maalaiselta ettei näytä nololta hipsteriltä. Lisäksi kokomitoitus on täydellinen isomahaisellekin.
0
1
I would recommend for a friend
Riku N.

29.07.2019
On se komia ja lämmin - mutta sopii myös kesäiltoihin (paitsi näihin +28 helteisiin). Hihansuut ovat ahtaat; Veikkaan (ja suosittelen) että Mk II:ssa "väljemmästä" napista tulee se "tiukempi", ja se saa vierelleen oikeasti väljemmän napin. Luulin että olen sellainen friikki jolla on kohtuuttoman suuret nyrkit ohuiden käsivarsien päässä, mutta en ole näköjään yksin.
1
0
I would recommend for a friend
David L.

31.07.2019
I bought one of these in October 2018. I wouldn't usually spend 100 Euros on a shirt so I deliberately waited a few months to do the review. Well, it turned out to be worth the money. My absolute favourite garment of the past winter and spring! It's very good to be able to get them in long sizes too.
1
0
I would recommend for a friend
Connor A.

01.11.2019 (Edited 24.11.2019)
Great shirt, been dying to wear it but I needed the next size up. I fall between L and XL and the L is tight across the back. Waited for an XL to arrive to be sure it wasn't too big. Can now confirm that with 110cm chest the XL is definitely better.
The material feels like it might be slightly itchy against skin but I will be wearing it over a merino Henley shirt or similar anyway.
0
0
I would recommend for a friend
Matt B.

06.11.2019 (Edited 06.11.2019)
I received this shirt a few days ago and have worn it every day since. There is alot of good and just a little bad.
The good-
Probably the softest wool blend shirt I have ever worn. I have 4 different brands and this is the softest by far.
Pretty warm for how thin it is.
The red color and pattern is awesome. I don't like bright colors so this shade of red is perfect.
Stitching seems to be top notch. No loose threads anywhere.
Buttons are sewn on well. You wont likely loose one anytime soon.

The bad-
Not really a bad thing, just good to know. It is a thinner fabric than what I had assumed it would be. It is heavier than a wool dress shirt but a little thinner than my Woolrich wool buffalo plaid shirt.
The seam on the back that runs from shoulder to shoulder is the only restrictive part of the shirt. I am a 49" chest measured over a Carhartt T-shirt and bought the 2XL wool shirt. Its a little tight in the back when I reach for something with both arms. I imagine if I wasnt a fatty I wouldnt have this problem.

Over all this is a fantastic shirt. I will absolutely be buying the green one and both of the field shirts too. Is there anything Varusteleka cant do well?
1
0
I would recommend for a friend
Erno K.

07.11.2019 (Edited 07.11.2019)
Erinomainen paita, joka on nähnyt nyt syksyn aikana paljon käyttöä. Itselleni tämä on juuri sopivan paksuinen villapaita; lämmittää ulkoillessa, mutta ei hiosta sisätiloissa. Pidän myös tämän paidan tyylistä, mukavasti jotain muuta villaista kuin perinteistä neulepaitaa ja hupparia. Ilokseni myös rintataskut eivät ole tässä vain koristeena kuten lähes kaikissa perusputiikkien paidoissa, kännykkä ja muistivihko sopivat taskuihin oikein mukavasti. Ja vaikkei tämä olekaan sitä kaikkein ihanimman pehmoisen pörröistä merinovillaa, niin itselle ei ainakaan ole mikään kutka iskenyt hihattoman aluspaidankaan kanssa. Kuten osasin jo tilatessa odottaa, istuu paita nimensä mukaisesti särmästi päälle, 192cm/90kg mitoilla large long on juuri sopiva, riittävästi hihaa ja helmaa ilman turhaa horisontaalista laajentumisvaraa. Noista hihansuista tosin pitää itsekin huomauttaa. Minulla on tässä tapauksessa onneksi pikkutytön ranteet, joten hihat eivät ole ongelma, mutta jo urheilukello ranteessa alkaa tehdä hieman tiukkaa. Voin hyvin ymmärtää miehekkäämpien käsivarsien omaavien henkilöiden harmistuksen tässä asiassa. Ja lisävärejäkin on pakko toivoa, navy/tummansininen olisi kyllä ehdoton lisä tähän paitaan, ostaisin heti kolme. Kaikkiaan kuitenkin erinomainen paita, ehdottomia oman vaatekaappini suosikkeja vaarinpaidan kanssa.
0
0
I would recommend for a friend
Perttu T.

26.11.2019 (Edited 19.12.2019)
30 vuotta on kuljettu flanellipaita päällä ja onhan tämä ylivoimaisesti paras sellainen, mitä ikinä olen käyttänyt. Aluksi hinta mietitytti, mutta jos yhdellä paidalla voi mennä kuukauden kaikissa mahdollisissa hommissa (eräilyä, elokuvia, edustusta...), satanen onkin mitätön summa. Kai tämä on joskus pestävä, muttei tosiaan näin yhden kuukauden päivittäisen käytön jälkeen vielä ole tullut tarvetta. Kunhan välillä tuulettaa. Minulle valtavan iso plussa, kun vanhassa torpassa asuvana pyykit hoidetaan periaatteella nyrkki. Toinen valtava plussa tulee siitä, kun kehon lämpötila nousee ja tarvii vaatetusta keventää, tämän voi heittää repun pohjalle ilman, että hieno vaate rypistyy.

Olisin halunnut antaa 4 tähteä, koska 5/5 tarkoittaa täydellistä eli jotain yksisarvisen kakkaa. Mutta eip voi mitään, tämä nyt on sitä yksisarvisen kakkaa.
0
0
I would recommend for a friend
Tish T.

08.12.2019
The Sarma Wool Flannel Shirt is an excellent shirt. I purchased both green and red plaid versions. Note that this shirt is much thinner than the Sarma Wool Field Shirt (I have both the black and green Sarma Wool Field Shirts in XL and XXL sizes), and is also sized smaller than the Wool Field Shirt. For example, my XL Wool Field Shirts can be worn over the Sarma Wool Flannel Shirt in XL as a Jac Shirt. I am considering purchasing XXL versions of the Wool Flannel Shirt, but right now I will use my XL shirts as mid-layers paired with a Filson or Stormy Kromer Wool vest under a wool jacket or anorak. Other than the sizing discrepancy with the Wool Field Shirt this is a warm, well made and colorful mid-layer option for cool or cold days. For the really cold days I would choose the Wool Field Shirt instead.
0
0
I would recommend for a friend
Barry N.

17.12.2019
This is a VERY nice shirt. Good wool flannel is hard to find these days and this is the best I have had. It makes a warm mid-layer, much better than most of the fleece on the market. It's stylish enough in a retro way to wear to the bar too. Fantastic value!
0
0