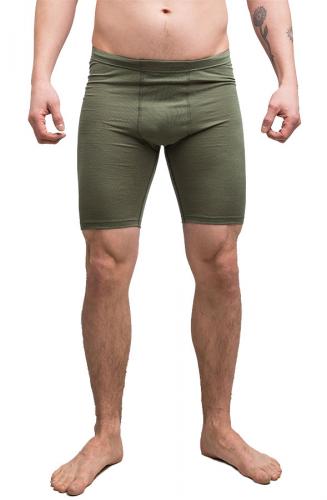 Särmä TST L1 Boxers, Merino Wool
Price 27.99 USD excluding VAT
Flat Rate Shipping to USA $9.99
84 % recommends
Sold 48 pcs in the last two weeks
Loading products...
Trouble with the metric system? Try our converter: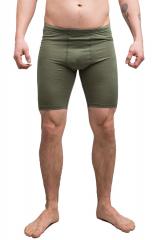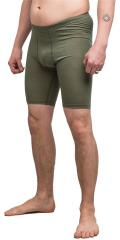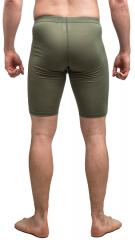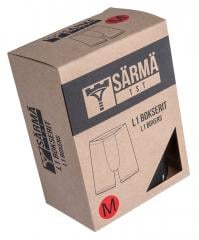 Designed with pure function in mind for demanding active use. The long, tight legs and high waist stay snugly and securely in place. The merino wool blend wicks moisture away and feels comfortable against the skin even in prolonged wear and varying conditions.
Active fit, snug and comfortable
Long, tight legs
Flatlock seams for added comfort
Weight approx. 120 g (size M)
80/20 merino wool / polyester, 180 g/m2
L1 - Base Layer
The first layer of the Särmä TST clothing system, tasked with moisture management. A good next-to-skin base layer keeps you feeling comfortable in any conditions to do this it needs to be lightweight and effectively moisture wicking. We use a lightweight merino wool blend for our base layers, a natural and very functional material for this purpose.
Take a look at our Särmä TST Clothing System!
High quality Merino wool
Made from 80% merino wool and 20% polyester, weight 180 g/m2. The polyester content adds abrasion resistance to the otherwise quite weak wool. Merino wool is a fantastic choice for next-to-skin wear, most notably it feels good against the skin and retains it´s insulating properties even when soaking wet.
Mulesing free! All our merino wool products are made using mulesing-free certified merino wool.
Wash and care
This merino wool blend is machine-washable in 40 degrees celcius, but washing is seldom necessary - wool cleans itself. When not in use, air them out and give them a good shake after that.
Sizing
Sized according to the users waist circumference in centimeters.
Särmä TST
Särmä TST is Varusteleka's own in-house brand of clothing and gear designed for military and law enforcement end users. Our clothing and equipment are made in co-operation with a number of experienced manufacturers with a strong background in producing clothing and gear for military and law enforcement officials, most notably for the Finnish Defence Forces. For further reading check out the Särmä TST corner of our website.
Särmä TST products are covered by a 12-month warranty against defects in materials and workmanship. For further information please read our detailed warranty guide.
Made in Lithuania.
Reviews
You have already submitted a review. You can edit your text by clicking on it.
Log in and write a review.
Remove filter
Suomi
(27)
English
(5)
I would recommend for a friend
Tero K.

22.11.2016 (Edited 29.11.2016)
Kunnon hyvät! Se Tunne (Tm) on kyllä kokemisen arvoinen. Kokoa piti hiukka säätää vyötäröltä tiukemmaksi, koska reisistä kirraa ja se meinaa kiskoa housuja alaspäin. Pidän näitä silti parhaina boxereina ikuna.
1
0
I would recommend for a friend
Sami K.

24.11.2016 (Edited 29.11.2016)
I would recommend for a friend
Jaakko P.

01.12.2016 (Edited 20.12.2016)
Yleensä jos olen pitänyt päälläni täystaisteluvarustusta niin olen aina jossain vaiheessa havahtunut siihen että boxereitteni lahje on kääriytynyt ikävästi haarojeni väliin ja siitä on seurannut vitutuskäyrän räjähdysmäinen nousu - ja kun on täystaisteluvarustus päällä (tetsari, sirpa yms.) niin sitä on hieman vaikea ruveta korjailemaan kun ollaan keskellä toimintaa.

Pidin näitä viime Maakk-kurssilla 48h putkeen eikä missään vaiheessa hiertänyt mistään kohtaan, ei ryynäilyssä eikä levossa. Suosittelen! 5/5
3
0
I would recommend for a friend
Jani R.

13.02.2017 (Edited 17.04.2017)
EN SITTENKÄÄN SUOSITTELE (arvostelua ei voi näköjään muokata)
Hyvän tuntuset, joskin koko XL itelleni reisistä pienet. Myös koko XXL reisistä tiukka, mutta vyötäröstä väljät. Syynä tähän paksut reidet.
Henkilölle jolla paksut reidet TÄYSIN KÄYTTÖKELVOTTOMAT. Nyt pitää keksiä joku millä viruttaa lahkeita leveämmäksi, muuten menee 60€ hukkaan. Onneksi yhdet on vielä pussissa ja voi palauttaa.
3
6
I would recommend for a friend
Timo S.

10.03.2017
Kyllä nyt löytyi parhaat bokserit ikinä. Napakan istuvat, ei hierrä, ei kierrä, helppo...kävellä. Säännöllisesti ja ympärivuoden kilttiä käyttävänä voin suositella housumiehillekin.
4
0
I would recommend for a friend
Olli H.

10.03.2017
Muuten erinomaiset alushousut, mutta jäin kaipamaan sepalusta.
1
2
I would not recommend to a friend
Vesa H.

12.04.2017
Samaa ongelmaa, kiereät reisistä, löysä vyötäröltä. Ajattelin käyttää pyöräilyhousujen alla mutta parin kilometrin ajo on jo kiskonut bokserit alas...
5
4
I would not recommend to a friend
Sami H.

24.04.2017
Olleet nyt käytössä kohta 5 kuukautta. Otin kokoa isommat mistä seurasi että vyötärö aavistuksen löysempi kuin huvittaisi, puntit sopivan napakat eikä nivusista kiristele tahi hierrä. Eli kokojärjestelmää/leikkausta kannattaisi tosiaan jatkossa hioa jos näillä kukonpojan koivilla tarvitsee ottaa kokoa isommat... Materiaali kunnon hyvää, usein pärjää tuuletuksella, muutaman pesun Sonettin villanpesuaineella ovat kestäneet hyvin. Haaraan ilmaantunut 5mm ilmastointireikä, mutta muuten ompeleet kestäneet hyvin, reikä vaikuttaa enemmän valmistusvirheestä johtuvalta eikä ole lähtenyt purkautumaan tai muutenkaan häiritsemään. Istuvammalla kokojärjestelmällä (puntit kokoa isommaksi!) ja paremmalla laadunvalvonnalla olisi viiden tähden bokserit, nytkin "ihan ok" lähinnä materiaalin ansiosta..
4
3
I would recommend for a friend
Gary S.

29.04.2017
I find these comfortable and breathable. Fit well.
5
1
I would recommend for a friend
Jack T.

30.07.2017
I would recommend for a friend
Jack T.

30.07.2017
I would recommend for a friend
Mika R.

01.08.2017
Testattu TSTOS Parola 2017-
tapahtumassa kolmen päivän ajan.
- Hyvä istuvuus, ei hankaudu reidet rikki.
- Merinovilla: ihme materiaali. Kolme päivää hikeä, piereskelyä, lisää hikeä, epätoivoa ja kuivia vitsejä, silti materiaali tuntui iholle hyvältä. Ei niljakkaalta tai tahmaiselta kuten tekniset vaatteet.
- Hengittävät hyvin.
3
0
I would recommend for a friend
Joshua M.

11.10.2017
Fit well, super comfortable, the whole Merino wool thing really does what it says. Pricey though
3
0
I would recommend for a friend
Samu S.

Varusteleka employee

09.11.2017
Aika anteeksiantamaton leikkauksen ja materiaalin yhdistelmä. Ensimmäiset käyttökerrat tuntui täysin luonnottamalta, tuntui kuin reidet olisivat vetäneet housuja alas. Nyt näin monta metsäreissua näillä housuilla vetäneenä ei ole enää mitään pahaa sanottavaa. Mulla pysyy erinomaisesti päällä eikä rullaannu mistään myttyyn. Olen 180 cm, 80 kg, 90 cm vyötärönympärys, 55 cm reidenympärys.
1
0
I would recommend for a friend
Seppo T.

30.12.2017
Tosi hyvät, eivätkä hierrä persvaossa ;) Lahkeet voisivat olla pari cm lyhyemmät, itsellä meinaavat mennä polvien päälle. Eivät kiristä ainakaan epämukavasti reisissä, mutta ylemmäs näitä ei saisi kiskottua. Omat mitat ovat 75/175, en tiedä miten mahtavat sopia raskasrakenteisille.
1
0
I would recommend for a friend
Timo K.

02.01.2018
Toimii varsin hyvin puolipitkinä jalkojenlämmittiminä, mutta housujen vyö pitää olla tiukalla muuten alkaa valumaan alaspäin. Mulla on siis joko liian paksut reidet tai lahkeet on liian pienet. Konttorirottailussa alaosa jaloista on pöydän alla ilman liikkeiltä piilossa mutta syli on ilmanvaihdon tuulissa, just sopivat siihen.
1
0
I would recommend for a friend
Kari K.

03.01.2018
Kun lukee muiden arvosteluja niin mää olen kai sitten sellainen möhömahainen rimppakinttu...
Jälkikasvu hommas mulle tällaiset ämmäkokoiset (kohde 175cm/68kg) joulupakettiin ja kun jalkaan pistin niin itku meinas päästä, tällasia mää oon saatana aina kaivannu!
Sopivan pitkät ja napakat, ei reidet palele eikä ole makkarana nivusissa ketuttamassa. Ja materiaalihan on näihin säihin ihan taivaasta annettua!
0
1
I would recommend for a friend
Timo V.

11.01.2018
Sama kuin muutamalla muulla. Vyötärö löysä ja reidet kireät. Tosin olen mieheksi reitevä. Tulee ihan armeija-aika mieleen, kun juostiin talvella kalsarit polvissa maastohousujen haarusten varassa. Toimivat kyllä, jos päällyshousut ovat asianmukaiset.
1
1
I would recommend for a friend
Antti M.

30.01.2018
Epäröin tilaamista kuukausia, koska varoiteltiin reisien kireydestä ja en ole ihan rimppakinttu. Vastaavia ei kuitenkaan oikein saa mistään, ei ainakaan merinovillaisina, joten päätin testata.

Muista TST L1:stä käytän kokoa L, mutta näistä otin testiin XL:n. Reiteni on reisilihaksen alapäästä 54 cm ja yläpäästä 65 cm. Vyötärö on 97 cm ja pakaroiden kohdalta ympärys on 105 cm. XL on vyötäröstä aavistuksen löysä, mutta housut pysyvät kyllä ylhäällä hyvin eivätkä kiristä reisistä. Toivottavasti mitat auttavat muita tekemään sopivan valinnan itselleen.

Parin viikon käytön perusteella nämä ovat aivan loistavat. Nyt kun tiedän, että XL on sopiva, niin tilaan useammat.
1
1
I would recommend for a friend
Juho S.

10.03.2018
Parhaat bokserit ikinä. Olleet parilla vaelluksella vajaan viikon jalassa yhteen putkeen ilman mitään ongelmia, ei hierrä, lahkeet ei nouse ja hengittävät todella hyvin ainakin viileämmällä kelillä. Kuumana kesäpäivänä saattavat olla liian lämpimät mutta tärkeämpi ominaisuus on mielestäni lämpö kylmällä kelillä, eivätpä sukukalleudet palellu. Paljon kuulee kommentoitavan että olisi reisistä liian tiukat ja siksi otettu kokoa isompaa ja sen jälkeen istuvuus mennyt pilalle vyötäröstä. Kokeilkaapa semmoista temppua että otette ihan raa'asti ne reisistä tiukan tuntuiset pökät ja annatte olla jalassa jonkin aikaa, kangas kyllä venyy ja muotoutuu itselle sopivaksi ajan kanssa, jopa tiukan tuntuisesta lahkeen saumasta. Itselläni mitat 185cm 92kg, reidet ylhäältä paksuimmasta kohtaa 65cm ja lahkeen alaosasta 55cm, vyötärö 90cm. Silti koko M sopii käytön jälkeen kuin valettu vaikka pakasta vedettynä tuntuukin reisistä tiukalta. Osta, et kadu.
7
1
I would recommend for a friend
Patrik K.

21.04.2018
Itselleni ainakin sopivan kokoiset vaikka kyykyt on tullut tehtyä. Ei samaa hikoilua kuin normi kalsareissa.
1
0
I would recommend for a friend
Daniel P.

12.11.2018
Vyötärö aivan liian löysä. Kireä leikkaus reisissä - joka itsessään on hyvä juttu - aiheuttaa sen että liikkuessa vetävät vyötärö saumaa alas niin että perse vilkkuu koko ajan. Neljäs tähti silti siunaantuu pitkistä lahkeista, jotka suojelee hikisten kinkkujen yhteen hieroutumisen aiheuttamilta hiertymiltä varsin tehokkaasti. Kyllä näillä housuilla pärjää, jos päälimmäiset housut kiristää bokserit napakasti lantioluiden tuntumaan.
0
0
I would recommend for a friend
Petri S.

30.12.2018
Todella hyvät bokserit. Itse käytän näitä myös kesäkuumalla estämään reisien hitsautumista kiinni vaelluksilla. Hengittävät hyvin ja malli on mukavan napakka.
0
0
I would recommend for a friend
Mikko K.

07.01.2019
Kylmällä säällä ulkoillessa parhautta.
T-paitakoon valitsemalla istuvuus reisistä juuri sopiva, ei lähde lahkeet rullailemaan. Kapeammat reidet omistavalle sopiva koko voi olla jopa yhtä pienempi kuin t-paitakoko. Istuvuden ja muutenkin täydellisen tuotteen pilaa sama juttu kuin muissakin kokeilluissa Särmä- ja Särmä TST merinoalusasuissa, jos vyötärö on leveämpi alusasun vyötärö on 5-10 cm liian matala. Paikallaan pysyessä toimii mutta kyykistellessä yms. liikkeessä tulee ongelmia.
0
0
I would not recommend to a friend
Jukka K.

24.02.2019
L kokoiset olleet vuoden verran käytössä. Tiukat on, repimällä saa repiä, että reidet mahtuu. Vyötäröstä jää samalla löysäksi. Sopinee kavereille, joilla vähän maltillisemmat koivet, ei ihan mun jaloille tarkoitettu.

Materiaali tietenkin priimaa, mutta ei näitä omilla kokemuksilla suositella valitettavasti pysty.
0
0
I would recommend for a friend
Michiel d.

26.02.2019 (Edited 26.02.2019)
Icebreaker. Who? Icebreaker. Who? We don't need Icebreaker. Buy this Sarma.

Comparing to the same style Icebreaker I own this one is superb. Why? The Sarma has a good formed crouch part comparted to the other brand. Great features are also: Sarma keeps it form longer and absolutely no chaffing.

The difference between a L and an M is considerable. An M doesn't give a tight fit compared to a regular fit with the L (as I hoped for).

Smell resistant. Yes!

Price. Great!

Love it.
0
0
I would recommend for a friend
Farasha E.

11.03.2019
The world's best underwear. Yes, the legs are tight, but that is as they should be. After a few hours, another made in Europe brand of wool boxers curls up, but the tight fit of the Sarma's keeps them comfortable all day long, and then some if away from civilization.
0
0
I would recommend for a friend
Ari M.

16.03.2019
Hyvä tuote!

Jos haluat alushousut jotka eivät mene rullalle niin osta nämä. Ovat hieman piukat reisistä mutta se ei haittaa koska se takaa että nämä pysyvät siellä missä kuuluu.

Pari kertaa kun kyykkää oikein syvälle niin laskevat vähäsen mutta näin käy melkein kaikkien alushousujen kanssa.
0
0
I would recommend for a friend
Jarkko K.

05.05.2019
I would recommend for a friend
Alexander K.

01.06.2019
They itch a little on the legs, but this might be just me getting used to merino wool, since this is my first item. Except from that, you hardly even notice you are wearing them.

They fit very well, and after a bike ride (A lot of sweating), they cooled me down to a level of comfort.
0
0
I would recommend for a friend
Rami M.

09.06.2019
En eräile tai milbullshittaile, mutta näistä on vaikea olla tykkäämättä ihan arkikäytössä.
0
0
I would not recommend to a friend
Tuomas H.

26.12.2016 (Edited 27.12.2016)
Reisistä kireät, vyötäröstä löysä. Valuu jatkuvasti. En uskalla ostaa pienempää kokoa nykyisellä hinnalla. Jos joskus saa vyötäröltä kireämmäksi, niin sitten pistän tilaukseen. Muuten mukavat.
8
6
I would not recommend to a friend
Juha J.

16.03.2017 (Edited 19.08.2017)
Materiaali hyvää kuten odottaa sopii. Pakko kuitenkin kompata Tuomas H:ta, reisistä nämä on liian tiukat ja vyötäröstä löysät. Ei jatkoon tällä koko systeemillä. Pitää varmaan katsoa vaihtaisiko itse jämäkämmän kuminauhan.

Lisättäköön jälkikäteen että tuli muokattua lahkeita leveäsuisemmaksi, leikkaamalla v-aukko lahkeen sivuun ja siksakkaamalla reunat, mutta kuminauhaa ei voi käytännössä vaihtaa, se on ommeltu kiinni saumaan, näin ainoaksi vaihtoehdoksi jää toisen kuminauhan lisääminen.
6
3