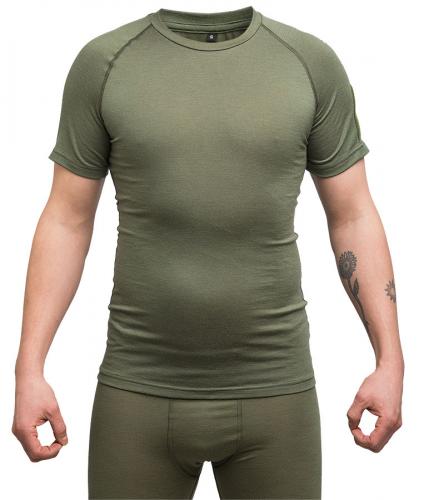 Särmä TST L1 T-shirt, Merino Wool
Price 22.99 - 30.99 USD 30.99 USD excluding VAT
Flat Rate Shipping to USA $9.99
84 % recommends
Sold 124 pcs in the last two weeks
Loading products...
Trouble with the metric system? Try our converter: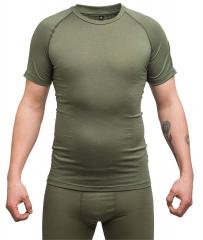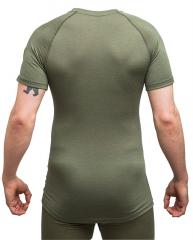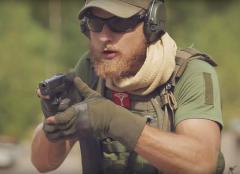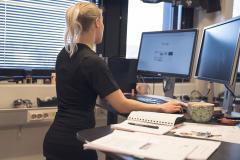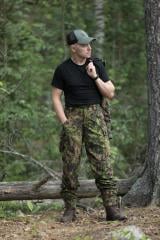 A purely functional merino wool T-shirt for active wear, made from merino wool, simply the best material you can wear next to the skin. Snug active fit, raglan sleeves and flatlock seams guarantee minimum chafe and maximum comfort, making this a damn good base layer for active, demanding use.
Active fit: snug and comfortable.
Raglan sleeves: no chafing seams on the top of the shoulders adds comfort when carrying rucksacks.
Flatlock seams: no thick folds that could cause discomfort.
Long hem: the hem is longer at the back to keep it safely tucked in when moving about.
Velcro patch for Finnish army M05 rank insignia on the left sleeve.
80/20 merino wool / polyester, 180 g/m2.
L1 - Base Layer
The first layer of the Särmä TST clothing system, tasked with moisture management. A good next-to-skin baselayer keeps you feeling comfortable in any conditions to do this it needs to be lightweight and effectively moisture wicking. We use a lightweight merino wool blend for our base layers, a natural and very functional material for this purpose.
Take a look at our Särmä TST Clothing System!
High quality Merino wool
Made from 80% merino wool and 20% polyester, weight 180 g/m2. The polyester content adds abrasion resistance to the otherwise quite weak wool. Merino wool is a fantastic choice for next-to-skin wear, most notably it feels good against the skin and retains its insulating properties even when soaking wet.
Mulesing free! All our merino wool products are made using mulesing-free certified merino wool.
Wash and care
This merino wool blend is machine-washable in 40 degrees Celsius, but washing is seldom necessary - wool cleans itself. When not in use, air them out and give them a good shake after that.
Size info
In the dropdown box you'll find the recommended user chest circumference and height. Very simple. These are quite form fitting, by picking your size you will get just that - these are designed to stretch a bit. Pick a size larger if a bit more loose fit is required. For those looking for hard data, here's a chart with the actual measurements of the shirts themselves:
| Size | Chest circumference | Waist circumference | Back length | Front length |
| --- | --- | --- | --- | --- |
| X-Small | 78 cm | 62 cm | 70 cm | 58 cm |
| Small | 86 cm | 72 cm | 72 cm | 60 cm |
| Medium | 94 cm | 82 cm | 73 cm | 61 cm |
| Large | 102 cm | 92 cm | 75 cm | 63 cm |
| X-Large | 110 cm | 102 cm | 76 cm | 64 cm |
| 2X-Large | 120 cm | 114 cm | 77 cm | 65 cm |
| 3X-Large | 128 cm | 124 cm | 79 cm | 67 cm |
| 4X-Large | 140 cm | 136 cm | 80 cm | 68 cm |
| Size | Chest circumference | Waist circumference | Back length | Front length |
| --- | --- | --- | --- | --- |
| X-Small | 31" | 24" | 27.5" | 23" |
| Small | 34" | 28" | 28.5" | 23.5" |
| Medium | 37" | 32" | 28.5" | 24" |
| Large | 40" | 36" | 29.5" | 25" |
| X-Large | 43" | 40" | 30" | 25" |
| 2X-Large | 47" | 45" | 30.5" | 25.5" |
| 3X-Large | 50" | 49" | 31" | 26.5" |
| 4X-Large | 55" | 54" | 31.5" | 27" |
Our model's measurements are about 175 / 96 cm, wearing size Medium shirt.
Our model's measurements are about 5' 9" / 38", wearing size Medium shirt.
Särmä TST
Särmä TST is Varusteleka's own in-house brand of clothing and gear designed for military and law enforcement end users. Our clothing and equipment are made in co-operation with a number of experienced manufacturers with a strong background in producing clothing and gear for military and law enforcement officials, most notably for the Finnish Defence Forces. For further reading check out the Särmä TST corner of our website.
Särmä TST products are covered by a 12-month warranty against defects in materials and workmanship. For further information please read our detailed warranty guide.
Made in Lithuania.
Reviews
You have already submitted a review. You can edit your text by clicking on it.
Log in and write a review.
Remove filter
Suomi
(31)
English
(11)
Oskari S.

26.05.2016 (Edited 13.06.2017)
Intissä tullu käytettyä vähintäänkin useasti. Lämmittää kosteanakin, toisin kuin the firman omat paidat. Majuriturvallinen valinta todellakin on, kun ei edes everstiluutnantti ole paidasta maininnut. JOS haluat huolettoman vaihtoehdon intin tpaidoille niin se on TÄMÄ. Suosittelen kaikille
19
0
Sami K.

29.05.2016 (Edited 31.05.2016)
Otto A.

04.06.2016 (Edited 07.06.2016)
Petri S.

07.06.2016 (Edited 08.06.2016)
I would recommend for a friend
Mikko K.

19.06.2016 (Edited 13.06.2017)
Ihan parhautta matkustaessa. Sen jälkeen kun on julkisilla kulkuneuvoilla selvinnyt lentokentälle ja pyörähtänyt turvatarkastuksen läpi olo on aina ollut: suihkuun, kiitos. Ei enää tämä paita päällä. Woolpowerin nallepaidan kanssa pettämätön yhdistelmä brittien alkukeväässä reissaamiseen ja lentokoneeseen, vaikka lämpötilat vaihtuvat, aina on sopivan lämmin eikä hiki haittaa.
5
1
I would not recommend to a friend
Jakob S.

27.01.2017 (Edited 28.02.2017)
The only product i got from this site which I actually dislike. Adding the polyester may increase durability, however it also nullifys one major advantage of merino. The smell. I got my self this shirt for (swiss) military use in winter. Unfortunately it smelled just as bad as the standard issue pure polyester ones after a day. (Not as much an issue in the field, but for everywhere else.)
If the polyester share was replaced by polyamide (nylon), like in the turtleneck, or if it was pure merino it would be a great shirt.
40
19
I would not recommend to a friend
ERKKI L.

05.02.2017 (Edited 12.04.2017)
Uutena ok, muttei oikein kestä käyttöä vaan menettää muotonsa pesussa ja käytössä! Ei kaikkea kannata tehdä halvalla Virossa!
10
10
I would recommend for a friend
Matti K.

04.03.2017
Kesällä sellaisenaan ihan loistava, alusvaateena vähän heikompi.

Helman tulisi olla pitempi, samaan malliin, kuin Lekan aiemmin myymässä Miltecin Coolmax-paidassa. Nyt helma pyrkii rullaamaan ylös, etenkin luotiliivin alla. Tosin mulla on nelosen liivi, joka jo lähtökohtaisesti on alusvaateelle haastava.
2
0
I would recommend for a friend
Olli S.

01.04.2017 (Edited 12.04.2017)
koko talvi menty hyvää tavaraa
0
0
I would recommend for a friend
Vincent A.

13.07.2017 (Edited 02.07.2018)
I would recommend for a friend
Jack T.

30.07.2017
I would recommend for a friend
Teemu L.

03.08.2017
Enimmäkseen laatutuote. Kaikki merinon hyvät puolet löytyy , ja paita hengittää ja lämmittää niin kuivana kuin kosteana. Todella hyvä yleiskäyttövaate jos tätä voi tuulettaa ja pestä tarvittaessa.

Huonona puolena on hajuhaitta, eräreissulla tämä alkoi dunkkaamaan todella nopeasti ja pahalle ollakseen merinoa. Polyamidia sekoitteena käyttävät Särmä L2 poolopaita pärjäsi paljon paremmin kuin polyesteriä käyttävät Särmä L1 varusteet.
2
1
I would not recommend to a friend
Santtu E.

13.09.2017
Ihan tavallinen paita 33 euroa.
Kutittaa ja tuntuu karhealta.....
3
17
I would not recommend to a friend
Timo V.

22.09.2017 (Edited 22.09.2017)
Kuten muutkin ovat todenneet. Haisee! Kaksi päivää pyöräilyä ja ajaessakin kävi omaan nokkaan haju. Suosittelen muita tuotteita. Polypropyleeni ei muodosta hajua, ja osa niistä voidaan pestä 90 asteessa (esim. Helly-Hansen siniset) ja muut näyttävät arvelevan, että villa-nailon ei haise juurikaan, itse en osaa tästä sanoa mitään. Jostain syystä nämä paidat myös kutittavat selkää, minulla on useita.
0
2
I would recommend for a friend
Ignacio N.

24.09.2017 (Edited 30.11.2017)
I own several merino wool t-shirts long ago from other brands and I don´t think this one is much worst than the others apart of the smell issue. I have used it after training (and after have it ventilated for couple of days) for going to work and it´s not a problem. It is true that it will not last without smell as long as a 100% merino cloth but that´s fine for me as I use it only for training. Now, I must say I would not buy another one. I´ll go only for 100% merino. On the other hand is sturdy and very comfortable.
1
0
I would recommend for a friend
Ossi A.

10.11.2017 (Edited 10.11.2017)
Varsin tiukka istuvuus, normi särmän t-paidasta käytössä s-koko, tämä on m-kokoisenakin ihonmyötäinen.

Ei niin miellyttävä tuntuma mitä muissa särmän merinotuotteissa jostain syystä. Lisäksi ei niin immuuni hajun kertymiselle mitä muut merinosekoitteet. Särmän merinosukka haisee vähemmän mitä tämä paita muutaman päivän käytön jälkeen. Aluskerroksena kuitenkin loistava, ei hierrä eikä hankaa. Suosittelen varauksin.

Wears skin-tight, if you use size S on normal tee, take M for this. It gets more smelly than other merino stuff and the surface is not that comfy either. I'd still recommend this.
1
0
I would recommend for a friend
Mikko J.

02.12.2017
I would not recommend to a friend
Juho H.

09.12.2017
Hyvä leikkaus ja pitää kehon sopivassa lämpötilassa. Mutta paita alkaa haisemaan hieltä muutaman käyttöpäivän jälkeen. Menettää myös muotoaan pesussa. Hihat ei särmän näköiset. Polyesteri pitäisi vaihtaa vaikka polyamidiin tai viskoosiin.
12
1
I would recommend for a friend
Timo P.

14.12.2017 (Edited 14.12.2017)
Mukava paita. Piti lämpimänä vaikka metässä hikoillessa oli hiestä märkä, päällä puuvillaflanelli ja Särmän fleecetakki mutta missään vaiheessa ei tullut kylmä kun piti taukoa puiden kantamisesta. Kuivuikin nopeasti vielä. Hihat ehkä aavistuksen lyhyehköt mutta menee hyvin aluspaitana. Velcropaikan joutui kyllä poistamaan koska hieman häiritsi eikä tosin ollut edes käyttöä sille. Muuten kyllä ihan loistava paita.
0
0
I would recommend for a friend
Troy

09.02.2018
I purchased one of these for use as an undershirt when i am wearing button up shirts and similar, and it worked well as a good baselayer, but I had held off on doing a review. I recently had the chance to put this garment through its paces however at the Varustekla sponsored "InRange Desert Brutality 2018" where I wore it under a L4 combat shirt for two days of shooting in the 27C+ temps. Needless to say it did a good job of wicking my sweat away from me and helping to keep me warm, but not overheating. The shirt also does not smell like sweaty pit stank.

About the only thing you have to be cognizant of is that the wool does require special care, this is not a garment that you just throw in the wash and then toss in the dryer.

For value, this product is great, I would suggest looking at doing your homework at similar composition wool baselayers from other companies, the T1 shirt is half the price.
2
0
I would recommend for a friend
Ida P.

23.04.2018
Tällainen hyvin pienikokoinen kapiaisakka arvostaa tätä paitaa maasta taivaaseen. Meikäläinen mahtuis kahteen kertaan S-kokoisen SA-INT t-paidan sisään (ei kovin käytännöllistä). Majuriturvallinen vaihtoehto ja tuntuukin vielä mukavalta päällä. Vahva suositus 6/5!
0
0
I would recommend for a friend
Jan H.

12.07.2018
Very comfortable to wear and easy to maintain Shirts for everyday/situation use. Washing these by simply putting them in a sink adding some soap (I even used hand soap on occasion) roll them between a towel to dry, and a good 30 min later you are ready to go. This has significantly reduced time washing, drying my clothing out and about, in a hotel/hostel or at home. The black Version is very much fashionable in your everday activities aswell.
Combined with the L2 Turtleneck or the L1 Longsleeve (or both) you will be plenty warm and enjoying the benefits of layered clothing.
Another great part of basically the whole series (L1/2) is the small packsize which makes it ideal for longer trips/vacations.
Pro Tip: If you use a roll on deo stick, some of the deo will stick to the shirt and extend its wearability. In normal use you can wear these quite a while.
2
0
I would recommend for a friend
Waltteri P.

12.08.2018
I would recommend for a friend
Jari L.

Varusteleka employee

29.08.2018
Paras T-paita ikinä. Leikkaus on tiukka ja näyttää hyvältä. Materiaalina merinovilla hyväilee ihoa mukavasti. Suorituskyky on myös kohdillaan ja paita toimii ympäri vuoden. Itse olen toikkaroinut tämän paidan kanssa Death Valleyn paahtavassa helteessä sekä Suomen kurjissa ja kylmissä keleissä ja hyvin on toiminut. Sekaan sotkettu polyester ei välttämättä ole ihan 5/5, mutta itselläni ei ole ollut ongelmia hajujen tai muidenkaan kanssa, vaan rakemmankin urakan jälkeen paita on ollut kohtuu fressi tuulettamisen jälkeen. Kerran kun on päässyt Särmä TST L1 paidan makuun, ei muita t-paitoja halua enää käyttää.

Best T-shirt ever. Smart and tight fit, which looks good. Merino wool fondles the skin in an enjoyable way. Performance of the shirt is second to none, and it works around the year and in different climates. I have travelled with this shirt in the burning heat of the Death Valley all the way to the cold and miserable weather here in Finland, and the shirt has adapted well in all environments. Small addition of polyester in a shirt might not be the best choice, but personally I have had no issues with the shirt starting to smell. Even after high physical activity, giving some airing for shirt will make it fresh again. Once you have tried Särmä TST L1 you do not want to use any other t-shirt.
0
0
I would recommend for a friend
Kang C.

20.09.2018
I am 175/104 and bought the Medium to get it slightly more fitting. My merino shirts are generally very stretchy and forgiving. And the same goes for this shirt.
Feels really good against the skin and keeps me nice, warm, and dry.
But Damn, the Finns have some seriously bulging biceps, because the sleeves are fairly loose despite the tightness of the rest of the top.
That is not a real issue though. (Except for the arms and the ego...)
A bit pricey, but you really get what you're paying for. Definitely worth the investment, in my personal opinion.
2
0
I would recommend for a friend
Arto V.

01.10.2018
Ensimmäinen Meronovillapaita joten kokemuksia vain tästä yhdestä + kypäräpiposta. toimi todella hyvin flanelipaidan alla ja eipä hiki päässyt yllätämään ainakaan pahasti pitkälläkään vaelluksella.
0
0
I would recommend for a friend
D.J.E. M.

20.10.2018 (Edited 09.12.2018)
I don't want to take this shirt off ever again. But since I figured that one day I might actually have to wash it, I bought 3 more.
2
0
I would recommend for a friend
Niklas H.

08.01.2019 (Edited 27.05.2019)
Nyt reilu pari kolme päivää lähes nonstoppina tällaista käyttäneenä olen havainnut pientä kutinaa mitä en ole muissa merinotuotteissa huomannut. Olen käyttänyt tätä hikoilemattomissa olosuhteissa merinohupparin kanssa, ja on ollut pörröinen olo kokoajan pl. pientä kutinaa. Katsotaan lähteekö pesussa vai miten on. Toistaiseksi siis 4 tähteä ja suositus kuitenkin.

Ja edittiä näin ~5kk myöhemmin. Kutinasta ei havaintoa enää ja hajuhaittojakaan ei ole. Täydet tähdet.
0
0
I would recommend for a friend
Farasha E.

12.03.2019
I would recommend for a friend
Peter D.

03.04.2019 (Edited 03.04.2019)
I've had one of these for a while now, but I wanted to put it through it's paces before I reviewed it, because I've gone through a few shirts like these and they've worn thin after a month or two. This shirt in comparison has stood the test of time. It's more expensive than comparable shirts here in Canada, but the material is a world of difference. Other reviews have noted problems with smell, but despite being a person who sweats overly much under pretty much any heat, I haven't had any real issues with it. In fact, I'd say it's probably better than the poly blend that the local stuff uses in that regard. I usually wear this under a Sarma TST combat shirt at work in a machine shop but despite being around hot machines all day long that like to grab and catch on clothing, it's stood up to the abuse. All in all, a bit expensive compared to what I have locally, but well worth it.
1
0
I would recommend for a friend
Janne S.

15.04.2019
Ostin muutaman näitä testiin kun vanha merinopaita näytti jo enemmän reikäpaidalta... Tästä on nyt jo jokunen vuosi - nämä olivat juuri tulleet. Istui täydellisesti (plussaa pitkästä helmasta), kangas tuntui loistavalta ja hengitti kuten merinon kuuluukin, vaan yksi häiritsevä piirre oli mitä en osannut odottaa. Deodorantin tuoksu rikastui ajan kanssa kainaloihin ja se ei lähtenyt tuulettamalla. Eikä lähtenyt pesussakaan villanpesuaineella! Lopulta en kehdannut tämä päällä lähteä muutakuin juoksulenkeille ja näin se palvelikin minua pitkään.

Olen nyt saanut nämä paidat uudelleen päivittäiseen käyttöön. Salaisuus on siinä että deodorantti on vaihtunut hajuttomaksi ja pesen villanpesuaineella MUTTA lisään sinne vielä väkiviinietikkaa huuhteluaineeksi. Etikka vie sen tuoksun pois kainaloista sekä jättää tekstiilin kivan pehmeäksi. Nyt jeesaa tuulettelukin kuten merinolla on tapana.

Tähän loppuun vielä hehkutus tuosta kulutuskestävyydestä! Kummassakaan paidassa ei ole pienintäkään reikää tai purkautunutta saumaa. Ja on ollut suoraa rinkan alla vaelluksilla, kovilla lenkeillä, melonnassa märkänä päällä samalla kun kipuaa takaisin kanootin kyytiin, jne... Samassa ajassa olisin saanut hakea useamman 100% merino t-paidan.
1
0
I would recommend for a friend
Jarkko K.

05.05.2019
I would recommend for a friend
sampo s.

09.05.2019
Oletin tämän TST-mallin ja "siviili" merino t-paidan olevan käytännössä samaa tavaraa, kun sekoitussuhteet ja hinta ovat identtiset. Kuitenkin tavallinen merinopaita tuntui huomattavan karhealta ja kutittavalta ihoa vasten (tämä siis minun tapauksessa, experiences may wary), mutta tämä TST-paita on kuin silkkiä päällä! Olen isompi kaveri, ja isommat koot istuvat harteikkaalle suomalaismahaiselle miehelle erinomaisesti. Käytän paitaa pääosin pyöräillessä ja töissä hoitoalalla aluspaitana. Jos tuo vihreä on majuriturvallinen, on se myös osastonhoitaja turvallinen! Materiaalina merino toimii erinomaisesti, ei kerää hajuja ja pysyy raikkaana pelkällä tuuletuksella.
0
0
I would recommend for a friend
JM

25.05.2019
Hyvännäköinen paita, istuva leikkaus! Kangas tuntuu hyvältä ihoa vasten.
0
0
I would not recommend to a friend
Oskari N.

05.06.2019 (Edited 05.06.2019)
Rupeaa haisemaan soijalta jo pienen käytön jälkeen ja villapesun seurauksena kutistuu. Kutittaa ja on liian kuuma pitää päällä. Ei nukkaannu pidemmässäkään käytössä. Ulkonäkö ok, mutta oma valinta aluspaidaksi on jokin muu.
2
0
I would recommend for a friend
Chris K.

22.08.2019
Great to wear, snug fit and very comfortable. The length is a bit of an issue for taller people like me. If there would be a long-version of these, or the general hem-length would be a few cm more, these would be perfect.
0
0
I would recommend for a friend
Ulf J.

12.11.2019
My new favorite T-shirt. Very comfortable and with two I can use one and airing the other.
I am 190 and the size large are long enough for me.
0
0
I would recommend for a friend
Riku I.

28.11.2019
I would recommend for a friend
Ville M.

29.11.2019
I would recommend for a friend
Teemu K.

27.08.2016 (Edited 01.09.2016)
I would recommend for a friend
Otto O.

05.11.2016 (Edited 29.11.2016)
Todella hyvä perusmerino T-paita! Oma vakiokoko on ainakin näin alkuun erittäin tyköistuva ja siirtää hyvin kosteutta iholta.
Toivottavasti voisitte jättää mahdollisuuden tilata näitä paitoja myös jatkossa ilman velcro-tarraa. En ole minkään merkkien tai tunnusten ystävä, joten tarra on mielestäni hihassa vain tiellä rumentamassa paitaa! Sama homma merino-huppareissa ja muissa vaatteissa.
45
0
I would recommend for a friend
Pyry P.

15.03.2017
Jos pitäisi yhdellä (T-)paidalla pärjätä loppuelämä, se ois tää. Aivan tajuttoman hyvä leikkaus, tyköistuva, helman pituus markettipaitoihin verrattuna upea lisä. Merinovilla materiaalina just oikeen paksuista, hengittää ja ei kerää hajuja. Itsellä vanhempi malli ilman velcropaikkaa enkä kyllä mitään pahaa sanottavaa keksi. Täydellinen t-paita joka käyttöön
9
2