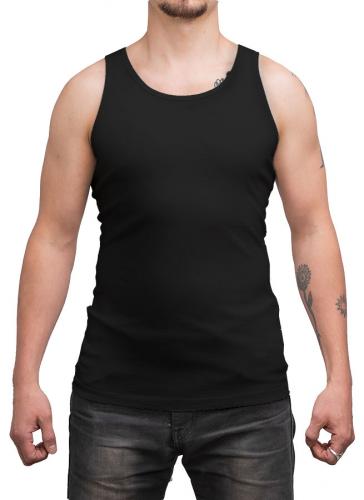 Särmä Sleeveless Merino Wool Shirt
Price 27.99 USD excluding VAT
Flat Rate Shipping to USA $9.99
100 % recommends
Sold 18 pcs in the last two weeks
Loading products...
Trouble with the metric system? Try our converter: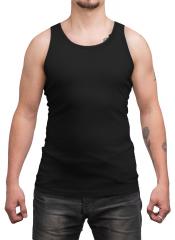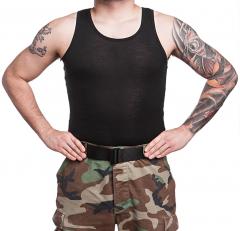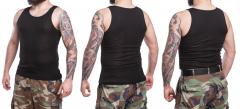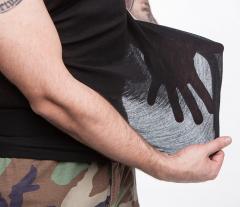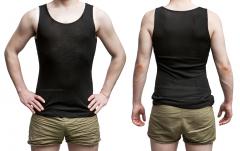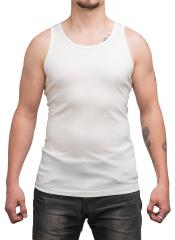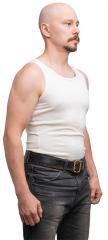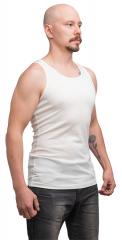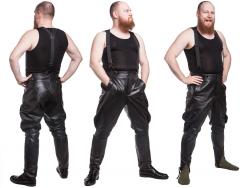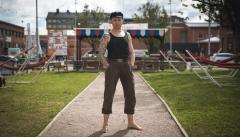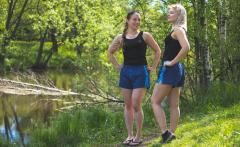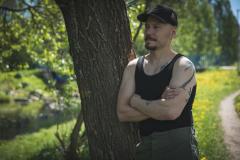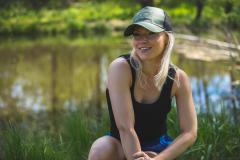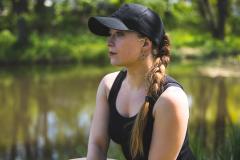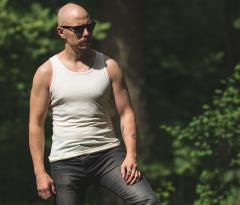 The traditional cotton wifebeater is popular for a reason. However, it could be better if it was made of, say, merino wool. Like this our own production shirt here. Pretty much unisex shirt, thanks to the very nice fit!
Merino wool stays comfortable even when wet and doesn't easily absorb nasty smells. You can usually just air it out without even washing, thanks to the natural antibacterial properties of this wonder fabric. Merino wool is even better due to its finer weave. Thin enough for summer use!
Material info
Depending on colour, these are:
Black: 100 % merino wool
Off-white: 80 % merino wool, 20 % polyester
The material of Off-whites has been tried and tested in our Särmä merino T-shirts. Both are 180 g/m2 mulesing-free merino wool, thin enough to be comfortable, thick enough not to reveal too much what's under it. Of course, dark things are difficult to cover with white.
Wash in 40 degrees Celsius, hang dry. As said, you really do not have to wash this as often as cotton clothes, just air it out. This makes the shirt awesome for any activity, especially the kind where you might break a sweat.
Size info
As these are our own production, we decided the cut: the hole for the head is reasonably sized and the hem is proper long. These are form-fitting and stretch to fit.
Below is a chart of measurements of the garment itself. Don't be alarmed by the seemingly small numbers - the widths easily stretch about 30 % (black) or 15 % (off-white) from these values.
Black
Shirt size
Chest circumference
Waist circumference
Front length
Back length
X-Small
61 cm
52 cm
61 cm
Small
68 cm
60 cm
63 cm
Medium
76 cm
68 cm
65 cm
Large
82 cm
76 cm
67 cm
X-Large
94 cm
90 cm
68 cm
2X-Large
104 cm
100 cm
69,5 cm
3X-Large
116 cm
112 cm
71 cm
4X-Large
128 cm
124 cm
72,5 cm
Our model in the main picture has a chest circumference of 102 cm and wears black size Medium.
Off-white
Shirt size
Chest circumference
Waist circumference
Front length
Back length
X-Small
78 cm
62 cm
66 cm
Small
86 cm
72 cm
67,5 cm
Medium
94 cm
82 cm
69 cm
Large
101 cm
92 cm
70,5 cm
X-Large
110 cm
102 cm
72 cm
2X-Large
120 cm
114 cm
73,5 cm
3X-Large
132 cm
128 cm
75 cm
4X-Large
144 cm
142 cm
76,5 cm
Made in EU (Lithuania)
Varusteleka Särmä
Särmä is our own brand of clothing and equipment. When you buy Särmä you get purpose-built stuff at a decent price, something that will fill it's intended role well and not cost you an arm and a leg!
Särmä products are covered by a 12-month warranty against defects in materials and workmanship. For further information please read our detailed warranty guide.
Reviews
You have already submitted a review. You can edit your text by clicking on it.
Log in and write a review.
Remove filter
Suomi
(10)
English
(5)
I would recommend for a friend
Ryan B.

30.06.2018
Very comfortable. I've been wearing it under body armor and on its own and it's working great. Pulls the moisture away and breaths really well. Doesn't smell even after a few days without a wash. Merino is just plain awesome.
1
0
I would recommend for a friend
Samu S.

Varusteleka employee

06.09.2018
Mukava päällä, ei kutittele. Istuu hyvin ja näyttää hyvältä. Toimii yksinään sekä myös lisälämmikkeenä kylmillä keleillä esimerkiksi Särmä TST L2 poolopaidan alla.
0
0
I would recommend for a friend
Paul B.

22.09.2018
Great fitting garment , does what merino does best , warm, wicks and does not smell . I ordered two sizes down as the model and its a great fit.
0
0
I would recommend for a friend
Pasi K.

03.10.2018 (Edited 03.10.2018)
Ai että, kun tuntuu sopivalta. Huipputuote.
0
0
I would recommend for a friend
Tuomas K.

04.10.2018
Erittäin mukava ja hyvin istuva hihaton! Kangas on ohutta ja venyvää, joten koon valinnassa ei tosiaan tarvitse olla liian tarkka. Jos arvot kahden koon välillä ja haluat hyvin istuvan vaatteen, niin kannattanee valita pienempi - kangas on tosiaan sen tuntuista, että se antaa päälle laitettaessa sopivasti periksi. (Kangas on selvästi ohuempaa kuin esim. Särmän merino-T-paidassa tai merino-TST-poolossa.) Ainaki omassa paidassani kaula-aukko näytti vähän isommalta kuin pääkuvassa, joka ei ehkä ihan vastannut tuotekuvauksen maalailemaa "...tää on semmoinen jossa kaula-aukkokin on hillityn kokoinen" mielikuvaa, mutta oli loppujen lopuksi positiivinen yllätys! Tuotekuvista Valtterin kuva on tämän suhteen lähimpänä todellisuutta, ainakin omalla ruumiinrakenteellani.

Tämän hankinnan jälkeen olen miettinyt nopeaa tapaa käyttää loppuun nykyiset, puuvillaiset hihattomani, jotta voisin laittaa ylleni jatkossa vain merinovillaisia versioita...
0
0
I would recommend for a friend
Ben W.

03.02.2019
Adds a season of warmth to your outfit and makes you look jacked, what more do you want? Well done Varus you've done it again.
0
0
I would recommend for a friend
Tuomas R.

18.06.2019
Erittäin kiva suojaliivin alla pidettäväksi. Pysyy miellyttävänä päällä märkänä hiestäkin eikä rupea heti haisemaan kuten tekniset vaatteet. Pihalle tuulettumaan niin kehtaa pistää seuraavanakin päivänä päälle eikä tarvi kokoajan pestä. Ympäristökin tykkää. Materiaali aika herkkää hankaukselle ja reikiä alkoi muodostumaan liivin alareunan kohdalle hankauskohtiin reilun vuoden aktiivisen käytön jälkeen, mutta se oli jokseenkin odotettavaa näin ohuelta paidalta. Ostan ehdottomasti uudenkin, kunhan nykyinen antautuu lopullisesti.
0
0
I would recommend for a friend
Lassi K.

01.07.2019
Turva-alalla työskennellessä tässä on erinomainen aluspaita suojaliivin alle: siirtää kosteuden pois iholta, ei haise kuolemalta työpäivän jälkeen eikä ole vaaraa sulamisesta jos joku haluaakin kokeilla luotiliivin suojaavuutta.
0
0
I would recommend for a friend
Farasha E.

24.08.2019
Nice, but very thin.
0
0
I would recommend for a friend
Anu S.

10.09.2019
Se oli kertaheitolla heippa hei, puuvillatopit. Yksi lisää lähti juuri tilaukseen, pari vuotta on pärjätty edellisillä, eikä vieläkään mitään moitittavaa. On pitänyt muotonsa ja kokonsa, pestä tarvitsee todella harvoin. 170/62 naisihmiselle S-koko on erittäin passeli ja 10 kiloa kevyemmällekin sopiva, materiaali joustaa. Talvipyöräilyssäkään ei tarvitse kuskata töimaalla vaihtovaatteita, koska tämä ei haise vehkeelle hikisenäkään. Uskomattoman hyvä kampe.
0
0
I would recommend for a friend
Andreas R.

30.05.2016 (Edited 31.05.2016)
Very comfortable shirt. It looks good as well. The material feels very nice and is really light. The back reaches very high. Which I find comfortable. It dries very quickly after getting wet and barely takes on any odors.
1
0
I would recommend for a friend
Kalle K.

24.06.2016 (Edited 27.06.2016)
Tuntuu hyvälle ihoa vasten ja on kevyt. Toimii kuten pitää ja leikkauskin on juuri kohdillaan tässä. Paita tosin on todella ohutta kangasta, jota ei kannata kokeilla riepotella tai repiä.
0
0
I would recommend for a friend
Teemu K.

27.08.2016 (Edited 01.09.2016)
I would recommend for a friend
Roni S.

25.10.2016 (Edited 29.11.2016)
Ostin ensin yhden tällaisen (ja sellaisen pitkähihaisen sekä ne ohuet pitkätkalsarit) alusasuksi, mutta kun totesin sen käytössä älyttömän mukavaksi, oli pakko ostaa toinen. Sittemin olen käyttänyt mm. salilla ja muussa hikiliikunnassa, kaupungilla ja osana asukokonaisuuksia, niin ja tietenkin alusasuna.

Paljon miellyttävämpi kuin puuvillaiset vaatteet ihan joka tilanteessa, kuivuu todella nopeasti, eikä jää haisemaan raskaankaan hikoilun jälkeen. Oikeastaan ainut parannus mitä tähän toivon on hieman pidempi helma, niin että varmasti pysyy joka tilanteessa kunnolla housujen alla. Muutaman kerran on tullut tilanne vastaan kun vaimari on meinannut karata, tai on karannut, housujen alta.
2
0
I would recommend for a friend
Pyry P.

17.01.2018
Leikkaus paras mahdollinen vaimarille. Mukavan slimmi istuvuus, kangas just hyvän paksuista mutta puoli tähteä lähtee samasta syystä - venyy ehkä hiukan liikaakin ja saattaa kovassa menossa revetä. Mutta siinäkin kyseessä käyttäjäkohtainen ongelma
0
0