Camping with the Defence Forces
Share on Facebook
Laid-back camping and hiking is fine and a globally well understood thing. Among other things Finns sometimes do differently than others is military excercise and reservist training as a replacement for "civilian-style" outdoor pastimes. Making this choice means you voluntarily restrict your freedom (only for the duration of the excercise of course), but in turn you get to do interesting stuff in varying environments. Here are a few tips how to make most of military training trips.
If you never served in the Finnish Defence Forces, actually joining these courses is unlikely something you could do, but this article offers a point-of-view to the life of active Finnish reservists, which should be interesting and provide some tidbits of information to any outdoor enthousiast.
Set your attitude
Whether you're training with your Territorial Forces, signed up for an extra Refresher Training or gor a binding letter to join, or signed up at the National Defence Training Association (MPK), the single biggest factor in making it time well spent is in your head. Sometimes donning combat fatiques regresses guys back to a Beetle Bailey -level of lazyness, which is strange considering that joining the excercise was your own choice. Be active and open to everything you come across!
Participating in courses and excercises is a brilliant way to learn new skills, learn about yourself and get to know other people and things. I have personally learned something new everytime and met people I wouldn't have come across on a regular hiking trail.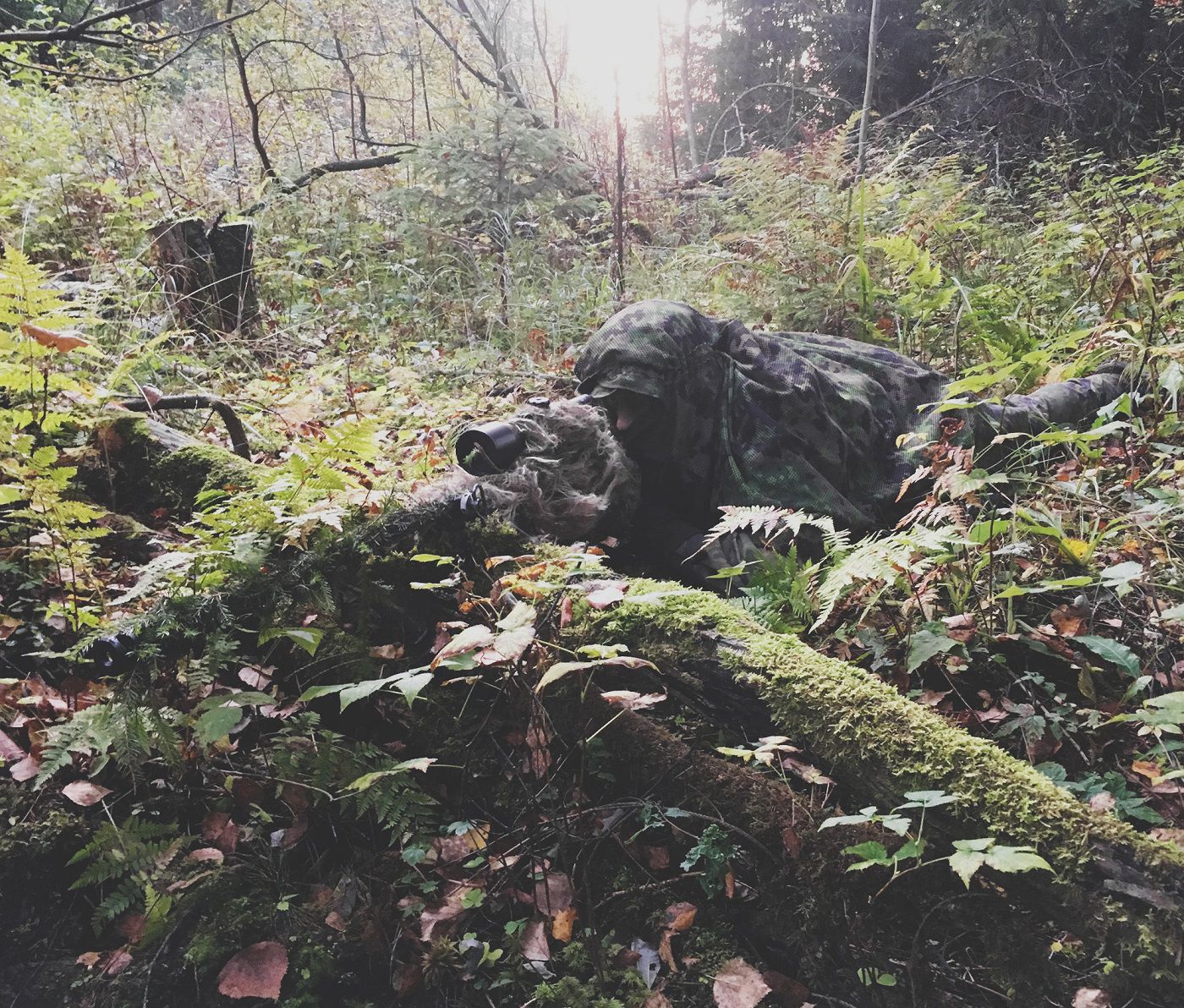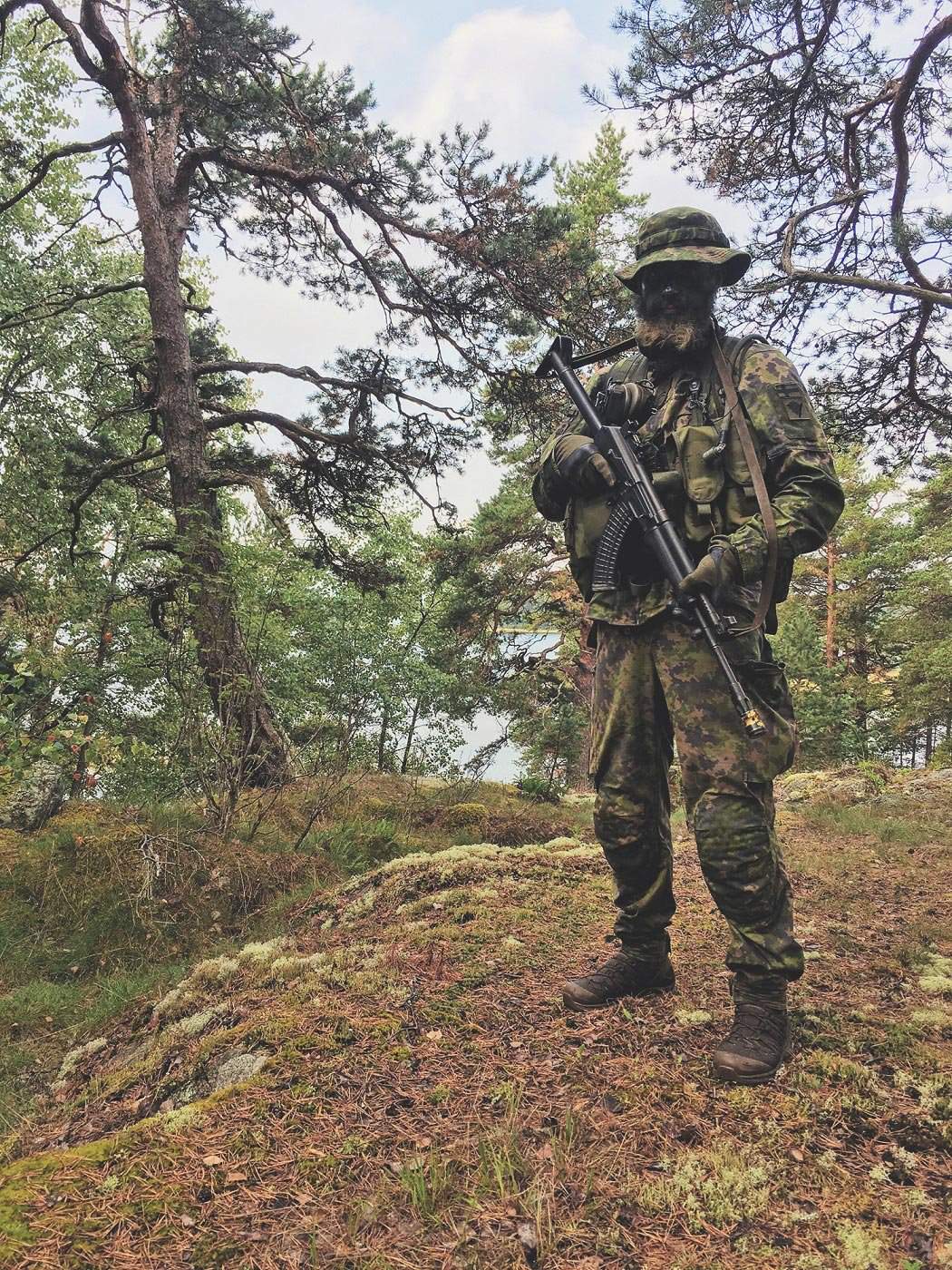 This sniper has a civilian life and day-job. Not all outdoor people wear bright hiking clothes!
Gear, program and food on the house
If you want to go into the woods with a low budget, military style might be the way to go: participants receive basically everything they need from the organizer. Simple and affordable!
Even if you stick mostly to government issue kit, consider using some items of your own. Things like your own underwear and socks make sense to have with you. Merino wool is the best stuff you can wear next to your skin. Depending on the time of year Särmä TST L1 boxers, T-shirt, Long sleeve shirt and Long johns are good choices. Also a neck tube or balaclava are good choices to control heat loss from the neck.
Knee pads offer a great amount of comfort and actual protection. For just a few bucks you can get a pair of inserts to slip into dedicated pockets on combat trousers.
Carry enough socks so you'll be wearing at least one pair and have another just in case. It's very likely that your feet get wet and having dry socks really boosts morale. Double socks are a good call if you move a lot on your feet, it helps against blisters. Two pairs of Särmä Merino Socks or Merino Socks and Boot Socks are good combinations, depending on your boots and time of year. Pro tip: if you use issue boots, at least bring your own insoles. They improve the comfort of issue combat boots or rubber boots tremendously.
Other things to complement your issued kit are a flashlight or headlamp with a red light option, knife or multi-tool, gloves or mitts according to time of year, at least a half-litre canteen, First Aid kit, firestarter and a Boresnake. A morale-boosting snack is also nice to have, and of course Scho-Ka-Kola.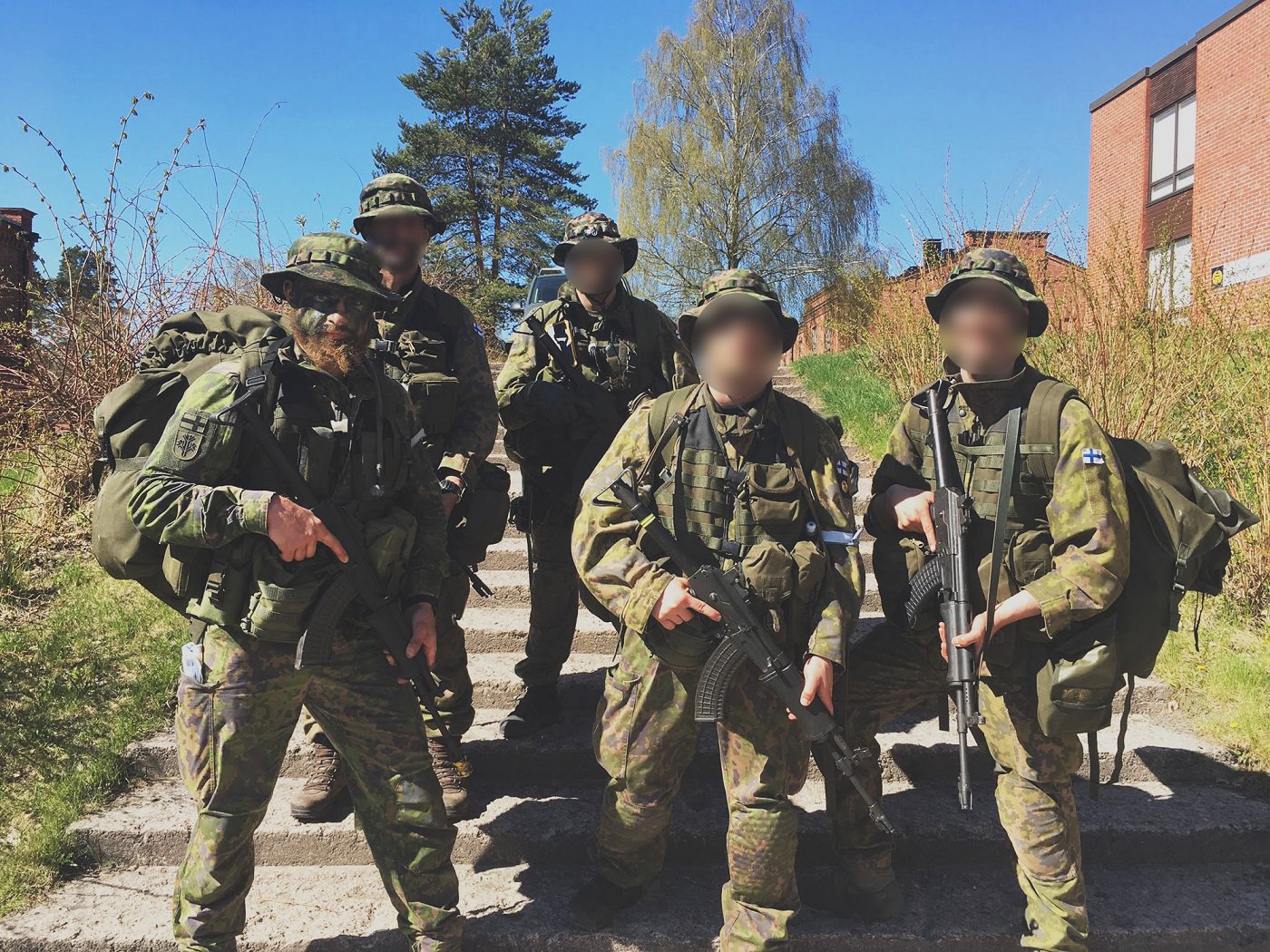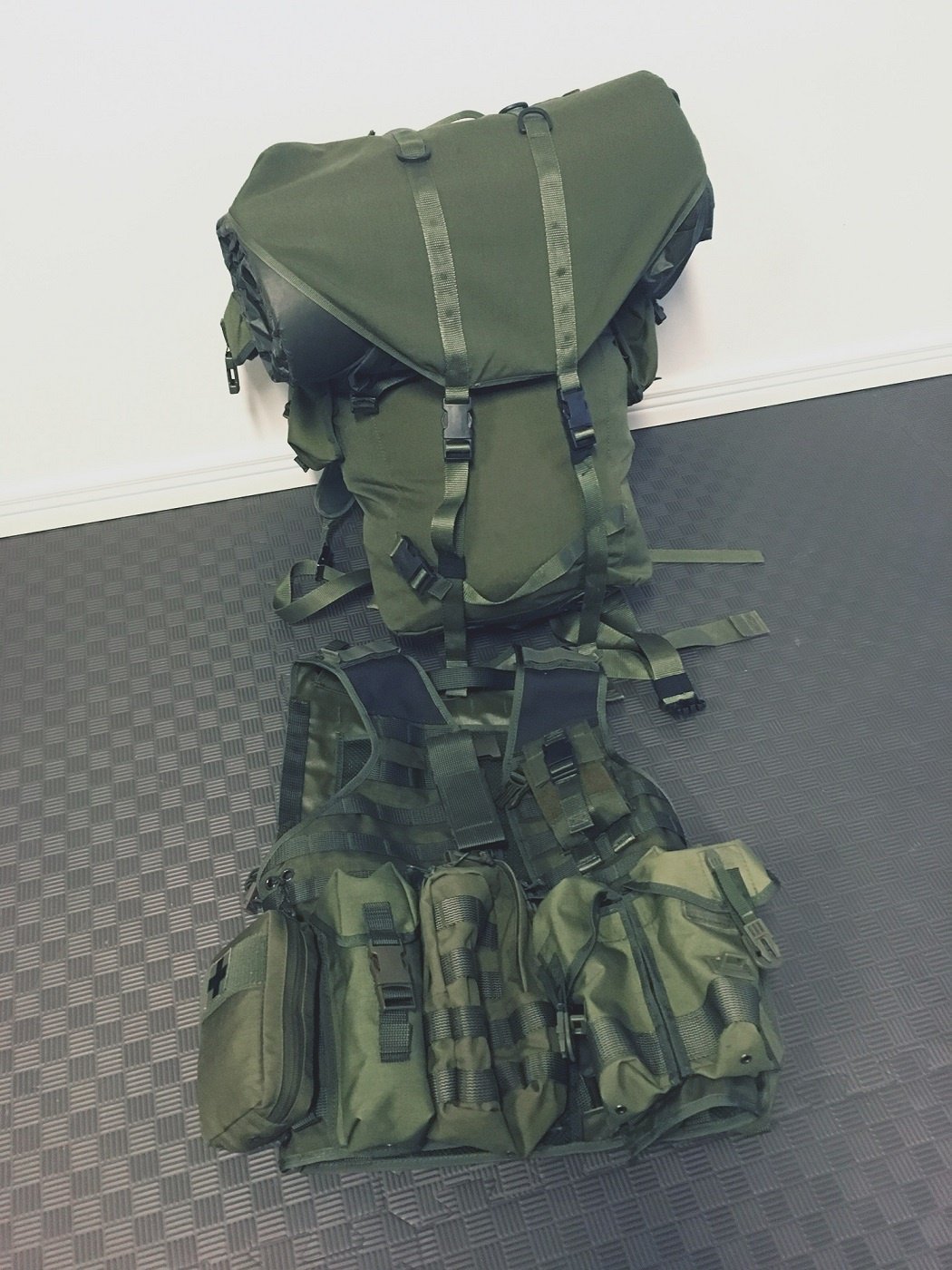 Finnish Coastal Jaegers beret march with issue kit, excluding clothes and boots. Also a rough example of issued backpack and combat vest.
Lift your spirit with proper gear
If you get bitten by the bug and want to improve your performance, you may want to invest in more personal gear. Should you choose to do so, you must understand the mission of the troops, your role as part of the team and the requirements outlined by these. You shouldn't carry unnecessary things and at the same time make sure you do have pieces of equipment that help you and your team to succeed.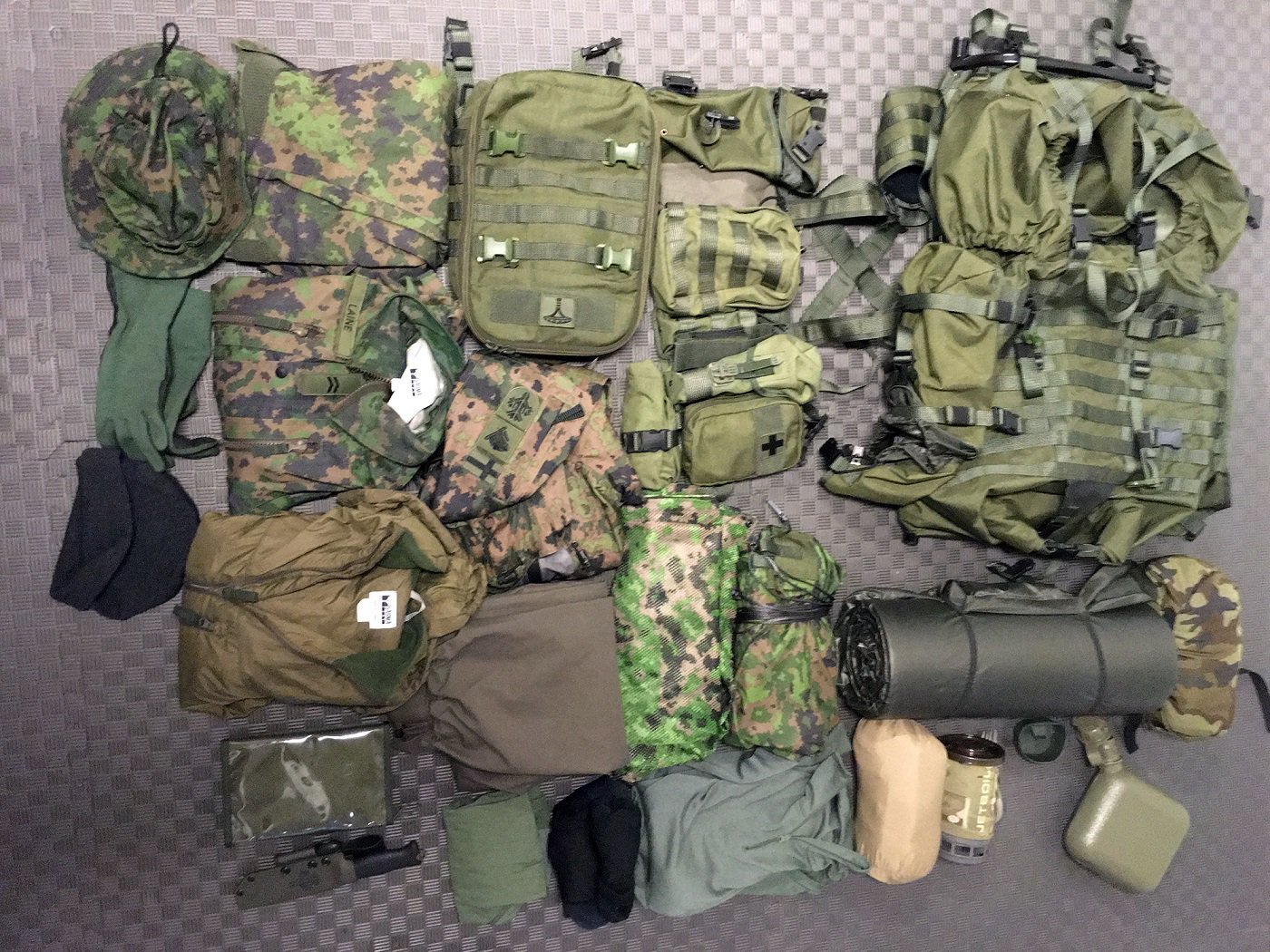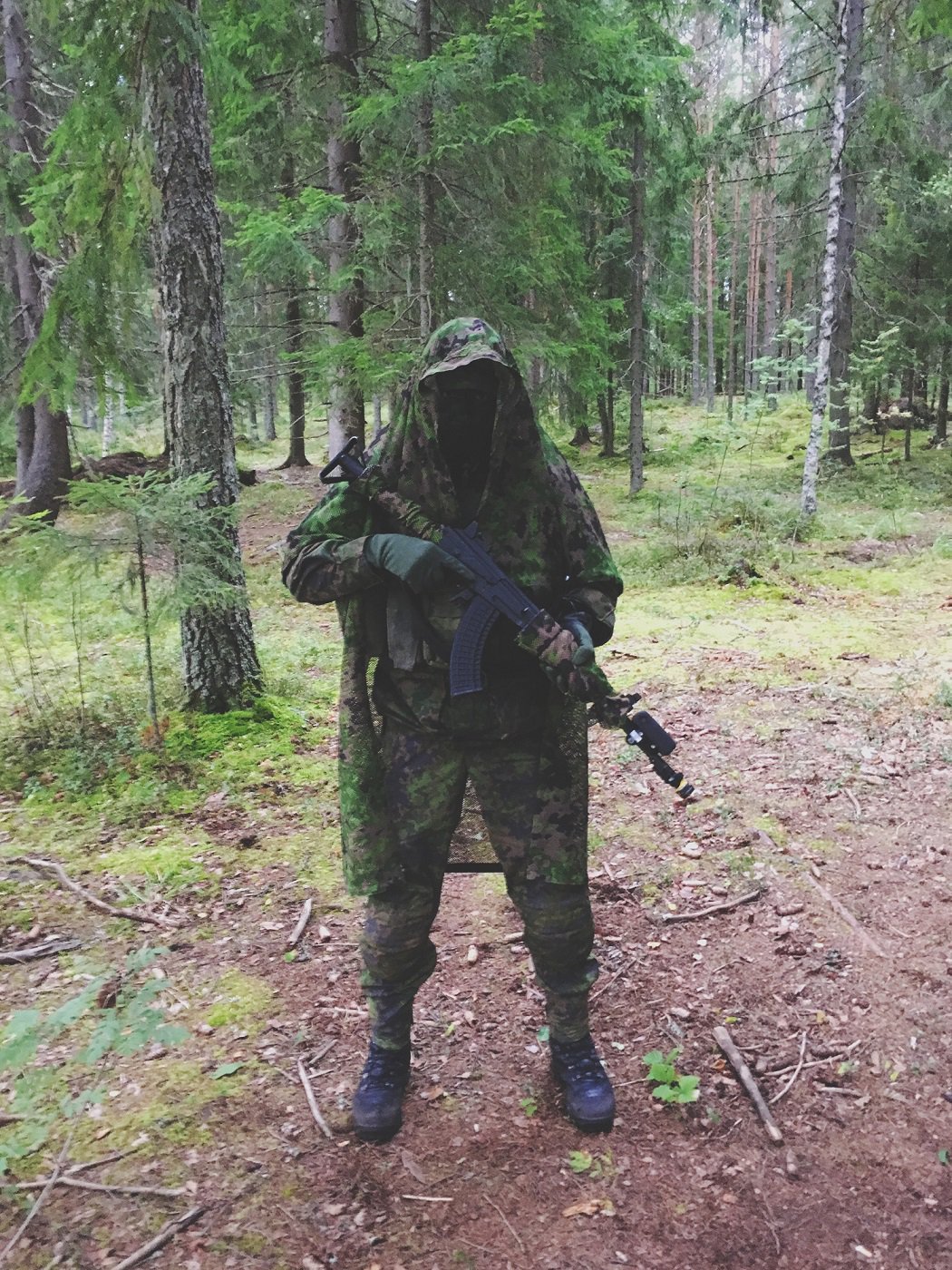 An example of a kit assembled for a recon excercise in October. Case by case having your own gear might help you a lot.
When it comes to clothes, you naturally choose Särmä TST M05 RES or the improved Särmä TST L4 Field Uniform. Other layers are chosen according to layered clothing principles from the Särmä TST clothing system. One mandatory thing to have is protection from rain, a rain cape or shell clothes. Even the most advanced rain dance doesn't hold a candle to forgetting your rain apparel, when it comes to having rainfall. For the weekend you don't need many pieces of clothing: something warm, spare socks, turtleneck and long johns suffice most often.
Your own footwear with proper insoles and double socks keep your feet happy. If it's a march, bring more socks to ensure that you can air your feet and put fresh socks on during every break.
When it comes to backpacks or rucksacks, the mission defines what you need. For recon a rucksack and daypack are a fairly obvious choice. For mechanized troops a medium to large backpack and a small daypack will most likely work well. Take into account any squad-specific equipment you might be tasked to carry: leave space in your kit after you have all personal gear packed.
Load-bearing equipment are also dependent on the mission of your troops and your own task within the group: how many mags you are likely to need, do you have a radio, optics, ballistic protection etc.? If you are fairly sure of what you're up against, you can base your combat vest on a Finnish M05 vest or Särmä TST ULW Chest Rig. If you're really sure of what you're doing and know you need it, a Sioen Tacticum (M13) or Särmä TST PC18 plate carrier might come into question, especially for door-kicking and other really fun stuff.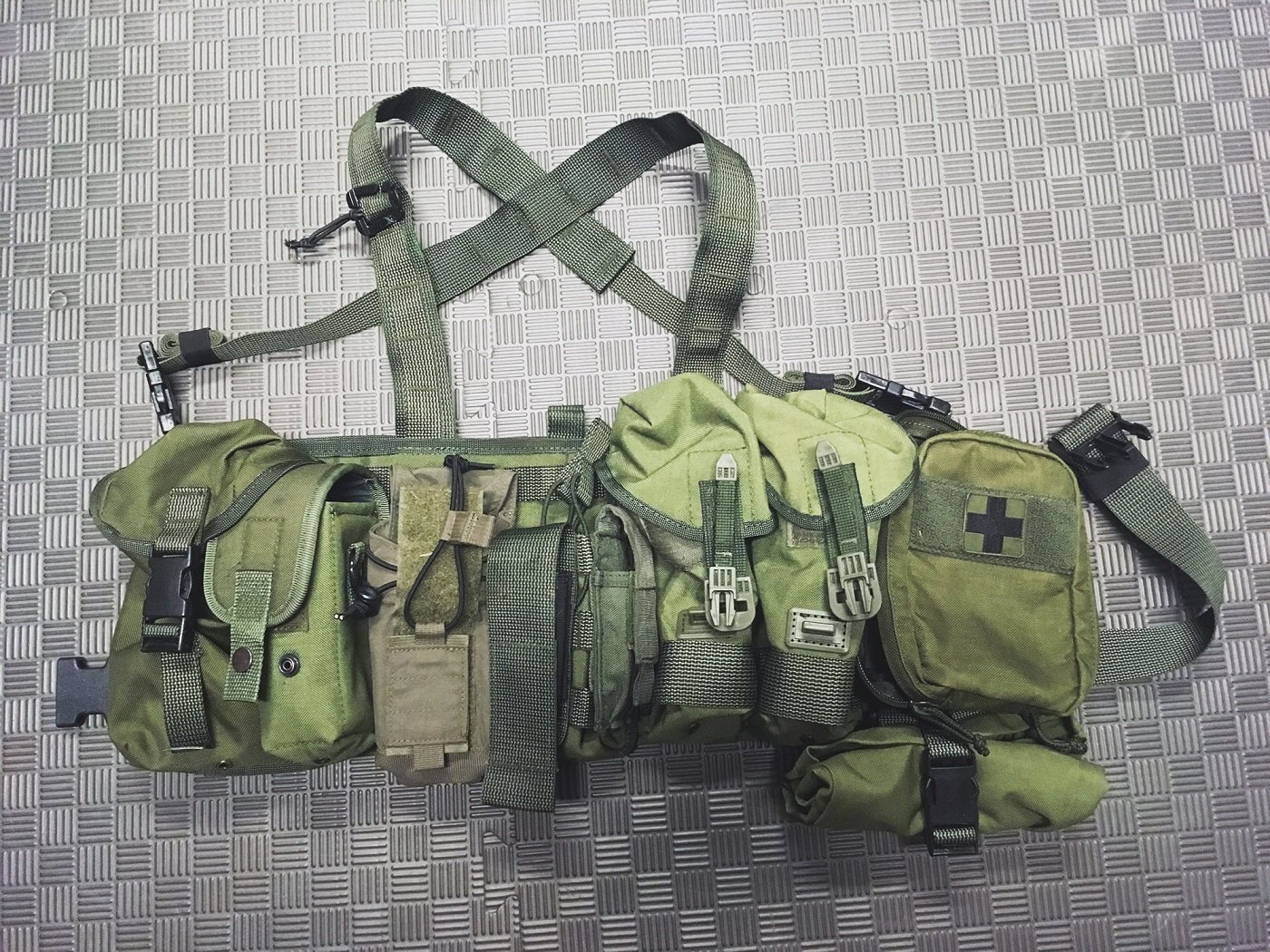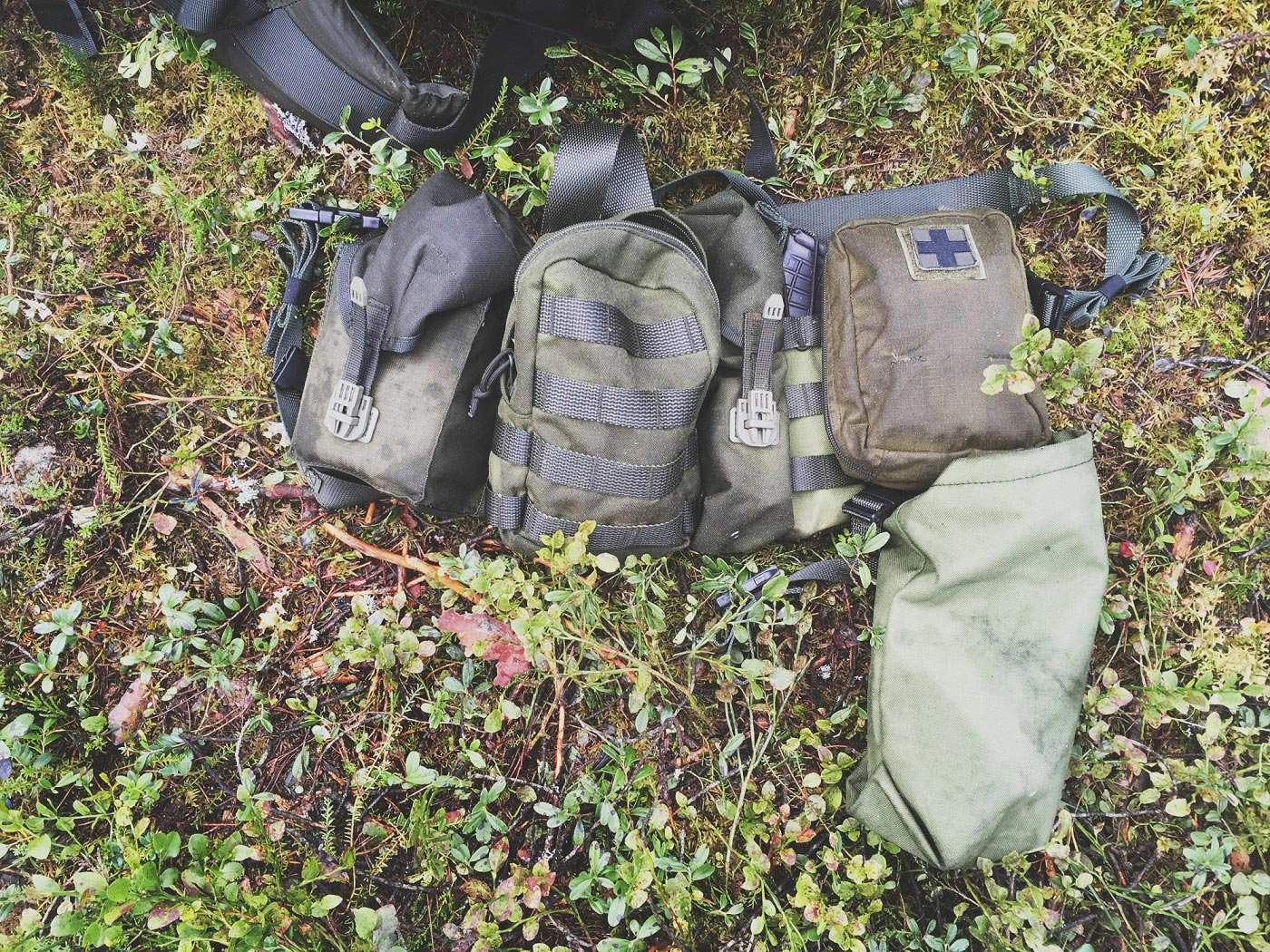 A couple of Chest Rig examples.
Other useful accessories are a simple flashlight with a red light option, knife, hydration, some kind of "Combat Office" and a good compass. A field stove and folding cup might serve a purpose, but again this depends on the excercise and your own preference.
How you sleep is also mission-specific. A good sleeping mat and a Carinthia M05 gets you a long way. In milder seasons a lighter bag and bivy-sack works better. If you're expecting to spend the night in the bushes without a tent, a rain cape or small tarp is good to have.
A common mistake in gear-whoring is gear-hoarding: trying to be prepared for everything under the sun and ending up carrying too much. I can't throw the first stone when it comes to this sin, but I've learned and want to spread the good word: keep it simple and light.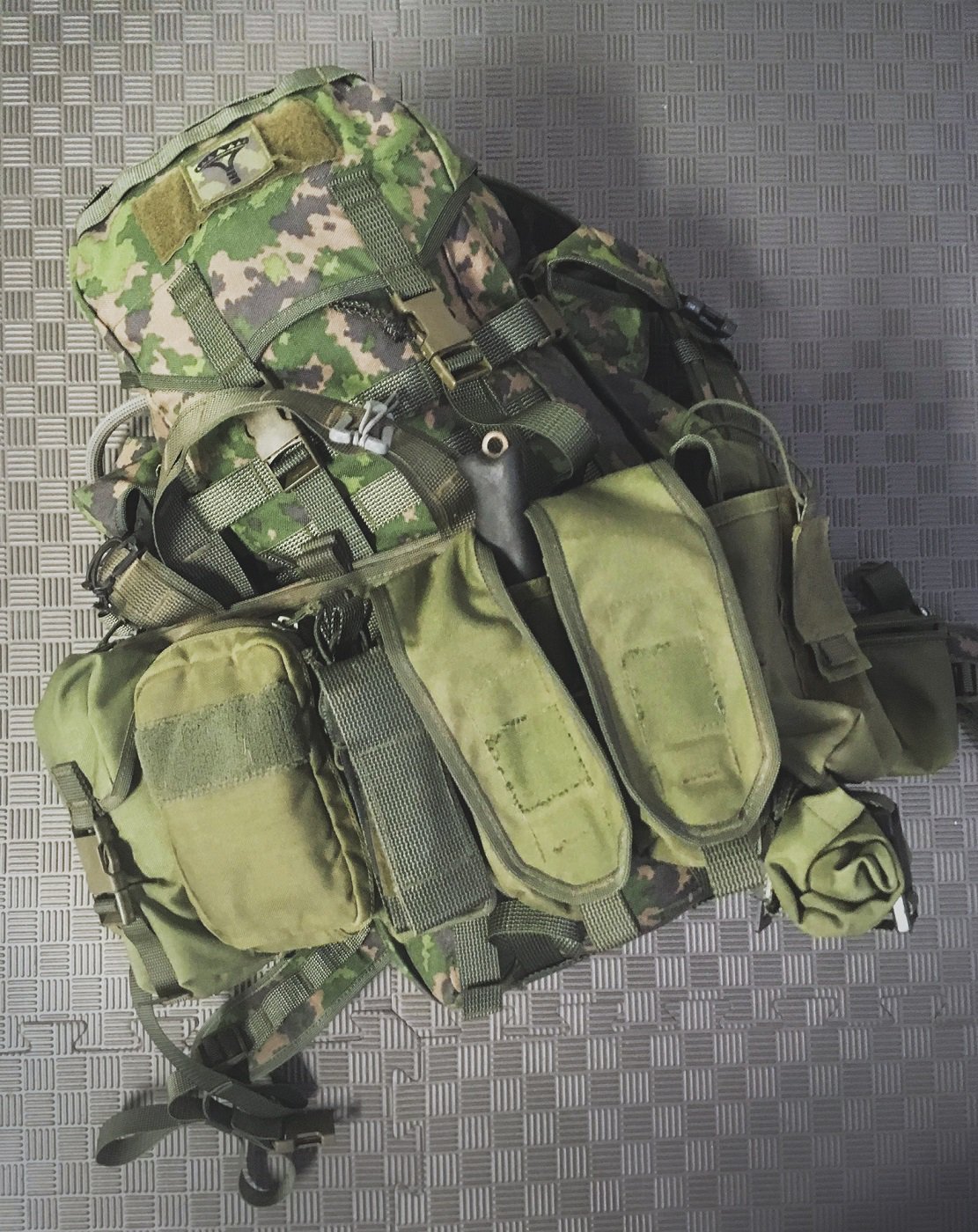 A light Jääkäri S pack for a weekend's recon gig.
How to get involved
If your country has an equivalent for The National Defence Training Association of Finland, chances are you can participate in voluntary training. Or simply join the army and see the world, right?