Product added to cart
X
Recommendations
Show all Recommendations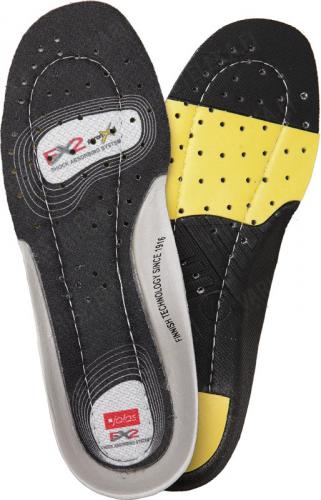 Jalas FX2 insoles
Price 21.99 USD excluding VAT
Flat Rate Shipping to USA $9.99
94 % recommends
Sold 106 pairs in the last two weeks
Loading products...
Trouble with the metric system? Try our converter:
The insole of the latest Finnish army combat boot is a giant leap forward from the old stuff. This is yet another step forward, with an additional cushion in the ball of the foot. "The best thing since sliced bread", as one of our employees has been heard exclaiming. Repeatedly.
Our best insole
Shock absorbing heel and ball of the foot
Top material Merino wool
An insole for demanding use
Essentially a shock-absorbing, ventilated, quite thick and wide insole. Features about 3 mm thick flexible cushion heel & ball pieces and superb arch support, which forms to support all individual arch shapes. If the insoles seem too wide for your shoes, carefully reshape the buggers with a pair of scissors. The insoles, that is.
Out of the box these will fit all Finnish army footwear, and most others, too (has been tested with Norwegian M-77 combat boots, to mention one). Should fit all hiking & military footwear.
Size info
Sizes in the standard EU/French system, with the actual millimeter length of the insole (measured from heel to the tip) in the brackets.
Made in Finland
Factory new, made in Finland by Jalas.
Staff comments
I do not exaggerate in the slightest when I say that these insoles revolutionized hiking for me. I've put quite a few kilometres behind me on foot, and I've always suffered from the same problem: the soles of my feet eventually go numb, then sore, after which things slowly slide over into agonizing.
This has traditionally been the limiting factor for how far I can push myself in one go, but no more! Thanks to the double shock absorbtion on these insoles, walking with them is like treading on a thin sheet of soft foam. This makes walking extraordinarily comfortable and sustainable; whereas I would usually feel the first symptoms of my feet going numb after about 10 km of marching, it took 30 km for things to get even slightly uncomfortable when using these insoles. This is a truly remarkable piece of kit that I recommend at the fullest to anyone who spends a lot of time on their feet, be it standing or walking.
Arne
Reviews
You have already submitted a review. You can edit your text by clicking on it.
Log in and write a review.
Remove filter
Suomi
(22)
English
(13)
I would recommend for a friend
Harri K.

11.11.2016 (Edited 18.11.2016)
- sängyn lisäksi köyhän ei kannata tinkiä kengistä, vaan ostaa hyvät
- näill pohjallisilla saa useimpiin kenkiin puhallettua sielun, totta!
- eli mitä vielä mietit?
15
0
I would recommend for a friend
Eetu L.

01.12.2016 (Edited 20.12.2016)
Nää kengissä on marssittu niin pitkään että on vaikea kuvitella elämää ilman näitä. Turhan paksut lenkkareihin mutta varsikenkiin passelit. Jos ikinä häviää markkinoilta niin tulee itku.
10
0
I would recommend for a friend
Tuisku S.

08.12.2016 (Edited 20.12.2016)
Parhaimmat pohjat kenkään kuin kenkään. Ergonominen muotoilu pitää huolen jalan mukavuudesta ja asennon korjauksesta paremmaksi kävellessä.

Vinkki: pohjallisten reiät tuppaa umpeutumaan nukasta ajansaatossa ja pistää jalkaterän alueen hikoilemaan, joten kannattaa puhdistaa uudestaan rei'ittämällä nämä. Pieni käsipesukin ei ole pahitteeksi (merinovilla?)kankaalle noin kättä lämpimämmässä vedessä, joka on pohjallisessa päälimmäisenä..
9
2
I would recommend for a friend
Mikko J.

29.12.2016 (Edited 30.12.2016)
I would recommend for a friend
Vili K.

11.01.2017
Ostin nämä BW:n 2005-mallin maihareiden kaveriksi. Tuntui ensin vähän tyhmältä ostaa yli 20 euron pohjalliset 60 euron kenkiin, kun en oikein ymmärtänyt pohjallisten päälle. Nämä kuitenkin nostivat kenkien käyttömukavuuden ihan uudelle tasolle. Ihan helvetin hyvät pohjalliset! Vaikuttavat myös pitkäikäisiltä, sillä vielä yli 2 vuoden aikana tehtyjen reissujen jälkeenkin pehmustemateriaalit palautuvat aina alkuperäiseen muotoonsa.

Koko on tosiaan aika reilu, sillä koon 45 BW-kenkiin meni juuri sopivasti koon 44 pohjallinen.
9
0
I would recommend for a friend
Juho M.

13.01.2017
Tosi hyvät pohjalliset. Näiden kanssa kävely on tosi pehmoista, ihan niinkuin vaahtomuovilla astelisi, ja pidemmän päälle seisominen ei tuota minkään sortin särkyjä tai epämiellyttävää tunnetta. En kyllä enään koske kenkiin ilman että sujautan FX2 sisälle!
5
0
I would recommend for a friend
Mikko L.

15.01.2017
Parhaat pohjalliset. Eikai sitä muuta voi sanoa. BTW Sievin omassa liikkeessä maksoi ~30% enemmän :/
3
2
I would recommend for a friend
Oscar N.

16.01.2017
Mitkä tahansa kengät paranee näillä. Jos sinulla ei ole näitä pohjallisia jo, lopeta liike ja hommaa tämmöiset heti!
6
0
I would recommend for a friend
Henna I.

24.01.2017
I would recommend for a friend
Atte L.

21.05.2017
Aivan loistavat jalan parhaat kaverit, väitän että patikointikilometreistä noin 25% olisi jäänyt talsimatta ilman näitä, asvaltilla yhtäjaksoisesti marssiessa selviän jopa 50% pidemmälle. Pohjan pehmusteet ovat yllättävän kestävät, ennemmin kuluu päkiän päällikangas puhki kuin pohjan vaahtomuovi. Kannattaa kuitenkin välillä kaivaa nämä ulos kengistä ja putsata ilmareiät, keräävät roskaa nukasta neulasiin.
3
0
I would recommend for a friend
Ville L.

02.08.2017
Oikein mainiot pohjalliset. Pieni miinus siitä, et natisivat aluksi aika pitkään Särmä nilkkavarsikengissä. Merinivillapäälisen ansiosta eivät ala löyhkätä kuolemalle.

43 pohjalliset menevät kannasta aavistuksen ryppyyn 43-numeron nilkkavarsikengissä. Liekö natina johtunut siitä.
1
0
I would recommend for a friend
Teemu L.

03.08.2017
Ostin nämä Hanwagin vaelluskenkien kaveriksi, toimi erittäin hyvin erämaassa talsiessa. Erityisesti päkiän iskunvaimennus on loistava, muutaman kymmenen kilometrin päivämarssit meni niin että jalkapohjissa oli vielä illalla tunto ja nahkat tallella.

Kokoa piti vähän hienosäätää saksilla että mahtuivat kenkiin, ei tuntunut haittaavan mitään.
1
0
I would recommend for a friend
Henrik L.

22.08.2017
Simply exellent and wide enough not to leave the outsides of my feet without support!
10
0
I would recommend for a friend
Ville V.

14.09.2017
Erittäin hyvä myös erik. jääk. vaelluskenkään!
1
0
I would recommend for a friend
Atte M.

27.09.2017
Luultavasti paras hankinta minkä tein inttiä varten. Ei voi muuta sanoa kun että on hyvät.
4
0
I would recommend for a friend
Alvaro V.

30.09.2017
Oh boy, they're comfortable
11
1
I would recommend for a friend
Alvaro V.

30.09.2017
Oh boy, they're comfortable
10
1
I would recommend for a friend
Luke M.

17.10.2017
Fairly comfortable, fit my boots perfectly, no complaints.
2
0
I would recommend for a friend
Perttu T.

22.10.2017
Muuttavat hieman huonommatkin kengät mukaviksi kävellä
1
0
I would recommend for a friend
Jan T.

10.11.2017
I would recommend for a friend
Pyry P.

09.12.2017
Intissä kymmenien kilometrien marssi sujui todella kevyesti näiden ansiosta. Lisäksi tämän jälkeen seisomatyössä pitäneet jalat kunnossa. Pitkäikäiset ja hyvälaatuiset. Ostakaa ihmeessä tähän hintaan.
0
0
I would recommend for a friend
Elliot Ö.

28.03.2018
Was going to wait with a review until after some proper field usage, but after forgetting my work shoes at home I ended up using my M90 boots for a full 11 hours straight on asphalt and concrete floor, and most likely thanks to these insoles I did not feel any fatigue in my feet despite my average of about 18000 steps a day.

I cant imagine any thougher real life testing than that to prove how good they are.

They are also Swedish M90 boot compatible, and that in its self is worth a 5/5 rating. (Wide front section is impossible to find proper insoles for)
4
0
I would recommend for a friend
Wulfric H.

07.04.2018
I would recommend for a friend
Markus P.

06.05.2018
Näiden avulla saanut otettua käyttöön vanhoja kenkiä, jotka olivat lojuneet laatikossa pitkään, joissa pohja niin ohut, että jalkapohjat kipeytyivät käytössä. Useampi pari tullut ostettua ettei tarvitse vaihdella kenkien välillä vaan jokaiselle käyttöparille oma.
1
0
I would recommend for a friend
Ryan B.

30.06.2018
Completely revitalized an old pair of boots i couldn't wear anymore.
3
0
I would recommend for a friend
Henri L.

Varusteleka employee

01.08.2018
Aattelin, että nää olis aika hyvät kunnon huonoihin brittiläisiin nilkkakenkiin. No, kurjat muoviritiläpohjalliset ulos, FX2-pohjalliset sisään. Asennusoperaation jälkeen tuntuivat ihan eri kengiltä. Vähän aikaa käytin, mutta rupes hävettämään - vähän kuin olis päässyt jostain tentistä läpi törkeästi huijaamalla. Vaihdoin takaisin ne alkuperäiset muoviritiläpohjalliset ja tungin nää hyvät sitten toisiin monoihin. Sitten ostin myöhemmin parit lisää. Myös pohjallisia. Ekat FX2-pohjalliset ovat vielä monen vuoden jälkeen käytössä.

Toimivat tosi monissa leveämpilestisissä jalkineissa, etenkin sotilasmonoissa. Nämä pehmentävät askelta just oikeista kohdista. Päivän päätteeksi kannattaa ottaa kengästä ulos hieman kuivumaan, saa kenkäkin happea. Suosittelen tosi paljon. Näitä voi hieman leikellä muotoonkin jos tarvitsee, muttei kovin paljoa.
1
0
I would recommend for a friend
Robert Z.

04.08.2018
Pros: These are very well made and after six months of use they are holding up well.
They are comfortable to walk on. I mean they are not slippery like some insoles.
Cons:They are not as well padded as the description suggests. I have used these in two types of footware, surplus BW boots and walking shoes. They are not enough for the boots but good enough for the shoes that have some padding of their own.
Mine squeak when I walk. The did this in both boots and shoes.
5
0
I would not recommend to a friend
Kimmo J.

04.09.2018
Narisee kengissä (varsinkin saappaissa). Ei sovi siksi hiljaisuutta vaativaan hiippailuun. Pehmennykset jalkapohjan alla ikäänkuin vähentävät tuntumaa alustaan ja tekevät askelluksesta epävarmaa.
2
11
I would recommend for a friend
Tobias M.

07.02.2019
I would recommend for a friend
Farasha E.

11.03.2019
Best insoles ever.
1
0
I would recommend for a friend
Andrés S.

15.04.2019
Work exactly as advertised.
2
0
I would recommend for a friend
Keijo K.

17.04.2019 (Edited 17.04.2019)
Muutaman kuukauden ollut päivittäisessä käytössä ihan normaali jalkineissa. Ongelma on ollut, etta vasen jalka ihan paskana ommeltu mm. noin parisataa tikkiä useassa leikkauksessa ja jalkapohjaa alkaa sietämättömästi polttelemaan, kun vähän aikaa seisoskelee tai kävelee. Nämä auttoivat aika hyvin tilanne parani huomattavasti. Ostin toisetkin muihin kenkiin.
0
0
I would recommend for a friend
Frank S.

13.06.2019
These are great. I got a pair because I busted a meniscus last winter and need better shock absorbing. If I wear normal street shoes, a fast step off a sidewalk already hurts my weakest knee. Wit the Jalas soles in my hiking boots, I can jump out of the basket of my hot-air balloon (while it's standing on the ground, not during flight!). Today I did a hike up and down a volcanic mountain, pretty steep, some scree, big steps, small, jumps, rough paths - I hiked for three hours plus an hour or so of lunch break. Without my knee brace and without painkillers. With these soles it's like I float. Magic carpet. I took it easy, not fast, but carried a day pack (guess which...) with the neccessities one is supposed to take up on a mountain where the wind blows so hard it almost blows your sunglasses off your face. And it worked. I had expected to suffer a lot, but in the end, didn't. Thumbs up for these insoles.
I showed them to my physiotherapist and she immediately recognized them - 'oh, I know these, they are really good'. And yes, someone imports them in France - but at exactly twice the price you guys ask for them. That, my therapist knows also - the importer maked a huuuge margin on them here, which is why many people don't buy them.
But I know this secret place in Helsinki where you can get good stuff at a fair price, ha ha. So I ordered another pair. I want these in every hiking/safety boot I wear.
Combine these with the thick Särma merino hiking socks and you walk on clouds. Just buy your boots roomy.
1
0
I would recommend for a friend
Arian W.

29.08.2019
These are amazing for the price and they fit the old leatber jackboots as well. Who would have known that over half a century old boots could be so comfortable. They are great at spreading the pressure over the whole foot. The shock absorption is great but not the best i have ever had. Iam ofcourse comparing this to 60 euro insoles so before taking this as critisism, take a look at the prices again.
2
0
I would recommend for a friend
Bjornar M.

04.09.2019
Measure your boot and you get a perfect fit.
Very comfortable with just the right amount of dampening without getting to soft and spongy.
Heel cup to keep everything in place and reduce rubbing.
They are wide as they are made for us nordic neanderthals that have wide feets since we walk a lot.
Made in Finland, perkele!
0
0
I would not recommend to a friend
Vikke H.

01.10.2019
Nämä tulivat matkassa Jalaksen Fantom Drylockien kanssa. Metsästyskäyttöön kengät hankin, mutta ensimmäisellä reisulla huomasin hirveän vingunnan. Luulin aluksi että kengät ääntelevät uutuudenkarheuttaan, mutta pian huomasin että ääni tulee sisäpohjallisten kumityynyistä. Metsässä kävellessä sama ääni kuin kumipohjaisilla kengillä sisällä. Ja tämä äänen siis todellakin huomaa! Vaihtoon meni kun ei hiivinnästä tule nuiden kanssa mitään, eikä pystynyt muidenkaan kenkien kanssa käyttää kun ääni alkoi hävettämään. Tämä vähän reilun 130kg:n elopainolla, kevyemmillä hepuilla ei välttämättä tätä ongelmaa ole. 2 tähteä sillä pohjat olivat kyllä mukavan tuntuiset.
0
0