Carinthia Finnish M05 sleeping bag
Price 183.99 USD excluding VAT
Trouble with the metric system? Try our converter: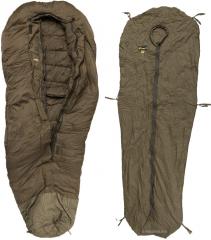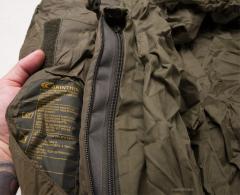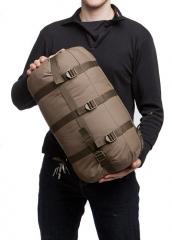 When you're looking for a year round sleeping bag, you know you can't go wrong with current issue Finnish army gear. These are made by Carinthia, the model is in use by our armed forces. Included is a liner and a compression sack.
Three season bag: Comfort -15° C
Weight about two kilograms, or 2,8 kg for the set
Military grade materials
Spark protected foot end
Cotton liner included!
As this is designed for military use, the materials and overall properties are all made with that in mind, so the emphasis is more towards durability and reliability.
Comes with a compression bag, which is compressionable both height and lengthwise. Also included is a liner bag to extend the life of the sleeping bag itself - just wash the liner when required and leave the bag alone.
Bag model
The mummy shape: Here the criteria of stuff size, weight and warmth are most important. The tapered foot section reduces weight and stuff size. The main advantage is, however, that from the knee downwards there is less internal volume to keep warm. A wedge shape, declining evenly in width from top to bottom, does not fit the true proportions of the body.
Two-way zipper: All Carinthia military sleeping bags are equipped with a two way zipper. The upper glider does not stick, allowing a quick step out if necessary (in case of alert for example). The bottom glider is stickier and can be opened for ventilation.
Trapezoidal foot section: Experience has shown that the trapezoidal cut provides the ultimate foot space. In a normal sleeping position, the feet do not poke the insulation outward, avoiding cold spots. There is also enough room to store a shoe bag or extra clothing. Moreover, a Finnish specialty is an extra fire retardant fabric on the outside to prevent sparks from damaging the bag.
The outer shell fits loosely over the bag innards, providing an extra insulating layer of air. This also eliminates heat loss due to seams combining the shell with the fillings. Overall this feature enhances the bag's performance considerably!
Materials
Shellproof outer shell - a lightweight, hard wearing, ripstop reinforced and specially treated polyamide which is both wind and waterproof (1000 mm), yet breathable.
Shelltrans lining - a soft to the skin ripstop reinforced polyamide with excellent moisture wicking capabilities keeps you comfortable through the night.
Thermoflect, a very thin, very lightweight aluminum material which reflects body heat. Thermoflect raises the sleeping bags heat-retaining capacity by about 11 %.
G-Loft filling - Carinthia's own, in-house hollow fiber, made in Austria. Highly compressible, excellent weight-insulation ratio and also moisture resistant, meaning that it will work even under long term use in damp conditions.
Double layered G-Loft filling. Two G-LOFT Plus insulation layers are arranged in such a way that the quilting is offset. The shell is attached afterwards, creating a further layer of air between the quilted insulation and the shell. With no stitch perforations in the shell, it is fairly water resistant and free of unintended ventilation.
Carinthia sleeping bags are not entirely PFC-free, but do have the Oeko-Tex certificate, Standard 100.
Temperature recommendations and size
Comfort -15° C / 5° F
Extreme -38° C / -36.4° F
Good enough for around the year use, when it gets really cold just add a liner or shell bag (we recommend the Defence 1).
Weight 2800 g for the whole set, full length 215 cm, shoulder width 87 cm.
Made by Carinthia
Carinthia is a well known sleeping bag and existence gear manufacturer. Outside of their homeland Austria they have equipped many European countries, including scandinavia and our very own Finnish Defence Forces too! Carinthia manufactures their products in Moldova.
Reviews
You have already submitted a review. You can edit your text by clicking on it.
Log in and write a review.
Remove filter
Suomi
(10)
English
(6)
I would recommend for a friend
Atte M.

05.07.2016 (Edited 12.06.2017)
Tällä säkillä nukkuu kuoripussin kanssa lumikuopassa hyvän makuualustan avustuksella vielä kolmessakymmenessä pakkasasteessa. Ei välttämättä hyvin, mutta nukkuu kuitenkin. Tämän hintaiseksi pötkyläksi erittäin hyvä.
8
5
I would recommend for a friend
Roger S.

01.11.2016 (Edited 27.04.2017)
Great quality, nice attachment for liner which keeps it very well in place: it is completely zipped in!
Bag is really warm. I just love this bag!
15
0
I would recommend for a friend
Oskar G.

30.01.2017 (Edited 30.01.2017)
Very narrow around the shoulders. At least for a normal man xl/xxl.
9
39
I would recommend for a friend
Jesse V.

16.05.2017
Savotan makuualustan ja Belgialaisen ylijäämä bivacin kanssa lyömätön! -15 pakkasilla nukuttu taivasalla ko. yhdistelmällä vaikka kuinka hyvin, (ilman sen kummempia eristyksiä). Ehkä aavistuksen kookas kesäreissuille vaikka harjaantunut kompressiopussin käyttäjä mukavan pieneen pakettiin tämän saakin. Passattavissa kuitenkin vaikka hellepussiksi juurikin tuon sisäpussin ansiosta!( Hox! sisäpussinpesulla välttyy itse pussi kulutukselta 9/10 tapauksista) Kaikenkaikkiaan jäätävän hyvä pussi! Harkitulla eristämisellä( havut, lumi..ect) ei reissu jää pussista kiinni!
6
1
I would recommend for a friend
Joonas K.

21.06.2017 (Edited 29.08.2017)
Tuli tilattua viime vuonna tämä Lekasta ja on kyllä ollut joka pennin arvoinen. Huippulaadukas ja mukana tulee tosiaan sisäpussi ja kompressiopussi. Kipinäsuoja on vain plussaa. Toistaiseksi en ole kunnon talvitestejä ehtinyt tekemään, mutta viime pääsiäisenä tuli nukuttua n. -2 asteessa pelkissä boksereissa täysin ongelmitta.

-
-

I ordered this last year and it has been worth every penny. Excellent quality and it comes with the inner and compression bags. The spark shield is also a big plus. I didn't get to winter-test this last winter, but last easter temperature being roughly -2 celcius, I slept like a baby wearing nothing but my boxers.
2
1
I would recommend for a friend
Joonas Y.

25.07.2017
Laadukas tekele. Ei todellakaan sovi kesäpussiksi, ellei sitten tykkää hikoilla nukkuessaan.

Sisäpussi on kiva hygieniasyistä, mutta todella rasittavan tuntuinen. Itse ainakin sotkeudun siihen jatkuvasti, ja sitä saa jatkuvasti potkia suoraksi pussin sisällä. Ehkä olen ollut hiestä nihkeä ja siitä syystä tarttunut kiinni? hmm.

Anyway, laatutuote mikä todennäköisesti kestää loppuelämän, ellet itse pilaa sitä.
6
1
I would recommend for a friend
Kalle H.

18.09.2017 (Edited 18.09.2017)
I would recommend for a friend
Roope K.

04.04.2018
Ostin tämän SA pussin kovilla odotuksilla, pussi on laaduukaasti valmistettu ja viimeistä piirua myöten käyttö tavaraa. Pussissa ei ole mitään hienoja ominaisuuksia kuten arvotavara pussia tai lämpökaulusta, mutta mihin niitä tarvitseekaan. Itselleni pussi oli aivan liian iso, vaikka itse pidänkin olevani keskikoinen tai hieman kookkaampi. Pussin sisälle mahtui itseni lisäksi tyttöystäväni, joka kertoo jo pussin koosta. Pussin sisällä pystyin myös mukavasti riisumaan kaikki muut vaatteet pois, siis pussin ollessa kiinni. pussissa oleva sisäpussi on hieman ärsyttävä ja liikkuu ympäriinsä, mutta muuten kelvollinen. Mutta mikäli nämä eivät haittaa voin suositella pussia kaikille jotka haluavat pussin jonka kanssa voi nukkua säällä kuin säällä, pussihan on siis veden "pitävä" tai ehkä enenmmänkin roiskeen pitävä. Tuulen pussin materiaali pitää poissa erinomaisesti. Varmasti parhaita pusseja hinta-laatusuhteelta mitä rahalla saa.
1
1
I would recommend for a friend
Tish T.

18.08.2018
I utilized the M05 Carinthia sleeping bag (in my Dutch army surplus gore-tec bivi bag and Finnish sleeping pad in the rain - approximately 15-18 degrees Celsius). The bag is very well constructed, and kept me quite dry. I purchased the bag instead of the Carinthia Defence 4 because the M05 comes with a liner, which is already zipped in. I only recently received the bag, and we are going through a very hot summer in Canada. From looking at the bag and comparing it with my other sleeping bags, I believe the M05 is suitable for 4 seasons, with a liner bag, for Canadian winters, but I will have to field test it in a few months. The bag is clearly very durable, which is best suited for my frequent outdoor expeditions where I need durability more than "ultra-light" but somewhat fragile kit. I will now be looking at the Carinthia Tropen, and Defence 1 sleeping bags to supplement the M05 in winter. I am not sure which one to get.
2
0
I would recommend for a friend
toby c.

09.10.2018
Toasty warm, durable. Great amount of loft to it.

I can see what another reviewer said about being narrow around the shoulders. I found that to be true when first getting into it, but after getting situated it's quite comfortable for me.
0
1
I would recommend for a friend
Mika K.

24.12.2018 (Edited 15.12.2019)
No nyt on pussi kunnolla testattu. Yötä laavulla (22.-23.12. 2018) ja pakkasta -21 raatia. Kaksi Kairan XXl alustaa á 15mm pehmikkeenä ja eristeenä. Itsellä päällä Boxerit, Särmä TST L1 kerrasto, M91 poolo ja Teesar ECWCS L2 Gen III housut, SA alus- ja FoxRiver saapassukat. Rajoilla oltiin ton comfortin kanssa, mutta tarkenin, vaikka ikääkin on jo +50v.
Kaikkien eurojen arvoinen ostos.

Well, now this sleeping bag is properly tested at outdoors ... just before christmas. Night @ Wicket / Lean-To (made of logs). Temp. -21C / -5,8F. 2 x Kaira XXL mats, 15mm each. I was wearing ... Boxers, Saerma TST L1 baselayer, SA M91 poloshirt, Teesar ECWCS Gen III L2 pants, SA under- and FoxRiver wicker boot socks. In the limit for me as in comfort, but i survived. Thou, i'm beginning to be 2 old for this kind of extremism (+50 yrs.). :-) This sleeping bag is worth every cent. IMO.
0
1
I would recommend for a friend
Farasha E.

12.03.2019
Warm is an understatement. Only for the coldest of nights, but fantastic to have when you need it.
2
0
I would recommend for a friend
Jani V.

20.04.2019
Tosi laadukas ja mukava pussukka,nyt eka yö menty taivasalla jokivarressa napapiirin paremmalla puolen vain muutama miinusaste pakkasta,ei tämä mikään teltta kokonsa puolesta ole mikä arvelutti itselläkin eikä sen sisäpussin kans ole mitään ongelmaa,ei tästä viittis noussa koko päivänä,joka ruplan arvoinen säkki.
2
0
I would recommend for a friend
ANDERS B.

03.09.2019
I used this over the long weekend with my hammock and I've got to say it's one of the most comfortable sleeping bags I have ever slept in. During the day it was warm and dry (around 20 degrees) but during the night it was getting a bit chilly (around 10 degrees). I didn't use an under quilt or a fly with my hammock because there was no call for rain and I wanted to see how warm and dry the sleeping bag would keep me. Honestly it felt like I was wrapped in a summer cloud. Like one of the fluffy ones you spot lazily rolling across a bright blue sky, all while resting in a nice grassy field. I especially loved the middle zipper design, which made getting in and out a breeze. I can't wait till winter comes so I can really see what its made of!
(My dimensions are 175 cm, ~80kg)
1
0
I would recommend for a friend
Alex T.

24.09.2019 (Edited 24.09.2019)
Puolustusvoimen palveluksessa hyväksi testattu, varsinkin jos lähivartio lämmitti kaminaa mansikaksi... Makuupussilla pärjää hyvin kylmässä, mutta kesällä voi tulla kuuma. Sekin, että sisäpussi sisältyy hintaan on +++ suoritus. Niinisalossa ei sisäpussien luksusta ollut, joten hienoa päästä kokeilemaan sitä. Todelliset patriootit ostavat vielä M05 -alustankin.
2
0
I would recommend for a friend
Jeremias M.

24.09.2019
Kivaa ostaa ja omistaa kunnollista tavaraa jota ei ole lapset huonosti valmistaneet.
3
0