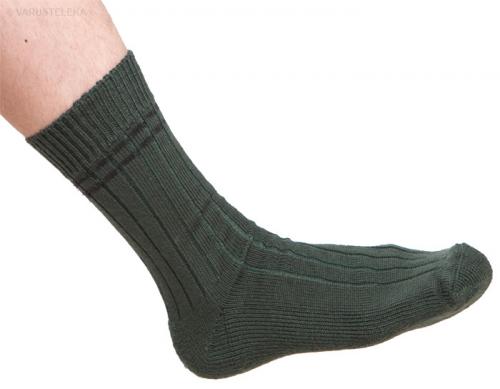 Särmä TST Boot Socks, Merino Wool
Price 12.99 USD excluding VAT
Flat Rate Shipping to USA $9.99
96 % recommends
Sold 197 pairs in the last two weeks
Loading products...
Trouble with the metric system? Try our converter: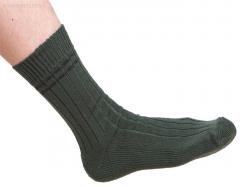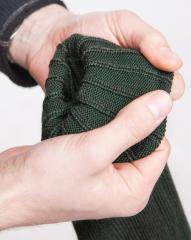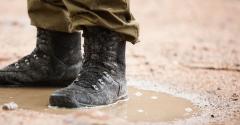 The Finnish army boots socks are real good, but make them out of quality merino wool and they get even better! Just like our army issue socks, but a little better in every way. The natural moisture wicking properties of merino wool make these a viable option for around the year use.
A good sturdy boot sock
Terrycloth underside
64 % merino wool, 36 % polyamide
Merino wool makes for a perfect base layer, to minimize chafing you can wear thinner socks under these, for example our standard merino socks. In cold weather conditions you could wear a pair of thicker socks over these. Layering socks makes life better, it minimizes chafing and if you've chosen your materials correctly (can't go wrong with wool) double layered socks will not feel uncomfortably hot or too damp even in hot weather.
The footbed side is terrycloth. This means the sock won't slide and wrinkle when worn.
Materials and care
Material 64 % merino wool, 36 % polyamide. Wash in 40 degrees Celsius. The polyamide is added to the mix for wear resistance, you can march countless miles before wearing these out. The sock shrinks about 10 % in the first wash. This is accounted for in the sizing
The joys of merino wool
Merino wool is moisture wicking, quick drying and self-rinsing. It's also machine-washable, but washing is usually unnecessary - wool cleans itself. Machine wash in 40 degrees celsius when needed. When not in use a good shake and airing outside will magically cleanse the wool. You only need to wash merino wool if you see stains or the clothing starts to smell really bad. This usually requires lots of continuous use without airing.
And oh yes, this stuff is mulesing free!
size info
In line with FDF standards, the amount of stripes on the cuff indicate size. We might have some sizes with old stock where amount of stripes may vary, but the sock is the correct size (as printed on the carton) in any case.
37-39: blank
40-42: 1 stripe
43-45: 2 stripes
46-48: 3 stripes
Sized according to European shoe sizes, with corresponding common S, M, L etc. sizes in brackets. See the chart below for further reference:
| EU size | Simple size | US shoe size | UK shoe size |
| --- | --- | --- | --- |
| 34-36 | X-Small | US 2½-4½ | UK 2-4 |
| 37-39 | Small | US 5-7 | UK 4½-6½ |
| 40-42 | Medium | US 7½-8½ | UK 7-8 |
| 43-45 | Large | US 9-11 | UK 8½-10½ |
| 46-48 | X-Large | US 12-14 | UK 11½-13½ |
Särmä TST
Särmä TST is Varusteleka's own in-house brand of clothing and gear designed for military and law enforcement end users. Our clothing and equipment are made in co-operation with a number of experienced manufacturers with a strong background in producing clothing and gear for military and law enforcement officials, most notably for the Finnish Defence Forces. For further reading check out the Särmä TST corner of our website.
Särmä TST products are covered by a 12-month warranty against defects in materials and workmanship. For further information please read our detailed warranty guide.
Made in Finland.
Reviews
You have already submitted a review. You can edit your text by clicking on it.
Log in and write a review.
Remove filter
Suomi
(5)
English
(18)
I would recommend for a friend
Roger S.

01.11.2016 (Edited 18.11.2016)
I just love these, I use them always together with Särmä merino socks underneath.
12
0
I would recommend for a friend
Harri K.

11.11.2016 (Edited 18.11.2016)
- pistämätön yhdistelmä ns. hellesukkien kanssa; eniten käytetty intin m/05:n maiharin kanssa
- jalat jaksavat hyvin, eikä rakkojakaan tule
- kun vielä saisi niihin lykättyä nuo kalleimmat pohjallisenne, niin hyvä
4
0
I would recommend for a friend
Thomas M.

26.06.2017
Perfect socks for hunting and outdoors. Surprisingly warm, even when wet/sweaty.
6
1
I would recommend for a friend
Atte M.

27.06.2017
Pirun kivat! Särmä TST Saapassukka + Särmä Merinosukka -kombo on korvannut Lorpenin sukat ainakin meikän vaelluskengissä. Nyt neljä viikon mittaista keikkaa on tullut heitettyä tällaisilla komboilla. Viikoksi on riittäyt hyvin kaksi paria kumpaakin sukkaa, yksillä pareillakin varmaan selviäisi kun sukat jaksaisi jossain välissä huuhdella. Yksi tähti pois saapassukkien pienestä huopumisesta.
7
1
I would recommend for a friend
Jack T.

02.08.2017
I would recommend for a friend
Stefan K.

19.10.2017
My feet sweat like hell no matter what the weather so switching to these socks from cheap cotton ones was an amazing upgrade. I've been rotating a pair continuously for 2 weeks and so far no bad smells which is astounding considering my feet can normally be considered biological weapons after long hikes.
13
0
I would recommend for a friend
Brian N.

25.11.2017
Decent socks, slightly cheaper than comparable products elsewhere. Have bought twice without issues.
1
0
I would recommend for a friend
Antto M.

06.01.2018
muuten ok mutta kantapäät kului puhki yllättävän pian
1
1
I would recommend for a friend
Louis C.

13.02.2018 (Edited 02.05.2019)
Very thick, comfortable - they don't itch ! and durable.
Some days, I even wear them as makeship slippers.
They are warm enough for my Northern French woodland winter hikes, and breathe well enough for me to play airsoft in the Portuguese summer heat without having my feet rotting in their own juice.
It is true, all you need to do after use is to roll them inside out, then air them out : they will be dry in about an hour and any smell will be gone.
I think I only washed them once in the year I have had them. Maybe I never did. They do smell healthy !

However, they are not magical : even though they do wick moisture out unlike cotton socks, and do not reek like synthetic ones, they will gather moisture overtime in any shoes.
Nothing beats these, not for this price anyway.
1
0
I would recommend for a friend
Robert Z.

17.02.2018
Excellent every day sock. I have many prs and have used them all this winter. I think I'll end up using them this summer too. They seem to hold up well so all in all much better than cotton sport socks.
3
0
I would recommend for a friend
David F.

28.02.2018 (Edited 21.03.2018)
Excellent. The thick bottoms and high wool content create a sock that is super versatile. These are thick enough you notice happy feet, but not so thick to require up sized footwear. Material was placed in the correct spots! I think these will be fine in the summer in boots, as they breath so well. Well below freezing you could put a sock over or under these just as easily too. 5 pair and counting, these are worth it.
6
0
I would recommend for a friend
Stephane M.

12.03.2018
Man, I did not think the under-sole cushioning would be this good! I highly recommend it if your shoe/boot allows the extra thickness.
3
0
I would recommend for a friend
Michael N.

09.04.2018
These are awesome socks! My first pair of Sarma brand and I am very happy with them.highly recommended!
5
0
I would not recommend to a friend
Max N.

17.06.2018
Aluksi olivat hyvät sukat mutta jo varsin lyhyen käytön jälkeen kuluu ja alkaa pyörimään jaloissa. Minun toiset kohta jo puhki. Materiaali ei ole tarpeeksi kestävää, en tiedä johtuuko merinovillasta vai mistä. Intin saapassukat ovat paremmat, pysyy paremmin jalassa ja kestää.
8
2
I would recommend for a friend
Jack M.

21.11.2018
The best socks I've ever had.
3
0
I would recommend for a friend
Ulf J.

25.11.2018
Love them when the winter begins.
4
0
I would recommend for a friend
Tomas B.

18.12.2018
I would recommend for a friend
Sean S.

05.02.2019
I wore these for Desert Brutality 2019 and they absolutely saved my feet. Great socks!
2
0
I would recommend for a friend
Farasha E.

12.03.2019
I would recommend for a friend
Florian G.

16.08.2019
General notes:
Very good fit even after wearing them multiple days because of the terrycloth.
Merino socks don't smell if aired out for a day or even overnight, so no need to pack more than 2 pairs for an extended trip.
Expect Finns to recognize them fondly as army socks.

Use:
In light leather boots during spring and autumn.
As outer socks over Särmä Merino Socks in high leather boots, also during the winter in Finland.
Instead of slippers in wood cabins or alpine huts, because they are quite robust.
0
0
I would recommend for a friend
Peter D.

19.09.2019
I have had a few pairs of these for some time now, and ye gods let me tell you, there is nothing else like these. Since I was a young lad, I have always been hard on both shoes and socks, as I have a particularly heavy gait. I am never going to pass ninja school, I am afraid. Normal socks off the shelf are lucky to last a week or two, because of how hard on socks I am. And yet these ones not only have lasted several months now, they have done so without catching odours from my biological weapons of feet, and without much sign of wear at all. I am not going to buy another brand again, so long as Varusteleka keeps the quality of these ones up. sure, they are definitely more expensive than most you find at Wal-Mart or something, but you get what you are paying for with these ones. They seem pretty much bomb-proof.
0
0
I would recommend for a friend
Guy H.

20.11.2019
I wear these as a second layer alongside the regular Sarma socks, and I've got to say that I've never felt more comfortable even when breaking in some new boots. They keep just the right temperature on even the coldest days and get rid of sweat when you take them off in practically minutes.

They're not so good in motorbike boots when the cold is simply overpowering, but I can hardly hold it against them. I'll try the heavyweight socks instead.
0
0
I would recommend for a friend
Ray M.

14.12.2019
These are the best socks I've ever owned.

Terry cloth on the bottom feel so damn comfy like a 2nd insole.

The bottom never folds up .

Moisture wicking.

Never smells after airing out.

These are the best socks. Way better then carhartt. Its pricey but worth it.

Once again Särmä keeps it up with great product and material it is as far as my favorite brand.
0
0