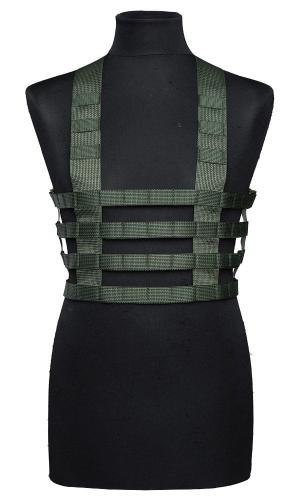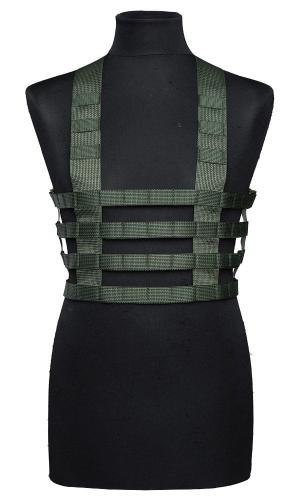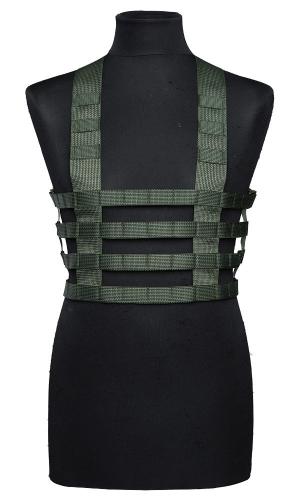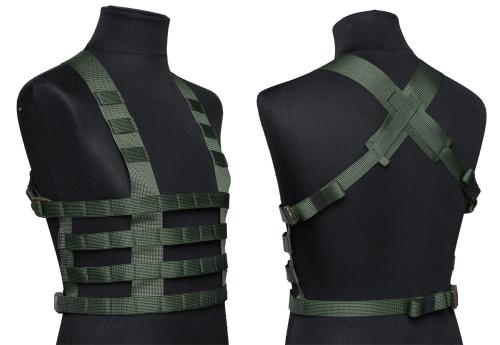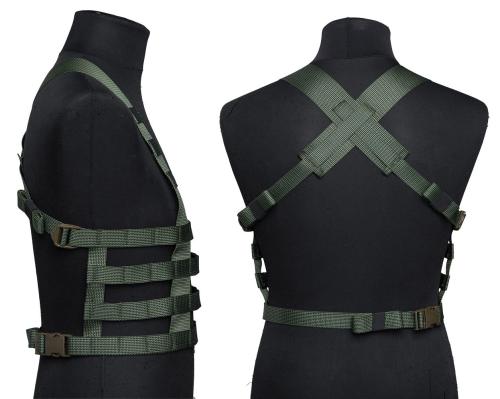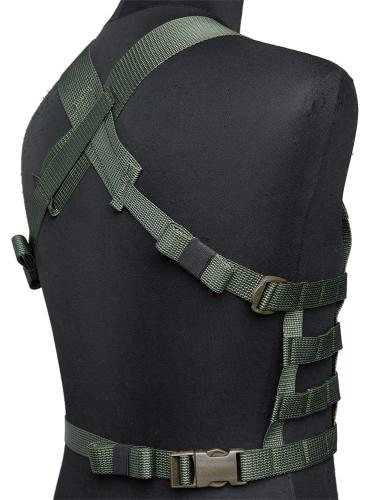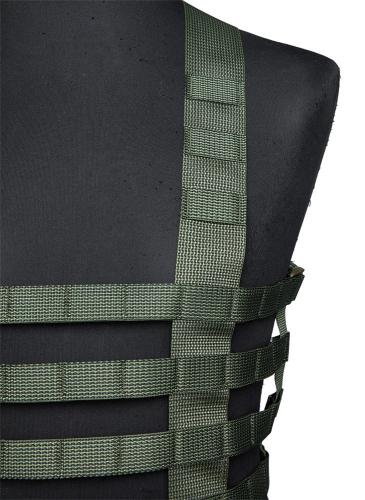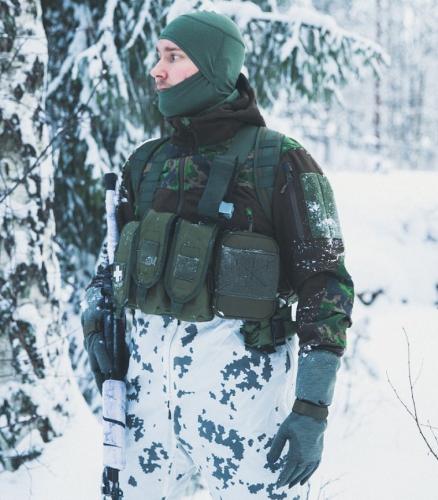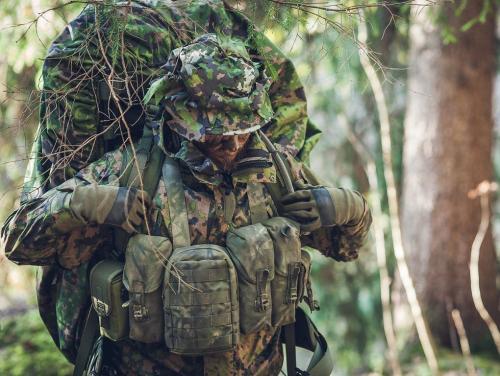 Särmä TST
Särmä TST LW18 Chest Rig
Price 69.99 USD
excluding sales tax
A lightweight and simple Chest Rig to carry your most important fighting kit. Made entirely out of webbing, making the rig extremely rugged and breathable.
Loading products...
Trouble with the metric system? Try our converter: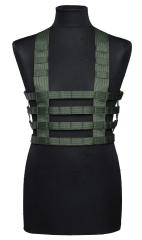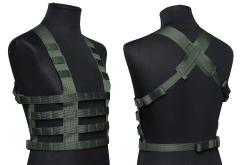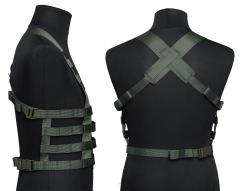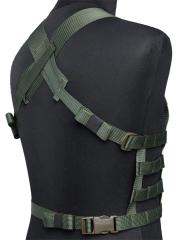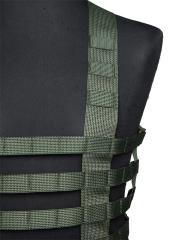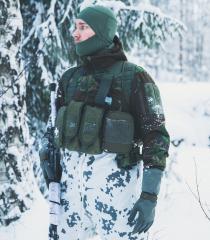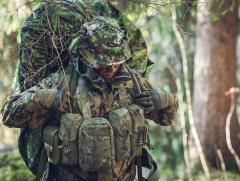 A lightweight and simple Chest Rig to carry your most important fighting kit. Made entirely out of webbing, making the rig extremely rugged and breathable.
The vest base is made from 25 mm webbing in two layers, sewn onto each other to form a 12 channels wide PALS matrix. Pouches attach to the webbing just as securely as onto a traditional fabric-backed vest, but the empty spots are only webbing and empty holes, making this design more breathable than a traditional Chest Rig.
As this rig is made for the Finnish market, we've taken into account the fact that our RK magazines need more than the usual three rows high PALS matrix that most western chest rigs are based on. This rig is four rows high to work properly with the standard-issue RK mag pouches, a good thing for anybody using Soviet-based weapons tech.
The shoulder straps are comfortably wide, 50 mm, and end in 25 mm straps that attach to the vest base and comes with LadderLock buckles. A waist strap keeps the rig from flopping about. All straps are generously adjustable to fit pretty much anybody who could effectively use a rig like this in the field.
Finnish MILSPEC materials
Green Chest Rig
Made entirely of the same materials and hardware that are used in the production of Finnish army M05 combat equipment, strong webbing, and ITW Nexus buckles, all NIR compliant naturally.
White Chest Rig
White webbing is made in Finland, by Finn-Nauha. The buckles are made by Plasty, PA6 material. All materials are NIR compliant.
Made in the EU
The green chest rigs are manufactured in co-operation with Finn-Savotta Oy (Finland's leading military and outdoors gear manufacturer and the main load-bearing equipment contractor for the Finnish Defence forces). Depending on the situation production runs are sewn either in Savotta's Finnish or Estonian factory, sometimes even partially in Finland and partially in Estonia. The little printed tags tell where exactly each particular product was sewn. The white chest rigs are made in the Czech Republic by Finnish CPE.
Kierto Circular Economy
Return this product used but clean and unbroken, and you'll receive half of the product's original price as Varusteleka credits. Service is available only in Finland. Only Registered users can make Kierto returns. See more information about Kierto.
Carbon Footprint
The estimated amount of greenhouse gas emissions from the production of one single item is 7.79 kg CO2e. The estimation includes the entire production of the item, from the raw materials up until the finalized product exiting the factory. Read more about the calculation method.
Varusteleka Särmä TST
Särmä TST is Varusteleka's in-house brand of clothing and gear designed for military and law enforcement end-users. Our clothing and equipment are made in co-operation with a number of experienced manufacturers with a strong background in producing clothing and gear for military and law enforcement officials, most notably for the Finnish Defence Forces. For further reading check out the Varusteleka's Särmä TST page and Särmä TST Clothing System article.
Särmä TST products are covered by a 12-month warranty against defects in materials and workmanship. For further information please read our detailed warranty guide.
All products: Särmä TST
Recommendations
Loading products...
Reviews
You have already submitted a review. You can edit your text by clicking on it. You can filter the reviews by clicking on the elements of the summary.
Log in and write a review. You can filter the reviews by clicking on the elements of the summary.
Remove filter
Suomi
(7)
English
(7)
I would recommend for a friend
Mikko Y.

18.09.2022

Verified purchase
I would recommend for a friend
Sami A.

30.09.2022

Verified purchase
Erinomainen tuote. kevyt ja vahvarakenteinen. Joskus tuntuu että kujia saisi olla sivusuunnassa enemän. Eihän ole tarkoituskaan saada jokaista taskua kiinni liiviin mutta muutamaa pals kujaa jäin kaipaamaan
1
0
I would recommend for a friend
Eetu T.

05.11.2022

Verified purchase
Hyvä liivi, joka kattaa TAISTELUvarustuksen kantotarpeet ainakin korvessa hiipivän tiedustelijan, ja toisaalta miksei poterossa kyhjöttävän Jakke Jääkärinkin osalta.
Itsellä ollut käytössä seuraavalla "setupilla", liivi puettuna, katsottuna oikealta vasemmalle
-oikealla reunimmaisena Savotan M05 "pieni" yleistasku
-3x Särmä TST RK lipas/monitoimitasku
-2x brittiarmeijan DPM-kuvioisia heitetaskuja PÄÄLLEKKÄIN
-Särmä TST dumppitasku
-Vasemmassa olkahihnassa kiristysside
-PALS-kujaston alapuolella keskeisesti Särmä TST Rip Off IFAK vaakakiinnitteinen PALS tasku, tämän sai pienen mietinnän jälkeen punottua hanger tyylisesti roikkumaan lipastaskujen alapuolelle viemästä tilaa itse liivistä, mutta toimii kuitenkin yhtä hyvin kuin varsinainen hanger-tasku PC-liivissä
Siinä kaikki, ei mitään oleellisesti puuttuvaa muttei myöskään mitään ylimääräistä, jos tuo näyttää vähältä, pitää muistaa että taisteluvarustustahan on vain ja ainoastaan kaikki minkä saa sanomaan pam/pum/poks tai muilla tavoin suoraan edistää taistelun etenemistä, älkää sekoittako varusmiespalveluksessa tetsarissa kannettavaa pakkia/lapiota/sadevaatteita yms. ko. varustukseen kuuluviksi.
2
0
I would recommend for a friend
Patrick Y.

08.11.2022

Verified purchase
I bought this chestrig to solve the problem of carrying pouches while wearing a large ruck. Canteens or other large objects attached to my belt were too obtrusive to wear with a medium or large ruck, and this chestrig allows me to carry my kit without it getting caught on the kidney pad or any other part of my rucksacks. When shooting, I can use the rig to carry ammo pouches. When camping, I can attach canteens, food pouches, etc. I tried a number of surplus web systems, but none works nearly as well as this.
I may sew in Velcro so I can add a hanging pouch to the bottom.
0
0
I would recommend for a friend
Swete R.

19.03.2023

Verified purchase
This chest rig is very well made and cleverly done. The stitching is amazing and the material is rugged as can be. The lack of backing allows a molle dangler pouch to be added beneath the bottom row of webbing with a pouch on top. The flat shoulder straps allow for a ruck to be easily worn without interference. My only complaint is I would have preferred an H style strapping system of the X type.
0
0
I would recommend for a friend
Otto B.

20.07.2016

Verified purchase
I have used this ULW Chest Rig for a year or so now.
It's very light and handy. It often bring it along on exercises as an extra (and smaller) rig, so I can have a decent fighting load on me without being fully kitted out in a full-blown combat vest. I have also used it as my only rig, and it works just fine for that too.

The 12 rows of PALS is just enough for a light fighting load.

I carry 4-6 NATO magazines, a decent size IFAK, a general purpose pouch, and the rig sits just fine without any sagging at all.

The straps can be a bit fiddly to get on without twisting on your back, at least until you get used to it. It's no big deal. I find it better to fiddle for a moment with a simple webbing strap, than having great, big silly padded straps.

I own the bigger 2-piece Särma Chest Rig also, and I prefer this ULW version because there is no wasted space on the front (where the 2-piece rig has the buckles.)

This is a great piece of kit for the money.
26
0
I would recommend for a friend
Patrik M.

21.02.2019

Verified purchase
Overall this is an excellent chest rig. There are absolutely no unnecessary features and at this price point the quality of the build and materials is excellent.

I have a couple of thoughts on what could improve this for me however:
1) The rig could do with two more columns of PALs (one more on each side). This way, you could mount 5 mag pouches (2wx3h) and a utility pouch (3wx3h) without a need for double stacking. Without the utility pouch you could then also fit 6 mag pouches, right now you can't.
2) The shoulder strap PALs rows in the new version are very useful, but could be improved if a few of them could be 2 wide to fit small things 2x2 things like radio pouches.

A fantastic product in general though!
13
0
I would recommend for a friend
Karl S.

10.05.2019

Verified purchase
I would recommend for a friend
Eamon B.

09.11.2019

Verified purchase