Varusteleka's annual report 2020
Share on Facebook
While being busy with our Total World Domination plans and all the pandemic crap, we managed to count the coins in the vault, and the auditor has given their blessing. So, here's a short wrap-up of the year 2020 and how it translated into figures.
Supposed to be a relaxed year but Corona happened
Once again - in fact every year since our relocation - we planned that this year we'll focus on our core business. Well, that didn't happen this time either. In fact 2020 turned out to be an exceptional generational experience, which caused craploads of reactive work. Despite the chaotic conditions, we managed to pull off the following stunts:
And that is only the tip of the iceberg. In addition to these and despite the trying times, we managed to do our daily chores, launch new products, recruit new crew members, and improve processes across the operations. Corona did have a significant impact on our supply chain as well as deliveries, but somehow we managed to serve our customers. On a positive note, our crew has remained safe and healthy thanks to the precautions we took at our store as well as in internal operations.
Turnover increased beyond expectations
Even though the operating environment was challenging, our financial performance was top-notch. The turnover increased more than 24% compared to the previous year, reaching 18.117 M€ in total. The brick-and-mortar store turnover decreased slightly, but the growth in online sales compensated that very well. The share of international sales already reached one-third of our total turnover, and the United States was the largest international market with its 2.5 M€ turnover. Our strategic theme "America First" is clearly working.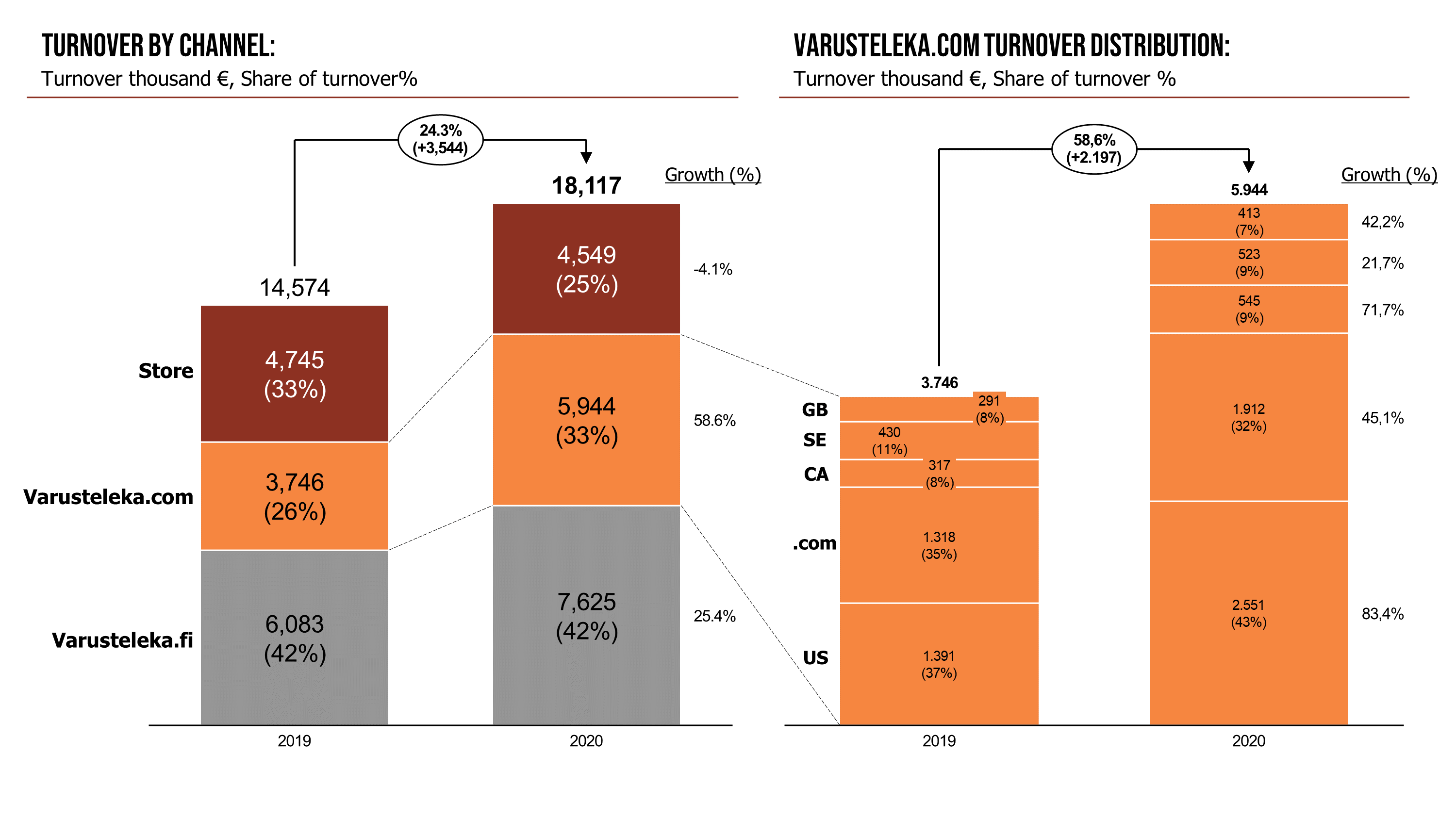 Naturally, we say that our good performance is solely the result of our awesomeness, but honestly, the exceptional Corona year has helped us. Forests and deserts have been pretty much the only places where people can go, and thus the popularity of various outdoor activities has skyrocketed. And when you add the fact that people are not spending half of their paycheck in bars, the circle of our good performance is complete. However, we believe that this outdoor awakening will benefit us in the coming years as well.
Here are some additional trivia for you:
We delivered stuff to 93 countries
We delivered the total of 291,258 parcels
We sold 1,372,196 items
We sold 5,945 gas masks and filters and the overall growth of this segment was 1,239%
Varusteleka's own brands are going strong
One of the cornerstones of our strategy is to develop our own brands, Särmä, Särmä TST, Terävä, and Jämä into international tier 1 brands. We are well on the right track and our own brands already constituted almost 50% of our total turnover in 2019. The share of own brands remained more or less the same in 2020 but the growth in euros was over 23%.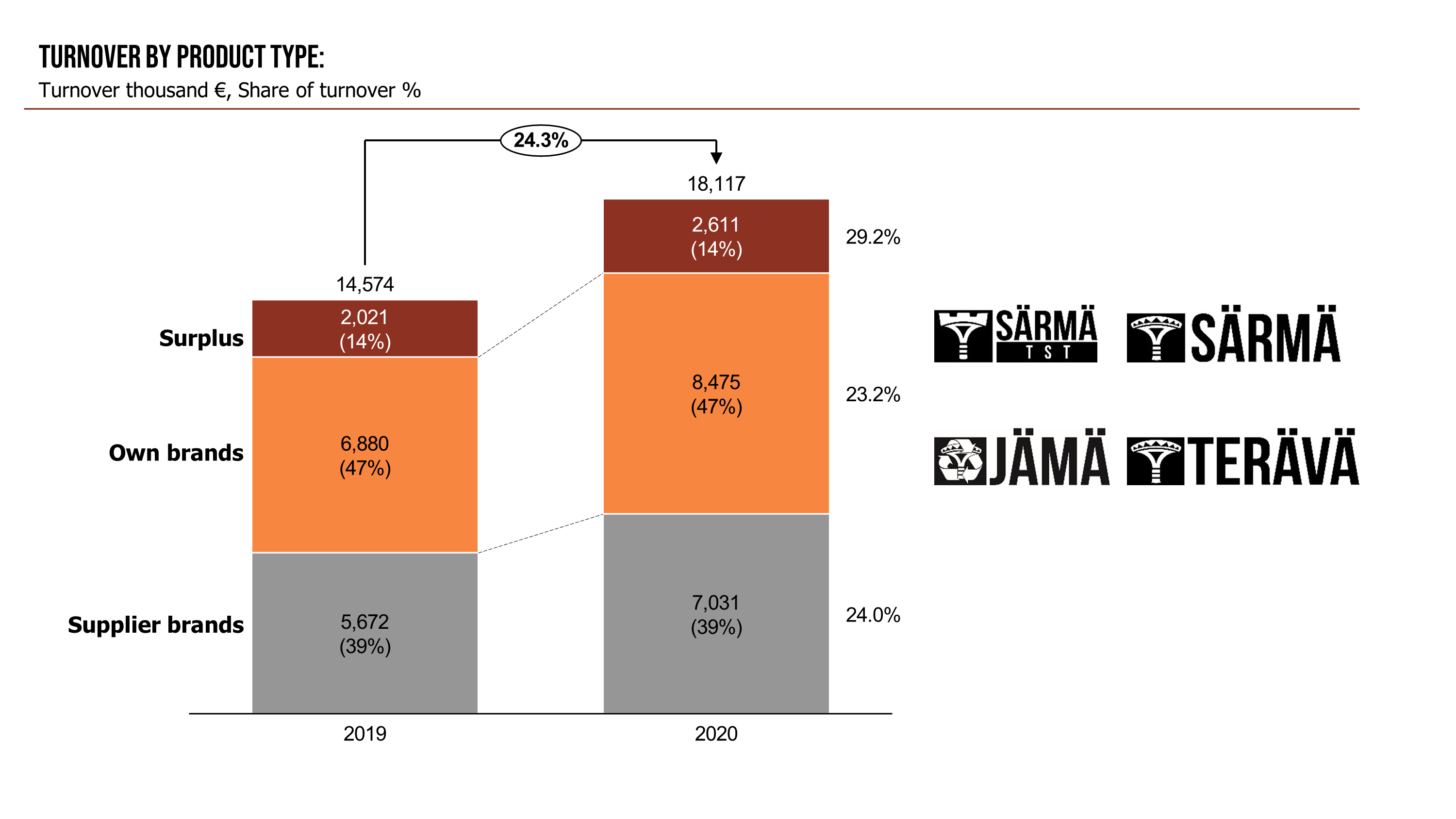 We boosted our military surplus sourcing, and it was the fastest-growing segment in our mix, growing by over 29% compared to the previous year.
Development is developing
During the year 2020, we applied for development funding from Business Finland to further enhance our internationalization and online sales. We were granted €105,000 of government support. With this money, we kicked off several development projects to find ways to sell more and also more frequently to our international customers. The money has been primarily spent on the following purposes:
We recruited three new persons to work full time on the projects
We purchased advisory services for areas we know nothing about
We increased the amount of acquisition services and analytics
As you can see, we haven't spent the state funding at online casinos. Instead, the money has been put to work. And on top of this funding, we have invested the same amount and then some from our own pockets to these projects. While writing this, the results look very promising, and the money will return to the government's treasure chest tenfold via employment and taxes.
We also renewed the best part of our warehouse, which included the implementation of new warehouse automation as well as improvements in dispatching software and processes. With these tweaks, we managed to improve the efficiency of the warehouse operations and cut down the dispatching time.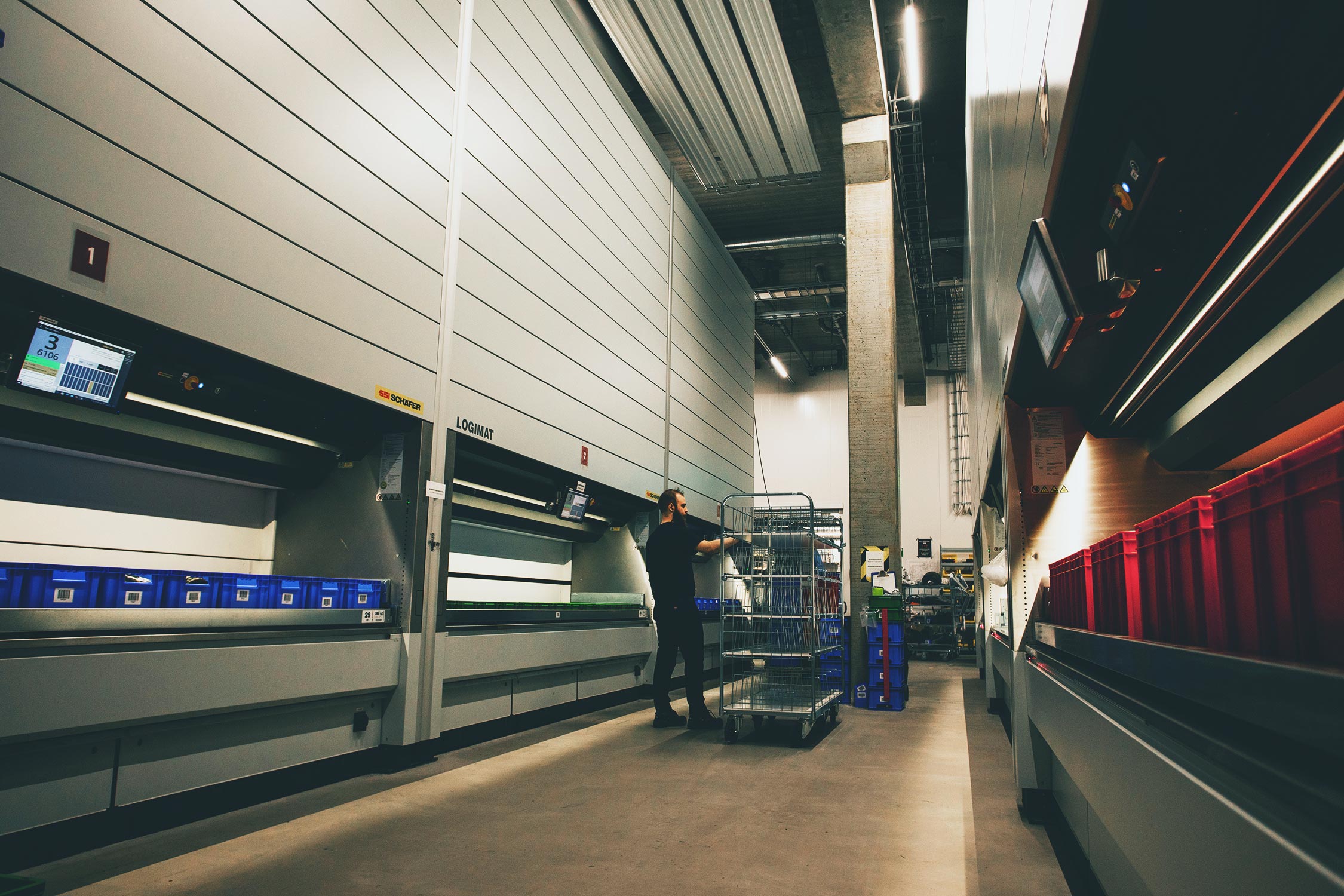 Creating prosperity in Finland
Our vision states that we must create prosperity in Finland. We have measured this goal with our "balance of trade". In 2020, we sold more abroad than we bought from there so "the added value" more or less stayed in Finland.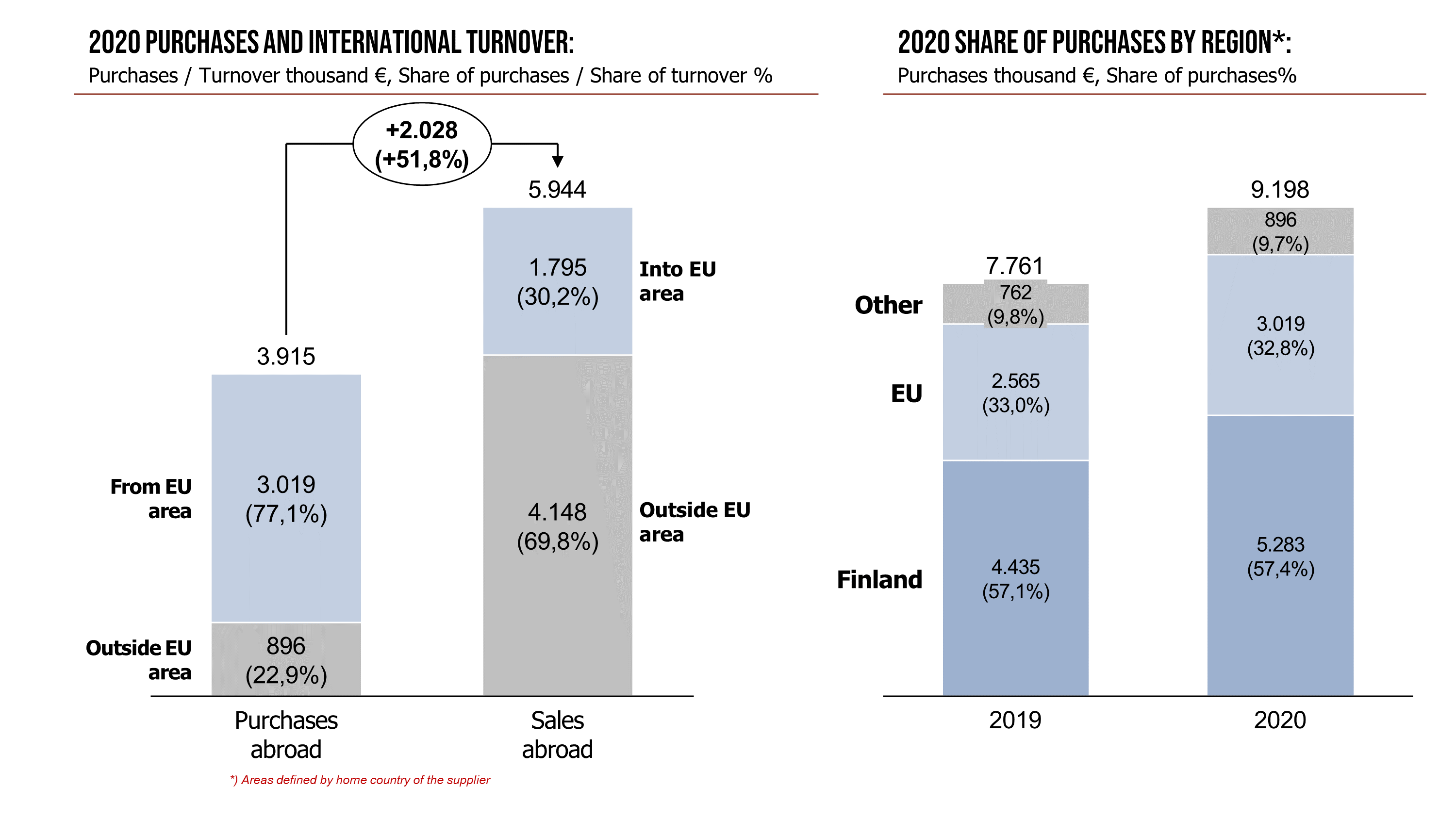 Our purchases from Finland were approximately 5.2 M€ and purchases from abroad 3.9 M€. Our turnover from abroad was 5.9 M€, so our balance of trade was 2 M€ positive. Domestic purchases constitute over 57% of our total purchases. However, these figures might have some degree of error because our statistics are based on the country of origin of our suppliers and quite many of the Finnish suppliers do have operations in the Baltics states as well. But we work diligently to get our supply chain even more transparent.
Paying taxes is a good thing because it is an enabler of our success as well. For example, free education from elementary school all the way to the top universities and the universal conscription in our military system is good for our business. At Varusteleka, we don't do tax planning. Instead, we pay our dues as tax authorities see fit. During the year 2020, we paid 4.1 M€ direct or indirect taxes.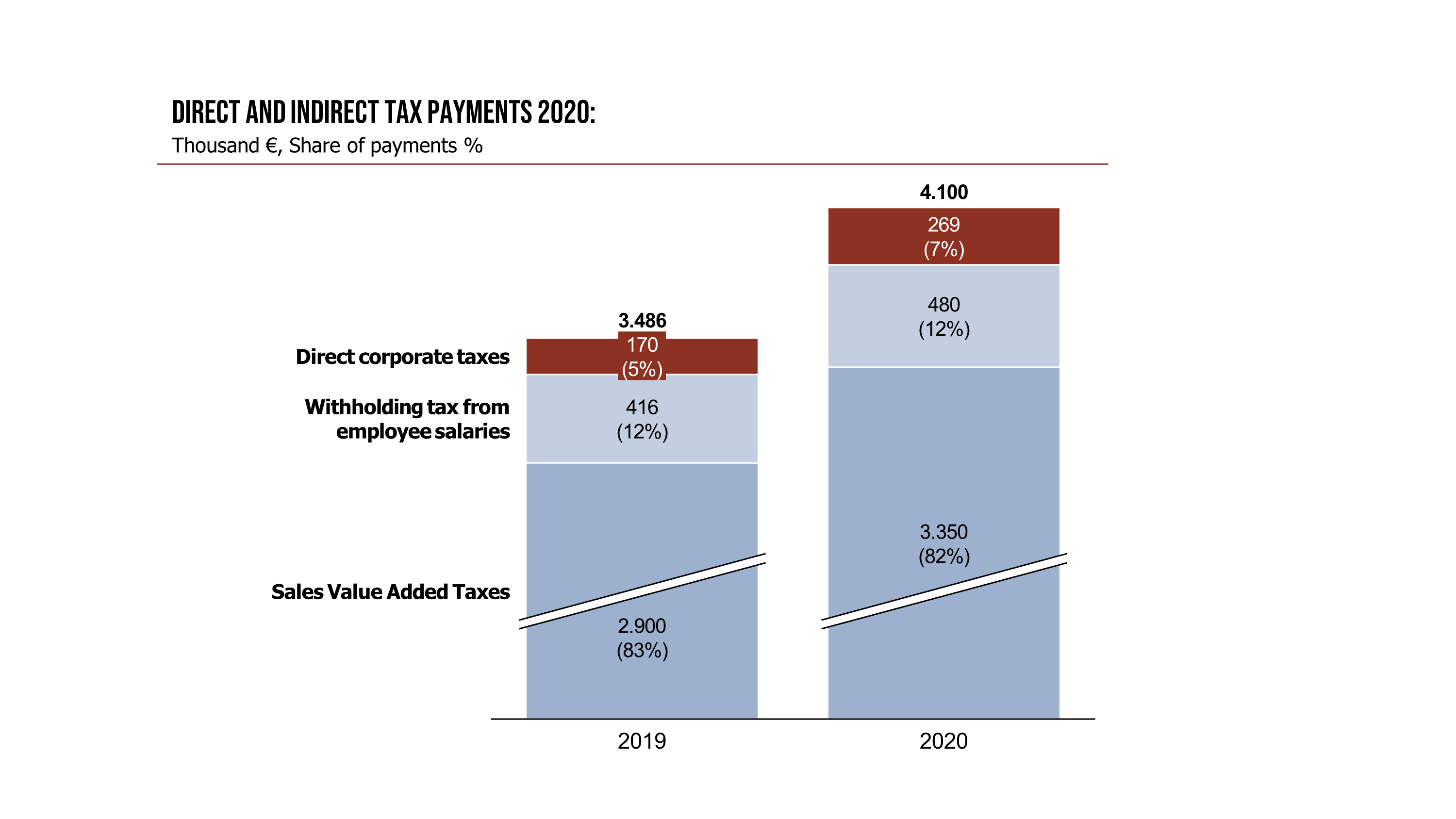 Significant increase in earnings
Even though last year was exceptional, and various things caused extra costs for us, we managed to improve our profitability. All the operational improvements, the strong sales share of own brands, and surplus combined with solid top-line growth led to a significant increase in earnings before interest and taxes. EBIT was 1.39 M€ and the increase from the previous year was a staggering 63%.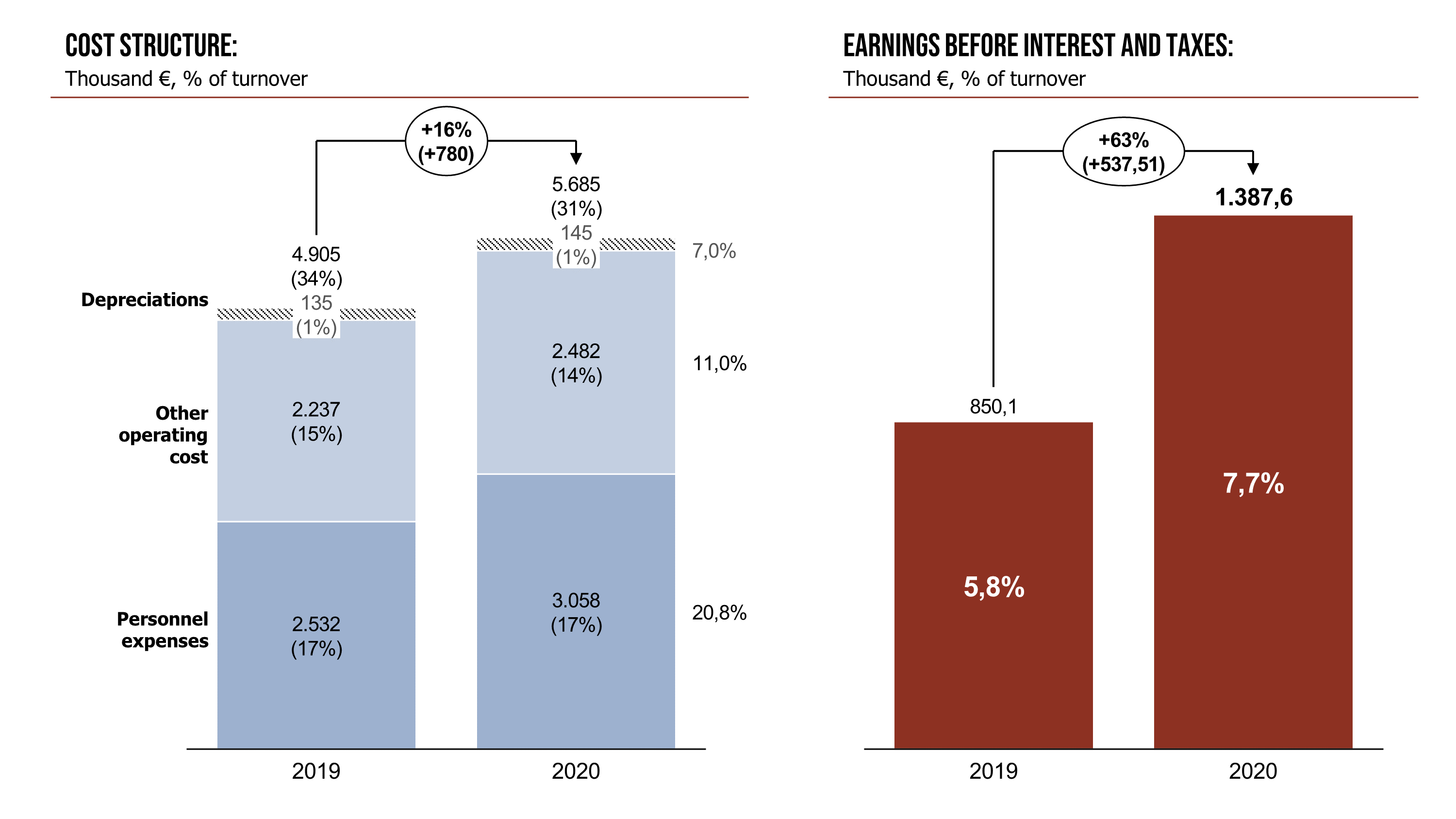 Due to the excellent results, we were able to pay quite nice bonuses for our crew. In 2020, our bonus model was tied to the increase in EBIT, and 20% of the improvement was channeled to the bonus pool. With these figures, the total bonus pool was €107,000 and the maximum personal bonus for full-time employees was €1,515.
What next?
Our journey towards Total World Domination continues, and we continue to support the good guys. Even though Covid is still strong with us, we plan to work at least with the following themes:
America First! We continue to push through in the largest market of the world
We will make our own brands, Särmä, Särmä TST, Terävä, and Jämä famous globally.
We try to do our everyday jobs well and keep the spirits up
Next year we might regret saying this, but we truly wish that 2021 will be the year when we can focus on our core operations without any major hurdles or fighting the windmills. Let's see how this plays out.
Last but not least, most humble and huge thanks to the entire Varusteleka crew for all the achievements and great results we accomplished! These fantastic figures didn't just magically drop from the sky. They were made by you. Also big thanks to our customers, new and old alike! It has been our pleasure to serve you. Furthermore, thanks to our suppliers, partners, and other partners in crime for the support you have given us.
Read also