Gear Selection for Practical Shooting in Winter
Share on Facebook
There is plenty of cold and snow in Finland when this article was written, and it is fantastic for us practical shooters. Even though the shooting season is usually more commonly associated with summer, you should still get everything you can out of winter training and test your performance in more demanding surroundings. This kind of training is also useful for our Brutality matches.
This article contains a few tips on what to take into account in winter training so that you can go through it safely and warmly, and have fun while you're at it. In case you are new to practical shooting, please read our introductory article on it.
Proper clothing, more fun
You should base your training clothing choices on the principles of layering. Next to your skin, you wear a base layer that transfers moisture from your skin. Then put on enough insulating and protecting layers depending on the weather conditions. Merino wool is the best thing that you can have, so it is a great place to start. When selecting your clothes, you should have an overall picture of what kind of a training session you're gonna have. Will you be primarily standing still or will there be lots of moving around. If you move a lot, select clothing that feels a bit cold when standing still to avoid heavy sweating that leads to freezing. If you won't be moving much, put on a lot more clothes. Because the activity level usually tends to vary quite a bit, it is sensible to carry along a warm jacket that you use when you are stationary. You can read more about layered clothing here.
Särmä TST L3 Thermal Anorak is a good choice for less sweaty training and for taking breaks in winter.
When the weather gets colder, you tend to wear more layers. It is worth ensuring that the thicker layers don't interfere with gun handling. There are potential dangers when you have stuffed yourself into a fat lump and one layer hangs on top of the pistol holster. It might make shooting more difficult, and in the worst case, you could accidentally fire your pistol if some fabric ends up inside the trigger guard when holstering the gun. This isn't of course the likeliest of scenarios but it is better to test the equipment carefully beforehand so that there are no nasty surprises at the range.
Dexterity vs. heat
Your fingers often freeze at some point during training. Gun handling requires dexterity but properly warm gloves tend to be thick, so some sort of compromise is usually needed.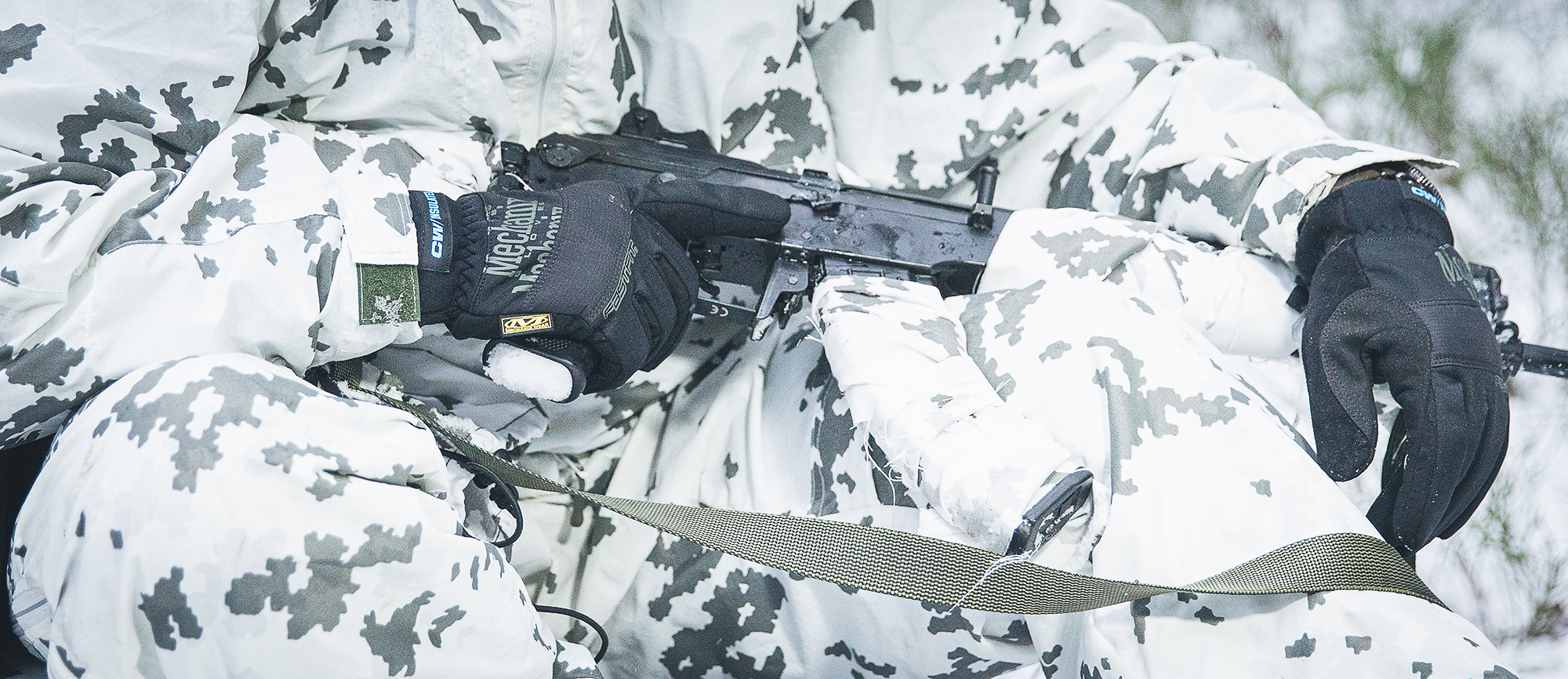 Mechanix Fast fit insulated winter gloves are suitable for gun handling and shooting.
A good option is slightly insulated gloves that you use when shooting and thicker mittens for taking a break to heat your fingers. Another solid option is the Särmä TST L1 merino wool liner gloves and on top of them thin gloves, such as Mechanix Originals, BW combat gloves, or something else that fits your hand like a glove. The best way to find the perfect size is to try things out. If you use liner gloves underneath, pick a size bigger for the top glove than what you wear in the summer.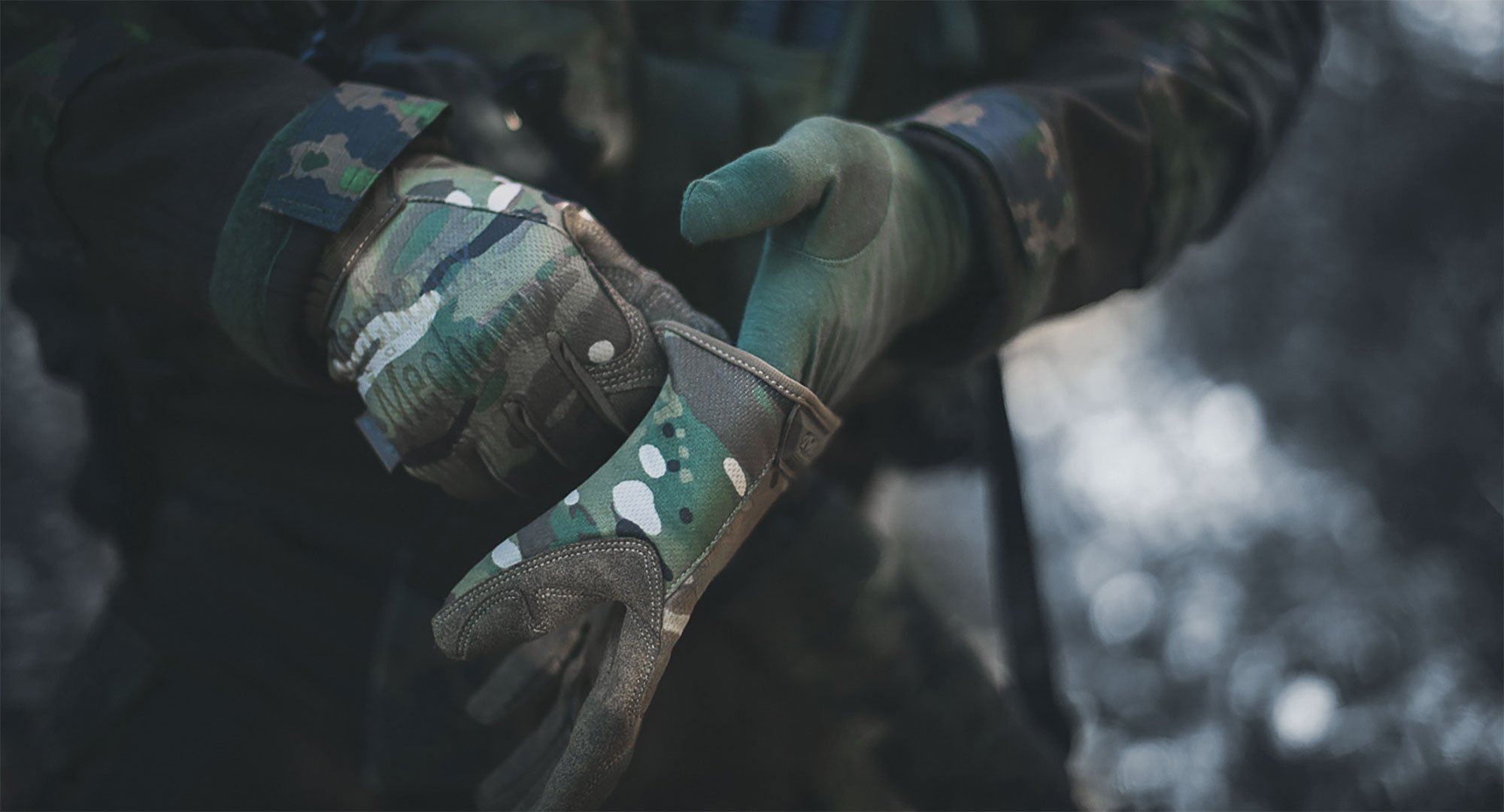 Särmä TST L1 Liner Gloves under Mechanix Originals.
You can also boost thicker mittens with hand warmers. When you manage to revive your frozen sausages, you can carry out another successful drill. When you have a proper Finnish winter it is especially important to pace the training sessions so that you have enough time to defrost your fingers. That will yield a better learning experience than shambling forward like a frost zombie.
You should take along several pairs of gloves. If the weather is wet and cold, the gloves will get soaked at some point, and this will lead to frozen fingers, which you can avoid with an extra pair or two.
The next thing is probably self-evident but let's mention it anyway. When it is really cold, you should not caress cold metal with bare hands. If you are really unlucky, it may lead to frostbites and amputation.
When your feet are cold, everything sucks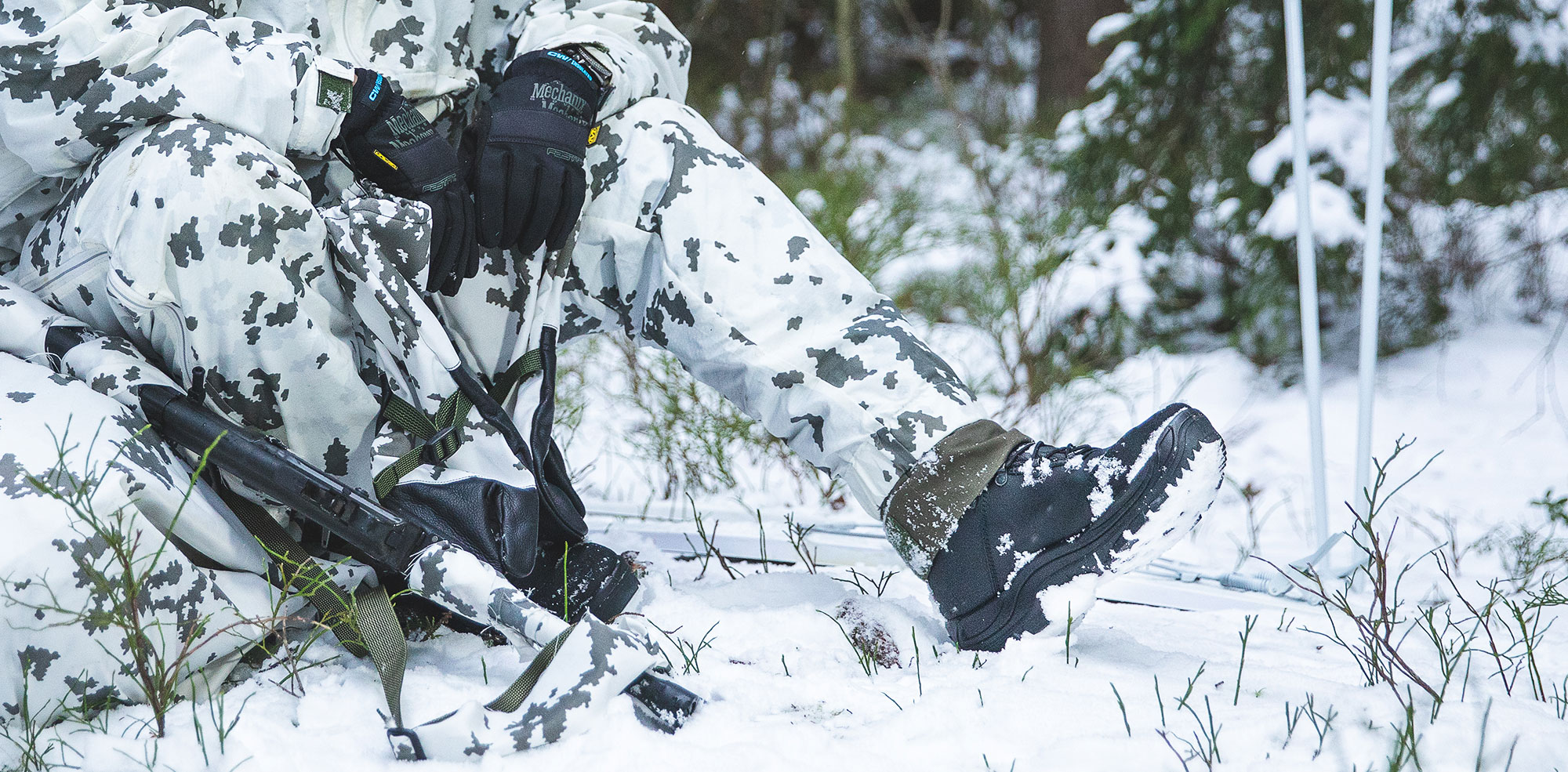 Footwear choices are all about balancing between agility and warmth. Thick moon boots with six pairs of wool socks are surely warm but you will move as gracefully as a swamp troll. The main thing is to choose boots that keep you operational and enable you to train properly. Layering is also important in footwear choices. Use liner socks that transfer moisture away from your feet. Then put a thicker sock on top for warmth.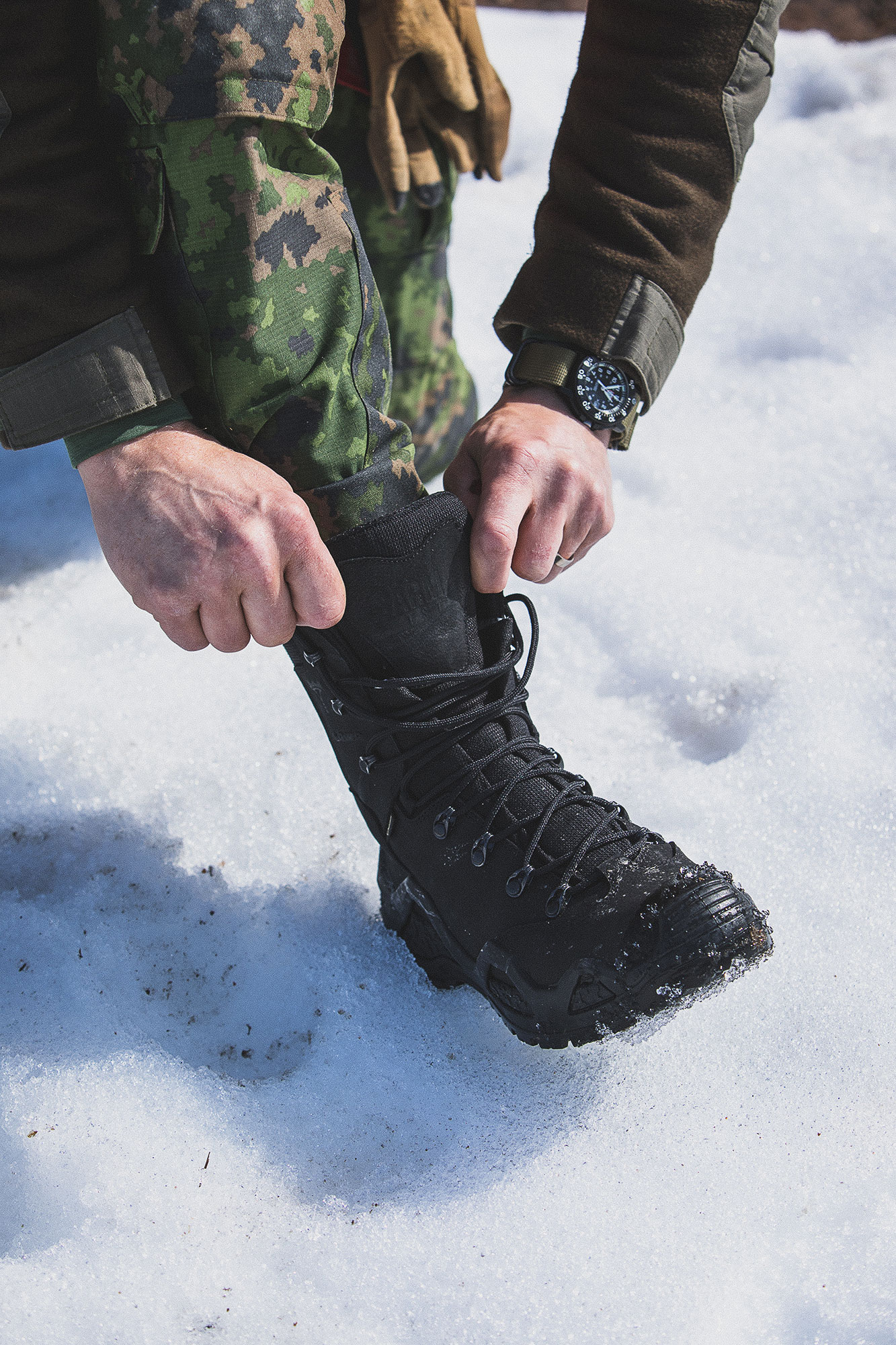 With proper socks, Lowa Z-8N GTX - Särmä TST M19 combat boots also work in wintery training.
Merino wool is the best option in
sock selection
. Finally, properly sized boots protect you from hostile elements. Too tight boots will once again lead to frostbites and amputations. Because winter is often slippery, your boots should have a good grip. If the whole place is an ice rink, you might want to add some spikes.
Snow and your gear selection
Your shooting sports and training style dictate to some extent the gear you have. However, when it comes to winter training, your gear should be such that you can use it with gloves on. The most critical items, such as your gun and the first aid gear, need to be protected from the elements.
In case you are training in a blizzard and you need to crawl around or shoot from a prone position, you should definitely have a more closed holster so that your pistol isn't covered in snow when you pull it out. This rarely leads to anything dangerous but it can still ruin your drill if the sights are full of snow. Open magazine pouches can also scoop in some snow when you are crawling here and there. It is good to monitor what kind of snow mountains you create with your maneuvers and clear away the worst ones to avoid possible problems.
Many people hang an unprotected tourniquet on an elastic band or something similar. However, snow can easily cling on to Velcro and interfere with the functionality. If the conditions are very snowy, a good option is to slip the tourniquet in a pouch designed for carrying such a thing.
Other useful stuff for winter training:
Some sort of a light. Darkness will consume us all at some point, and even if the shooting range has lights, there will always be a dark corner here and there.
A thermos and something hot to drink. It boosts your morale and warms you up. Also takes care of hydration.
Snow shovel. You might need to dig for the targets or something else from underneath the snow.
A small bag of gravel. The range can be very slippery, and slipping and sliding here and there can be distracting. With a few handfuls of gravel you can at least create a small stage where you can safely train changing your position.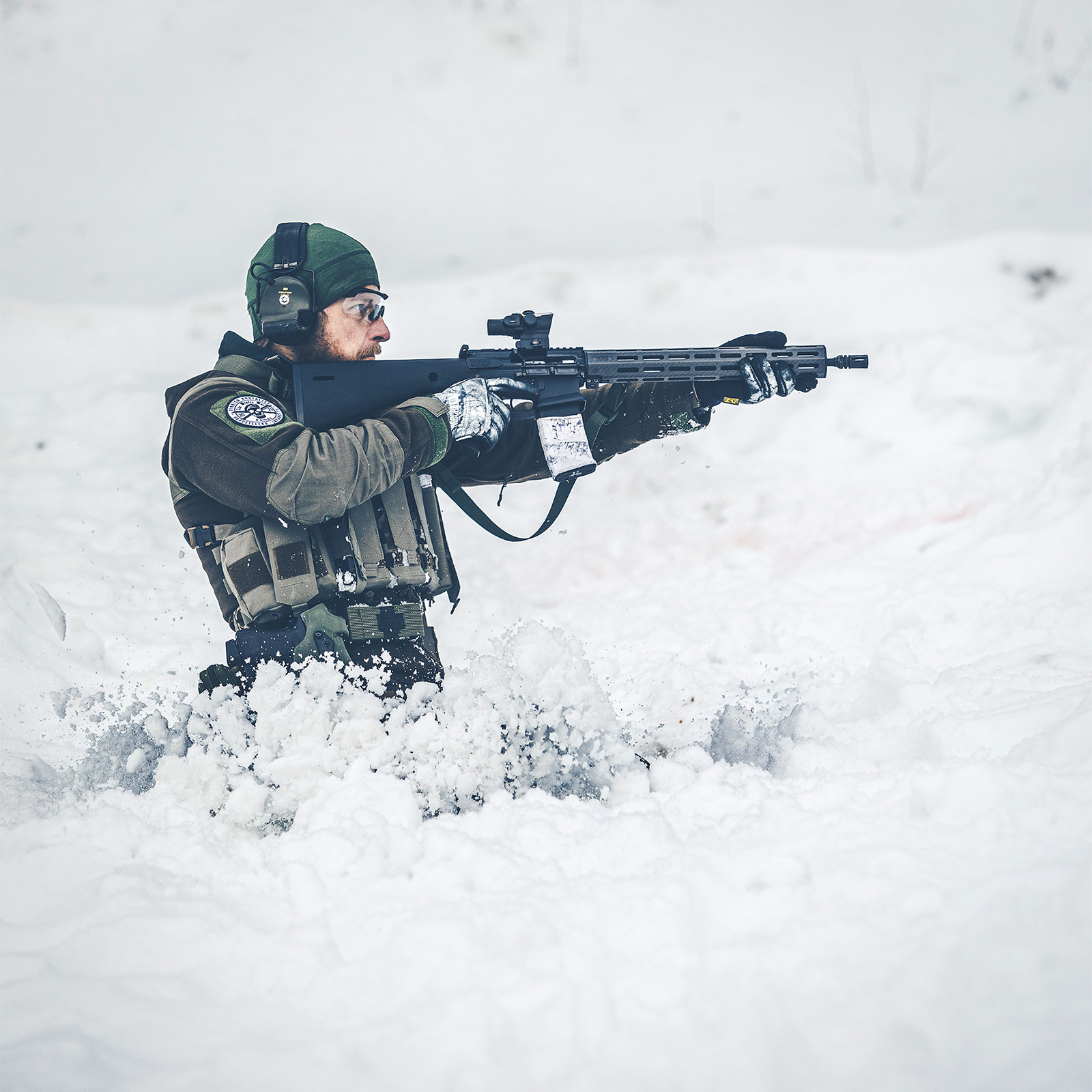 You should really embrace winter training and find out what works for you. Even if the weather is challenging, training is fun, warm, and safe as long as you have gear that works. Good shooting!