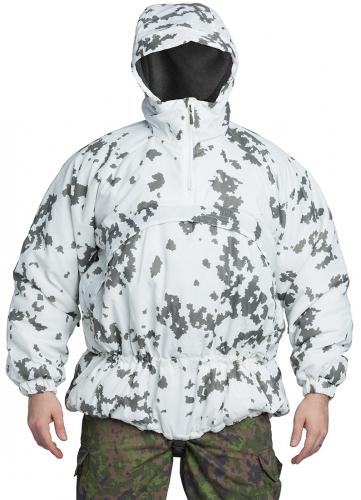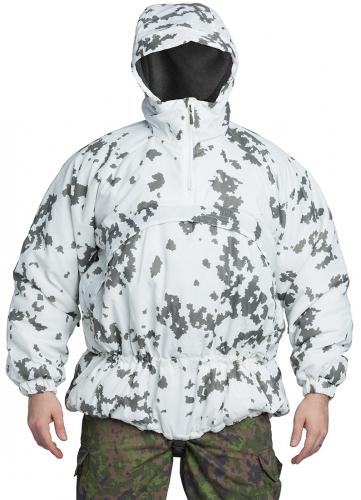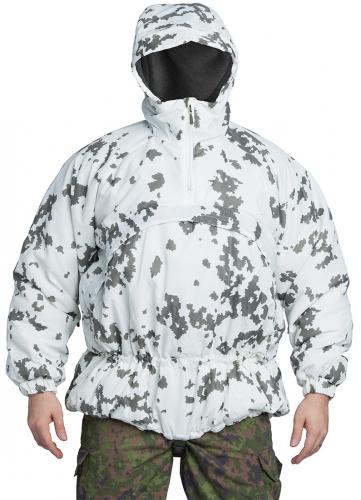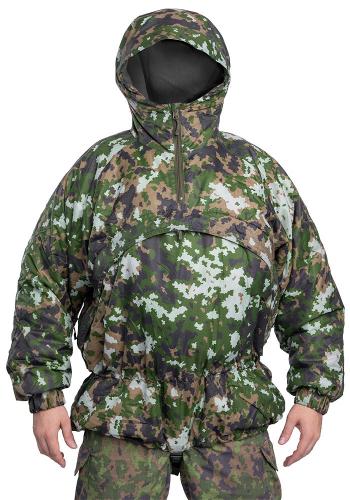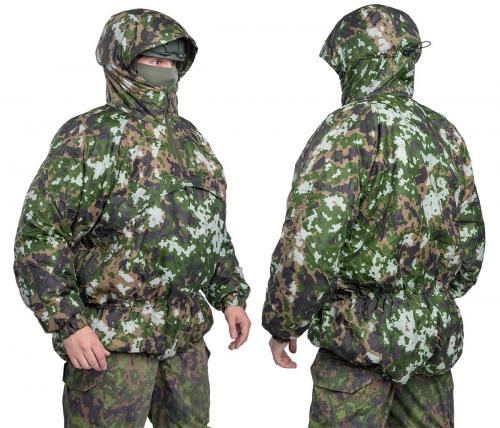 Model's measurements 180 / 100 cm, wearing a Medium size anorak over a field uniform and plate carrier with pouches.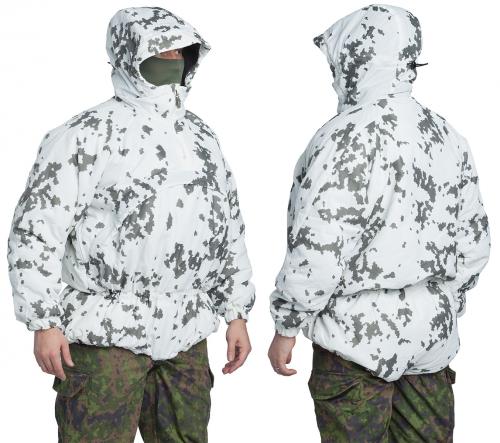 Model's measurements 180 / 100 cm, wearing a Medium size anorak over a field uniform and plate carrier with pouches.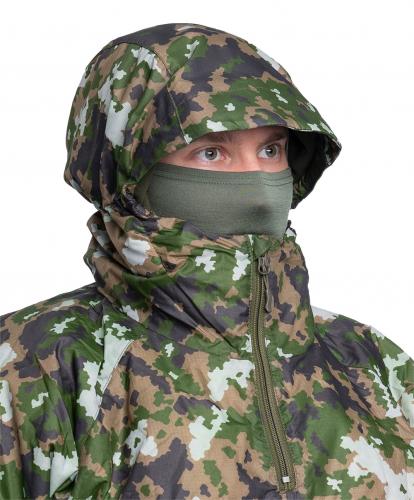 The helmet sized hood is adjustable to fit even a bare head, as pictured.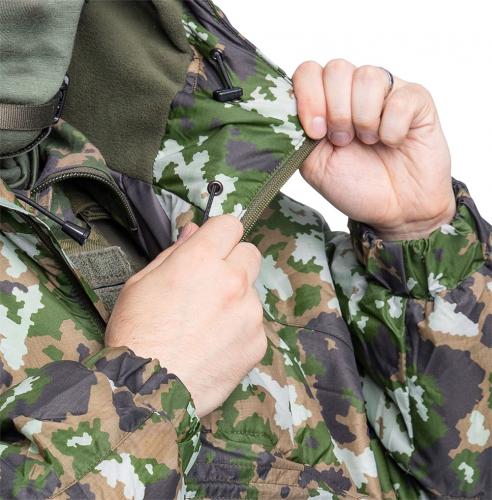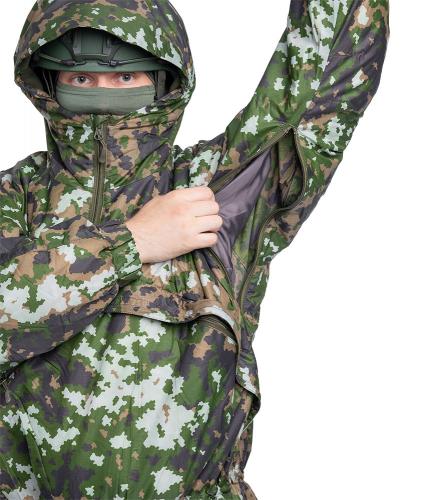 Long pit zippers for ventilation and access to sleeve and chest pockets of any jacket you might wear underneath.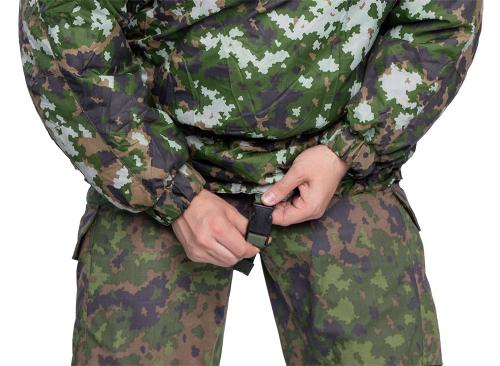 The crotch strap cinches up the hem and prevents it from rising up, making the anorak very wind and snow proof.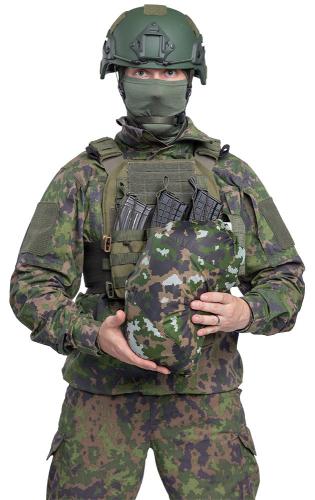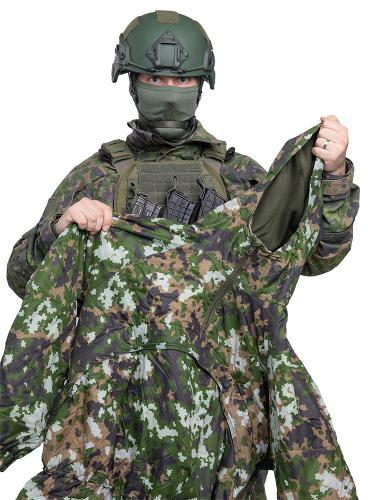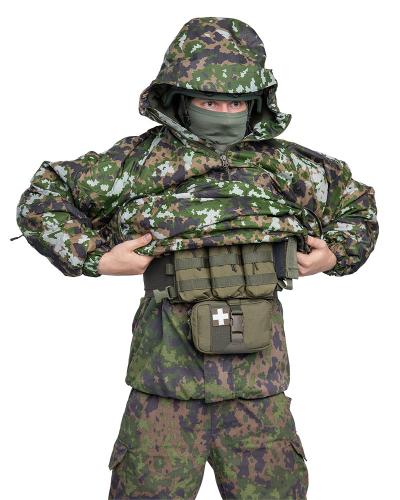 The anorak is sized to fit over a helmet and body armour / combat vest.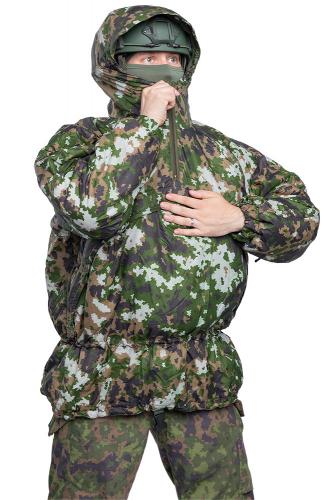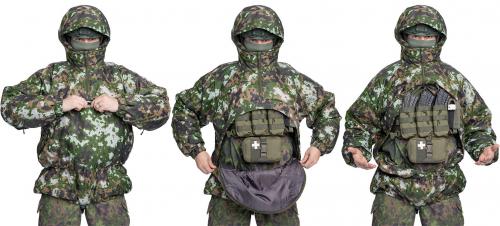 The front zipper opens up to give access to your gear.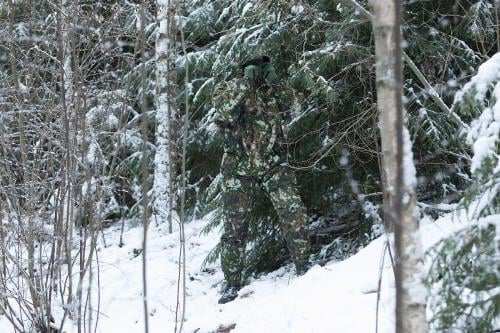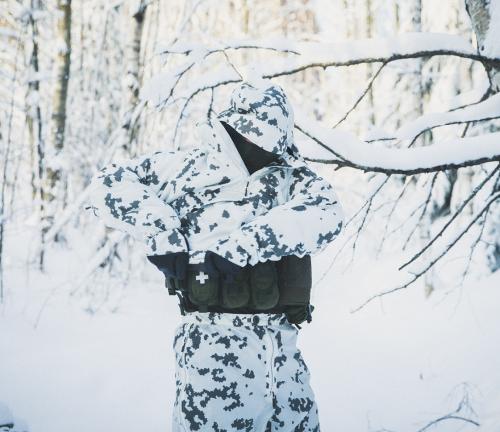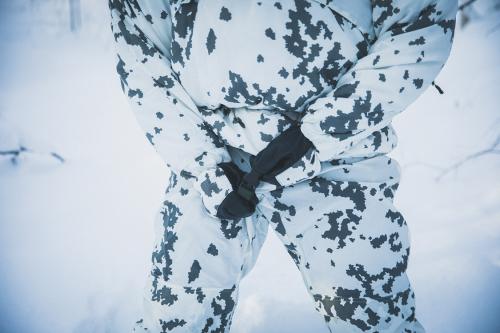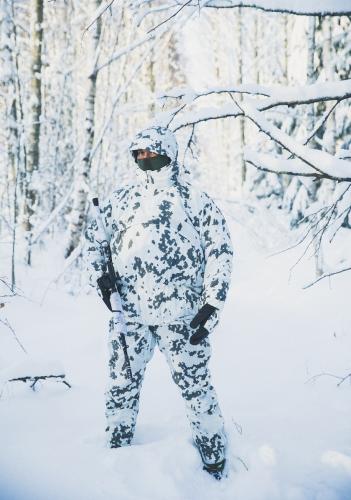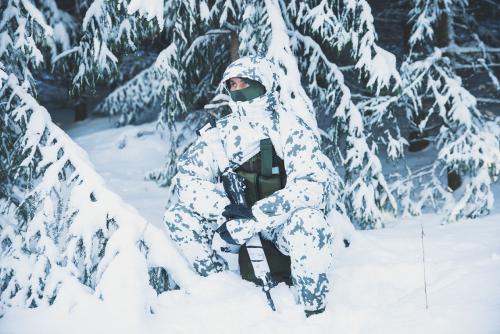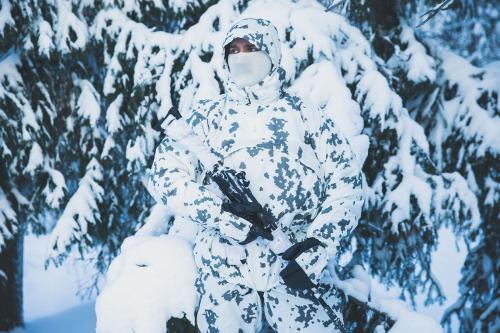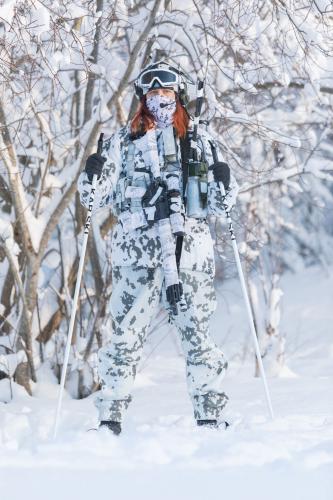 Särmä TST
Särmä TST L5 Thermal Anorak
Price 209.99 USD
excluding sales tax
Insulation garments worn during static pauses and breaks in cold weather need to be easy and quick to don and doff, otherwise they might not be used at all. The L5 Thermal Anorak is designed for easy layering over all your regular clothing and gear, including helmet and body armor.
Loading products...
Trouble with the metric system? Try our converter: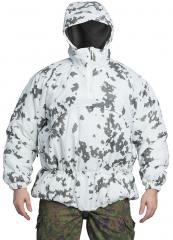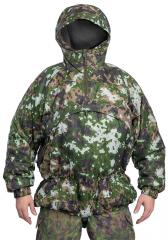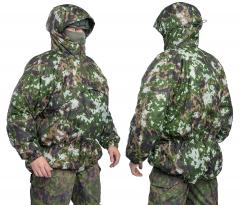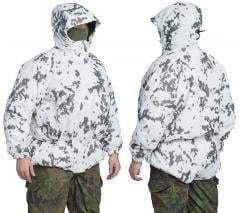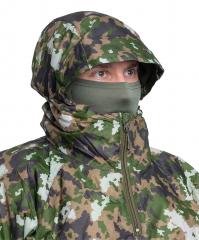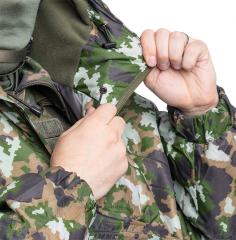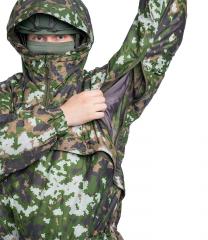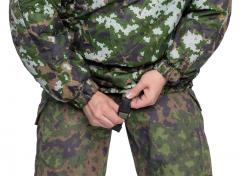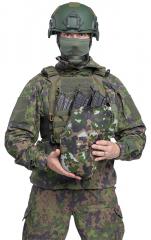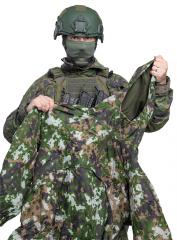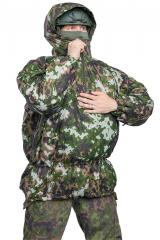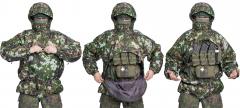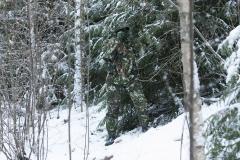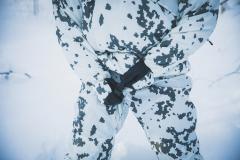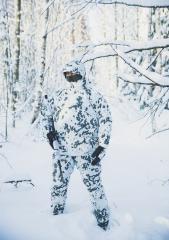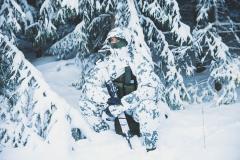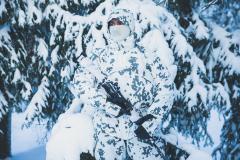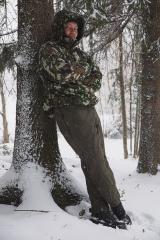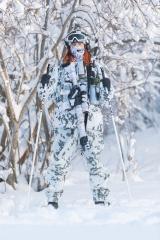 Insulation garments worn during static pauses and breaks in cold weather need to be easy and quick to don and doff, otherwise they might not be used at all. The L5 Thermal Anorak is designed for easy layering over all your regular clothing and gear, including helmet and body armor.
Over-sized fit for wear over fighting load
Helmet-sized adjustable hood w. fleece lining
Zipper collar w/ internal draft flap
Underarm ventilation zippers
Elastic draw cord-adjustable hem and waist
Removable crotch strap
Articulated elbows
Elastic cuffs
Large access zipper on the chest
Weight: 750 g / 26 oz. (Medium)
Materials:

Outer fabric: 98% PA 2% Carbon Ripstop, 75 g/m2 (2.2 oz)
Insulation: Climashield Apex 67 g/m2 (1.98 oz)
Lining: 100% PES

All materials are NIR-compliant
Skip the hassle of doffing your helmet, body armor, and load-bearing vest to put on your insulated jacket and then re-donning all the gear you just removed and then reversing the whole process in a moment when your short break is at its end. Just pull the L5 Thermal Anorak over all your gear and clothing and you´re ready to relax! Zippers on the chest and under the arms allow access to your pockets and gear without removing the anorak.
Although the design is focused at layering over all your other gear the L5 Thermal Anorak can also be used as a regular jacket under your load-bearing equipment. The underarm ventilation zippers help with thermal load management during high activity levels and they also offer a way to access upper arm pockets on jackets possibly worn under the anorak.
The lightweight materials and simplistic construction keep weight and bulk at a moderate level, especially when taking into account the large surface area of the over-sized anorak. The roomy cut (as well as the Climashield insulation of course) provides additional insulation. With the collar zipped up and hood and hem cinched the result is a very safe and cozy place where neither wind nor cold will bother you.
L5 - Thermal Shell
The fifth layer of the Särmä TST Clothing System is design for quick layering over your field wear, or for wear as a stand-alone cold weather uniform. Generous ventilation zippers minimize the thermal load of the layer, allowing the wearer added comfort. Camouflage prints and visible accessories are 100% NIR-compliant.
Take a look at our Särmä TST Clothing System!
Sizing
These are generously oversized to fit over bulky insulated winter clothing, body armor, and gear. If you don't intend to wear the Thermal Anorak over load-bearing equipment and/or body armor, you can downsize one step. You will still be left with enough room for warm insulated mid-layers and such.
Material
Outer Fabric: 98% PA 2% Carbon ripstop, weight 75 g/m2 (2.2 oz). Lightweight and breathable, a solid fabric choice for this type of winter overwhites.
Insulation: Climashield Apex, 67 g/m2 (1.98 oz). This is some of the best insulation there is, fantastic weight-to-insulation ratio, and great performance even in wet conditions. Apex is a continuous fiber filament, this means it does not need any attaching stitching as you would find on common polyester or down loft garments. By eliminating these stitches we also eliminate possible cold spots, further adding to the insulating properties of the garment.
Sewn in Estonia
These are sewn in Estonia, by an experienced factory that has a long history of producing clothing for military, law enforcement and emergency services.
Kierto Circular Economy
Return this product used but clean and unbroken, and you'll receive half of the product's original price as Varusteleka credits. Service is available only in Finland. Only Registered users can make Kierto returns. See more information about Kierto.
Varusteleka Särmä TST
Särmä TST is Varusteleka's in-house brand of clothing and gear designed for military and law enforcement end-users. Our clothing and equipment are made in co-operation with a number of experienced manufacturers with a strong background in producing clothing and gear for military and law enforcement officials, most notably for the Finnish Defence Forces. For further reading check out the Varusteleka's Särmä TST page.
Särmä TST products are covered by a 12-month warranty against defects in materials and workmanship. For further information please read our detailed warranty guide.
All products: Särmä TST
Recommendations
Loading products...
Reviews
You have already submitted a review. You can edit your text by clicking on it.
Log in and write a review.
Remove filter
Suomi
(4)
English
(2)
I would recommend for a friend
markus b.

02.12.2018 (Edited 02.06.2021)
Ihan uusi ostos, joten tähän(kin) arvosteluun on syytä suhtautua hyvin varauksellisesti. (Yritän muistaa päivittää)



Taukotakki m/05 -lumimaastokuviolla, hyvällä leikkauksella ja chest-rig -yhteensopivana. Ihan huippu juttu!



Hyvältähän tämä vaikuttaa, mutta itse olisin kyllä toteuttanut vähän eri tavalla. Yleensähän taukotakit eivät ole talvioloissa koskaan riittävän lämpimiä, mistä toki on se hyvä puoli, etteivät tauot turhaan veny. Tässä takissa eriste on aika ohut, ei tämä untuvataukotakille lämpimyydessä pärjää. Epäilen, että kovemmilla pakkasilla tarvitaan lisää vaatetuta alle, mikä kyllä pilaa taukotakin idean. Eritoten tässä tapauksessa, kun anorakki on varta vasten suunniteltu vedettäväksi tetsareiden sun muiden päälle (mikä on tosi jees). Itse eriste, Climashield, on kyllä markkinoiden parhaasta päästä, mutta itse olisin kyllä laittanut sitä enemmän. (Toisaalta esim Sissitakissa eriste on (oli) myös varsin ohut, eikä taatusti yhtä laadukas kuin tässä.)



Huppu on ohuella fleecellä-vuorattu, eikä toppatäytteellä eristetty kuten muu takki. Liekö sitten syynä kypäräyhteensopivuus ja kömpelyyden välttäminen (tai hinta), mutta kovin lämmin se ei voi ola.



Olisi myös kiva tietää nuotiolla kököttämistä silmällä pitäen, miten paloturvaton/turvallinen takki on.



Ja viimeisenä isoin kitinä. Miksei tästä tehty käännettävää: m/05 lumikuvio m/05 pakkaskuvio? Se olisi onnistunut aika vähin muutoksin, kun ei ole edes taskuja. Ja kumpikin päälikangas valmiina olemassa takin kahdessa eri versiossa. Painonlisäyskin olisi ollut jäänyt aika maltilliseksi, koska päälikangas on jo nyt melkein yhtä kevyttä kuin vuorikangas. Melkoisen turhat kainalovetskarit olisi voinut jättää pois käännettävyyttä vaikeuttamasta. Käännettävyys olisi parantanut maastoutumiskäytettävyyttä melkoisesti. Sotilaskäyttöön tarkoitetuissa toppavaatteissa käännettävyys on aika tavallista, löytyy mm. brittiläisistä (Snugpak), norjalaisista ja italialaisista ratkaisuista. Niin, ja tietty Sissitakista.
36
4
I would recommend for a friend
mika s.

20.01.2019 (Edited 02.06.2021)
Tosi tyytyvänen olen tähä tuotteesee...en ole käyttänny tätä taukotakkina vaan ihan liikkuessa ...tuntuu mukavalta päällä ja koko sattu just hyvin...suosittelen...
4
2
I would recommend for a friend
Tatu T.

03.12.2019 (Edited 05.06.2021)
Käydessäni Lekassa vedin lumipukuisen pakkasanorakin päälleni ja tykästyin aivan välittömästi kuosiin, takin keveyteen ja fiilikseen joka takki päällä tulee. Vähälumisella etelärannikolla pakkaskuviolle on kuitenkin lumikuviota enemmän käyttöä, joten sellaisen sitten hommasin. Vaimon ensikommentti takista oli: "tää on ihana, aivan kuin menisi makuupussiin!" Pitää muuten tasan tarkkaan paikkaansa :-)

PC+päiväreppu, LUSUlevyt ja etupaneeli mahtuvat kaikki hyvin alle. Niin, ja anorakki toimii loistavasti myös koiran ulkoiluttamisessa...

En ole päässyt kokeilemaan tätä vielä tosi kovilla pakkasilla, mutta sopivalla kerrospukeutumisella tämä tuntuu aika mahtavalle. Esim merinopoolo+taistelupaita+PC yhdessä anorakin kanssa ovat jo erittäin lämmin yhdistelmä. Jos lisää lämpöä tarttee niin sitten villapaita alle. Vetskarit kainaloissa ja edessä mahdollistavat myös lämmönsäädön vaivattomasti. Ehdottomasti paljon enemmän kuin pelkkä taukotakki.

Parannettavaakin olisi:
- takissa saisi olla joku tasku pikkutavaroille (tai irrotetulle takaklipsille)
- takki pitäisi olla käännettävissä lumi/pakkaskuvioiden välillä
- vasemmassa hihassa voisi olla velcro pelkälle lipulle ja ehkä johonkin eteen voisi mahduttaa myös arvomerkkivelcron
5
0
I would recommend for a friend
Buck L.

20.03.2021 (Edited 22.06.2021)
Worth every penny. Just had this on top of the thermal jacket in negative single digits and steady winds approx 20mph and I was toasty on my upper body. They need to get the pants in my size in stock! Lol

Im 6' tall 180 lbs and the medium is perfect

Only change I wish they had is hand pockets or at least a double zipper on the center so you can open from both sides
3
0
I would recommend for a friend
Gregory L.

26.04.2021
Quite warm and windproof, however I would really like to see it with a few Cordura reinforcement in high-wear areas. I didn't find any issues with the zipper arrangements, the front kangaroo zipper was great for use as an extra vent when you got hot but weren't ready to remove the anorak completely.

I'd also like to see this in a summer M05 camo, its a very utilitarian and practical garment but I stand out a lot in the shoulder seasons with the winter camo.
2
0
I would not recommend to a friend
Joonas U.

10.03.2022
Ei voi suositella täyteen hintaan. Taukovaatteena jos seisot t-asennossa liikkumatta varmaan hyvä, mutta vähänkään jos liikut tai käytät ulkoilussa niin saumat ratkeaa päälle?! Kuukauden kesti ja molemmat olkapäät ratkesivat,enkä ole mikään pullisteleva salihirmu.. Materiaali on kyllä mukava päällä ja lämmin ja näyttävä tämä takki kyllä on. Voisitte myydä paikkaus/korjauspaloja tähän takkiin.
1
0