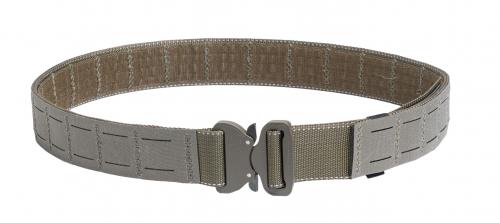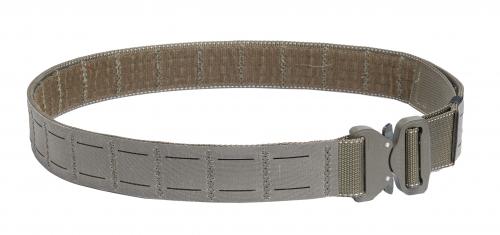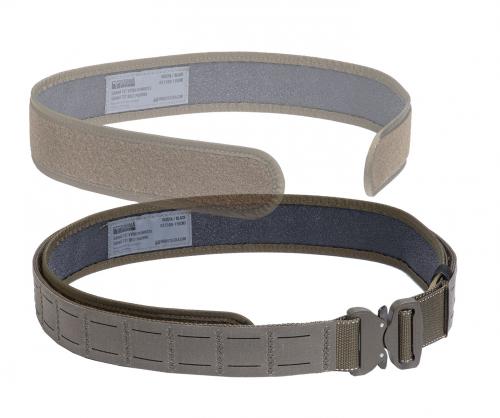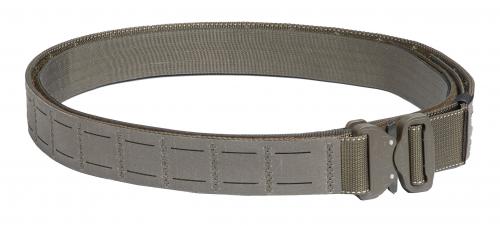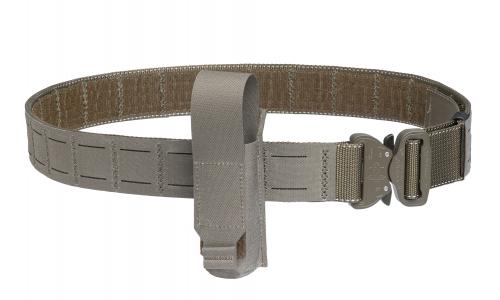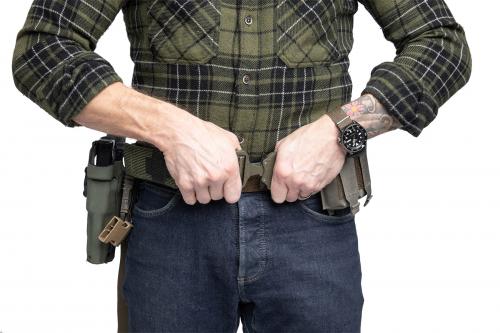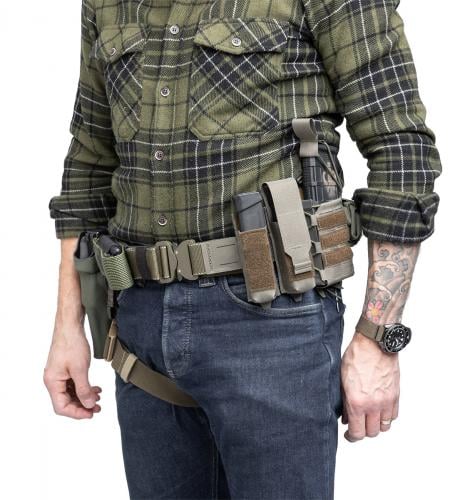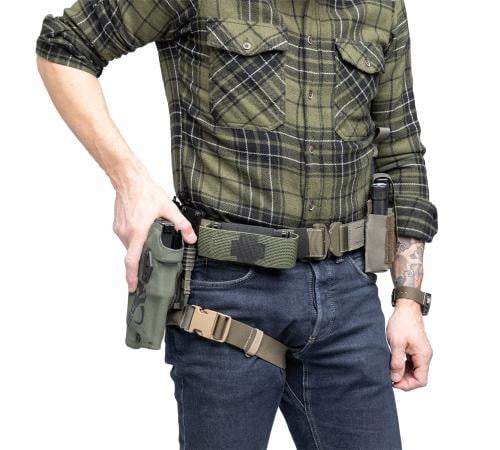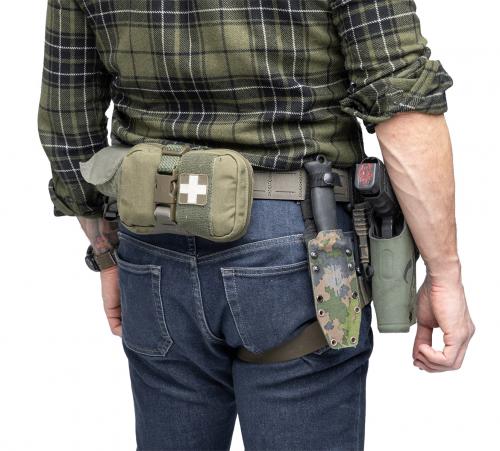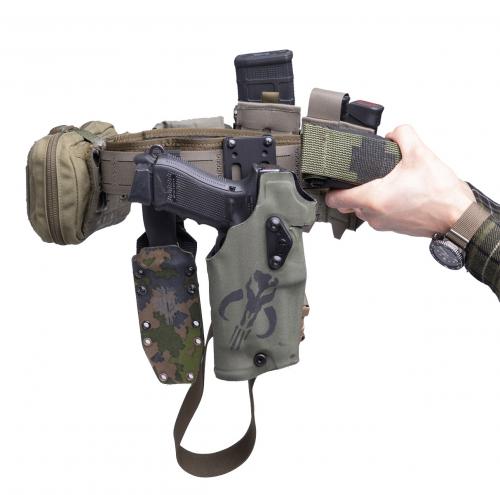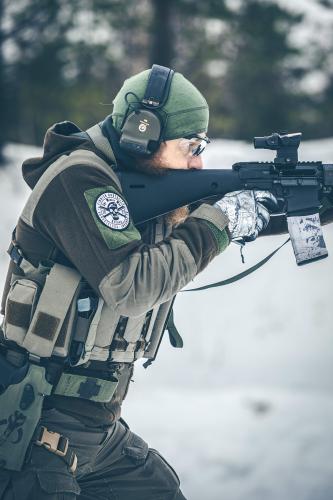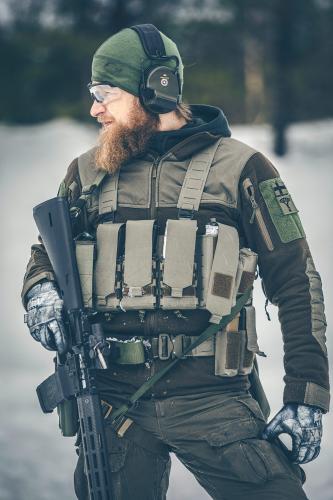 Särmä TST Shooter's Belt
Price 157.99 USD
excluding VAT
We wanted the most functional shooter's belt on the market, so we ended up designing it. This is a damn rigid, durable, comfortable, and smartly designed belt with a bomb-proof Cobra buckle and laser cut PALS webbing. Your mag pouches and other gear will stay exactly where you want.
Loading products...
Trouble with the metric system? Try our converter: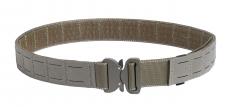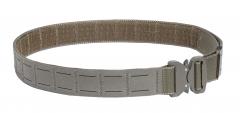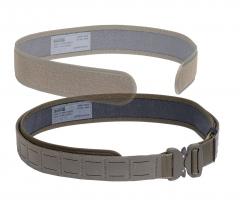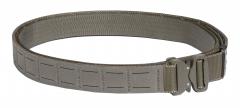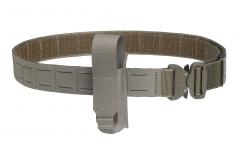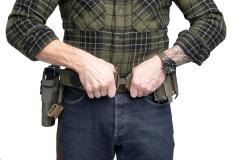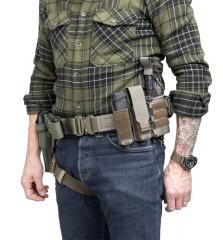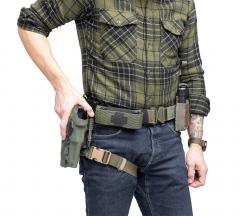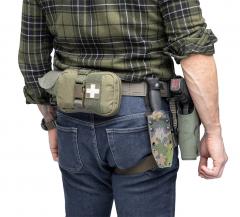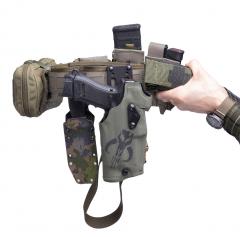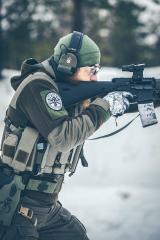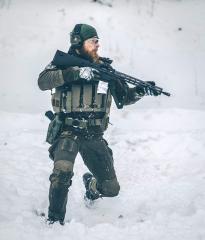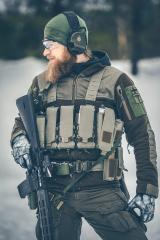 We wanted the most functional shooter's belt on the market, so we ended up designing it. This is a damn rigid, durable, comfortable, and smartly designed belt with a bomb-proof Cobra buckle and laser cut PALS webbing. Your mag pouches and other gear will stay exactly where you want.
Laser cut PALS webbing for gear
Durable Cobra buckle
Width: 45 mm (1.8")
Four adjustable lengths
Weight: c. 265 g (9.3 oz), 285 g (10.1 oz), 305 g (10.8 oz), and 325 g (11.5 oz)
Made in Germany, using European parts and raw materials
Rugged laser cut PALS webbing
You'll find PALS-surface almost on the whole length of the Shooter's Belt. Instead of sewing, we used LASER-cut Cordura for three particular reasons. First of all, this design keeps pistol mag pouches and other narrow items more securely upright. Furthermore, it ensured a lighter and flatter belt. Third, it reduces manufacturing time and materials required, which saves money.
Bomb-proof Cobra buckle
This belt comes with an AustriAlpin Cobra buckle, rated to 9 kN. The point of the Cobra buckle is that when you have once adjusted the belt correctly, you don't have to adjust it anymore. Just click and go.
Without a doubt rigid and stiff enough
Your shooter's belt should be as stiff as a government bureaucrat. You don't want it wobbling here and there with heavy gear because then it will chafe. This 45 mm (1.8") wide belt has a sturdy plastic reinforcement inside making it stiff enough. And it isn't just any shitty plastic, it will take at least -45 degrees Celsius (-49 F). So, these won't break in the wintertime fun and games either.
Easy to attach to the pants without screwing up the setup
When you have finally managed to set up all the gear on your shooter's belt, you don't want to fidget with them. If a need arises to loop the belt in the pants like it is required by certain shooting sports, you will feel like crying. It is impossible to do that with a stiff belt full of gear without detaching everything and starting all over. Even when the belt loop attachment isn't required, not using it might make the belt slip and slide here and there, which is both unpleasant and moves all your gear to less optimal locations.
The loops-covered Särmä TST Under Belt eliminates this problem. You put it through the belt loops of your pants, leaving the Velcro side on the outside. This shooter's belt has the corresponding Velcro on the inside. You can have all the gear in their correct places all the time. Then you slap the belts together and rock & roll.
An option for using without an under belt
If you must use the belt without attaching it to an under belt, you should cover the coarse hooks on the inside with something to protect your jacket. The Särmä TST Belt Padding offers protection and friction to better retain the belt.
Sizing
These shooter's belts come in four sizes, and each of them can be adjusted by 10 cm (c. 4") The sizes overlap a bit on purpose. The measurement method is like with a regular leather belt from the hole to the buckle, rather than the overall length of the belt.
Note that when you adjust the belt longer, you uncover webbing that has no PALS webbing on it. If you want as much webbing as possible, you should select a belt that fits you at the short end of the adjustment range.
On the other hand, you might prefer to have less material at and around the buckle to have a flat and comfortable front. In that case, shoot for a size that fits you when utilizing the full length of the belt. When doing this, note that an under belt will add some girth, so add estiproximately 7/8" to the length.
If estimating the belt length gives you anxiety, put a measuring tape through your belt loops when wearing pants without a belt. Don't measure an existing belt, make educated guesses based on the pant size, or use haruspicy.
Manufactured by German MD-textil
Särmä TST shooter's belts are manufactured by the German MD-textil, which is a family-owned business dedicated to tactical and technical gear. They make gear e.g. for the special dudes of the German army and border guard. They utilize state-of-the-art machines, which are almost as precise as German workers themselves.
To deliver only the best quality and maintain sustainable production, they work in close co-operation with special forces and do not source basic materials from low-wage countries. The fabrics, webbings, and sewing thread are made in Germany. The Velcro is made in Spain, and plastic parts are made in Italy. The Cobra buckles are made in Austria.
Särmä TST
Särmä TST is Varusteleka's in-house brand of clothing and gear designed for military and law enforcement end-users. Our clothing and equipment are made in co-operation with a number of experienced manufacturers with a strong background in producing clothing and gear for military and law enforcement officials, most notably for the Finnish Defence Forces. For further reading check out the Särmä TST corner of our website.
Särmä TST products are covered by a 12-month warranty against defects in materials and workmanship. For further information please read our detailed warranty guide.
Recommendations
Loading products...
Reviews
You have already submitted a review. You can edit your text by clicking on it.
Log in and write a review.
Remove filter
Suomi
(1)
English
(1)
I would recommend for a friend
Patrik M.

17.03.2021 (Edited 24.06.2021)
This is a great belt. Really solid and robust. Keeps your gear in place even with heavy loading and mygear doesn't wiggle around even when running. Works great with the two under belt types. What else would you want from a shooters belt? Works as intended with no extra unnecessary bs features - which is what I expect from varusteleka.

Update: I've had a chance now to run this at four matches since purchase. I use it with esstac mag pouches and a couple of cheapo off brand pouches. I run the belt heavy with 4 full rifle mags and two pistol mags without any issues. Everything stays very solidly in place.
3
0
I would not recommend to a friend
Anonymous customer

30.06.2021
Mielestäni hieman keskeneräinen tuote. Ensimmäiseksi ärsyttää onewrapin käyttäminen vyön hännän särmäämiseen, tähän hintaan toivoisi jotain vähän tyylikkäämpää ja toimivampaa ratkaisua. Itse ratkaisin tämän ompelemalla muutaman velcro-pätkän tähän tarkoitukseen. Lisäksi, vaikka itse vyö on suht jäykkä(jäykempikin voisi olla), soljen ympärillä oleva jäykistämätön osuus heikentää kokonaisuutta, ja esimerkiksi pistoolikotelo pääsee vedossa liikkumaan helpommin kuin esimerkiksi Esstacin shooters beltin kanssa, puhumattakaan IPSC-kisavöistä. Nämä ominaisuudet olisivat hyväksyttävissä jos hinta olisi kohtuullinen, mutta nyt tästä pyydetään premium-tuotteen hintaa.

Hyviä puoliakin on, leveys on sopiva, työn laatu hyvää ja molle-kujasto toimivaa. Koot ovat aika reiluja, S-kokoisen joutuu säätämään melkein minimi-pituuteen 175cm / 73 kg. sisävyön kanssa.

Täydellisen vyön etsintä jatkuu kuitenkin. Pienillä muutoksilla tästä saisi kyllä todella hyvän, ja hintakin olisi perusteltavissa.
3
0
Kierto Circular Economy
Return this product used but clean and unbroken, and you'll receive half of the product's original price as Varusteleka credits. Service is available only in Finland. Only Registered users can make Kierto returns. See more information about Kierto.