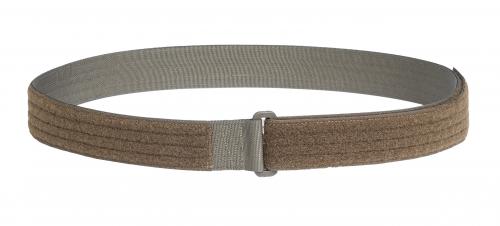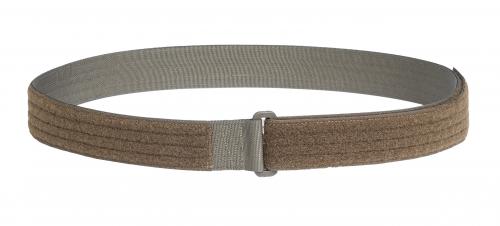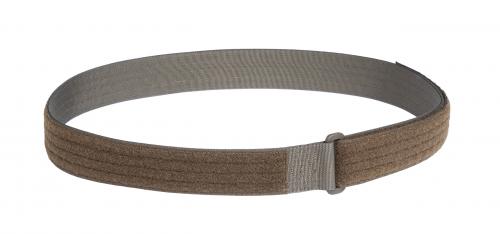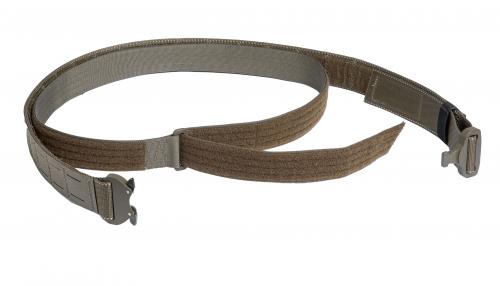 This is how the Shooter's Belt wraps around the Under Belt. (Shooter's Belt sold separately.)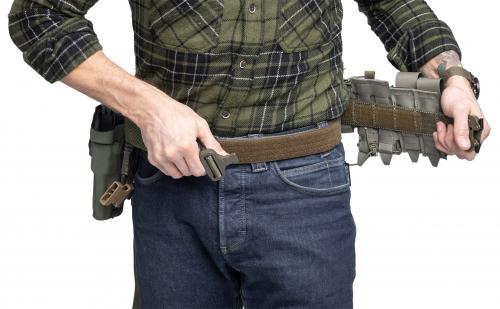 The Särmä TST Shooter's Belt can be anchored to the under belt with velcro. The Shooter's Belt is sold separately.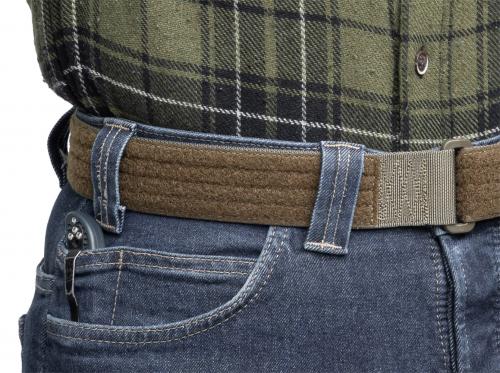 Särmä TST
Särmä TST Under Belt
Price 32.99 USD
excluding sales tax
The Särmä TST Under Belt is designed to be used together with Särmä TST Shooter's Belt. It makes putting on the Shooter's Belt super-easy without having to remove any of the gear, and it keeps everything where it's supposed to be.
Loading products...
Trouble with the metric system? Try our converter: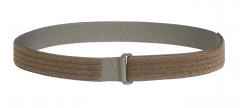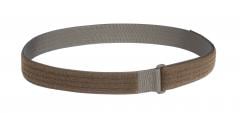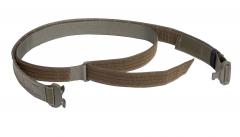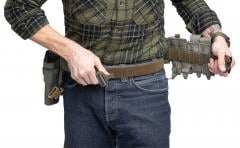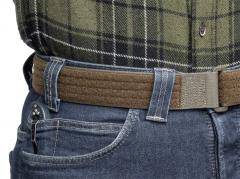 The Särmä TST Under Belt is designed to be used together with Särmä TST Shooter's Belt. It makes putting on the Shooter's Belt super-easy without having to remove any of the gear, and it keeps everything where it's supposed to be.
Use
Under belts solve the problem of not being able to put your actual equipment belt through your belt loops because of all the pouches and holsters. Having the belt go through the belt loops is a requirement in some dynamic shooting sports and generally a good idea to prevent your gear from shifting around and the belt rising when you grab something.
The outside of the Under Belt is covered with the fuzzy side of hooks and loops and you wear it like an ordinary belt. (No, not around the neck you pervs. Besides, leather is much more sensual for that stuff.) As the next layer, you stick the Shooter's Belt that has the coarse hooks side on the inside. on top of it. All your gear remains in their correct places all the time. Just combine the belts and cowabunga it is!
The Särmä TST Under Belt is compatible with all shooter's belts and equipment belts with hooks on the inside.
Materials
The Särmä TST Under Belts are made of German 500D Cordura.
Size info
First the essential info for lazy readers: if you're considering between two sizes, pick the smaller one.
These 40 mm (1.6") belts are available in four adjustable sizes that overlap a bit with the previous/next size. Each of them has a range of 15 cm (6"). The belts don't constrict to the indicated minimum length E.G. a 90-105 cm belt is 95 cm at its shortest possible setting. This is not a problem if you're shopping based on your true waist size: pants are worn lower where your circumference is a bit larger.
Manufactured by German MD-textil
These under belts are manufactured by the German MD-textil, which is a family-owned business dedicated to tactical and technical gear. They make gear e.g. for the special dudes of the German army and border guard. They utilize state-of-the-art machines, which are almost as precise as German workers themselves.
To deliver only the best quality and maintain sustainable production, they work in close co-operation with special forces and do not source basic materials from low-wage countries. The fabrics and sewing thread are made in Germany. The Velcro is made in Spain, and plastic parts are made in Italy.
Kierto Circular Economy
Return this product used but clean and unbroken, and you'll receive half of the product's original price as Varusteleka credits. Service is available only in Finland. Only Registered users can make Kierto returns. See more information about Kierto.
Carbon Footprint
The estimated amount of greenhouse gas emissions from the production of one single item is 3.7 kg CO2e. The estimation includes the entire production of the item, from the raw materials up until the finalized product exiting the factory. Read more about the calculation method.
Varusteleka Särmä TST
Särmä TST is Varusteleka's in-house brand of clothing and gear designed for military and law enforcement end-users. Our clothing and equipment are made in co-operation with a number of experienced manufacturers with a strong background in producing clothing and gear for military and law enforcement officials, most notably for the Finnish Defence Forces. For further reading check out the Varusteleka's Särmä TST page and Särmä TST Clothing System article.
Särmä TST products are covered by a 12-month warranty against defects in materials and workmanship. For further information please read our detailed warranty guide.
All products: Särmä TST
Recommendations
Loading products...
Reviews
You have already submitted a review. You can edit your text by clicking on it. You can filter the reviews by clicking on the elements of the summary.
Log in and write a review. You can filter the reviews by clicking on the elements of the summary.
Remove filter
I would recommend for a friend
Thomas L.

11.03.2021

Verified purchase
It's a decent Belt of its own, to the point that I like wearing it as an everyday belt. It's obviously simple to don and doff and on top of the intended functionality, which I will address in my review of the shooter's belt, it's the proper size for the clamps of say a T-Rex Arms IWB holster to clamp on to. This is a bonus since you might be doing something (e.g. a fun rangetrip) where you start out with your pistol in an IWB holster, which at some point is then swapped out for something attached to the shooter's belt. Switching to the gear belt is rapid, since you don't need to un-buckle the underbelt to tension it after removing the IWB.

A note regarding sizing. Being a tall half-hobbit with a BMI just shy over the slightly overweight line, I just barely measured both belts for size G2, however when donning the underbelt, I pretty much ran out of adjustment space. it is possible to wrangle just the tip of the adjustment section through the buckle, though once successful with losing fat mass, I'll be needing a G1 sized underbelt. So if you're like me and measure just on the border between two sizes, get the underbelt at the lower size and the shooter's belt at the larger size.

All in all I love it. It could be improved by offering a leather brown version for those who like to wear it on an everyday basis without being the guy with conspicuously inconspicuous clothing.

Update: It works fine as an underbelt for the shooter's belt. No surprise here, really, but still. Be smart and don it with an offset under the shooter's belt to help loosening and tightening, you're liable to want to readjust your general clothing during the day at some point, there IS a downside to directly linking your gear belt to your trousers.
4
0