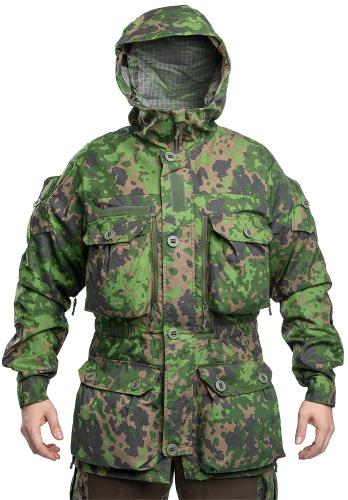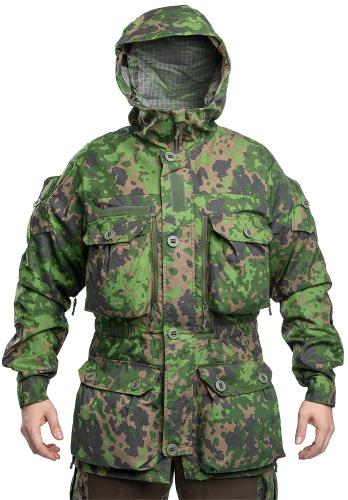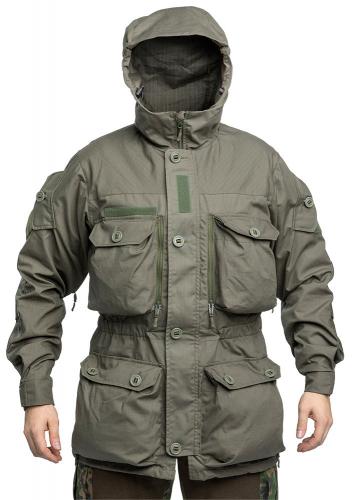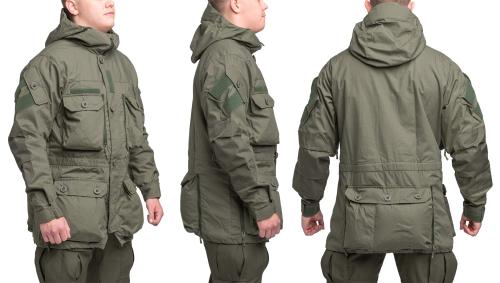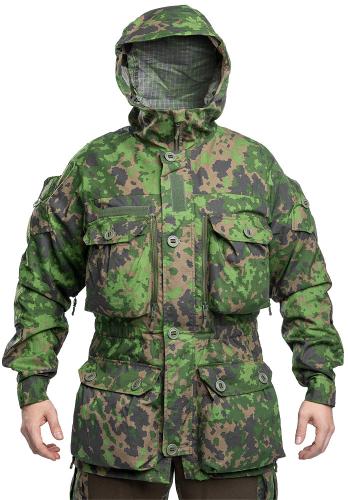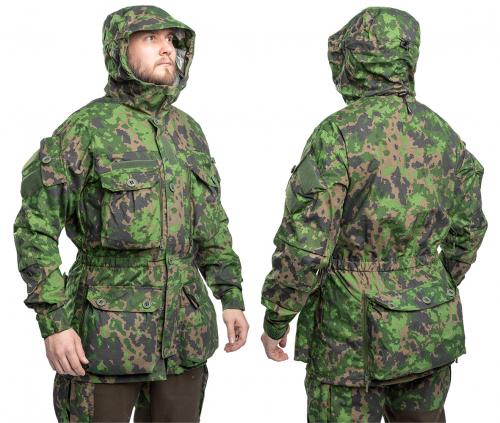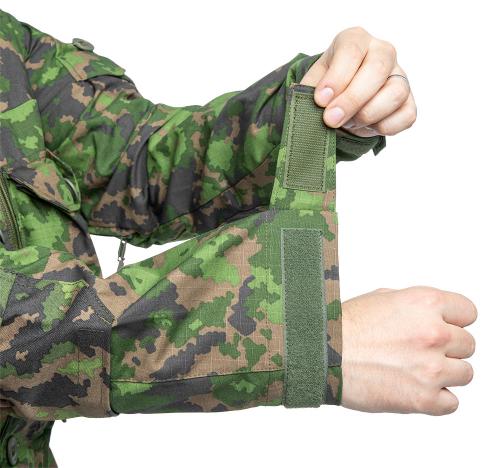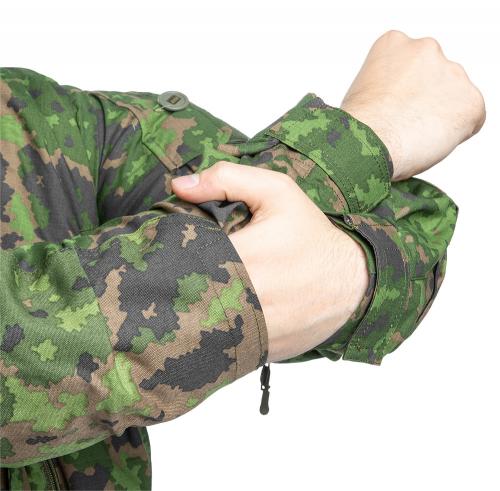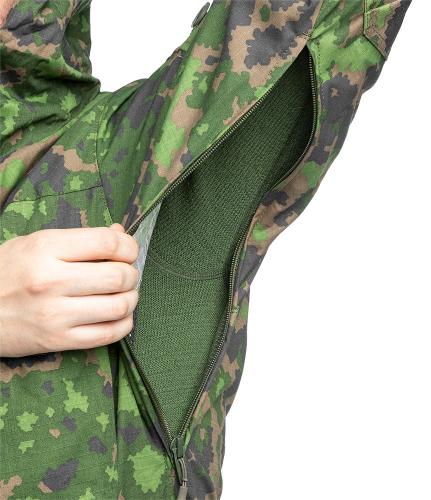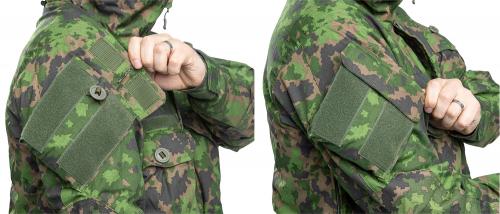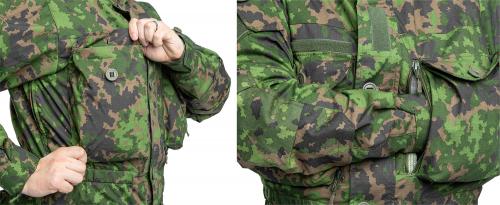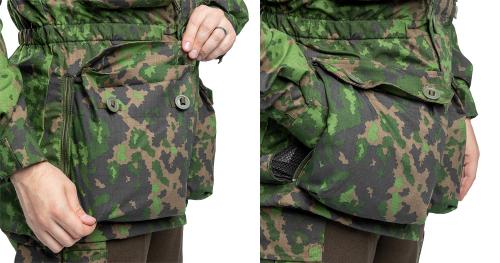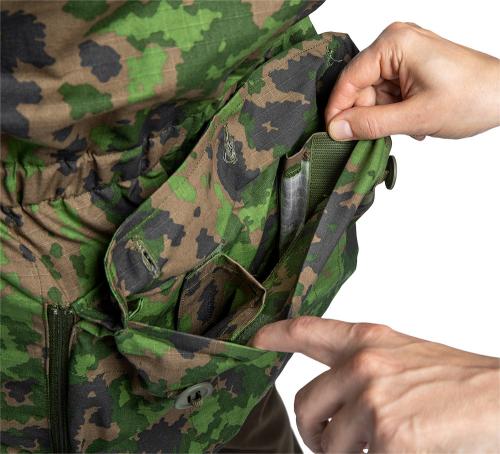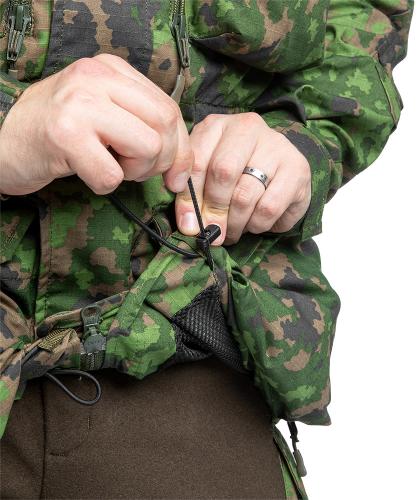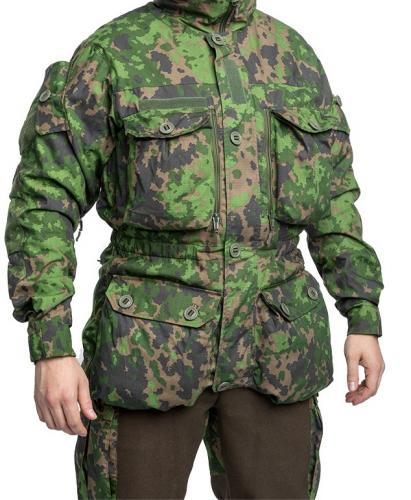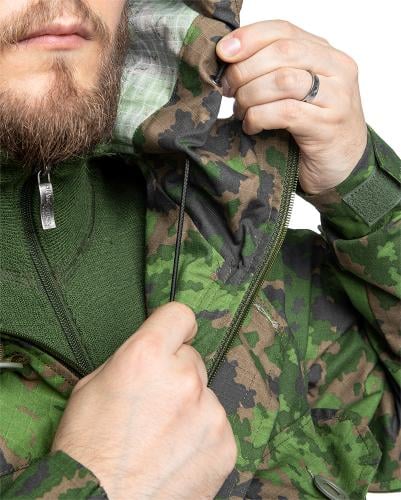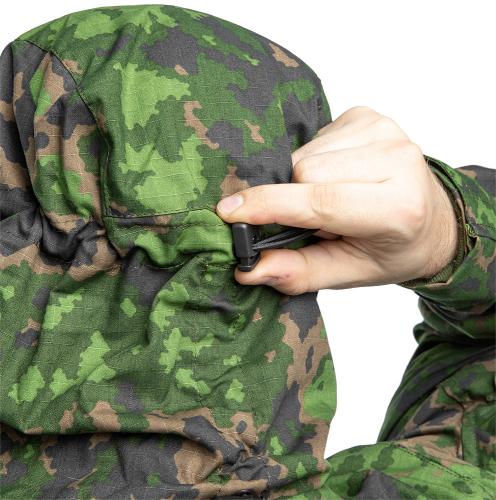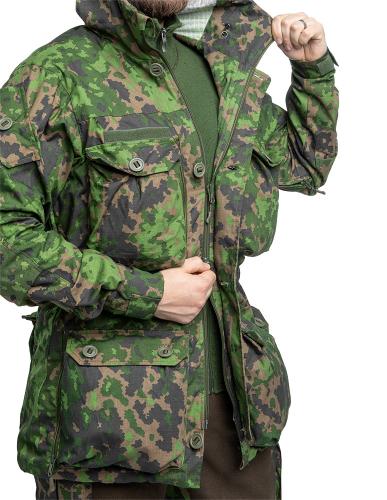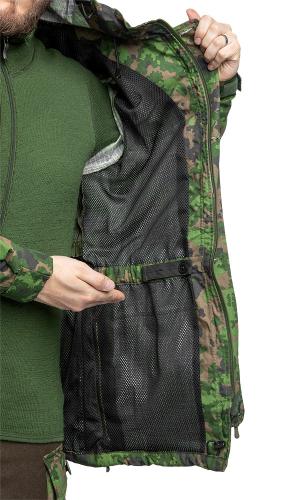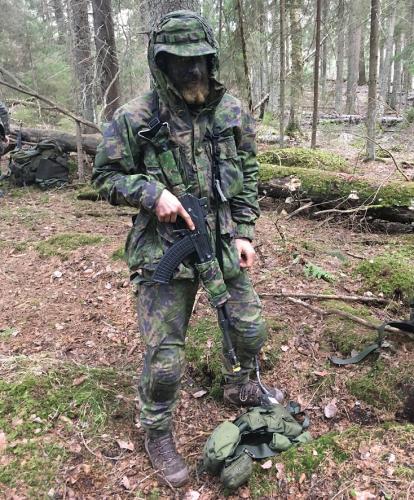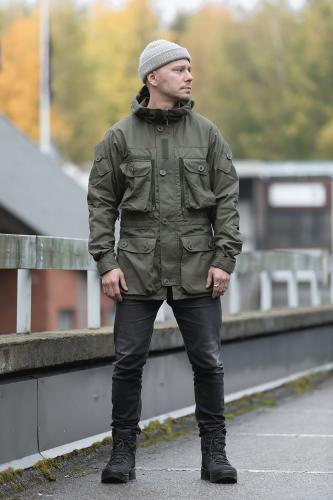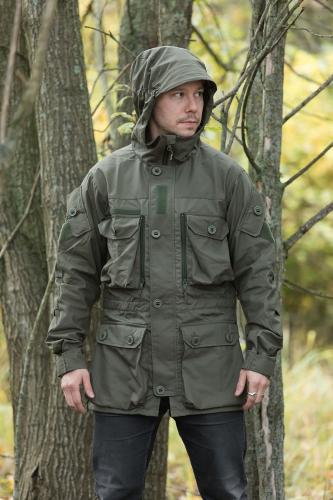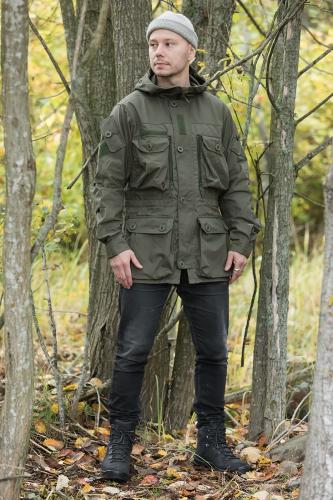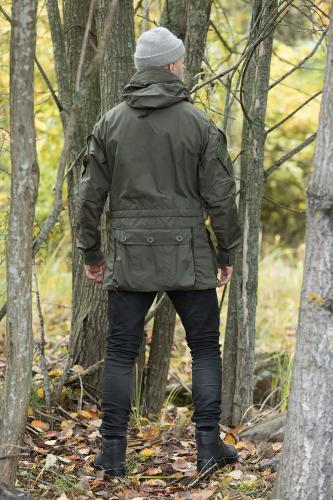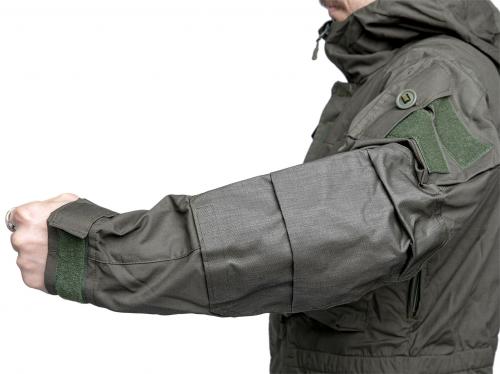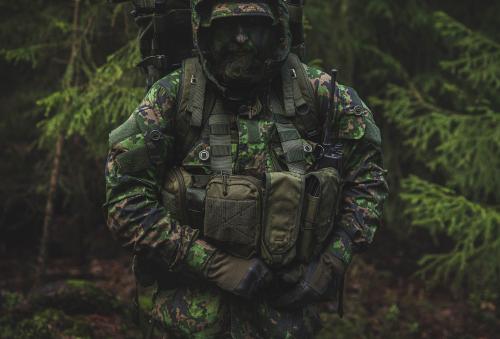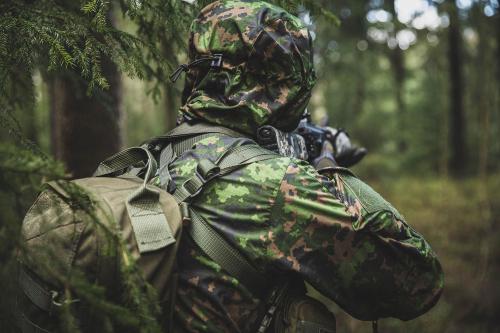 Show all: Särmä TST
Särmä TST L4 Recon Smock
Price 241.99 USD
excluding sales tax
This is a very unconventional smock. The fabric is not windproof, because we want you to be able to move a lot in this thing without succumbing to a heat stroke. Ventilation zippers and breathable materials guarantee comfort even during hot summer days. We did retain the massive number of pockets for organizing all your gear efficiently.
Loading products...
Trouble with the metric system? Try our converter: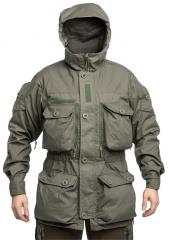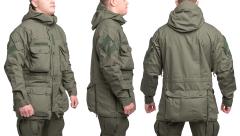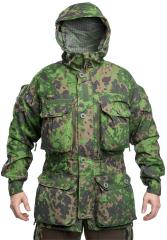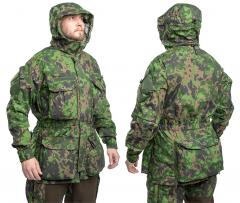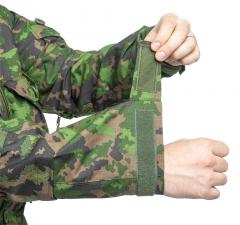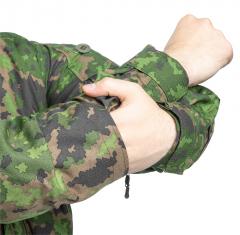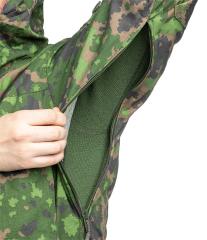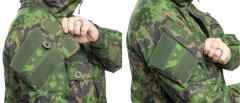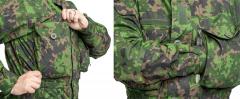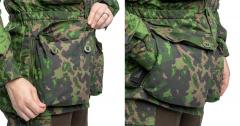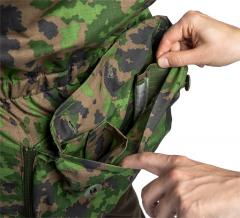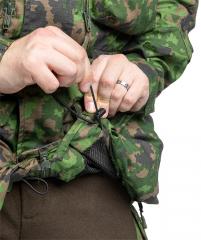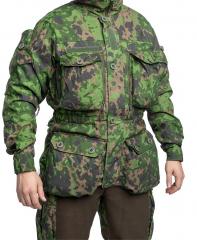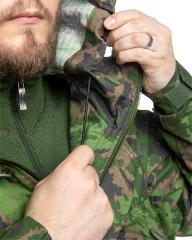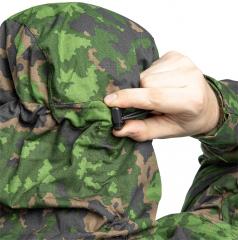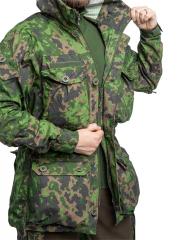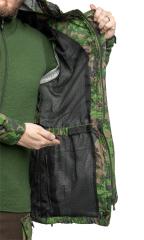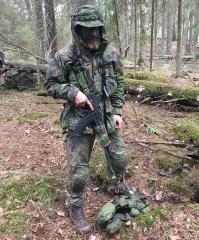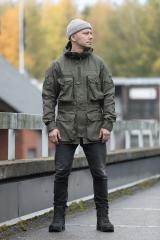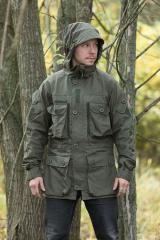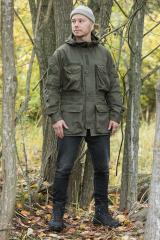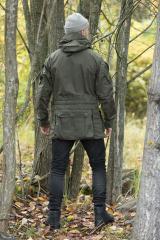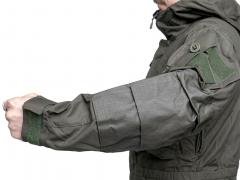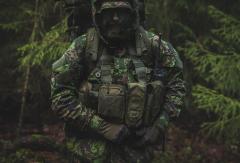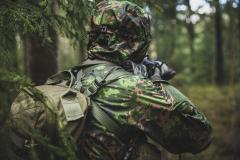 This is a very unconventional smock. The fabric is not windproof, because we want you to be able to move a lot in this thing without succumbing to a heat stroke. Ventilation zippers and breathable materials guarantee comfort even during hot summer days. We did retain the massive number of pockets for organizing all your gear efficiently.
The generous cut accommodates warm mid-layers for cold weather. If you need a heavier and windproof garment, we recommend Särmä Windproof Smock.
Generous fit for wear over warm mid layers
Two-way front zipper w/ exterior storm flap
Helmet compatible adjustable hood
Armpit ventilation zippers
Articulated elbows
Reinforced elbows with pad pockets
Hook-and-loop cuffs
Loop for name, rank and sleeve patches
Elastic waist adjustment webbing
Elastic drawcord adjustable hem
Twelve pockets:

Two sleeve pockets with buttons and hook-and-loop
Two buttoned chest pockets
Two zippered chest pockets
Two buttoned front hem pockets
Two zippered front hem pockets
Large buttoned horizontal back hem pocket w/ internal dividers
One zippered horizontal rear hem pocket

Materials:

Main fabric: 50/50 cotton/polyester
Mesh lining: 100% polyester
Reinforcements: 500D Cordura
Wax your smock! The main fabric is pretty "normal" stuff, not windproof nor waterproof or anything but very breathable (this is not a "Windproof Smock"!). For extra protection we recommend treating your smock with fabric wax, a very effective trick!
The generous size offers room to wear insulating layers underneath the smock, such as the Särmä TST L3 loft jacket, or even low profile body armor. This makes the Recon Smock functional in a variety of climates and circumstances.
Pockets are that other big "Smock Thing", and we've got loads of those, large and small, enough to carry gear and food to keep you going 24h.
The upper arm pockets close with a hook-and-loop flap and button: the button is quiet but slow, the hook-and-loop quick and noisy. If you want to use just the button - simply cover either side of the hook-and-loop for a quiet closure! Four large pockets with button flaps on the chest and hem offer lots of storage space. Four internal zippered pockets built into the mesh lining offer ventilation and organizing of smaller items, the two pockets on the hem double up as hand warmers.
The rear hem has a large button flap pocket which can be divided into three compartments using hook-and-loop dividers, this pocket is big enough for thermal clothing or a tarp. On the inside of the rear hem is a pocket built into the mesh lining, this pocket is accessed via two vertical zippers located on either side of the external pocket. This zippered pocket is suitable for large, flat items such as big maps.
Sizing
The measurements in brackets are the recommended user height and chest circumference. The fit is roomy to accommodate insulating layers underneath. This means you don´t have to switch jackets at the first sign of winter, just add some extra insulation.
Materials
The main fabric is ripstop-reinforced 50% cotton and 50% polyester. This is the same fabric that our combat shirts are made of. The elbow reinforcements are 500D Cordura. The mesh lining is 100% polyester. All visible fabrics are NIR-compliant.
The tags on the jackets falsely state the material composition as 50/50 cotton/polyamide, it's actually 50/50 cotton/polyester as stated above.
Sewn in Estonia
These are sewn in Estonia, by an experienced factory that has a long history of producing clothing for military, law enforcement and emergency services.
Varusteleka Särmä TST
Särmä TST is Varusteleka's in-house brand of clothing and gear designed for military and law enforcement end-users. Our clothing and equipment are made in co-operation with a number of experienced manufacturers with a strong background in producing clothing and gear for military and law enforcement officials, most notably for the Finnish Defence Forces. For further reading check out the Varusteleka's Särmä TST page.
Särmä TST products are covered by a 12-month warranty against defects in materials and workmanship. For further information please read our detailed warranty guide.
Recommendations
Loading products...
Reviews
You have already submitted a review. You can edit your text by clicking on it.
Log in and write a review.
Remove filter
Suomi
(4)
English
(3)
I would recommend for a friend
Timo V.

02.12.2018 (Edited 02.06.2021)
Erinomainen takki! Nimensä mukaan kamaa mahtui, poistin aiemman arvostelutekstin, kun ei ole enää ajankohtainen. Olkavarsitaskuihin mahtuu otsalamppu Oikealle, Surge+kotelo täynnä roinaa vasemmalle(Surge siis erillään, kotelossa esim BitKit , vedenpuhdistustabletteja ja tulentekovehkeet). Jerven Exclusive menee juuri ja juuri vöineen alataskuun, käytännössä kuitenkin takatasku on parempi. Jos on reppu selässä saa suojaviitan reppua riisumatta päälleen. Viitan suojasn voi myös kääriä lisäpäähineen ja hanskat taukoja varten, pysyvät siten kuivina. Huppu toimii hyvin lippalakin kanssa, ja kaulus on sopivasti suojaava, estää jopa lumen tippumisen niskaan. Ja silti hupun saa vedettyä pään yli ilman vetoketjun avaamista tai säätöjen muuttamista. Olen nyt tottunut alaspäin sulkeutuviin taskuvetskareihin, kaipa niissä on joku idea. Kankaan vuoksi annoin vain neljä tähteä tälle kaikkien aikojen retkitakille, toivoin kenttätakin kangasta - muuttaisin jos voisin. Takki on osoittautunut parhaaksi ikinä.
Nyt sain tähden lisättyä. Vetoketjut ovat muuten todella laadukkaat. Kyllä tämä on paikkansa nyt lunastanut, useampia päiväretkiä olen tehnyt, ja takki on osoittautunut korvaamattoman hyväksi.
10.3.2019 päivitys. Takki paranee käyttö käytöltä. Hiihtoretkillä olen käyttänyt, ja on kyllä helppo homma lastata tarpeet mukaan ilman reppua. Tämä takki on Lekalta kyllä kulttuuriteko kunnon retkitakkien sarjassa. Iso kiitos tästä!
14.12.2019. Nyt on varmaan vuoden verran käytetty. Parannusehdotuksia olisi sellaisia, että takin voisi tehdä samasta hieman tukevammasta kankaasta kuin on tehty Lekan taisteluhousut. Nykyinen kangas on hieman liian ryhdintöntä. Toisena asiana olisi, että kaulus voisi olla kuitenkin hieman paremmin suojaava, silloin kun huppu ei ole käytössä. ja kolmantena sanoisin, että taskujen nappien lisäksi voisi alunperin olla myös tarrat mukana, samaan tapaan kuin Lekan taisteluhousuissa - mutta tarrat on helppo lisätä itsekin.
9
0
I would recommend for a friend
Adam G.

20.10.2019 (Edited 05.06.2021)
Love it. Smocks aren't for everyone but this one has all the features I wanted. Had to widen the button holes a hair or two to make them easier to open/close but little else.
6
0
I would recommend for a friend
Percy P.

18.06.2020 (Edited 06.06.2021)
Great piece of gear. Love all the pockets. Fabric is quite thin, would be nice to use something more sturdy to make it more robust.
7
0
I would recommend for a friend
Eino L.

27.01.2021 (Edited 15.06.2021)
Ensituntumalta oikein hyvän oloinen takki. Suurin harmin aihe on alhaalta aukeavat taskun vetoketjut, tuntuvat kömpelöiltä ja hiukan pelottaa pikkutavaran puolesta. Eivätpähän aukea ryömiessä ja kai niihinkin tottuu. Taskujen vetoketjuista siis puoli tähteä pois.

Takin huppu on aivan jumalallinen. Itselle huput ovat yleensä joko liian pieniä, tai sitten ne tulevat silmille niin että näkökenttä kapenee ahdistavan paljon. Tässä hupussa on kahden yleisimmän kiristyksen lisäksi kolmas, joka vetää hupun sivuja taaksepäin kiristäen huppua paremmin päänmyötäiseksi ja vetäen reunoja pois näkökentän tieltä. Jos olisin tämän tiennyt olisin ostanut takin jo ennen kakkoslaadun alennusmyyntiä.

Kakkoslaadun nurikuriset kyynärvahvikkeet saatan nähdä jopa etuna. Kävisi järkeen että kumitettu pinta olisi helpompi puhdistaa, ja jos sisäpuolella on luistavampi kangas niin se ei todennäköisesti myöskään narise kyynärsuojia vasten kuten esim. lekan taistelupaidoissa. En ole tätä tosin vielä kokeillut.

Päivitys: kyynärsuojia tuli testattua. Kuten arvelin ne eivät kakkoslaadun takissa narisseet lainkaan toisin kuin taistelupaidassani jossa niitä ei siitä syystä kehtaa edes käyttää. Suosittelen todella kakkoslaatua jos vihreän takin haluaa, on noin halpakin.
1
0
I would recommend for a friend
Jonne S.

30.01.2021 (Edited 15.06.2021)
omistan, juuri ostin, kieltämättä olisi tuon alennuksenkin ottanut, -20% Helmikuussa olisi tuntunut ihan buenolta, kuitenkin suosittelen
2
0
I would recommend for a friend
Anton K.

01.02.2021 (Edited 15.06.2021)
I would recommend for a friend
Tuukka P.

30.05.2021 (Edited 15.06.2021)
Vuoden käyttökokemuksella vihreästä smockista voin sanoa, että takki toimii kesällä ja talvella, sateella ja paisteella. Täysin vedenpitävä tämä tietenkään ei ole, mutta kestää normaalin sadepäivän toiminnallisuudet hyvin pienellä vettymisellä. Leikkaus on toimiva ja ainoastaan rintavetoketjujen avaussuunta vaatii totuttelua. Tästä takista ei taskutila lopu kesken ja sisustan verkkovuori tekee takista monikäyttöisen, koska se tasaa lämpötilaeroja takin sisällä.

Kiinasmockiin verrattuna työn jälki on erinomaista ja taskut, vetoketjut, kiristykset ja hihansuut toimivat paremmin. Recon smock pitää vettä ja tuulta paremmin kuin halpaversio. Jos sinulla ei vielä ole smockia niin osta tämä ja jätä halvempi hyllyyn, et tule katumaan. Tämä on oiva takki ns. "one jacket maneille", jotka mielummin vaihtavat alusvaatetusta kuin takkia.

Kuten aiemmissa arvioissa on jo mainittu, niin takin huppu on todella toimiva niin vesisateella kuin lumipyryssäkin, molemmat on tullut testattua. Takki toimii myös pyöräilytakkina.
0
0
Kierto Circular Economy
Return this product used but clean and unbroken, and you'll receive half of the product's original price as Varusteleka credits. Service is available only in Finland. Only Registered users can make Kierto returns. See more information about Kierto.