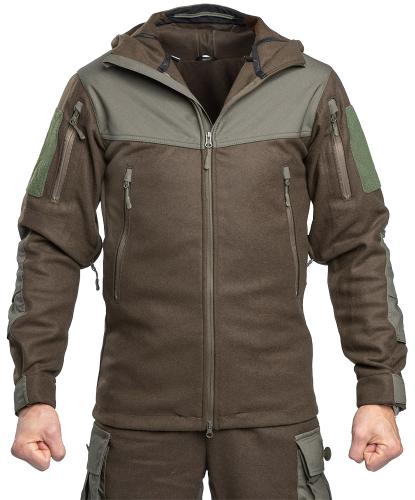 Särmä TST Woolshell jacket
Price 183.99 USD excluding VAT
Flat Rate Shipping to USA $9.99
100 % recommends
Sold 109 pcs in the last two weeks
Loading products...
Trouble with the metric system? Try our converter: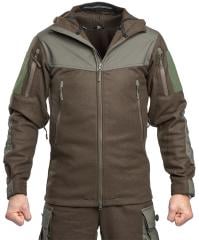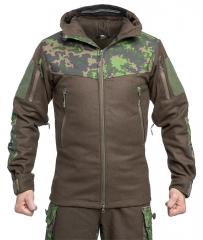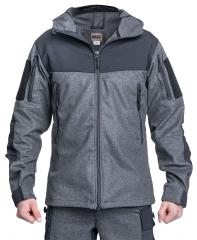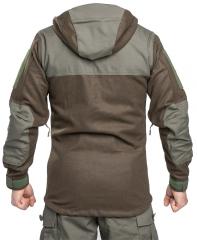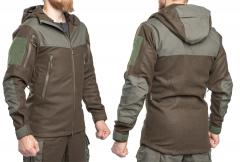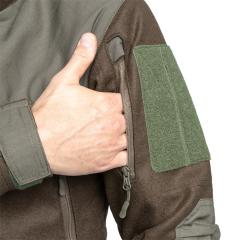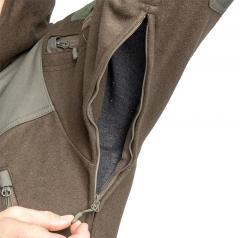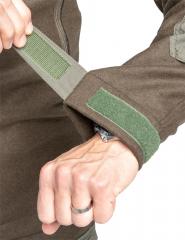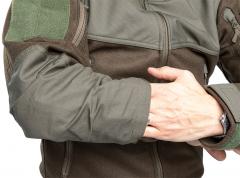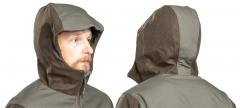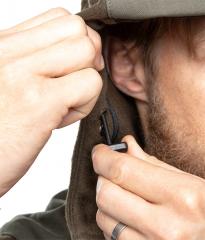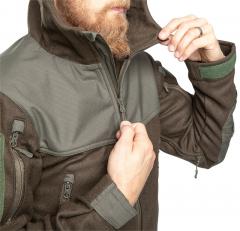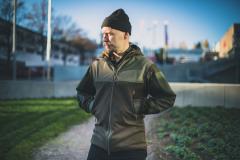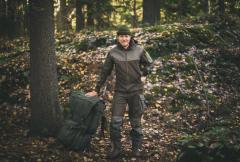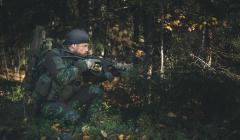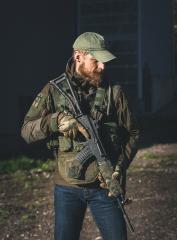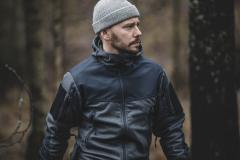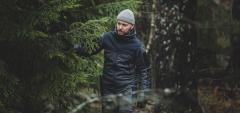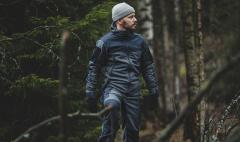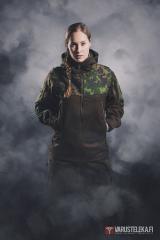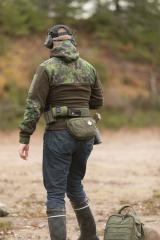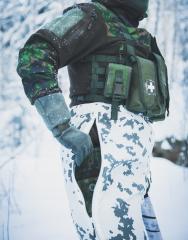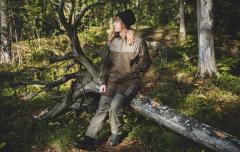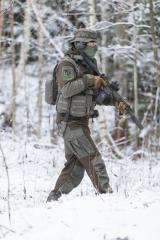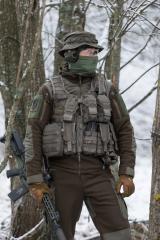 We've played around with many wool-based outdoor and military clothes over the years, the Woolshell suit is a completely re-thought design based on experiences and ideas gathered from numerous projects. Functionally this is much like a modern tactical softshell jacket with its minimalistic and sleek appearance. Combining this functionality with high-quality natural wool fabrics makes this a rather unique garment!
Wool? As in old timey clothes?
Yes, but high quality wool, not at all scratchy and nasty. Proper wool is really a top material:
Breathes, doesn't feel like plastic
Won't soil easily, but cleans up nicely
Is naturally fire retardant
Forms on its wearer
Relatively warm even if it gets moist, but won't really soak in water.
Good wool frieze is expensive and has some heft to it, that's why it's not nowadays used so much. It's still more than a viable application for temperate and cold weather clothing articles.
Modern, functional design
Snug fit
Adjustable hood
Front zipper w/ interior storm flap
Underarm ventilation zippers
Elastic draw cord adjustable hem
Articulated elbows
Elbow reinforcements w/ pad pockets
Hook-and-loop cuffs
Loop for sleeve patches
Four pockets:

Two zippered chest pockets
Two zippered upper arm pockets

Materials:

Wool frieze: 70/20/10% wool/polyamide/Cashmere
Reinforcements: 50/50% cotton/polyester
Pocket lining: 100% polyester
The original idea for the Woolshell design began as a simple fantasy - wouldn't it be great to have a wool suit which could comfortably be worn under gear and shell garments without causing too much excess bulk? Basically this would be a garment that could alternate between shell and mid-layer functions, with the fantastic properties of wool being the main attraction. This idea matured over the years and eventually ended up as an update for our legacy wool jackets and pants, tying these together with the current Särmä TST clothing system designs.
Besides the wool and it's naturally fantastic properties the other big thing about the Woolshell jacket is the design. The snug fit minimizes excess material which means a decrease in weight and less uncomfortable bunching up under gear and shell clothing. The fit and low-profile pocket design result in a sleek garment, especially considering the main material! And when the going get's tough, that's when the underarm ventilation zippers and breathable materials kick in.
Sizing and fit
Sized according to recommended user height and chest circumference. The fit is designed to be quite snug for wear under shell garments and load-bearing equipment, not super roomy like many old school wool jackets. If you want to load up on very thick mid layers you can pick one size larger than our measurements would recommend.
Materials
High-quality European wool frieze
70% wool, 20% polyamide and 10% Cashmere wool, 600 g/m2. The polyamide content is added to the mix to reinforce the otherwise not-so-wear-resistant natural wool, thus extending the life of the finished garment. Wool is an incredible material for outdoor clothing, keeps you warm, dry and breathes better than anything. We're proud to say that this wool frieze is the best we could get our hands on. If you're going to make wool clothing, you better do it properly!
Reinforcements
50% polyester, 50% cotton, ripstop reinforced. Receptive to fabric wax, by the way!
Effective now, the grey ones have ink-coloured reinforcements, as pictured.
Wash and care
As these are made of wool, they don't need to be washed very often - the best way to keep wool clothing clean is to simply brush off any dirt and if necessary wipe it with a wet cloth. If you must, machine wash at 30-40 degrees Celsius with wool cycle. Hang dry. When drying, stretch the garment a bit to open up the fibres again. Use of wool care products recommended!
Särmä TST
Särmä TST is Varusteleka's in-house brand of clothing and gear designed for military and law enforcement end-users. Our clothing and equipment are made in co-operation with a number of experienced manufacturers with a strong background in producing clothing and gear for military and law enforcement officials, most notably for the Finnish Defence Forces. For further reading check out the Särmä TST corner of our website.
Särmä TST products are covered by a 12-month warranty against defects in materials and workmanship. For further information please read our detailed warranty guide.
Sewn in Estonia
These are sewn in Estonia, by an experienced factory that has a long history of producing clothing for military, law enforcement and emergency services.
Reviews
You have already submitted a review. You can edit your text by clicking on it.
Log in and write a review.
Remove filter
Suomi
(13)
English
(9)
I would recommend for a friend
Jari L.

Varusteleka employee

20.10.2018
I would recommend for a friend
Pekka K.

01.11.2018
Tämä oli pakko ostaa heti. Tarpeeksi pitkät hihat ja helma, Long mallissa (olen 198 cm). Jämäkkä materiaali ja mukava pitää. Tosin alla on oltava paita, joka ei jätä ihoa paljaaksi, sillä muuten voi kutittaa, ainakin uudenkarheana. Armeija-ajoilta olen vähän kaivannut sarkatakkia kylmiä varten. Huppu on toimiva ja toimii myös pelkkänä kaulan ja niskan lämmittimenä. Maastokuvion ja ruskean yhdistelmä vähän ensi näkemältä oudoksutti mutta nyt se tuntuu ihan hyvältä, mukavan erilaiselta. Kainaloissa vetoketjut joista koko kainalo aukeaa tuuletettavaksi, luultavasti ihan kätevä hikoilun vähentäjä, jos menee käymään sisällä tai istuu lämpimään autoon.
2
0
I would recommend for a friend
Tobias R.

02.11.2018
I would recommend for a friend
Stephane M.

10.11.2018
Love it . Have the jacket and pants with Green, not M05. I have medium regular and it is just large enough to fit above other gear. Hunting, hiking, etc... perfect for fall. Thanks guys for make these!
0
0
I would recommend for a friend
Michael F.

15.11.2018 (Edited 04.01.2019)
Awesome jacket !
I have the M05 camo pattern and it's slicker than shit ! Great quality throughout the entire piece , materials ,zippers , seams etc everything is top quality and very well made. The sizing guide is spot on as well.
I would not hesitate to recommend this to anyone !
3
0
I would recommend for a friend
Anonymous customer

15.11.2018
istuvuu tosi hyvin laihallekin kaverille, hihamerkkien tarrapaikat saa irrotettua ilman että jää reikä sarkaan, sopivasti taskuja.
1
0
I would recommend for a friend
Janne J.

25.11.2018
Loistava takki, istuvuus, käyttömukavuus ja lämmitys oikein mainio.

Ainoa negatiivinen juttu, että +5 kelillä päällystäkkina käytettynä repun kanssa 15km marssin jälkeen takin selkämys nukkaantui hieman alaselän kohdalta. Ei siis se kestävin kangas päälimmäisenä kerroksena. Näinhän taki kuvauksessakin lukee. Hyvä kuitenkin tiedostaa.
3
0
I would recommend for a friend
Janne J.

25.11.2018 (Edited 25.11.2018)
I would recommend for a friend
Antti M.

08.12.2018
Woolshell-combo on kyllä erinomainen valinta eräilyyn ja muutenkin ulkoiluun. Sarka on lämmin ja samalla mukavan hengittävää. Takin istuvuus on mahtava ja housujen korkea vyötärö on todella upea ominaisuus. Näistä kokotaulukoista vain en ymmärrä mitään. Aina, kun tilaan niiden mukaan sopivan mallin, saan laavun. Onneksi sain taas helposti pienemmät koot vaihdossa.
6
0
I would recommend for a friend
Tommi M.

09.12.2018
Erinomainen vaate. Ostin ihan pelkästään siviilikäyttöön talven päällystakiksi, toimii mainiosti. Ja kokotaulukon mukaan valittu yhden koon suurempi takki vetää alleen hienosti paksummankin hupparin.
5
0
I would recommend for a friend
Matthew A.

14.12.2018
Great Jacket with Excellent construction. I am 6'2 and 225lbs very fit, I ended up in a Large long and it fits great, room enough underneath for layers but not too baggy. If you arent chubby order a size down from the chart based on chest size. I should be in a XL long but, it was cut for a chunkier man.

Glad i bough this instead of some bullshit expensive synthetic shell made in china. Much better quality.
11
0
I would recommend for a friend
Matthew A.

14.12.2018
Great Jacket with Excellent construction. I am 6'2 and 225lbs very fit, I ended up in a Large long and it fits great, room enough underneath for layers but not too baggy. If you arent chubby order a size down from the chart based on chest size. I should be in a XL long but, it was cut for a chunkier man.

Glad i bough this instead of some bullshit expensive synthetic shell made in china. Much better quality.
7
0
I would recommend for a friend
Barry N.

28.02.2019
This is the best softshell I have used, and I have used many of them. It has exceptional thermal regulation. Excellent design, the pockets clear the pack belt and the shoulder pockets are big enough to use. The hood works well, it provides for very good peripheral vision and the stiffener is just right. The hood adjusters are routed so that they don't blow in your face and they are easy to use with gloves. The hem adjusters are clear of your pistol and belt knife and also easy to use with gloves. The zippers work well, don't snag, and there are zipper garages everywhere. It blocks wind well even when wet, yeah wool is supposed to be warm when wet but wind is often the killer. The cuffs adjust well for a variety of gloves. Construction and sewing are excellent. It has a nice tight hard finish that is easy to brush off when it gets dirty.
4
0
I would recommend for a friend
Farasha E.

11.03.2019
With this, an outer shell, a base and mid layer, there is almost no weather in which a heavy winter jacket is needed. I vastly prefer this as an insulation/reinforcement layer compared to synthetic loft.
1
0
I would recommend for a friend
Mikko K.

03.04.2019
Kerrassaan erinomainen takki. Toimii mutta ei tule tielle.
-Lämmin, mutta takki päällä ei tunnu ja näytä Michelin-ukolta; ja lämpivyydestä huolimatta ei tule liian kuuma kun lämpötila nousee päivän aikana.
-Riitävän pitkät hihat ja helma pitkäselkäiselle, kiitos Long-koon.
-Sietää tihkusadetta/räntää tms. kastumatta ja pitää vähän tuulta, mutta ei tunnu ikävältä niinkuin muovitakit jatkuvassa käytössä. Navakampi tuuli tulee tienkin läpi
-Kaulus silkkaa parhautta, suojaa mutta ei kurista vaikka alla olisi paksumpaa välikerrosta. Harvassa takissa on näin hyvä
-Pelkäsin että kaksi vartalotaskua on liian vähän, yleensä tarvitsen kolme. Tässä on kuitenkin sen verran hyvät taskut että kännykkä ja lompakko sopivat hyvin samaan taskuun ja toinen tasku pysyy vapaana pipolle ja hanskoille
1
0
I would recommend for a friend
Janne P.

08.04.2019
Takki on hyvä. Sarka toimii loistavasti ainakin näillä nollan molemmin puolin sahaavilla lämpötiloilla.
Puolitähteä miinustin, koska kangas ottaa kieltämättä iskemää selkäpuolelle repunkantamisesta.
Mutta sitten huppu. Voi voi.. Huppu itsessään on hyvä ja toimiva, mutta miksi laittaa kiinteä huppu takkiinn, mikä jo tuotekuvauksessakin on suunniteltu kuoritakin alle?
Kuorikerroksen alla huppu ei ole muuta kuin tiellä ja äärimmäisen inhottavasti vain mytyssä. No nyt kuitenkin kun Särmä-tiimin jollain suunnittelijalla on aivan pakon omainen tarve laittaa huppu joka takkiin, niin laittaisitte jonkinlaisen hupun sidontalenkin myös, esim Brittien windproof smockista mallia. Ja tiedän, sen voi tehdä itsekkin, mutta luulisi tämän hintaiseen takkiin raaskivan laittaa 15cm napinauhaa ja yhden Kanada-napin jo tehtaallakin.
9
0
I would recommend for a friend
Jussi K.

16.10.2019
Ostin takin ja housut noin vuosi sitten. Vuoden kokemuksella voin suositella.
Olen käyttänyt näitä noin hieman alle kymmenen asteen lämpötiloista aina -15 pakkaseen. Mitoitus on ollut itselle sopiva ja soveltuu hyvin kerrospukeutumiseen (merinovilla alusasut+villaflanellipaita/villapaita.)
Äänettömyys on myös plussaa metsästyskäytössä.
Hyvän hengittävyyden kääntöpuoli on tietenkin heikko tuulenpitävyys, mutta tämä ei ole ongelma jos pysyy liikkeessä. Sadevaatteet on syytä pakata mukaan reissuun vaikka nämä hetken vettä kestävätkin.
Esimerkiksi retkeily tyyppiseen vaellukseen ja rauhalliseen hiihtoonkin soveltuva kokonaisuus.
Materiaali on laadukasta eikä ole vuoden aktiivisessa käytössä siipeensä saanut.
Seuraavaan kehitysversioon tekisin hupusta irroittettavan (helpottaa kuoritakin käyttöä) ja hihamerkkien kiinnityspaikoille ei ole ollut tarvetta (ne sai kyllä ratkomalla pois).
0
0
I would recommend for a friend
Fredrik L.

19.10.2019
Ok, so I got the jacket and the matching pants. I've been using them for a whole week of moose hunting in sweden. The weather sucked ass with lots of rain and mild/cold weather. I used a british dpm rain set (also bought here) when it got really bad and I got to tell you I did not get wet nor cold for the entire week. Great stuff. Not the cheapest kit but worth every penny.
0
0
I would recommend for a friend
Riku I.

11.11.2019 (Edited 16.01.2020)
Muuten erittäin loistava takki, mutta jos vähänkin kovempi tuuli yllättää nii tulee ikävästi läpi. Erittäin hyvin hengittää, vaikka olis paksu villapaita ja muuta alla niin sisälle tullessakaan ei tule hiki. Eihän tätä voi kun suositella.
0
0
I would recommend for a friend
Tish T.

19.12.2019 (Edited 01.01.2020)
I revised my review today 2020-01-01. The zipper still sticks, but is now more functional. I used my 2XL jacket under a 3XL Boreal North Wool Anorak in - 5 degree weather and it worked as the perfect mid layer. I believe it can function to - 25 or colder in this configuration, but will have to test it later in the winter in Northern Canada. Original review follows///// I have many, many Varusteleka / Sarma cold weather products that work extremely well in Canadian winters (thermal cloak / base layers / mid-layers / back packs / etc . The XXL Sarma TST Woolshell jacket I recently received is a great concept but has a terrible main zipper. It takes minutes usually to get the zipper to snap in place and slide upwards. This is completely unacceptable for a life and death piece of cold weather kit intended for use in minus 15 to minus 30 or so Celsius. I purchased it to use as a mid-layer under my XXXL Boreal Mountain Wool Anorak, and it would have been an ideal combination for extreme cold temperatures if the zipper could work reliably. The overall construction is very good, and would be perfect for its intended purpose. I wish the zipper worked. I really hope this is an isolated occurrence, as I wanted to purchase the grey version in XL when it becomes available. This is the only Sarma product I have ever rated less than 4 stars.
0
0
I would recommend for a friend
Janne K.

21.12.2019 (Edited 21.12.2019)
Nyt Vain neljä päivää takkia käyttäneenä todettu erittäin hyväksi. Miinuksena huppu jossa ei ole särmäys mahdollisuutta, lippa puskee silmille. Tarrapaikat sai helposti hihoista pois, otin sen takia pois koska väri ei sopinut muiden värien sekaan (M05-kuvio). Takilla pärjää 0-kelissä pelkällä t-paidalla. Myös koko piti paikkansa ensimmäistä kertaa kokoapurin kanssa, kaikki muu on ollut mallia pj-teltta.
0
0
I would recommend for a friend
Harri L.

14.01.2020
Todella mukava ja hyvännäköinen takki! Mahtuu mukavasti vielä esim. Collegepaita alle. Itse olen n. 179cm ja medium short on juuri sopivan pituinen.
0
0
I would recommend for a friend
Zebulon J.

17.01.2020
I purchased the grey version. Medium reg. Perfect fit, 165 lbs and 5'6".

I am Very impressed with the comfort the fit and the attention to detail that this jacket provides. I would highly recommend it as a mid layer equal to R2 through R2.5 insulation value.
The wall is indeed soft on the skin is definitely not itchy and I could see this jacket being a family heirloom at this rate
1
0
I would recommend for a friend
Toni T.

19.01.2020