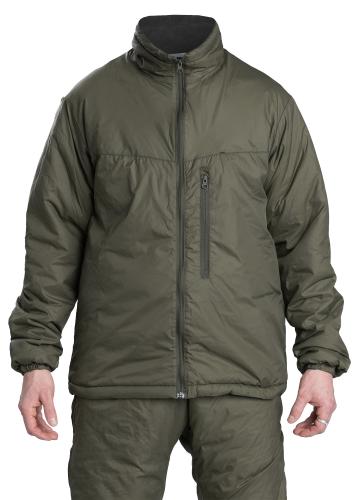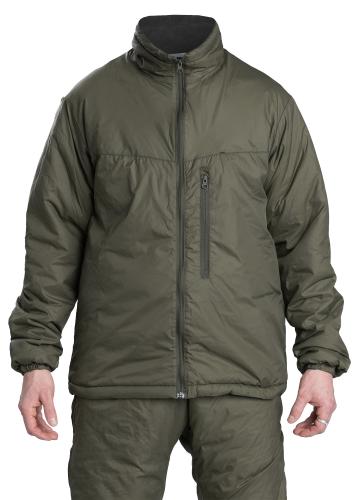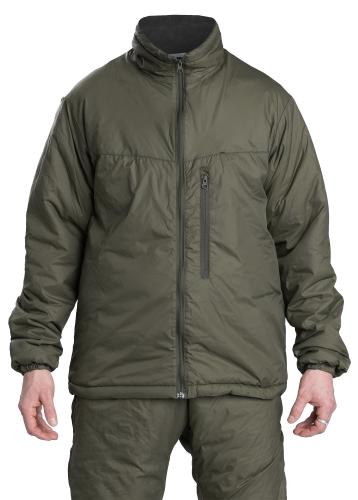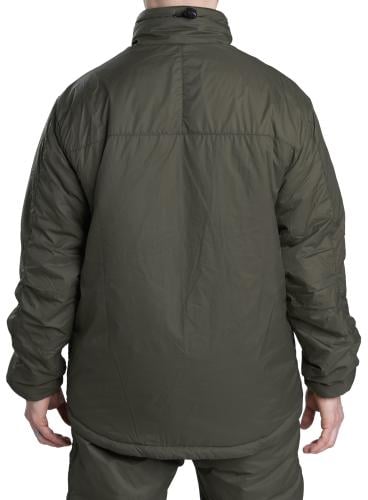 The hem is longer on the back.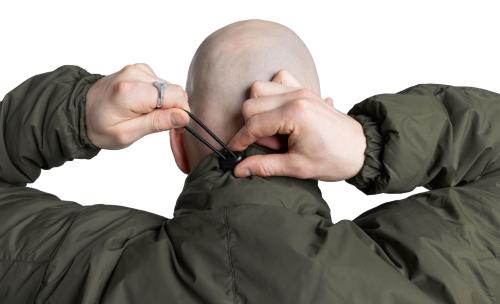 Elastic drawcord in neck.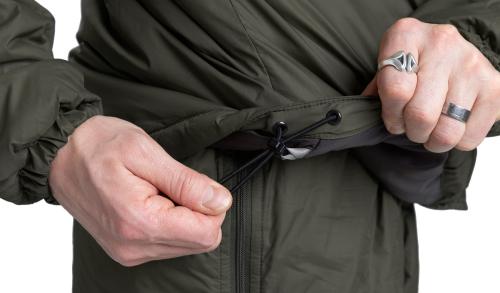 The retired version's color, which is a bit more brown.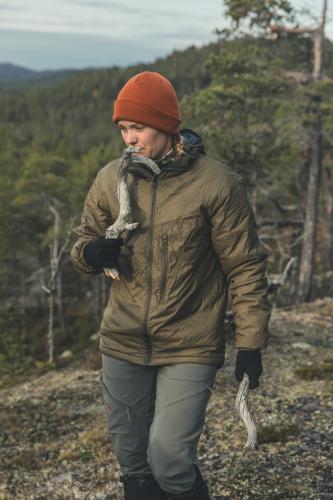 The retired version's color, which is a bit more brown.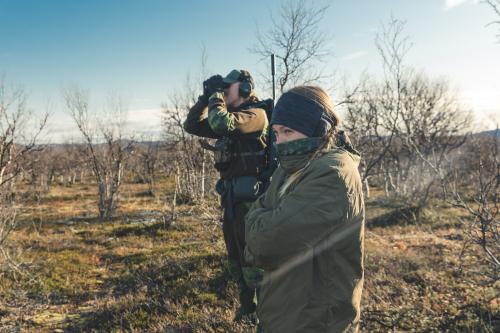 The retired version's color, which is a bit more brown.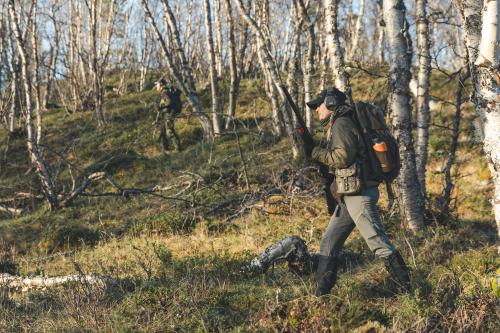 The retired version's color, which is a bit more brown.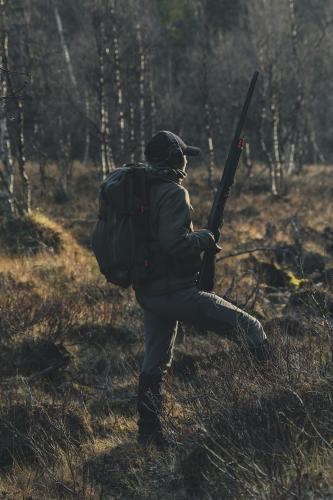 The retired version's color, which is a bit more brown.
Särmä TST
Särmä TST L3 Loft Jacket
Price 149.99 USD
excluding sales tax
A very lightweight and breathable loft jacket with Climashield insulation. Packable enough to fit right in your pants' cargo pocket. Designed for use as an insulating mid-layer under your regular field jacket, can also be used as an outer layer during static breaks or other light activities.
Loading products...
Trouble with the metric system? Try our converter: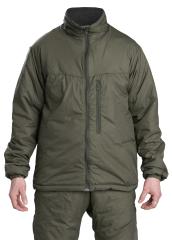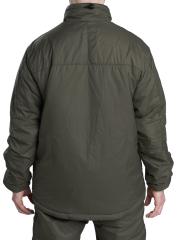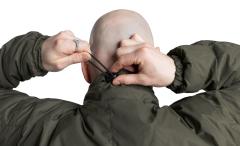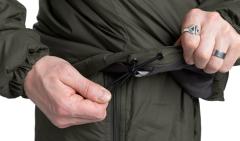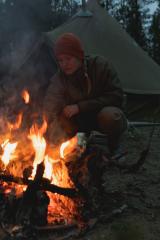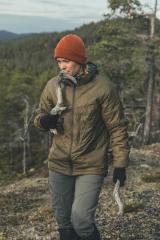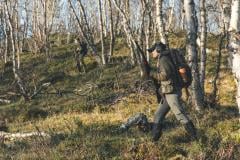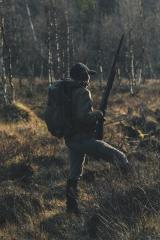 A very lightweight and breathable loft jacket with Climashield insulation. Packable enough to fit right in your pants' cargo pocket. Designed for use as an insulating mid-layer under your regular field jacket, can also be used as an outer layer during static breaks or other light activities.
Features
Relaxed fit, sized for wear over base/mid layers
Breathable and quick drying
Elastic cuffs and adjustable collar and hem
Long hem at the back
Articulated elbows
Zippered breast pocket
Weight, Medium: 405 g (0.9 lbs)
Rolled size, Medium: 10 x 20 cm (4" x 8")
The L3 is primarily designed for wear as an insulating layer under your field jacket but also functions when donned over your other clothing as a quick means for extra warmth when pausing for a break in cold weather. Thus the simple design, very low profile, and one single breast pocket on the left-hand side, easily accessed after opening the front zipper of any jacket worn over the L3. The construction and insulating properties are comparable to a modern lightweight summer sleeping bag.
L3 - Insulation layer
The third layer of the Särmä TST clothing system, designed to be worn over a base layer of merino wool and under a field uniform or other outer shell. L3 garments come in two styles, unlined wind wear and lofty thermal wear with Climashield insulation. Lightweight, quick-drying, and highly breathable fabrics guarantee effective moisture management and great packability.
Take a look at our Särmä TST Clothing System!
Pro-Tip: The L3 is also a clever choice if you want to extend the temperature range of a lightweight sleeping bag; just use it as a thermal pyjama! The materials and construction really serve this option.
Materials
Outer fabric: Ultralight 40D Ripstop-Polyamide, 40 g/m2 (1.18 oz), 100% PA. Very lightweight, quick-drying, and really strong for such a lightweight material. All visible fabrics are unofficially NIR-compliant according to our tests.
Insulation: Climashield Apex 67g/m2, 100 % PES. This is one of the best insulation options there is, fantastic weight-to-insulation ratio and great performance even in wet conditions. Apex is a continuous fiber filament. This means it does not need any attaching stitching as you would find on common polyester or down loft garments. By eliminating these stitches, we also eliminate possible cold spots, further adding to the insulating properties of the garment.
Lining: 100% PES
Materials 2.0
The new version has some new materials. The main material is 100% polyamide ripstop (70g/m2), non-fluorinated water repellent finish. This fabric is more durable. The color is somewhat darker Ranger Green than the old version, and the rubber bands in the cuffs aren't as tight.
The insulation is the same high-quality 67/m2 Climashield Apex and the same 100% polyester lining, although this time the collar lining is gray instead of the green found on the old one. The new version also has Kroko zippers.
Sizing
Sized to fit over warm mid-layer clothing without being tight but staying lofty enough to function as insulation. If you wish to use the L3 jacket over all your gear we recommend simply measuring your chest when wearing the gear in question and picking your size accordingly.
The retiring version was sewn in Estonia, and the new version is sewn in Poland.
Kierto Circular Economy
Return this product used but clean and unbroken, and you'll receive half of the product's original price as Varusteleka credits. Service is available only in Finland. Only Registered users can make Kierto returns. See more information about Kierto.
Varusteleka Särmä TST
Särmä TST is Varusteleka's in-house brand of clothing and gear designed for military and law enforcement end-users. Our clothing and equipment are made in co-operation with a number of experienced manufacturers with a strong background in producing clothing and gear for military and law enforcement officials, most notably for the Finnish Defence Forces. For further reading check out the Varusteleka's Särmä TST page and Särmä TST Clothing System article.
Särmä TST products are covered by a 12-month warranty against defects in materials and workmanship. For further information please read our detailed warranty guide.
All products: Särmä TST
Recommendations
Loading products...
Reviews
You have already submitted a review. You can edit your text by clicking on it. You can filter the reviews by clicking on the elements of the summary.
Log in and write a review. You can filter the reviews by clicking on the elements of the summary.
Remove filter
Suomi
(11)
English
(21)
I would recommend for a friend
Michael B.

Varusteleka employee

15.03.2017

Verified purchase
I also own a similar model from Carinthia. Nearly identical in terms of function, super warm, and much cheaper than the competitors. Put it on over a t-shirt and within seconds you can feel the warmth it provides. Great cut - mediums are usually quite tight in the shoulder area, but the medium for this jacket fit me well, with enough room to move my arms about unrestricted. The only downside is the lack of pockets, but for a jacket this good, and at that wallet-friendly price, I can live without them.
28
3
I would recommend for a friend
Timo V.

21.03.2017

Verified purchase
Tilasin het! Vaikutti erittäin pätevältä villapaidankorvikkeelta, kevyempi ja kuivuu nopeammin, sekä menee pienempään tilaan.

Käyttökokemuksia kun saan raportoin lisää. Housutkin tulossa, mikä on erinomaista.

Kokojuttuja taas. Olen 193 cm ja painan 116 kg. XL-long oli juuri sopiva takin alla pidettäväksi, eli tämän alle mahtuu vielä Leka Merinovillahuppari XXL ja Leka Merinovilla T-paita XXL. Päälle sitten Leka Windproof Smog XXL-long. Kesällä huppari jää tietty reppuun ja tämä toppatakki varmaankin kotiin. Mutta toukokuussa otan molemmat mukaan Karhunpolulle Lieksaan.
12
5
I would recommend for a friend
Troy

30.10.2017

Verified purchase
Even if you dont want to subscribe to Varusteleka's SarmaTST layering system, this is a piece of gear which I would suggest making part of your layering setup for a backpacking trip in the wildnerness. This jacket functions on the same principals as a sleeping bag, working to create a cushion of insulated air to keep your upper body warm. The jacket itself is incredibly comfy. The poly-ripstop material the jacket feels like material sleeping bags are made out of. This is a good layer to keep either in the top of your ruck, or somewhere else you can easily get to it when you come to a stop and start to cool down. The jacket is also great to sleep in.

It is sized generously to fit over other layers, for example I have had no issues throwing this on over a plate carrier.

I would however suggest keeping it away from an open flame, or rolling up your sleeves when working around an alcohol stove. This will melt if exposed to high heat, but so will just about any high tech insulating layer jackets you can buy for 2x the price from a sporting and outdoor store.

This does not get a 5 star rating because it only has one pocket. It would be nice for a garment designed to keep you warm were to have hand-warmer pockets.
18
4
I would recommend for a friend
Linus S.

09.11.2017

Verified purchase
Mukavan yksinkertainen takki ja todella lämmin. Aivan loistava käytettynä tuulenpitävän kuoren alla, esim. smock-takki. Peittoaa helposti muut omistamani untuva ja tekokuitu lämpötakkini. Enemmän ajatuksia videolla: https://www.youtube.com/watch?v=cTPqty2tO3g
17
3
I would recommend for a friend
Ignacio N.

19.12.2017

Verified purchase
Great jacket. I live in Finland but work in Norway and that´s a perfect situation to have this kind of thing. Fits anywhere and its super warm. I use it with a gore tex shell on and its perfect for travelling in the cold (I have tried in -5/-10). Downsides, I see loose threads here and there. I hope it doesn´t mean that it won´t last long. But we´ll see.


As almost every one I don´t give more stars because of: 1-just one pocket (quite big though), 2-the threads I see around


AND !!!


3-the lack of "one hand" adjustments. Come on guys, I would pay a little extra for one hand tightener adjustments. That´s a must in any outdoor/military clothes.


UPDATE: Actually the jacket HAS one had adjustments. It can be only mine but they work so bad I tought it didn´t have. The plastic buckle is so tight that I feel I´m gonna break the cloth if I pull so hard so I finally use both hands. But... yeah, ok, it has one hand adjustments.

Honestly, I would invest a bit more and buy the Carinthia model. But if you can´t afford it, this one is a very good piece of cloth.

5
0
I would recommend for a friend
Viktor S.

01.03.2018

Verified purchase
Great product. Warm and fits perfect under a shelljacket or smock, I would realy appreciate an even warmer option though as this insulation is a bit to little for use when the temperature drops under -10C. Also the jacket would benefit from some type of extra reinforcment as the outer layer zipper most likely will get stuck and tear the fabric If not carefull. All in all a great product though.
3
0
I would not recommend to a friend
Tuomas R.

02.03.2018

Verified purchase
Vetoketjut halvan oloiset ja takin kangas on jatkuvasti vetskarin hampaiden välissä. Koko potin kruunasi kun vetskari hajosi muutaman kerran käytön jälkeen kesken Lapin syysvaelluksen normaalisti päälle pukiessa. Kiva. Lisäksi irtonaisia langanpäitä näkyvissä eli se siitä viimeistelystä.

Kesämakuupussissa lisäeristeenä käytettynä osoittautui jostain syystä kylmemmäksi kuin level 2 merinopoolo. Jäin kaipaamaan myös niitä sivutaskuja. Takki osoittautui pettymykseksi ja meni palautukseen, propsit kuitenkin nohevasta toiminnasta vetskarin tuotevirhevastuun osalta.

Hinta monelle houkuttelevampi kuin esim. Carinthian tuotteissa muttei siltikään voita perinteistä brittisoftieta hinta-laatusuhteessa. Ihan ok takki perusperiaatteeltaan, mutta vaativammalle käyttäjälle suosittelisin mielummin Carinthian tai Arc'teryxin lämpötakkeja taikka budjettitietoiselle brittisoftieta.
16
7
I would recommend for a friend
Markus P.

05.04.2018

Verified purchase
Oma takkini on osoittautunut kestäväksi ja toimivaksi vaikka onkin ollut ihan sinänsä aktiivisessa käytössä nyt puolisen vuotta -> Tuomas R:n kohdalle lienee osunut se sitruuna =(

Arvostan sitä että lekan suunnittelu- ja toteutusporukka on osannut pitää päänsä kylmänä ja ko. takin käyttötarkoituksen kirkkaana mielessään, ja siksi on _aivan oikea päätös_ että tästä takista on jätetty pois mm.
-huppu
-sivutaskut
-velcropaikat tai muut typeryydet

Jokainen edellämainituista ominaisuuksista ennenkaikkea heikentää takin pakattavuutta, mutta myös lisää hintaa ja painoa tuomatta juuri lisäarvoa tilalle.

Parannusehdotuksena kuitenkin sellanen vetoketjun tuulilistan hiukan tukevampi "suojakagas" kuten esim. Carinthian LIGissä on, ehkäisee tehokkaasti kankaan hakeutumisen vetoketjun väliin jota nyt välillä pääsee tapahtumaan.
8
2
I would recommend for a friend
Jari L.

Varusteleka employee

29.08.2018

Verified purchase
Tällä hetkellä yksi rakkaimmista vaatekappaleistani meidän valikoimista. Käytännössä aina mukana. On kevyt, pakkautuu pieneen tilaan ja tarjoaa käyttäjälleen lämpimän ja pörröisen olon. Tyylikkään näköinen ihan sellaisenaankin, joten toimii kevyenä toppatakkina sivistyksen parissa. Oikeuksiinsa Särmä TST L3 lämpötakki pääsee metsässä. Toimii taukovaatteena tai sitten kylmemmillä keleillä väliasuna. Särmä TST L3 Lämpötakin, lämpöhousujen ja Särmä TST lämpöviitan yhdistelmällä vetelee sikeitä varsin kylmillä keleillä ilman ongelmia. Itselläni tämä on aina kertausharjoituksissa mukana ja menee oikein hyvin esimerkiksi chestrigin yleistaskuun, josta vilun iskiessä takki on nopea riipaista päälle.

At this point, Särmä TST L3 Loft Jacket is the dearest piece of garment we have in the assortment for me, and it is an integral part of my EDC kit. The jacket is lightweight, packs into small space and offers a warm and fluffy feeling for the user. Looks pretty smart on its own so works well as a lightweight loft jacket even in an urban environment. In a woods, Särmä TST L3 Loft Jacket truly shows its performance. Works well as an extra layer during breaks and as a mid-layer during the colder weather. Combining Särmä TST L3 Loft Jacket, trousers and Särmä TST Thermal cloak I have slept well in quite cold conditions. Every time I go into military exercises, I carry loft jacket in my webbing. Jacket fits nicely in general purpose pouch, where it can be easily accessed when needed.
3
5