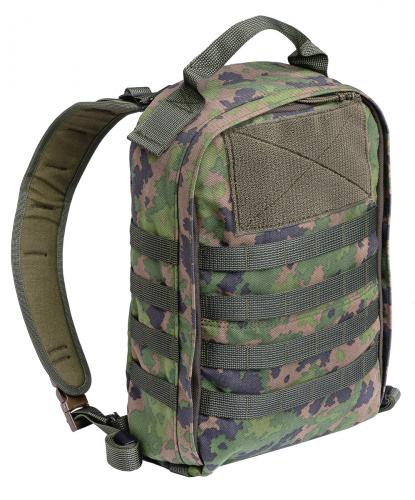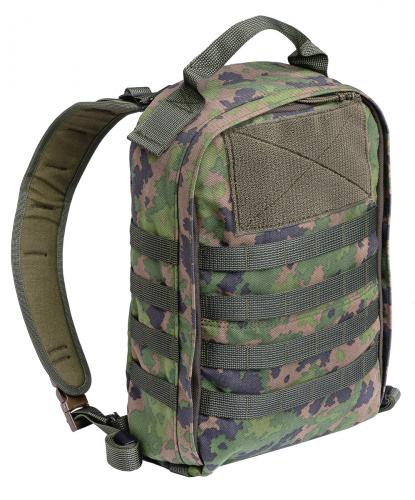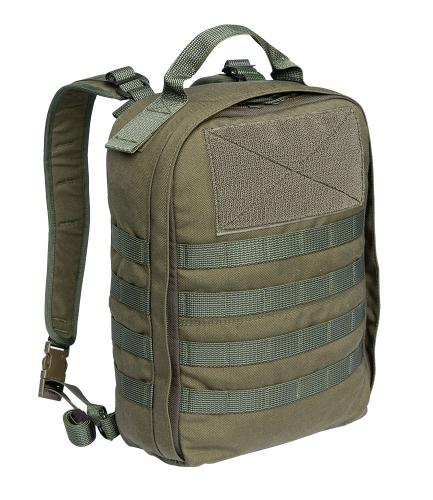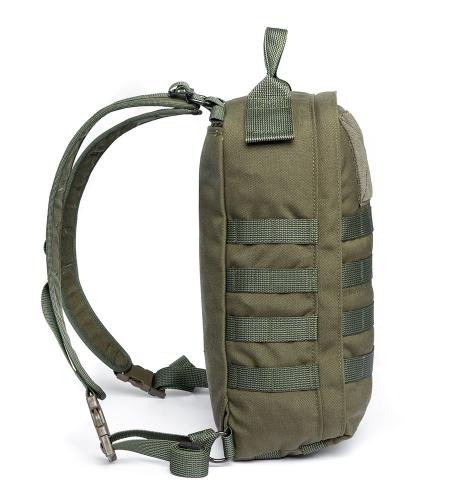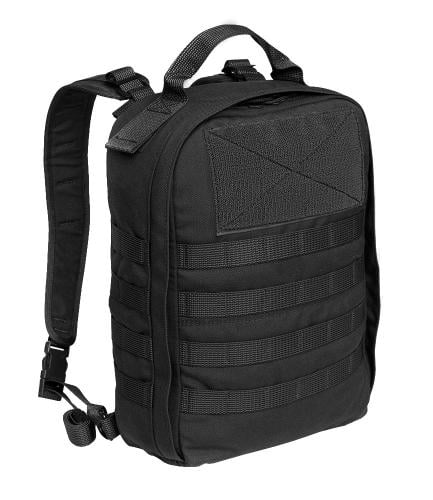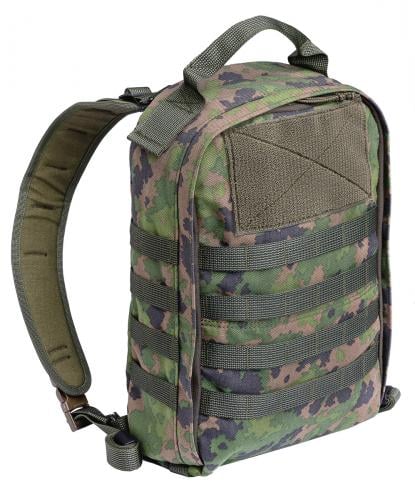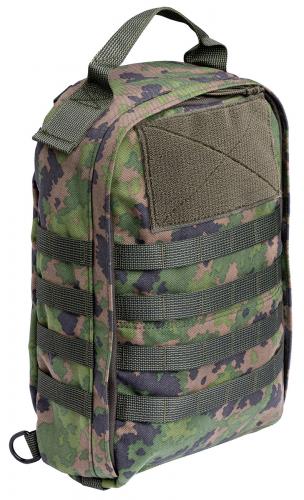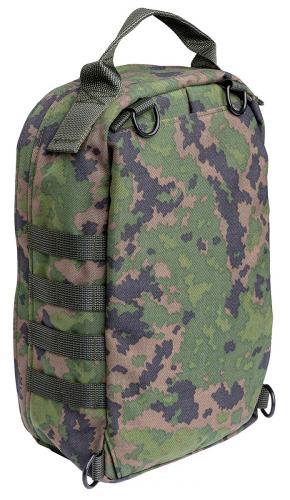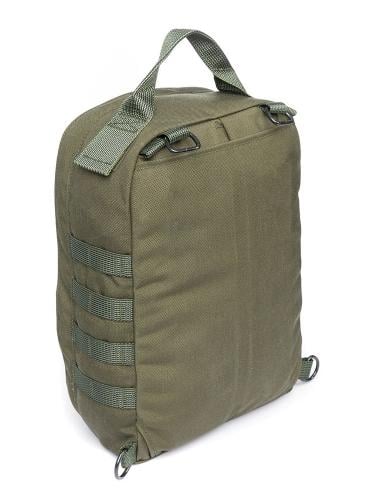 The main bag without straps can be attached to pretty much anything.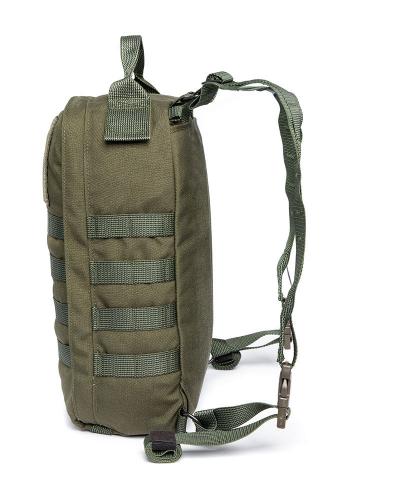 Flat pocket for stiffener or padding. Bellows into the main compartment.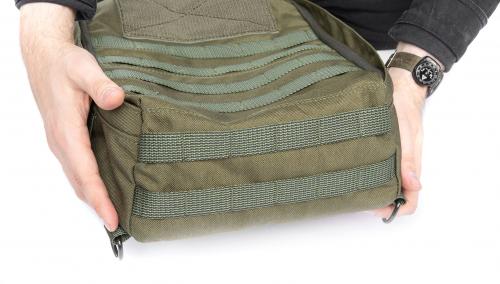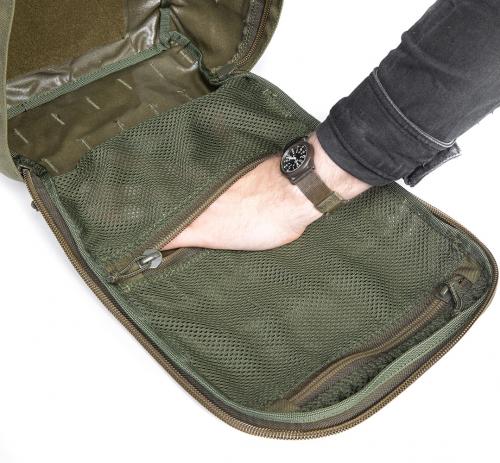 Mesh pockets for small items.
Loop base for special pouches and attachment loops for anything (e.g. hydration bladder).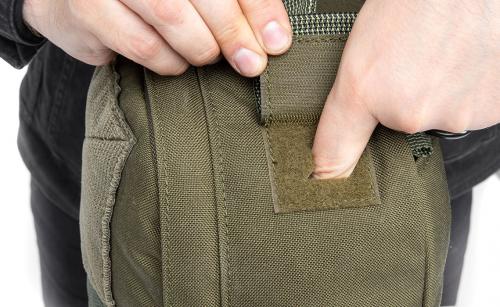 Passage for hydration bladder tube, antennae or cables.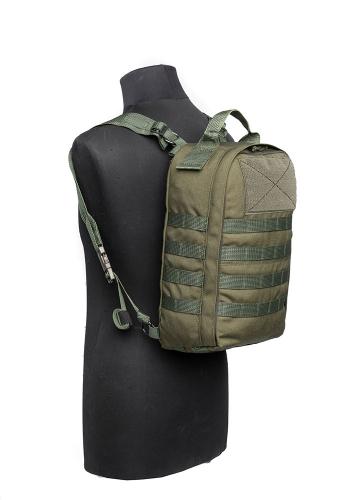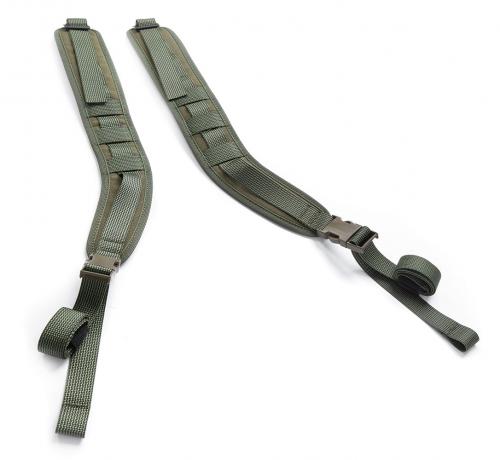 Anatomic, padded and curvy for maximum pleasure.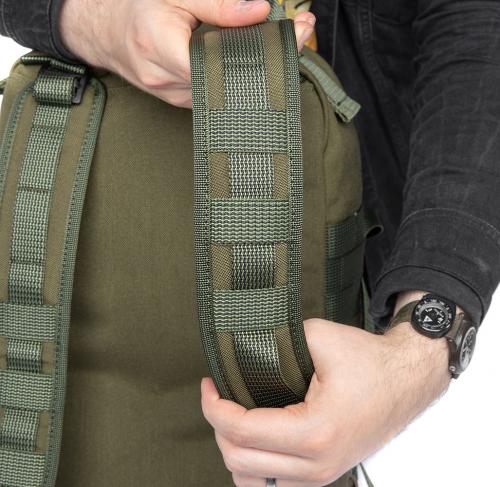 The padded shoulder straps have provisions for small PALS pouches.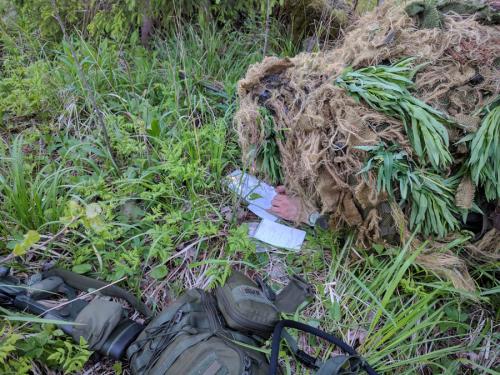 Previous version with fixed shoulder straps pictured.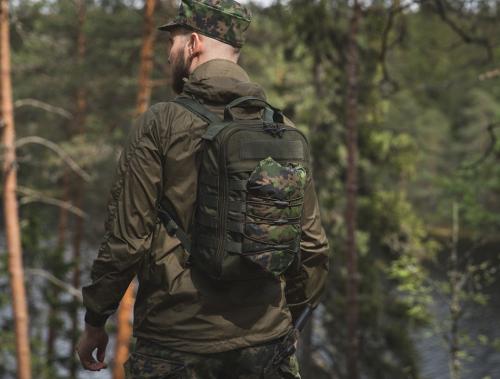 Previous version with fixed shoulder straps pictured.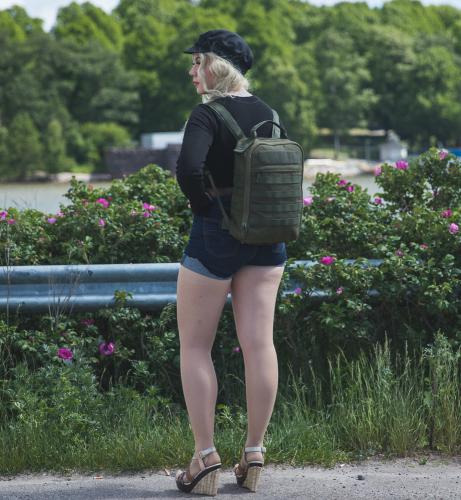 Previous version with fixed shoulder straps pictured.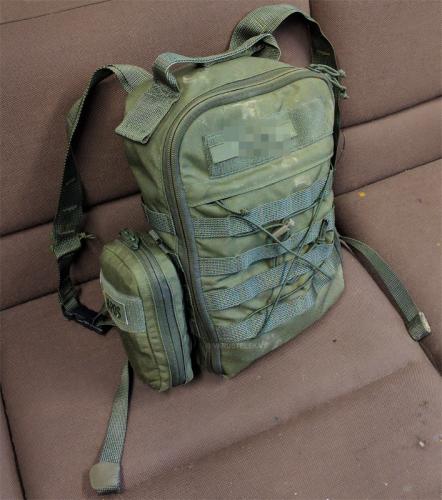 Previous version with fixed shoulder straps pictured.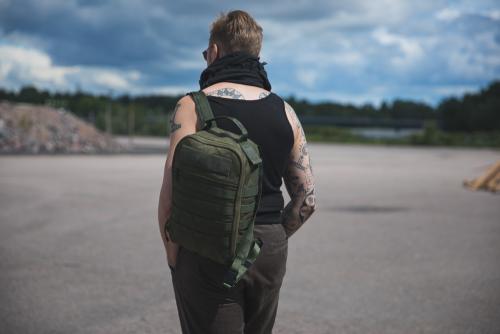 Previous version with fixed shoulder straps pictured.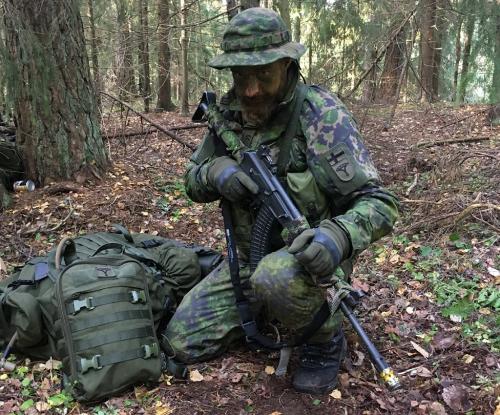 Previous version with fixed shoulder straps pictured.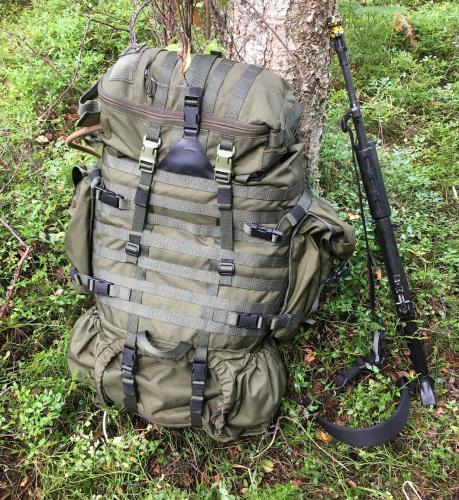 Previous version with fixed shoulder straps pictured.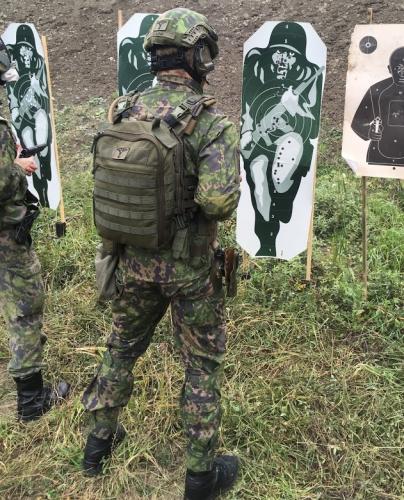 Previous version with fixed shoulder straps pictured.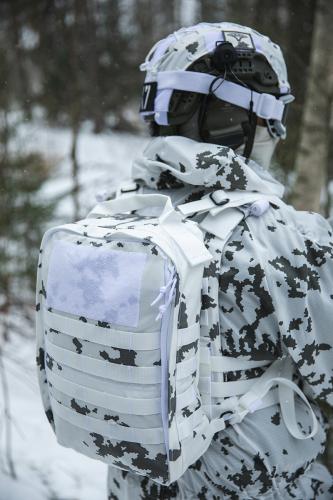 The pack with flat straps is available in M05 Snow Camo.
Särmä TST
Särmä TST CP10 Mini Combat Pack w. Padded Shoulder Straps
Price 169.99 USD
excluding sales tax
A compact 10-liter combat pack, highly adaptable to suit users' individual needs. Lots of options for added carry capacity and organization, topped off with modular shoulder straps. Absolutely bombproof construction and materials! This model comes with padded shoulder straps as standard.
Loading products...
Trouble with the metric system? Try our converter: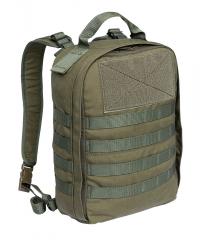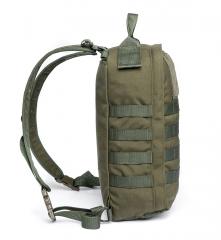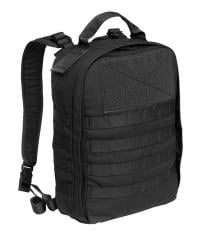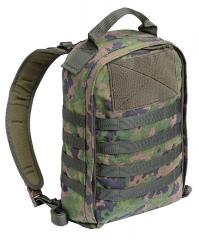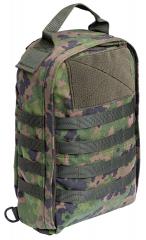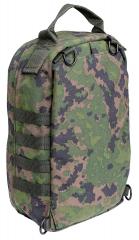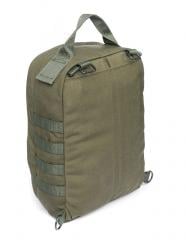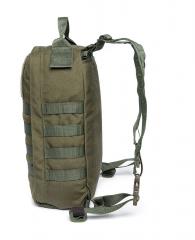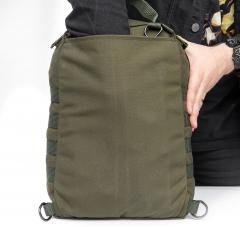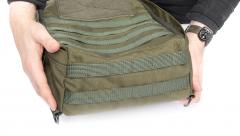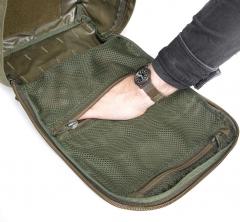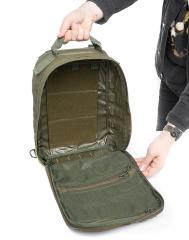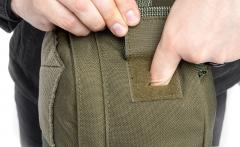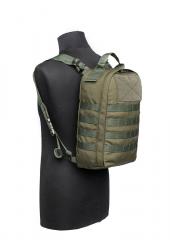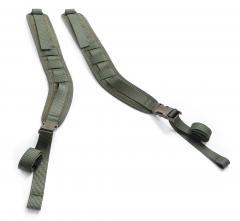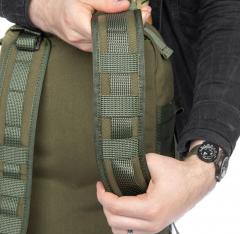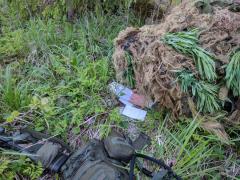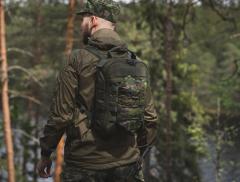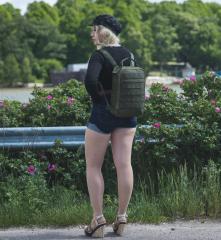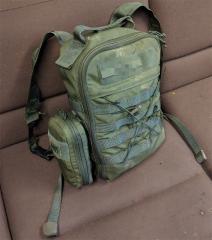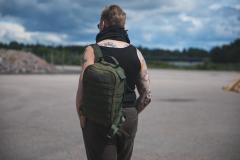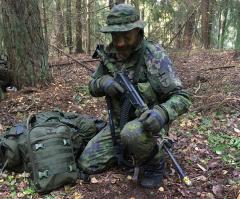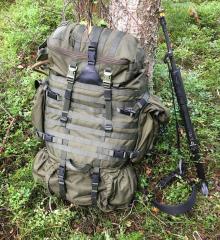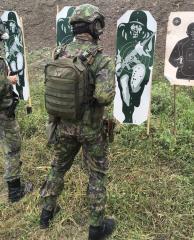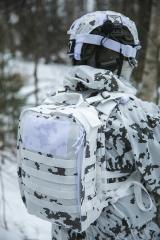 A compact 10-liter combat pack, highly adaptable to suit users' individual needs. Lots of options for added carry capacity and organization, topped off with modular shoulder straps. Absolutely bombproof construction and materials! This model comes with padded shoulder straps as standard.
Practical and minimalistic
The features of the CP10 Mini Combat Pack reflect the intended use, but these kinds of packs are excellent for daily use and short trips as well.
2-way zipper opens all the way down at the sides
Two internal mesh pockets with zippers
Internal loop surface for organizing pouch/accessory attachment
Three accessory attachment loops inside (suitable for e.g. hydration bladders)
Rapid-access pocket against the back, expands into the main bag
PALS webbing on all three sides and bottom
20 x 10 cm (8" x 4") loop base for patches
Carry handle with antenna/tube ports on the sides
Attachment loops for plate carrier adapters
Steel D-rings for attaching the shoulder straps at the top and bottom
Flat or padded shoulder strap options
Technical specifications
Dimensions: 36 x 24 x 11 cm (14" x 9.5" x 4.3")
Volume: 10 liters (610 cu in)
Weight: approx 920 g (32.5 oz)
Material: 1000D Cordura, NIR compliant
Modular shoulder straps
The shoulder straps are removable for different mission requirements. They attach to steel D-rings for unmatched durability and strength.
The straps are either green or black. The M05 Woodland backpack is supplied with green ones.
Firm, padded and shaped offers an anatomic and comfortable fit for extended use with heavy loads. These are included with this model.
Flat, made from webbing. Unpadded construction for a shallow profile to minimize bulk and interference when shouldering rifles. You can purchase these separately.
You can also choose to buy just the main bag without shoulder straps in case you have plans to attach it to your plate carrier or use straps you already have. You can also mix and match the colors this way, how convenient!
Finnish MILSPEC materials
Made of the same materials and hardware (1000D Cordura, PES webbing, ITW Nexus buckles etc.) that are used in the production of the Finnish military M05 combat equipment. High quality, NIR compliant etc.
Made in the EU
These are manufactured in co-operation with Finn-Savotta Oy (Finland's leading military and outdoors gear manufacturer and the main load-bearing equipment contractor for the Finnish Defence forces). Depending on the situation, production runs are sewn either in Savotta's Finnish or Estonian factory, sometimes even partially in Finland and partially in Estonia. The little printed tags tell where exactly each particular product was sewn.
Kierto Circular Economy
Return this product used but clean and unbroken, and you'll receive half of the product's original price as Varusteleka credits. Service is available only in Finland. Only Registered users can make Kierto returns. See more information about Kierto.
Varusteleka Särmä TST
Särmä TST is Varusteleka's in-house brand of clothing and gear designed for military and law enforcement end-users. Our clothing and equipment are made in co-operation with a number of experienced manufacturers with a strong background in producing clothing and gear for military and law enforcement officials, most notably for the Finnish Defence Forces. For further reading check out the Varusteleka's Särmä TST page.
Särmä TST products are covered by a 12-month warranty against defects in materials and workmanship. For further information please read our detailed warranty guide.
All products: Särmä TST
Recommendations
Loading products...
Reviews
You have already submitted a review. You can edit your text by clicking on it.
Log in and write a review.
Remove filter
Suomi
(11)
English
(6)
I would recommend for a friend
Anonymous customer

11.06.2019 (Edited 05.06.2021)
Säkit ovat painavia, jämäkät reput ei.

Säässä kuin säässä, käytössä arkipäivä ja frisbeegolf reppuna,
mahtuu loistavasti kakki mitä kierroksille tarvii, cordura takaa kestävyyden ja pitää kamat kuivana.

Suosittelen että skaffaatte nyös Savotta MPP Foam mat, loistava alusta retkille ja luo tukea reuppulle.

PS: Kun laitatte olkaviilekkeet kiinni, kääntäkää remmin pääty siten, että terävä kulma on solmun sisäpuolella, niin se ei pääse raapimaan käsiä.
2
0
I would recommend for a friend
Thomas-Michael K.

14.06.2019 (Edited 05.06.2021)
I use the CP10 with the padded straps as my new minimalist daypack for commuting and shorter Geocaching tours. It can carry more of my stuff than expected from a 10 litre size and can even (just) take a 14" Thinkpad T460s. The U-shaped front opening is really a big plus for me. Small things not stored in the mesh pockets do not get lost and I can find them at a glance. In the future I may add a small pouch and a low profile water bottle holder to the sides.

A Savotta MPP Foam Mat is a tight fit (25 cm wide) and of course it blocks the loop field when used as back support but it is really recommended for carrying comfort. My stuff is organized in ITS Nylon Zipper bags so the loop field is not used but your mileage may vary.

Construction looks as solid as my Jääkäri M so I expect several years of service from this gem.

Short update: It took nearly a year until I realized that I could roll the Savotta MPP Foam Mat a bit and fiddle it into the outer slot pocket of the pack while it's empty. This is a very tight fit but I assume this is the intended way of using the mat as carrying support and now the internal loop field is of course usable for organisation. Small disadvantage: It takes longer to take the mat out.
2
0
I would recommend for a friend
Gabriel E.

09.07.2019 (Edited 05.06.2021)
Great quality but the bottom of the pack jumps up and down alot even with very light loads during even light jogs and thats why I have to knock a couple stars of. Otherwise pretty rock-solid but for the price I really expected something that would'nt flop about this much:/
3
9
I would recommend for a friend
Eemi U.

19.08.2019 (Edited 05.06.2021)
I would recommend for a friend
Stefan P.

07.12.2019 (Edited 06.06.2021)
Ostin repun kapeammilla olkaviilekkeillä toiminnalliseen ammuntaa. Tarkoitus oli löytää sopiva paikka juomarakolle ja jonkin verran säilytystilaa tavaroille, jotka eivät enää chestrigiin mahtuneet. Toisaalta reppu toimii myös hyvin pienten kantamusten harrastuksiin kuljettamiseen tai päiväreissuilla, kun otetaan vain minimikantamus mukaan. Yleensä päiväretkeilyä ja kesällä yön yli reissujakin varten käytän Savotan Jääkäriä (koko M).

Hyvää:
+ Taattua kestävää tekoa!
+ Kokonaan avautuva päätasku.
+ Sisäpuolen verkkotaskut ovat aivan loistavia pitämään pinemmän tavaran turvassa ja repun sisällön organisoituna! Eikä nosta repun massaa paljoa!
+ Palskujastojen sekä velcron sijoittelu ja määrä.

Huonoa:
- Uusi selkäpuolen "taskun" toteutus. Asiaa avattu enemmän arvostelun loppupuolella.
- Juomarakon taskun puuttuminen. Jämäkkäkin juomarakko tarvitsee kangasta suojakseen, varsinkin jos reppu sisältää kovempia esineitä. Erillisen suojataskun ostaminen repun sisälle on vain tyhmää: se tuo painoa ja vie vain tilaa.
- Ohuemmat olkaviilekkeet saisivat olla jotenkin muotoiltuja, vaikka nykyinen materiaali (40mm nauha) ei tietenkään siihen taivu. Viilekkeet rypistyvät nimittäin typerästi eivätkä siten ole kovinkaan ergonomisia. Toisaalta pehmustusta ei pienelle repulle tarvita ja ohuus on edelleen hyvä asia, jos päällä on taistelukampetta tai aseen perä olkaa vasten.
- Rintaremmin puuttuminen. Aivan ehdoton, turha jättää pois tuotteesta, kun se on pakko-ostos muutenkin. Suoliremmiä ei välttämättä näin pienelle tarvitse.
- Selän jäykistyksen puuttuminen. EN tiedä miten se tehtäisiin, mutta pienikin reppu kaippaa selän jämäkkyyttä tuomaan repulle ryhtiä ja selälle tukea.

Siitä selkäpuolen taskusta. Tasku on innovatiivinen ja tavallaan monikäyttöinen, mutta siinä on ongelmansa. Nyt se on toteutettu siten, että repun selkäosa repun sisäpuolella on "laskostunut". Tämä tarkoittaa, että selkäpuolen kangas repun sisällä elää tai työntyy ulospäin esim., jos siihen kiinnittä veclrotaskuja. (Lisäksi laskosten lisäkangas tuo aina grammoja lisää.) Ideaa siinä kuitenkin on, sillä selän kautta avautuva tasku tarjoaa mahdollisuuden ottaa jotakin ulos avaamatta koko reppua. Olen esimerkiksi itse, erillisen juomarkontaskun puuttuessa, laittanut juomarakkoni sinne. Nyt ei tarvi availla reppua rakon täyttöä varten. Toistaiseksi systeemi on toiminut, joskin rakon (Source 3L) yläosa tulee hieman taskusta ulos. Taskun suljettavuus pitäisi rakon vieläkin paremmin paikoillaan. Rakon lisäksi olen saanut tungettua selkäpuolen taskuun Jääkärirepusta ottamani muovituen. Temppu vaati muovilevyn lyhentämisen, mutta sain sillä sopivasti kaipaamani jämäkkyyttä repun selkäossaan. Jäärireppuun kun oli tullut ostettua se alumiinilla vahvistettu versio jo aiemmin.

Tuote on hyvä, jopa ostamisen arvoinen. Viilausta se kuitenkin vielä kaipaa ja toivottavasti näemme vielä repusta kolmannenkin version.
8
2
I would recommend for a friend
Lassi P.

05.01.2020 (Edited 06.06.2021)
Pitkään tätä harkitsin ja halusin kunnes varallisuus antoi myöten ja repun kävin hakemassa.
Reppu tuli mulla normaaliin jokapäiväiseen arkikäyttöön ja on siihen vähintäänkin täydellinen kokonsa ja ominaisuuksiensa puolesta.

Plussapuolia repussa on niin helvetisti etten edes jaksa ruveta niitä luettelemaan ja koska me suomalaiset ollaan kuitenkin perusluonteelta pessimististä kansaa niin valitetaan sitte. Laitetaan siis ne "negatiiviset". Tai paranteluehdotukset. Tai jotain...

1. Tuo selkäosassa olevan sisälle laajentuvan taskun tarkotus on täysi mysteeri. Oon miettiny itte ja kaverin kanssa joka harrastaa puolustusvoimailua. Koittanu keksiä sille jotain taktista taikka mitä tahansa muuta tarkotusta, mutta turhaan. Niinku Stefan P. omassa arvostelussaan mainitsi niin se tuo vaan turhia grammoja ja paksuutta kangaskerrosten muodossa ja saattaa myös "pussittua" jos käyttää velcrotaskuja tms. Minulle siis täysin turhake ja tuntuu siltä että ilman sitä, reppu vois olla vieläkin jämäkämpi. Toi tasku vois olla vaikka sisällä.

2. Ostin reppuun nuo leveämmät muotoillut tai "pehmustetut" olkaviilekkeet jotka ovat itsessään todella mukavat ja jämäkät käyttää, mutta varsinkin mikäli päällä on jokin liukkasta matskusta valmistettu rotsi niin viilekkeet lähtevät väkisinkin valumaan harteilta. Ja ei. Vaikken ole mikään Mentula (thank god) niin en oo myöskään mikään pulkannaru eli omistan hartiat. Ja kaikki muut reput on kyllä tähän mennessä pysyny harteilla. Tästä syystä rintaremmi olis kyllä ihan enemmän kuin toivottu noiden remmien mukana. Pöllin omasta Tasmanian Tigerin repusta tuohon ja johan pysyy.

Viilekkeistä vielä toinen juttu oli se, että mikäli en olis innostuspäissäni heti lekan parkkiksella autossa ruvennu säätämään niitä reppuun kiinni niin todennäkösesti tuota käyttäisin edelleen "salkkuna". Ei siis mitään ohjeita meille urpoille että miten nuo pitäis oikeaoppisesti sitoa reppuun kiinni. Kakskyt askelta takaspäin ja myymiöön esittämään typerä kysymys johon itseasiassa ensimmäinen henkilö ei itsekään osannut vastata. Tokalla nohevalla muistuikin sitte jo mieleen ja homma ratkes. Hymynaaman saitte kun lähin. Taas.

3. MOLLE-kujat on tässä (ja näköjään muissakin TST ja Savotta -repuissa poislukien XL) toteutettu "parillisesti". Eli jos haluaisin, ja haluankin, hankkia jonkin ulkoisen lisätaskun niin ainakaan Särmän taskuista tai muistakaan en löytänyt kuin kaksi (SA M05 yleistasku, mini ja TST IFAK ensiaputasku) jonka sais kiinni kivasti keskelle reppua tai kylkeen. Muut olivat lähes jäerjestelmällisesti niin että niiden jako on pariton jolloin tuo tasku asettuu aina epäkeskosti reppuun koska siihen ommellut kujat on näille "parillisille" tehty. Tämä nyt vähän kismittää koska noita erillistaskuja omistan jo valmiiksi ja kaikki tietenkin parittomia. Hö.

Siinäpä ne. Lyhyesti.
Noista kolmesta pikkuseikasta huolimatta ihan saatanan hyvä reppu. En vaihtais. Paitti uudempaan päivitettyyn.
Innolla odotan Savotan omia velcrolisukkeita että saan irtonaisen pikkusälän järjestykseen ja nopeesti saataville.
14
0
I would recommend for a friend
Lance K.

17.02.2020 (Edited 06.06.2021)
This is an exceptionally well built backpack. Would like to say I'm jumping out of airplanes with this but it has the mundane task of accompanying me from one vehicle to the next.

It's used for carrying a water bottle, GPS, lunch,paperwork,extra hat / gloves, sunglasses, etc.

Great bag for tight spaces.

A little expensive ? yes, but you only have to buy it once and you could definitely jump out of a plane if you had to :-)
4
0
I would not recommend to a friend
Heini L.

06.04.2020 (Edited 06.06.2021)
Pehmustetu olkaviillekkeet ovat pienemmälle henkilölle liian pitkät ja kiristysvara loppuu kesken. Itse olisin tarvinnut ainakin 10-15cm lisää kiristysvaraa, että saisin repun napakasti selkään pyöräilyä varten. Muuten reppu vaikutti kestävältä, vaikkakaan ei nyt käyttöön päässyt, joten varmaksi ei voi sanoa.
0
1
I would recommend for a friend
Jesse S.

26.05.2020 (Edited 06.06.2021)
Kunnon hyvä tappelu/kauppareppu. Varmaa savotan laatua.
Pari miinusta:
-"Selän puolella reppupussin sisälle laajentuva lokero" on tarkoitukseltaan täysi mysteeri. Mitään järkevää käyttöä tuolle en keksi.
-yllämainittu ei toimi rakkotaskuna, ja repun sisällä rakko tarvitsee erillisen suojapussin
-sisäpuolen velcrot on kiinni tässä sisäpuolle laajentuvassa lokerossa, joten velcrokiinnitteiset taskut ei kiinnity tukevaan alustaan vaan roikkuvat
-kylkien mollerivit voisivat jatkua ylös asti
-särmä TST PC18 Reppukiinnikesarjaa joutuu odottamaan kuin Väinämöisen paluuta.
0
0