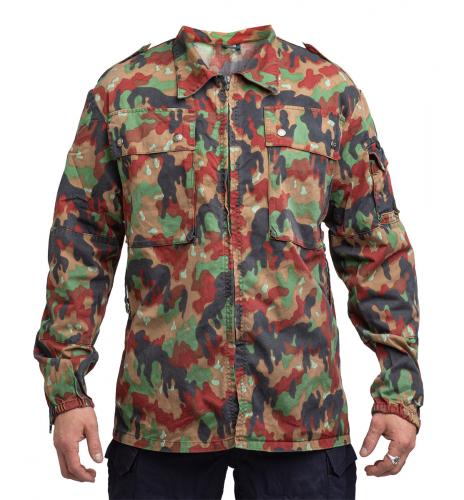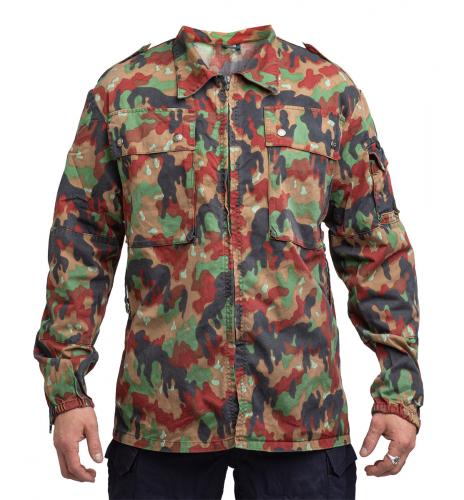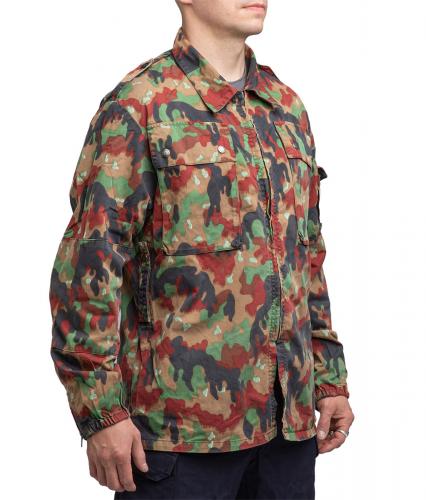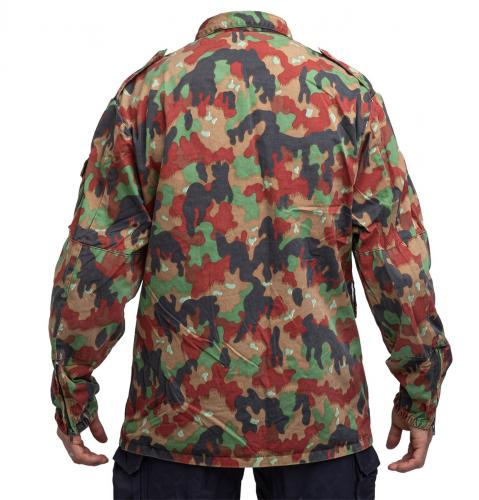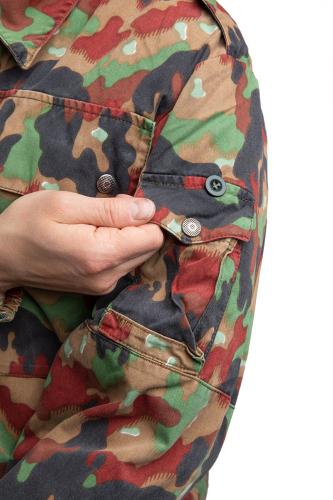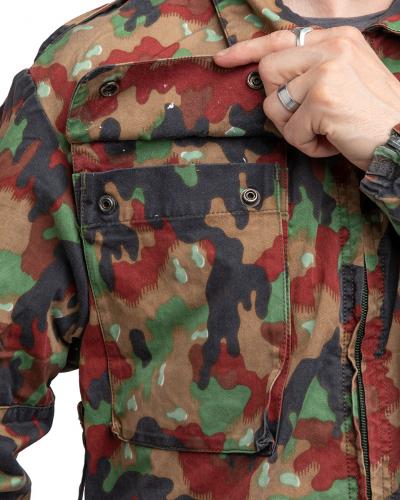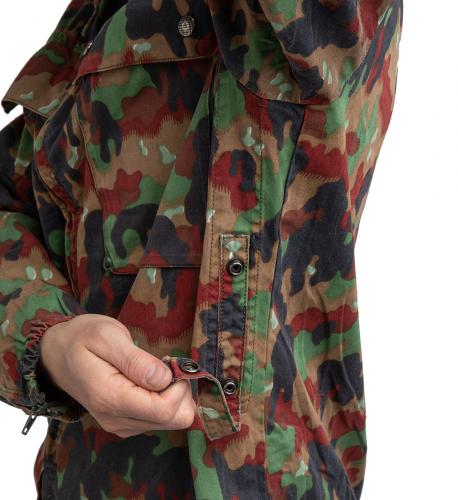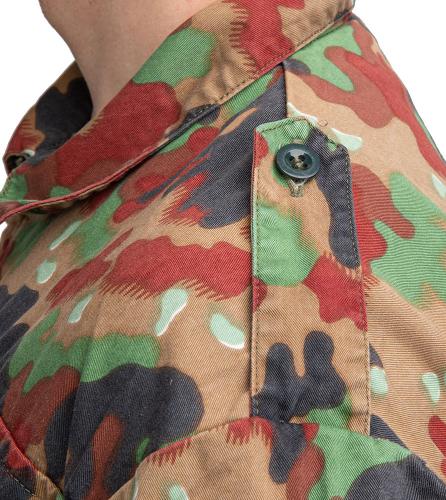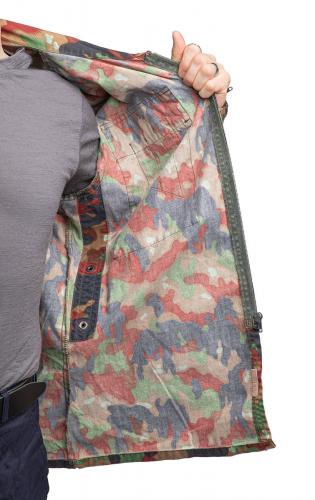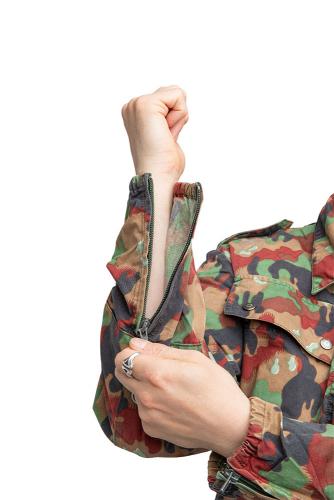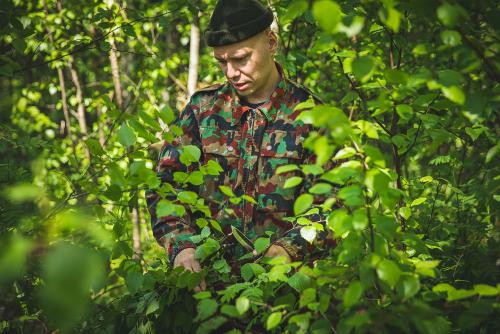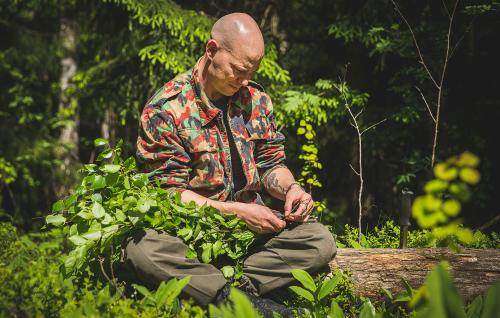 Switzerland
Swiss M83 Field Jacket, Alpenflage, Surplus
Price 24.99 USD
excluding sales tax
A really practical light summer jacket in the world's most magnificent camo pattern! This hides you from Martians and trance techno hippies but also looks stunning anywhere you go. Swiss military surplus, used but not abused. And not a bad price at all!
Loading products...
Trouble with the metric system? Try our converter: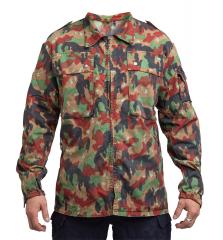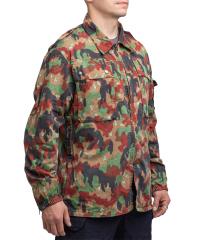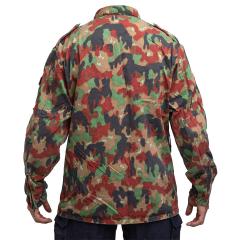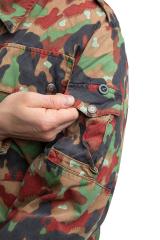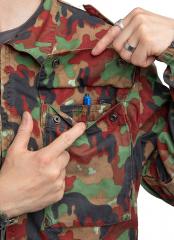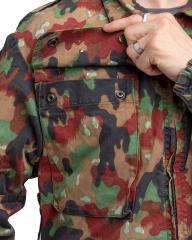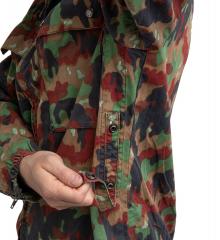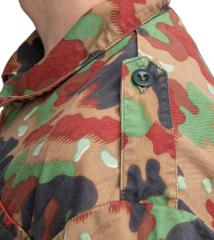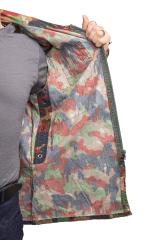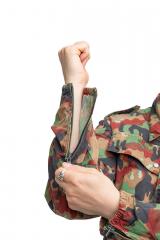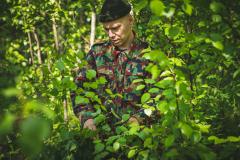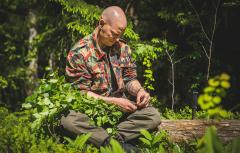 A really practical light summer jacket in the world's most magnificent camo pattern! This hides you from Martians and trance techno hippies but also looks stunning anywhere you go. Swiss military surplus, used but not abused. And not a bad price at all!
Psychedelic pattern
This acid-laced camo pattern will not leave anyone untouched. A story tells that the person who developed the last Nazi camo pattern escaped to Switzerland and presented their creation to the Swiss army. The pattern was taken into use almost without alteration but it was tweaked a bit in the course of years. The first pattern was called TAZ57 but the common nickname was simply been Alpenflage, the Alp pattern.
The harmonious pattern has black, light green, red, dark green, white, and brown and it is truly mesmerizing. Even though it might look a bit dramatic, it blends quite nicely among red autumn leaves or in the mountains that have red lichen. In an evergreen forest, it might be a bit too much.
Features
This is a very simple, practical, and durable summer jacket. Loose-fitting and zippered. The elbows are reinforced and the cuffs have zippers to ease rolling up the sleeves. There are belt loops at the waist that can be opened. The jacket comes with three pockets, two large breast pockets and one smaller on the left sleeve. All pockets have a snap fastener closure. The collar is soft and not too high.
Materials and care
These jackets seem to be 50/50 polyester/cotton but it is possible that other combinations exist as well. This combo is washed at 60 degrees Celsius (140 F). If you get a jacket that tells you otherwise, follow those instructions.
Choosing the correct size
The sizes are in normal euro sizes but the length of the jacket isn't given. If you take a bigger jacket, it is also a bit longer. You can find more thorough info on the Euro sizes here.
Condition
Used Swiss military surplus but in very good serviceable condition. No bullet holes or other such features.
Kierto Circular Economy
Return this product used but clean and unbroken, and you'll receive half of the product's original price as Varusteleka credits. Service is available only in Finland. Only Registered users can make Kierto returns. See more information about Kierto.
All products: Switzerland
Recommendations
Loading products...
Reviews
You have already submitted a review. You can edit your text by clicking on it.
Log in and write a review.
Remove filter
Suomi
(4)
English
(3)
I would recommend for a friend
ismo l.

08.06.2021 (Edited 09.06.2021)
Mulla ennestään tän wanhempi malli niin pitihän tämä versiokin ostaa.
On lujaa tekoa ja väritys COOL
4
0
I would recommend for a friend
Lasse A.

23.06.2021 (Edited 29.06.2021)
Aivan kuten luvattu. Sellainen disclaimer, että tässä ei pysty kuljettamaan niin paljoa Gambinaa, kuin esim. windproof smockissa.
Vetoketjun lyhyys ihmestyttää ja kummastuttaa, mutta eiköhän tuohon nepparin saa jatkoksi viriteltyä.
3
0
I would recommend for a friend
Aidar D.

24.06.2021 (Edited 29.06.2021)
Mine came in looking practically brand new.
I actually bought it specifically expecting to wear it while gardening and stuff because the front zipper is so short, and it makes it easy to bend down and do stuff while kneeling without having to adjust the jacket, but it's in such good condition I kinda feel bad using it like this.

The only issues i have are with its design and cut - there are only three pockets, two of which are breast pockets, with no regular side pockets, and the belt loops are quite high up, though I suppose they were meant to be used with a pair of matching pants.

It's a 50-50 poly-cotton blend, so not the best breathability, and because it's an old design there are no additional vents or anything like it.

But, you know, for the price, it's pretty great! The camo is just weird enough so you don't look like some military wannabe cosplayer as well, and I imagine it can be dyed relatively easily.
7
1
I would recommend for a friend
Luca S.

10.05.2022
The camo is great, the size is perfect and the jacket almost looks unused. The colors are not faded and the jacket I've received looks better than the pictures used in the description!
1
0
I would recommend for a friend
Sami K.

30.06.2022 (Edited 11.08.2022)
Minulle tipahti postissa täysin iskemätön/hillottu/bränikkä -ja mitä näitä nyt on- kappale. Sen kummemmin kajoamatta olemassa olevaan Lekan tuotekuvaukseen joka pitää suurilta osin paikkansa laadun suhteen raapustan kuitenkin seuraavaa:

Tässä arrrvostelussa lähtee 0,5 tähteä, toki Lekasta riippumattomista syistä. Ensimmäinen 0,25 tähteä lähtee vaatekappaleen käyttämättömyydestä ja lähes 40 vuoden iästä johtuva hihojen resorikuminauhojen aamuihin hajoaminen jota voi vain kuvailla englannin kielen sanalla "crunchy". Olosuhteet huomioiden täysin odotettavissa.

Näkökulmia tähän pikku yksityiskohtaan liittyen on monia jos sattuu käyttämätön kappale just sulle:

- Huvittaako korjata tämän hintaista milspec- rotsia? Käyttöähän tämä ei haittaa millään tavalla.

- Jos yleisolemus kaikesta huolimatta vituttaa niin hihat lyhyemmäksi ja Singeröit tästä statement- havaijipaidan?

- Vai oisko parempi jos joku Ilse, Marco tai toisen kantonin Giorgio joskus maanantaiaamuna klo liian aikaisin neukkujen ydinuhkan alla 80-luvulla ois korjannut tämän ja vielä huonosti kun vitutti?

- vai välitätkö paskaakaan ja annat mennä?

Toinen 0,25 tähteä lähtee lähes olemattomasta ylijäämän hausta mitä lähes aina salaa odottaa kun hakee postista Lekan paketin. Saamaani kappaletta ei tarvii edes pestä saati sitten tuulettaa.

EDIT kommentti minusta seuraavan kommentoijan kommenttiin laattaamisesta: Pitää täysin paikkansa. MUTTA: TAZ 83 jää toiseksi Singaporen lentoaseman kokolattiamatolle. Tietäjät tietää.

Jatkakaa.
2
0
I would recommend for a friend
Jarmo A.

23.07.2022
Sota-ajan värisikermä jonka kantaja voi oksentaa milloin tahansa eikä sitä edes kaverit huomaa, sen verran värikäs asu kyseessä grillikäynninkin jälkeen. Kangas vahvaa joka ei heti ala näyttämään kantajansa ihoa,no enpä ihmettele kun vuorilla joutuu rymyämään. On hyvin tehty ja tämä uudempi sveitsin versio on paljon enemmän nykyaikaa hipova,värit nyt tietenkin ovat tuolta ajalta ennen farmariooppeleita.
0
0
I would recommend for a friend
Alfred B.

29.10.2022 (Edited 18.11.2022)
my favorite surplus jacket (and I have quite a few ;-) .. why ... it is cut in a way that you can wear it in the civil world - dare I say, that cut (let alone the legendary camo) really make you look Miles Davis-cool ... don a pair of jeans with them and call it a day.

Most of the mil-surp stuff can make you look like a bit dorkish - I am looking at the dutch bear jackets which are woolly warm and all, but shaped like a 1980ies Yugoslavian garbage sack ... or the brit windproof smock (double-wide every dimension for me pls) ...but not this baby ...

I am 183cm/70kg (slim but broad shoulders) and the 48 works like it was tailor made for me ... space for a collared shirt and a swiss wool sweater underneath but still form fitting and sufficiently long - but slim! - arms with anatomically shaped elbows ...

the material has just the right weight and haptic to it (think: dockers or colored jeans), feels less plastic-y than other garments (like the dutch field-shirt) and fairly windproof to begin with. Perfect 3 season jacket in moderate climates.

Best way to describe the jacket is: "it's just RIGHT".

UPDATE: I like it so much, I bought another one - which came unissued (easy to tell from the creases on the cuffs) - again, this is one of the best jackets out there with a real contemporary cut/shape and great color!

A rare 10/10 !!!
0
0