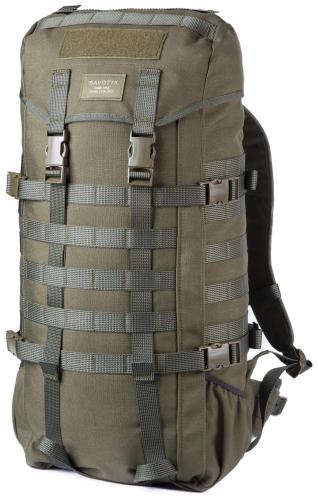 Savotta Jääkäri M backpack
Price 174.99 USD excluding VAT
Flat Rate Shipping to USA $9.99
100 % recommends
Sold 27 pcs in the last two weeks
Loading products...
Trouble with the metric system? Try our converter: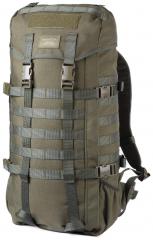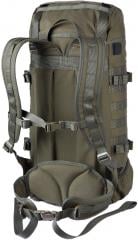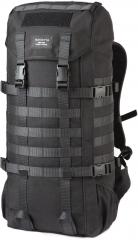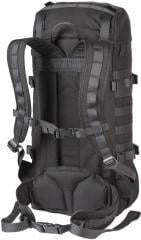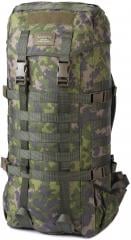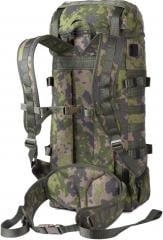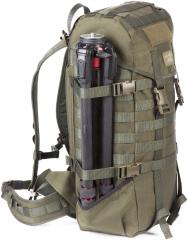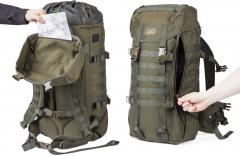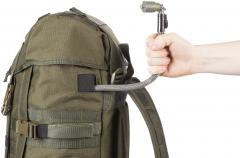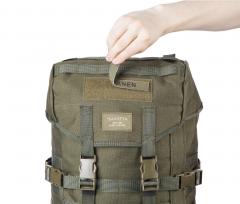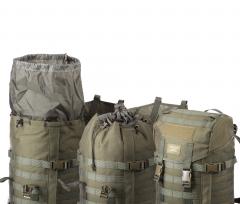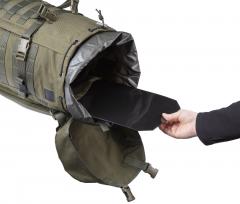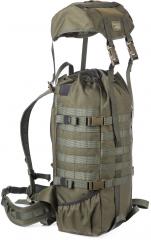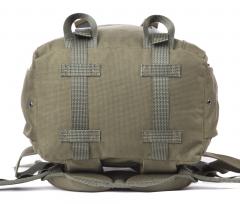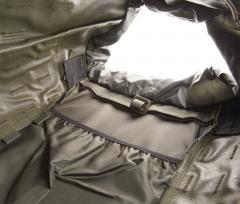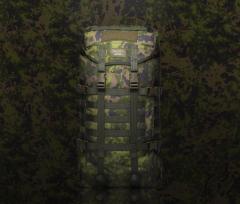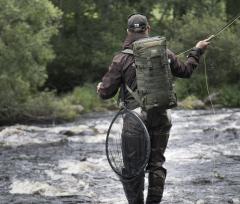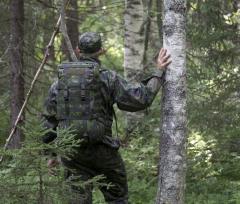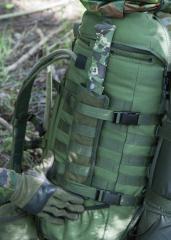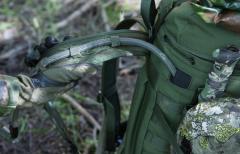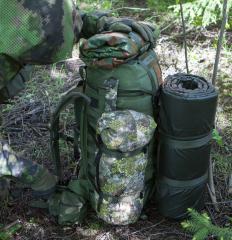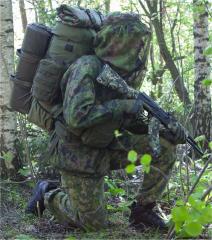 For a long time we preached that the "Light Border Patrol" pack was the best Finnish military pack ever. Well, not anymore: the Jääkäri M pack claimed that prize! Based on the Light Border Patrol Pack the Jääkäri M is a natural heir to the throne, an updated modern daypack, a sturdy one that carries even a few days worth of supplies comfortably. Versatile and incredibly tough, a proper quality pack for demanding use. This pack was formerly known as "Jääkärireppu".
Jääkäri is Finnish for Jaeger, traditional Prussian name for fighting infantrymen and a title still proudly used in the Finnish military.
A light border patrol pack evolved
The "Jääkäri M" is based on Savotta's famous "Kevyt Rajapartio" (Light Border Patrol, a daypack developed in the late '90s for our border troops), but it's a step up the evolutionary ladder. The starting point is still the same: a narrow, medium sized pack that doesn't interfere with movement in tight spaces or heavy woodlands.
The main changes include the swapping of all old metal buckles for quality ITW Nexus Delrin plastic buckles, the addition of PALS webbing to all sides of the back and deleting ye olde thermos flask holder for a modern hydration bladder pouch. On top of that the updated lid and strap construction makes overpacking and compression far better than before. The result is a high-quality modern daypack that performs equally well in daily urban use as it does on 24-48h or longer hikes and missions.
Features
Dimensions approx. 55 x 27 x 20 cm, max volume roughly 30 litres. Weight roughly 2 kg.
Large main compartment, covered by a tightly shaped flap and waterproof drawcord collar.
The flap is a floating lid, it can be raised from the neck if you need to overpack the pack or carry large bundles on the top.
Inside the flap is a zipper pouch for valuables etc.
The main compartment is also accessible from the side through a long zipper, making pulling out those little trinkets quickly so much easier! The zipper has two pullers so you can open it from any point, bottom, middle or top.
Side compression straps with quick side release buckles, compresses the pack to a neat package when half full. These can also be used to strap extra kit to the outside of the pack.
Both sides have open pockets on the bottom for securing axe handles, poles etc. These also work for small canteens and flasks, just secure the neck of the bottle with the compression strap.
Two webbing loops on the bottom of the back for securing long shovel, pick or axe handles.
The straps that close the top lid also run around the bottom of the pack, this helps compress the pack from all sides and also take some of the strain off from the (incredibly tough 1000D Cordura) fabric.
Attachment points for utility sraps on the bottom. Excellent place to lash a sleeping mat or bag to.
Hydration bladder mesh pouch on the inside against the back. Fits a Source WLPS bladder perfectly.

Hydration tube or antenna ports on both sides of the top of the pack.
Carrying system
A removeable plastic back support plate in it's own compartment. These are no Matty Mattel craptastic plastic, the same plates have been used on the "Kevyt Rajapartio" pack for decades without problem.
Very comfortable, firmly padded back. The straight lines and "boring" rectangular pillows might not look media sexy but they perform very well!
Carrying handle on the neck.
Anatomic shoulder straps with removeable sternum strap. The shoulder straps have attachment loops for gear such as hydration tubes.
A simple yet very functional hip belt with side release buckle. Attachment points for small gear. The belt can be stuffed behind the back pillow when not needed.
Materials
The fabric is the same PUR coated waterproof and extremely tough MILSPEC 1000D Cordura used to make Finnish military M05 gear! All hardware is military grade too, the buckles are made by ITW Nexus and zippers by Kroko of Belgium. The materials, construction and attention to detail are all top-notch!
Savotta videos
Trash test:
A less hostile video:
Made by Finn-Savotta Oy
Founded in 1955 Finn-Savotta, or just Savotta, is known for their simplistic and extremely rugged designs. For decades Savotta has been the go-to supplier of hiking gear for the Finnish civilian market and combat gear and tents for the defence forces.
Today Savotta operates two factories, one in Karstula, Finland, where they make all their tents and metal components and one in Estonia where they do about 50% of their sewing.
Reviews
You have already submitted a review. You can edit your text by clicking on it.
Log in and write a review.
Remove filter
Suomi
(23)
English
(8)
Mikko J.

26.05.2016 (Edited 31.05.2016)
Matias K.

27.05.2016 (Edited 31.05.2016)
Muuten aikalailla täydellinen, mutta etuosan molle-kujaston alta iloisesti juoksentelevat kiinnityshihnat aiheuttavat ongelmia isompien taskujen kiinnityksen kannalta.
20
6
Ignacio N.

29.05.2016 (Edited 16.09.2018)
Buy it. Really, I don't have time to say all the wonders of this backpack. Small and big. Easy to pack. Waterproof, comfortable, beautiful , tough.... Buy it. If you are just thinking about it, buy it.
17
2
Hannu T.

30.05.2016 (Edited 02.06.2017)
Himpun verran liian pieni. Vois olla esim. 45 l. Muuten hyvä.
Niin ja ei haittais jos läpän päällä olis tasku sadetakille/-viitalle. Tästäpä tulikin mieleeni: Tehkääpä Lekan sedät Särmä-sarjaan molle-tasku jonka mitat olis vaikka 27x30x10 cm. Sen vois kiinnitää tämän repun etupintaan tai läpän päälle ja käyttää myös olkalaukkuna. Siinä sais olla mieluiten vetoketjusulku.
68
9
Karri M.

11.06.2016 (Edited 27.06.2017)
Ostin keväällä, hinta oli hieman suolainen. Kotona tutkimisen ja arjessa hutkimisen jälkeen tullut siihen tulokseen että ei menny pennoset hukkaan. Tämä reppu varmasti tulee maksamaan itsensä takaisin moneen kertaan.
21
2
I would recommend for a friend
Harri K.

26.12.2016 (Edited 13.06.2017)
- ostin muualta ja sain 159e:oon mustana, nyt voin sävy sävyyn kiinnittää mustat mil-tecin varustetaskut:) kiinni
- ei tuo hullummalta näytä oliivin värisilläkin lisävarusteilla (niitä löytyy itse tehtyinä)
- koko hämää, kyllä siihen saa tavaraa mahtumaan, kun hieman viitsii nähdä vaivaa
- nuo lukuisat molle-kujastot lisäävät vielä tavara-tilaa mukavasti
- onnistunut muotoilu!
- suosittelen, mitä lämpimimmin
11
2
I would recommend for a friend
antti k.

13.01.2017
I would recommend for a friend
Petri H.

23.02.2017
Erittäin jämäkkä ja hyvän tuntuinen selkään, tämme mahtuu myös Maakuntakomppanian tavarat nätisti sisälle. Tai no voihan vähän kiinnitellä ulkopuolellekin. Paras reppu mitä on tullut hankittua.
16
1
I would recommend for a friend
Jaakko L.

23.05.2017
Parasta mitä olen toistaiseksi selässäni kantanut. Eukot mukaan lukien.
8
1
I would recommend for a friend
Veli K.

05.06.2017
Kooltaan juuri passeli kuukauden Aasian reissulle. Löysin tästä repusta sivuvetskarin vasta paluulennon jälkeen Helsinki-Vantaalla.
6
3
I would recommend for a friend
Simo N.

10.07.2017
Todella hyvä reppu, jonka uskon palvelevan taattuun Savotta-tyyliin lähes ikuisesti. Just loistava päiväreppu lähialueille koiran kanssa lintujahtiin. Vielä on yönylireissuille soveltuvuus testaamatta, mutta olen tykännyt hemmetisti. Pitäis vielä tuunata tälle molle-härpäkkeitä itse, kun kerran on pelit ja vehkeet...
5
0
I would recommend for a friend
Mika K.

05.09.2017 (Edited 27.02.2019)
Tarkoituksella saanut kunnolla runtua ympärivuotisessa käytössä metsässä, merellä ja saaristossa. Tätä ei varmaan saa rikki millään ja reppu on vieläkin kuin uusi!
Reppu on hyvä myös ulkomaanmatkoilla ja lentokentillä, mennyt käsimatkatavarana kahdella Savotan molletaskulla joihin olen perillä ostanut tarvittavaa romua,
( https://www.varusteleka.fi/fi/product/sa-m05-yleistasku-pieni/13639 ).
Yksinkertaisesti sanottuna helvetin hyvä reppu joka paikkaan, jos tämä kokoluokka riittää, itselleni on riittänyt hyvin esim. parin kuukauden Aasian reissulla.
Suosittelen!
3
0
I would recommend for a friend
Kimmo T.

11.10.2017 (Edited 06.01.2018)
Erinomaisen hyvä "säkkimallin" reppu, eli ei sovi tasku- ja lokerohifisteille. Mollekujat mahdollistaa laajennokset, mutta etupuolen kujien määrä ei mahdollista monenkaan tarjolla olevan taskun kiinnitystä kivasti keskelle tai toisen kanssa symmetrisesti. Usein jopa turhan iso lyhyemmille päiväretkille, jolloin kansi lörpättää hassusti kun reppu on vajaa. Nauhojen kiristys vaatii mahdottomasti sekä voimaa että tekniikkaa. Minulla ei ole oikein kumpaakaan. Ei pidä täysin sadetta, ilmeisesti koska tikattu täyteen mollea (muutoin täydet 5 tähteä).

Mutta, aivan samperin hyvää tekoa ja fiksusti mietittyjä yksityiskohtia. Näyttää ja tuntuu todella hyvältä selässä. Kyljen vetoketju aivan loistava ominaisuus. Kamoja mahtuu parin päivän reissulle ja jopa viikonlopuksi jos ei täysin luonnon armoilla tarvitse olla. Muunneltavuus ja yksinkertaisuus on hyvä kombo. Tällä mennään vielä pitkälle.
4
0
I would recommend for a friend
Arhippa J.

08.11.2017
I would recommend for a friend
Sam A.

17.11.2017 (Edited 17.11.2017)
Wow, what a bag! I purchased this backpack earlier this year. It originally was going to be filled with emergency supplies and whatnot for my truck, but it is too nice of a bag NOT to use often! In July I went on a trip to Taiwan for over a week to serve at a vacation bible school summer camp. This bag carried everything I needed and then some, even surviving 2 hours of biking every day for 5 days straight. People gave me lots of compliments with this bag, and some thought it appeared heavy because of its rugged and durable appearance. Nonsense! The weight is light for a bag this size yet the bag is still in perfect condition. After the trip I put this bag into service for university and I still use it today.

Bottom Line: This bag will not let you down and will endure whatever abuse you throw at it! The Finns make excellent gear, you will not be disappointed. Thanks Varusteleka!
38
0
I would recommend for a friend
Antony D.

24.11.2017
This pack is incredible! The build quality is second to none. I can see this pack lasting for many many years.
20
0
I would recommend for a friend
Brian N.

25.11.2017
I haven't had a chance to use this hiking yet, but in the city it works well for transporting large amounts of stuff. It's attractive and appears to be extremely well built, so Savotta's reputation seems intact fro now. The capacity and build might be a bit low for anything more than weekend hiking--in fact I've had to do the emergency-detach-the-top thing to make more room in the bag several times just in the city. Looking forward to making more use of this.
9
2
I would recommend for a friend
Sebastian V.

18.12.2017
I would recommend for a friend
Ari S.

04.01.2018
Hyvä säkki. Tilavuus tuntu aluksi pieneltä(tottunu leveempi pohjaseen 30litraseen) mut ylitäyttö lisää pirusti tilaa. Tukeva ku perkele. Lähinnä käytän kauppakassina. Eka kenttätesti oli hakea 2koria kaljaa niin kaukaa ku pyörällä kehtas. Molemmat korit meni ilman ylitäyttöä ja reppu istu seläs hyvin. Toinen testi oli jouluruuat kaupasta,kotona punnittuna 27kg painoa kaikkiaan,paino ei tuntunu pahalta seläs. 15kg pellettiä menee myös reppuun nätisti. Hyvä reppu,kestää varmasti hyvän tovin. Pari molletaskua lisäsin varuiksi. Sivutaskujen tarkoitusta en tiiä,jos tarkotuksena laittaa kirve ja remmillä kiristää toimii,mut jos 1.5litran pullo täyteen reppuun niin vastustaa. Paljon tuntuu olevan mollea ja nauhaa mut niihin tottuu ja ylitäyttö+läpän nosto on aivan jumalten keksintö.Tavaraa mahtuu erittäin hyvi.

-istuu hyvi
-tukeva
-kestävä
-tilava
-saa lisää tilaa molleilla
-remmeillä vielä lisää rojua mukaa.
-hyvin modattava omiin kantamuksiin.
8
0
I would recommend for a friend
Kenneth D.

07.03.2018
I bought this to use in my truck at work for holding extra layers in case the weather gets nasty and carry the things i need to overnight in the daycab should it breakdown or i have to shutdown due to conditions. I have to say i am very pleased with it. It holds everything i normally carry without having to add a plethora of pouches like i did with my USMC assault pack. Very good quality and i wouldn't hesitate in buying another one.
9
1
I would recommend for a friend
Tuomas K.

27.03.2018
Tekee mitä lupaa. Tämä reppu ei varmasti jätä pulaan. Vetoketjujen puolesta ei tarvitse murehtia esim. lentäessä. Tämä reppu on reppu, eikä pieni rinkka. Jos olet kokoiseni 185cm pitkä, 105kg, vyötäröltä 36 tuumaa leveä kebab eläin,niin harkitse seuraavaa kokoa.Olen melko harteikas,joten olka viilekkeet riittävät juuri talvivaatteissa. Ulkoiset kiinnikkeet ja tukevuus tekevät repusta erittäin hyvin laajennettavan.
2
0
I would recommend for a friend
Anonymous customer

29.04.2018
I would recommend for a friend
Johan G.

24.06.2018
Loaded the backpack with 15kg worth of gear and my back did not take a beating and i didn´t even break a sweat. All in all the best backpack i´ve ever had.
14
0
I would recommend for a friend
Anonymous customer

15.10.2018
Muut arvostelut jo tätä hehkuttaa, joten tämän arvostelun pointti on sanoa että ostakaa se alumiinilla jäykistetty selkälevy tähän. Repusta tulee huomattavasti jämäkämpi kantaa ja hyöty on tosi suuri oli kuormaa vähän tai paljon. Ilman jäykistettyä selkälevyä tähtiä 3,5/5 ja selkälevyllä 5/5.
2
0
I would recommend for a friend
Olle L.

05.12.2018 (Edited 06.12.2018)
At first i thought i was crazy paying this much for just a backpack. However, when it arrived i quickly changed my mind and became very happy that i paid a lot to get a high quality backpack. Make no mistake, the build quality of the Jääkäri M is UNBELIEVABLE. The cordura is thick, robust and plastic coated on the inside, so its pretty water resistant. The buckles are big and meaty. The stitching is strong. The carrying system/hip belt makes it very comfortable when carrying heavy loads.

Pro tip: I bought two Särmä TST Large Utility Pouches and attached them on the side for my medkit, rain gear etc, which brings the total volume to around 37 liters. If you strap your tent and sleeping mat on the outside he pack can easily carry everything you need for at least 2 days in the woods, including a bulky 3 season sleeping bag.
9
0
I would recommend for a friend
Ville T.

01.04.2019
Kunnon hyvä!

Jos jotain muuttaisin niin muovisoljet vaihtuisivat metallisiin, mutta muuten en keksi repusta oikein pahaa sanottavaa. Ostin repun pidempiä päiväretkiä varten, ja koko tuntuu olevan tällaisia reissuja ajatellen juuri sopiva. Mukana tulee pakollisten rojujen lisäksi kuljetettua mm. kuvauskalustoa, joten kaikkein pienimmät päiväreput eivät itselle sovi. Jääkäri M on helppo täyttää, ja tavaroihin pääsee tosi näppärästi käsiksi sivuvetoketjun kautta. Ylipakkaamalla ja kompressioremmien avulla repun ulkopuolelle ja läpän alle saa helposti mukaan yöpymisvermeet. Pidempiä reissuja varten kannattanee sijoittaa isoihin sivutaskuihin jolloin reppu vastaa jo pientä rinkkaa. Täytyy kehua myös kantomukavuutta. Oikein säädettynä Jääkäri istuu selkään tosi napakasti eikä reppu juuri rasita hartiaseutua.
0
0
I would recommend for a friend
Juha-Pekka A.

07.05.2019 (Edited 13.07.2019)
Jääkäri M on ollut nyt runsaan vuoden keikkareppuna ja matkoilla mukana, minne ikinä menenkin. Reppu on yhä kuin uusi.

Jätin aikaisemmin puoli tähteä pois Jääkäri M -repun kehnon selkälevyn vuoksi. Hankin sittemmin alumiinijäykisteisen selkälevyn, vaikka hinta tuntuikin suolaiselta. Suolainen hinta tosin unohtui heti, kun jäykistetyn selkälevyn sain asetettua reppuun. Ero käyttömukavuudessa ja ryhdikkyydessä on huomattava.
0
0
I would recommend for a friend
Adam D.

19.06.2019 (Edited 12.08.2019)
Overall really great pack, build quality is fantastic. Unfortunately it is just too small to be used for overnight camping. The main compartment can fit a small sleeping bag and maybe a tent, leaving a little bit of room for clothes etc. Definitely recommend using external pouches to increase your total capacity, or better yet, just go for the Jaakari L which can be compressed to the size of this one anyway.
1
1
I would recommend for a friend
Tapio H.

22.08.2019
Aivan superhyvä reppu! Teen enimmäkseen päivä- tai yhden-kahden yön retkiä, ja Savotta Jääkäri M soveltuu näihin täydellisesti! Se ei ole liian iso kevyeen lähiretkeilyyn, mutta toisaalta modulaarisuuden ja ylipakkaamisen ja lukuisten kiinnitysmahdollisuuksien ansiosta sillä saa kulkemaan niin majoitus- kuin makuuvälineetkin. Materiaalit ja työn jälki ovat huippua. Ilolla ja ylpeydellä tällaista suomalaistuotetta käyttää!
0
0
I would recommend for a friend
Anton K.

06.10.2019 (Edited 06.10.2019)
I have feelt like the military just whent on average and made things acoording to that but im a small guy 60kg 165cm tall and i loved it. Its actually really hard to wrigth a rewiew since everything is great abouth it, i really thougth i where stupid paying this much for a backpack but never so wrong the weigth sits really well on your hips and i have been hinking for a weack with it with 20kg and it even smelled new when i came home this is a backpack that will last for years! but i migth buy the L versions beckuse this one has low capacity and if your hiiking alone specially in winter does no go away more the 3 days.
0
0
I would recommend for a friend
Henri H.

12.01.2020
Eivät turhaan kehu. Olen omistanut repun kohta vuoden ja pelkkiä positiivisia kokemuksia. Ensinnäkin reppu on ulkonäöltään tyylikäs ikäänkuin miniatyyri rinkka. Reppu tuntuu hyvältä selässä ja sen saa säädettyä/kiristettyä selkää vasten siten ettei se heilu. Itellä on repussani myös Savotan vahvistettu selkätuki joka lisää tukevuutta. Repun kyljessä menevä pitkä vetoketju on suorastaan nerokas tapa saada näppärsäti kaivettua repusta tarvitsemansa. Pidempiä reissuja varten reppuun saa kiinnitettyä jos jonkin moista molletaskua, ja näin lisättyä tilavuutta. Reppu on hieman painavamman puoleinen mutta se johtuu täysin siitä että siinä ei ole tingitty kestävyydestä, sillä tältä repulta voi odottaa pitkää käyttöaikaa
0
0