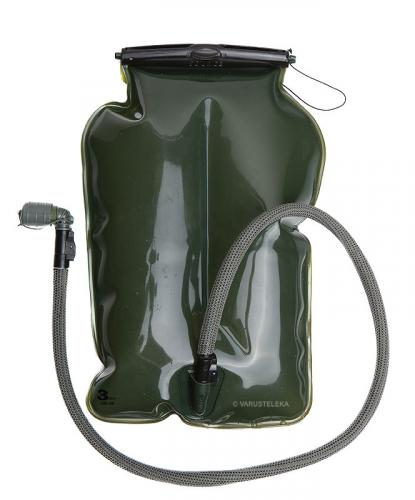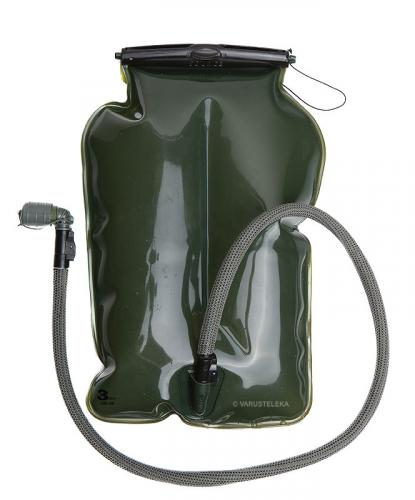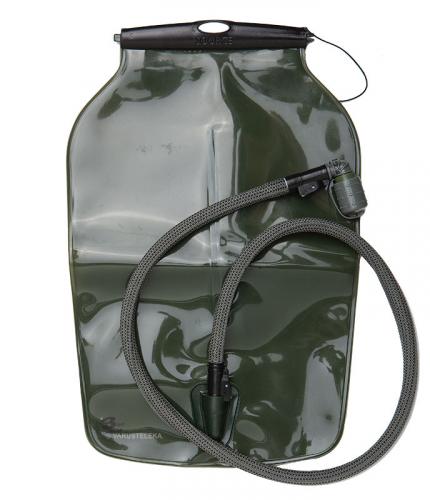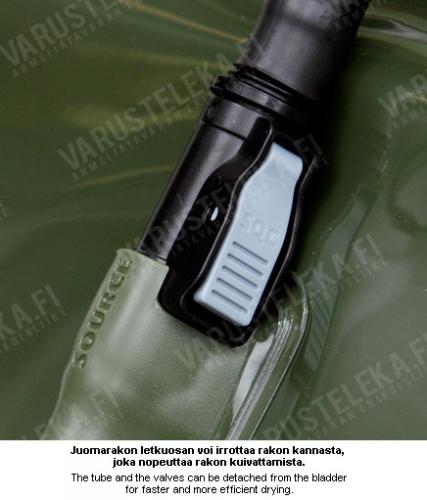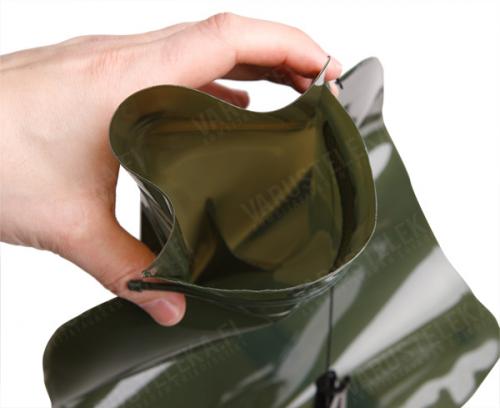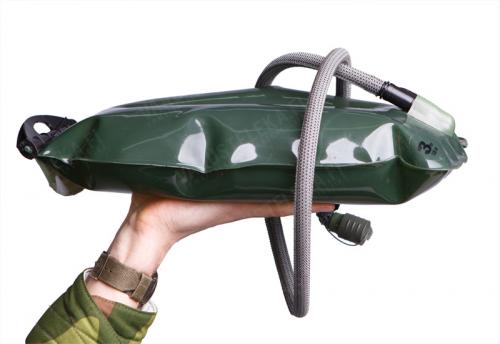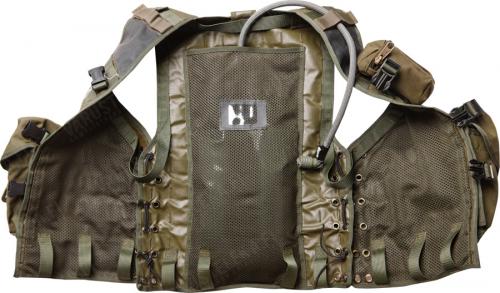 Source WLPS hydration reservoir, 3L
Price 34.99 USD
excluding VAT
Widepac Low Profile System - the name says it all! This hydration bladder is specially designed for comfortable carry in a backpack or combat vest.
Loading products...
Trouble with the metric system? Try our converter:






Widepac Low Profile System - the name says it all! This hydration bladder is specially designed for comfortable carry in a backpack or combat vest.
Measurements full 38 x 25 x 6,7 cm / (15" x 10" x 2.6").
Capacity 3 liters / 101 oz.
Widepac opening - the whole top of the bladder opens up for filling and maintenance.
No screw-on cap, one less possible leak to worry about and makes for a much flatter profile. Leaving out the cap is a simple yet clever choice, after all with the widepac opening you really don't need it for anything!
A vertical divider keeps the water level balanced, keeping the bladder from bulging.
Storm valve
QMT - Quick Mate Technology - the tube and valves are quickly detachable and interchangeable even with a full bladder without fear of spilling the water.
The "Glass Like" bladder material and "Grunge Guard" treatment makes the life of harmful bacteria, algae and fungi difficult, effectively keeping the bladder cleaner for longer.It is still recommended to clean it periodically, but it needs far less care than most hydration bladders. This makes it ideal for combat situations where cleaning is not always possible.
Made by Source
Source is one of the leading makers of hydration systems on the worldwide market, their gear are used by militaries and law enforcement units all around the globe. High quality and absolutely reliable, this stuff is made for real use!
Recommendations
Loading products...
Reviews
You have already submitted a review. You can edit your text by clicking on it.
Log in and write a review.
Remove filter
Suomi
(15)
English
(2)
I would recommend for a friend
Teemu S.

09.01.2019
I would recommend for a friend
Ossi R.

31.12.2019
Kesällä erinomainen vekotin, mutta talvella vesi jäätyy ihan parin asteen pakkasessa hetkessä letkun umpeen eikä vesi enää kulje.

Silti hyvä vekotin, kuhan ei talvella käytä
0
0
I would recommend for a friend
Alon S.

23.03.2020
Great middle ground between the longer WXP and the wider ILPS, so it fits almost any of my bags comfortably. I specifically got it to shove it alongside the BW folding sleeping mat in the 65l BW rucksack that's sold on Varusteleka and it fits perfectly in the same pocket along with the mat while full. The product itself is great, I got it without the UTA adapter and while I clearly see the utility of it, refilling the bladder without that dongle is still very easy. Depending on what your source of water is, you won't even have to take it out of the bag.
I've heard people complain that Source valves take too much effort to suck water out of. I must be a great sucker because I didn't have that problem at all!
1
0
I would recommend for a friend
Anonymous customer

27.05.2020
Hankin juomarakon pääosin pyöräily- ja retkeilykäyttöön. Erittäin toimiva ratkaisu. Laadukkaista materiaaleista valmistettu ja venttiilit pitävät ja toimivat pääosin todella hyvin - joskin talvella jäätyminen tuppaa olemaan ongelma.
0
0
I would recommend for a friend
Niko J.

16.04.2017 (Edited 13.06.2017)
Todella hyvälaatuinen juomarakko, takaisku venttiilit toimivat hyvin. Suukappale välillä vähän hankala mutta kun tottuu toimii hyvin.
On kyllä uskomattoman sileätä materiaalia..
5
1
I would recommend for a friend
Tino P.

31.05.2017 (Edited 23.05.2019)
Ostin tämän rakon jääkärireppuni kaveriksi pyöräreissuja ajatellen. Otin rakon kuitenkin armeijaan mukaan, ja tämä osottautui korvaamattomaksi marsseilla sekä leireillä. Mahtuu sopivasti tetsarin selkäosaan, kuten myös molempiin intin reppuihin. Kesti itsellä koko vuoden palvelusaikani hyvin, eikä maksanut paljoa hyötyyn nähden.
Pro tip: jopa pienilläkin pakkasilla vesi jäätyy letkun sisältä helposti, mutta veden puhaltaminen letkusta takaisin pussiosaan auttaa ehkäisemään jäätymistä.
22
5
I would recommend for a friend
Leo M.

04.06.2017 (Edited 04.06.2017)
I would recommend for a friend
Ville L.

14.06.2017
Täydet pisteet. En uskonut juomarakon olevan näin hyvä ja toimiva ratkaisu. Kestänyt nyt useamman reissun ja on todella helppo täyttää ja pitää kuivana.
4
0
I would recommend for a friend
Antti H.

24.08.2017 (Edited 24.08.2017)
Pari kappaletta tullut Sourcen reppujen mukana. Toisesta suukappale jotenkin jumittui, enkä keksinyt mistä johtuu, vaikka purki ja putsasi. Onneksi saa uusia.. letkua kannattanee välillä rassata harjalla.

Jos vesiä pitää keitellä (eli ei käytä tabletteja tai pelkää että vesilähteessä on viruksia, jolloin suodatus ei riitä), niin kannan Nalgenen 1L pulloa mukana. Siitä sitten siirrän rakkoon sitä mukaa, kun jäähtyy.

O-renkaat voivat alkaa myös falskata, kerran yksi rakko vuosi tyhjiin repussa. O-renkaan voitelu silikonilla auttoi. Varmaan niitäkin voi vaihtaa tarvittaessa. Rakko on yllättävän tukevaa materiaalia, ja kestää aika hyvin painoa päällä. Ei tarvitse heti pelätä, että ratkeaa saumoista. Suuaukosta on suht helppo kaadella vesiä sisään/ulos, ja käsi mahtuu mukavasti sisälle, jos tarvii rakkoa pestä.

Aika hyvä tuote, vaikka painaakin enemmän kuin jotkut platypus-pussit.. tosi kätevää, kun ei tarvitse kurotella tai säätää mitään reppu/rinkka selässä, kun haluaa juoda. Mahtuu hyvin Gossamer Gearin Mariposa-rinkan rakkotaskuun.
0
3