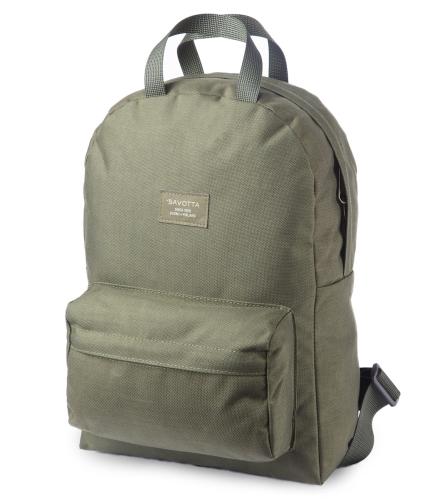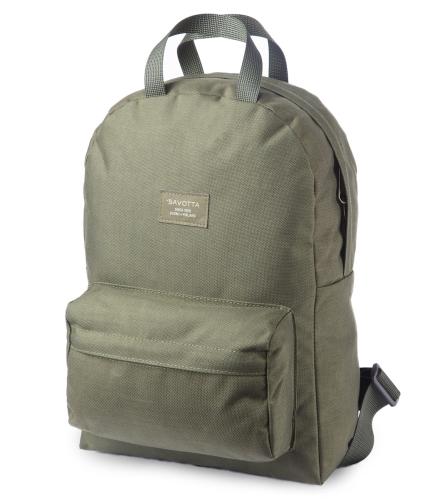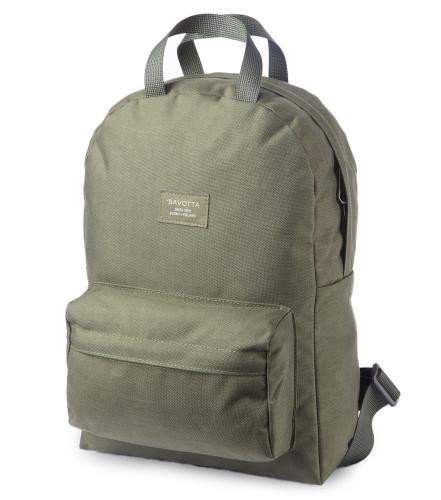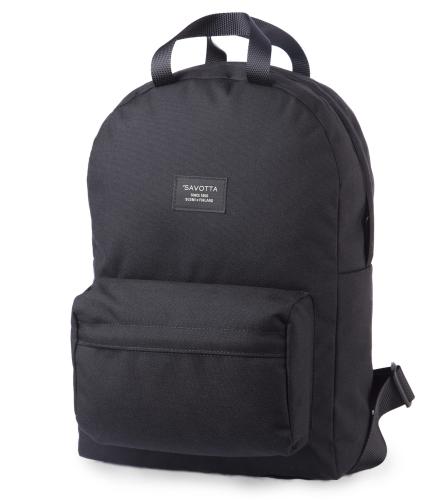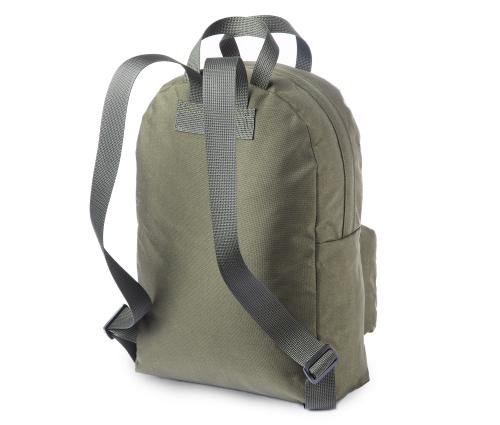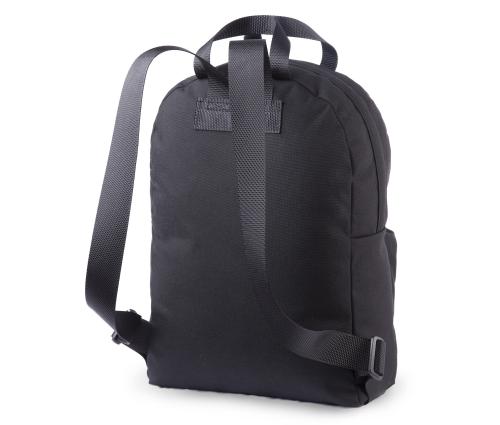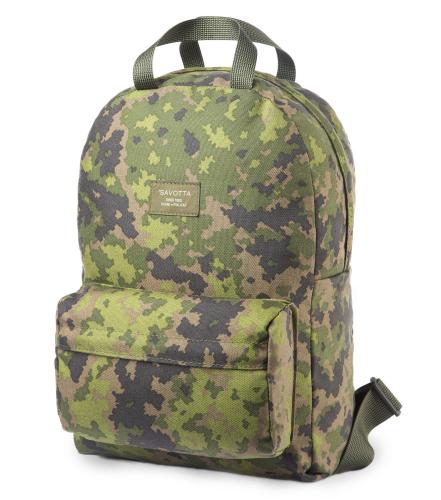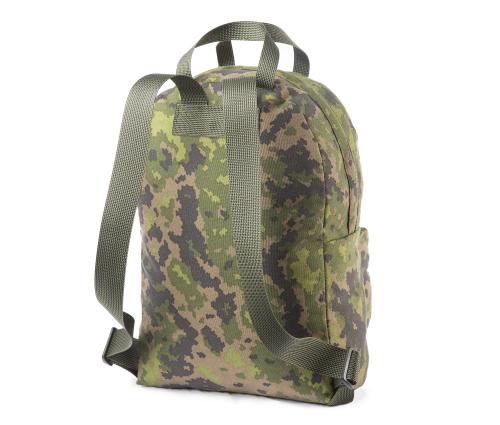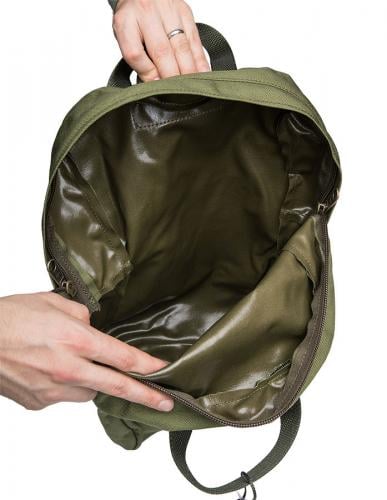 Not much extra stuff inside.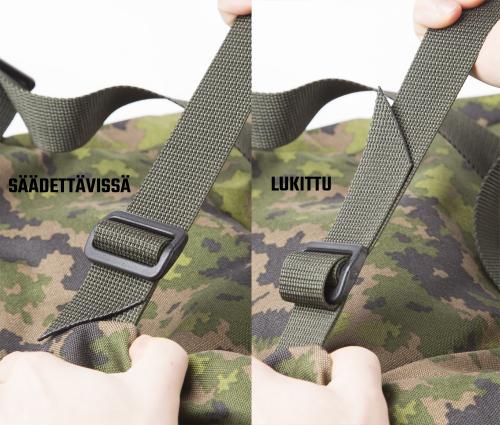 Here's the shoulder strap in the adjustment position and secured position.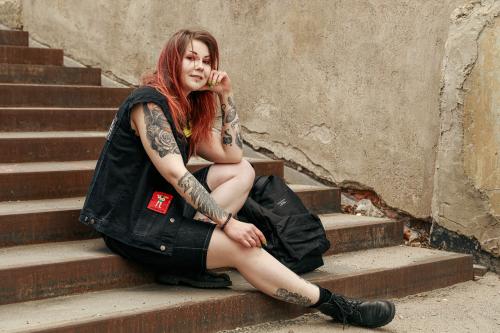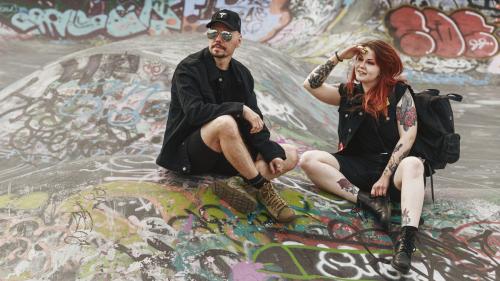 Savotta
Savotta Backpack 202 LJK Daypack
Price 49.99 USD
excluding sales tax
A simple day pack of the Finnish Airborne Jaegers (LJK). If you're looking for an outdoors and everyday pack for the rest of your life, the Backpack 202, as the manufacturer calls it, is a bombproof choice!
Loading products...
Trouble with the metric system? Try our converter: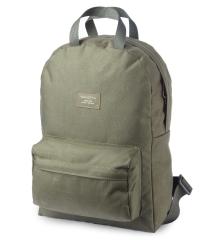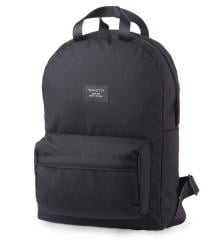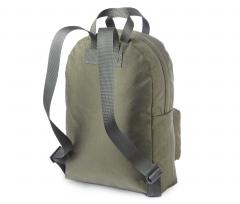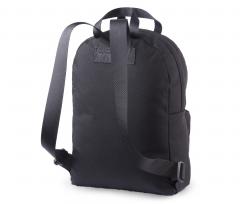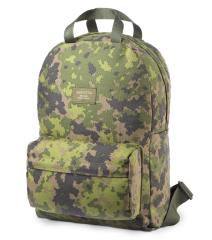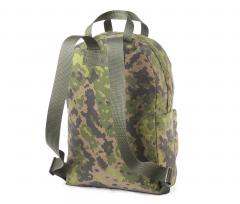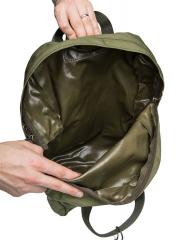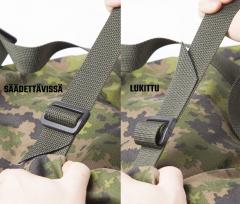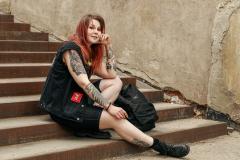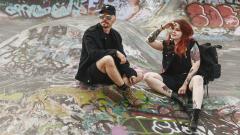 A simple day pack of the Finnish Airborne Jaegers (LJK). If you're looking for an outdoors and everyday pack for the rest of your life, the Backpack 202, as the manufacturer calls it, is a bombproof choice!
The idea is to carry this pack empty in a large rucksack and take it out for short patrols. As this little pack is intended to carry anything from lightweight recce equipment to radios and even anti-tank mines (10 kg / 22 lb each), it is ultra-tough. It is still very streamlined and lightweight, so it makes for an excellent everyday backpack.
Simplicity is bliss
All features and the lack of some are dictated by function and necessity. The result is light, simple, and durable.
Two compartments, one large and one small, both close with heavy-duty zippers. No dividers or sleeves or pockets inside. Small items go into the smaller compartment.
Simple, adjustable shoulder straps with durable ladder lock buckles and carrying handles on top.
Note! The shoulder straps are not quick-adjustable. To provide a strong setting that doesn't shift, the webbing is first weaved through the ladder lock once. After adjusting the length, weave the free end of the webbing once more through the free slot to lock it. Watch the video below for an example by the Beard-God from Savotta.
Pro-Tip: The smaller British PLCE Liner Bag is a perfect fit for this backpack. Forget flimsy tote bags and get this eternally durable bag instead! Pro-Tip 2: If you carry this pack a lot with heavier contents consider these Särmä TST Sling Pads for added comfort. Just note those are sold as single pieces.
The pack is made of PU coated 1000D Cordura with IRR treatment and meets Finnish army military specs.
Dimensions approx. 42 x 27 x 15 cm (16.5" x 10.5" x 6"). Volume roughly 15 litres (915 inch³). Weight c. 0.3 kg (10.6 oz).
Warranty and guarantee
The product has a 2-year warranty against material and manufacturing defects.
Kierto Circular Economy
Return this product used but clean and unbroken, and you'll receive half of the product's original price as Varusteleka credits. Service is available only in Finland. Only Registered users can make Kierto returns. See more information about Kierto.
Made by Finn-Savotta Oy
Founded in 1955, Savotta is known for its simplistic and extremely rugged, Nordic designs. For decades, Savotta has been the go-to supplier of outdoor gear and equipment for individual outdoor people as well as various aid groups and defence forces, most notably of course the FDF.
ISO 9001:2015, AQAP 2110 Ed D, Facility Security Clearance
ISO 14001: 2015 Environmental certificate
NATO CAGE: A444G
Savotta makes a large share of their products, all of their tents, ruck frames, and all non-sewing work in Karstula, Finland, where all of the design and development takes place. Large production runs are distributed to Savotta's second factory in Estonia, which is tooled for sewing only, and Poland. The product label has the exact country of manufacture and the quality is always guaranteed.
All products: Savotta
Recommendations
Loading products...
Reviews
You have already submitted a review. You can edit your text by clicking on it. You can filter the reviews by clicking on the elements of the summary.
Log in and write a review. You can filter the reviews by clicking on the elements of the summary.
Remove filter
Suomi
(26)
English
(24)
I would recommend for a friend
Juho H.

11.08.2016

Verified purchase
Tämän repun kestävyys on sitä luokkaa, mitä sen pitäisikin olla. Kunhan tiedostaa tilan rajallisuuden pakatessa niin ainoa ongelma löytyy olkahihnoista, jotka ehdottomasti tarvitsevat pehmusteet.
9
0
I would recommend for a friend
banaani o.

21.03.2017

⚠ Unverified purchase
Hyvä reppu jonne sain mahtumaan talvimakuupussin, riippumaton ja ruokaa sekä pakin. Kun tähän lisää rintaremmin ja pehmusteet on reppu aika tosi hitsin hyvä.
6
3
I would recommend for a friend
Jari V.

28.06.2017

Verified purchase
Omani on valmistettu 2012. Täysin virheettömässä kunnossa mitä nyt maali hieman vetoketjuista rapissut. Päivittäisessä käytössä.
8
0
I would recommend for a friend
Antti P.

11.07.2017

Verified purchase
edit. On tullu nyt raahattua tätä reppua pitkin maailmaa ja kotimaata talvella,syksyllä,keväällä ja kesällä. Eihän toi näytä mitenään ihmeelliseltä repulta,tollanen,noh,reppu. Mut se minkä nyt voi sanoo kokemuksella on että jumanlavita toi syö tavaraa enemmän sisuksiinsa kun äkkiseltään uskois. Itelle ollu sopivan kokonen reppu reissailuun maailmalla ja saanu mahtuun kaiken mitä tarvii iisisti. Kaikki mun muut kettureput ym ei vaan jotenkin toimita samaa tyydyttävää pakkausautismin täyttymystä kun tää savotta 202. Olkoonkin noin yksinkertanen löysä nyssäkkä vaan. Eikä tän kanssa oo tarvinu pelätä että menee vetskari vaikka hajalle,ei saletisti mee,sen verran laatua on (kopkop silti). Ei tässä repussa pitäs olla mitään ihmeellistä mikä tekee siitä omiin tarpeisiin paremman kun kaikki mun muut reput,mut se vaan on. parempi. Yksinkertainen on kaunista. Eikä oo pelkoo et tarvis miettii mihin taskuun on laittanu mitäkin,on vaan 2. Mut juu,näin pitkän testailun jälkeen voin suositella tätä, ei mitenkään ulospäin ihmeellistä mutta käytännössä asiansa ajavaa nyssäkkää lämmöllä. Kiitos Savotalle!
12
0
I would recommend for a friend
THEO S.

14.08.2017

Verified purchase
Loistava reppu. Ottaa sisäänsä parin päivän puska-reissuun tarvittavat materiaalit ja voi luottaa että kestää reissun "haasteet". Itselle laitoin hihnoihin pehmusteet ja askartelin hihnanauhasta ja muovilukoista systeemin joka mahdollistaa taakan ja kantajan pika-eron ilman lapajättiläisiä ja muita merkkisuorituksia.
0
0
I would recommend for a friend
Joonas K.

05.10.2017

Verified purchase
I would recommend for a friend
Jordan S.

22.01.2019

Verified purchase
I purchased this bag around 5 months ago and so far so good.
The quality is excellent and its fully water proof its also very spacious, much more than expected.

I use the bag every single day for school to carry my books along with other stuff when i go hiking with friends.

I have a slight problem with the straps being undone after a week or so of use but I suppose its my fault as I leave my bag hanging low.

Absolutely would recommend this product and definitely worth the price
13
0
I would recommend for a friend
Salla K.

25.01.2019

⚠ Unverified purchase
Olkahihnat luisuvat irti repun alaosan kiinnittimistä jos reppu täynnä tai pitkä kävelymatka. Hihna siis irtoaa. Alussa vetoketjut todella jäykät. Pakkasella repun materiaali muuttuu jäykäksi ja vetoketjuja todella hankala avata. Muuten ok.
9
17
I would recommend for a friend
Philip R.

01.05.2019

Verified purchase
In this day and age where rucksacks do everything for you save make the tea, this is a return to times when things were much much simpler.

The 202 is a Small Tough Bag, with basic shoulder straps and a couple of handles. I know a lot of bags claim to be tough - I've a Tactical Tailor Fight Lite bag . .that's quite tough, but it looks like a cissy compared to the 202. The 1000D Cordura is supple and super strong and the PUR coating will ensure that your things stay pretty dry.

The zips were quite harsh initially but after a few zipping sessions they've smoothed out nicely. I did add some paracord pulls to them, and that has helped with the pulling - I can understand why they're not fitted as standard - last thing you want as a combat troop is some pulls catching on vegetation or aircraft bits . . but for an urbanite like me that's not a problem.

I was really surprised at how comfortable the straps are - they sit perfectly, and in a hike back from the supermarket filled with tins, the bag carried very well. Yeah my back got hot and sweaty, but the tins seemed to bed themselves down in the bottom of the bag and rested against the base of my spine - it was surprisingly comfortable, and when I took my coat off and stuffed that in, it softened things even more to the extent where I wondered whether the whole back system thing on must packs is a bit over the top . .

Anyway, that's about it - I've no doubt this bag will see me out. In fact my son has pinched it as a daysack for a carry as little as possible 2 week road trip across Europe - he says it'll fit in his duffle nicely, and I guess that's the whole point of it.

Oh and my final point - the price of the 202 is pretty astonishing - you know you could buy a Adidas or Nike or, well, you know, cheap Chinese shite bag for not much less . . . with the 202 you are buying something made with INTEGRITY and inspected by real human beings who aren't afraid to sign their names on the inspection tag, because they're proud of what they produce.



Sigh . . if only the rest of the world was like that . . .



Thanks for reading!
55
2