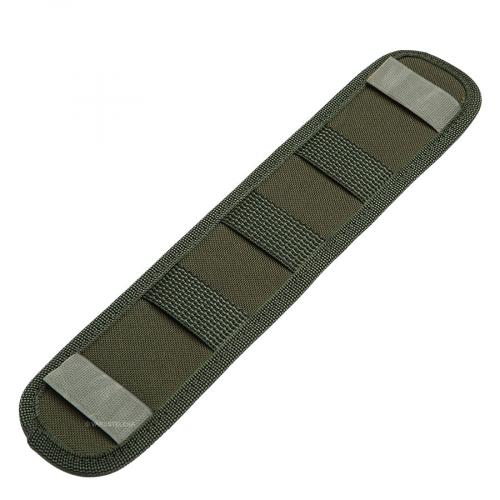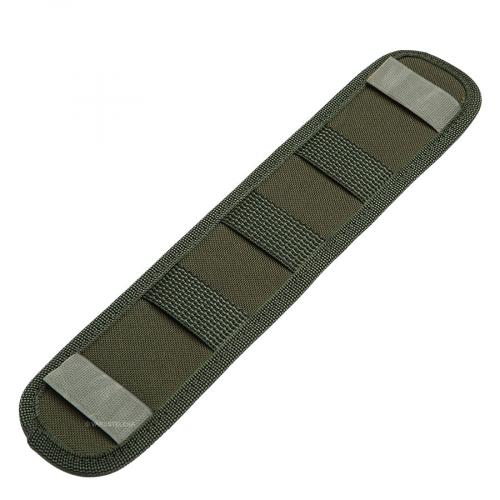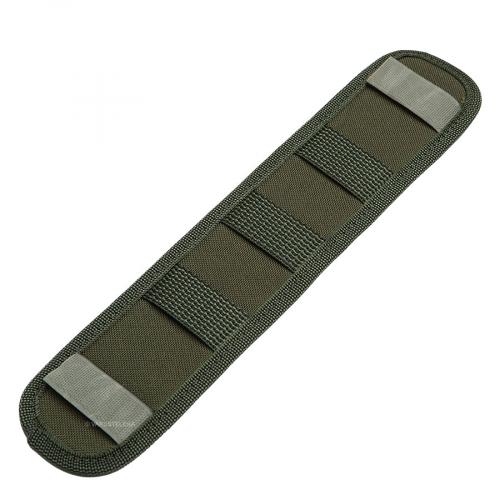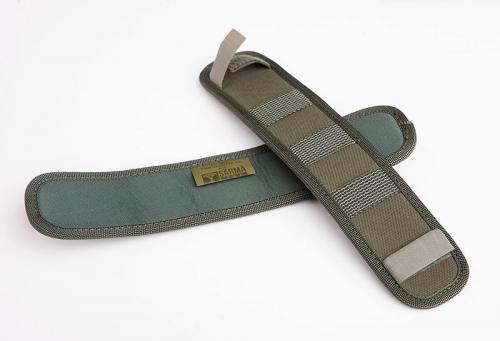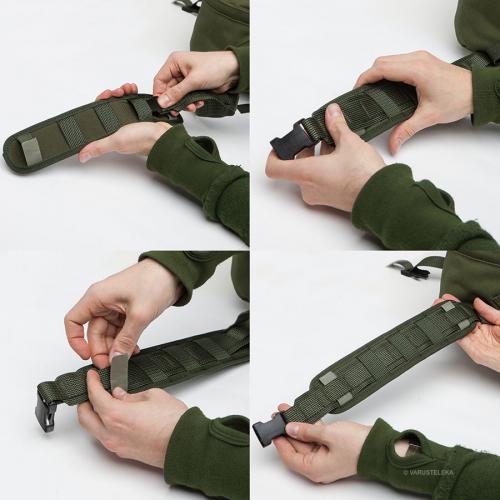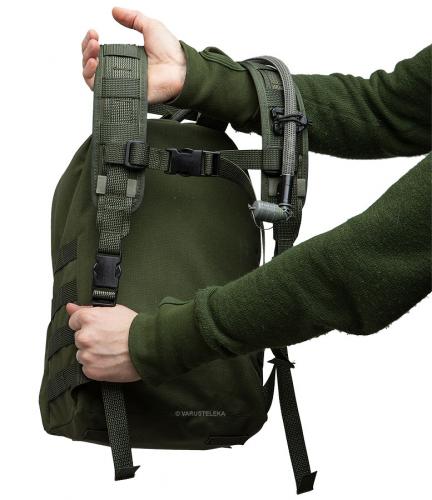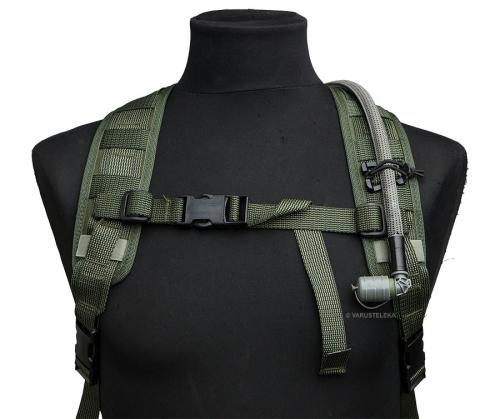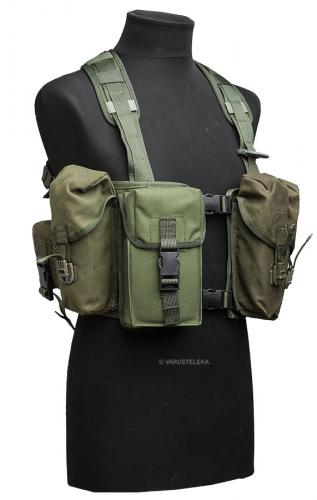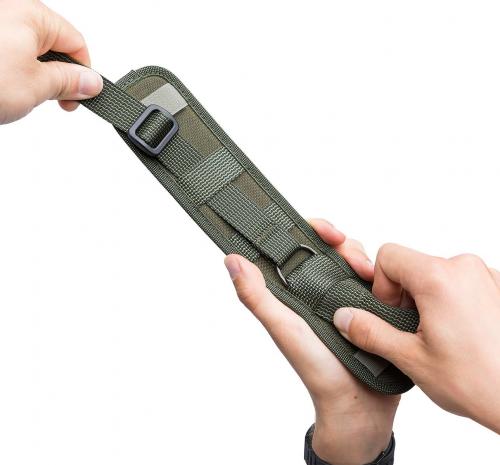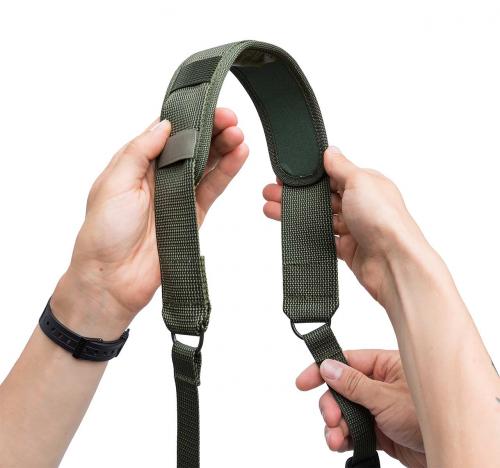 Särmä TST Sling Pad
Price 10.99 USD
excluding VAT
A proper multifunctional strap pad, fits any slings or shoulder straps up to 40 mm in width. Recommended for backpacks, weapon slings, and chest rig shoulder straps. Functions with pretty much any common strap you can find.
Loading products...
Trouble with the metric system? Try our converter: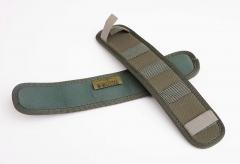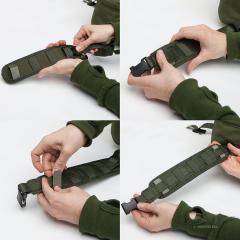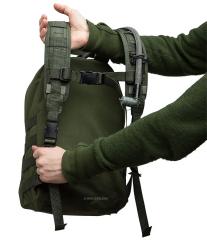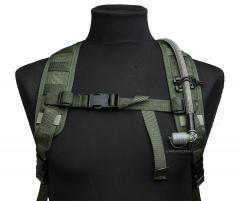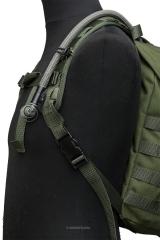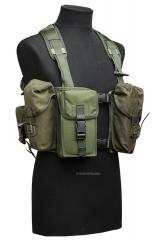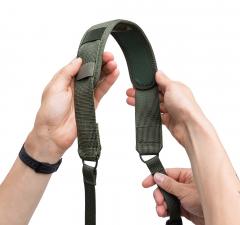 A proper multifunctional strap pad, fits any slings or shoulder straps up to 40 mm in width. Recommended for backpacks, weapon slings, and chest rig shoulder straps. Functions with pretty much any common strap you can find.
Single units. If you want these for a backpack, buy two.
Dimensions 30 x 6,5 cm / 12" x 2.5". Weight approx. 35 g / 1.2 oz.
Designed for 40 mm / 1.75" wide webbing straps
Three horizontal webbing channels
Two hook-and-loop fasteners
Cellfoam padding
NIR compliant materials
Two straps of hook-and-loop on both ends of the pad are used to secure the pad to prevent that horribly annoying sliding around. The hook-and-loop straps can be anchored through D-rings or other buckles or more commonly any vertically sewn webbing loops, as pictured.
The pad fits straps up to 40 mm wide, the cross pieces are wide enough for 25 mm / 1" side release buckles to slide through.
Finnish MILSPEC materials
These are made from a Cordura-cell foam-polyester laminate, the same material is used to make Finnish army backpack shoulder straps. All materials including the webbing and Velcro hook-and-loop are NIR compliant.
Sewn in Estonia
These are sewn for us by Savotta in Estonia. Savotta is the contractor for all Finnish army tents and load-bearing equipment, this gear is made exactly to Finnish military spec.
Särmä TST
Särmä TST is Varusteleka's in-house brand of clothing and gear designed for military and law enforcement end-users. Our clothing and equipment are made in co-operation with a number of experienced manufacturers with a strong background in producing clothing and gear for military and law enforcement officials, most notably for the Finnish Defence Forces. For further reading check out the Särmä TST corner of our website.
Särmä TST products are covered by a 12-month warranty against defects in materials and workmanship. For further information please read our detailed warranty guide.
Recommendations
Loading products...
Reviews
You have already submitted a review. You can edit your text by clicking on it.
Log in and write a review.
Remove filter
Suomi
(12)
English
(7)
I would not recommend to a friend
Juho E.

24.12.2017
"Pehmuste"
6
11
I would not recommend to a friend
Adam G.

02.05.2018 (Edited 10.09.2018)
This review is written in the context of being worn on the DP-10.

The pros:
1. They fit without sliding around.
2. Probably bearproof.

The cons:

1. Padding may as well not be there at all. Feels like cardboard or plastic rather than foam.

2. The edges are very hard and will dig into your collarbone if you're not wearing thick clothing or a plate carrier.

3. Very stiff, and thus the collarbone digging. Doesn't like to bend so all the weight from the pack gets concentrated on the two edges. Maybe it'll loosen up with further use.


All in all better than plain web straps, but I'm still looking to get something else to replace them.



EDIT: Replacement found. Hazard 4 "Deluxe Shoulder Strap Pads." Cost the same, fit fine. Much more comfy.
10
1
I would recommend for a friend
Anonymous customer

15.10.2018
Savotan jääkäri s reppua varten hommasin ja siinä toimii erittäin hyvin, reppu ei enää valu alaselkään vaan pysyy ryhdikkäästi oikealla paikallaan. Pehmusteet eivät hirveästi pehmusta mutta pitävät hyvin ja repun kantaminen on huomattavasti miellyttävämpä oli kuormaa vähän tai paljon.
0
0
I would recommend for a friend
Jack T.

15.11.2018
I would recommend for a friend
Otto H.

24.11.2018
Mahtava tuote. On aluksi vähän kova mutta pehmenee käytössä
0
0
I would recommend for a friend
Farasha E.

12.03.2019
I would recommend for a friend
Philip R.

30.04.2019
Yeah they are a bit stiff, but that's why you need to load 56 cans of beans into your rucksack and break them in - I am certain they'll be fine after a bit of use.
They reminded me (slightly) of ALICE pack straps, but obviously more comfortable.
Fitting was simple and the quality exceptional - again really reasonable for what you get.
0
2
I would recommend for a friend
Markus P.

13.06.2019
Yllättävän hyvä. Käytän näitä Savotan minijääkärin / jääkäri S-repun kanssa ja ylittivät odotukseni.
+Pysyvät jämäkästi hihnassa paikallaan eli eivät "klappaa"
+Istuvat ainakin omille raameilleni todella hyvin
+Riittävän leveät ja jakavat siten repun painon tasaisesti
+Useimmiten vastaavat pehmusteet ovat jotain sentin paksuisia vaahtomuovimöhköjä joiden pehmustuskyky kuitenkin huono. Tässä toteutuu matala, litteä profiili joka ei esim. haittaa aseen käyttämistä merkittävästi, mutta jakaa silti repun / vast. painon mukavasti. Tästä ehdottoman iso plussa!
0
0
I would not recommend to a friend
Joshua A.

11.07.2019
I don't recommend buying these. They don't get better with age/use. I've used these every day for over 2 months on a Jakaari S pack and often with a lot of weight added to try and break them in.. If anything they've become more uncomfortable as time has gone on. The 'padding' is incredibly thin, firm and doesn't soften. It folds instead so the surface against your shoulder becomes crinkled and the fabric cover ruffles creating lines of pressure rubbing against the skin.

The pads are also incredibly stiff 'sideways' so the outer fabric band sewn over the edges remains extremely stiff and firm which a) rubs your shoulders and b) pokes into your neck and the upper part of your arm if you reach across to use a hydration tube or are moving your arms whilst balancing yourself across uneven ground. The fabric edging is also rough/hard either side of the stitching because the stiching pinches the pad in slightly (as you'd expect as a consequence of sewing) which means the parts either side of the stitching are rasied slightly and also rubs your skin.

Further, the crossing molle strap things which you thread the backpack straps through are quite tight. That would be good if the padding had any thickness or give at all but it doesn't, so what happens is the strap causes the pad to 'round' slightly to fit the straps through, meaning the pads cause greater pressure on your shoulders than the plain straps themselves. this is made worse the more things you attach to the molle, like perhaps threading some velcro tabs to hold a hydration tube (not even the tube threaded through the molle, it would be too tight for that, just some thing velcro tabs threaded is enough to create more pressure).

I've removed mine and the plain webbing straps on the Jakaari S are so much more comfortable without these pads.

The only thing these pads did do was reduce the straps sliding outwards on the shoulder when wearing slick synthetic materials - but a sternum strap would do a better job at that and without the discomfort of these pads.

Avoid!
4
0
Kierto Circular Economy
Return this product used but clean and unbroken, and you'll receive half of the product's original price as Varusteleka credits. Service is available only in Finland. Only Registered users can make Kierto returns. See more information about Kierto.