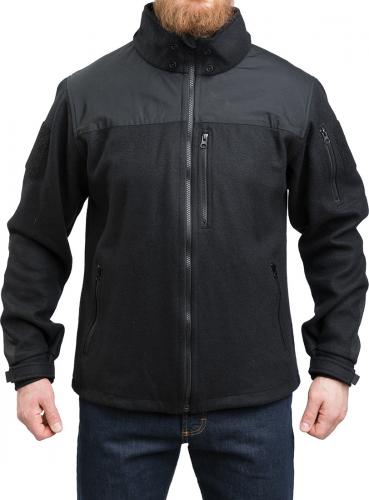 Särmä Wool Fleece Jacket, black
Price 73.99 USD excluding VAT
Flat Rate Shipping to USA $9.99
88 % recommends
Sold 28 pcs in the last two weeks
Loading products...
Trouble with the metric system? Try our converter: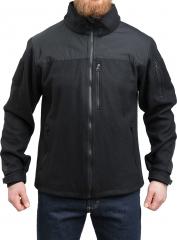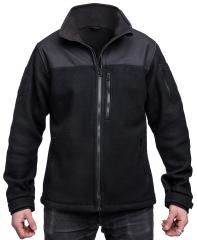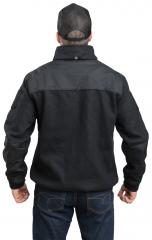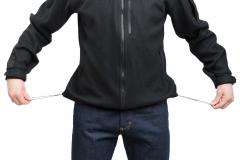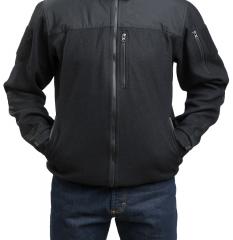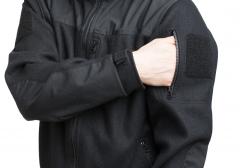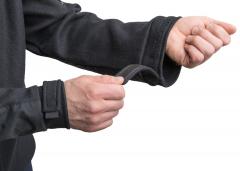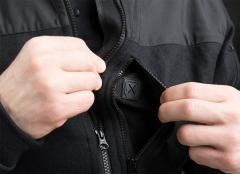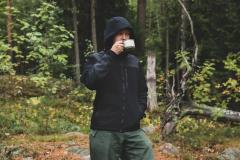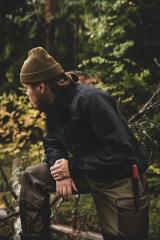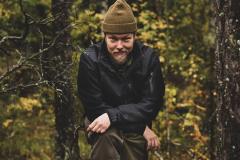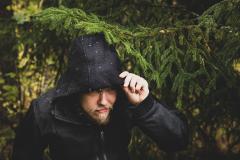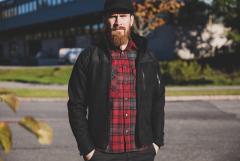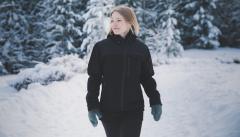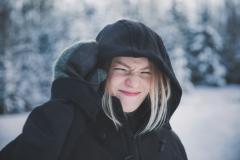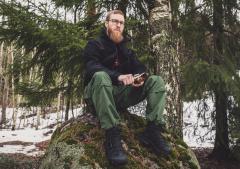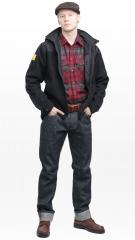 If you thought fleece couldn't be improved, think again: with the help of natural fibres we did just that. The Särmä Wool Fleece Jacket has a reduced amount of polyester to avoid microplastic pollution, but also introduce some flame-resistance to a garment which generally shouldn't be near a fire at all. Hood sold separately for those who'd prefer to have it.
Top layer for mild weather, mid-layer for cold weather
No corners cut with features or pockets
Reinforced wear-prone areas
28,3/35/36,7 % wool/cotton/polyester blend, 540 g/m2
The established benefits of fleece jackets are retained, so this jacket works as a warm mid-layer underneath a shell jacket or by itself in mild conditions. When it's cold as hell, you could just cocoon yourself in a combination of this fleece and a windproof smock. In theory, these items could be everything a human would need for covering the upper body.
A weight comparison with a regular all-polyester fleece jacket shows a minor increase in weight, part of which is due to additional shoulder reinforcements. Both jackets were size Large Regular and the Wool Fleece Jacket had a separate hood attached for a fair comparison.
Old Särmä Hooded Fleece Jacket: 1100 g
Särmä Wool Fleece Jacket: 1280 g
Features
As we phase out our obsolete fleece jackets, the hooded and hoodless variants gave their best features to this newcomer. The most obvious difference is the hood, which you can buy separately if required: one size for X-Small to Medium jackets and another size for Large jackets and up.
Fits like a mid-layer or light jacket
Oxford reinforcements under forearms and on shoulders
Backpack-friendly: no shoulder seam even hidden under the reinforcement
Two zippered low front pockets
Zippered pockets on the chest and sleeve.
Cord grommet in the chest pocket
Hook base for patches on the sleeve
Adjustable hem and cuffs for ventilation
Material and care
Bonded 540 g/m2 wool-cotton-polyester interlock knit. Fairly dense stuff, brushed to resemble frieze and insulate better. There are two sides to one layer: the outside has more wool for better performance, and the inside is weighed more towards cotton for comfort.
Wool: 28,3 %
Cotton: 35 %
PES (polyester): 36,7 %
Reinforcements: 100 % PES oxford
Wash in 40 degrees Celsius, hang dry. We recommend using a washing bag (such as Guppyfriend) to protect the garment and minimize the release of microfibres into the sewer.
Size info
The menu shows regular sizing and suggested user size in centimetres: length / chest circumference.
In the table below you can see the actual measurements of the jacket in centimetres - these are NOT the user's recommended measurements. The sleeve length is measured from the shoulder seam to cuff, and back length from the base of the collar to the hem.
| Size | Chest circumference | Sleeve length | Back length |
| --- | --- | --- | --- |
| X-Small Regular | 96 cm | 66,5 cm | 68 cm |
| Small Regular | 104 cm | 67 cm | 72 cm |
| Medium Regular | 112 cm | 67,5 cm | 75 cm |
| Large Regular | 120 cm | 68 cm | 77 cm |
| X-Large Regular | 128 cm | 68,5 cm | 79 cm |
| 2X-Large Regular | 138 cm | 69 cm | 81 cm |
| Medium Long | 112 cm | 71,5 cm | 78 cm |
| Large Long | 120 cm | 72 cm | 81 cm |
| X-Large Long | 128 cm | 72,5 cm | 83 cm |
| 2X-Large Long | 138 cm | 73 cm | 85 cm |
Varusteleka Särmä
Särmä is our own brand of clothing and equipment. When you buy Särmä you get purpose-built stuff at a decent price, something that will fill it's intended role well and not cost you an arm and a leg!
Särmä products are covered by a 12-month warranty against defects in materials and workmanship. For further information please read our detailed warranty guide.
Made in China
There's good quality to be found in the PRC, as long as you don't choose the lowest bidder. All of the fabrics used on Särmä brand products are tested and deemed safe for use by SGS, which is the world's leading inspection, verification, testing and certification company.
Reviews
You have already submitted a review. You can edit your text by clicking on it.
Log in and write a review.
Remove filter
Suomi
(8)
English
(8)
I would recommend for a friend
John S.

21.10.2018
Just received my Sarma wool jacket, and am very impressed with it. Fit and size are both spot-on and price point is great. Somewhat wind resistant and better looking than fleece. Just wish it was made in the EU or Finland, but the quality is good for the PRC...
6
0
I would recommend for a friend
SOTIRIS T.

28.11.2018
Very happy with my Sarma wool jacket order. I'm 173cm with cest of 112cm and L-size fits perfectly.
Haven't tested yet in the range but I'm expecting that it will work just fine.
Looking forward now for some colors, e.g. olive green, grey wolf/anthracite etc, made in Europe preferably
7
0
I would recommend for a friend
Richy C.

01.12.2018 (Edited 01.12.2018)
Quite a nice jacket. I got a small-regular and it fits me just fine (I'm 64in tall with a 38in chest). And feels reasonably durable for the price and material choices.

A few trivial design changes I would make is that I would use less Velcro around the cuffs or use polyester for the strap because that area tends to fold too much and becomes bulky. The zippers are rather too easy to zip/unzip and there should be a little pocket at the top of the zipper opening to prevent the zipper itself from accidentally coming undone. The sleeves should have a strip of polyester reinforcement that runs the entire length of the sleeve so that the sleeve doesn't sag as much. I would also use Canadian type buttons instead of zippers for the main front zipper for serviceability but the zippers used on the jacket is like a tank.

Still overall a great functional wool blend jacket and hasn't cause any problems that would prevent me from buying another one. I would like to see this jacket in more colors than black in the future.
7
0
I would recommend for a friend
Veijo T.

02.03.2019 (Edited 16.10.2019)
EDIT 16.10.2019:
Reilun seittemän kuukauen käytön jälkhen muodostunu ykköstakiksi monenlaiseen toimintaan, kuten tuossa alla alkuperäisessä viestissä helmikuussa 2019 arvioinkin. Alusvaatetuksella ja kerrospukeutumisella voi takin kans oleille lähes kelillä kuin kelillä (pl. tietysti lämpimät kesäkelit), ja kuoritakin kans toimii kylmemmissäki olosuhteissa. Vahva suositus.

Hain säänmukaisen alusvaatetuksen päälle soveltuvaa "välikerrosta", joka olisi myös pitkillä reissuilla sopivan lämpimillä keleillä hyvä ja hengittävä takki/pusakka. No, pitempää reissua vielä tämän kans en ole teheny, kun tämän vasta sain. Tämän päiväisissä ulkopuuhailuissa kotipihalla ja kameran kans lähimettässä toimi just ajattalemallani tavalla; on mukava, hengittävä (no kyllä tuuli läpi käy...) ja sitten kun vetäsin tähän RevolutionRacen kuoritakin päälle, niin olipas mukava kokonaisuus.

Koko on reilu, eli tilasin alunperin 2XL noitten ohjemittojen mukaisesti, mutta positiivisesti (kerrankin) joutu vaihtamaan pienempään kokoon. Näissä näyttää olevan reilu tuo hihansuu, mutta hyvät kiristysmahollisuuet eliminoi sen. Huppu tuli nyt tähän kantasikana kaupan päälle, mutta olisin ehottomasti tilannut sen muutenkin. Ja tämän päiväsessä kelissä oli hyvä, kun samalla suojaa tuulelta niskaa/kaulaa, vaikka ei pään yli vedäkään. Ja olen siis 180cm/110kg melekein pelekkää lihasta (NOT)
Uskon, että tästä tullee itelle niin partiohommiin, valokuvauskeikoille, töihin (ulkona-sisällä-ulkona-sisällä...), ja muuhunkin liikkumiseen se ykköstakki/välipusero.
Pitemmän käytön ja kokemuksen jälkhen tulen tämän kumoamaan, jos virheostokselta sen jälkhen tuntuu. Epäilen kyllä, että tykkään tästä jatkossakin. Suosittelen, jos tämän tyyppistä asua haet.
0
0
I would recommend for a friend
Ossi K.

04.03.2019
Tosi hyvä takki suosittelen
0
0
I would recommend for a friend
Christopher H.

08.04.2019
ABSOLUTELY Love this jacket!!! Being a former USAF jet troop stationed in New England (and a former Eagle Scout), I am always looking for wool clothing/outerwear. It is naturally water resistant, if it does get wet it stays warm and, if done correctly, wool clothing regulates temperature and breathes.

The day this jacket arrived, we were in the midst of a Nor'easter here in Western Massachusetts (we have hills and topography here, unlike Boston) with rain, sleet and 50 kt wind gusts. With a button down wool shirt and a silk weight base layer (with an appropriate rain shell as weather dictated along with Varustelekas Merino Watch Cap) I was plenty warm!! Even without the rain shell, this jacket blocked wind quite effectively and insulated me well. Kudos to whomever came up with the Velcro wrist tabs, as they are welcome, especially with gauntlet gloves (can tuck them in and Velcro your wrists against wind, weather etc). All the pockets are logically arranged with plenty of storage. I'm 6'0" 180 lbs and The Large fits perfect - The drawcord hem just makes this great jacket even better fitting! Oh, and just buy the optional removable hood- you'll be glad you did!!
1
0
I would recommend for a friend
Petri H.

02.08.2019
Hyvä päällitakkina ja vielä parempi välikerroksena esim. brittiläisen windproof smockin vuorina, paukkupakkaset tarkenee leikiten kun alle vielä heittää inttipoolon. Large regular toimii 180cm/100kg kokoiselle, itselläni UK windproof smock päällitakkina kokoa 180/104, jonka alle tämä sopii täydellisesti.
0
0
I would recommend for a friend
Trent M.

14.09.2019 (Edited 14.09.2019)
I bought a Särmä wool fleece jacket with the hood back in February and wore it throughout the remainder of the winter and spring of 2019. This jacket is well made and very warm. Pockets are well placed as are things like zippered underarm vents. I bought a size large enough that I could wear an undershirt and medium sweater without binding and couldn't be happier. I live in the eastern foothills of the Rockies and unless we have a cold front or bad storm this jacket has been all I've needed on most days and a good sweater has made most nights comfortable. For the price this jacket cannot be beat!
0
0
I would recommend for a friend
Teemu P.

03.10.2019
Välikerrokseksi kuoritakin alle hankin tämän. On kyllä hyvä, ei voi paljoa valittaa. Ei tunnu siltä, että olisi turannut tuhottoman paksua lämpötakkia takin alle, tämän kanssa touhutessa voi heiluttaa muutakin kuin peukaloita. Jonkun verran nähnyt käyttöä myös ilman kuorta. Lämmin on ja hengittävä, mutta tuuli pääsee toki jonkun verran läpi. Mukavan modulaarinen varuste/vaate, joka on helppo kaivaa repusta esille, kun tulee kylmä tai sulloa reppuun, kun tulee kuuma. Ei mikään mahdoton tilasyöppö.
0
0
I would not recommend to a friend
Teppo H.

07.10.2019
Takki on muuten suosikkitakkini, mutta valitettavast käyttökelvoton siihen tarkoitukseen mihin sen ostin, eli hyvin hengittäväksi työtakiksi kovaan ja pitkäkestoiseentyöhön kylmällä/viileällä säällä. Se ainoa suuri miinus on kyynär- ja etenkin olkavahvikkeet, jotka eivät hengitä joko ollenkaan tai hyvin huonosti, jolloin hartiaseutu (myös hihanseutu, mutta se ei häiritse niin kovasti) on aina märkä ja kylmä. Kovan päivän jälkeen takin hartiaseutu ei myöskään kuiva normaaliin tapaan hengariin patterin päälle ripustettuna yön aikana edes nurinpäin käännettynä, jolloin aamu on hyvin ikävä ja vaikutus vain kertaantuu viikon mittaan. Aina ei ole kuivauskaappia käytössä. Ostin takin vuosi sitten, ja ensimmäisen viikon käytön jälkeen jouduin jättämään sen työkäytöstä pois lukuunottamatta verrattain staattista työtä, sen sijaan se on ollut mukava takki kevyeen ulkoilukäyttöön. Viime viikolla kokeilin uudestaan työkäytössä, eikä takki ollut viimevuotisesta muuttunut. Nyt hartiat ovat jumissa.
Olen reklamoinut takista ja olisin saanut sen palauttaa, mutta en halunnut koska muuten pidän takista paljon; siinä on loistava tilava leikkaus, hyvä kaulus, sopivasti aavistuksen tuulta hylkivä, hengittävä ja lämmin materiaali, ja täydelliset taskut. Ainoat muut valittamisen aiheet ovat väärin sijoitetut hihansuun velcropinnat (en saa hihoja kireälle ranteen ympärille) ja heti kättelyssä rikkoutunut helman kiristys. Näiden kanssa pärjään, mutta seuraavaksi joudun leikkaamaan hartiavahvikkeet pois, mikä on sääli koska ne olisivat nimenomaan tarpeen takin käyttöikää ajatellen. Toivottavasti materiaali pystytään vaihtamaan esim. tavalliseesn puuvilla-polyesteriin joskus tulevaisuudessa. Mikäli niin käy, ostan takkeja heti kaksi kappaletta lisää.
0
0
I would not recommend to a friend
Vesa V.

02.11.2019
Omistan tämän takin edeltäjän eli Särmä Fleecetakin. Pidän siitä tosi paljon vaikka muutama lapsus siinäkin on, mutta ei niistä sen enempää tähän. Odotin innolla seuraajan eli Särmä Villafleecetakin julkaisua, koska oletin korjauksia olevan tulossa.

Kävin huolella sovittamassa Villafleecetakkia myymälässä ja pettymys oli suuri. Ensinnäkin kangas oli muuttunut todella paksuksi ja jäykäksi verrattuna fleeceen, ihan kuin paksua kartonkia olisi pukenut päälle. Raskaat vahvikkeet vielä korostivat tunnetta. Villa oli myös erittäin kutittavaa sorttia ja sitä inhoan yli kaiken. Ja sitten huppu olisi vielä pitänyt ostaa erikseen. Ajatus on hyvä, mutta 15 euroa vielä takin hinnan päälle hupusta...? Positiivista oli, että nyt etutaskut ovat oikeassa kohdassa eli kuten normaaleissa takeissa ja suhteellisen harvoin tarvittavasta selkätaskusta ja sen istuinverhoilut rikki repivästä vetskarista on päästy eroon. Niin ja leikkaus sopii tällaiselle vankemmalle kaverille myös.

Nyt uutta yritystä peliin ja villa vaikka merinovillaksi tai joksikin muuksi vaihtoehdoksi ja vahvikkeet kevyemmiksi ja pienemmiksi. Koville äijille voisi sitten markkinoida vaikka tätä nykyistä versioita.
0
0
I would recommend for a friend
Francis T.

03.11.2019
It's got heft and some bulk but in all the best ways. Plenty warm on its own and a champ when used under a shell. Just about the only down side is it's a wee scratchy over just a t-shirt.

If you are outside working in cool or windy conditions it breathes just enough to keep the sweating under control but no so much that you feel the draft.

I typically wear it under the wind proof smock and it's a great pair but it's plenty capable all in its own. The hood is a good add as well.
1
0
I would recommend for a friend
Timo S.

12.11.2019
Hyvälaatuinen takki. Taskujen sijoittelu hyvä, tukevat vetoketjut. Istuu hyvin päällä, ja on miellyttävä pitää. Soveltuu kevyeen liikuntaan välikausina, tai kylmemmällä kelillä päällystakin alle. Miinuksina: materiaalin ollessa osin puuvillaa, se imee kosteutta ja ei kuiva kovin nopeasti, ja hihansuissa olevien velcrokiristysten sijoittelu jättää toivomisen varaa.
0
0
I would recommend for a friend
Ben W.

15.11.2019
It's like a more modern Donkey Jacket (British railroad worker coat) and becomes even more like it if you wax the shoulders. It can survive light rain without it but eventually rain does get through, especially through the left bicep pocket seams/zip.
0
0
I would recommend for a friend
Richard S.

18.11.2019
This is good thing. I went down a size for a tighter fit and I use it as a mid layer in the cold season or as an outer layer in autumn/spring. I got the hood too. It's a good hood for people that like hoods. If you don't, you'll do probably just as fine without it.
0
0
I would recommend for a friend
Eetu V.

28.11.2019
Erinomainen takki! Itse tykkään kun takki on paksu ja "jämäkkä". Pitää ensimmäiset pisarat ulkopuolella. Windproof smockin alla lämmittää mukavasti.

Miinuspuoli on nuo velhon hihat jotka menee möykyksi jos käyttää hihan kiristystä joko fleecen omaa tai sitten kuoritakin.
0
0