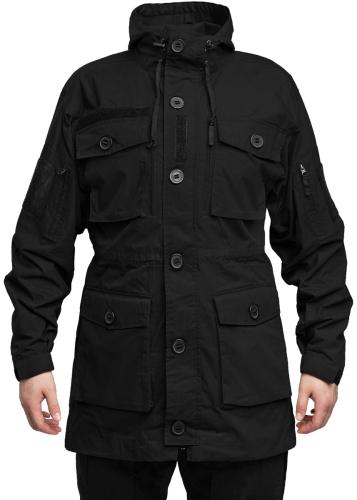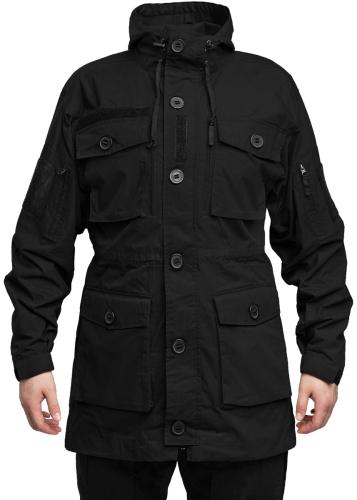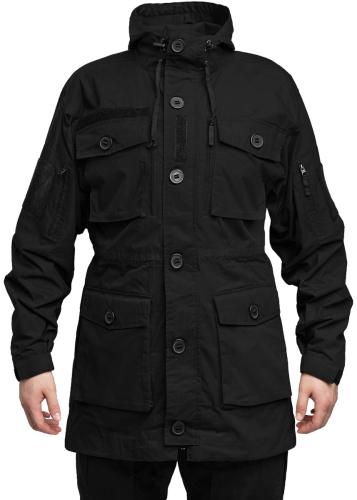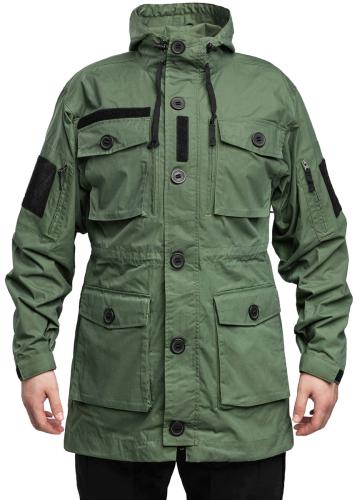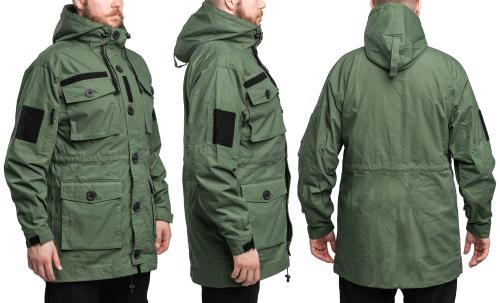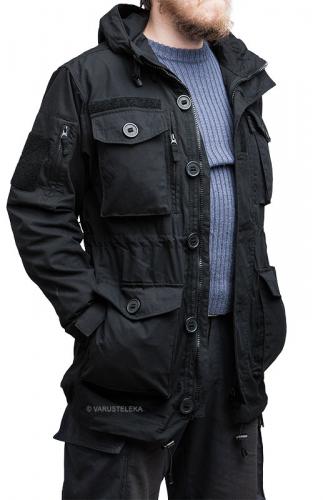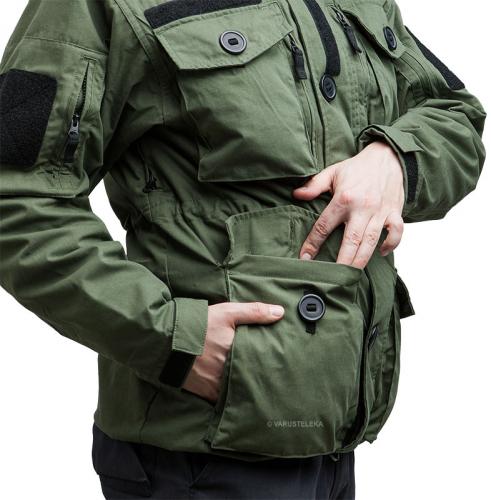 Handwarmer pockets hidden behind the hem pockets.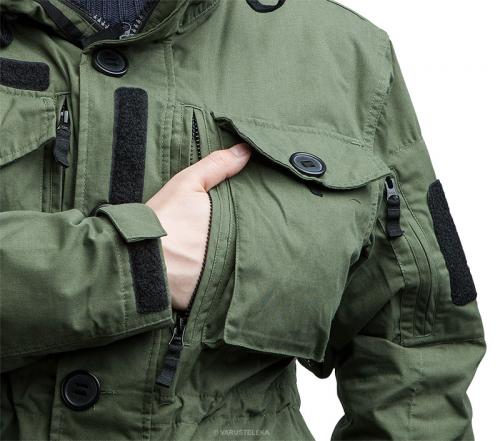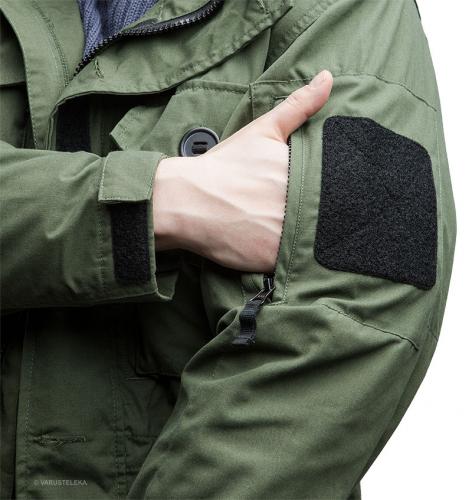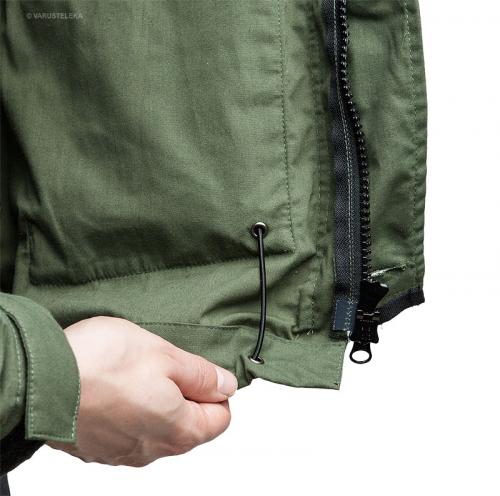 You can pass the elastic cord into the pocket to keep it out of the way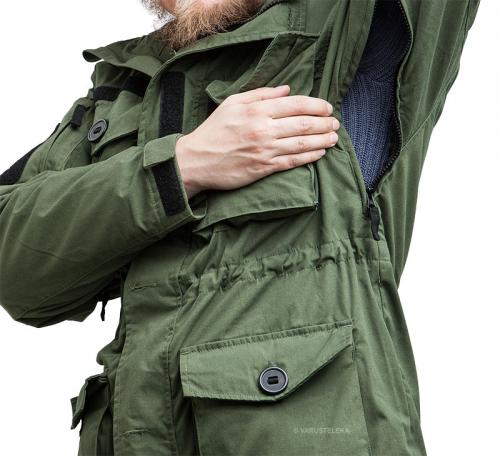 A view of the armpit ventilation.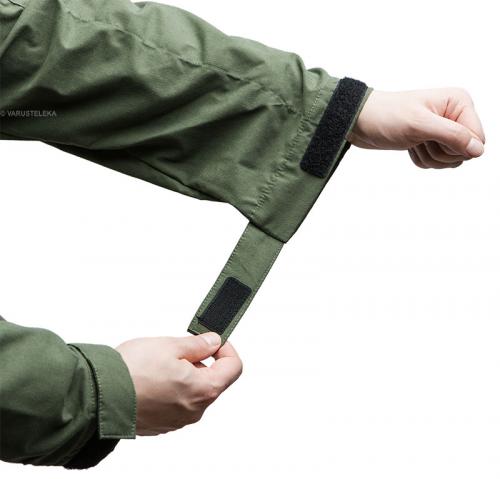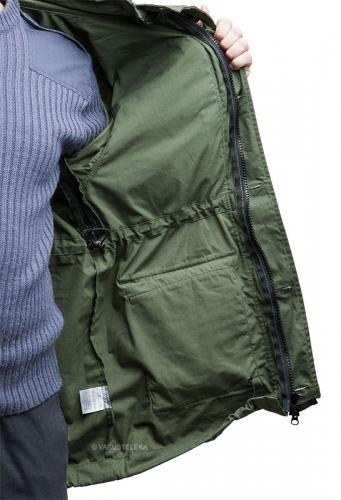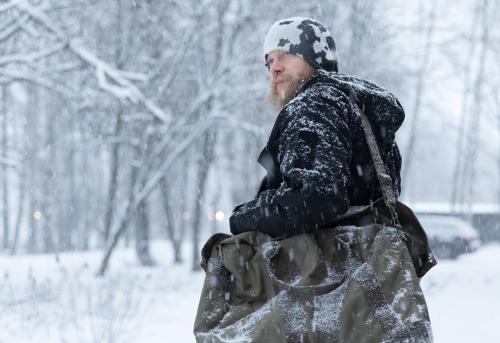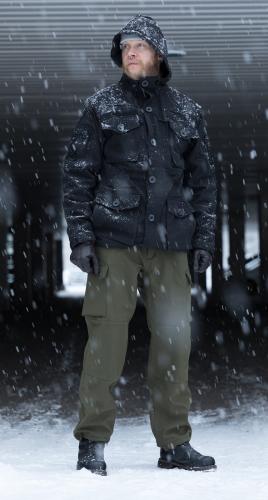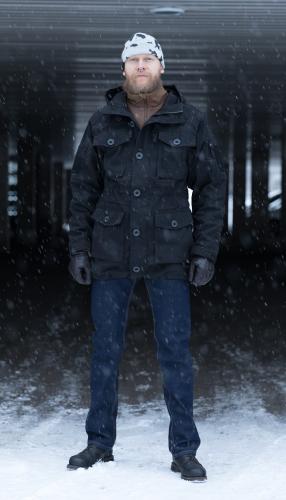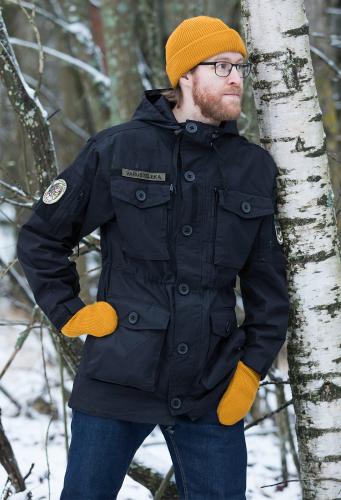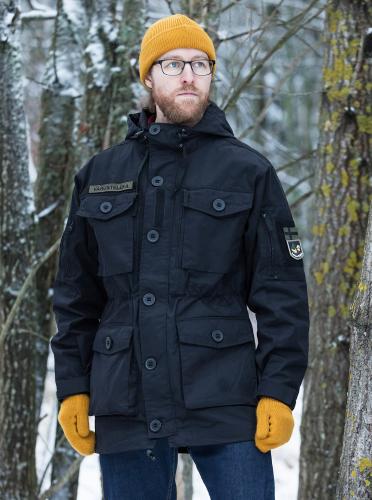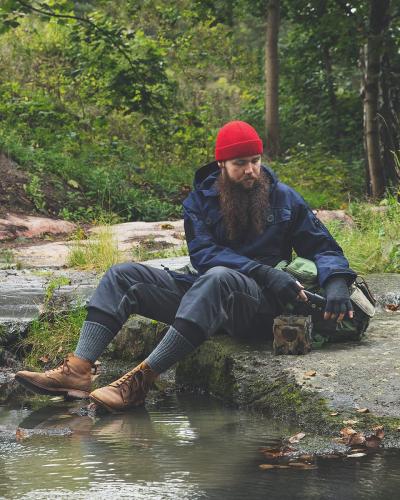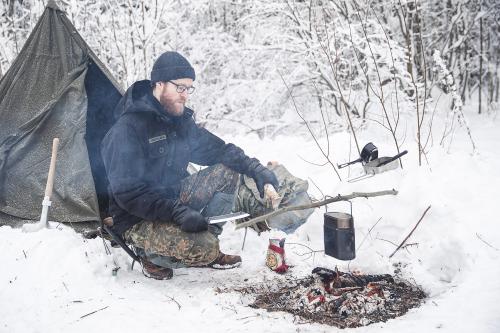 Särmä
Särmä Windproof Smock
Price 99.99 USD
excluding sales tax
Our take on the classic British Windproof Smock with improvements and civilian-friendly colors. If you're tired of sweating in 'tex clothing but want some protection from showers, you'd do well to give this a try.
Loading products...
Trouble with the metric system? Try our converter: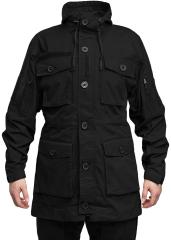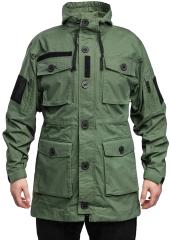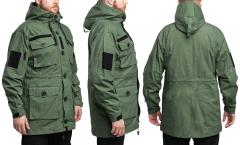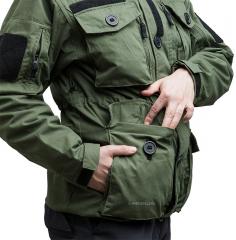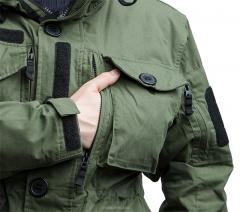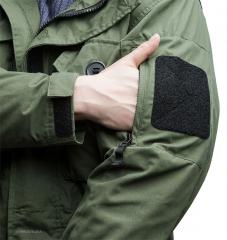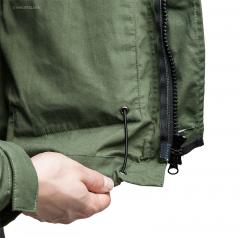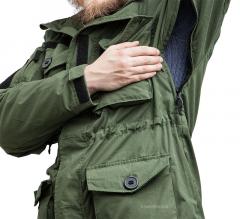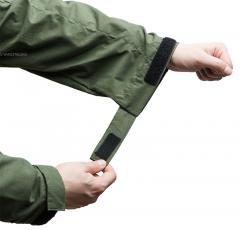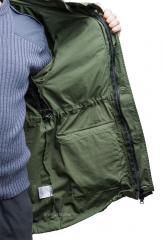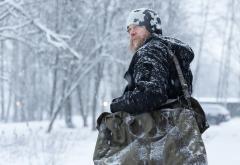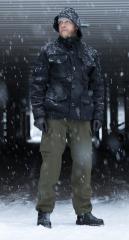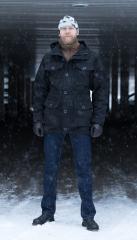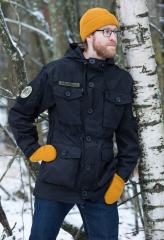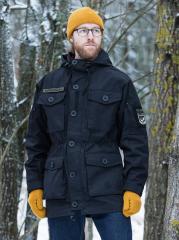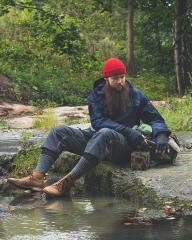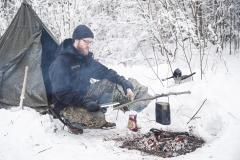 Our take on the classic British Windproof Smock with improvements and civilian-friendly colors. If you're tired of sweating in 'tex clothing but want some protection from showers, you'd do well to give this a try.
Unlined, roomy shell parka
A lot of useful pocket space
65/35 % polycotton
If you want a more form fitting jacket, pick a size smaller than recommended.
It should be common knowledge by now that a more versatile outdoor jacket than the Windproof Smock doesn't exist. It breathes better than any plastic shell jackets with a membrane, is more resistant to wear, and still offers a significant level of protection from the rain. It can be worn over a base layer during mobile activity in cool weather or packed with insulating mid-layers for keeping warm during breaks.
Features
General features
Generous cut for ease of movement and adding mid-layers
Long hem to cover your seat
YKK zipper front closure with storm flap
2-way pit zips for ventilation
All buttons are large enough to be used with gloves on
Buttons are Canada style, attached with webbing to prevent failure
Generous hood with drawcord tightening and size adjustment
Hood can be rolled and secured into a collar with cord and button
Cuff adjustment tab with velcro
Softshell fabric added to the handwarmer pockets
PU coating on the inside for further windproofing
Compatible with a jacket liner 2020
As a new feature, the jacket has buttons and tabs for easy attachment of the Särmä Jacket Liner. Naturally, you can sew these attachments to an older jacket. The change happens in stages, as previous batches are sold out. The table below indicates whether you'll have an easy time (do it yourself) or very easy time (Compatible from the factory).
Navy Blue, being the latest color, is already compatible in all sizes.
Jacket Liner Table
Size
Black
Green
X-Small Regular
Compatible
DIY
Small Regular
Compatible
Medium Regular
Compatible
Large Regular
Compatible
X-Large Regular
Compatible
2X-Large Regular
Compatible
Medium Long
Compatible
DIY
Large Long
Compatible
X-Large Long
Compatible
2X-Large Long
Compatible
Pockets:
Measurements apply to Medium size. Pockets grow with jacket size
Four pockets on the front with large buttons and a folding mouth
Chest pockets: 16 x 20 x 2.5 cm, bulge up to a combined 3 liters
Chest pockets: 6.3" x 7.9" x 1.0", bulge up to a combined 185 cu in
Lower pockets: 19 x 21 x 2.5 cm, bulge up to a combined 4 liters
Lower pockets: 7.5" x 8.3" x 1.0", bulge up to a combined 245 cu in
Fleece & softshell lined hand warmer pockets
Hidden pockets with zipper closure behind the chest pockets, bulge out to a combined 6 liters!
Hidden pockets with zipper closure behind the chest pockets, bulge out to a combined 365 cu in!
Flat sleeve pockets on both sleeves
Material and care
65/35% polycotton. Wash in 40 degrees Celsius. PU-coated for windproofing. The whole package breathes still very well. Some color may transfer from the product before the first wash.
The Särmä Windproof fabric responds well to treatment with Särmä Fabric Wax or Woly Protector spray. A thorough impregnation with wax makes the garment waterproof. Apply as necessary!
Colour selection
One of the reasons Särmä Windproof Smock was developed was a need for a single-color version of the British classic. Our basic selection includes black and green, other colors may come and go depending on season and demand.
Size info
We have listed first the easy size, then the user's recommended measurements: user height/chest circumference. These are generously cut to accommodate mid-layers (for example, a sweater and a fleece). If you fall between two sizes, decide if you want a more closely fitting jacket or more allowance for clothes worn underneath. If you definitely just want a slim fitting jacket, pick a full size smaller than recommended.
Below are the actual circumference and sleeve length from the shoulder seam. The hem and waist are the same sizes as the chest.
Measurement Table (Metric)
Size
Chest
Sleeve
Center back length
X-Small Regular
100 cm
64 cm
83 cm
Small Regular
108 cm
64 cm
84 cm
Medium Regular
116 cm
64 cm
85 cm
Large Regular
124 cm
64 cm
86 cm
X-Large Regular
132 cm
64 cm
87 cm
2X-Large Regular
142 cm
64 cm
88 cm
Medium Long
116 cm
68 cm
90 cm
Large Long
124 cm
68 cm
91 cm
X-Large Long
132 cm
68 cm
92 cm
2X-Large Long
142 cm
68 cm
93 cm
Measurement Table (Imperial)
Size
Chest
Sleeve
Center back length
X-Small Regular
39"
25"
32.5"
Small Regular
43"
25"
33"
Medium Regular
46"
25"
33.5"
Large Regular
49"
25"
34"
X-Large Regular
52"
25"
34.5"
2X-Large Regular
56"
25"
34.5"
Medium Long
46"
27"
35.5"
Large Long
49"
27"
36"
X-Large Long
52"
27"
36"
2X-Large Long
56"
27"
36.5"
Made in China
There's good quality to be found in the PRC, as long as you don't choose the lowest bidder.
Kierto Circular Economy
Return this product used but clean and unbroken, and you'll receive half of the product's original price as Varusteleka credits. Service is available only in Finland. Only Registered users can make Kierto returns. See more information about Kierto.
Carbon Footprint
The estimated amount of greenhouse gas emissions from the production of one single item is 26.86 kg CO2e. The estimation includes the entire production of the item, from the raw materials up until the finalized product exiting the factory. Read more about the calculation method.
Varusteleka Särmä
Särmä is our own brand of clothing and equipment. When you buy Särmä you get purpose-built stuff at a decent price, something that will fill it's intended role well and not cost you an arm and a leg! For further reading check out the Varusteleka's Särmä page.
Särmä products are covered by a 12-month warranty against defects in materials and workmanship. For further information please read our detailed warranty guide.
All products: Särmä
Recommendations
Loading products...
Reviews
You have already submitted a review. You can edit your text by clicking on it. You can filter the reviews by clicking on the elements of the summary.
Log in and write a review. You can filter the reviews by clicking on the elements of the summary.
Remove filter
Suomi
(71)
English
(125)
I would recommend for a friend
Harri R.

26.05.2016

Verified purchase
Ensimmäisen päivän kokemuksella hyvä ostos. Huomattavasti keskimääräistä nykypäivän laatua paremmin kokoon laitettu, hyvälaatuinen mukavan pehmeä ja jämäkkä kangas. Tarrapintoja raksin jo osan pois. Katsotaan mitä tulevaisuuden käyttö tuo tullessaan, mutta positiivinen yllätys oli laadultaan, ja erityisesti hinta miellyttää. En pysty näkemään eroa laadussa tämän ja Fjällrävenin takkieni välillä, hinta vain on niissä aivan toinen.
4
3
I would recommend for a friend
Mikko K.

29.08.2016

Verified purchase
Kohta vuoden olen käyttänyt Mk I takkia. Hyvä ulkoiluun, alle mahtuu lämmintä niin tämän kanssa voi kulkea melkein ympäri vuoden. Bonusta siitä ettei ole muovikelmuja välissä hiostamassa.

Kehuista huolimatta Itävallan raskaampi Anzug 03 takki on kuitenkin vielä pykälän parempi. Siinä on parempi helman leikkaus ja huomattavasti parempi kaulus. Niiden lisäksi huppu pois tästä takista niin oltaisiin täydellisyyden äärellä.

Toisen syksyn kokemuksia päivityksenä:

-Takki ei ole enää niin lämmin ja tuulta pitävä kuin vuosi sitten, pesty ei ole kertaakaan.

-Etuvetoketju on ruvennut temppuilemaan. Puoliskot täytyy asetella huolella yhteen että takin saa kiinni. Kaksisuuntaisten vetoketjunen "ominaisuus"
5
5
I would recommend for a friend
Linus B.

08.09.2016

Verified purchase
Den här jackan är strålande! Jag vill ha fickor på mina jackor och byxor, jag vill ha fack på mina väskor. Här får jag precis vad jag vill ha - tillsammans med dragkedjor under armarna. Köp! / This jacket is fantastic! I prefer to have a lot of pockets on my jacket and on my trousers. I want to have the same on my bag (courtesy: Varusteleka). You may ventilate during your arms with this jacket. It's brilliant! If you were to ask me for a final recommendation: "Go for it! Buy!" :) I'm very happy, as always, with Varusteleka's merchandise.
22
4
I would recommend for a friend
Perttu S.

15.10.2016

Verified purchase
Paras takki mikä minulla on ollu. Tuulta ei pidä ihan niin hyvin ku esikuvansa, mutta se on aika helposti anteeksi annettavissa.
1
1
I would recommend for a friend
Alan H.

08.11.2016

Verified purchase
I own both an original British Army one and the first version of this jacket. This jacket is lighter and softer but more comfortable to wear than the original Army one and is my "go to" jacket for 3 season wear when walking and travelling. A good coat of water repellent spray keeps light rain rolling off and the ventilation is superb.
23
4
I would recommend for a friend
Tuomas K.

19.12.2016

Verified purchase
Näppärä takki ja aikuisten koot. Tässä Large Regular vastaa siviilitakin XL:ää tai jotain XL+:aa. Alle mahtuisi kaksikin kerrosta fleecetakkeja sen villapaidan päälle, kun muissa takeissa Large on sopiva.

Kaulus on mukavan korkea ja tarpeeksi tilava, jotta alle mahtuvat sujuvasti neule, fleece ja kauluri. Huppu kauluksena ei ajatuksena hivele; toivottavasti ei lerpahda takaa käytössä.

Taskut ovat isot ja niitä on tarpeeksi kummallakin puolella takkia. Erityisplussaa lämmittelytaskuista, jotka ovat erillään tavarataskuista, kerrankin on tilaa myös käsille. Napit ja vetoketjut pitävät sulultaan ja käyttöotteeltaan. Miksei aina vois olla näin hyvin! Napinlävet tosin näyttävät lähinnä vihollisen pistimen tekemiltä, ne pitänee ainakin siistiä ja ehkä ompeluttaa vahvistukset.

Kangas on yllättävän kevyttä, muistuttaa kesäpalveluskamoja, mutta tuntuu pärjäävän tuulisessa Helsingissä. Kylmempään oloon ja kovempaan tuuleen ottaisin jonkun muun takin - toisaalta fleece tai tekninen alla voisi selvitä noistakin kunnialla. Kevyt kangas oletettavasti kuivuu nopeammin ja on taatusti ketterämpi käytellä kuin toppakuori tai kuori ilman toppaa.

Säätöjä on sopivasti. Niskan ripustuslenkki piti solmia lyhyemmäksi, ettei takki laahaa kaapissa kenkien päällä.

Alun perusteella vaikuttaa hyvältä takilta. Suosittelen ottamaan suosiolla "oman koon" tai pienemmän, kerrastovara on kyllä otettu huomioon jo kaavaa piirrettäessä.

Tämä vai Brandit M65? Tämä (+ fleece). M65 on toimiva, mutta jää jälkeen vetoketjussa, taskuissa ja leikkauksessa, eikä M65:n irtovuorta saa edestä kiinni kuin tekemällä siihen itse vetskarin tai lenkit (vetoketju päästää pakkasviimaa läpi, vaikka nappiläppä olisi kiinni).
3
3
I would recommend for a friend
Timo V.

22.12.2016

Verified purchase
Nyt tuli kyllä tehtyä elämäni paras takkiostos. Tällaista olen etsinyt vuosikymmenet. Riittävän pitkä, huppu ja hyvät taskut - mm. nuo käsienlämmitelytaskut. Isot napit hakkavat tarrat mennen tullen. Tuulenpitävyys ei ole tämän takin paras ominaisuus - nimestä huolimatta. Jälleen kerran Lekan koot yllättivät positiivisesti. 2X-Large-Long oli riittävän iso 192 cm 125 kg miehelle, massa on tosin jakaantunut tasaisesti, ei pelkästään vatsan seutuun. Ihmettelen vain, mitä kokoja "normaalit" ihmiset ostavat?



F-rävenin Smock nro.1 maksaa 749 EUROA, eikä varmasti ole yhtään tätä parempi. Lisäksi heidän XXL kokonsa on hieman liian pieni tämän tyyppiselle takille, eikä XXXL kokoa enää ole olemassa.



Tehkää tähän Climashield vuori ja pari taskua siihen pitämään kännykkä lämpimänä, niin muuta vaatetta ei sitten ikinä enää tarvitsekaan!

3/2018 Takki vaan paranee, upea klassikko kaikkeen käyttöön.
18
6
I would recommend for a friend
Marko L.

08.01.2017

Verified purchase
Yllättävän salonkikelpoinen takki. Olisin tosin toivonut jonkinlaista vuorta tai edes verkkokangasta sisäpuolelle. Nyt ei tosiaan ole kuin yksi kerros kangasta suurimmaksi osaksi takkia. Vähentää laatuvaikutelmaa mielestäni. Muuten kyllä hyvän näköinen ja oloinen takki. Kehtaa vaikka kylälle lähteä jos ei tarrapaikat vaivaa.
4
5
I would not recommend to a friend
eric r.

31.01.2017

⚠ Unverified purchase
I was looking forward to this jacket. It is well made, but unfortunately too big for me. The sleeves are way too wide and long. I hoped this civilian version of the military classic would be a bit more fitted, particularly given the measurements listed.
7
110