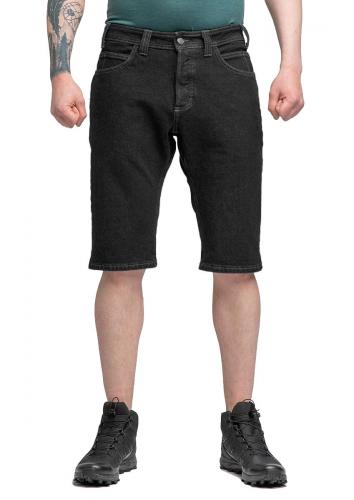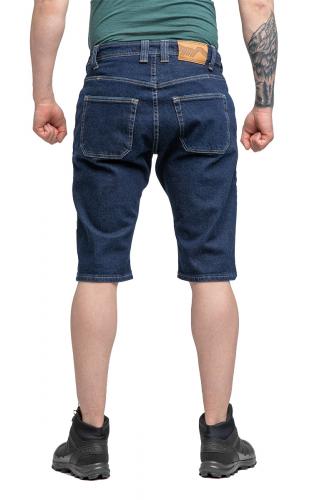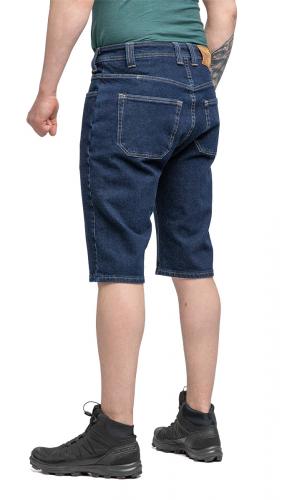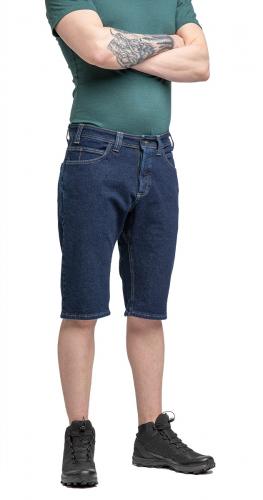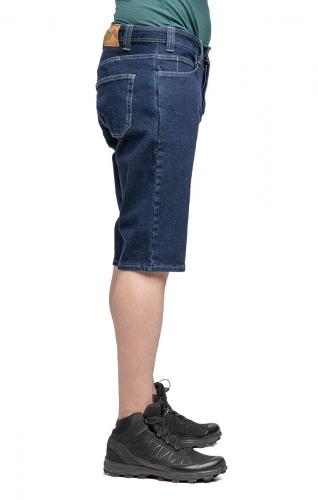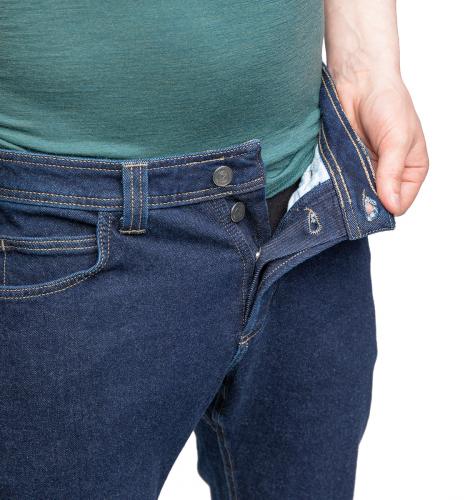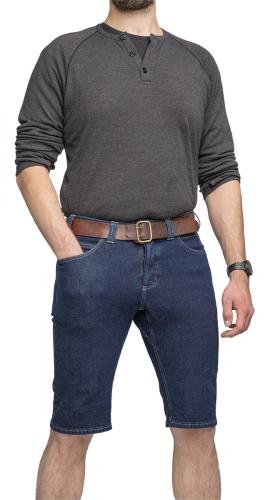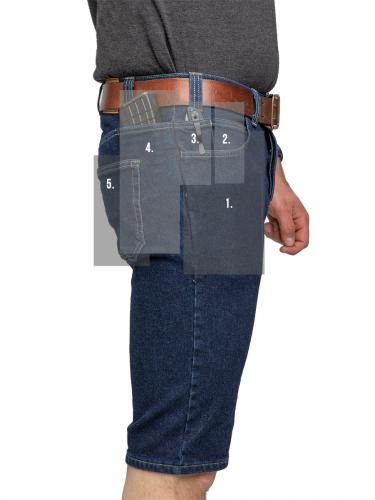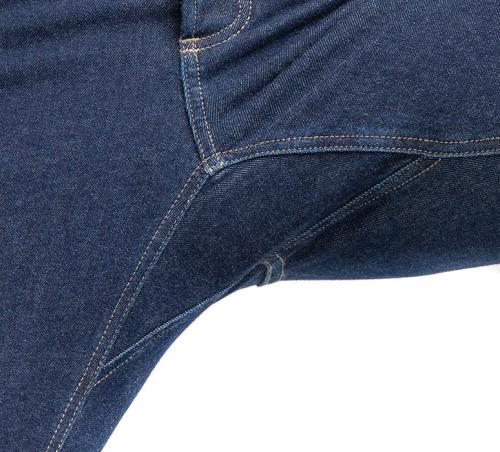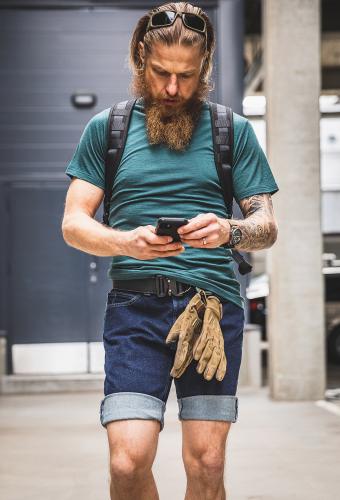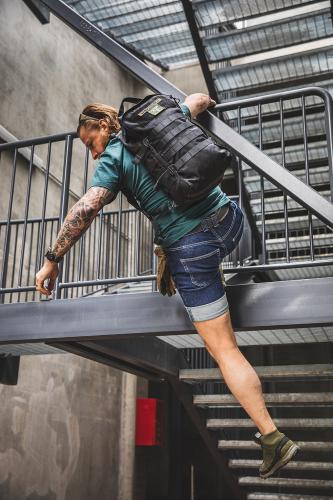 Show all: Särmä TST
Särmä TST Tactical Denim Shorts
Price 83.99 USD
excluding sales tax
When bulging cargo pockets and camo patterns aren't your thing but you want shorts with lots of pockets for your stuff, here's your summertime tactical solution!
Loading products...
Trouble with the metric system? Try our converter: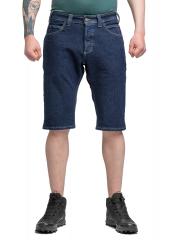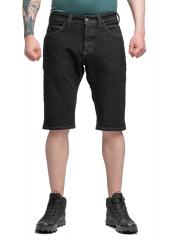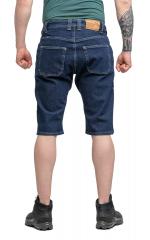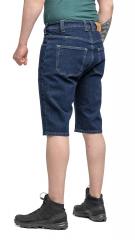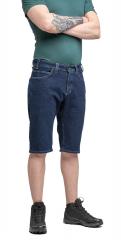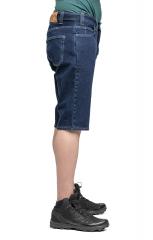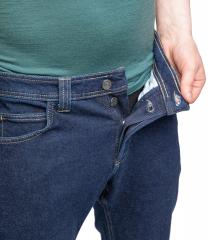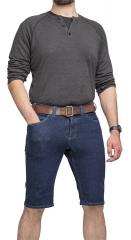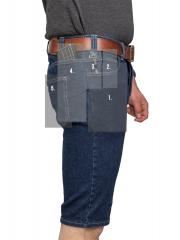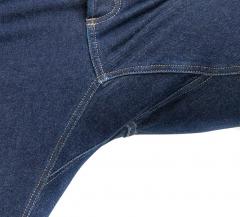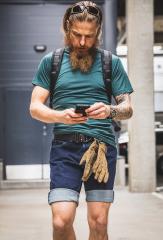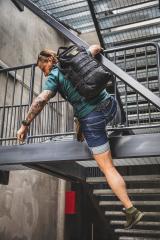 When bulging cargo pockets and camo patterns aren't your thing but you want shorts with lots of pockets for your stuff, here's your summertime tactical solution!
Elastic material and crotch gusset
Hidden pockets with easy access for smartphones etc.
High durability
94/4/2 % cotton/polyester/elastane, 403 g/m2 or 12 oz/yd2.
What's unique about these shorts is the unassuming looks, but there's more than meets the eye. Extra pockets are hidden in plain sight to keep things available for grabs. When stashed behind the side seams, your smartphone won't dig into your thighs or slip under your butt when you sit.
Made in EU (Estonia) by Masi company.
Size info
Many people prefer the Tactical Shorts in a smaller size compared to ordinary jeans. Part of this is because of the stretchy material but also because of the roomy cut: as with the Tactical Jeans, the waistbands are two inches larger than the nominal waist size to let it ride lower than the navel.
Tactical Shorts of a smaller-than-usual size will not be glam rock tight so if you want a closer fit, give the sizing a moment of thought.
Below is a table of garment measurements:
Nominal Size
Waistband
Thigh
Metric
Imperial
Metric
Imperial
W28"
77 cm
30.3"
60.5 cm
23.8"
W30"
82 cm
32.3"
63.5 cm
25.0"
W32"
87 cm
34.3"
66.5 cm
26.2"
W34"
92 cm
36.2"
69.5 cm
27.4"
W36"
97 cm
38.2"
72.5 cm
28.5"
W38"
102 cm
40.2"
75.5 cm
29.7"
W40"
107 cm
42.1"
78.5 cm
30.9"
W42"
112 cm
44.1"
81.5 cm
32.1"
W44"
117 cm
46.1"
84.5 cm
33.3"
W46"
122 cm
48.0"
87.5 cm
34.5"
W48"
127 cm
50.0"
90.5 cm
35.6"
Cut and features
The starting point was obviously the Särmä TST Tactical Jeans with the sleeves cut to 36 cm (14.2")
The fit is best described as "plain" or "regular". We didn't incorporate any bagginess for pocket space, because the material stretch handles it. The belt loops are big enough for a 50 mm / 2" belt but work fine with regular 40 mm / 1.6" belts as well. Button fly.
Mid rise waist
Stretchy, non-restricting material
50 mm / 2" belt loops
Button fly
Crotch gusset
Ten useful pockets:

Two ordinary side pockets
Two (pistol mag size) smaller pockets inside each side pocket
Two ordinary back pockets
Two (assault rifle mag size) hidden back pockets
Ten pockets
In addition to the usual front and rear pockets, the front pockets have two flat "coin pockets" per side. Even the smaller ones are big enough for a pistol magazine, folding knife or multi-tool.
In the rear, you'll find two slash pockets behind the side seams. A yoke conceals the mouth, so it's "not there". The pockets are large enough for a smartphone or tourniquet, but by coincidence also fit something you can use to feed an Evil Black Gun.
Material and care
In our trials, we have used the Tactical Jeans for all kinds of rough business, and even after wearing and washing they retain a good look. Natural fibers don't melt or light up that easily, so the primary material is 94% cotton. A 4% polyester content improves durability and 2% of elastane. These features apply to the Tactical Shorts as well and a common wear point at the knees is eliminated.
Fabric weight: 403 g/m2 or 12 oz/yd2.
Machine wash at 40° Celsius / 104° F. The color bleeds so handle the whites and coloreds separately. May crock before the first wash, so don't sit on your grandma's white leather couch before that.
The color is denim blue. When stretched, the fabric reveals light-grey fibers within the fabric, giving a lighter appearance.
Varusteleka Särmä TST
Särmä TST is Varusteleka's in-house brand of clothing and gear designed for military and law enforcement end-users. Our clothing and equipment are made in co-operation with a number of experienced manufacturers with a strong background in producing clothing and gear for military and law enforcement officials, most notably for the Finnish Defence Forces. For further reading check out the Varusteleka's Särmä TST page.
Särmä TST products are covered by a 12-month warranty against defects in materials and workmanship. For further information please read our detailed warranty guide.
Recommendations
Loading products...
Reviews
You have already submitted a review. You can edit your text by clicking on it.
Log in and write a review.
Remove filter
Suomi
(3)
English
(4)
I would recommend for a friend
Mark K.

15.05.2021 (Edited 27.07.2021)
I don't need all the pockets, but that movement range feels so superior to normal jeans. These are amazing. Can't wait to try then out on a bike, they already feel great on the couch.
0
0
I would recommend for a friend
Sami S.

17.05.2021 (Edited 27.07.2021)
Pari vuotta kesät talvet menty töissä, harrastuksissa ja vapaa-ajalla yksissä ja samoissa mustissa farkuissa, muka testimielessä mutta oikeasti ylivertaisten ominaisuuksien vuoksi. Kesällä tuli hiki. Parhaat shortsit parhaiden farkkujen kaveriksi. Näitä on odotettu.
1
0
I would recommend for a friend
Mikko Y.

05.07.2021 (Edited 15.07.2021)
Uijjui! Kaikista vanhoista farkkushortseistani on ajansaatossa repeilleet taskujen sisäpuolet riekaleiksi, mutta nyt Varusteleka sai vihdoin varastoon uuden satsin tiktaktisia TST-farkkushortseja! Aivan huikea tuote, ja etenkin venyvä stretch-kangas on kesähelteillä miellyttävä tilanteessa kuin tilanteessa. Nyt, kun vielä valmistatte näitä muutamassa muussa värissä, esim. vaaleamman siniset "kivipestyt" ja vaalean ruskeat "khakin" väriset olisivat coolit. Tai laittakaa asiakaskysely eri väritoiveista, ja sit tuloksista huolimatta valmistatte ainakin noi kaksi väritoivettani.
0
0
I would recommend for a friend
Roni S.

07.07.2021 (Edited 15.07.2021)
Kävin päivittämässä Särmä kansan farkkusortsit näihin kun neljän kesän jälkeen alkoi näkymään kulutuksen merkkejä ja olivat tuossa ajassa jääneet myös pieniksi. Muutaman päivän käytön jälkeen ovat osoittautuneet loisto-ostokseksi.
0
0
I would recommend for a friend
Tien S.

10.07.2021 (Edited 15.07.2021)
Super functional well thought out design. Just enough stretch and crotch gusset mean unrestricted movement. Tons of belt loops means the many accessible pockets can be loaded up without the pants sagging at the waist. So good i bought both black and blue.
0
0
I would recommend for a friend
Tomas A.

10.07.2021 (Edited 15.07.2021)
It's not bad.
The short version of the tactical jeans with all pockets.
But i will have to buy another pair.
They tend to get smelly as they now are the only pants i want to wear.
And now they are out of stock and i only have this one unit.
Now waiting for winter when i might wear the long ones.
Should have bought two.
1
0
I would recommend for a friend
Henrik N.

07.12.2021
Fantastic shorts. Comfortable, practical and hard-wearing.
0
0
Kierto Circular Economy
Return this product used but clean and unbroken, and you'll receive half of the product's original price as Varusteleka credits. Service is available only in Finland. Only Registered users can make Kierto returns. See more information about Kierto.