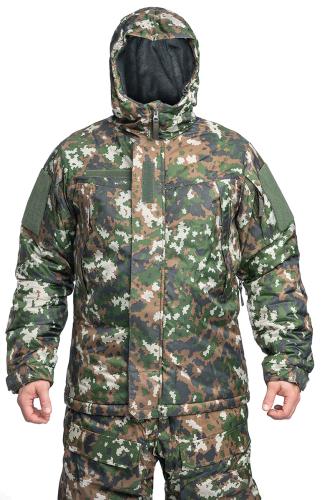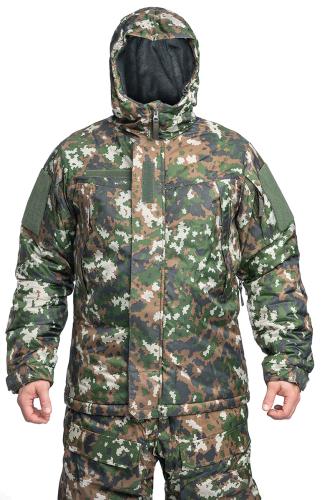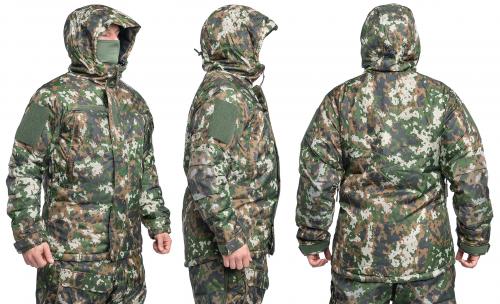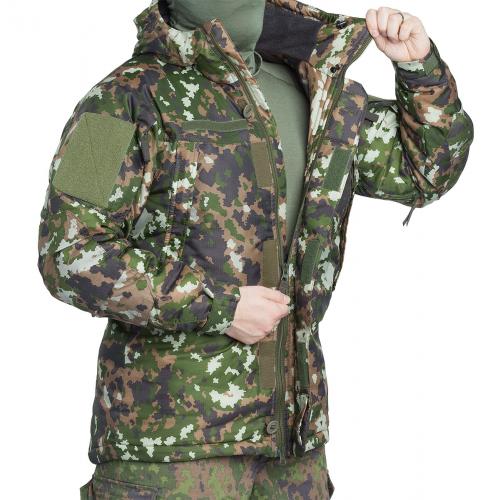 Front zipper storm flap closure with hook-and-loop and buttons.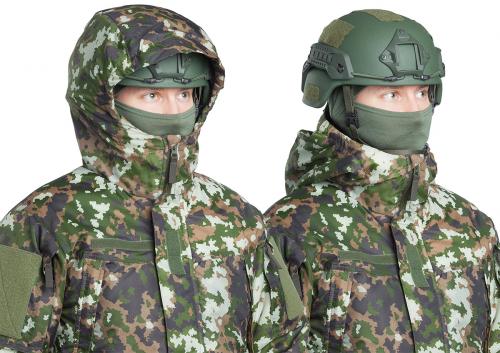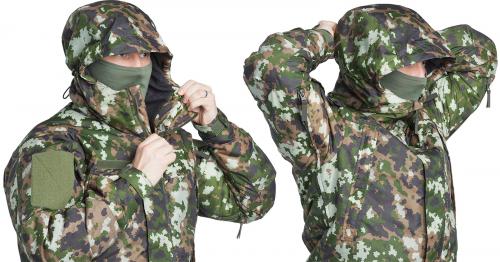 The hood is adjustable to fit on a bare head.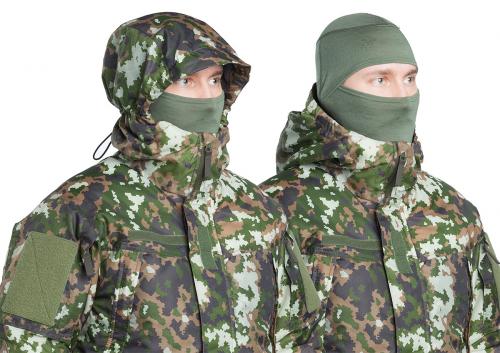 The hood is adjustable to fit on a bare head.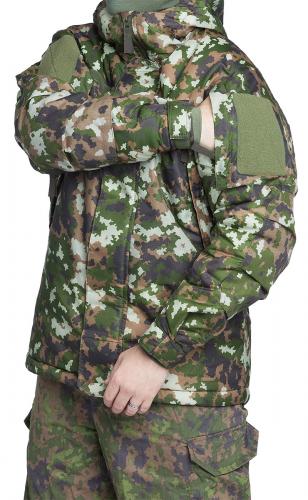 Two zippered upper arm pockets.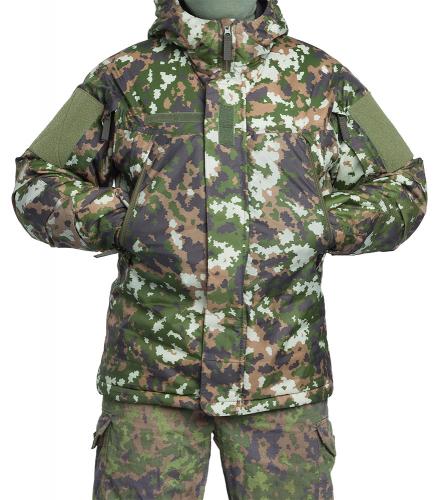 Two large zippered chest pockets.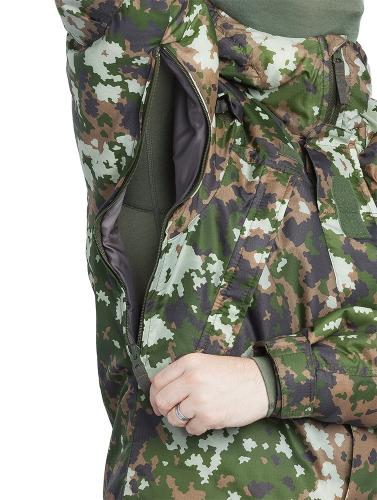 Underarm ventilation zippers.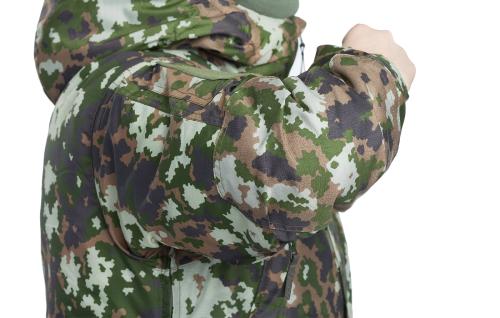 Articulated and 500D Cordura reinforced elbows.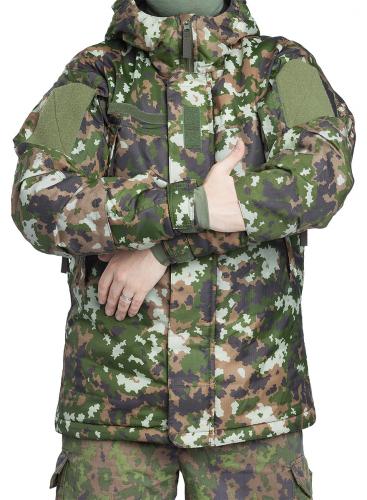 Pad pockets inside the elbow reinforcements.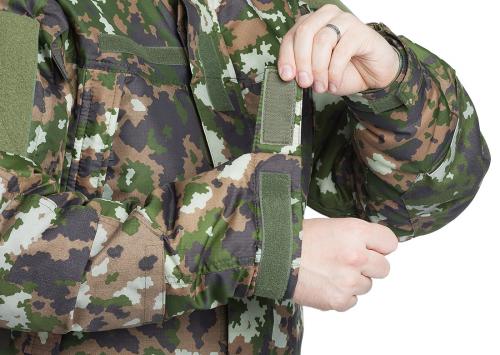 Hook-and-loop adjustable cuffs.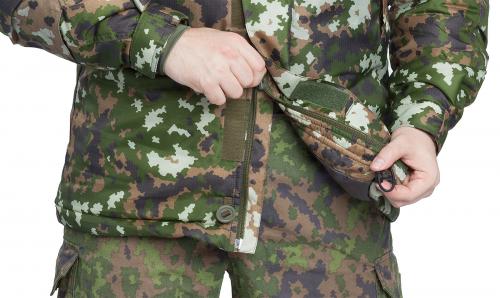 Two-way front zipper and elastic hem drawcord.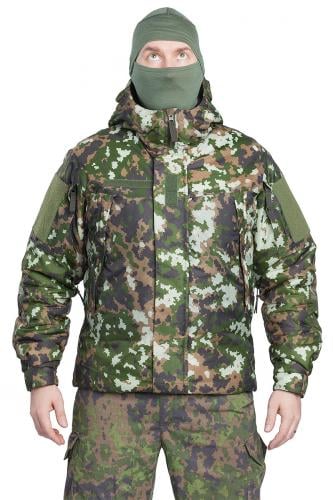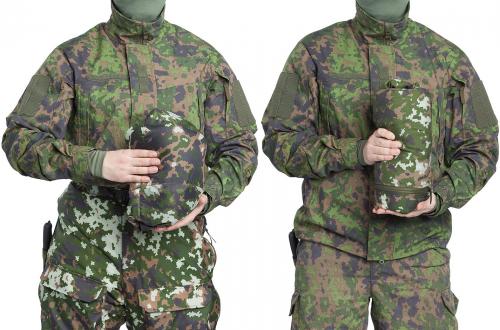 Left: L5 Thermal Jacket packed into it's own hood. Right: L5 Thermal Trousers rolled up.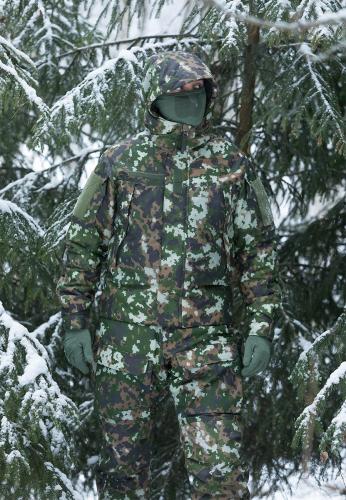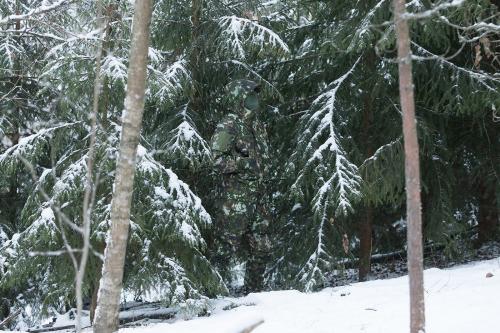 Särmä TST
Särmä TST L5 Thermal Jacket
Price 209.99 USD
excluding sales tax
A relatively lightweight insulated cold weather jacket, designed for field and combat use. Lightweight and packable, easy to carry with you and comfortable to use, overall a significant improvement over the Finnish Defence Forces issue M05 cold weather parka.
Loading products...
Trouble with the metric system? Try our converter: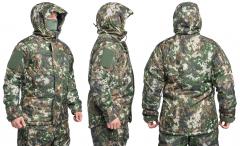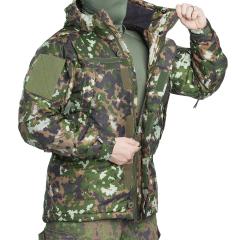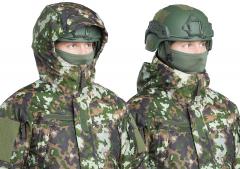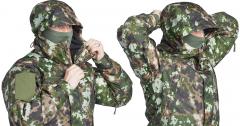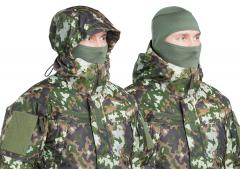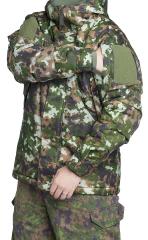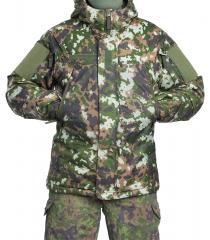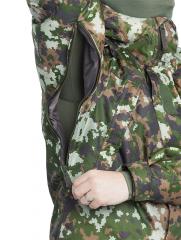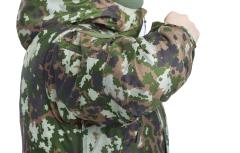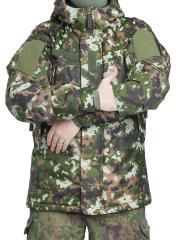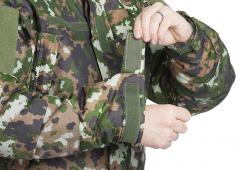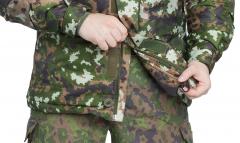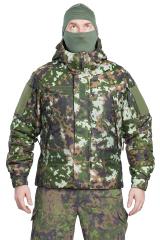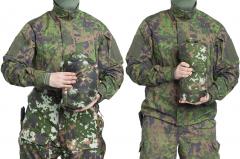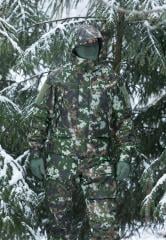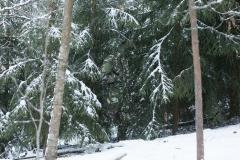 A relatively lightweight insulated cold weather jacket, designed for field and combat use. Lightweight and packable, easy to carry with you and comfortable to use, overall a significant improvement over the Finnish Defence Forces issue M05 cold weather parka.
Generous fit for wear over multiple under layers
Helmet sized adjustable hood w/ fleece lining
Full length front zipper w/ storm flap
Underarm ventilation zippers
Articulated elbows
Reinforced elbows w/ pad pockets
Hook-and-loop adjustable cuffs
Elastic drawcord adjustable hem
Loop bars for name, rank and sleeve patches
Four pockets:

Two zippered chest pockets
Two zippered upper arm pockets

Weight: 790 g / 28 oz. (Medium Regular)
Materials:

Outer fabric: 98% polyamide / 2% carbon fiber Ripstop, weight 75 g/m2
Reinforcements: 500D Cordura
Insulation: Climashield Apex 100 g/m2 / 2.9 oz/yd2
Lining: 100 % PES

All materials are NIR compliant
Designed foremost as an active insulation garment for extreme cold weather, the fit and details serve this purpose: upper arm pockets offer accessible storage even when the chest pockets are covered by body armour and load bearing vests. The elbows are reinforced with 500D Cordura, and these reinforcements double up as pad pockets for elbow pad inserts. Underarm ventilation zippers help lessen your thermal load during high activity levels.
The L5 Thermal Jacket also functions as a static insulation garment and can be donned over your regular lightweight field uniform. However, unlike the L5 Thermal Anorak this jacket is not designed for wear over armour and load bearing gear.
L5 - Thermal Shell
The fifth layer of the Särmä TST Clothing System is designed for quick layering over your field wear, or for wear as a stand-alone cold weather uniform. Generous ventilation zippers minimize the thermal load of the layer, allowing the wearer added comfort. Camouflage prints and visible accessories are 100% NIR compliant.
Take a look at our Särmä TST Clothing System!
Sizing
Sized according to recommended user height and chest circumference. The fit is relaxed enough to allow the jacket to be worn over thick mid-layers and even a regular lightweight field jacket.
By tightening the hem drawcord and cuff hook-and-loop adjusters you get the hem and sleeves to stay right where you want them.
Material
98% polyamide / 2% carbon fiber Ripstop, weight 75 g/m2 (2.2 oz). Lightweight and breathable, a solid fabric choice for this type of winter overwhites.
Climashield Apex insulation, 100 g/m2 (2.9 oz). This is some of the best insulation there is a fantastic weight-to-insulation ratio and great performance even in wet conditions. Apex is a continuous fiber filament; this means it does not need any attaching stitching as you would find on common polyester or down loft garments. By eliminating these stitches, we also eliminate possible cold spots, further adding to the insulating properties of the garment.
Sewn in Estonia
These are sewn in Estonia, by an experienced factory that has a long history of producing clothing for military, law enforcement and emergency services.
Kierto Circular Economy
Return this product used but clean and unbroken, and you'll receive half of the product's original price as Varusteleka credits. Service is available only in Finland. Only Registered users can make Kierto returns. See more information about Kierto.
Varusteleka Särmä TST
Särmä TST is Varusteleka's in-house brand of clothing and gear designed for military and law enforcement end-users. Our clothing and equipment are made in co-operation with a number of experienced manufacturers with a strong background in producing clothing and gear for military and law enforcement officials, most notably for the Finnish Defence Forces. For further reading check out the Varusteleka's Särmä TST page.
Särmä TST products are covered by a 12-month warranty against defects in materials and workmanship. For further information please read our detailed warranty guide.
All products: Särmä TST
Recommendations
Loading products...
Reviews
You have already submitted a review. You can edit your text by clicking on it.
Log in and write a review.
Remove filter
Suomi
(9)
English
(11)
I would recommend for a friend
Timo V.

20.12.2018 (Edited 02.06.2021)
Hyvä on. T-Paita alla, fillarilla töihin. Pakkasta 7 astetta, kun tulee lämmin kainalot auki. On myös tyylikäs rotsi kaupunkikäyttöön, varsinkin taktisten farkkujen kanssa. Tykkään myös hupusta. Mutta hihat sais olla 2 cm pidemmät.
2
5
I would recommend for a friend
Kai L.

21.12.2018 (Edited 02.06.2021)
On hämmentävän lämmin takki vaikkei paina paljon paskaakaan ja on törkeän nätti kun lataa velcro-paikat täyteen vaikka mitä silppua ja merkkiä!
Yhdyn toiseen arvostelijaan eli kangas jää säännöllisesti vetoketjun väliin aiheuttaen K18- sanontojen tulvan...
3
4
I would recommend for a friend
Riku M.

22.12.2018 (Edited 02.06.2021)
Lämmin takki ja todella kevyt! Parina metsästysreissulla ollut päällä. Kaikinpuolin toimiva takki. Leikkaukset, taskut yms just eikä melkein.
Ainoa huonopuoli on kipinä herkkyys omassa harrastuksessa. Jos saman takin vahvemmalla kankaalla niin ostan heti tämän kaveriksi ja maksan paljon enemmänkin.
9
1
I would recommend for a friend
Rolf J.

14.03.2019 (Edited 02.06.2021)
The jacket gets the job done. Sizing recommendations are accurate as ever. The overall construction is kind of simple and the zippers run a bit rough. The biggest downside ist the lack of windproofness. The jacket is described as suitable for cold weather activity which is fine. For static activity I would prefer a bit more protection. In high winds you definitly would need to add a windproof layer on top of the current design.
3
2
I would recommend for a friend
Arian W.

12.08.2019 (Edited 05.06.2021)
Just an amazing coat.
While i cant speak for durability yet as i have not had it for long i can speak for its comfort. It is warm and breaks the wind nicely, doesnt get in the way and barely has any weight when worn unlike more typical winter garments.
Technically varusteleka doesnt make my size for any of their garments yet i can still wear them comfortably. While they say sizes are accurate it seems oversized is an understatement (for a giant like me that is only a pro)

At 201cm and 165 kilo i wear the 3xl regular comfortably with only the sleeves being a little short. The chest shoulders and length are all more then generous allowing me to wear it just on my hips and without any restriction of my movements. Their särma field trousers i incidentally buy 1-2 sizes smaller then my actual reccomended size and they are like a second skin as well.

As for temperature regulation. My native girlfriend says i have more northern blood then even the most purebred finn since i can go out on minus 15 in a tshirt and cook in a wifebeater once temperature rises above 20 degrees. Yet somehow magically i can wear this coat in 19 degrees without cooking like a turkey in the oven while still remaining warm when sitting by the lake fishing all night long. Ofcourse its still a bit too warm to wear in 15+ temperatures for long but it actually seems to keep ambient temperatures away from my body in both cold and hot for quite a while.

I gave a 4,5 simply because i would have liked a 3xl long rather then a regular and i did not have this option.
2
0
I would recommend for a friend
Markus M.

20.08.2019 (Edited 05.06.2021)
Takki vaikutti paperilla erinomaiselta ja todellisessa elämässä on vielä parempi. Todella kevyt ja miellyttävä päällä. Vaikuttaa kaikin puolin laadukkaalta vaatteelta. Koot todellakin väljiä. Itse valitsin 3X-Large Regularin (strategiset mitat 178cm - 130kg) ja tilaa on vaikka minkälaisille väliasuille. Pykälää pienemmälläkin olisin varmasti pärjännyt, mutta hyvältähän se tuntuu kun lihava löytää reippaan kokoisen takin.
4
2
I would recommend for a friend
Chris K.

26.08.2019 (Edited 05.06.2021)
Lightweight, durable, warm. A must-have for cold weather. As one other person mentioned, these are not as wind-proof as you might think. Nevertheless, they are great and get the job done. The sizing is on the spot and the quality is good. The M05-cold weather camo works great in late fall and winter. The jacket packs fairly small and due to it's light weight, it is suitable for any outdoor-adventure in cold weather.
3
0
I would recommend for a friend
Curtis M.

18.11.2019 (Edited 05.06.2021)
I'll agree that this jacket is not windproof, nor is it waterproof. The insulation provided is great but would do well with a wind/water proof shell over it if the weather is really blasting you. In a forest condition where it is cold but the wind is not directly upon you, like it is for me here in Alaska, this jacket does the job it is meant to do. I will note that if your activity level is moderate to high, you may experience some condensation inside and in the chest pockets. This jacket is meant to be worn after or in between activity to keep you warm, so I can't really knock it for that.

For a practical use example, I often hunt spruce grouse in the early mornings. This means covering 3-6 miles of trails in the around freezing temperature forest. The double zipper lets me zip it to lower chest height from both ends and wear it around my waist as I move so I don't sweat into it, but it is easily donable when I stop to stay warm. This is seriously the best jacket I've purchased in years.
10
1
I would recommend for a friend
Barry N.

17.12.2019 (Edited 06.06.2021)
This is a very well designed jacket, Climashield is the best. It's warm, but not too warm. It works great with a pack. It vents well and it's very vapor permeable. We got ~20 cm of heavy wet snow the day after Thanksgiving that needed to be shoveled. It was about -5º C with a 30 km/h breeze. I was perfectly comfortable working hard for a few hours, not too hot, not too cool.
3
0