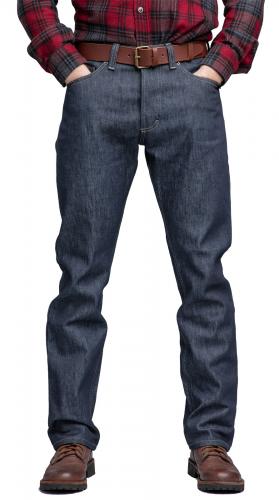 Särmä Raw Denim jeans, dark blue
Price 91.99 USD excluding VAT
Flat Rate Shipping to USA $9.99
86 % recommends
Sold 18 pcs in the last two weeks
Loading products...
Trouble with the metric system? Try our converter: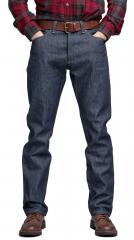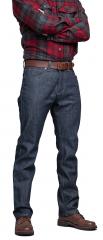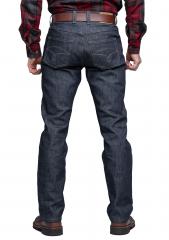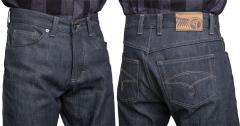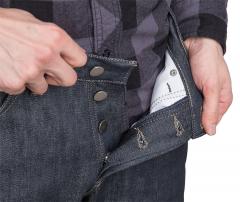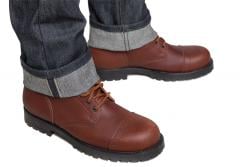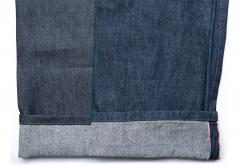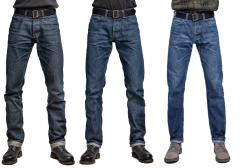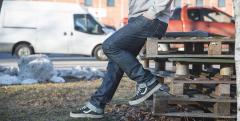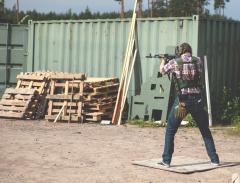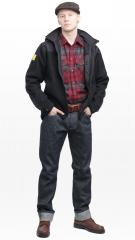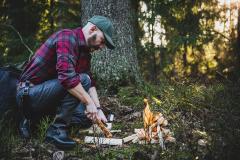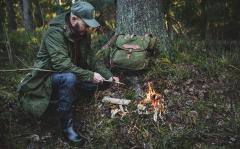 If you're looking for tough jeans without any corners cut, look no further. Despite being starched denim, the Särmä Raw Denim jeans fit you really well once you've broken them in, much like a good pair of leather boots. Soon enough you won't want to take these off!
100 % non pre-washed, tough cotton (441,3 g/m2)
Regular cut with high waist, no nonsense
Made in Estonia!

Raw denim jeans are manufactured from 100 % cotton, which is only dyed and starched. This should please traditionalists, as the material is elastane-free and not pre-washed or -worn either. Our model also has a selvedge, which means the edge of the fabric is self-edged and doesn't fray. Weight 13 ounces / yard, or 441,3 g/m2, mid-weight stuff.

The model is basic with five pockets and a button fly. The cut is a bit narrower than our Särmä Common Jeans, but otherwise similar. We really didn't set out to surprise anyone with these, just meet the demand, which is a tall order these days.

So how come these are so pricey? Raw denim with a selvedge comes 79 cm wide (a hair over 31"), so a double length of fabric is necessary for one pair of jeans, as opposed to trousers made from regular fabrics in the region of 1,5 m (5') widths. Material expenses aside, these are not hastily made in a far-away sweatshop, but with skill and care right across the gulf from our place. The fabric itself is made in Turkey, where stiff traditions die hard.

Sizing

Please pay attention: the size and care go hand in hand. These jeans shrink in the first wash.

Pick a size that fits, but not tightly
Wear as long as you feel like (this can also be "not at all", if you don't want to create fades)
Wash, the jeans will now shrink to fit

If you own Särmä Common Jeans, you can pick the same size. These Raw Denim jeans have a slightly closer fit, but are sized with the same folks in mind.

With a 33" test size we observed a 3 cm reduced waist and 2 cm reduced leg girth. The difference is likely a bit larger or smaller for larger and smaller sizes respectively, but nothing major. Also, denim will stretch to fit again, so if it's a bit tight after washing, just keep going and it'll loosen up a bit. If it wasn't tight before, it'll be fine after washing as well. As you can probably tell at this point, the fabric is unsanforized.

Washing will also reduce length, but this models assumes a cuff, so the amount of folded fabric will just be reduced. There's a couple of inches extra length compared to the designated length: for example a 34" length (86 cm in metric) is actually 36" (92 cm) long when straightened out, before washing. If you want a prominent cuff even after washing, pick a longer size.

Bigger than 42"? Sorry, the fabric is narrow and sets limitations.

| Width size | Waist | Hip | Cuff |
| --- | --- | --- | --- |
| W28" | 77.5 cm | 104 cm | 39 cm |
| W30" | 82.5 cm | 109 cm | 40.2 cm |
| W32" | 87.5 cm | 114 cm | 41.4 cm |
| W34" | 92.5 cm | 119 cm | 42.6 cm |
| W36" | 97.5 cm | 124 cm | 43.8 cm |
| W38" | 102.5 cm | 129 cm | 45 cm |
| W40" | 107.5 cm | 134 cm | 46.2 cm |
| W42" | 112.5 cm | 139 cm | 47.4 cm |
| W44" | 117.5 cm | 144 cm | 48.6 cm |

| Length size | Inseam |
| --- | --- |
| L30" | 82.5 cm |
| L32" | 87.5 cm |
| L34" | 92.5 cm |

Washing

Machine wash separately in 40 °C. Liquid detergent, no bleach or softeners. Hang to dry.

The human mind can't fathom how much the colour runs when these are washed. Wash separately and expect a much more blue appearance after excess colour and starch has washed off. Unless otherwise mentioned, the product pictures feature jeans before washing.

Made in EU

These are Fenno-Estonian work as follows: our subcontractor is a Finnish company, MASI - the paperwork is done here, the fabrics come from Europe and the sewing work is made just over the gulf in Estonia. These are entirely European-made, you'll be hard-pressed to find better workmanship.

A note about used jeans

We occasionally sell these in used condition (yes, we list them separately when available). Used jeans have been washed, so they look more blue than pictured here, and are likely to have individual highlights at wrinkles and other wear points.

Varusteleka Särmä

Särmä is our own brand of clothing and equipment. When you buy Särmä you get purpose-built stuff at a decent price, something that will fill it's intended role well and not cost you an arm and a leg!

Särmä products are covered by a 12-month warranty against defects in materials and workmanship. For further information please read our detailed warranty guide.
Reviews
You have already submitted a review. You can edit your text by clicking on it.
Log in and write a review.
Remove filter
Suomi
(12)
English
(2)
I would recommend for a friend
Perttu T.

18.10.2017
Järkyttävän hyvän tuntuiset farkut näin lyhyellä käytöllä. Riittävän syvät taskut ettei kamat putoa taskuista. Vielä kun saisi tämän tuntuman pysymään ensimmäisen pesun jälkeen niin ettei pehmene liikaa tärkin poistuessa housuista. Muokkaan arvostelua kunhan housut on pesty, joskus kuukauden päästä.
7
7
I would recommend for a friend
Jan V.

20.10.2017
Tosiaan nykäsmäiset pöksyt, mutta ei lainkaan typerän näköisesti. Mukavan jämäkät ja varmasti kestävät, nämä jalassa voisi lähteä tutkailemaan ranchin tiluksia ponin selästä, kalkkarokärmeksen hammas taittuisi housun lahkeeseen.
0
7
I would recommend for a friend
Juho R.

24.10.2017
Mainospuheiden ja hehkutuksen perusteella odotin ehkä vähän liikoja.. Loppupeleissä aika perus kangasta, ei mitenkään paksumpaa (väriä kyllä lähtee ja kulutukset saa näkymään). Ei pysy pystyssä pelkiltään ja "peltimäinen" on hieman liiottelua.
Kuitenkin jälleen hyvät farkut ja tulee pysymään vaatekaapin särmä-collectionissa, ei vain vastannut odotuksia.

Ehkä vielä joskus särmän über raw denimit. Sitä päivää odotellessa.
21
2
I would recommend for a friend
Pasi K.

24.11.2017
Loistavat ja mukavat farkut! Toimin ohjeiden mukaan ja alkukäytin pari viikkoa ennen ensimmäistä pesua. Pesun jälkeen farkut muokkaituivat juuri siihen kokoon ja istuvuuteen mitä luvattiinkin, lopputuloksena erinomaisen istuvat (ei lökötä) mutta myös mukavat housut. Hyväksihän tämän mallin tekee nimenomaan nykyhousumalleista poiketen korkeampi vyötäröleikkaus jolloin liikkuminen ja istuminen on luonnollista ja mukavaa ilman että selkä tai vatsa jää paljaaksi ja miehinen anatomia puserruksiin. Kangaskin tuntuu kestävältä.
Suosittelen mitä lämpimimmin.
3
2
I would not recommend to a friend
Brian N.

25.11.2017
Fabric is stiff as expected, although much thinner than I imagined, given raw denim's supposed sturdiness. Not sure what to make of that.

I am not a skinny hipster type, but these jeans are enormously baggy, and obviously designed for very fat people. They don't look anything at all like the model--I thought Europeans were supposes to be skinny!. For $120 plus shipping I hoped to get something that at least *kind of* fit, instead of an expensive pair of 'dad jeans', but am completely screwed. VARUSTELEKA products are effectively non-returnable--these jeans in particular have to be washed by the buyer to assess fit properly, and buyer-pays-return-shipping means you get punished for even attempting an exchange.

If you're very large and into expensive, fashion-forward workwear, this might be for you--the look and feel of the fabric seems good. Otherwise stay away.
12
50
I would recommend for a friend
Markus T.

31.01.2018 (Edited 12.03.2018)
Mukavat ja laadukkaat farkut.

Nykyisiin miesten farkkujen matalaan vyötäröön täysin kyllästyneenä on mahtava tunne käyttää housuja joissa ei pylly vilku jo pelkästä kyyristymisen ajattelusta. Farkut istuvat hyvin eivätkä purista tärkeiltä alueilta. Malli omaan mieleen parempi kuin kansan farkuissa (hitusen kapeammat lahkeet).

Kangas on paksua ja uskon että nämä kestävät minulla käytössä useamman vuoden. Alussa hieman jäykähköt, mutta pehmenevät käytössä nopeasti. Iso kiitos nappisepaluksesta. Vetoketju ei vaan kuulu farkkuihin.

Käytin näitä n. 4kk ennen ensimmäistä pesua. Ennen pesua olivat hieman lököttävät ja juuri tästä syystä jouduin nämä pesemään ennen 6kk maagista rajaa. Pesun jälkeen farkut muuttuivat hyvin istuviksi.

Kulutuksia muodostui kuukausien aikaan hieman, enimmäkseen taskujen kohdalle missä tavarat on. Ei mitään mahdottomia "trendikulutuksia" jos joku pelkää että pesemättöminä nämä muuttuisivat heti kivipestyjen näköisiksi. Riippuu varmaan paljon siitä mitä tekee farkut jalassa. Itselläni nämä eivät ole kävelyä ja istumista rankempaa aktiviteettia vielä nähneet.

En keksi miinuksia. Hyvää työtä. Suosittelen
2
1
I would recommend for a friend
Timo V.

09.03.2018 (Edited 09.03.2018)
Tulee ihan nuoruus mieleen, jytäkät farkut. Panin pesuun heti, koska en halua mitään "rendivillityksiä" vaan tavalliset housut ilman elastaania, joka ilmeisesti muun muoviroskan kanssa kuuluu Saatana (tm) -tuoteperheeseen. #Mikromuovi, #Kierrätyskelvoton


Kansan Farkut ovat osoittatuneet sen verran kestäviksi, että näillä pääsee nelikymppinen mies varmaan hautaan asti.
4
2
I would recommend for a friend
Ari T.

07.06.2018
Ensimmäinen kulutusvaihe menossa ennen pesua. Vähän samaa mieltä ku tossa sanottiin että ehkä vieläkin pönäkämmät pökät voisi olla, mutta kyllä näinkin on hyvä. Oon lukenut juttua raakafarkuista miten kamalan epämukavat ne on ennen pesua mutta ei kyllä ole. Ihan ok. Ohjeiden mukaan ostin sopiva+:t jotta on hiukan kutistumisvaraa, jonka takia vähän odottelen nyt sitä ekaa pesua että istuvuus olisi sen viimeisen pykälän napakampi. Mutta muuten kaikenkaikkiaan laadukkaan tuntuista työtä, tiedän mistä seuraavat farkut ostan.
1
1
I would recommend for a friend
Miika K.

25.06.2018 (Edited 08.11.2018)
Hyvät perusfarkut, ensimmäiset raakadenimini. 100% puuvillaa! .Kangas on mukavan tiheää ja jämäkkää. Peltimäiseksi ei voi sanoa, pehmenee käytössä nopeasti. Voisi olla paksumpaakin kangasta, mutta tuntuu peruskulutusta kestävän mukavasti. Taskut ovat syvät joten tavaraa mahtuu ilman pullotusta, takana olevat vyönlenksut just sopivat ettei tule hymyiltyä hampaattomasti.



Olen persjalkainen ja ne jalat on paksut, mutta silti farkuista löytyi sopivan mallinen ja kokoinen. Eivät kutistuneet pesussa juuri ollenkaan ja hetken käytön jälkeen istuvat kuin valettu.



En ehtinyt kuluttamaan kahdessa kuukaudessa toimistotyöläisenä kummoisia feidejä, hiukan hiekkalaatikkoleikit auttoivat, eli polvissa reisissä ja säärissä on kulumaa. Hellesäiden takia pesin suositeltua aiemmin. Hyväksi havaittu tapa oli ennen pesua jatkaa käyttöaikaa tulettamalla päivä nurinpäin suorassa auringonpaisteessa.



Sen verran hyvät, että ostin toisetkin

Edit:
Syksyn viileyksien tultua pysttyin käyttämään toista paria melkein päivittäin 2kk pelkällä tuuletuksella. Tämän jälkeen pesu. Feidit tulivat vain missä lahkeet ovat rypistyneet, hiukan perseeseen ja nivusiin. Pakkasilla olisi ollut ehkä vielä parempi käyttää. Miinuksena voi sanoa että hintaansa nähden ihmeellisen paljon tuli langanpätkiä ylös kankaasta käytön aikana. Jos olisi tuhdimman kankaat versio raw denimistä (20oz) kuten eräs tuossa kirjoitteli, olisin kyllä valmis maksamaan enemmänkin.
1
0
I would recommend for a friend
David H.

29.08.2018
Some information on fit from the American perspective:

In my experience, other brands of EU jeans fit much tighter than US jeans brands do. For example, a Levi's 38 inch waist is actually about 41 inches when measured. In contrast, the waist of 38 inch pair of Nudie's (a Swedish brand) is 39 inches. I was worried that these jeans would be sized similarly, so I ordered a 42 inch waist. They were huge! I ordered two more pairs to try, and here are my notes:

The inseam is 2" longer on every pair than what is listed. For example, the 42x34 pair has a 36 inch inseam. The 38x32 and 40x32 pairs both have 34 inch inseams. So, if you are not going to cuff the jean order the shorter length.

The waist on the 42x34 measured 44+ inches. The waist on the 40x32 measured 42 inches. The waist on the 38x32 measured 40 inches. In other words, the actual waist measurement is about 2 inches more than it says on the tag, just like American jeans.

My advice for my American brethren: Order whatever waist size you wear in a regular jean (Levi's, etc) and order an inseam 2 inches shorter than you'd normally wear. These jeans in a 38x32 fit just like a Levi's 501 in 38x34, with maybe a little more room than the Levi's. They should be almost equal once these jeans are washed. For reference, I am 6'4" and 270lbs (your typical corn-fed American) and I wear a 38x32 in these jeans.

Fit aside, these are a great product, well made, and fit very well. The price is awesome for selvedge jeans - Nudie jeans are almost 2.5x as expensive. Especially if you're a bigger person and don't fit into typical EU/designer jeans, these are your best option.
3
0
I would recommend for a friend
Jussi Y.

09.09.2018 (Edited 06.11.2019)
Olen kooltani, 78-80kg/178cm ja normaalisti käytän W32-34/L32 farkkuja, mutta tilasin W32/L30 koska itse en tykkää käännellä lahkeita. Näissä farkuissa pituus ja koko täydellinen, istuu tosi hyvin ja nousee hyvälle korkeudelle vyötäröstä.
0
0
I would not recommend to a friend
Kalle P.

27.09.2018
Näistä on jäänyt vähän ristiriitainen vaikutelma, itse asiassa päivitetty tuotekuvaus vastaa todellisuutta aika paljon paremmin ja jos kuvaus olisi ollut alun perin tämä, olisin ehkä suopeampi. NImittäin kun ostin näitä reilu vuosi sitten, niin kehuttiin että nämä ovat paksuinta ja parasta denimiä mitä maailma päällään kantaa jne jne. No, eihän se niin ollut lähellekään, kuten uudessa tuotekuvauksessa sanotaan, nämä ovat normaali- tai keskipaksuista, noin 12-13oz kangasta. Varsinainen pettymys alkoi tulla käytössä, sillä denim on melko harvaa ja ilmeisesti melko lyhytkuituista puuvilla, koska toisin kuin huippulaatuinen denim, se ei vain kulu ja patinoidu kauniisti vaan siitä alkaa nousta nöyhtää pystyyn ja muutaman pesun jälkeen se muuttuu epätasaiseksi ja möykkyiseksi. Toista paria käytin reilun puoli vuotta, talven yli, kikkailemalla tuulettamalla ja pakastamalla parvekkeella ilman pesua ja se pärjäsi paremmin.

En oikeastaan erikoisesti suosittele, tai sillä varauksella että näistä saa vähän makua mitä todella hyvät farkut voisivat olla, mutta vähän freesimpi leikkaus ja reilusti parempi kangas olisi mitä tarvittaisiin että näistä tulisi todella hyvät. Kuten mainoksessakin sanotaan, näiden leikkaus on mallia dungaree tai overall, eli varsin säkkimäinen mikä kannattaa huomioida koko valinnassa. SIvumennen sanoen, tässä minusta tuntuu että kiteytyy se, miten Varustelekan sinällään hyvät aikeet johtavat kadotukseen. HInta/laatu-suhteesta olisi luultavasti tullut parempi, jos eivät olisi pakkomielteenomaisesti yrittäneet hankkia tavaraa Euroopasta, vaan olisivat katsoneet avoimin silmin Aasiaan ja nähneet että esim. juuri farkuissa Japanissa tehdään erittäin vakuuttavaa työtä käsityöperinteella ja työntekijää riistämättä.

P.S. Tätä kirjoittaessa jalassa ovat 6 vuotta vanhat Momotaron valmistamat noin 20oz raw denim farkut, joilla on paljon kilometrejä takanaan, ja kangas on paljon paremmassa kunnossa ja käyttövuosia on luultavasti edessäkin enemmän kuin vuoden ikäisillä Särmillä.
32
1
I would recommend for a friend
Anonymous customer

06.11.2018 (Edited 26.01.2019)
Toistaiseksi mukavimmat farkut, joita olen käyttänyt. Stretchifarkkujen lyhyeen käyttöikään ja markettifarkkujen huonoon leikkaukseen kyllästyneelle nämä olivat erinomainen hankinta. Leikkaus mahdollistaa hyvin kaikenlaisen liikkumisen. Vaikuttavat myös kestävän hyvin käyttöä.
0
0
I would recommend for a friend
Ville L.

20.12.2018 (Edited 30.09.2019)
Sukulaiset alkoivat haukkua hoppariksi, niin myin kaverille ja tilasin koon verran pienemmät. Eivät kutistu niin paljoa kuin ehkä voisi kuvitella. Koon valitseminen on hankalaa ja pituuden valintaakin on hankaloitettu meille ei käärijöille. Housut vaikuttivat kuitenkin sen verran asiallisilta, että ajattelin antaa toisen mahdollisuuden. En minä näitä diskoon laita, mutta arkiseen menoon varsinkin talvella sopivat. Ja kesällä rymyfarkkuina, kangas on vahvan tuntuinen ja leikkaus sellainen, että liikkuminen on jouhevaa, reisille on taatusti tilaa. Taskutkin tilavat ja vahvan tuntuioset. Suosittelen pesemään heti 60 asteessa ja laittamaan vaikka vähän nihkeänä jalkaan niin alkaa heti muotoutua. Mitään ällöttävää kuuden kuukauden pesemättömyyttä en edes harkinnut. Tavallinen farkkukangas kestää kovaakin pesua, olen retsifarkutkin pessyt ongelmitta 60 asteessa. Leviksen ohjeissa käsketään ostamaan vyötäröltä sopivat, kylpemään 30 min housut jalassa ja sitten pitämään niitä niin kauan, että ovat taas kuivat. Tai sit ostamaan tuuman verran isommat kuin sopivat minkä tein ny ite ja vikaan meni. Minusta olivat myös tummemmat kuin tuotekuvissa, mut se ei ollut ainakaan haitaksi.

Edittiä: Työkaveri lyhensi ja nyt nää on aika kivat. Puolen vuoden jälkeen kulumaa on lähinnä lahkeissa ja taskunsuissa. Ja teitty perstaskussa korttilompsan kohdalla. Vaikuttavat ihan kestäväiltä, ainakin kestävämmiltä kuin monet farkkujen näköiset sukkahousut mitä kaupataan. Saatan ostaa toisetkin.

Ja joku mainitsi kommenteissa että Japanissa tehdään laadukkaita farkkuja työntekijää riistämättä. Vilkuilin kolmen, neljän merkin tarjontaa ja hinnat olivat reilusta kahdesta sadasta viiteen sataan dollaria. Eli ei ainakaan omalla tilipussilla arkipöksyjä tai oikeastaan mitään muutakaan pöksyjä. Ja sellaisiksi nämä ostin, kestäviksi arkifarkuiksi.
0
0