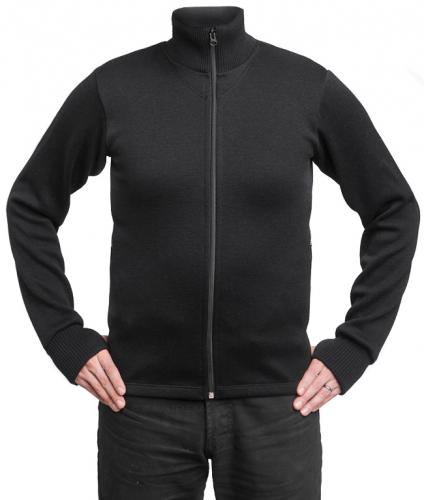 Särmä Merino Wool Sweater w/ Zip, Black
Price 119.99 USD excluding VAT
Flat Rate Shipping to USA $9.99
100 % recommends
Sold 7 pcs in the last two weeks
Loading products...
Trouble with the metric system? Try our converter: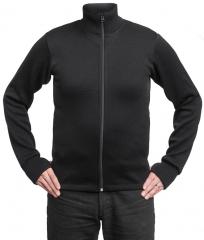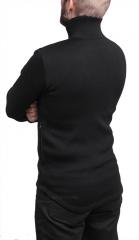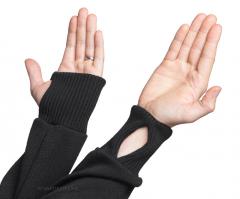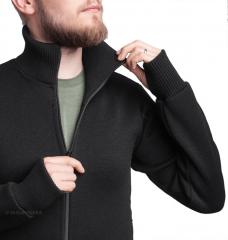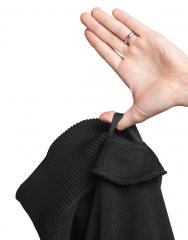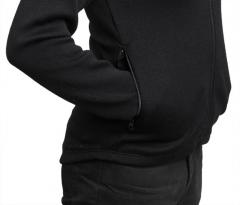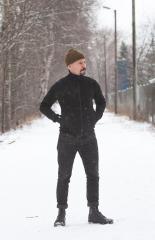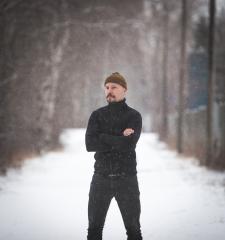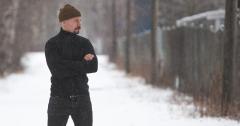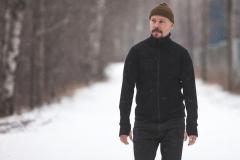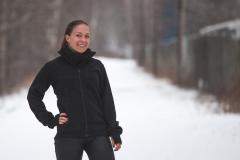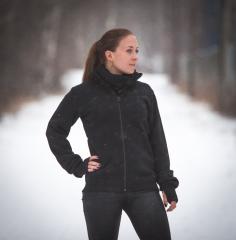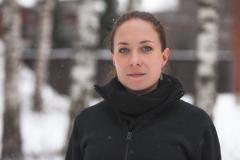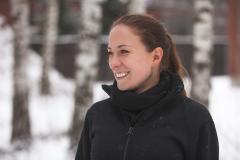 Thicker and warmer than a base layer, yet a bit more versatile than most mid layers, this merino wool sweater functions both as a warm mid layer shirt and on its own as a stand alone top. A high collar and thumbhole knit cuffs offer great protection. The real neat detail are the two zippered side pockets for keeping your valuable trinkets safe or your hands warm!
Good fit and comfortable to wear.
Full length front zipper, quality stuff by YKK.
High collar.
Generous sleeve length.
Cuffs with thumbholes.
Longer hem at the back to protect your lower back while moving around.
Elastic front hem to keep the shirt neatly in place.
Two zippered side pockets made from strong and breathable mesh fabric, YKK quality zippers.
Quality merino wool
Wool is super. Merino wool is even better; does not itch, insulates and regulates temperature better, gathers even less nasty smells (and most smells vanish with simply airing out the garment). Of course the catch is a higher pricetag, but it is truly worth it.
Material: 100% mulesing-free merino wool, weight approx. 410g/m2. Wool wash in 30° C. Using wool care products not mandatory, but recommended.
All of our Särmä brand merino wool products are mulesing free!
Sizing
Recommended user total height and chest circumference are indicated in the drop down menu above. The recommended chest circumference is the actual circumference of the sweater - this is intentional, as these do stretch.
Here are the actual measurements from the jerseys themselves, please note that the knit is very stretchy!
| Size | Chest circumference | Sleeve length | Back length |
| --- | --- | --- | --- |
| Small | 92 cm | 70 cm | 72 cm |
| Medium | 98 cm | 70 cm | 74 cm |
| Large | 104 cm | 70 cm | 76 cm |
| X-Large | 110 cm | 70 cm | 78 cm |
| 2X-Large | 116 cm | 70 cm | 80 cm |
Varusteleka Särmä
Särmä is our own brand of clothing and equipment. When you buy Särmä you get purpose-built stuff at a decent price, something that will fill it's intended role well and not cost you an arm and a leg!
Särmä products are covered by a 12-month warranty against defects in materials and workmanship. For further information please read our detailed warranty guide.
Made in Finland!
Reviews
You have already submitted a review. You can edit your text by clicking on it.
Log in and write a review.
Remove filter
Suomi
(11)
English
(3)
I would recommend for a friend
Juhani l.

08.10.2016 (Edited 29.11.2016)
On todellakin sitä mitä luvataan. Käytännöllinen,lämmin jne ei moitittavaa,käytössä 01/2016 asti. Toimii hyvin välivaatteena kylmemmillä keleillä sekä lämpösillä sellaisenaan.
1
0
I would recommend for a friend
Jukka H.

22.01.2017
Hyvää paksua 100% merinovillaa, todella mukavan tuntuinen ja lämmin. Loistava malli. Alussa korkea kaulus tuntui jotenkin epämukavalta mutta kun huomasin sen lämpöarvon talven tuiskussa, kaulus alkoi tuntua suunnittelun helmeltä.
2
1
I would recommend for a friend
Lassi V.

08.04.2017 (Edited 14.05.2017)
Hommasin paidan laskettelukäyttöön kuoritakin alle välikerrokseksi. Näin kevätkeleillä toiminut todella hyvin: aluskerrastona keinokuitu/merinovilla-yhdistelmäkerrasto ja välissä sitten tämä. Kevään miinuslämpötiloissa (n. -2..-3 astetta) on toiminut täysin odotusten mukaan, jopa vähän ylikin. Ja suksien lastaus-/purkujumpan aikana riittää varsin hyvin päällysvaatteeksi, sekä tauolla. Talvipakkasille soveltuvuus selvinnee vasta seuraavana talvena..

Kokopolitiikasta oma kokemukseni on, että mikäli paita tulee aktiviteettikäyttöön ja satut oleman kahden koon välissä, ota isompi. Itse juuri mitoiltani L/XL-väliin putoajana (mallia "harteikas") huomasin että L oli melko napakka rinnanympäryksestä, jonka seurauksena otti ikävästi kainaloihin kiinni. Ja toistaiseksi ei ainakaan XL ole juuri käytössä virunut, hitusen toki muokkaantunut.

Päällysvaatteena käyttäen tähän XL:n alle menee vielä edellä mainittu alusasu ja t-paita mukavasti. Pienempi (L) tyköistuvana menisi ehkä cityvaatteena, ohkaisella alusvaatetuksella, jos keskikehouskottavuus antaisi periksi; mutta aktiivisempi yläkropan työskentely tuntuisi kainaloissa selvästi.

EDIT: tunturissa testissä aamun tuulisesta "tuntuu kuin -7"-kelistä iltapäivän 0-keliin. Toimii aikalailla täydellisesti. Vaikka kovemmassa tuulessa paikoin jopa liian hengittävän oloinen.. Aluskerrasto pysyy pitkin päivää lähes kuivana kovemmankin rasituksen jälkeen hetken päästä ja sisätiloihin tauolle mennessä riittää kun hiukan löysää vetoketjua korkean kauluksen mitalta. Vastaavassa kelissä merkkivalmistajan fleece tuntui hieman tuulta pitävämmältä, hyvässä ja huonossa: hiki pysyy sisällä ja tauolla pakko ottaa pois päältä hikoilun takia. Ja tämän jälkeen viimaan mennessä onkin kylmä...

Yhteenvetona: paras välikerroksen vaate jonka olen omistanut. Pienenä haasteena löytää sopiva, paksun kauluksen kanssa kiristämätön putkikauluri/huppu.
3
1
I would recommend for a friend
Timo V.

07.09.2017 (Edited 23.05.2019)
Tehkää tästä materiaalista välihousut
26
1
I would recommend for a friend
Ian G.

21.09.2017 (Edited 13.11.2017)
Put it on right out the box and it fits like a glove. High quality you feel right away! It's cool when your warm and warm when your cool.
2
0
I would recommend for a friend
Pasi K.

27.10.2017
Tuntuu mukavammalta/lämpimämmältä/merinovillaisemmalta(?!?) kun vastaava hupullinen versio. Astetta isomman kun valitsee, ainakin itsellä on justiinsa jetsulleen
2
0
I would recommend for a friend
Thorsten H.

07.11.2017
Felt quite tight when I first put it on but it does stretch as mentioned. The quality is unreal.
1
0
I would recommend for a friend
Jenni T.

27.10.2018
Ihan loistava tuote ja on parissa viikossa noussut suosikkivaatteeksi. Riittävän siisti vaikka toimistoon ja ulkoillessa toimii todella hyvin kuoritakin alla. Vähemmän syksyisissä keleissä toimii varmasti sellaisenaankin. Tätäkin voisi valmistaa useammassa värissä.
4
0
I would recommend for a friend
Kaisa S.

07.11.2018
Todella hyvä! Olen pienehkö naisihminen ja minulle tuo S-koko istuu oikein hyvin, hihatkin ovat ok kun olen niihin nyt tottunut. Aivan ihanan lämmin ja siistin näköinen, hyvä käyttää töissä, vapaalla, retkellä, jne. Taskut ovat sijainniltaan hyvät myös jäähdyttämiseen: kun tulee ulkoillessa kuuma, avaan vain ulkoilutakin sivutuuletusaukot kainaloiden alta ja samoin tämän puseron taskut, ja alkaa ilma kiertää :).

Ainoastaan harmittelen puserossa sitä, että päällyspuserona käytettyäni on jo melko pian jonkin verran nukkaantunut helmasta takaa ja sivusta, joiden kohdalla käsilaukku tavallisesti keikkuu. Merino tosiaan ei kamalasti kestä hankausta tai mekaanista käsittelyä. Tästä huolimatta pusero kilpailee lempituotteeni paikasta yhdessä muiden saman puljun merinovaatteiden kanssa!
2
0
I would recommend for a friend
Jouni H.

27.12.2018
Materiaali ja istuvuus todella huippua. Hinta on kova, mutta laadusta joutuu tietty maksamaan.
1
0
I would recommend for a friend
Marko P.

03.01.2019
Todella hyvä ja lämmin paita. Itsellä pituutta 174cm, painoa 73kg ja koko M on juuri sopiva. Tästä rahalle vastinetta.
4
0
I would recommend for a friend
Farasha E.

24.08.2019
Warm, comfortable, and made in Finland! This is excellent in every way. Just two things to be aware of: 1. This runs smaller than almost all other Sarma products, so I suggest sizing up, and 2. Since it is 100% wool (a good thing), it is relatively fragile if you don't treat it well, so you really should be wearing a shell jacket or field shirt over this if you plan on wearing a backpack.
3
0
I would recommend for a friend
Risto K.

02.10.2019
Mukavin vaate mitä ylleni olen koskaan pukenut. Jos vaan kestää niin mitään miinusta en kyllä keksi. Paksu kaulus on kirahvillekkin sopiva eli ei varmasti tarvitse mitään kauluriviritelmiä enään tämän hankinnan jälkeen. Hihojen resorit tiukat eikä sellaset lepattavat löysät mistä tuuli tulee sisään. Peukalo-ominaisuus resoreissa takaa että järeäemmän päällystakin saa revittyä rytäkässä päälle huolimatta siitä että hihat karkaisivat mihinkään. Hintahan on aika prinsessa mutta nii on tuotekkin. Ehdottomasti suosittelen.
0
0
I would recommend for a friend
Niko S.

22.10.2019
Siisti paita viileämmille keleille vaikkapa toimistoon. Ei aivan nallepaita lämmittävyydeltään, mutta ei jää kauaksi. Pientä nukkaa on ilmaantunut vajaan vuoden käytöllä, mistä miinusta. Toisaalta merinovillaisena on säästynyt pesemästä, ekologiskt!
0
0