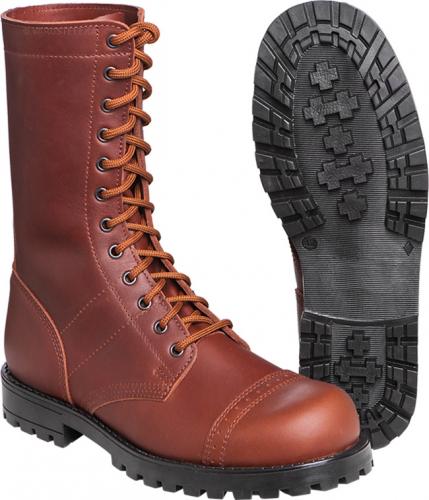 Särmä jump boots
Price 148.99 USD excluding VAT
Flat Rate Shipping to USA $9.99
89 % recommends
Sold 6 pairs in the last two weeks
Loading products...
Trouble with the metric system? Try our converter: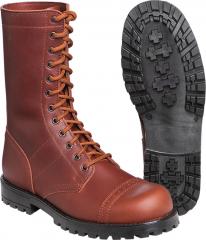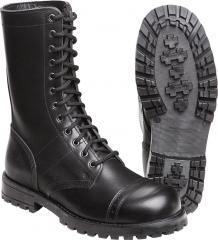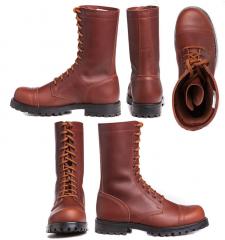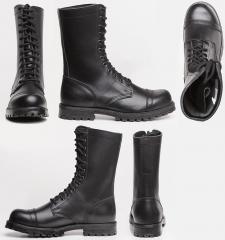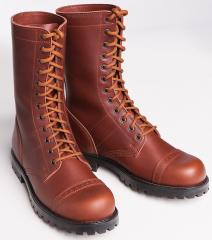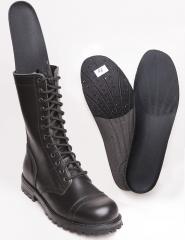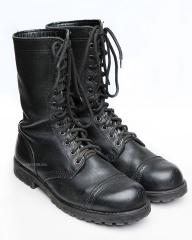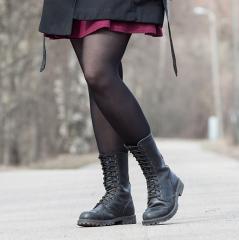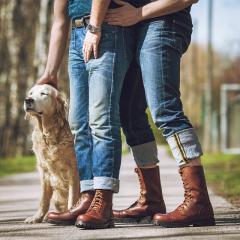 Bullshit free hi-leg boots in brown. Apart from the sole these are much like the US Army jump boots from the Second World War. Very nice quality, these aren't just for show, they are good enough for real use - made in Estonia just over the Gulf of Finland!
No need to try to reinvent the wheel when you already have something as cool as this, taken straight from the books of history. What separates our "jump boot" from the many other modern offerings is the amazing lack of bullshit features on them: no zippers or anything, these are honest classic hi-leg boots. To keep the cost to reasonable levels these do have a glued on sole, which does the job well. These are very likely of much higher quality than similarly priced "fashion" boots.
Glued on rubber sole with grippy tread pattern - probably not the gentlemanliest one out there (they don't make smoother soles in any good lasts goddammit!), but very practical. No real cushioning on the sole.
Upper made of smooth leather, the kind that actually soaks in polish and grease. It'll get a nice patina in use and will last a long time. The leather gets notably more supple with use!
Apart form the modern sole, the whole boot is modeled after the classic US service boot of World War 2. This means the general construction is pretty damn solid.
No lining or membranes whatsoever, these are pretty straightforward. Means they dry faster, and you can regulate warmth by playing with different socks.
Gusseted tongue well over the ankle. This coupled with the proper leather means these can actually be waterproofed to a certain extent.
Cap toe construction, but no safety features.
Cushion insoles included. These are pretty much the same as on the Norwegian M77 combat boots, which come from the same factory.
Thanks to the solid construction and grippy sole, these can actually be used outside the city too. For those looking for a traditional unlined leather boot for outdoor use, this might be the ticket. When you get back to town, just polish them up before hitting the pub.
Being mainly hand-crafted from real animal, these might have occasional little signs of manufacturing process and/or natural imperfections. These will blend in anyway as the boots get some kilometres behind them, so nothing to worry about.
Size info
Sizes in the standard French/EU system. The last is about "regular", fits most feet. If it's tight at first, it should form in use.
Below a chart with the footbed lengths for each size in millimetres - remember to leave AT LEAST 1 cm room for your toes!
| Size | Footbed length |
| --- | --- |
| 36 | 236 mm |
| 37 | 242 mm |
| 38 | 248 mm |
| 39 | 255 mm |
| 40 | 262 mm |
| 41 | 268 mm |
| 42 | 276 mm |
| 43 | 282 mm |
| 44 | 288 mm |
| 45 | 295 mm |
| 46 | 300 mm |
| 47 | 307 mm |
Varusteleka Särmä
Särmä is our own brand of clothing and equipment. When you buy Särmä you get purpose-built stuff at a decent price, something that will fill its intended role well and not cost you an arm and a leg!
Särmä products are covered by a 12-month warranty against defects in materials and workmanship. For further information please read our detailed warranty guide.
Made in EU (Estonia), just South of Finland.
Reviews
You have already submitted a review. You can edit your text by clicking on it.
Log in and write a review.
Remove filter
Suomi
(13)
English
(5)
I would recommend for a friend
Jenni E.

10.10.2017 (Edited 27.07.2019)
Ajoin kengät fiksusti sisään kahdeksan tunnin kävely- ja seisontatyövuorossa, seurauksena reilu 10 rakkulaa. Rakkuloiden parannuttua ja kenkien pehmettyä nämä ovat kuitenkin olleet käytössä mukavimmat kengät mitä olen koskaan omistanut (crocsit ja uggit vaviskaa). Kengät olleet päivittäisessä käytössä niin toimistolla, sienimetsällä kuin ns. kenttähommissakin nyt 2,5 kuukautta. Kengissä käytetty nahka on paksua ja tasaisen laadukkaan oloista enkä ole saanut pintaa rikki vaikka vaihtelevissa maastoissa ja sääolosuhteissa on pistetty menemään ja ikävänä tapana kompuroida omiin jalkoihin ja kaiken maailman kiveyksiin.

Käyttömukavuuden lisäksi nämä ovat mielestäni kauniit ja omalla rosoisella tavallaan sopivan naisellisetkin verrattuna moniin muihin maihareihin. Eivät hiosta sisähommissakaan ja pitävät vettä aivan kuten luvattiin. Ei ole vetoketjuja heikkona lenkkinä, vaikka pukeminen ilman niitä vähän hitaampaa onkin. Vaikuttavat tähän mennessä kaikin puolin laadukkailta. Jos selviytyvät vielä liukkaista talvikeleistä ja kestävät kohtuullisen ajan käytössä, on tämä kenkä sellainen, joka tulee varmasti hankittua toisenkin kerran.

Edit 27.07.19. Noin 1,5 vuoden käytön jälkeen pohjat kuluivat puhki niin, että vesi tulee sisään, eli ovat täynnä pieniä "hiusmurtumia" päkiöiden kohdalta. Suuri harmistuksen aihe, koska ovat muuten erinomaisessa kunnossa ja todella miellyttävät jalassa. Ovat olleet lähes päivittäisessä käytössä nyt parisen vuotta, edelleen siis käytössä kuivalla kelillä.
0
0
I would recommend for a friend
Niko S.

29.12.2017
Hankin nämä papillisiksi työkengiksi ja ovat nyt nähneet yli vuoden käyttöä erilaisissa kirkollisissa toimituksissa. Kengät ovat laadukkaat ja niillä on kiva talsia, seisoskella ja toimittaa papin tehtäviä, mutta:
-Nauhat ovat liian lyhyet jos särmäät housunlahkeesi kengän sisälle (työkäytössä toki puvun housut tulevat päälle, mutta entä rokatessa!)
-Pohjalliset ovat parhaimmillaankin välttävät, vuoden käytön jälkeen alkavat olla vaihtokunnossa. Pohjalliset eivät ole kovinkaan tukevat.
-Nahka ei vaikuta kovin kovalta ja siihen tulee helposti jälkiä ja naarmuja, verrattuna halvempiin Miltecin (vanhan mallin) kenkiin, aika harmillista tässä käytössä.

Saa nähdä, miten pärjäävät kilpailussa tähän asti pisimpään palvelleita nahkavarsikenkiä, Miltecin Para-maihareita ,vastaan (4v näkivät aktiivikäyttöä lankaten ja harjaten). Edellä mainittuja moitteita lukuunottamatta olen tyytyväinen hankintaani. Näistä ei tule vesi/lumi haasteellisissa oloissa sukkaan, talvella mahtuu villasukkaa eikä tuuli tuiverra varpahissa, eikä kesällä itikat pistä nilkkaan. Hyvät kengät työhön ja hupiin!
2
0
I would recommend for a friend
Päivi L.

04.01.2018
Ihan oikeasti komeat ja järkevästi suunnitellut maiharit, kiitosta myös mittavasta kokovalikoimasta. Kovin kapeajalkainen voi kuitenkin oman harkintansa mukaan haluta uhrata vedenpitävyyden ja irrottaa kielen reunoiltaan kengästä, sillä leveää nahkailttiä on pehmennysyrityksistä huolimatta puolimahdotonta saada taittumaan siististi ja mukavasti kapean jalan ympärille. Enpä tosin tiedä onko tätä ongelmaa 40:tä pienemmissä koissa vai kapenevatko iltit kokojen mukaan.
Rakkojakaan ei tullut, mutta ilman villasukkia en vuorettomia nahkakenkiä muutenkaan jalkaan pistäisi. Kesällä ohuemmat ja talvella paksummat/useammat niin hyvä tulee, ei ole vielä varpaita palellut.

Ainoa negatiivinen kokemus oli kun toisesta kengästä alkoi vajaan kuukauden käytön jälkeen purkautumaan ompeleita, mikä vähän tällä hinnalla kirpaisi. Päätin kuitenkin jättää reklamoimatta koska korjaamiseen löytyi välineet omasta takaa ja uskoin vahvasti kyseessä olleen vain yksittäisen valmistusvian. Ja sellaiseksi se tuntuu jääneenkin, mitään muuta vikaa ei ole korjauksen jälkeen tullut vastaan.
0
0
I would recommend for a friend
Juho R.

12.01.2018
Hyvät on. Varoituksen sana kuitenkin heille, jotka aikovat käyttää näitä sivistyksen parissa. Jättävät meinaan aikamoisia mustia jälkiä pehmeän pohjan ansiosta..
0
0
I would recommend for a friend
Iiro V.

27.02.2018
I would not recommend to a friend
Wulfric H.

05.03.2018 (Edited 05.03.2018)
I bought two pairs of these boots, one of these "jump boots" varieties for myself, and one of the shorts "ankle boots" for my girlfriend. I want to give them a positive review because I think the overall construction quality is pretty high, but like many other reviews here, I have to detract points for the sole, which seems to erode without much abuse. I own three pairs of boots, and of those three, these are probably worn the least, and yet they display the most wear out of all the pairs I own. My girlfriend's pair, which is worn more Frequently than my own, is showing much more wear on the heel. The boot itself is pretty comfortable, and the leather is soft and supple. It did not take too long to break in, and now they fit nicely to my skinny rodent feet. Really, not uncomfortable boots. They look pretty good,





I can not recommend them for the reason that the Sole is not as hard wearing as I would expect from a pair of boots at this price. Everything else I'm happy to sing praises about, except for this feature, which is important to me. If they released an updated version with a new Sole, I would potentially consider those Worthwhile boots to own.





I would advise those wanting a Harder wearing boot in a similar style but instead consider the Norwegian m77 boots also currently available on this site.
16
0
I would recommend for a friend
Olli K.

01.07.2018
Ostin kengät noin kolme vuotta sitten, ja ehdottomasti sisäänkävelyn jälkeen varsin mukavat kengät. Käytin myös keväällä yhdellä MPK:n kurssilla kosteissa olosuhteissa (tarkoittaen siis sadetta ja ojien sekä purojen ylitystä), eivätkä koivet erityisemmin kostuneet. Voin suositella.
0
3
I would recommend for a friend
David B.

15.09.2018
Great product fits well with two thick pairs of socks. It's not stiff to wear in the beginning they feel amazing. Only thing is the rubber seems thin on the bottom so im worried putting these through heavy use. But overall great product.
7
0
I would recommend for a friend
Ville K.

05.10.2018
Sisäänkävelyn jälkeen erinomaiset kengät. Pohja kuluu turhan nopeasti.
1
0
I would recommend for a friend
Anne H.

01.11.2018
Erinomaiset jalassa!
0
0
I would recommend for a friend
Santeri K.

08.02.2019
Omien kokemusten mukaan nää on parhaimmillaan talvella. Pohjat on mun mielestä liian överpehmeät lauhoja kelejä varten, mutta just sen takia nää onkin hyvät talvella. Jos siihen tarkotukseen aiotte ni ottakaa kokoa suuremmat niin mahtuu sukkaa hyvin.

Huonoja puolia.. no joo, pohjien pehmeys tavallaan. Karkeat kuviot kerää lähes kaiken hiekkaa isomman rupon mitä maastossa nyt sattuu olemaan.
1
0
I would recommend for a friend
Timo K.

09.06.2019
Uutena alttarille... Sen jälkeen nähneet lähes jokapäiväistä käyttöä... Sopivalla sisäänkävelyllä ja hoijjolla kestävät, mukavat ja täysin toimivat... Kohta kolme vuotta käyttänyt eikä muutamaa naarmua lukuun ottamatta mitään vikaa...

Pohjat kestää, nauhat vaihoin piempiin... Lankkia pintaan aina ennen juhlia ni on hyvät juhlaan... Arkena ja maastossa kestää veet ulkona...

Ja se suurin plussa... Lättäjalalle täyellinen...
0
0
I would recommend for a friend
Marcin B.

18.07.2019 (Edited 18.07.2019)
+great leather
+absorbs oils very well for waterproofing
+polishing is easy
+way better fit for a Slav like me than the 8 toe on one foot size dr martens
+the sole is beautifully impact absorbent and the sole design is just sexy
+nice tall boots with strong design and good eyelets that allow you to cut off blood circulation to your feet if you wish
+twice the amount of stitching compared to martens and the leather is way superior quality
+the boot is really comfortable and I had about a week of break in time, now after 2 months I would consider them 80% broken in. The leather was really stiff when I got them new.

- I had the boots for 2 months and the sole is already bare. I will get them replaced by a third party with standard bars and stars as they last way longer - but add another 70 onto the price because those soles will definitely be replaced very quickly. The boots are still worth that price in my regard, but don't buy them expecting the whole boot will last 10 years, only the leather will.

-the leather doesn't fold nicely and leaves microfolds that look like a 90 year old man's sack
-The leather color is the most potent shit brown I have ever seen
-needed WD40 as there was nothing applied to the leather from what I could tell
-the lip is way too thin and shitty and made me have about 8 blisters on the top of my foot
-the insole may as well not be there
-laces it came with were a nice color but too short so if you want to use the top eyelet and still have the ability to take the boots off without taking the laces out of around 4 eyelets i recommend getting some real long laces. I got a bunch of paracord so I cut off something like 360cm for each lace and it works great

I would recommend these boots as even with being more expensive than Solovair they look better, fit better and the leather can definitely take a beating. The leather is not the cheap crap that gets small cuts that just wear into bigger cuts. The leather is very grainy so any cut or scratch just disappears after some polishing.

Don't buy these if you think 140 is a fair price for them, if 200 still sounds fair then I would definitely recommend.
2
0
I would recommend for a friend
Edvinas K.

17.09.2019
I bought these boots a bit more than three months ago, and at first I was very happy with them: they are rather light for their size, and extremelly comfortable to wear once broken in, which took me about a week, and frankly, zero blisters. I ordered size 43 (the size I usuallly wear) and they fit my feet perfectly, leaving just enough space for thick woolen socks for winter time. I wore them in the summer at +30'C or so, and well, my feet didn't boil in them either. But there are some very serious drawback: Varusteleka should absolutely use tougher rubber for the sole - after wearing them daily in the city for the last three months, I had to bring them to the cobbler to replace the heel part on both boots. Also, one of the threads on the toe cap started coming out. Considering the price, I definetly expected much better, but thankly the heel repairs won't cost me an arm and a leg.

In conclusion, I have mixed feelings about these boots: the sole quality was well below my expectations, but it's compensated by their amazing comfort, even matching Beleville 700 boots.
P.S. I would pay an extra 5 - 10 Euros for a version with fully closed speed lacing hooks. Lacing them up in the morning is a bit pain in the butt!
0
0
I would not recommend to a friend
Erno H.

28.09.2019
Varmasti hyvä kenkä niille joiden jalkaan käy mutta...itse olen käyttänyt paljon lyhyempää nilkkavarsikenkää joka ei vaatinut edes sisäänajoa vaan kengät oli täydelliset heti laatikosta otettuna. Tämä pitempi malli on toteutettu niin että kantaosa on erilainen, korkeampi ja jäykempi...yritin sisäänajaa kenkiä kaupungissa ja lyhyellä matkalla ne tuntui ihan kohtalaisilta. Koska monet oli suositelleet näitä vaelluskäyttöön läksin näillä metsäreissulle mutta sain palkaksi vain tulehtuneet akillesjänteet ja keskenjääneen reissun...odotin muutaman kuukauden jalkojen parantumista ja päätin testata kenkiä uudestaan mutta ei...kantaosa hankaa akillesjännettä niin pahasti että kengät on käyttökelvottomat. En suosittele.
0
0
I would recommend for a friend
Andrew E.

25.06.2017
These boots seem to be really well put together although the problem that I did find was that the rubber tread is showing significant wear after only 6 months of on and off pavement use. This does not meat my expectations because of the price point of these boots and the fact that the treads my previous Asolo boots lasted for 3 years.
7
1
I would recommend for a friend
Jenna L.

04.07.2017
Puolikkaan koon omaavana ehkä vähän harmittaa, etten voinut saada ihan "täydellistä" kokoa. Yhden koon pienempi koko oli liian pieni ja koon isompi taas vähän liian iso omaan makuun. Talvella villasukka välissä on auttanut ja paksummalla pohjallisellakin saa helpotusta, jos on ohuempaa sukkaa alla. Pientä hölskymistä toisinaan havaittavissa. Ekan vuoden jälkeen ovat vielä kuin uudet, olen huoltanut kenkiä tarpeen mukaan harjaten ja lankaten. Öljyä käytin vain kerran, kun ostin nämä, jotta nahan sai pehmeämmäksi. Kengät ovat olleet lähinnä kaupunkikäytössä.
0
0
I would recommend for a friend
Jessica l.

10.09.2017
Parhaat kengät mitä olen koskaan omistanut, samalla osti Varustelekasta kunnon pohjalliset niin näistä vihkiytyi uudet jokapäivän käyttökengät. Ei tarvitse olla todella paksuja sukkia jalassa kun näitä käyttää. Kengissä muuten ei ole mitään valitettavaa, mutta todella isona miinuksena tuli pohjan kestävyys. Vuodessa sain pohjat kummastakin kengästä puhki käveltyä ja kantapäistä kuvion aika hyvin kulutettua. Suutari reissu maksoi 70€ kun piti pohjat vaihtaa kokonaan oli mennyt kengän välipohjakin rikki. Olisin odottanut kovempaa laatua, koska aikaisemmat maiharit mitä olen omistanut niin ei ole ollut tälläisiä ongelmia kuin vasta vuosien käytön jälkeen.
Nämä on parhaimmat kengät mitä olen koskaan omistanut, mutta kannattaa varautua pohjan vaihtoon jos ostaa nämä.
7
2