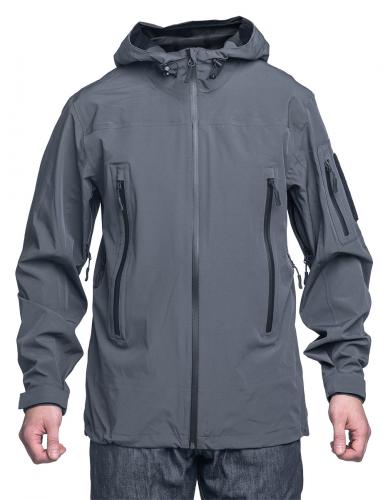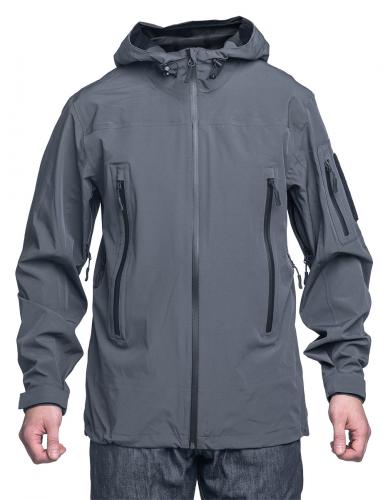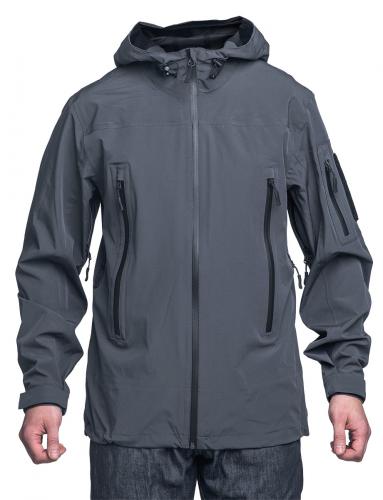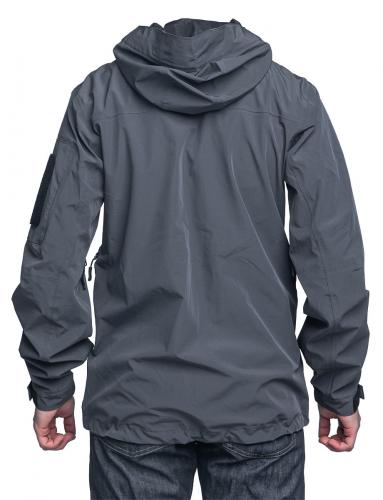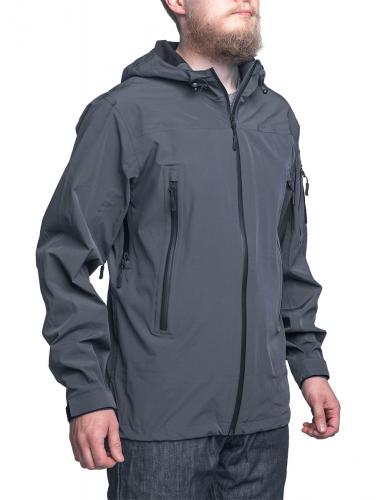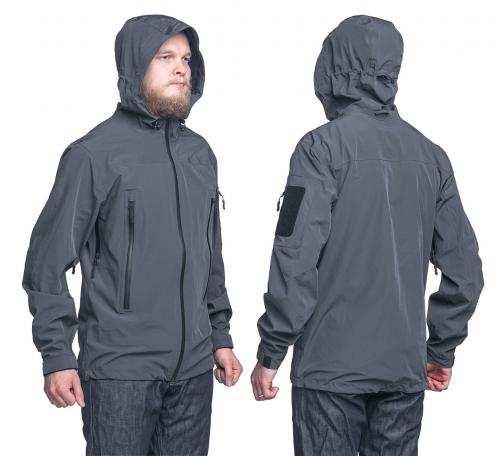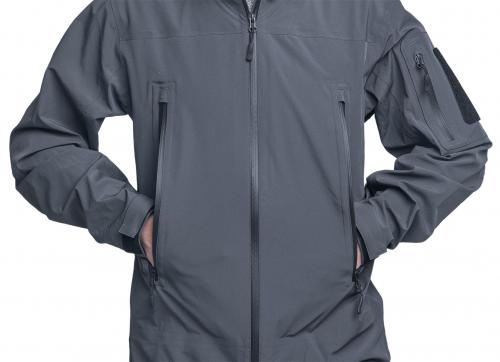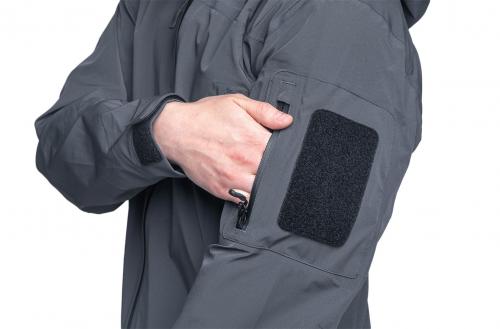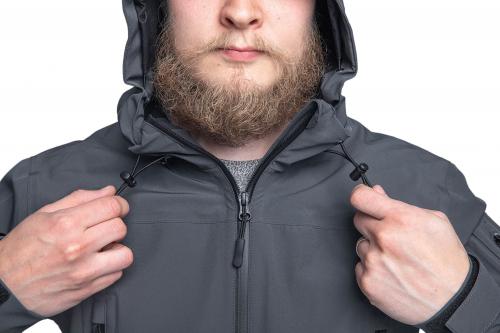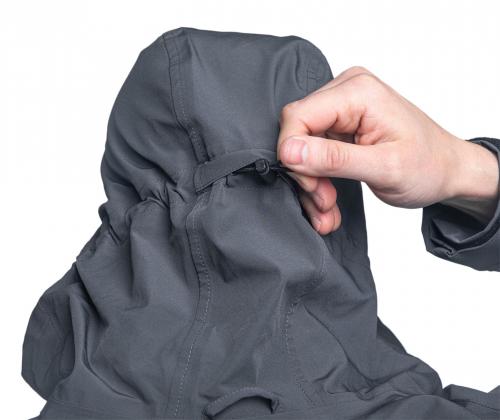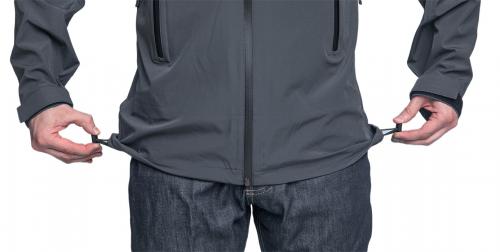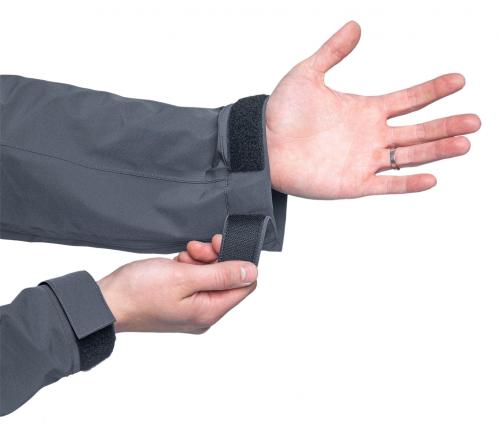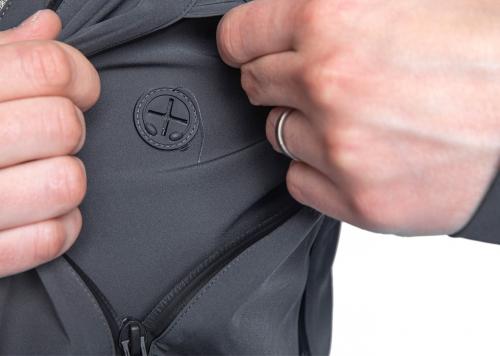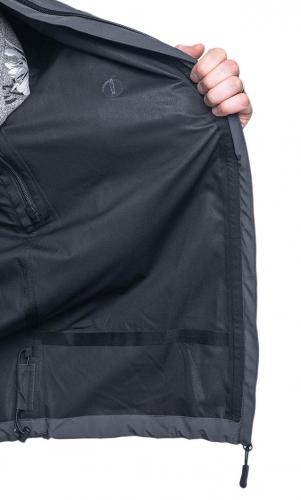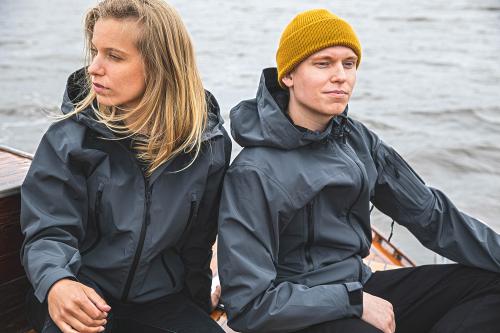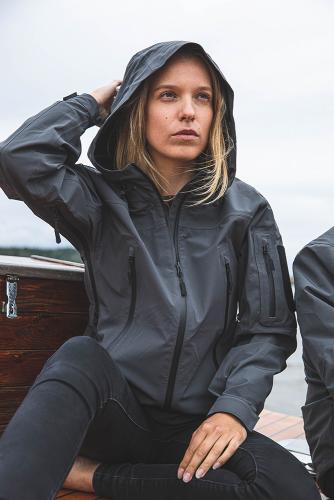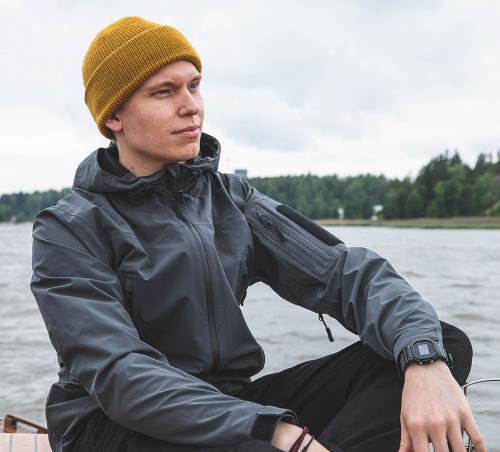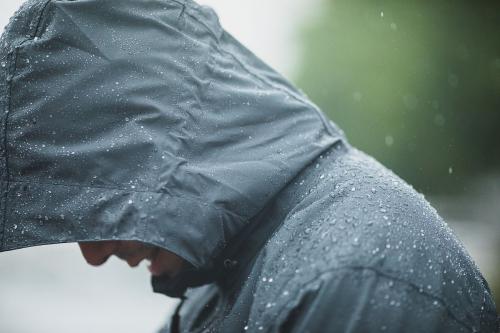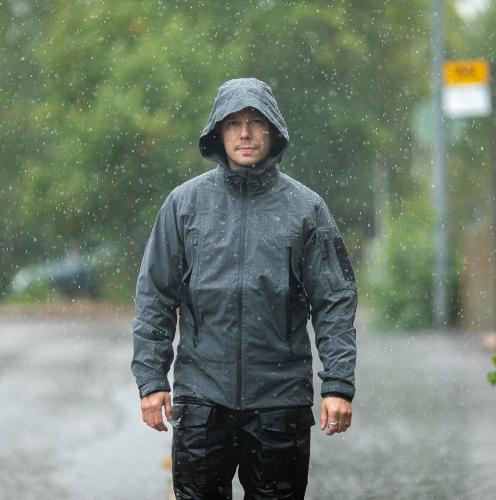 Särmä Hardshell Jacket
Price 104.99 USD
excluding sales tax
A waterproof hardshell jacket makes your decisions easier: you can choose to wear it in any weather when just a T-shirt won't do. The Särmä Hardshell Jacket is a nonchalant foul weather coat meant for just about anyone out there. Being somewhat breathable and very windproof, it works in a multitude of conditions.
Loading products...
Trouble with the metric system? Try our converter: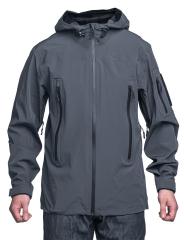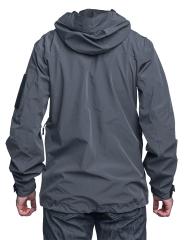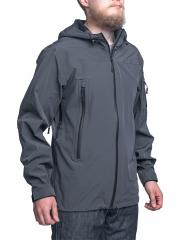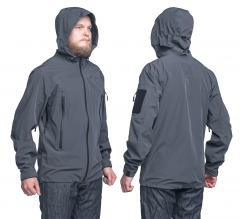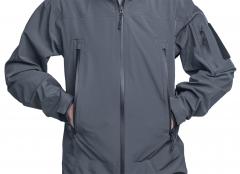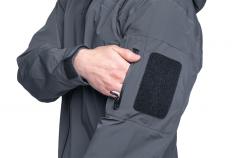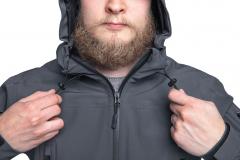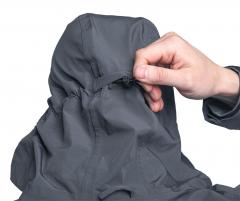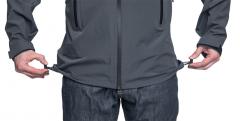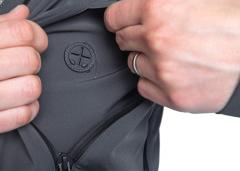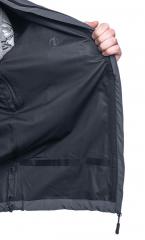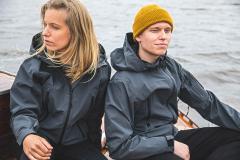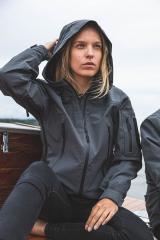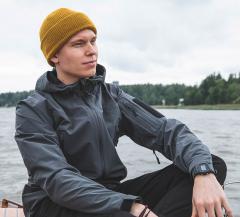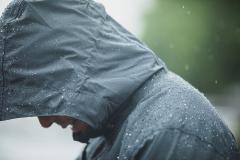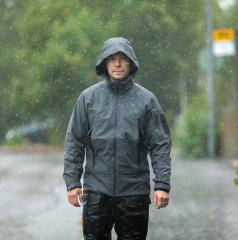 A waterproof hardshell jacket makes your decisions easier: you can choose to wear it in any weather when just a T-shirt won't do. The Särmä Hardshell Jacket is a nonchalant foul weather coat meant for just about anyone out there. Being somewhat breathable and very windproof, it works in a multitude of conditions.
Zip up the waterproof front and raise the hood for protection; open the pit zips, hem drawstring, and cuff tabs for ventilation. Double front pockets with a lot of volumes and a nifty sleeve pocket with a patch base. Easy and quick 3D-adjustments of the hood let you keep your head on a swivel and maintain awareness in any situation.
Taped seams and a 3-layer bonded material ensure the jacket is waterproof with a high degree of breathability. A PFC-free Bionic-Finish Eco treatment has been added to improve water resistance, and the whole thing is light enough to pack into its own hood to keep it out of the way when the weather turns for the better.
Features
Two large pockets in the front and a single one on the left sleeve. Loop base for patches. All zippers are YKK waterproof matte zippers.
Adjustment tabs on the cuffs and concealed drawstring adjustments at the hem. Fixed hood with 3D-adjustment and ever so slightly stiffened lid: stays above your eyes and doesn't hinder packing.
Water column over 5,000 mm, breathability over 5,000 g/m2/24 h. Bionic-Finish Eco treatment (PFC-free!) for improved water resistance. Some color may transfer from the product before the first wash.
Weight of the Medium Regular: 530 g (18.7 oz), X-Large Long: 580 g (20.5 oz).
Care and maintenance
It is absolutely super-important to take good care of your hardshell clothing. The whole point of a three-layer membrane fabric is that the top layer has to stay dry for the membrane to transport moisture. When the top layer gets dirty or wet, the membrane will no longer breathe, and if you then add pressure, water will eventually come through the fabric.
So, after use, always wipe off any dirt with a simple wet towel. When you notice that the fabric is starting to lose its water repellency, use the DWR spray for breathing some new life into it. Washing with special detergents designed for hardshell clothing is also an option. Remember: nothing lasts forever, but everything lasts longer if you take good care of it!
Size info
Available in a wide range of sizes. Measurements of the actual garment below. The chest width is measured laid flat from armpit to armpit, back from hood inseam all the way down, and the sleeve from shoulder seam to cuff.
Metric size chart
Size
Chest width
Back
Sleeve
X-Small Short
48 cm
66 cm
62.5 cm
Small Regular
52 cm
72 cm
68 cm
Medium Regular
56 cm
75 cm
68.5 cm
Large Regular
60 cm
77 cm
69 cm
X-Large Regular
64 cm
79 cm
69.5 cm
2X-Large Regular
69 cm
81 cm
70 cm
Medium Long
56 cm
79 cm
72.5 cm
Large Long
60 cm
81 cm
73 cm
X-Large Long
64 cm
83 cm
73.5 cm
2X-Large Long
69 cm
85 cm
74 cm
Imperial size chart
Size
Chest width
Back
Sleeve
X-Small Short
18.9"
26"
24.6"
Small Regular
20.5"
28.3"
26.8"
Medium Regular
22"
29.5"
27"
Large Regular
23.6"
30.3"
27.2"
X-Large Regular
25.2"
31.1"
27.4"
2X-Large Regular
27.2"
31.9"
27.6"
Medium Long
22"
31.1"
28.5"
Large Long
23.6"
31.9"
28.7"
X-Large Long
25.2"
32.7"
28.9"
2X-Large Long
27.2"
33.5"
29.1"
The hem circumference is the same as the chest of all sizes. Smaller sizes taper at the waist between 6 and 2 cm (2.35" - 0.8") from Small to Large. Sizes X-Large and up are cut straight.
Made in China. There's a good quality to be found in the PRC, as long as you don't choose the lowest bidder.
Varusteleka Särmä
Särmä is our own brand of clothing and equipment. When you buy Särmä you get purpose-built stuff at a decent price, something that will fill it's intended role well and not cost you an arm and a leg!
Särmä products are covered by a 12-month warranty against defects in materials and workmanship. For further information please read our detailed warranty guide.
Recommendations
Loading products...
Reviews
You have already submitted a review. You can edit your text by clicking on it.
Log in and write a review.
Remove filter
Suomi
(1)
English
(6)
I would recommend for a friend
Thomas J.

08.09.2020 (Edited 06.06.2021)
Okay, so after a bit of use in various weather I can say that this is a pretty darn good jacket. I can easily wear this in uneasy, Scandinavian weather. But there are some things I would change if it were up to me, so let's go over some pros and cons:
PROS:
-Lightweight, and packs in a pretty small space if needed.
- Very good adjustable hood, that is both flexible and gives good cover.
-Handy sleeve pocket with velcro for all your patchy needs.
-Good overall cut.
-Nice waterproof fabric with a slight stretch to it.

CONS:
-The front pockets are awkward to warm your hands in! So pack gloves if it's cold.
-Not very breathable fabric, but you do have good ventilation posibility.

Regarding sizing, you shold absolutely compare the measurements in the chart to another jacket that you like. I actually fall into size Large Long, but after analyzing the measurements with my previous jacket I went for Large Regular, and I don't regret it. But you should be aware that if you pick your size you may not be able to fit a very thick sweater underneath, because like a lot of other Sãrma products the fit is a little bit snug (Just a little bit), but I can fit a moderately thick sweater underneath.

All in all, this is a very good jacket for your money. Absolutely recommended if you live in a place where the weather is uneasy.
19
1
I would recommend for a friend
Hjørtur E.

01.12.2020 (Edited 06.06.2021)
Great overall.
Keeps you dry and is very packable.
Armpit vents are also top notch, work great with a sweater.

However it would be better with a more conventional pocket layout. Find it awkward when gloves, wallets, beanies, sunglasses, neck tubes, Covid masks and chewing gum packs all bunch up at the bottom of a huge pocket. Four pockets approximately the size of those on the Windproof Smock would be a more practical solution in my opinion, would allow compartmentalization.
3
0
I would recommend for a friend
Frederick L.

09.02.2021 (Edited 15.06.2021)
Super light & packable jacket.
Really "rainproof" (3 hours in pouring rain and still perfectly dry inside), excellent velcro cuffs.
Armpit venting zips are a must, perfect in conjonction with the Särmä Merino Wool Hoodie!

and all of this good stuff at a fair price
0
0
I would recommend for a friend
Suohsien W.

10.03.2021 (Edited 24.06.2021)
Good jacket with fair price. Tried walking in pouring rain for 2 hours and it worked great. The color and cut are actually better than I thought. The grey is kind of adaptive so it goes well with urban lifestyle and outdoor activities. Some people don't like the big pockets but they are fine for me. Still, would like to have another small pocket on the left chest for quick access, please consider it for next model. Anyways, it's a good deal.

I am 183cm and 100kg, with 110cm chest. XL-R fits me good, and I can wear a Dutch softshell jacket inside without problems.
1
0
I would recommend for a friend
Antti A.

04.06.2021 (Edited 09.06.2021)
Ensi kokemus takista on positiivinen yllätys. Sateessa en ole vielä ehtinyt testaamaan, mutta yhden yön telttaretkellä se oli päällä heti ostopäivänä ja toimi ok.

Takki vaikuttaa hyvin tehdyltä, joskin todellinen kestävyys selviää vasta käytön myötä, samoin kuin vedenpitävyys ja hengittävyys. Verrokkina tässä on yhdeksän vuotta käytössä ollut Arcteryxin lippulaiva, eli Alpha SV, joka on toki hintansa puolesta ihan eri kategorian vaate. Samalla rahalla saa 7-8 kpl näitä Särmän Hardshellejä.

Takin etutaskut ovat isot, suorastaan valtavat. Kumpaankin taskuun mahtuu esim. tavallinen puolentoista litran limsapullo pystyyn eikä vetoketjun kiinni saaminen tee edes tiukkaa. Lämmittelytaskuiksi ne kuitenkin soveltuvat melko huonosti. Sisätaskuja ei ole. Plussaa on vetoketjujen yläpäässä olevat lukkotallit. Se on pieni, mutta mukava yksityiskohta. Taskuja on kuitenkin vähän hankala käyttää rinkka selässä. Taskua on myös hankala sulkea yhdellä kädellä, jos takin päävetoketju on auki. Taskujen pitäisi olla sijoitettu keskemmälle niin että niitä käytettäisiin ristikkäisillä käsillä.

Huppu on ihan perushyvä kaksine säätöineen. Niskassa olevan kiristysnyörin avulla lippa ei valu silmille, vaikka etureunan nyörit kiristää tiukalle. Hupun sisälle on ommeltu vielä kuminauha, jonka ansiosta huppu kääntyy mukavasti pään mukana. Monikäyttöisyyttä ajatellen huppu voisi olla isompi, jotta sen alle saisi mahtumaan esim. pottamallisen pyöräilykypärän.

Olkavarressa oleva hihamerkin paikka on mielestäni turhake. Tämä olisi parempi vaate ilman sitä. Hihatasku on ok, jos sellaista tarvitsee. Kainaloissa on aina tarpeelliset tuuletusvetoketjut kaksilla lukoilla.

Väri on mitäänsanomattoman harmaa ja hyvä niin. Minä en halua päälleni neonvärejä, mutta en myöskään iänikuista kojootinruskeaa. Kaikista mieluiten olisin ottanut tämän vaikkapa mustana.

Takin koko ja leikkaus on aina yksilökohtainen asia. Minun on ollut hankalaa löytää lekan valikoimista istuvaa vaatetta ja tämän kohdalla päädyin ympärivuotista käyttöä ajatellen ottamaan X-Large Regularin, vaikka yleensä päälle menee miesten L-koon takit. Eli lekan mitoitus on kovin hoikan puoleinen. Istuvuudessa Särmän Hardshell ei pärjää verrokille, mutta hintaero huomioon ottaen hyvä hankinta silti. Eli hinta-laatu-suhde tuntuisi olevan kohdallaan.
6
1
I would recommend for a friend
Palli J.

14.06.2021 (Edited 15.06.2021)
I would recommend for a friend
Tanel K.

07.09.2021 (Edited 13.09.2021)
I bought this as an everyday bike commuting jacket and it has been a wonderful and comfortable jacket. Goes perfectly together with Särmä meriino hoodie.
All I can add to other comments is that it has also a surprisingly strong fabric. It survived an accident involving a bus and a 1 meter slide on an asphalt. Not a scratch on it.
Would buy another one if there were more color options.
0
0
Kierto Circular Economy
Return this product used but clean and unbroken, and you'll receive half of the product's original price as Varusteleka credits. Service is available only in Finland. Only Registered users can make Kierto returns. See more information about Kierto.