Product added to cart
X
Recommendations
Show all Recommendations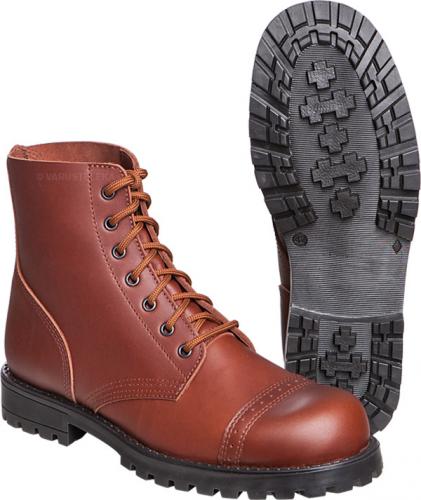 Särmä Ankle Boots
Price 119.99 USD excluding VAT
Flat Rate Shipping to USA $9.99
81 % recommends
Sold 9 pairs in the last two weeks
Loading products...
Trouble with the metric system? Try our converter: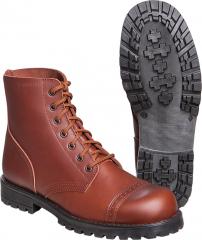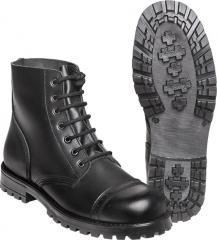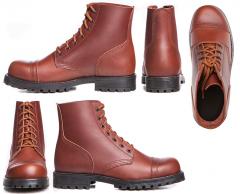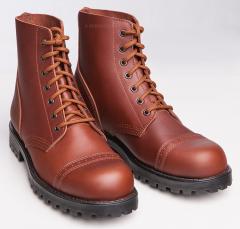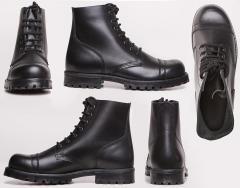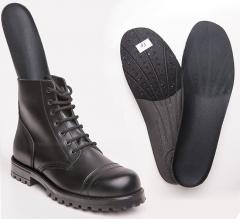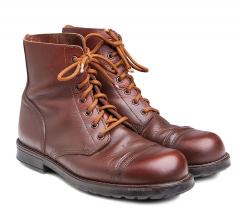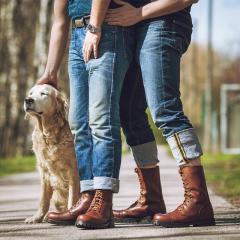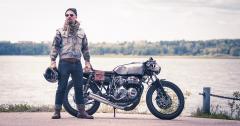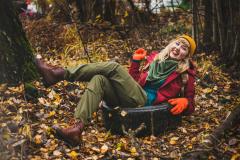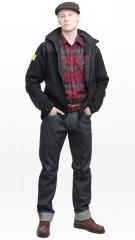 Bullshit free ankle boots made in Estonia to our specs. Apart from the sole, these are much like the US Army garrison boots from the Second World War. Very nice quality, these aren't just for show, they are good enough for real use.
No need to try to reinvent the wheel when you already have something as cool as this, taken straight from the books of history. What separates our ankle boots from the many other modern offerings is the amazing lack of bullshit features on them: no zippers or polyester padding, paper-thin leather or pre-worn look, these are honest classic boots. To keep the cost to reasonable levels these do have a glued on the sole, which does the job well. These are very likely of much higher quality than similarly priced "fashion" boots.
Glued on rubber sole with grippy tread pattern - probably not the gentlemanliest one out there (they don't make smoother soles in any good lasts goddammit!), but very practical. No real cushioning on the sole.
Upper made of smooth coloured leather, the kind that actually soaks in polish and grease. It'll get a nice patina in use and will last a long time. The leather gets notably more supple with use!
Apart from the modern sole, the whole boot is modelled after the classic US service boot of World War 2. This means the general construction is pretty damn solid.
No lining or membranes whatsoever, these are pretty straightforward. Means they dry faster, and you can regulate warmth by playing with different socks.
In the olden days, boots like this were often coupled with gaiters or puttees in military use. We have taken this into account with the fit of the shaft. So YES, wear them rags with these!
Reinforced toe box construction, but no safety features.
Cushion insoles included. These are pretty much the same as on the Norwegian M77 combat boots, which come from the same factory.
Thanks to the solid construction and grippy sole, these can actually be used outside the city too. For those looking for a traditional unlined leather boot for outdoor use, this might be the ticket. When you get back to town, just polish them up before hitting the pub.
Being mainly hand-crafted from real animal, these might have occasional little signs of the manufacturing process and/or natural imperfections. These will blend in anyways as the boots get some kilometres behind them, so nothing to worry about.
Size info
Sizes in the standard French/EU system. The last is about "regular", fits most feet. If it's tight at first, it should form in use.
Below a chart with the footbed lengths for each size in millimetres - remember to leave AT LEAST 1 cm room for your toes!
| Size | Footbed length |
| --- | --- |
| 36 | 236 mm |
| 37 | 242 mm |
| 38 | 248 mm |
| 39 | 255 mm |
| 40 | 262 mm |
| 41 | 268 mm |
| 42 | 276 mm |
| 43 | 282 mm |
| 44 | 288 mm |
| 45 | 295 mm |
| 46 | 300 mm |
| 47 | 307 mm |
Varusteleka Särmä
Särmä is our own brand of clothing and equipment. When you buy Särmä you get purpose-built stuff at a decent price, something that will fill its intended role well and not cost you an arm and a leg!
Särmä products are covered by a 12-month warranty against defects in materials and workmanship. For further information please read our detailed warranty guide.
Made in EU (Estonia), just South of Finland.
Reviews
You have already submitted a review. You can edit your text by clicking on it.
Log in and write a review.
Remove filter
Suomi
(26)
English
(10)
I would not recommend to a friend
Joshua P.

15.10.2017
As another guy already wrote, great upper, but too soft sole. Already after two months of everyday use, i could see the sole being used, especially underneath the big toe. Bit of a shame. The leatherwork seems fine though and after some tours with leather grease and a few km walked they sit really good.
17
0
I would recommend for a friend
Jan T.

10.11.2017
Hyvälaatuista nahkaa. Ei huono, saatikka itsestäänselvä asia nahkakengissä!. Jos olet tottunut "markettilaatuun" saattaa jopa oudolta alkuun tuntua. Ellei toiveena ole instant puliukko look, suosittelen perusteellista käyttöönottohuoltoa. Itselläni minkkiöljy sekä Chelsea leather food käsittely kolme kertaa jonka jälkeen nahka jo hyvä ja elastinen, lisää myös käyttövuosia kun nahan solukko on neitseellinen ja ottava huollolle. Istuvuus on heti pakasta lupaava, kokemukseni mukaan tämäntyyppisissä nahkalaaduissa ikääntyminen on hyvä asia. Kannattanee valita suhteellisen istuva koko, löysä ei ole hyvä. Nahka tulee mukautumaan. Jos haet maksimaalista hengittävyyttä kesäkeleille, kannattaa nahan käsittely suorittaa minimaalisen määrän kautta.
Työn jälki on hyvä, yhdessä nahan laadun kanssa ei aiheuta kritiikkiä suhteessa hintaan. Käyttömukavuus selkeästi parempi vaihtamalla pohjalliset Jalas fx-malliin.
Miinusta pohjan rakenteesta sekä ulkonäösta. Omaan makuuni pohja voisi olla jäykempi, täysmustana ei tyylikäs. Pohja suhteellisen pehmeä ja voimakkasti kuvioitu joten todenäköisesti liukkailla pitävä. Vaelluskäyttöön löytyy parempia vaihtoehtoja, tosin hintakin silloin korkeampi. Iso plussa tietynlaisesta kunnianhimosta Varustelekalle, laatua tässä on selkeästi haettu. Miinuksista huolimatta en kenkiä palauttanut.
1
0
I would not recommend to a friend
Fredrik K.

29.12.2017
I usually have size 42 in shoes, I tried Danish military boots in size 43 and they where huge. So I ordered these in 42 as they said they where wide and I have quite wide feet, many shoes feel a bit tight and my right foot is always fit and my left is a bit loose in the shoe. These boots where very tight in the beginning, I had to wear them in for quite a while with wool socks plus ordinary thick worker socks. Now I think they have stretched a bit now and my feet doesn't hurt anymore, but I can't pull the shoe laces too tight. I don't agree that these shoes are for wide feet though. I'm glad I can at least wear them now, I regretted buying them in the beginning but not they feel better. Stones tend to stick under the soles too, which can be annoying.
3
1
I would not recommend to a friend
R R.

05.03.2018 (Edited 05.03.2018)
In short:

+ Very good styling, my favorite pair of boots as far as looks are concerned

+ Excellent leather uppers, which clean up real nice with a little polish and a horse-hair shoe brush

- Soles wear away ridiculously quickly, can tear where they flex with your foot

- Insoles are not durable enough and react very poorly to moisture.



Long version:

Excellent boots, right up until they weren't.



Have had mine for five months, and have already worn out the soles to the point that holes have torn in the sole of the right boot, and the left boot probably isn't far behind. In addition, the insides have some serious moisture build-up issues, and the insoles have more or less melted into the top of the sole, which I didn't notice at first due to the gel-inserts I was using. I've not put them through any particularly hard use, just wearing them like I would any other shoes to work or to run errands. I do admit though, that maybe 5 days out of seven per week most weeks I was wearing these boots. So, while they weren't seeing hard use, they were seeing frequent use.



The leather on the other hand is still in excellent condition, so much so that I am considering finding a cobbler to inquire about the cost of repairs. If the issues with the rubber sole and the insole can be resolved, however, I can easily see myself buying another pair since they were great while they lasted. They just didn't last long enough for the price.
11
1
I would recommend for a friend
Jouni T.

26.06.2018 (Edited 26.06.2018)
Näillä on nyt kuljettu 1,5 vuotta ja näiden takia on monet muut kengät jääneet laittamatta jalkaan. Sisäänajon jälkeen näillä pärjää vaikka ilman sukkia (en toki suosittele) rannalla, mutta parhaimmillaan nämä ovat kuitenkin vähän huonommassa kelissä. Kovan rypemisen jälkeen kuivatus, harjaus ja uudet rasvat pintaan ja taas on siistin näköiset.
1
1
I would recommend for a friend
Matias K.

15.11.2018
Nämä ovat olleet jalassa lähes päivittäin viimeiset 3 vuotta kesäkuukausia lukuunottamatta ja lyhyesti sanottuna ylivoimaisesti parhaat omistamani kengät. Äärimmäisen mukavat kengät, nahka on hyvälaatuista ja vahattuna vedenpitävä, pohjan kumi on sopivan pehmeä vaimentamaan askelta kovalla alustalla ja pitoa riittää myös liukkaille keleille. Alkuun rasvailin näitä useasti mehiläisvahalla jolloin nahka muovaantui nopeasti oman jalan muotoon sopivaksi, sittemmin olen vain lankannut kenkiä harvakseltaan.
0
0
I would recommend for a friend
Timoteus R.

08.12.2018
Nämä + jalaksen pohjalliset = elämäni parhaat kengät. Päivittäisessä käytössä kaupungilla, töissä ja metsäseikkailuilla kesti noin 2v jonka jälkeen päkiän kohdilta meni pohja puhki molemmista. Ompeleet alkoi myös levitä samoihin aikoihin. Kova pettymys kun ei ollutkaan enää varastossa näitä. Olisi pitänyt alunperin ostaa useampi pari kun näitä oli saatavilla.
0
0
I would recommend for a friend
Anonymous customer

20.12.2018 (Edited 21.12.2018)
Tiivistettynä kyseessä on hintaansa nähden yllättävän hyvät ja fiksusti toteutetut maiharit.



Kenkien toteutus on varsin pelkistetty, mikä on etupäässä hyvä asia. Vuorittomina kengät esimerkiksi kuivuvat erittäin nopeasti, mitä oppii arvostamaan nopeasti. Sisäänajettuna kengät ovat myös varsin mukavat ja kevyen tuntuiset jalassa. Notkean pohjan ansiosta kenkä on parhaimmillaan kaupungilla tai helpohkossa maastossa.



Selkein miinus kengissä on hämmästyttävän nopeasti kuluva pohja, joka tosin pitää kohtuullisen hyvin kehnommassakin kelissä. Noin kahdeksan kuukauden lähes päivittäisen käytön jäljiltä toisen kengän pohja näyttäisi myös olevan hiljalleen murtumassa päkiän kohdalta. Liimapohjaisena konstruktiona odotettavissa oleva käyttöikä ei myöskään yllä laadukkaampien randikenkien tasolle, mutta eipä yllä toisaalta hintakaan.



Oman kokemukseni perusteella kenkiä voi pienin varauksin suositella perusmaiharin tarpeeseen. Oikeasti pitkäikäisempää jalkinetta etsivien kannattaa todennäköisesti harkita satsausta goodyear welt -rakenteella tehtyihin kenkiin.
2
0
I would recommend for a friend
Henri H.

29.12.2018
Minulla on näistä kokemusta jo ensimmäisestä tuotantoerästä vuodelta 2014. Nyt on menossa kolmannet maiharit. Ensimmäiset, vuonna 2014 ostetut maiharit kuluivat pohjasta sileäksi, mutta pohja pysyi ehjänä, joten säästin ne kesävaelluskäyttöön, nahka on pysynyt hyvänä hyvällä huollolla. Toiset ostin joulukuussa 2017 ja ne hajosivat 11kk myöhemmin pohjasta päkiöiden kohdalta, niin kuin selvästi monella muullakin.

Nyt ostin kolmannet ja saa nähdä, miten kestävät. Pohjat eivät ole laadukkaat. Sen tietää Lekakin, sillä aiemmin myyntitekstissä luki, että osaava suutari osaa vaihtaa pohjan. Ihmettelin tätä, en ihmettele enää. Pohjien ei ole tarkoituskaan olla pitkäikäiset.

Kenkinä ja nahkaosiltaan nämä ovat parasta A-luokkaa, mutta pohjien käyttökä päivittäisessä käytössä ei enää ole pitkä. Joka tapauksessa, en käytä enää muita kenkiä.

Suosittelen siis varauksella pohjien takia.
2
0
I would recommend for a friend
Frederick L.

30.12.2018
I've just got mine (pretty quickly!) 2 weeks ago, very good leather quality and confortable... I like them very much :-)
Thanks Särmä and Varusteleka!
0
0
I would recommend for a friend
Ville K.

19.01.2019
Pari talvea ne kesti. Sivujen ompeleet alkoivat ratkeamaan kummastakin kengästä. Aika mukavat jalkaan.
1
0
I would not recommend to a friend
Olli H.

08.02.2019
Pidän kengistä, niiden tyylistä, tuntumasta ja keveydestä, mutta kävelin molemmat pohjat puhki kahdessa puolikkaassa talvessa eli noin puolessa vuodessa. Takuu oli mennyt joten jäi omaksi tappioksi näiden kestämättömyys. Nämä on brändin mukaan laadukkaimmat kengät mitä olen elämäni aikana omistanut, mutta näistä meni pohjat nopeimmin. Jokin on pielessä jos kengät pitää pohjata vuosittain.
13
1
I would recommend for a friend
Mikael A.

15.03.2019
I bougth a pair of these back in 2014. By looking at the photos today I think they may have updated the sole on them, as the ones I got does not have the small rifling on the tread pattern . It's the only complaint I have about them. The sole on mine were this hard black rubber; it's not crumbly but almost. Like melted together eraser shavings or black soot mixed with bicycle inner tube rubber or something? I'm not sure about what it is other than it is shit. They don't last at all. On the pro side, I went to the cobbler and got new flat tread rubber soles put on them, and as that was the only problem with them I'm super happy with them. They also now look really close to corcoran jump boots so yay!
Leather is nice as heck, 5 years of use and no cracks or holes or anything. When having the quality of the leather in mind, the shit soles doesn't matter that much.

TLDR: Leather very good. Shit soles, if I was to buy another pair I would change the soles before even putting them on my feet.
0
0
I would not recommend to a friend
Erno H.

06.06.2019
Antaisin kengille arvosanaksi 5 tähteä jos sisäpohjat olisivat laadukkaammat. Nyt ne on vuoden käytön jälkeen hajonneet palasiksi. En ymmärrä miksi näin laadukkaaseen ja muuten täydelliseen kenkään tehdään näin huono sisäpohja. Olen hoitanut nahkaa rasvalla ja lankilla ja kengät on ulkopäin kuin uudet. Ulkopohja on pitävä ja kulumista ei ole paljon tapahtunut vaikka olen kävellyt pitkiä metsälenkkejä. Kengät on miellyttävät jalassa eikä uutenakaan hiertäneet. Erittäin hyvä ja pitävä pohja myös talvella mutta jos kengän sisäpohja on vuoden käytön jälkeen tuossa kunnossa en voi suositella kenellekään.
0
1
I would recommend for a friend
Joel A.

02.08.2019
Kohta 2 vuotta nämä kengät omistaneena voin todeta parhaiksi omistamikseni kengiksi, pärjää vaikka matkallaan eksyisi vähän metsäänkin.
0
0
I would recommend for a friend
Leevi O.

19.10.2019
Ei hyvästä monosta voi rumaa sanaa sanoa. Nämä ovat nyt muutamat kuukaudet menneet jalassa. Ei hierrä, ei purista. Pitävät vettä yllättävän hyvin näin syyskeleillä. Väri on miellyttävä syvä ruskea, ja menee mainiosti sinisten farkkujen ja vastaavan värisen nahkavyön kera. Ja näin nahkakengässähän väri ja pinta ne vain paranee käytössä, kun alka nkäyön jälki vähän näkyä. Minulle nämä olivat erittäin hyvät nilkkavamman vuoksi, sillä nämä kyllä tukee oikein kunnolla. Jos etsit toimivaa nilkkuria ja klassisen tyylin yhdistelmää, ei tatvitse etsiä pitemmältä.
0
0
I would recommend for a friend
lauri v.

19.10.2019
Kelpo kenkulit. Nahka passeli laatuista, malli tyylikäs ja yksinkertaisuuttaan helppo puhdistaa. Estetiikka laadidaa-ulinaa annan pohjasta, joka saisi olla ommeltu niin olisi vieläkin hianommat. Kuluttelen varmaan pohjat puolitiehen ja vaihdattelen sitten suutarilla (niin paljoa ei itseä kuitenkaan häiritse). Ketä ei pohjat kiinnosta, säästää suutarin kuluissa ja löytää tästä itselleen oikein hyvät kengät. Halvemmalla uusia laadukkaita nahkakenkiä saa jo vähän etsiskellä!
0
0
I would not recommend to a friend
Markku M.

31.10.2019 (Edited 02.11.2019)
Todella kaksijakoiset tuntemukset kengästä. Rahalle saanut kengissä ihan vastinetta, mutta silti odottanut hieman parempaa kestoa.

Jalaksen pohjallisella todella mukavat kengät jalassa. Nahka pinnassa ja ompeleet laadukasta tekoa. Hyvässä lankissa pidettynä pesee kalvokengät mennen tullen. Edelliset ns. merkki saappaat antoi saumoista periksi, näissä nahka ja ompeleet vielä uutta vastaavassa kunnossa. (Ei murtumia, eikä väsymiä, yksi itse aiheutettu vekki kärjessä)

Todella iso miinus ja tämän tuotteen heikkous on pohja. Pohja kuluu todella joutuin ja halkeaa nopeaan. Kahdessa kesässä pohjat murtui halki ja sukat märkänä. Pohjat murtuneet halki taipumiskohdista. Useammat nahkakengät löytyy, eli lepuutettu ja huollettu kuten kenkää kuuluu. Eli toisin sanoen pohjan kestävyys ja laatu luvattoman heikko näissä maihareiksi. Armeija käytössä olisi pohjat varmaan alle vuoteen hajalla. Kestoltaan siis markettikenkien luokkaa. Siinä mielessä harmittaa, että nahkaosiltaan kengät ei uudelle häpeä, nauhatkin vielä alkuperäiset.

Katsoa sopivassa välissä suutarille, onnistuuko koko pohjaa vaihtamaan järkevään hintaan vai menikö nämä kengät pikamuotikategoriaan.

Saman kengän jos saisi esimerkiksi goodyear welt pohjalla, olisi hyvä käyttökenkä valmis. Jos kengästä tulee 2.0-versio Valtterin kannattaa tilata kunnon pohjalla ja nostaa hintaa yli kahdensadan, tai vaihtoehtoisesti vaihtaa nahka huonompaan ja myydä näitä viidelläkympillä.

Edit: Suutari tuomitsi pohjan kuvioinnin tässä kengässä epäonnistuneeksi. Kuvista näkee tuon pienen poikittaisen kuvioinnoin taipumissuunnan vastaisesti. Kuvioinnista lähtee taipumispaikasta repeämään saapas. Tuttu vika oli suutarille -> Suositteli tilaamaan mieluummin ylijäämä saappaita kuin uuden parin näitä.

Olisiko tätä saapasta mahdollista saada tuolla särmä bikerin pohjalla? Keston kannalta voisi olla parempi.
1
0
I would recommend for a friend
Joni H.

16.11.2019
Todella hyvät kengät. Ensimmäiset ostin ruskeana koossa 46 ja toiset mustana koossa 47. Normaalisti kokoni on 46,mutta näissä 47 on ollut itselleni täydellinen. Näihin sopii loistavasti yhtä kokoa pienempi fx2-pohjallinen. Ainoa miinus on nuo älyttömät teko-ompeleet, ruma epäaito yksityiskohta. Muuten parhaat omistamani kengät. Toivottavasti näistä saadaan vielä joskus Goodyear Welt-versiot. Suosittelen.
0
0
I would recommend for a friend
Ville L.

21.06.2016 (Edited 23.02.2019)
Kevyemmät ja notkeammat miltä näyttävät (ainakin jos on omistanut paramaiharit). Tuntuma alustaan on hyvä, pohjan materiaalivalinta on onnistunut. Työn jälki on erittäin hyvää ja saumat ja liimaukset vaikuttavat oikein kestäviltä.


Imevät uutena melkoisesti rasvaa, eli jos purkin pohjalla on vain jämät, kantsii tilata samalla lisää. Alkuperäinen värikin häipyy aika nopsaan, eli lankkia on hyvä myöskin olla valmiina. Tosin itse olen huomannut parhaaksi aineeksi Pallivahan, antaa syvänruskean pinnan ilman lankkiakin. Jos kengät ovat olleet kunnolla saastaiset, olen pessyt marseille-saippualla. Sen sisältämä öljy pitää nahan pehmeänä.





Lesti on leveä ja kun kenkä saa vähän liikuntaa, se alkaa muotoutua ja asettua. Eli se miltä uusi kenkä tuntuu kaupassa, ei ole sama kuin miltä hyvin sisäänajettu kenkä tuntuu. Kengässä ei ole ilmeisesti mitään kummempia muovivahvikkeita. Vajaa 2 vuoden jälkeen kenkä on edelleen mallissaan.


Oikein mainiot vanhan ajan varsikengät ilman turhia kikkailuja. Ainoa pieni naputtamisen aihe on, että nauhat voisivat olla asteen tummemmat, mutta kyllä ne siitä varmaan menossa vähän vaihtavat väriä. Eivät muuten vaihda ja päät menevä jossain kohtaa huonoksi. Samaten pohjalliseen kului reikä ja laitoin Jalakset tilalle.

Kilsoja tulee talvella pahimmillaan 100 km 2 viikossa pelkästä työmatkasta jos en käytä muita kenkiä välillä. Vein nyt 2 talven jälkeen suutarille, ompeleet tarvitsivat vähän fiksausta yms. Suutari kehui heti kengät nähdessään et nää on hyvät. Hyvää kenkää kantsii huoltaa ja suutari pysyy leivässään toisin kuin roskiin menevän kiinakaman kanssa.

Edit 2/2019: Pohjat alkoivat olla aika kuluneet, mutta laitatin suutarilla puolipohjat ja korkolaput. Uusi kumi tuntuu hivenen kovemmalta ja vaihdoin samalla pohjakuvion sileämmäksi, ei jää enää kivet pohjaan ja tämmöiset nää kai alun perin kuuluisivat ollakin.
1
0
I would recommend for a friend
Mikko J.

03.10.2016 (Edited 29.11.2016)
I would recommend for a friend
Akseli K.

19.10.2016 (Edited 18.01.2017)
Nyt viitisen kuukautta näillä tallustellut ja todella hyvät kengät. Yksinkertaiset, tyylikkäät ja erittäin varmatoimiset. Ei ole paljoa nämä jalassa tarvinnut murehtia mistään astumisesta.
5
0
I would recommend for a friend
Marko M.

17.01.2017
I would recommend for a friend
Jakob S.

27.01.2017 (Edited 13.06.2017)
great boots for the price, with some room for improvement. I have used them for everything from the described pub visit, over walks of a few dozen km, to parachuting.
Suggested improvements:
-using thicker leather
-using harder rubber for the soles. They are pretty worn off at the ball of the foot and after a year.
-ditching the "rubber stitching" on the soles. I makes them use kinda cheap. A goodyear welt would be great and I would pay more fro an MK III including that.
56
3
I would recommend for a friend
Harri K.

04.04.2017
- lankannut en oo vielä näitä, koska ihan valjasrasva antaa näille hyvän punertavan ruskean sävyn & suojan
- vastaavan sävyisiä kenkiä oon nähnyt puolet kalliimpina, todellakin
- lenkkeilyyn en ottaisi, mutta nämä jalassa lyhyemmät matkat maastossa ja city-elvistely käy hyvin:)
- suosittelen
1
1
I would not recommend to a friend
sampo r.

09.04.2017
Työn jälki hyvä ja materiaalit kestävän oloisia. Nahka kauniin ruskea ja muotoilu klassisen kaunis. Kestävyyden ja korjattavuuden haittapuolena tulee se tosiasia, että nämä ovat aika jäykät ja kolhot. Paksu pohja tekee kengistä painavat ja nahka tuntuu vuoden käytön jälkeen edelleen liian jäykältä lähteä pitkälle kävelylle näiden kanssa.
5
36
I would recommend for a friend
Alvaro V.

09.07.2017 (Edited 30.08.2019)
After having them both colours for over two years I can say with confidence the following stuff
- Good leather and will form comfrotably on yout feet, but black ones were softer and far more prone to ugly scuffs and scratches than the stiffer and tougher brown ones, which have nothing at all. Also black ones took better the oils and grease applied. Maybe a batch difference, who knows, but I'd prefer the second.
-Soles are rather comfortable, but are unnecesarily blocky and the tacky faux stitching is ugly. Better use a slimmer and denser glued on sole, such as the one on the M77. Don't care about a goodyear welt when it'll hike up the price 70 euros more.
-With inner moisture the nails on the heel WILL rust, and the pressed fiber inner sole is of no help. This is an issue on all kinds of boots with this kind of nails, maybe bronze/brass replacements would be better.
-I'd love a leather inner sole replacement, since also will help to the ruggedness and construction of the whole boot. That's one of the hallmarks of a true milspec boot.
-While this is more of a design defect of any corcoran derived boots, the stitching on the joint between the tongue, upper and sides should be tripled.

In their current form they're more suited for light use than for hiking or hard work. Maybe leather a bit thicker and the improvements mentioned would convert this boots into what people expect from them. Still, don't make the mistake I did by comparing them to true military boots. Have my chilean combat boots, a corcoran derived design with thicker leather, goodyear welt, hard rubber and all leather inner soles. Obviously the short boots wont make the cut, but for the price I'm more than happy
0
0
I would recommend for a friend
Juho K.

13.07.2017 (Edited 13.07.2017)
Kengät ovat olleet nyt pari vuotta ympärivuotisessa käytössä. Talvella kenkiin ohuempaa villapohjallista, jotta jalkaan menee villasukat. Kesää kohti pohjallinen vaihtuu paksumpiin ja muotoiltuihin. Kertaakaan talvella ei ole tarvinnu olla varpaat jäässä.

-Ompeleet ovat kestäneet, vaikka kengät ovat olleet mettäkäytössä ja niillä on painettu menemään rakkakivikossa.

-Kenkiin käytetty nahka on laadukasta ja kestää kovemmankin kulutuksen kunhan muistaa hoitaa kenkiä käytön jälkeen.

-Vedenpitävyys on sen hetken mitä lankki ja rasva pysyy kengän nahassa. Kengät kuivaa suht nopeasti verrattaessa kalvollisiin vaelluskenkiin. Ennemmin pidän märkiä kalvottomia kenkiä jalassa kuin kalvollisia.

-Pohjien liimaukset ovat pettäneet kertaalleen, mutta kengät ovat olleet muussakin käytössä kuin kaupungilla patsastelussa. Suutari hoiti pohjat paikalleen 10e laskuun. Pohjien vaihto onnistuu myös suutareilta.
3
0
I would recommend for a friend
Antti V.

12.08.2017 (Edited 12.08.2017)
Kokomitoitus vastaa numeroita. Lesti on leveä. Oletus lienee, että näiden kanssa käytetään paksuja sukkia. Pohjien voimakas profiili on hieman ristiriidassa kengän hillityn koristelun kanssa, vähän kuin sisäkengät olisi istutettu ulkokenkien pohjiin. Erityisesti pohjien feikkiommel oli melkein liian paha yksityiskohta kenkien pitämiseen, mutta yritän sulkea silmäni siltä. Pohjien väri (musta) ruskeissa kengissä ei ole tyylimielessä kovinkaan onnistunut; jos pohjamateriaalin saisi vaaleammasta materiaalista ja matalammalla profiililla - ja ilman valeommelta, tulisi viideskin tähti lisää. Työn laatu tuntuu hyvältä.
13
0
I would recommend for a friend
Charles A.

03.09.2017
These boots made their way to Canada much faster than I expected. The leather seems to be holding up quite well, and they are quite comfortable for extended wear. I highly recommend these boots to anyone looking for that red leather look to pair with jeans.
0
1
I would recommend for a friend
Johanna V.

12.09.2017
Nää on nyt ristitty ihmekengiksi. Voi kahlailla allikoiden läpi, upota pitkospuilla ja kulkea päivän rankkasateessa, ja sukat pysyy silti kuivina. Siis mitä kaikkea nää oikein kestää! Liian väljinä hankaa nilkat rakoille heti, mutta sukkien määrää säätämällä saa istumaan jalassa kuin valettu, siis kuin olisi omat kaviot :) Yllättävän kevyet kulkea. Mun parhaat retkijalkineet.
2
3
I would recommend for a friend
Juha M.

18.09.2017 (Edited 18.09.2017)
Tänään ostin kengät ja ensivaikutelma oli, että nämä on hyvät, kun vaan muokkaantuvat omalla jalalle sopivaksi. En usko, että tuossa kovin kauan menee, kun istuu jalkaa hyvin. Jos jotain toivoisin lisää, niin se olisi varren takaosaan pieni nahkalenkki, joka helpottaisi kengän jalkaan vetämistä. Voihan sen lenkin teettää jälkikäteen. Mutta näillä kengillä todennäköisesti tallustelen tyytyväisenä.
1
0
I would recommend for a friend
Teemu K.

13.01.2017
Muuten oilisivat varmaan hyvät, mutta koot loppuvat liian aikaisin ja kenkä on jalkapöydän päältä matala (isompi koko voisi auttaa)
4
8
I would recommend for a friend
Aino S.

26.04.2017
Meinasin eka ostaa "brändi"maiharit, kun lyhyempi vartisia kaipasin. Onneks tajusin, että olen urpo jos näitä en osta. Kannattaa. Ikinä en ole ostanut näin hyviä nahkakenkiä. Korkeudeltaan vertaisin nilkkureihin, oma pelko että liia pitkä varsi, mutta juuri sen nilkan peittää kivasti. Sisäpohjanpituus taulukkoo ja omaa järkee kannattaa käyttää, niin löytää sen oikeen koon. Oma jalka ei oo mistää siroimmasta päästä ja koko vaihtelee 41-42 riippuen, kuinka levee lesti. Nyt tuli arvottua koko 42 ja istuu niin pirun hyvin, on tarpeeks tilaa. 41 koko olisi ollut liian tiukka jalkaan. Todella mukavat jalassa, ei purista mistään ei edes kantapää hankaa. Nahkakengät kestää, kun muistaa huoltaa niitä ja nämä kannattaa omistaa.
3
0
I would recommend for a friend
Alvaro V.

09.07.2017 (Edited 24.06.2018)
I would recommend for a friend
Kristian T.

31.07.2017
I would recommend for a friend
Atte M.

07.09.2017
Puolitoista näillä on menty kesättalvet työmatkat, kauppamatkat, koiralenkit, soittoreissut, vaellukset, baarireissut ja niin edelleen. Puolisäännöllisellä laiskalla lankkauksella (sillä saksalaisella halvalla armeijalankilla) ovat pysyneet kohtuullisen vedenpitävinä ja talvella tuplasukalla lämpöisyyskin on riittävä. Paukkupakkasella tietty sitten jotkut karvavuoritalvikengät tulevat kyseeseen. Jalaksen skifipohjallisten kanssa oiva pari!

Paksu matsku vaatii vaan hiton pitkän sisäänajon, mutta kestääpähän sitten. Pohja ei suostu kulumaan. Edes kengännauhat eivät suostu katkeamaan käytössä, mihin olen tottunut yleensä kenkien kanssa.
2
0