Norwegian M77 combat boots
Price 128.99 USD excluding VAT
Flat Rate Shipping to USA $9.99
94 % recommends
Sold 25 pairs in the last two weeks
Loading products...
Trouble with the metric system? Try our converter: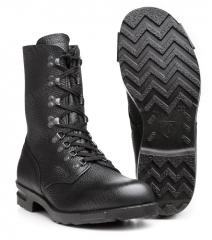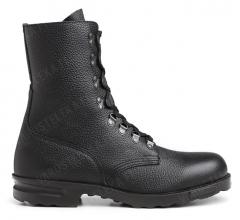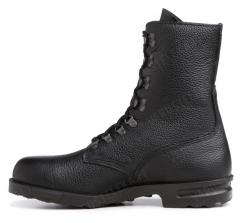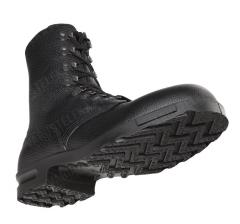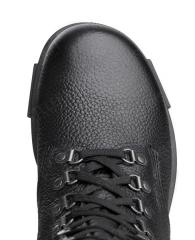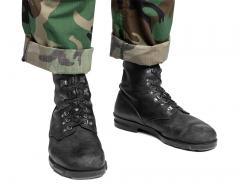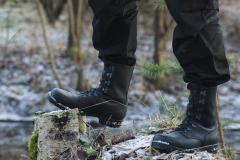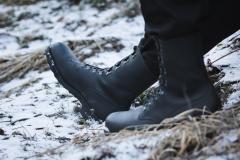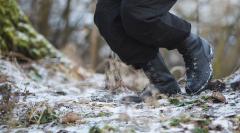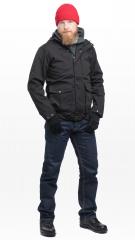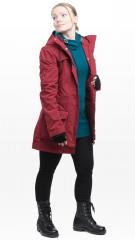 In the modern world of membranes and the usual cushioned-for-her-pleasure type approach, the Norwegian M77 combat boots are a refreshing relic from the old days. Stayed virtually unchanged from the year they were adopted, 1977, they still are the standard-issue footwear in the Norwegian army. This shell-style construction also makes them pretty modular, as you have total control over sock choices.
Nothing but leather, polyurethane and steel here. Being a very traditional design, the M77 may lack a waterproof membrane (which would fail at some point anyway) but makes it up in long term durability. Just keep the boots well greased and change socks if they get wet and you're pretty much good to go. Or if you need proper waterproofing, get a pair of SealSkinz waterproof socks.
These boots have front lugs and a rear groove for use with ski and snowshoe bindings. Compatible bindings include army models as made by Asnes and Rottefella, to name a couple.
The price comes not from sexy brand names or other nonsense, but of the quality of the materials and workmanship: the leather is proper thick with no PU coatings whatsoever and the sole is one block of high-quality rubber moulded directly to the upper. All the lace hooks & loops are likewise made of quality metal. As the PU sole has no air pockets inside it, it's possible to glue on more stuff if it eventually gets thin, however, it is pretty thick to start with.
Size info
First the standard French/EU size, then recommended foot length in millimetres. Measure by drawing the outline of your foot on a paper, then measuring the distance directly from the big toe to the centre edge of the heel.
The sizes run large. Additionally, the last is wide. These are designed to be used with double or even triple woollen socks and this is taken into account in sizing!
Made in EU (Estonia)
Yes, the Norwegian army gets its footwear made there. Hey, why not, the manufacturer knows its stuff and Estonia is also a NATO-country. These have the Norwegian shield logo on the sole, denoting they fill the army quality standards.
Reviews
You have already submitted a review. You can edit your text by clicking on it.
Log in and write a review.
Remove filter
Suomi
(21)
English
(26)
I would recommend for a friend
Theo M.

22.07.2016 (Edited 06.04.2017)
Nearly cried when I put these boots on. Because I'd fell in love. Proper boots, real leather. Great looks. Scary looking sole and tread pattern.



These are equal to my aku pilgrims. In different ways of course but nonetheless brilliant boots.
11
0
I would recommend for a friend
Timo V.

02.08.2016 (Edited 03.09.2016)
Erinomainen tuote. Hiihtäminenkin onnistuu, taitavat olla ainoat maiharit tällä hetkellä. Tilaan itselleni vielä toiset 45 kokoiset, 46 koko oli hieman liian tilava kesäkäyttöön, mutta talvella -20 pakkasella oli lämpimämpi kenkä kolmella sukalla kuin esim. Alpina Alaska thinsulate eristetty kalvokenkä BC-siteissä kahdella sukalla. Kolmisen vuotta olen jo käytellyt harvakseltaan kaikenlaisessa käytössä.



Pohjan kuvio on täydellinen. Erittäin hyvä pito, ei kerää paskaa kuten muut maiharit tekevät ja jos kerää on helppo puhdistaa.

Toivottavasti näitä on vielä tulossa.



Hups, minulla olikin koko 45. No nyt minulla on myös nro. 44 kesäkäyttöön. Saksan armeijan nahkarasvalla (BW Kenkälankki) käsiteltynä nämä kengät käyvät kaikkeen retkeilyyn. Kävelin mm:ssa muutaman kymmenen kilometriä pakkasessa pintajäällä, johon upposin vähän väliä nilkkaa myöten veteen. Ei mitään ongelmia.



Syy miksi hankin pienemmän numeron on, että nilkan nahkapoimuilla on taipumus hangata kantaluun-akillesjänteen seutua ilman kolmea sukkaa hieman liian suuressa koossa, kahdella sukalla jalka ei asetu oikeaa kohtaan suhteessa kenkään. Pohjallisilla korotusta jo kokeilin. Tuotekuvista viimeisessä näkyy hyvin, mihin poimu muodostuu.
5
1
I would recommend for a friend
Pirkan o.

24.10.2016 (Edited 29.11.2016)
Loistava maihari. Piste
Erilaisten kalvokenkä kokeiluiden jälkeen palasin perus nahkamaihareihin, enkä näiden kenkien jälkeen aio edes pissiä kalvomaihareiden suuntaan.
Näissä on riittävän leveä lesti jopa Aku Ankalle, vuorittomina ei haittaa vaikka jalka kastuisi (esim polvia myöten ojassa käynnissä), senkun vaihtaa kuivat sukat.

Pohjat ovat loistavat joilla pystyy harppaamaan sekä kaupungissa että metsässä ilman ongelmia.

Todella tymäkästä nahkasta valmistettuna vaatii hieman perusteellisemman sisäänajon, mutta kun on saanut nahat notkistumaan niin johan homma rokkaa.

Ainoa syy miksi jätin viimeisen täden puolikkaaksi on tuo edellisessä arvostelussakin mainittu nilkan hankautuminen. Omalla kohdalla asia korjaantui erilaisten kokeiluiden jälkeen kahdella pohjallisella kombinaationa marketista ostettu huopapohjallinen+FX2.
2
0
I would recommend for a friend
Jere N.

25.10.2016 (Edited 29.11.2016)
I would recommend for a friend
Roger S.

01.11.2016 (Edited 22.03.2017)
A great leather boot, I bought them because of the groove for cable bindings (backcountry forest).
The great thing about leather boots: they will snug your feet perfectly after having been worn for some duration.
I wear two pair of merino wool socks and grease the leader of the boots often to help waterproofing and breaking them in.
7
0
I would recommend for a friend
Olavi R.

27.11.2016 (Edited 29.11.2016)
Parhaat varsikengät mitä koskaan käyttäny, 10km vaelluksenkaa jälkeen ei jalat tienny hikoilusta mitään, kun normaaleissa kalvokengissä jalat olisi puolen tunnin jälkeen hikiset.
Kylmätkään ei olleet kun oli normaalit urheilusukat ja villasukat jalassa.
Eu tarvitde enää palata kalvokenkiin.
Tosiaan koko taulukko ei ihan pidä kutiisa, kokoa pienemmät kannattaa ottaa mitä normaalisti käyttää.
2
1
I would recommend for a friend
Heikki L.

05.01.2017
Taustaa: Olen käyttänyt maihareita vuodesta 1997, sekalaiset asennustyöt maastossa ja muualla. Maatalous ja rakennustyöt, puutarhahommat. Kokemusta on siis kolme paria m91:siä, sittemmin m05 useita pareja eri valmistajilta. Suosin ympärivuotisessa käytössä vuorittomia, vuorillisia en pystyisi käyttämään kuin kovimmilla pakkasilla.

Tämä norski on ihan samaa sarjaa. Tosin nauhoittaminen on hiukka tuskaa johtuen noista avolenkeistä. Harkinnassa on vaihtaa pyöreät nauhat ja pihdeillä puristaa lenkkejä kokoon - lyhyesti sanottuna suomipoika on jo kadonnut m05 maihareilla marssien horisonttiin kun norskia vielä solmitaan jalkaan... Puolikas tähti miinusta noista nauhoista.

Lähipäiviltä on nyt ekat kokemukset töistä nämä jalassa 20 asteen pakkasessa, villapohjasukalla pärjää.

Noista kokoasioista on annettava kritiikkiä, lestiltään kenkä on hyvin samanlainen kuin m05. Kuitenkin koko on aika lailla sama. Eli käytän 43 koon kenkiä ja saappaita, istuu tämä 43 koon norjalainen napakasti jalkaan. Ei ole siis mitään mainostettuja sukkavaroja ja jos niitä haluaa on oikeasti ostettava suurempi koko.

Uskallan kyllä suositella, käyttötuntuma aika likellä m05 eli vaivattomat kävellä, paljon laatua saa hinnalla.
5
1
I would recommend for a friend
Eemeli S.

12.01.2017
Heittämällä parhaat maiharit mitä pitänyt jalassa. Jos verrataan vaikka kotoiseen m05:een, nämä on kertaluokkaa jykevämmät kengät ja nahka on huomattavan paksua. Sisäänajo kestänee melko pitkään, mutta jo muutaman kilometrin kävelyn jälkeen istuu hyvin jalkaan. Siitä erikoinen kenkä, että vaikka on tosiaan täysin vuoriton kenkä, niin vielä muutaman asteen pakkasessa pärjää oikein mainiosti pelkästään tavallisella tennissukalla. Toisaalta onnistuin valitsemaan niin näppärän koon, että kenkään sopii myös ihan perinteinen villasukka ja sillä varmaan pitäisi pärjätä suunnilleen kaikki muut pakkaset, jos nyt ei Siperiaan tarvitse lähteä.

Ihan heti aluksi käsittelin kengät valjasrasvalla (täälläkin myynnissä), jonka jälkeen vielä kerros BW:n kenkälankkia ja toistaiseksi ei ole vesi tullut läpi. Tosin ei ole sitä paljoakaan koeteltu, kun melko kuivaa on ollut. Päätellen nahkan laadusta näiden ei kyllä pitäisi todennäköisesti päästää ihan helpolla vettä sisään.

Hinta hirvitti aluksi, kun muutaman kympin enemmän pöytään lyömällä saisi jo Haixin kalvokengät. Toisaalta ne kalvokengät on jokseenkin hyödyttömät, jos kalvo nirhautuu puhki ja lisäksi kenkää ei voi ihan millä tahansa lankeilla lankata. Nämä norjalaiset vaikuttivat kutakuinkin pommin varmoilta siinä suhteessa.

Kunniamaininta myös siitä, että alkaa olemaan niitä harvoja kenkiä, josta löytyy hiihtorantti. En ihan heti osaa sanoa käykö esim. Kuusamon uistimen eräsiteet näiden kanssa yksiin, mutta vähän houkuttaisi joskus tulevaisuudessa kokeilla vaikka retkiluistimissa.

Yhteinen taipaleemme on vasta alussa, joten saattaa olla että muokkailen tätä arvostelua kun lisää kokemusta karttuu.
3
0
I would not recommend to a friend
Mikko H.

14.02.2017 (Edited 15.05.2017)
(Kengät ostettu syksyllä 2014)

Tyylikkäät ja hyvät jalassa. Alkuun laadukkaan oloiset. Hyvät joka kelillä, pohja kuitenkin talvipakkasilla yllättävän liukas. Arkikäytössä pientä miinusta koukkumallisesta nauhoituksesta.

Ja sitten se varsinainen ongelma: kahden vuoden käytön jälkeen pohjissa on niin pahasti halkeamia että vesi tulee läpi. Vertailuna edelliset maiharit (M91) kestivät noin 7 vuotta ympärivuotista käyttöä, jonka jälkeen pohjat kuluivat loppuun. Näissä norjalaisissa on kuitenkin vielä hyvin kulutuspintaa, pohjan materiaali on vain jostain syystä ottanut itseensä. Jospa suutari saisi näistä vielä sopuhintaan käyttökelpoiset.

Ehkä mulle osui joku maanantaikappale, mutta en näin oman kokemuksen perusteella voi suositella kestävää maiharia kaipaavalle - ja ainakin itse olettaisin tässä hintaluokassa saavani kestävän kengän. Oispa M91.
29
6
I would recommend for a friend
Juho H.

01.03.2017
Erinomaiset laadukkaat maiharit. Nahka on paksua, pohja ei talvella liukas, pohjaan eivät pikku kivet jää kiinni, nauhoitusmekanismi miellyttävä, näitä voi oikealla sukkavalinnalla pitää tuntikausia jalassa pätkääkään ahdistumatta.

Jalaksen FX2 pohjalliset sopivat erinomaisesti kenkiin. Välillä kun rasvaa ja lankkaa, niin näistä saa pitkäikäiset maiharit vuosiksi eteenpäin. Ainoastaan jään kaipaamaan kulutusalttiimpiin(kärki ja kantapää) paikkoihin kumista suojausta
2
3
I would recommend for a friend
Kenneth M.

02.05.2017
I would recommend for a friend
Julia K.

10.07.2017 (Edited 10.07.2017)
Itsellä kaikki kengät hajoavat yleensä puolen vuoden sisällä linttajalan takia, mutta nämä ovat kestäneet nyt kaksi vuotta painumatta linttaan, eikä ole mitään vikoja. Ollut mukana läpi armeijan, näillä on tetsattu metsässä ja rakennetulla alueella , kovissa pakkasissa, sateella, loskassa ja kesähelteillä ja yhä lähes uudenveroisessa kunnossa. Eivät kertaakaan ole hiertäneet rakkoja jalkaan vaikka muut maiharit niin tekee - 70km marssillakaan ei tullut ainuttakaan hiertymää näillä. Hyvät jalassa, tukevat nilkkaa.
Huomioitavaa kuitenkin se, että näihin totuttelu vaati oman aikansa, mutta sen jälkeen ovat palvelleet erinomaisesti. Parhaat maiharit, mitä itse olen pitänyt jalassa.
6
2
I would recommend for a friend
Denis G.

27.10.2017
M77 maihareissa on monia erinomaisia puolia. Ensinnäkin kenkä on miellyttävän siro, jolloin sitä voi käyttää ilman, että näyttää pitävän armeijan kuteita, olen eräässä loskakelissä pitänyt näitä jopa mustan puvun kanssa, ja kokonaisuus meni täydestä. Kenkä on erittäin nopea solmia, helppo pukea sekä riisua. Hyvin hoidettuna nahka pysyy kauniina, ja pohja on kestävä. Kengät ovat myös osoittautuneet erinomaisen vedenkestäväksi ja nilkkaan asti veteen romahtaminen ei ole kastellut jalkaa.

Valitettavasti myös risuja pitää antaa. Tilasin juuri kolmannen parin näitä kenkiä. Käytän maihareita pitkälti ympäri vuoden, ja nämä kestävät minulla aika tarkkaan kaksi vuotta. Toistuvasti joudun heittämään kengät pois, koska kantapää kuluu sisältä puhki. Vaikka kantapään paikkaisi, ei paikka kestä muutamaa viikkoa pidempään. En osaa sanoa voisiko rakenentta muokata jotenkin kestävämmäksi, mutta mielelläni käyttäisin samaa paria pidempään. Kestävä pohja on valitettavasti talvella myös melko liukas ja olenkin pari kertaa pyllähtänyt jäällä selälleni.

Yhteenvetona suosittelen silti kenkää sellaiselle, joka haluaa peruskengän näköisen mutta monipuolisen jalkineen.
3
2
I would recommend for a friend
Otto S.

Varusteleka employee

09.01.2018
Erittäin hyvät maiharit.

Käyttöä takana puolisentoista vuotta ja kengät alkavat olla sisäänajetut. Maantieteellinen käyttöalue on kulkenut välillä Helsinki-Tervola ja lämpötilavaihtelua ollut -22 °C - 25 °C asteissa. Ympäristöt ovat pitäneet sisällään Asfalttia, varvikkoa, sammalikkoa, soraa, paskaa, turvetta, merivettä, vitutusta ja kaikkea muuta mitä luontoäidin lattiat tarjoaa.

Talvikäyttöä ajatellen: Pakkaspitoa löytyy omista yksilöistäni hyvin. En tiedä, kuinka kylmässä aiemmat arvostelijat ovat kävelleet, mutta parinkympin pakkasilla kävely ja juoksu onnistuu lumella ihan mukavasti. Avojäällä ois paree olla nastat, mutta niitä saa sitten erikseen kaupasta.
Kenkien nahka ja saumat on kestänyt yllättävän hyvin toistuvaa kastumista ja kuivumista, toki tasaisella huollolla. Huoltoon on riittänyt BW kenkälankki, harja ja pari rättiä.
Metsästyshommissa ajanut koko kauden samoilla popoilla satoi tai paistoi, eikä kunnossa ole valittamista.
Simppeli nahkakenkä on kyllä loistava vaihtoehto monimutkaisemmille moderneille kengille, villasukkaa väliin tarpeen mukaan ja pysyy potut kotoisan lämpiminä, ja kulutus kohdistuu sukkiin, jolloin sisävuori vaihtuu, aina kun sukat vaihtuu.

Pintanahka on uutena jollain eriskummalisella kuviolla varustettu, en tiedä onko tämä joku kestävyyteen vaikuttava ominaisuus, mutta kuviointi on kulunut ja peittynyt kantapäästä ja kengän kärjestä kiiltäväksi tasaiseksi nahaksi.

Pohjat kuluvat kun asfaltilla ja työpaikalla joraa ympäriinsä, mutta kulutuspintaa on jäljellä ainakin kahdeksi vuodeksi, sitten suutarille vaihtoon.
Myös norjalaisten kengännauhoja on pakko kehua. Pelkäsin aluksi tuota pikakiinityskoukkuhärdelliä ja lapsuuden traumojen vuoksi hokkarien nauhojen kaltaista kenkänyöriä.
Yllätyksekseni kuitenkin oli pakko pyörtää pahat ajatukset tämän mallin kiinnityksestä. Yhdetkään aikaisemmat kengännauhat eivät ole kestäneet yli vuotta käyttöä, saatika pysyneet lähes alkuperäisessä kunnossa. Näiden on pakko olla jotain mithrilliä.

Ainoat miinuspisteet tulee kenkien omista pohjallisista ja sisäänajosta. Pohjalliset, jotka on mallia "mieluummin laitan hammastikun varpaankynnen alle ja potkaisen seinään" lensi suoraan roskiin ja tilalle tallotut FX2 pohjalliset
nahkasaappaista korjasi tilanteen.
Kivulias sisäänajo kesti jotakuinkin kolmisen viikkoa, jonka aikana tunneskaala seilasi keskitysleirivangin epätoivosta lumivalkeaan raivoon asti. En tiedä kumpi antoi periksi, jalka vai kenkä, mutta alistuneisuuden tila on vallitseva ja kenkiä on tajuttoman mukava pitää jalassa.
Nyt nää on niinku pervosti narisevat sukat.

Ilo ja etuoikeus käyttää, jok'ikisen ruplan arvoinen sijoitus.
7
0
I would recommend for a friend
Peter O.

27.02.2018
This is my 3rd pair of M77's and my 2nd review
The description says that they are made by Foxberg in Estonia. Well I was replacing insoles on my brand new M77's that arrived today and I look inside and it says PROTEX which is another company. The rubber sole is not as nice and has voids and gouges in it and there are bulges on the side.
so 5/5 for the Foxberg pair the one that says Protex on the inside of the shoe below the sole is more like 3/5
2
0
I would recommend for a friend
Kimmo J.

04.03.2018 (Edited 04.03.2018)
M/77 kenkien nauhojen sidontatapoja löytyy tuolta.
M/77 boot lacing methods found here:

https://www.youtube.com/watch?v=-eAuIZyTClk
5
0
I would recommend for a friend
Wulfric H.

05.03.2018
These are my favourite boots, and I would recommend them to anyone looking for a comfortable, tough boot. I use them with Jalas FX2 insoles which I got elsewhere on the site. They do up very quickly and snugly with the quick-tie hooks, and there is plenty of lace to go around the boot if you prefer. While I was originally sceptical of the tread pattern, I've found it to be so-far adequate on most surfaces. Not really sure what else to say but that these are just simple boots with a great design and robust construction.
3
0
I would recommend for a friend
Anders T.

26.03.2018 (Edited 26.01.2019)
I got my M77's today and the first impression is this a great boot. The quality is obvoius. I put them on and laced them and I said to myself I LIKE THIS BOOT.


I might change the laces later on but they will do for now. At the moment are the boots resting after a first contact with shoe care products. If you a no nonsense high quality boot that will serve you well if one cares for them. then buy a pair. I will come back at a later date and give an update.

UPDATE:

I went for a short stroll during the Easter just 5k on dry trails and the boots really impressed me.

Very comfortable and stable. As they are rather wide did I use my winter setup. First a pair of knee socks in Merino wool. Then a pair of Swedish army woolen socks and upon that a thinner pair of wollen socks.. Worked like a dream. Might be too warm for the summer walks .Perhaps adding a thicker insole might help but this is a minor problem.

I replaced the insole with a Jalas one and the laces with a pair made of Para cord.. There are other good insoles out there also but I had the Jalas ones at hand. They work well for me.

If you want an old fashioned high quality boot look no further . As an old army geek is it a plus that they can be shined to a really nice finish also. After having used them for some time must I say that this boot is not my favorite boot but damn Close. I wear them at least a few times per week and they ar very comfortable indeed. They can be worn at work without any problems. One thing that I really like is that they are very easy to lace . I have replaced the laces with para cord but that is just me. Other than that A VERY GOOD BOOT.
2
0
I would recommend for a friend
Christer K.

30.03.2018
Thanks to a review that directed my attention away from the Särmä ankle boots, which is being critized for its short lasting sole, to the Norwegian M77 combat boots. I have tried them on, and I can right away state that I will be very satisfied with these boots. Compared to the Swedish army M90 boots, made by Finish company Sievi, these Norwegian combat boots are much more civilian in their appearance. The M77s also appear to be lighter (weight). I really like my M90 boots, but the M77s have a much lower profile, sleek, slim look. I'll be wearing my M90s out in the field, and my M77s when going to town or to work. Thanks Varusteleka for a great buy!
12
0
I would recommend for a friend
Jyri T.

11.04.2018
Ensivaikutelmia: Maiharit vaikuttavat todella laadukkailta ja tuntuvat hyvältä jalassa. Oma jalkaterän koko on 284mm ja tilasin 45 (284) kokoiset kengät, koko oli prikulleen oikea. Villasukat jalassa näihin jää vielä "elämistilaa" varpaille. Hinta ei ole paha näin laadukkaista kengistä.
Pitää tietysti käydä testaamassa ulkona näitä vielä, että saa tarkempaa kuvaa, mutta ensivaikutelma on todella positiivinen!
0
0
I would recommend for a friend
Thomas J.

23.04.2018 (Edited 27.04.2018)
Having worn these in actual military service, i would absolutly recomend this to anyone wanting a pair of simple and solid leather boots. Mine are soon in their third year of usage, and although it shows signs of much use, they still have many years left. While many puritans miss the day when these were still made in Norway, there is nothing really wrong with these, but be aware that some years of production have heels that will almost fall off after some use (I've personally had this happen to two issued pairs).

Pro tip: On the first day of actually wearing the uniform in boot camp, every Norwegian soldier fills their boots with water to speed up the breaking-in period.
21
0
I would recommend for a friend
Harri K.

24.04.2018 (Edited 05.11.2018)
Ensimmäiset kaksi noin 6-7 kilsan sisäänajokävelyä takana. Ennen niitä rasvasin kengät kauttaaltaan, ilttejä myöten, reilulla kerroksella mustaa Tallipoikaa ja neljän-viiden tunnin imeyttämisen jälkeen pyyhin liiat rasvat pois. Paksua nahkaa olevat kengät ovat normaalin uudenjäykät, mutta yhtään erityisen hiertävää kohtaa ei ole vielä ilmaantunut. Pohjatkin ovat riittävän jäykät kuluneiden luonnonpolkujen kivikoissa ja juurikoissa. Tunturimaan kivikoissa lienee tätäkin puolta funtsittu... Tässä vaiheessa vaikuttavat selvästi maastokelpoisemmilta kuin kymmenkunta vuotta, 2007-2017, duunikuitillani olleet ensimmäisen sukupolven SA M05-kengät. Päivitän tätä, kun kokemusta kertyy lisää.

Päivitys 5.11.2018: Kengät ovat olleet nyt puolisen vuotta käytössä, kesän helteillä toki aika vähän, mutta ilmojen viilennettyä nämä ovat olleet pääasialliset ulkoilu- ja maastojalkineeni. (en uusinut kalvollisia vaelluskenkiäni entisten tultua tiensä päähän). Nämä tuntuvat vain paranevan käytössä. Sukkavarustuksena on ollut pääasiassa SA-saapassukat; ohut alussukkakin mahtuisi lisäksi. Pohjakin on sopivan, mutta ei liian jäykkä kolminumeroiselle massalleni; selvästi tukevampi kuin vähän löysältä ja veltolta tuntuva M05:n pohja. Uskaltaisinpa sano, että parhaat käyttämäni varsikengät tähän mennessä. (Käytössä ollut vuosien mittaan SA M75 "upseerimalli", BW:n laskuvarjojääkärikengät, Mänskän kengän oma malli, Jokke-merkkiset, aika lailla BW:n mallia muistuttavat melko painavat kotimaiset "maiharit", SA M91 ja M05)
2
1
I would recommend for a friend
Adam W.

28.04.2018
Just received them today. Wow! They're a little rough around the edges* but they feel like they'll last a lifetime. Very comfortable so far, a little stiff on the ankles but that'll soften with use. I generally wear a UK10/UK11 and bought a 45. With 2 socks it's a comfortable fit with room to wiggle my toes. Plenty of room for another pair of socks in there come winter.

Exactly what I was looking for in a walking boot. Tough and repairable.

*Bubbles in the rubber sole and a couple of the lace loops are crooked.
4
0
I would recommend for a friend
Gerard B.

04.07.2018
Why are these types of boots to be preferred? Simplicity and easy of maintenance all over the world with available polish. and leather fat.
I used them all, the high tech ones like LOWA Combat, Haix, Meindle. etc.
One thing you not want to see on boots for prolonged field use is the padding on the calf. Sooner or later these will be gone (flattened). Second problem, you get crazy with all different materials on one pair of boots. Full grain leather combined with Nubuck or textile, Goretex inner. What kind of polish you gonna use? Especially in areas where only leather fat or simple shoe polish is available?

High tech soles? Away with them. What is your own weight, how much load are you going to carry? Too much and wrong type of soles on your boots? You can destroy your high tech soles fast. Stored wrong, after 5 years, "rubber cancer" might occur. Simple massive rubber soles to be preferred. In emergency conditions even to be replaced with hard rubber cut from car tires and glued on with ease.

Yepp the M77 a little bit larger ? No problem, buy an additional set of inner goretex socks. Cheaply available and no inner goretex socks from hight tech boots needed.
9
0
I would recommend for a friend
Rachel A.

17.10.2018 (Edited 17.10.2018)
I havent bought any M77 from Varusteleka. But the pair I am using to this day, I bought about 15 years ago, I have been very rough with them, they've seen all sorts of weather and its been what I've used every winter, spring and fall since I got them, exclusively. The soles are worn, but not worn down.

I am looking forward to getting a new pair soon and taking better care of them, I am certain it will be the last pair of boots I will buy for this round.

Best footwear I have owned.
3
0
I would recommend for a friend
Jörgen P.

20.10.2018 (Edited 20.10.2018)
I own the same boots, not exactly "Norweigan M77", but "Samelin 2075".



They are both made in Estonia at the moment, but Samelin's are bit cheaper. This doesn't mean that quality is any different though. And while I'm at it, I'll also mention that you can get legit Samelin boots only from Estonia, they don't ship them over seas. So this is the best place you can get your hands on one.



I was using the same boots in the Estonian Defence Forces in 2017-2018 and they were great! You do have to apply some grease every now-and-then, so the leather would get nice and soft.



It takes some time for you to wear them in, but once they are molded perfectly to fit your feet - you'll have the best boots that will (probably) last you a lifetime. Pretty much all season boots, just grab yourself a pair of merino wool socks and your feet are warm even in the blistering cold.



We were using "Merelõvi" by ORTO to treat our boots in the Estonian Defense Forces, which is somewhat similar to "Tallipoika Leather Grease" on this very website.

And not to mention, if you do buy "Tallipoika Leather Grease", then grab yourself a bottle of "Tallipoika Natural Tar" as well. When mixing those two together you'll get similar ointment which is known by the label "Huberd's Shoe Grease". But you'll save a lot of buck and you'll get like ~1L of this great goo.



As far as I know, those boots have actually changed over time. For example in my service, the tongue of my boots didn't have cotton-like padding and the metal eyelets didn't have tinting on them, so they were unpainted and looked like made of brass (probably electrolyted steel). Now all the eyelets are pitch black steel and it seems like there is much more room in the boots.



The only thing that probably needs replacement at the moment are the laces, as I do remember having decent paracord-like laces on my boots in the past, but currently I have really cheap laces on my boots. It's probably wise to pick a pair of Jalas Shoe Laces from this very website.



Overall, this is probably one of the best investments you can do. These are ole' school boots, made of hydrophobic leather, unlike those fancy Gore-Tex boots that will make you look like a kindergarden kiddo. These boots right here will make you look like a real paratrooper, so stop playing with sand and grab yourself a pair of those awesome boots.
10
0
I would recommend for a friend
Chris K.

01.11.2018
Just delivered :O) US customs opened the box and found-boots. They sent them on to Postal Service in a half destroyed box. Varusteleka packaging is tough too. I ordered based on instructions and my US 11.5 EEE foot fits well in # 45. I do not agree
with every bit of cordage and lace being replaced with paracord. If your feet stink will factory laces unravel with less than 550 lbs tensile strength? These are also LONG enough unlike the jokes on my old US Corcoran jump boots.
3
1
I would recommend for a friend
ryan v.

23.11.2018 (Edited 23.11.2018)
I have nothing but praises for these boots. Had my pair for almost 4 years now. From hiking in the freezing winter of Korea and rolling thru to Taiwan to walking the streets of some of the major cities in Europe to the ultimate test Trekking thru the Swiss Alps last May 2018. It never let my feet down.looking forward to more adventures with my boots. For its price i would definitely say its a worthy investment so grab a pair now.
3
0
I would recommend for a friend
Trevor P.

03.12.2018
Comfortable from the very beginning, didn't really even need to break these in before long hikes. These boots prove that simple is best.

Been wearing these on near monthly hiking/camping trips in the Nevada desert walking mostly on jagged limestone for the past 2/3 years and these are somehow lacking any holes or truly serious gouges despite everyone else I know destroying at least two pairs. And not a single blister in that time. Great treads too.
Can't say anything about how they hold up to water though seeing as how water does not exist here.
6
0
I would not recommend to a friend
Antti L.

06.12.2018
Kengät olleet keskiraskaassa käytössä n. 1,5v ajan ympäri vuoden. Oon aika tiheään rasvannut ja lankannut niitä, mutta siitä huolimatta nahka on taitoksen kohdalta alkanut murtua. Puhki se ei vielä ole, mutta ei näillä vuotta enää mennä. Pohja on todennäköisesti se, joka hajoaa ensimmäisenä. Nyt on jo toisessa kengässä useampi halkeama. Vielä ei vesi tule pahasti sisälle, mutta ennenpitkää tulee koko pohja katkeamaan noiden halkeamien linjasta. Suoraan sanottuna odotin näiltä vähän pitempää ikää. Ottaen huomioon huollon määrän, niin 1,5v on mielestäni liian vähän.
2
0
I would recommend for a friend
Henry H.

06.02.2019
Took a gamble and bought these used for ~half price, and I'm very pleased I did so. It was instantly obvious why these boots had entered the circular economy: the first-hand owner must've had the weirdest gait in human history because a big fat crease was baked into the leather and it dug painfully into my heel - no wonder why the next guy sold them back to Varusteleka. Half a pot of the Palc honey leather grease (it was a very stiff crease) and a night in the airing cupboard later and that crease was gone and the leather was so supple and soft that it could be made from a baby. Nicely supportive boots, very waterproof, none of that Gore-Tex meme, and they look good. I'm also quite pleased with the ski and snowshoe lugs - if I'm ever attacked by Mafiosos in the Alps I fully expect I can jump onto the nearest pair of skis and zip off like James Bond. Everybody should own these boots and never turn your nose up at circular economy wares.
1
0
I would recommend for a friend
Anonymous customer

24.02.2019
Ostin nämä ja olleet käytössä nyt pari kuukautta...

Halusin vuorittoman maiharin joka ei muutu talvipakkasella täysin luistimeksi kuten keskieurooppalaiset versiot. Tuote on sitä mitä lupaa - hyvä nahkakenkä joka toimii myös talvella. Koot ovat reiluja, itsellä on normaalisti 43-44 mutta tästä kengästä sopiva oli 42. Kun alkukankeus on saatu pehmiämään (tai jalat muovautumaan) niin tämä on erinomainen kenkä. Eli ei suoraan maratonille pakasta vedetyillä. Hyvä ei ole ihan halpa, mutta ei tämä törkykalliskaan ole. Nähtäväksi jää kauanko nämä kestävät käytössä.
1
0
I would recommend for a friend
Michael N.

11.03.2019
I bought the smallest pair Varusteleka has available for my daughter(size 35) and she says they're epic! Let the break in of the boots begin!
2
0
I would recommend for a friend
Farasha E.

11.03.2019
These should not be good. They look ugly, the materials are nothing special, and a couple of the eyelets were installed crooked, but somehow the boots are greater than the sum of their parts and are something truly special, namely the boots that I finds myself going for more often than not, even when I logically should have picked something else.
1
2
I would recommend for a friend
RAMPOLDI A.

24.03.2019
A solid pair of leather boots ; probably the best ever made ! They fits perfectly with two pair of socks (cotton and merino wool). Thanks Varusteleka team for this great buy !
3
0
I would recommend for a friend
Mikko K.

14.04.2019
Hyvät hiihtomono. Ostin itselleni puolitoista kokoa liian isot kengät tarkoituksella. Nyt näihin mahtuu juuri sopivasti -- sanoisinko napakasti -- Puuilossa myytävä Sievin irtohuopavuori. Yhden puuvillasukan ja villasukan yhdistelmällä kenkä on ilmava, muttei liian löysä. Kenkä toimi hyvin Lemmenjoen talvivaelluksella. Hiihtorantti pelitti Kuusamon eräsiteessä hyvin, mutta päkiää piti hiukan veistellä, jotta mahtuu suksen siteeseen. Hiihtäessä ei ollut mitään ongelmia, mitä nyt kengän kärki hiukan kostui lumen kanssa melskatessaan. Ylipäätään tuotteen laatu on korkea ja juuri sillä oikealla tavalla konstailematon. Mitään turhaa härpäkettä kengässä ei ole, joten se toimii pomminvarmasti. Ja epäilen ettei näitä ihan heti kävelemällä tai hiihtämällä rikki saa. Hinta on korkea, mutta ehkä se laadukkuus kompensoi moista. Kun vielä tähän yhdistää laadukkaan säärystimen, niin kelpaa hangessa melskata. Ei pääse lumi lainkaan sisään varrensuusta.

Tarkempi erittely löytyy osana retkeilypostausta:
http://kallionsivu.blogspot.com/2019/04/leppoisa-lemmenjoki-273-342019.html
1
1
I would recommend for a friend
Sami K.

11.05.2019
Olen kyllästynyt siihen, että kalvokenkä ei koskaan hengitä kunnolla ja vuotaa joka tapauksessa, koska kalvo hengittää huonosti ja jalka hikoilee, eikä mikään kalvo kestä pitkään kengän taittuessa jatkuvasti joka askeleella. Joten ajattelin, että ostanpa tämmöiset ja jos tarvitsen enemmän vedenpitoa kuin mitä lankilla ja vahalla saa aikaan, niin ainahan on kalvosukat - saa nähdä kuinka käytännössä käy. Pohja näissä vaikuttaa olevan melko pehmeää, joten aavistelen kyllä, että kuluu suhteellisen nopeasti - toisaalta luulisi siinä olevan talvella taas eri tavalla pitoa kuin kovemmissa pohjissa.
Koon puolesta käytän tavallisesti kokoa 44, näissä se osoittautui aivan liian isoksi - sisään olisi mahtunut ainakin parit villasukat tavallisen sukan lisäksi. Koko 43 vaikuttaa minulle sopivimmalta - saappaita pystyy käyttämään yksienkin sukkien kanssa, mutta tarvittaessa mahtuu vielä paksumpikin villasukka. Suosittelisin siis, että ellei räpyläsi ole leveää sorttia, kannattaa ottaa kokoa pienempi ellei aio käyttää paksuja villasukkia - kapealestiselle jalalle voisi sopia vielä kaksikin numeroa pienempi jos ei tarvitse jättää sukkavaraa.
0
0
I would recommend for a friend
Adam D.

13.06.2019
I would recommend for a friend
Anonymous customer

04.09.2019
I would recommend for a friend
David M.

10.09.2019
Excellent simple tough footwear. Very similar to Canadian Armed forces surplus boots I lived in a long time ago. Grease them up and they're water proof. Go in too deep and get a soaker, just take them off , wring out your socks, use socks to wipe out the boots, rewring, put them back on and you're good to go. My goto work shoes are Dr Martens. After wearing the Norwegian boots with their big toe box the Martens seem restricted in the toe area. No break-in needed, just don't lace them tightly. Perfect fit with suggested measuring method. Definitely will be buying again if they ever wear out. Or if I wear out first I'll be buried in them. In case kicking needs to be done when I get to the hot place.
1
0
I would recommend for a friend
Djordjije M.

22.10.2019
I live in the area with the most rain in Europe with rocky mountains... For long time I was searching for the most simple rudged leather boots. I recieved this boots few days ago and my first impression is that finaly I have boots that I like - old school, simple, and tough. If u know how to take care of leather boots and know that modern lined boots are useless in long term field use than dont look no further this is it!
1
0
I would recommend for a friend
J-P M.

26.10.2019 (Edited 31.10.2019)
Sisäänkävelyvaihe on vielä kesken mutta voinen jo kommentoida. Hyvät ja edustavan näköiset, sotamaihareiksi ihmeen sirot kengät. Lesti ei ole mitenkään erityisen leveä, hyvin kaukana ollaan jostain ruotsin m90 maiharista, mutta menettelee omalle vammaiselle räpylälleni, eiköhän se siitä käytössä antaudu. Kärjessä on "piilotettu" tuplanahkavahvike ja tämä on ainakin vielä sen verran jäykkä että kävellessä taittuessaan painaa ikävästi toisen jalan varpaaseen koska kärjessä ei ole pystysuunnassakaan kovin paljoa tilaa. Kieli on todella pehmeää nahkaa jo uutena ja myös hyvin pehmustettu.

Nauhojen koukkukiristys on omasta mielestäni hyvä mutta hidas, toisten mielestä varmasti aivan paska ja tosi hidas. Koukut ja alaosan lenkit toimivat kuin unelma ainakin mukana tulleilla nauhoilla. Kengän pohjakuvion pidosta talvisäällä ei ole vielä kokemusta, mutta sopivan kokoisia kiviä sekin kyllä onnistuu välillä keräämään, tätähän ei tietenkään voi välttää millään. Omat kenkäni ovat foxbergin valmistamat, eikä minkäänlaisia virheitä löydä edes hakemalla. Varmasti sopii metsäkäyttöön, itse en näitä sellaisiksi alunperinkään hankkinut.

Niin joo, heitin kenkien omat pohjalliset heti v- ...vattupuskaan ja pistin suoraan paremmat tilalle (ei jalaksen fx:t)
0
0
I would not recommend to a friend
Markku M.

20.11.2019
Ostin edullisemman kiertotalous mallin. Ensimmäinen pidempi kävelylenkki ja pohjat halki. 70 euroa hyvin käytetty.... Kestihän nämä reilun viikon.

Puolitähteä kun nollaa ei voi antaa...
0
0
I would recommend for a friend
Petar B.

23.11.2019
The premier boot for heavy duty use! I got the M77 a few months back, and I attest to their quality and comfort - these are great boots. Simplicity at it's finest, the boots are so easy to maintain, and they regulate temperature SO well. I live in Canada, and I have worn these in the summer and in the winter now, with no issues in regards to temperature - (being hot/cold). Also they are superb when it comes to deflecting water, but watch out for prolonged submersion, then you will get wet.
I have worn these hiking and camping, walking up to 20 km+ in rough terrain and having them on for 12 hrs+ at a time - NO PROBLEM, no blisters, no soreness. Although, I did buy the Jalas FX2 insoles for them, and there is a significant difference. My foot arch is well supported and my feet don't feel tired at all. Honestly, get these great boots with the great insert and you can roam around all day long. The thread is super thick, it is semi-soft tho, so they wear a bit - but I suspect I will be able to get some time out of them 2yrs+.
The great thing, is that they don't slip on ice, and here in Canada we have tons of ice on the sidewalks and in the bush - super awesome traction! Now the toe box is VERY roomy, which means a lot of space for heat to escape from the boot making the temperature regulating simple. I double up on the socks, and prefer wool socks, thick again keep your toes warm but not hot. Putting the boots on is super fast and simple, these Norwegians really got it right, there is no loops and hoops to go through and take minutes to tighten, it is literally a 15 second job to tie the boot, thanks to the lacing system.
I am a fan, the leather is durable (I abuse my footwear a lot and these are outstanding when it comes to durability), the rubber is very good as in non slippery - I have walked through all kinds of spills including oil and no slip, not sure what type of rubber this is but it is great!
Great boots, simple and inexpensive!
Cheers
P.
2
0
I would recommend for a friend
jean-yves v.

09.12.2019
I would recommend for a friend
Mirko G.

22.12.2019 (Edited 22.12.2019)
Before buying I asked Varusteleka staff about additional information and they help me as much possible.
They really know their stuff well!
After ordering, what I received was good pair of boots, simple but well build.
My feet's are 284 mm long and 112 mm wide, size 284/45 fits me well.
Boots are quite waterproof, light and comfortable. Sole is soft and cushioning.
Tread is relatively deep, offers good traction and small stones are not easily trapped into it.
Good grip on wet and various surfaces, also offers good sense of awareness of terrain you are stepping on.
I was afraid that two bumps for ski attaching on front may interfere with pedals of car and
make driving difficult but for me is not a case. There are few bubbles in sole here and there but nothing problematic.
Leather is high quality thick and strong. Ankle support is good.
Boots need some time to break in, at beginning they are little harsh around ankles
but after some time they become comfy.They work well with Finnish M05 liner socks plus Sarma hiking socks.
Lacing system is fast, laces are long enough.
My only concern is that relatively soft sole may be easily pierced with nail or something similar, but since this is not working shoe its OK.
I like this boot's because they are versatile, tough and low profile.They can be worn in almost every occasion.
And they are very pretty too!
0
0
I would recommend for a friend
Antti P.

01.01.2020 (Edited 03.01.2020)
Muutaman päivän nyt talsinu näillä ja alkaa pikuhiljaa nöyrtymään kenkä alle. Oikein mainioilta tuntuu jahka ensin vähän kärvistelee sisäänajon kanssa. On tullu käveltyä,kyykittyä,pompittua,väänneltyä,poljettua pyörää ym. Yllättävän nopeesti alkanu muokkaantuun sopivaks omaan räpylään,lestin leveyden kanssa ei ollu mitään ongelmaa,omaan jalkaan just hyvä. Mielenkiintosena kuriositeettina kenkien pohjassa ja lapussa lukee 46 mutta iltissä on kultasella painettu 45. Otin kuuitenkin koon mittaamalla jalan ja on just hyvä,sukkavaraa on mutta ei mitenkään överisti. Aluks kidutin jalkaa vetämällä nauhat kunnolla kireelle ja vaan ottamalla kivun vastaan. Lopulta alko oleen ulkosyrjän nuppiluut aika hyvissä (muttei rakoilla) missä vaiheessa heitin sisään ohuen huopapohjallisen joka poisti ongelman. Suosittelen siis testaileen sisäänajovaiheessa vähän eri pohjallisia ym tarpeen mukaan. Se on vähän sama kenkien sisäänajossa ku jollain pitkällä vaelluksella että se kipu vaan siirtyy paikasta toiseen kunnes pääsee ns flow tilaan ja vaan leijuu eteenpäin ja maisema vaihtuu. Voin lämpimästi kyllä suositella,toivon että nää kestää pitkään toisin ku kaikki kalvolliset sportti ym kengät mitä ollu. Mä kävin suutarilta hakeen oikeenlaiset lotionit mitkä vedin nahkaan ennen ku aloin ajaan sisään. Suutari sano et kun on valettu pohja niin ei kannata tiettyjä litkuja laittaa ollenkaan ettei ala liimaus irtoon ym. Purkki minkä laitto matkaan on Colonnil 1909 leather cream. Et ei kannata välttämättä mitään tallipoikaa ym alkaa veteleen ilman konsultointia suutarilta. Mut hyvältä vaikuttaa kenkä tähän mennessä. Hinta oli tavallaan halpa jos nää kestää pitkään. Suosittelut!

Edit. Sellanen piku nauhotusvinkki mikä tuntuu toimivan. Eli ensimmäisten hakasten jälkeen tehdään samanlailla kun rusetin alku mut lisäks vielä yks kierros. Kiristetään oikeeseen kireyteen,esim jos haluu jättää jalkapöydälle ja nilkalle sopivasti löysää. Sit vaan nauhotetaan ylös asti ja normi solminta. Näin saadaan se kengän alaosa hallitusti eri kireydelle kun yläosa. Hyvä kikka! Sen triplasolmun voi tehä tietenkin mihin vaan väliin haluu ja lukita sen alla olevan nauhotuksen tiettyyn löysyyteen.
0
0