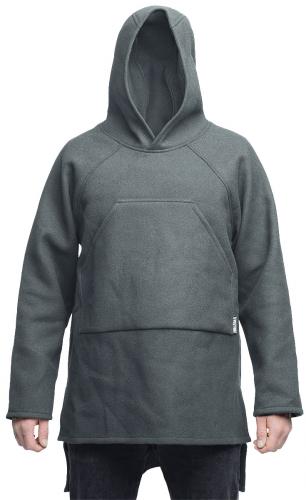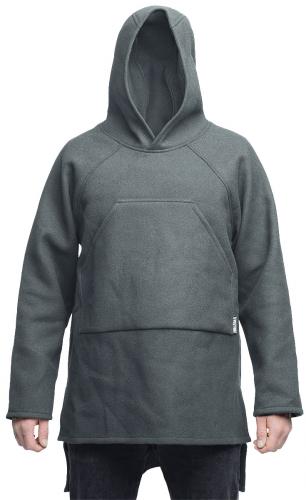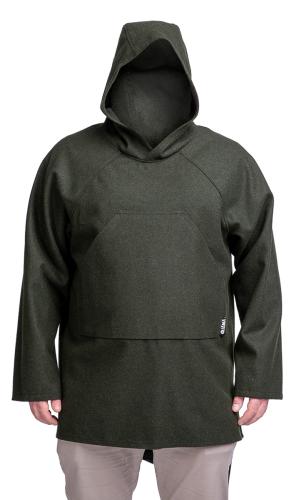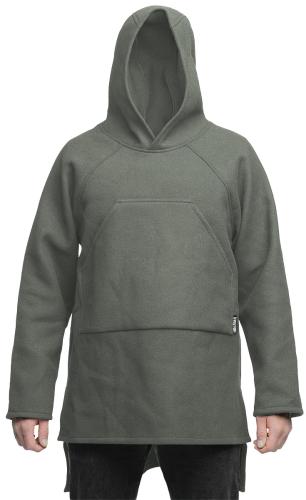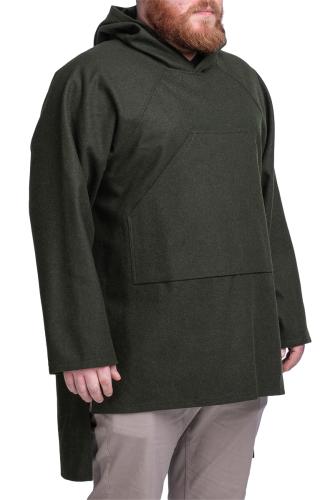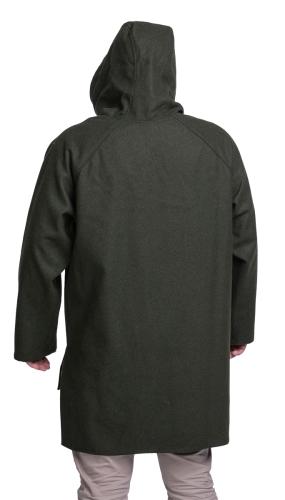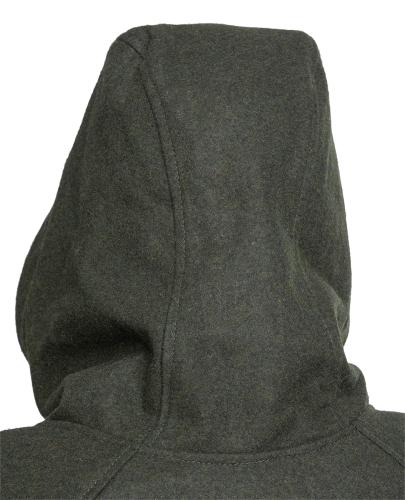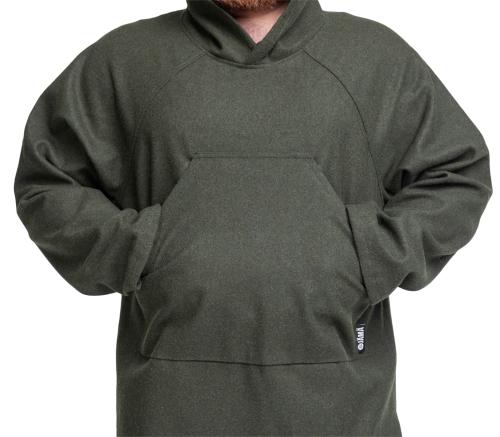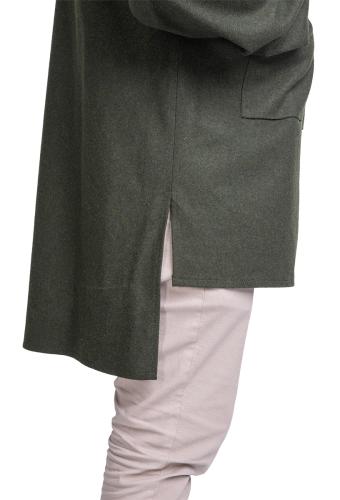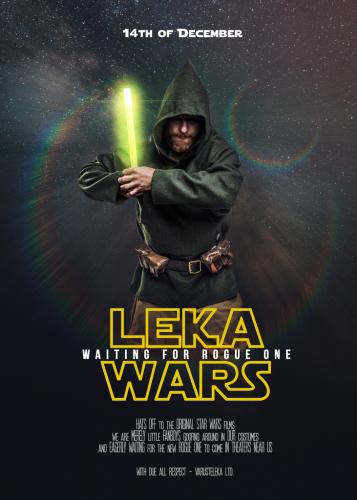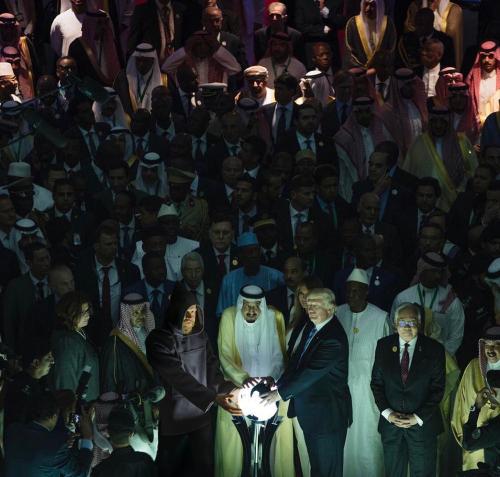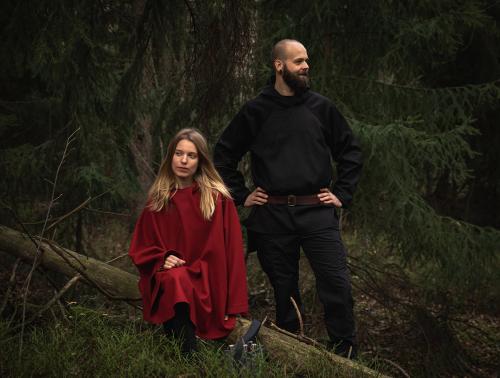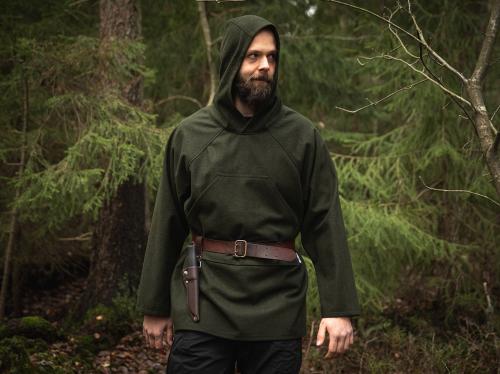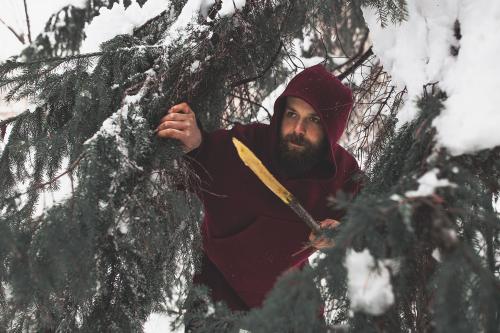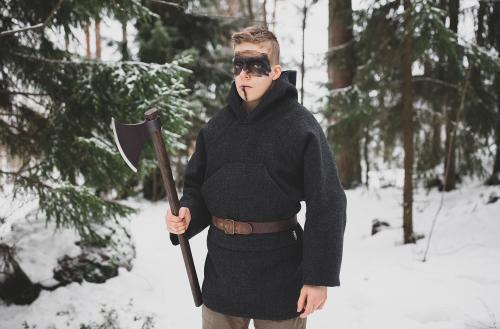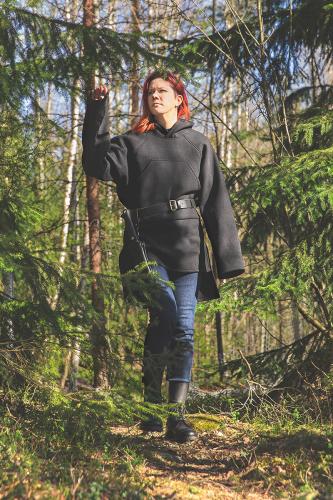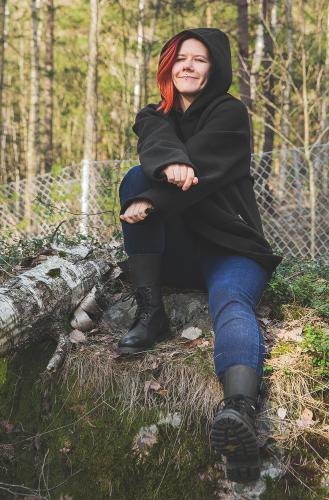 Jämä Blanket Shirt
Price 104.99 - 136.99 USD
excluding VAT
A proper bushcrafty Blanket Shirt! Here's a primitive low-tech garment where the superior, natural qualities of wool combined with simple and clever details make for a very functional outdoors jacket. These are made from military surplus wool blankets and other interesting materials!
Loading products...
Trouble with the metric system? Try our converter: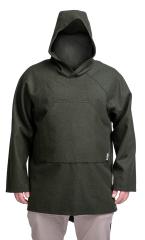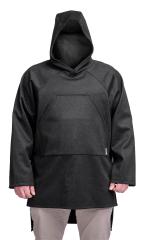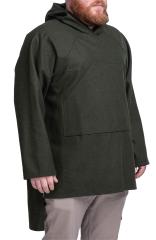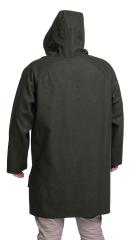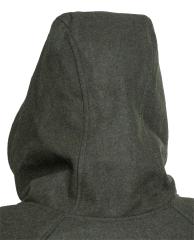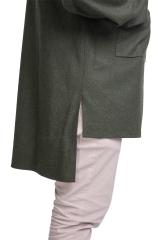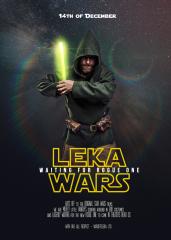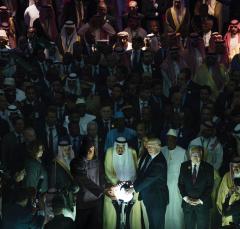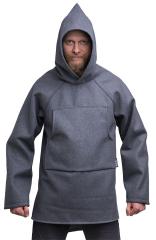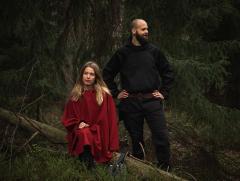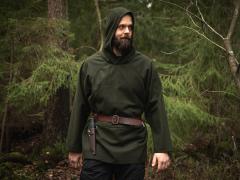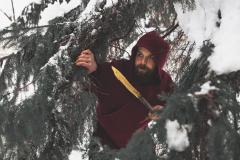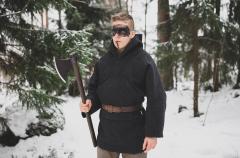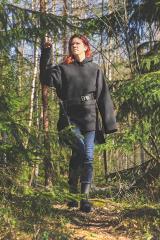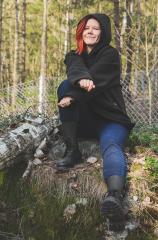 A proper bushcrafty Blanket Shirt! Here's a primitive low-tech garment where the superior, natural qualities of wool combined with simple and clever details make for a very functional outdoors jacket. These are made from military surplus wool blankets and other interesting materials!
What's this bushcraft all about? In a nutshell, it's camping or hiking without modern cheating devices like Gore-Tex, gas stoves, or GPS.
The idea of the Blanket Shirt stems from very old outdoor garments. Wool jackets with this basic form have been used from around the middle ages. In more recent times, these have gained popularity among traditionalists.
A bag of old tricks
The Jämä Blanket Shirt is a simple and functional garment that doesn't throw that good and proper old stuff away. These were good back in the days and not the least bit worse in the days to come. We didn't reinvent the wheel, just made our variation of it with practical features.
The chest pocket is large and positioned a bit higher up on the chest as not to interfere with backpack hip belts or equipment belts worn over the shirt. Great for storage or warming your cold fingers. Inside the pocket is a smaller pocket, sewn onto the body side of the shirt. This little flat pocket is intended to safely store any important valuables such as mobile phones. Access slits on the sides to make rummaging through your trouser pockets or accessing equipment on your trouser belt easier.
The hood offers protection from wind and rain and keeps your head warm, an obvious necessity if there ever was one. The hem is way longer on the back, this will keep the crack of your arse covered in any squatting position and it also offers simple protection from wet or cold surfaces when sitting. Unbemazing! Update! From the end of 2020, the hood is less of a cultist model and more functional.
Raglan sleeves, these are a really neat thing! No seams anywhere on top of the shoulders mean no chafing when carrying backpacks. Mobility of the arms is better as well.
Materials and variations
These are made from proper quality military surplus blankets and other materials, depending on what we can source. This means that prices will vary, some stuff is more expensive, some cheaper.
You can see the latest materials below, and the older materials (possibly seen in product pictures) can be studied by expanding the box. Some of these might still be available.
Alpen Grey
The latest batch is made of 100% wool (430g/m2). It comes from the warehouse of one of our surplus providers and the fabric is scavenged from here and there. Some are surplus from government auctions, some surplus from fabric manufacturers, and some surplus from the supplier's own productions. It is a bit of everything.
Materials of Blanket Shirts past
Because of using surplus wool blankets, one blanket shirt may be sewn together from slightly different shades of the same material. We try to keep the differences reasonable but will not throw away otherwise good blankets because of this variation.
Field grey of Stalingrad: This fabric is 100% wool. It comes from the warehouse of one of our surplus providers. They said that some of it came from government auctions, some from manufacturers of fabric, and some from their own productions. So, it is a bit of everything. Weight 435g/m2.
Italian wool fabric: This fabric is from an Italian fabric maker. This leftover batch of fabric had been left unused and without a home so we decided to turn them into blanket shirts! The fabric is on the heavier side (650g/m2), nicely soft and airy. It has 20 % of polyamide to strengthen the structure and the rest, 80 %, is wool. The following colors are made out of this fabric:
Charcoal
Noble Crimson (Notice: with Noble Crimson the smoothness of the fabric may vary between parts of the shirt. For example, sleeves might be more fuzzier while the back parts are smoother.)
Field Gray of Normandy
Troll Brown
Almost Black
German wool fabric: We were able to source some prime-quality 100% wool, lighter weight and considerably more draping compared to actual blankets:
Sooty Black, 390 g/m2
Forest Green, 345 g/m2
Finnish wool: This is the stuff used in the Finnish army M/65 series of field clothing. Its strong qualities are a large wool content and the fact that it really is meant for clothes, so it's more durable compared to cut-up blankets. Weight: 550 g/m2
JNA: These former Yugoslavian army blankets are nice quality, coarse but dense. Judging from our burn tests we guess these are 100% wool, but naturally we can´t be 100% sure so we´re not promising anything. The color is a nice ghastly brownish-greenish gray.
Polish: Made from Polish army grey blankets. These Polish blankets are a little, tiny bit thicker than most blankets (i.e. very thick). Our burn tests show that these are either 100% wool or a very, very wool-heavy mix (90/10 wool/polyester for example).
H.R. Co: We have no idea about the actual origin of these, the only clue is a tag saying "H.R. Co Wool Rich Blanket" which appears to have been added later. The special thing is that the material is more like "normal" fabric, thinner and much denser, almost like if a standard blanket would have been flattened by a steam roller. This makes these shirts feel a bit less cumbersome. Our guess is that the material is 90% wool. These cost a little bit more than the other models due to the fact that the hem and sleeves have all been finished by folding and stitching them, as opposed to most other blankets that come with their edges finished, to begin with. The color may rub off onto other clothing, so don´t wear your fanciest silk dress-shirt underneath!
Size info
Comes in three sizes with a loose fit. At each size, you'll see a recommended user height and chest circumference. Understand, that the fit is not like a parade dress or in any other way or form a socially normative choice.
The main thing to consider is the chest circumference, as a too-small shirt will be difficult to pull over your head. The length is generous and if the sleeves overshoot your hands, just fold them for a tailored fit.
The model with the sharp gaze and paintbrush beard is 178 cm tall with a 95 cm chest (5' 10" and 37.4"), wearing a size Small with a couple of shirts underneath. The septum-pierced model trying to look gentle is 188 cm tall with a 96 cm chest (6' 2" and 37.8"), also wearing a size Small.
Below are more detailed charts of the garment measurements as follows: chest width (pit to pit), front length from the collar to the hem, center back length from the bottom of the hood to the hem, sleeve length from the center of the neck to the cuff, and sleeve length from the armpit to the cuff. The tolerance is about 1 cm (0.4") either way.
Size chart (metric units)
| Size | Chest width | Front length | Back length | Sleeve from neck | Sleeve from pit |
| --- | --- | --- | --- | --- | --- |
| Small | 59,0 cm | 69,0 cm | 90,5 cm | 89,0 cm | 55,5 cm |
| X-Large | 69,0 cm | 71,5 cm | 92,5 cm | 90,0 cm | 55,5 cm |
| 3X-Large | 75,0 cm | 72,0 cm | 93,0 cm | 92,0 cm | 55,5 cm |
Size chart (freedom units)
| Size | Chest width | Front length | Back length | Sleeve from neck | Sleeve from pit |
| --- | --- | --- | --- | --- | --- |
| Small | 23.2" | 27.2" | 35.6" | 35.0" | 21.9" |
| X-Large | 27.2" | 28.3" | 36.4" | 35.4" | 21.9" |
| 3X-Large | 29.5" | 28.4" | 36.6" | 36.2" | 21.9" |
Jämä is upcycled surplus
Click here for the whole Jämä selection.
Jämä is a Finnish word meaning leftovers or scraps. It's also one of our house brands for equipment made from recycled or surplus materials. From time to time we accumulate stuff that doesn't sell well but is made out of outstanding materials. We've also got several capable seamstresses here, and the equation is pretty clear: cut that useless stuff apart and sew it back together to create something useful.
Because Finnish labor is one of the most expensive in the world, these are very simple, practical and rugged in design. Our development and prototype production remains in-house while most of the production is outsourced to Turku and other cities - still within Finland. Simplicity means strength: the fewer parts there are, the smaller the chance of breaking anything.
Recommendations
Loading products...
Reviews
You have already submitted a review. You can edit your text by clicking on it.
Log in and write a review.
Remove filter
Suomi
(19)
English
(25)
I would recommend for a friend
Tommi H.

30.04.2017 (Edited 31.05.2021)
I would recommend for a friend
Jaakko M.

23.06.2017 (Edited 31.05.2021)
Hämmästyttävä vaate. Ollut toistaiseksi lähinnä kaupunki-käytössä, mutta vakuuttaa vahvasti. Alla t-paita, niin on pärjännyt juhannus säässä pienessä vesisateessakin. Eikä edes ison miehen päällä näytä mitenkään hullulta, kunhan ei laita huppua päähän. Jykevä materiaali (vihreä huopa), pitää tuulta ja pientä sadetta, kutittaa yllättävän vähän ihoa. Joskaan en ole villan kutittamiselle kovin herkkä. Tasku on yllättävän näppärä, vaikka sijoitus on hiukan epätavallinen. Iso plussa kännykkätaskusta.

Tällä käytöllä täydet 5/5, mutta tarkennan arvostelua, kunhan käyttöä tulee lisää. Varsinkin eräreissuista selviämisen testaaminen kiinnostaa ja saattaa vaikuttaa arvosanaan. Kunhan säät kylmenee. Mutta kyllä tästä tuli nopeasti luottovaate näillä sääolosuhteilla.

Edit joulukuu '17: nyt on vermettä aika paljon ulkoilutettu ja mielipide on entistä positiivisempi! Aivan täydellinen metsässä rämpimiseen. Alle tilanteen mukaan hengittäviä kerroksia ja reppuun anorakki, jos sää menee aivan onnettomaksi. Rämmin kolmatta tuntia peräkkäisiä hakkuualueita selkä märkänä, mutta pysähtyessä ei tuntunut ollenkaan pahalta, kiitos merinovillaisen aluskerraston ja villaisen päälikerraston. Toisella kurjan kostealla reissulla vedin alle peltipaidan lisäeristykseksi ja tauolla kuuskakkosen takin viimaa vastaan. Kesällä tuli muutama yökin nukuttua semisuojaisessa paikassa vain vetämällä huppu silmille ja kädet taskuun. Lintutornissa värjöttelyssä toimii myös mainiosti.

Itsenäisyyspäivän nurkilla tuulisessa pakkassäässä pääsi viima kutittelemaan helman alta, mutta huosujen vyön siirtäminen miehistövyöksi pussitti mukavasti alaosan ja taas tarkeni.

Mielessä on paljon pieniä lisäyksiä joita aion tehdä/teettää, kuten hihan kiristys pompan napeilla, kartta- tai hanskatasku selkäpuolelle, paracodista tehty lenkkikuja pikkusälälle, ja niin edelleen. Näin yksinkertaiseen vaatteeseen kun voi lisätä omaa näkemystään verrattain helposti.

In English: pretty much perfect outer layer for any strenuous activity that combines sweating with cold weather (e.g. Finland all year round). Warm and breathable, durable, not flammable and easily repaired. Highly recommend.
12
1
I would recommend for a friend
Eamon B.

28.09.2017 (Edited 31.05.2021)
This is a perfect outer layer for any kind of outdoor activity. The pocket is a lot roomier than I originally thought.
6
1
I would recommend for a friend
Nicolas P.

09.11.2017 (Edited 31.05.2021)
Erinomainen kapistus. Ollut käytössä ihan kaupungilla hipsterivaatteena sekä puskapusakkana metsässä. Suojaa mukavasti säältä ja alle saa kerrastonkin. Loppupeleissä erittäin toimiva jokapaikan vaate.
4
0
I would recommend for a friend
Christopher H.

16.11.2017 (Edited 31.05.2021)
I grabbed one of the older pattern H. R. Co. shirts and absolutely love it. It's been out on several hunting trips and is incredibly cozy in cool weather. The pocket is perfect for holding extra ammunition, packs of jerky, or a flask of your favourite warming beverage! The lengthened rear is great for preventing your ass from getting too dirty or cold when you need to take a seat in the woods. The fit is great, the colour pleasant, and the material comfy. I would recommend wearing a light layer underneath though (I wear a telnyashka), as the wool can get a little itchy and rough on certain pieces of skin.

Also huge unexpected bonus that it makes me look like an angry forest monk festooned with weaponry.
28
0
I would recommend for a friend
Greg W.

21.11.2017 (Edited 31.05.2021)
I have the Finnish wool , on the wool itchy scale I give it a solid 5. . I would say the fabric on mine was new when sewn , at least that's how it appears to me. I ordered the XL and I'm 5'10 ,162 lbs of apathy , 40" chest. Fits perfect. This thing is WARM. I would say wear a silk weight under it as it's a little itchy if you are sensitive to wool. I have room for another layer over the silk if need be, but I'm not sure I would need it until it got colder than my local environment. This thing has its own vibe , and it's really cool. The transition from the hood to the garment is really well thought out as there isn't much gaping going on, it's not drafty. Only down side I can see is your peripheral is going to be zero when the hood is up, but if you are wearing this you are pretty much a wizard anyway. My wife thought I looked Hot with it on.. I was in fact hot.
20
0
I would recommend for a friend
jukka k.

05.12.2017 (Edited 31.05.2021)
Paras vaate!
Toivotaan että kestää koko loppuiän, varmaan joutuu haalimaan varalle yhden jos sattuu joku hyvä uusi sarka kohdalle.
5
0
I would recommend for a friend
Arthur M.

16.12.2017 (Edited 31.05.2021)
Recently I wore the Finnish wool version in -27oC wind chill Canadian weather with a cotton shirt and a commercial fleece underneath. I was comfy. A better base layer and I should be set to -40o or colder. The deep front pocket is very handy, and I continue to be pleasantly surprised at how warm the hood is. I am being asked where I got my blanket shirt and I point folks to your web site. And FYI, flat rate shipping to Canada took seven days door-to-door. Great product, fair price, very good trans-Atlantic service.
13
0
I would recommend for a friend
Jerry S.

03.01.2018 (Edited 31.05.2021)
I bought the finnish wool... WARM perfect for buschcraft in any colder condisions! 10/10
6
0
Kierto Circular Economy
Return this product used but clean and unbroken, and you'll receive half of the product's original price as Varusteleka credits. Service is available only in Finland. Only Registered users can make Kierto returns. See more information about Kierto.